Immediate hire work from home jobs are all over the internet! If you are looking for work from home jobs hiring now, then this post is for you. Discover which companies are hiring right now!
---
As most of you know, I am passionate about helping women earn a living from home. For the past four years, I've been working from home and researching the best immediate hire work from home jobs for stay-at-home moms like myself.
It's amazing how times have changed. Before, you needed to go out to work on a job. Today, your dream job is just right at your fingertips!
Homebased jobs have boomed so much over the years. Now, even stay-at-home moms with small kids have the opportunity to start a home-based career.
I've compiled this mega list of immediate hire work-at-home jobs to show you the options you have today to make money from home.
I regularly update this post, so be sure to bookmark this page or save it to Pinterest to easily find your way back to it. 🙂
Looking for jobs that provide equipment? Check out my list of work from home jobs that provide equipment!
Immediate Hire Work From Home Jobs
This post may contain affiliate links. I may earn a commission for any purchases made through these links at NO EXTRA cost to you.
Immediate Hire Work From Home Jobs for Proofreaders
If you have an eagle-eye for spelling, punctuation, syntax, and grammar errors, then you might have what it takes to become a proofreader.
According to Salary.com, the salary for proofreaders typically falls between $47,126 and $61,321.
The best thing about proofreading is that it can be done from home or anywhere! And with over 1.8 billion live websites right now, there is no doubt that the demand for proofreading is bound to stay.
You don't need certifications to become a proofreader. As long as you have the skills, you can proofread and get paid for it.
How to get started: Apply to these companies offering legit work-from-home jobs in the field of proofreading!
However, if you need to brush up on your skills and want to learn more about proofreading, check out Caitlyn Pyle's 76-minute free proofreading workshop. This is a great free resource if you want to learn more about the industry, and to know where your skills are at.
Here are some of the top companies to check out for remote proofreading gigs!
1. PROOFREADING PAL
A highly popular proofreading agency, Proofreading Pal hires graduate or post-graduate students from a US-accredited university or professional proofreaders with at least five years of work experience. Proofreading Pal's qualifications may appear more stringent than other agencies, but they also reportedly offer competitive rates.
2. GRAMLEE
Gramlee is a copyediting service company that offers:
They are constantly looking for talented proofreaders to join their team. At Gramlee, you can choose your work schedule and projects. Gramlee pays $0.02/word, so a 3,000-word material would earn you $60.
3. PROOFREADING SERVICES
Proofreading Services hires both part-time and full-time proofreaders from anywhere in the world!
To get into Proofreading Services, you need to pass a 20-minute screening test but once hired, you can select your work schedule. You can make $19-$46 per hour proofreading at Proofreading Services.
Read: Proofreading Services Review
4. KIBIN
Kibin is also an excellent platform for proofreading jobs, especially if you're into proofreading students' thesis and papers.
The pay at Kibin depends mostly on the length of the material you proofread and your turnaround time, but it's possible to earn around $20 per hour.
5. MANAGED EDITING
Managed Editing provides proofreading and copyediting services to publishers, government agencies, and non-profit organizations. There's a wide range of materials to work with at Managed Editing, from simple ads to elaborate books. The income potential there is quite lucrative at around $30 per hour.
Related Post:
How to Make $3000 Fast: 12 Ways To Generate Cash in 2022
---
Immediate Hire Work From Home Jobs in Transcription
Transcription jobs are perfect for people who have excellent listening skills and fast typing abilities. It has a low entry barrier; and in most cases, it does not require degrees or certifications.
The rates for transcriptionists are not too bad as well. According to Indeed, the average base pay for transcriptionists in the US is $16.51.
You could also set your own rates and increase your income if you build your own transcription service company instead of working for an agency. And that's what Janet teaches at Transcribe Anywhere.
Janet is a successful transcriptionist herself and she's proof that it's possible to make good money from your own transcription business online. She has free mini-courses if you want to learn more about transcription:
Free General Transcription Mini-Course
FREE Legal Transcription Mini-Course
---
Here are some companies that offer no-fee work at home jobs in the transcription field!
6. QUICKTATE
Most of the work at Quicktate involves transcribing short audio files, often in the form of voice mails, phone recordings, and memos.
The rates at Quicktate vary, depending on the type of transcription (whether medical, legal, or general) required, and you get paid weekly through PayPal.
7. CASTING WORDS
Casting Words has been around for over 16 years now and has been employing remote transcriptionists from all over the world. The company also now offers subtitling and captioning services.
Fill out an online form to apply. Casting Words pays $0.80 to $1 per audio minute.
8. TRANSCRIBEME
TranscribeMe is a popular go-to site for immediate hire work-from-home jobs in the field of transcription. Transcription jobs at TranscribeMe are often short, lasting 2 to 4 minutes. TranscribeMe pays $15-$22 per audio hour through PayPal.
Read: TranscribeMe Review
9. SPEAKWRITE
SpeakWrite offers immediate hire work-from-home jobs in the field of legal transcription. Transcribers at SpeakWrite often transcribe interviews, audio dictations, videos, phone calls, virtual meetings, PDFs, and more!
10. REV
Rev is a renowned agency that offers transcription, translation, and captioning services to business owners. The company is a great platform for beginners who do not have transcription experience.
At Rev, you can choose your work schedule and projects. Rev pays $0.30 to $1.10 per audio minute.
Read: Rev Transcription Review
11. SCRIBIE
Scribie hires both beginner and experienced freelance transcribers. You can make around $10/audio hour working at Scribie.
Read: Scribe Review
12.GMR TRANSCRIPTION
GMR Transcription also hires beginners but they only accept applicants who are based in the US.
All applicants also go through a strict transcription. According to the company's website, GMR transcriptionists can earn up to $3,000/month, especially those who take the more challenging projects or jobs with shorter turnaround times.
Read:
36 Transcription Jobs for Beginners
---
Immediate Hire Work From Home Jobs for Freelance Writers
If you have a way with words and can effectively communicate a message to a target audience, one of the remote job options for you is freelance writing.
I believe it is also one of the best immediate hire work from home jobs because of the huge demand for freelance writers.
According to Payscale, freelance writers make an average of $23.97 per hour. Successful freelance writers like Holly Johnson, however, make multiple six figures from writing from home.
How to get started: Check out my free guide on how to become a freelance writer. And don't miss Holly Johnson's freelance writing workshop. It's completely free!
---
13. FlexJobs
FlexJobs is a jobs site for remote, flexible jobs such as freelance writing, virtual assistance, proofreading, and more.
What I love about Flexobs is that all jobs posted on the site are vetted and screened by FlexJobs to weed out the scammers. That said, you are assured that the employers hiring at FlexJobs are legit and real companies. FlexJobs also has a separate job listing page dedicated to writing jobs.
14. PROBLOGGER
ProBlogger is basically a niche site on blogging, but they also have a jobs listing page for freelance writing jobs.
Check out their jobs page to see the current immediate hire work from home jobs for freelance writers at ProBlogger.
15. MEDIA BISTRO
If you want to write for huge media outlets like HBO, FOX News, and CNN, then look no further than Media Bistro. The site offers all sorts of writing gigs for both beginners and experienced writers.
16. CONTENA
We recommend Contena to those who want to get serious and want to work full-time from home content writing. Contena is one of the most highly recommended job boards for freelance writers.
The downside to Contena is that it is not free. You will have to pay for membership to enjoy the full perks Contena has to offer, massive writing opportunities, and comprehensive resources.
17. TEXTBROKER
TextBroker is a huge content writing agency that offers a range of paid writing opportunities to freelance writers. The company delivers over 100,000 content orders every month and they are constantly hiring writers.
To join TextBroker, sign up here. Rates at TextBroker depend on the type of order you accept. Direct orders, for example, pay 2 cents per word. You can withdraw your earnings when you've earned at least $10 in your TextBroker account.
18. IWRITER
Companies and freelance writers go to iWriter to get their content needs done and freelance writing jobs, respectively. To work at iWriter, you need to pass a writing test.
iWriter also has a rating system. As you get higher ratings, you also move up a level and earn more money.
---
19. Amazon FBA
If you've always wondered: how do I work for amazon from home? One of your best options is Amazon FBA.
Fulfillment By Amazon or Amazon FBA is a business model that allows you to sell products on Amazon without stressing over the logistics and customer service aspects. Amazon takes care of the packing and shipping, so all you have to do is find the right products and market them.
If you're interested in selling on Amazon, check out this free Webinar from a 7-figure seller to learn more about how to start a profitable private label business on Amazon.
Related Posts:
How to Make $3000 Fast: 12 Ways To Generate Cash in 2022
---
Immediate Hire Work From Home Jobs for Bookkeepers
Bookkeeping is an excellent job choice for you if you love working with numbers and you are extremely organized. Many small businesses, large corporations, or even private individuals hire bookkeepers to do the books for them.
But what's great about bookkeeping is that it can be done from home and can be turned into a full-time business!
According to Indeed, bookkeepers make an average hourly rate of $18.65. However, according to Ben Robinson, founder of Bookkeepers.com, virtual bookkeepers can make $60 an hour!
How to get started: Read my guide on how to become a bookkeeper online without experience. Check out Ben Robinson's free 3-part class to learn whether bookkeeping is right for you.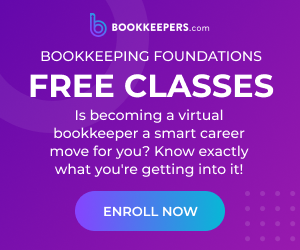 If you are ready to find work-from-home jobs hiring immediately in the field of bookkeeping, check out the following companies!
20. ACCOUNTINGDEPARTMENT.COM
For remote bookkeeping jobs that offer benefits, look into Accountingdepartment.com. At Accountingdepartment.com, you work as an employee instead of an independent contractor. Therefore, you get paid holidays, insurances, and more.
Note, though, that you need to be a US resident to work at Accounting Department. According to Glassdoor reviews, virtual bookkeepers at Accounting Department earn around $17/hour.
21. BOOKMINDERS
BookMinders also offers immediate hire remote jobs for professionals in the finance industry, which include bookkeepers. To work at BookMinders, you must have at least two years of bookkeeping experience. You must also live within 45 miles from their office to attend training and meetings personally.
BookMinders' bookkeepers earn around $25-$50/hour, depending on experience and skill level.
22. TWO ROADS
Two Roads offers bookkeeping, CFO advisory, and tax preparation services.
At Two Roads, you need to work from home during office hours, Monday to Friday. The company reportedly pays $30/hour.
23. BELAY
Belay is a virtual assistance company that offers bookkeeping as one of its services. Bookkeepers at Belay are US residents with a college education (or higher) and are seasoned professionals.
According to Glassdoor, Belay bookkeepers earn $1,656 – $6,145 per month.
---
Immediate Hire Work From Home Jobs for Virtual Assistants
Virtual assistants are probably among the most in-demand workers today. A lot of businesses hire virtual assistants (VAs) over regular employees to lower their operating costs by 78% per year.
But, what exactly is a virtual assistant? A virtual assistant provides administrative services to business owners, involving tasks like data entry, customer service, calendar management, appointment setting, product research, and many others.
You don't need to have experience or a degree to land virtual assistants gigs. At the very least, you only need to be computer-savvy, be organized, and have good communication skills.
According to Indeed, the average base salary for virtual assistants is $19.65. However, it is possible to earn a six-figure salary if you go the freelance route and establish your own virtual assistance business. Take a look at Kayla Sloan who makes $10,000 per month as a VA!
How to get started: Read my guide on how to become a virtual assistant without experience. and download this free list of 275 VA services you can offer. If you are looking to build a virtual assistant business instead of working for agencies, #FullybookedVA is a great resource for you.
Check out the following companies that offer immediate hire work at home jobs in the field of virtual assistance!
---
24. VIRTUAL OFFICE VA
Virtual Office VA offers virtual assistance services mainly to real estate professionals and companies. As a VA at Virtual Office VA, you work from home and online, and your main task is to generate leads for your real estate clients.
Although this is a work-at-home opportunity, you need to work on fixed schedules during the workweek at Virtual Office VA.
25. OKAY RELAX
Okay Relax is a VA agency that provides services such as research, restaurant reservation, or transcription. VAs at Okay Relax earn an average of $11/hour.
26. VIRTUAL GAL FRIDAY
Virtual Gal Friday has been around for more than two decades, and it's now one of the most popular companies for immediate hire remote jobs for VAs.
The company offers a range of VA services including virtual medical assistance, virtual legal assistance, bookkeeping, business coach virtual assistance, and virtual receptionist services.
At Virtual Gal Friday, you work at least 5 hours a week, and all your work is monitored by a time-tracking app.
27. TIME ETC.
Time Etc. is a staffing company that's been around since 2007, providing support to business owners all over the US and UK.
VA tasks at Time Etc. include formatting and typing documents, managing calendars, writing content, updating social media among others.
To apply, check out this page.
28. ASSISTANT MATCH
Assistant Match is another popular platform to look into if you're a VA. However, the company does not hire VAs, but rather helps VAs find the best projects for them.
VA roles you can find at Assistant Match include data entry, online research, translation, social media management, and more.
Read: Virtual Assistant Jobs for Beginners
---
Chat Support Work from Home Jobs Hiring Immediately
Looking for non-phone work from home jobs? Chat support jobs may be the perfect job option for you. What you typically do as a chat support agent is to provide customer service through a live chat for businesses.
These are some of the companies that offer immediate hire work-at-home jobs for chat support agents.
29. APPLE
Apple hires remote customer support agents to address customer inquiries about their products.
Since you don't work as an independent contractor at Apple but a full-time employee, you get to enjoy benefits like paid leaves and so on. On top of that, Apple gives free laptops to their workers.
If you are looking for companies that provide equipment, check out our post on work-at-home jobs that provide equipment.
30. OUTPLEX
OutPLEX offers customer support to huge companies like Revlon, Bayer, and AT&T. To work at OutPLEX, you must be a US resident and be at least a high-school graduate. The starting rate at OutPLEX is at the lower end at $9 per hour.
31. ARISE
Arise is another company that offers a range of legit work-from-home jobs in the customer support industry. They provide business support and solutions to many companies including those that belong to Fortune 500.
Read: Arise Review
32. ALORICA
Alorica is a business process outsourcing company that provides a range of services, including chat support, to companies across industries. What I like about Alorica is that they offer benefits such as medical benefits, paid holidays, and retirement plans.
Read: Alorica Review
33. LIVEWORLD
LiveWorld is also a great place to check out if you're looking to work from home immediately as a chat support agent.
At LiveWorld, you can choose your work schedule. LiveWorld pays their agents $8 to $15 an hour. You can check out their career page to see their current job listing.
---
Tutoring Work at Home Jobs Hiring Immediately
Online tutoring jobs can be done from anywhere in the world. Most online tutoring sites also allow you to work on a flexible schedule, allowing you to select when, where, and how much time you want to spend teaching.
Plus, you can tutor virtually anything that you know well, including math, science, English, and more.
According to Glassdoor, online tutors make an average of $43,914 per year. Among the highest paying cities for online tutor jobs are San Jose and Oakland in CA, and Tanaina, AK.
Note that some online tutor jobs require a degree or experience. If you are looking for tutoring work-at-home jobs hiring now, then be sure to check out the following companies.
---
34. CHEGG
Chegg is a tutoring platform for middle school, high school, and college students. If you are knowledgeable in a particular subject, you can make money as a tutor at Chegg.
Chegg welcomes online tutors of all nationalities, even college-level, and post-graduate students. The company pays their tutors $20 an hour.
35. SKOOLI
Skooli is a well-known online tutoring platform that provides tutorial services to students of all levels. Some of the available subjects being offered at Skooli are Math, business, sciences, and humanities.
To become a tutor at Skooli, you need a bachelor's degree and a teaching certification. Skooli computes each tutoring session per minute, but according to sources, Skooli tutors earn around $25 per hour.
Read: Skooli Review
35. TUTORME
TutorMe works like Skooli. It is a tutoring platform where students can get help with over 300 subjects across all grade levels. It has a two-way rating system that allows students and teachers to rate each other after each lesson is completed. TutorMe pays $18 per hour every week through PayPal.
36. TUTOR.COM
Tutor.com is an established tutoring service provider of The Princeton Review. The website offers tutoring services to K-12 students, as well as high school and college students.
Tutors at Tutor.com need to be available for at least five hours each week. There are a variety of subjects you can teach, from Calculus, finance, accounting to essay writing, and many others in between.
---
Immediate Hire Work at Home Jobs for ESL Teachers
Many people are interested in teaching ESL because it is an important skill to have. It has become increasingly popular for ESL tutoring companies to hire teachers to work remotely through the internet.
According to ZipRecruiter, the national average rate for online ESL teachers is $19 per hour.
37. VIPKID
VIPKid is one of the most well-known ESL teaching service providers today. The company primarily teaches English to Chinese kids and classes are conducted one-on-one via VIPKid's proprietary online classroom and last 25 minutes.
VIPKid has one of the highest rates for online English teachers, from $14 to $22 per hour, plus bonuses and incentives.
38. MAGIC EARS
Another reputable ESL company is Magic Ears. The company teaches English to Chinese kids ages 4-12. The classes are composed of 1 to 4 students and last less than half an hour.
Magic Ears boasts of a more flexible work schedule, and a supportive community, that's why many teachers love being here. Plus, the income potential is between $20 and $26 per hour.
Read: Magic Ears Teacher Review
39. QKIDS
With over 600,000 Chinese kids using this site to learn English, it's no surprise why QKids is a popular destination for English teachers.
QKids clientele is composed of Chinese kids ages 4-12 years old. The platform uses a dynamic teaching system, composed of interactive features, games, and storytelling to keep the kids engaged.
To teach at QKids, you must be eligible to work in Canada and the US. You must also have a bachelor's degree and a teaching license or certificate. QKids' teaching rate runs between $16 and $22 per hour.
40. CAMBLY
Want to teach English but don't have the experience yet? Check out Cambly! They accept teachers without experience, too. To work at Cambly, you need to complete the Cambly online training course which is all about teaching different levels of English speakers – from absolute beginners to advanced learners from around the world.
Income potential at Cambly is at the lower end at $10 per hour.
41. DADA
Dada ABC, an ESL company based in China, primarily serves Chinese kids ages 4 to 12. Each class is one-on-one and lasts 30 minutes. Unlike other companies, Dada hires teachers from outside North America. They also prefer applicants with teaching experience and certification. Dada pays $15-22 per hour.
---
Delivery Driver
Delivery driver jobs are one of the fastest-growing professions in America. If you're looking for flexible jobs, then this might be the job idea for you!
The average hourly rate for a delivery driver is between $12 and $15 per hour, although this varies by the number of deliveries that you get.
As a delivery driver, you typically deliver groceries, food, and packages. Most companies hiring delivery drivers now offer flexible work schedules. At the very least, you'll only need a vehicle and a driver's license to get started.
To get started, check out the following companies.
42. POSTMATES
Postmates is probably one of the most popular companies that offer delivery driver jobs.
Delivery drivers for Postmates typically deliver food and restaurant orders but may also include groceries and dry cleaning.
To work at Postmates, you must be at least 18 years old and must have auto insurance. Don't have a car? No worries! You can deliver food using a scooter, bicycle, or even on foot. Postmates pay $20-$25 per hour.
43. DOORDASH
DoorDash primarily provides food delivery services in almost all states in the US.
DoorDash drivers earn $10-$25 per hour, plus all of the tips. According to Indeed, the national average rate for DoorDash delivery drivers is $14.73 per hour.
Related: DoorDash Driver Review: Make Money by Delivering Food for DoorDash
44. SHIPT
Shipt focuses primarily on grocery orders, so if you're a savvy shopper and know your way around the groceries or supermarkets, this might be a great job option for you.
As a delivery driver at Shipt, you pick up grocery items from the stores and then deliver them to the customer's residence. You may need to do some heavy lifting from time to time, so Shipt requires their drivers to be able to lift 40 pounds unassisted. Shipt pays up to $22/hour, plus tips.
45. INSTACART
Instacart is another popular option that provides grocery delivery services.
Full-service shoppers at Instacart are those who shop at the stores and deliver the goods to the customers. Since you will be doing the deliveries, it is required that you own a car and carry car insurance. You also need to be able to lift 40-50 pounds of groceries without assistance. You can set your own hours at Instacart so it's a great side hustle if you have another job. Instacart pays around $20 per hour plus 100% of the tips.
46. GRUBHUB
GrubHub is one of the pioneering delivery apps. The company operates in almost 3000 cities in the country.
GrubHub allows you to set your own hours but you cannot deliver outside of your zone or area. GrubHub pays around $12 an hour.
---
Babysitting Immediate Hire Work from Home Jobs
Babysitting is perfect for people who love children! If this is the type of job you want to get into, check out the following sites for babysitting jobs hiring immediately!
47. CARE.COM
Care.com is probably the biggest babysitting site in the world as they also operate in other countries such as the US Australia, the UK, and New Zealand.
According to the company's website, babysitters at Care.com earn an average of $12 per hour.
48. SITTERCITY
Much like Care.com, Sittercity is another massive website for babysitting jobs. There are millions of sitter profiles on the site. It's why many parents come here to find babysitters for their kids. Sittercity is a free site for caregivers.
49. BAMBINO
Bambino is similar to Care.com and Sittercity but it helps you find babysitting gigs in your area or neighborhood, rather than the entire city.
Additionally, Bambino accepts teenage babysitters (at least 13 years old), as long as they can provide references from previous families they've babysat at. Be sure to set up your profile in the app and specify your experience, availability, and rates.
---
Immediate Hire Work From Home Jobs for Pet Sitters
Pet sitting is a side job you can start right away. To find pet-sitting gigs, here are some of the top sites to look into!
50. ROVER
Rover is a massive community for pet owners and sitters. To get into Rover, you must be at least 18 years old and pass the Rover background check which you must pay yourself.
Pet sitters at Rover earn $15-$25 per hour but note that Rover keeps 20% of your earnings as commission.
51. FETCH
Fetch has been around since 2002 and is now one of the trusted suppliers of pet sitters.
If you are looking for ways to make money as a kid, then this company offers that opportunity for you because they accept teen petsitters.
As a pet sitter at Fetch, your tasks may include pet walking, pet care, and if location permits, even pet boarding.
Fetch sitters make at least $9 per hour, plus tips.
52. WAG!
Similar to Rover, Wag! also offers scheduled and on-demand pet care services.
Wag! has more stringent requirements for pet sitters, though. You need to be able to walk at least 20 minutes, pass an exam on pet care, and pass the collar and harness safety tests.
Wag! also performs background checks on all their sitters. You can earn at least $13 per hour, but Wag! keeps 40% of your earnings as commission.
---
Immediate Hire Work from Home Jobs in Telemarketing
If you have impeccable marketing skills, you could work from home as a telemarketer. Telemarketing is the process of selling a product or service over the phone.
Look into these telemarketing work-from-home jobs hiring immediately!
53. BLUE ZEBRA
Blue Zebra is an agency that offers telemarketing services to other businesses. As a telemarketer at Blue Zebra, you typically do cold calls or outbound calls to generate leads for the company's clients. You are also required to work at least 15 hours per week.
The company offers a decent compensation, starting at $15, and increases after 1-2 months of excellent performance.
54. A BETTER CALL
This telemarketing company offers appointment setting, B2B, and cold-calling services to businesses. The company hires telemarketers with at least two years of industry experience.
A Better Call offers bonuses on top of basic compensation.
55. NEXT LEVEL SOLUTIONS
Next Level Solutions is another virtual call center company that provides telemarketing services to other businesses.
They are looking for US-based independent contractors who can work at least 20 hours per week and have computer and phone skills. They prefer candidates with:
At least a year experience in telemarketing
Bilinguals
The rates at Next Level Solutions vary per project.
56. ALORICA
Alorica is another company to consider if you're looking for work from home part-time gigs in the telemarketing field. It is a multi-awarded company that operates in over 100 locations across the globe.
To work at Alorica, you must meet a minimum of 10 hours per week. You can earn at least $10 per hour, or you may get paid per call or per minute.
57. LIVEOPS
Live Ops is a virtual call center company that provides various solutions to businesses, such as customer service, quality assurance, and virtual assistance.
Telemarketers at LiveOps generally do inbound, and outbound calls about roadside assistance, insurance claims, and more. You can set your own schedule, but you must work actively within your six-month contract to keep your job at Live Ops. Compensation could be per talk time, or base rate plus bonuses.
According to the company's website, you can earn $200 or more, working at least 20 hours per week at Live Ops.
58. BRIGHTEN COMMUNICATIONS
Brighten Communications provides lead generation services to businesses. You can choose your schedule and don't have minimum work hours. However, you need to work within 8 AM EST and 5 PM PST, Monday-Thursday.
To work at Brighten, you must have at least one year of cold calling experience, and be able to deliver at least 20 hours of work per week. Brighten pays at least $14 per hour.
59. WORKING SOLUTIONS
Working Solutions is a BPO virtual contact center company that provides business solutions to clients across industries. The company hires independent contractors who can work on one or two clients at the same time.
According to its website, the pay rate varies, but telemarketers can earn $9-$30 per hour.
---
Customer Service Work at Home Jobs
Customer service agents are essential workers in today's modern economy. They are usually the first contact point when customers have questions, or need help with their accounts.
According to PayScale, the average rate for customer service agents is $14.54 per hour
Here are some of the top companies where you can find legitimate work from home jobs hiring now in the customer service space!
60. AEROTEK
This is a massive recruiting and staffing company that works with various clients, including the Fortune 500 companies.
Aerotek is constantly looking for customer service agents who have at least one year of experience, and excellent communication skills. You also need to have at least a high school diploma to qualify. Entry-level customer service agents at Aerotek earn around $15/hour.
61. KELLY SERVICES
Kelly Services is a staffing company that provides a workforce for various industries. It operates in various countries in the Americas and Europe
Customer service reps at Kelly Services work at least 20 hours per week, from 8 AM to 6 PM. Starting rate at Kelly is $15 per hour.
62. CONTRACT WORLD
Contract World connects work-from-home customer service agents to companies. Lots of well-known companies, including KFC, Pizza Hut, and XPerigo, use Contract World for their customer service needs.
Remote contract agents at Contract World earn $11-$16 per hour.
62. VIPDESK CONNECT
The company provides customer service solutions to various brands. VIPdesk offers a flexible work schedule, but you need to work at least 18 hours per week.
---
Immediate Hire Work at Home Jobs in Data Entry
Data entry jobs are some of the easiest jobs you can get into. At the bare minimum, you'll only need a computer, be a fast typist and have an internet connection. It's a wonderful work-from-home option if you aren't a phone person or have young children.
To get you started, check out the following companies that offer data entry work-from-home jobs!
63. SMARTCROWD
Formerly known as Virtual Bee, SmartCrowd is now one of the most prominent companies that provide legitimate data entry work from home jobs. Some of their most notable clients are Samsung and Google.
The compensation at SmartCrowd is computed per keystrokes ($0.20 to $0.80 per 1000 keystrokes), which typically translates to $5-$6 per hour, depending on how quickly you type.
64. AXION DATA
Axion Data is a digital document processing company that provides data entry services to businesses.
Some of the data entry tasks at Axion Data involve keying in membership registration forms, product registrations, contest entry forms, employment applications, utility bills, and more.
Axion Data only hires data entry workers based in the US, that have at least 2-3 years of relevant work experience, and that are quick typists (15,000 keystrokes per hour). The company pays around $9 per hour.
65. SMART LOCATING
Smart Locating is always hiring efficient data entry specialists who can collect and analyze data. To work at this company, you must be a US resident and must pass a background check. Data entry specialists at Smart Locating earn around $8.50 per hour.
66. DATA PLUS+
Data Plus, a data management company based in Georgia, USA, specializes in data handling, programming, and reporting.
Some of its projects include processing membership applications, warranty cards, professional certifications, tax-related services, and law enforcement reports.
---
Immediate Hire Work From Home Jobs for Online Moderators
Businesses need online moderators to make sure their public spaces on the internet, such as social media, forums, chat rooms, and blogs, remain to be healthy communities.
Online moderators are the people who manage such spaces, making sure that everyone follows the guidelines and every member can voice their thoughts without being offensive.
The following companies are some of the best places that offer these jobs!
67. MOD SQUAD
Mod Squad is a company that offers moderation, customer support, and social media services for its various clients.
As an online moderator at Mod Squad, your role is to manage the message boards and chat rooms while protecting the images of the brands they serve.
The rates at Mod Squad are not disclosed, but according to Glassdoor, moderators at Mod Squad earn around $9 per hour.
68. THE SOCIAL ELEMENT
The Social Element is an agency that focuses on bringing the human connection between the brands they manage and their consumers through social media.
The company is constantly looking for someone who can effectively manage their clients' web spaces.
Working hours at The Social Element are flexible, depending on the campaign. Community managers at Social Element are said to earn around $15-$16 per hour.
A lot of well-known brands use including Microsoft, Samsung, and HP, Khoros's social media services.
Khoros prefers candidates with social media management experience, have a bachelor's degree, and are willing to work on the weekends or evenings. The rate at Khoros is $16-$21 per hour.
70. CRISP THINKING
Crisp is a company that provides 24/7 intelligence for its clients by identifying and managing digital risks, such as hate speech, illegal content, false rumors and news, and more.
To do this, Crisp hires online moderators to manage their clients' social communities. Crisp pays their moderators around $14 per hour.
71. BABY CENTER
If you're a parent or someone who has extensive knowledge about pregnancy and/or parenting and know various social media platforms, then working as an online moderator for Baby Center might be a great fit for you!
You can find current job openings for social media or online moderators on their careers page. Rates are not disclosed.
---
Odd Jobs
Taking odd jobs is a great way to make extra money. Odd jobs are short-term, temporary gigs that usually pay cash right away. You can work on your own schedule and sometimes set your own rates.
If you want to get started immediately, here are some of the best places to explore to find odd jobs!
Related Post: Side Hustles for Single Women
72. TASKRABBIT
TaskRabbit is one of the most popular sites to find odd jobs within your area.
From heavy lifting and plumbing repairs to yard work or running errands for somebody, you can find it at TaskRabbit.
If you'd like to take on some online tasks, there are also virtual assistant and personal assistant jobs available on TaskRabbit.
The rates depend on each job, and you'll get paid after completing each task through the site's payment system.
73. SPARE5
Spare5 is an app and website that pays you to do simple tasks. The tasks typically involve tagging photos, identifying objects, and other things that humans can do, but computers cannot.
The tasks are easy to do, and you can work on your own hours. The rates vary depending on the tasks' complexity, ranging from a few cents to a few dollars. While it's not as great as the others, the site still offers legit ways to earn extra money without putting in so much effort.
74. ZAARLY
Zaarly is a site that connects homeowners with service providers. If you have skilled services to offer, such as repairing or installing appliances, furniture assembly, and cleaning, then this site is perfect for you.
Zaarly accepts applications from local businesses and service providers who can pass the company's extensive vetting process and reference checks.
75. FIELD AGENT
Field Agent is a site that offers mystery shopper gigs. As a mystery shopper, you check out prices at stores, take photos of menus, assess a store's customer service, and more.
Each assignment pays differently, but it can range from $1 to $10.
76. GIGWALK
GigWalk is a market research firm that offers small gigs perfect for people looking to earn an extra income. You can perform a few of these gigs while you're out and about so you can make gas money,
Gigs at GigWalkers may include taking photos of a store, and food menu; or verifying product displays and pricing.
Rates depend on the gig but usually range from $3 to $100, and you must only take one gig at a time and complete it within eight hours.
77. EASY SHIFT
Want to shop and eat and then get paid? Then, this app is for you! Easy Shift works almost like GigWalk and Field Agent, wherein you take an available "shift" from the app and then go on-site and do them.
Once you're done with the task, you create and submit a report to Easy Shift. The shifts come with different rates, ranging from $4 to $40.
---
Micro-tasking
Micro-tasking is an excellent way to make money online. Micro-tasks are quick and easy jobs that typically require the use of a smartphone or a computer. The downside is that this income idea typically does not pay as much as other home jobs.
Still, microtasks are legit, flexible, and great for people looking to earn an extra income in their spare time!
78. AMAZON MECHANICAL TURK
mTurk, a micro-tasking platform on Amazon, is an excellent source of micro job opportunities, from data entry and image tagging to transcription, and other things that the computer cannot do.
For each task you completed, you earn points which you can later cash in or redeem as Amazon gift cards.
Read: Amazon Data Entry Jobs
79. FIVERR
Fiverr is an online marketplace created for jobs priced at $5, hence the name Fiverr. However, you can set your own rates and earn more at Fiverr. Many people even earn 6 figures through the platform.
There are many gigs you can offer on Fiverr, such as short voiceovers, graphic design, blog commenting to huge tasks like website development and full-blown animation projects.
80. CLICKWORKER
Clickworker is another app and website for small tasks such as data entry, categorizing data, and correcting texts.
You can register at Clickworker for free. Your earnings will depend on the tasks you completed and the complexity of the tasks. But it's common to see people making around $9 per hour at Click Worker.
81. MICROWORKERS
Microworkers is a crowdsourcing site that offers thousands of micro-jobs that you can do from home online. These small tasks include image tagging, content moderation, transcription, categorization, data mining, and more.
The site is transparent when it comes to instructions, deadlines, and earnings per task, so you can gauge if a task is worth your while before taking it.
You need to reach the minimum amount before you can withdraw your income (which is $9 in most cases) and you can get paid twice a week.
82. REMOTASKS
Remotasks is another microtasting platform where you can get paid for simple tasks like image tagging, categorization, data collection, and transcription. Remotasks is free to join and offers a training program to gear up everyone who wants to work with them. Remotasks pays weekly via PayPal.
---
Website and App Testing
Website or app testing is another fantastic side hustle for people looking for flexibility. The role requires you to explore a website or an app and navigate its functionalities. By the end of the test, you will send feedback to the developers so they can improve the website based on your experience.
83. USERFEEL
UserFeel is a testing tool that hires website and app testers. Their top clients include TripAdvisor, Rakuten, and Lowe's, among others.
To become a tester at Userfeel, you need to take a sample test. You may also need to answer screener questions to determine your eligibility to do these tests. Once qualified, UserFeel will send you tests that pay $10 per 20-30 minutes. It is essential to have a microphone because you will be speaking your opinions as you are testing the website.
TryMyUI is a legit website testing platform that helps businesses improve their sites and apps through honest feedback from testers.
As a tester at TryMyUI, you will explore an app or website, and take note of its strengths and weaknesses. The company pays $10 for every test that runs for 20 minutes.
Read: TryMyUI Review
85. USERTESTING
User Testing is one of the biggest testing companies right now serving clients like Expedia, Microsoft, Fandango, and more. User Testing is constantly looking for testers who have MACs and laptops, as well as different sorts of internet-enabled wearables.
User Testing pays $10 per 20-minute testing session. If you're going to provide real-time feedback before the customer, the rate ramps up to $60.
86. USERLYTICS
Userlytics is another popular usability testing platform with clients like L'Oreal, Verizon, Coca-Cola, and American Airlines.
Unlike other testing sites, Userlytics requires their remote testers to install a screen recording software into their computer or smartphone for tests to be qualified and approved. Rates vary depending on the complexity of the test, but complicated ones can pay as much as $90 per test.
87. TESTINGTIME
Testing Time prides itself as one of the most reputable testing sites today with over half a million testers.
Most tests at Testing Time are done from home through Skype or Zoom, so make sure you're familiar with such applications. You will be guided by a moderator while the test is going on, and your role is to answer each question truthfully and spontaneously.
Testing Time pays up to fifty euros or around $60 per hour.
Enroll is an app that pays you to test out sites and apps. The great thing about this testing platform is that you can carry out tests with your choice device: desktop, laptop, smartphones, or tablet. They don't require much from their testers except having a PayPal account for the payments. The rate for each test varies, but many testers typically make around $10 an hour.
---
Translation
Online translators typically work as independent contractors, allowing them to have time freedom and flexibility.
What's great about this option is that there are even automatic translation tools you can use like VEED to help you save time. Simply upload a video on VEED and it will automatically generate subtitles and then translate your video into any language with a single click. Join VEED for FREE here.
---
Here are the top websites looking for immediate hire remote jobs in online translation.
89. UNBABEL
Unbabel is a company that provides multilingual support, and one of the services it offers is translation. Although Unbabel is quite a new company, it has already managed to acquire some of the biggest brands as clients. Translation gigs at Unbabel pay $8-$20 per hour.
To work as a translator at Gengo, you need to pass a two-part assessment test and familiarize the company's style guide.
There are lots of language pairs available at Gengo but Japanese-English translations seem to be more in-demand. Translators at Gengo are paid competitively, but Chinese and Japanese command the highest rates.
91. ONE HOUR TRANSLATION
One Hour Translation provides on-demand translation services to over 120 languages and 3,200 language pairs. Its services are used by some of the world's leading brands, including Amazon, Pfizer, and Uber.
Experience in translation and academic history are also required to work at One Hour. The starting pay is $12 but may change depending on the word count of the material, language pairing, and the translator's quality rating.
92. TRANSLATE.COM
Translate.com provides translation services to over 90 languages and across various fields and industries. To work at Translate.com, you need to sign up on-site, take a test and translate a sample test.
93. ACCLARO
Acclaro provides localization and enterprise translation services to various companies, including IBM, Coach, VISA, and Tiffany & Co, and many others. Acclaro translates to over 125 languages and has a constant demand for high-quality online translators.
To become one of Acclaro's linguistic specialists, you must have at least three years of relevant work experience, a university degree, and knowledge in operating translation software. Rates are not disclosed.
Language Service Associates provides interpretation, localization, and translation services to businesses. Some of its most notable clients are Discover, MedAssets, Sitel, and Mandalay Bay. The company provides flexible, work-from-home opportunities with competitive rates. However, applicants must go through a rigorous multi-step application process to qualify.
Smartling is a translation management company that provides translation services to companies like TaskRabbit, Canva, GoFundMe, and Shopify. The company offers competitive pay, on-time payments, and a flexible work set-up for the language specialists.
To apply, visit Smartling's website and check out the openings on the careers page.
---
Immediate Hire Work from Home Jobs in Amazon
Amazon is now opening loads of work-from-home opportunities.
This massive company is continuously growing, so it's looking for the right people to fill in various remote and online jobs. Here are some of the top Amazon work at home jobs that you may consider:
96. AMAZON CUSTOMER SERVICE
If you have at least one year of work experience in customer service and can provide excellent support to customers via phone, chat, or email, then working as an Amazon customer service specialist is up in your alley. Although this job is remote, it has fixed working hours. You also need to have a reliable remote setup to apply. You can earn around $15 per hour in these Amazon at home jobs
97. AMAZON FLEX
Flex is Amazon's own delivery app. As a Flex driver, your job is to pick up and drop off packages for Amazon customers. It works in almost a similar fashion with DoorDash and Instacart.
Using the Flex app, you can assign your own working schedule, so you can easily fit this side gig around your lifestyle. To qualify, you need to be at least 21, own a car and auto insurance, and pass a background check. This job pays at least $15 per hour plus tips.
98. Amazon Associates Program
Being an influencer is perhaps one of the best Amazon online jobs. Amazon is always looking to expand its sales, and one of its proven strategies is the influencer program.
With the Amazon Associates Program, bloggers, YouTubers, and social media personalities work on promoting products on Amazon to their target audience.
Check out Amazon Associates here.
99. WORK FROM HOME AT PILL PACK
Pill Pack, an online pharmacy owned by Amazon, allows customers to order medications online, and then have them sorted and delivered right to their doorsteps.
Some of the Amazon jobs available at Pill Pack are customer service specialists, licensed pharmacy technicians, and billing specialists. Although these are work-from-home opportunities, you must reside in the state where the positions are available.
100. AMAZON MERCH
Merch is Amazon's print-on-demand service. With Merch, you create designs for products such as t-shirts, mugs, and hoodies. When someone orders your design on Amazon, Amazon takes care of the printing and then ships it to the customer's address.
You can set your own price for each design, and make money from royalties.
101. KINDLE DIRECT PUBLISHING
Do you want to be a self-published author? Then, use Kindle, Amazon's self-publishing platform! You can publish both paperback and ebooks on Kindle.
Simply submit your book on Kindle and the platform will put it into the Kindle store. As with Amazon Merch, you can set your own rates for each book, and earn 70% from their sales.
There you have it! Over 100 work at home jobs hiring now! I regularly update this list with new opportunities, so be sure to bookmark this page so you can easily find your way to this list when you need it!