Looking for virtual assistant jobs in 2023? Here are 18 legit websites to find full-time or part-time virtual assistant jobs for beginners!
Virtual Assistant Jobs for Beginners
If you've been here before, then you probably know that I am constantly looking for more "work anywhere" jobs and for the next big thing. In the world of working from home, I think virtual assisting is one of the best options out there.
Right now, the virtual assistant industry is rapidly growing. Many businesses and entrepreneurs are finding that virtual assistants are a vital way to improve their productivity without spending big-company dollars.
So, if you are interested in getting your feet wet with virtual assisting, then read on to learn more about this hustle and the best places to find virtual assistant jobs for beginners.
---
The Demand for Virtual Assistants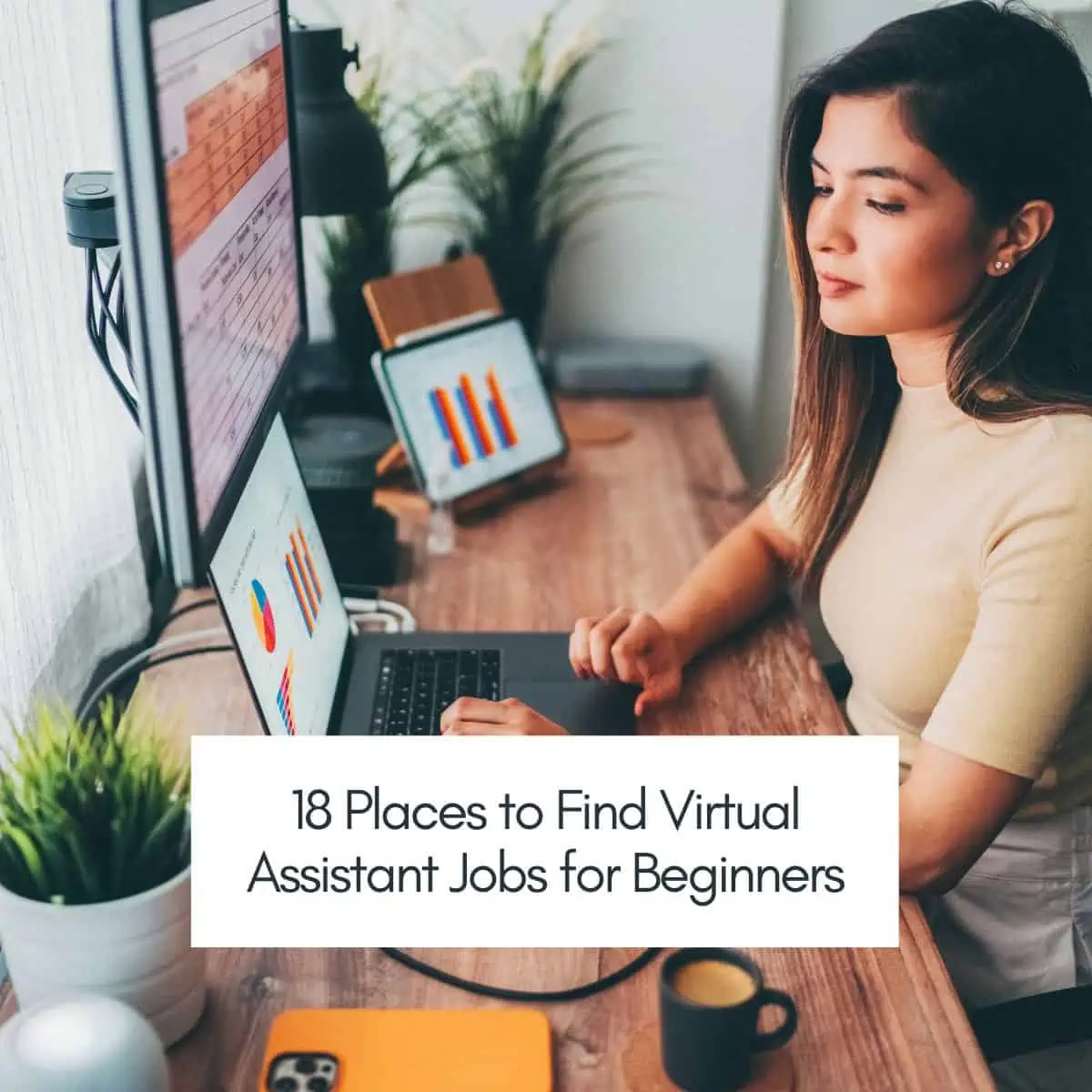 Delegated gives us a very comprehensive overview of the booming VA market. According to the Bureau of Labor Statistics, there are 3.7 million secretaries and administrative assistants in the US in 2018. That means there's probably some sort of a secretary or assistant in every industry you can imagine.
VAs might be part of these statistics, but VAs also belong to the outsourcing market. According to Grand View Research, the outsourcing market is predicted to worth $405.6 billion by 2027.
What all this overwhelming data tells us is that virtual assistance won't be just a trend, but it's most likely to stay in the years to come. This job has also become appealing to many people for many reasons. It offers flexibility, freedom to work from home (or anywhere), and an opportunity to grow and learn as a professional.
---
Virtual Assistant Jobs Description: What Does a VA do?
A virtual assistant (VA) is someone who provides administrative assistance services remotely. It means that you could be working for someone within your city, your country, or halfway across the globe.
Virtual assistants offer a wide range of service, including:
Data entry
Designing
Marketing
Social media management
Appointment setting
Calendar management
Inbound and outbound calling
e-Commerce
Consulting for a consultancy agency
Facebook ads management
And so much more!
If you have one or more of these skills, then you could start virtual assistant jobs part-time or full-time.
This post contains affiliate links. I may earn a commission at NO extra cost to you for your purchases made through these links. Disclosure.
---
Why do people hire a virtual assistant?
Virtual assistants provide valuable support to busy professionals and business owners, such as a boutique owner who needs someone to promote their products on social media, or an online entrepreneur who needs some help getting appointments or managing his schedule.
They typically handle spill-over work which allows clients to focus on the core of their operations. Here are more reasons why people hire virtual assistants:
Reduce overhead costs
Hiring a remote employee proves to be cheaper than getting a full-time one. Since virtual assistants are independent contractors, clients won't have to pay for the VA's equipment, office lease, internet connection, among other expenses. According to Outsource Access, business owners can expect to save up to 78% in operating costs from getting a VA instead of a full-time employee.
If you work as a VA, you are not a client's employee, but a third-party service provider. You may work on a per hour or project basis, and clients may contact you as the need arises or during a specific period (such as their busy season).
Focus on important business matters
Business owners and busy professionals need to do a lot of things to get their ventures running, such as bookkeeping, data entry, answering calls, managing their Facebook accounts, and so on. These tasks can take a lot of their time, making it tough to focus on the more important matters like conceptualization and strategizing. So, many business owners hire virtual assistants to relieve them of minor tasks and increase their productivity. A Stanford study even suggests that hiring VAs could increase productivity by 13 percent!
Achieve work-life balance
VAs can help clients achieve work-life balance by giving clients the ability to afford the time – time for family, time for other hobbies, time for socialization, etc. With a dependable VA working on their business, clients can take a rest, go on vacation, and spend their energy towards other things when they want to.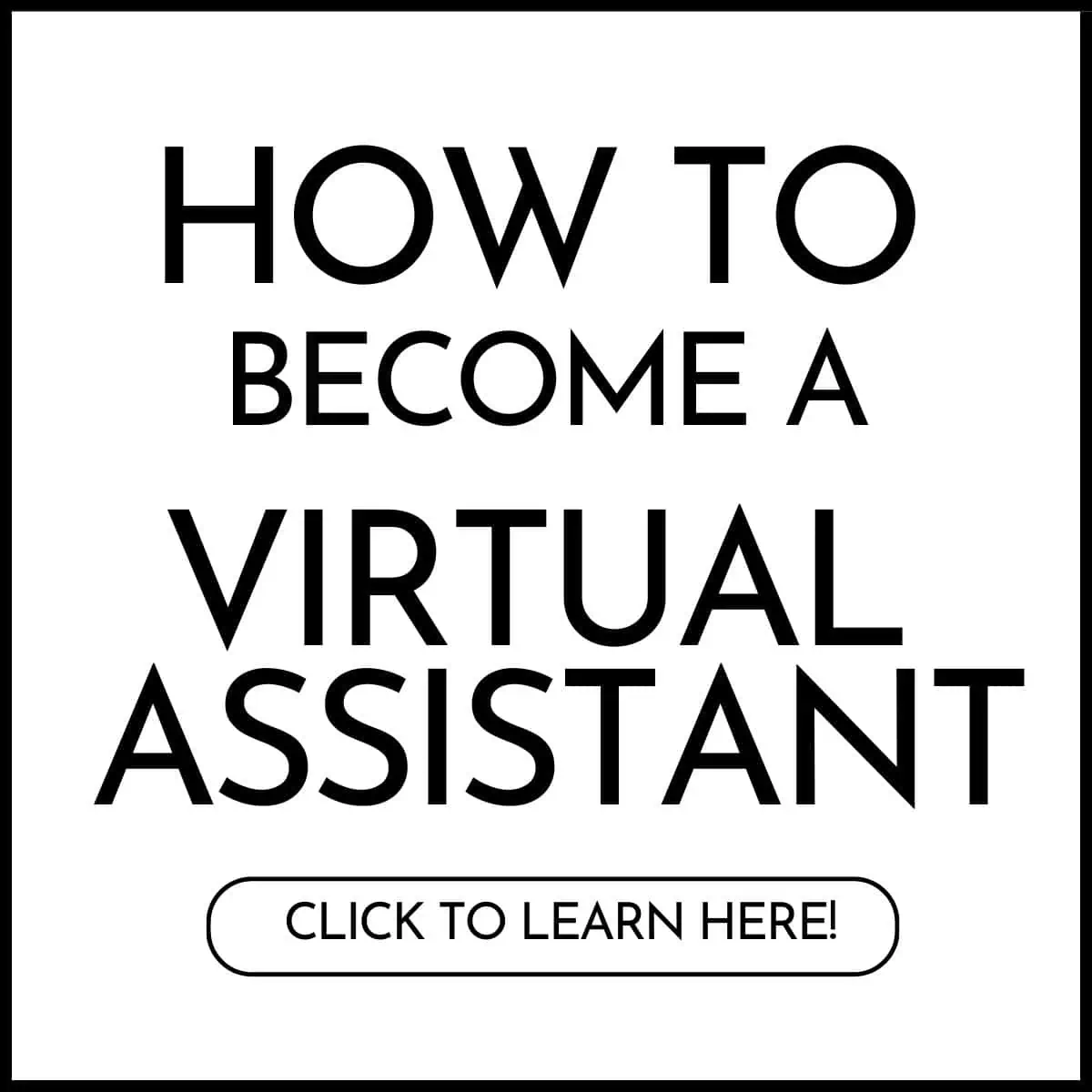 ---
Where to Find Virtual Assistant Jobs for Beginners
Check out these legit virtual assistant companies!
1. 99 Dollar Social
99 Dollar Social provides social media services to small businesses. They are always looking for content specialists, particularly people who are social media savvy.
As a social media content specialist at 99 Dollar Social, your role is to create, post, and share content on social media platforms.
The company offers full-time and part-time virtual assistant jobs at home. You would be assigned a number of accounts to manage during your working schedule.
To apply, you can go to their website directly. Once you're shortlisted, you will get three writing assignments as a test. Then, you may be required a couple of hours of unpaid training. This may be a great option if you don't have experience working as a VA before.
99 Dollar Social does not pay per hour, rather, per account. The more accounts you manage, the more income you earn. But according to Glassdoor, content specialists earn an average of $12-13/hour.
---
2. Virtual Office VA
Virtual Office VA is a staffing company that provides real estate service assistance to real estate professionals. One of your roles at Virtual Office is to generate leads for real estate investors by calling up home sellers.
If you enjoy working on the phone and confident about your communication skills, then working at Virtual Office VA might be suitable for you. You will work full-time between 8 AM to 8 PM EST, and optional to work on weekends to reach your quota.
To apply for Virtual Office VA, head over to their website and click on Employment Opportunity. If you qualify, you can work for 20-25 hours/week, and earn $9-$10/hour, paid once a week via PayPal.
---
3. Fancy Hands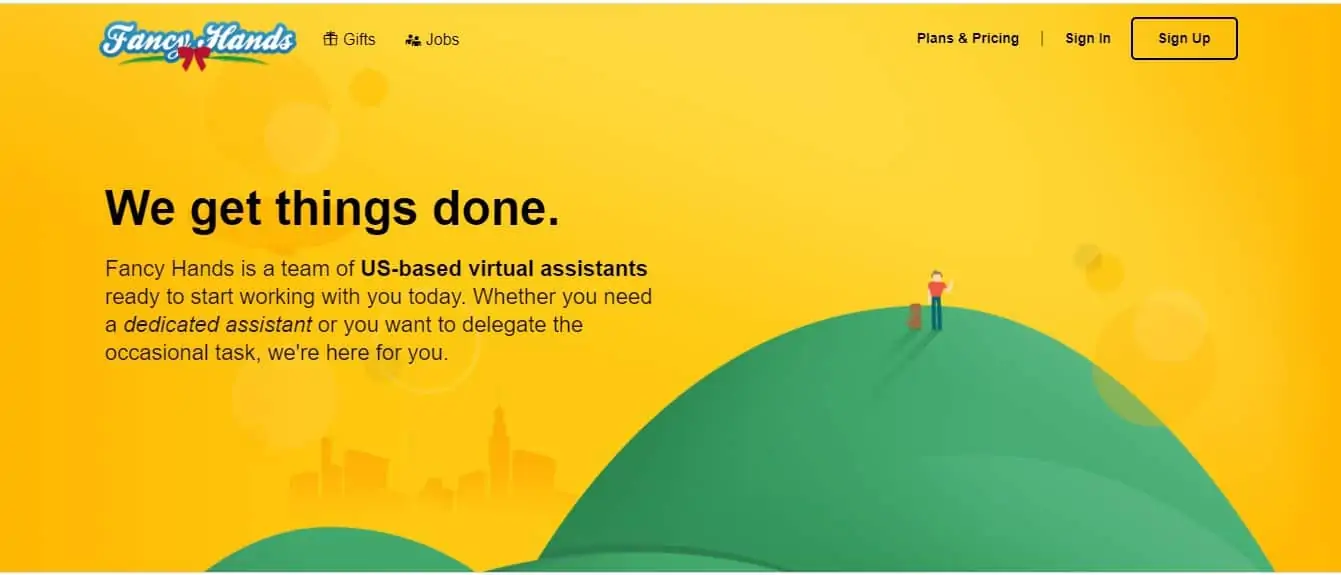 Fancy Hands is another popular platform to find and score virtual assistant jobs for beginners. But this one is task-based, meaning you find a job that suits your skills, do the task, and then you get paid for each completed task. The tasks vary, including but not limited to data entry, calendar management, doing research, booking appointments, flights, and accommodations, some phone work, and more.
Fancy Hands offers virtual assistant jobs work from home even for people who have no experience but have the skills required to complete the job.
Fancy Hands gives you a good amount of flexibility in that you can work on your own schedule. The tasks are short-term, taking roughly 10-20 minutes, and it's up to you how many tasks you want to work on for a given time.
Fancy Hands pay $3-$7 per task, depending on its complexity. According to Glassdoor, Fancy Hands VAs earn an average of $12/hour.
Note: Fancy Hands is not always hiring. If you're interested in working with them, check out their website from time to time for job opportunities.
---
4. Assistant Match
Assistant Match is another virtual assistant staffing company that provides VAs to business owners. Virtual assistants at Assistant Match are expected to carry out various administrative tasks, such as data entry, appointment setting, and customer service. VAs with specialized skills, such as graphic design, can command higher rates.
Let it be known though that Assistant Match only gives you leads for VA opportunities that might suit your skills, but it isn't the company that actually hires you. Think of it as a middleman between you and a potential client. Don't worry as it is legit "virtual assistant jobs" website out there.
As for the pay, regular administrative VAs can earn $12-$15/hour, while specialized VAs can earn $20-$25/hour on average.
---
5. Lifebushido
Update (June 6, 2021): This site is no longer accessible and out of business.
Lifebushido is one of the most popular virtual assistant staffing companies out there. They hire VAs from around the world to provide administrative assistance to clients remotely.
VAs in Lifebushido only work part-time, ranging from 5 to 25 hours per week. Their application process begins on their website, and after which, you will receive a series of emails for further instructions. Most people say that the entire application process takes 30 days, which I found very lengthy, and you will only get paid for training if you're hired.
VA salary at Lifebushido isn't publicly disclosed, but according to Indeed, Lifebushido pays $16-$17/hour to their administrative assistants. Payments are processed once a month via PayPal.
---
6. Virtual Gal Friday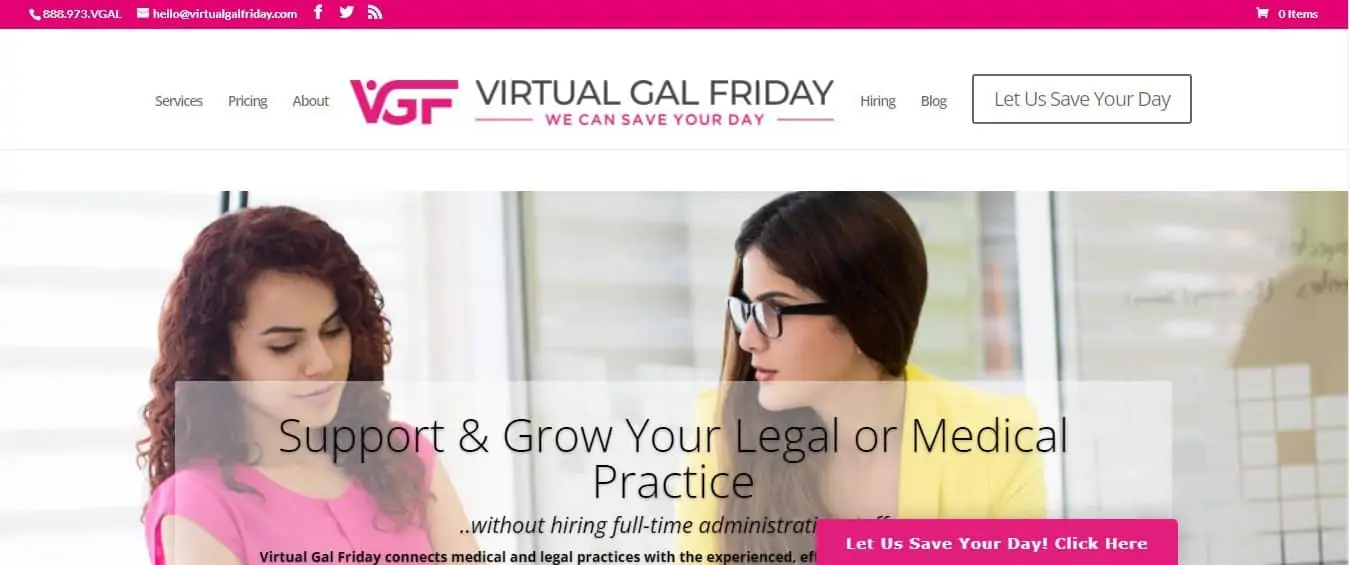 Founded in 1998, Virtual Gal Friday is one of the most established VA companies where you can find virtual assistant jobs for beginners.
Virtual Gal Friday began as a solo business but has since expanded into a robust team of home-based VAs in the US. But, unlike other VA agencies, you will join the company as an employee and not as an independent contractor.
Virtual Gal Friday provides a wide range of administrative support to their clients, ranging from receptionist tasks, phone call handling, data entry, legal, and medical assistant work to many others in between.
According to their website, they welcome applicants with impeccable organization skills and the ability to follow both written and verbal instructions. Other key skills that are beneficial to this job are word processing and internet skills, transcription, calendar management, and office management.
The salary rate depends upon your position, but according to Indeed, virtual assistant jobs salary at Virtual Gal Friday VAs is $15/hour on the average.
Easiest Ways to Make Money Online
---
7. Okay Relax

OkayRelax is a task-based virtual assistance provider. VAs at OkayrRelax help clients in a wide variety of tasks, including research, booking a restaurant, product comparison, and analysis, booking travel accommodations, calendar management, and more.
Okay Relax's qualifications include a diploma on something. The company will also assess your administrative skills, including typing, transcription, and other computer-based jobs. They also provide a three-week training before you can start accepting gigs.
If you're looking for entry-level opportunities, OkayRelax is one of the top places to consider.
Okay Relax's pay starts at $11/hour and goes up depending on the task.
---
8. Zirtual
Zirtual is a company that provides virtual assistants to small teams, professionals, and entrepreneurs. The company has quite a competitive market for VAs, and each applicant goes through a strict vetting process.
Unfortunately, Zirtual requires their VAs to be college-educated and follow a strict working schedule. It's also essential that you are familiar with project management apps like Trello and Asana as well as pass their background and reference checks.
If you're interested in working at Zirtual, you can head over to their website and click Work for Zirtual. The salary rate range between $13-$18/hour, and you need to work fulltime, 9 AM to 6 PM EST during weekdays.
---
9. VANetworking.com
VANetworking.com is a popular company that provides virtual assistance to businesses so it's also a good place to find virtual assistant jobs for beginners. They have lots of VA resources you can use to help you land VA jobs faster.
---
10. BOLDLY
Known for providing premium remote staffing services, Boldly is one of the best companies to find virtual assistant jobs part-time from home. The company offers subscription-based VA services to clients, which include administrative tasks, bookkeeping, social media management, project management, personal support, and more.
Boldly hires remote VAs from 23 states in the US as well as the United Kingdom. Boldly VAs work at least 20 hours per week, juggling 2-3 clients at a time. The company promises long-term VA jobs which could last for at least a year. According to their website, Boldly VAs earn at least $22 per hour (depending on skills and level of experience), plus paid time offs, life insurance, and medical benefits.
You can find open positions on Boldly here.
---
11. EQUIVITY
Equivity is another legit company that offers virtual assistant jobs from home. The company hires specialist VAs who are experts in their field and US college-educated. When you join Equivity, the company takes care of finding clients for you and matches you with tasks that best fit your skills. So, whether a client needs some assistance in legal paperwork, email marketing campaign, calendar management, or bookkeeping, Equity promises to provide the most suitable VA.
If you're looking for virtual assistant websites to join, then Equivity is an excellent choice. To become a VA on Equivity, you need to work part-time during business hours. You must also be proficient in computer and research, have excellent communication skills, highly dedicated, meticulous, and organized.
Equivity VAs are compensated nicely. According to my research, Equivity VAs earn at least $20/hour, which is more than the average virtual assistant salary.
You can visit Equivity's career page to find available virtual jobs.
---
12. VICKY VIRTUAL
If you have the knack for providing excellent customer service over the phone, then Vicky Virtual is the best VA site to join. Vicky Virtual is a VA company that offers remote receptionist services to small businesses. In other words, your role as a VA on Vicky Virtual consists of making and receiving phone calls on behalf of the client.
If you have previous call center or customer service experience, then Vicky Virtual is a great place to kick off your VA career and find virtual assistant jobs entry level. To qualify, you must be equipped to work from home, type at least 50 WPM, ability to take down accurate notes, have excellent communication skills, and importantly, an empathetic and cheerful attitude.
Vicky Virtual's VA requirements are less lenient than others, making it one of the best places to find virtual assistant jobs from home with no experience. You will be paid $10 per hour as a VA on Vicky Virtual.
---
13. VASUMO
The company prides itself in providing the best trained virtual assistants, and that's because every VA that makes it to their team has to go through a three-month paid training. Vasumo is a VA agency that helps businesses in various tasks, such as designing websites, designing graphics, editing podcasts and videos, managing social media, writing copy, and more.
The company is constantly looking for VAs who have at least three years of relevant professional experience and are passionate about learning the tools and strategies that significantly help the client's business. You also need to be willing to undergo paid training for three months and reside in the US or Canada.
It is not clear how much Vasumo pays its VA, but according to most sources, it is at least $7 per hour for beginners. You can apply in Vasumo by visiting their career page.
---
14. VAVA
This is is a US-based agency that provides full VA services to small and medium enterprises. VaVa Virtual Assistants offers remote assistance in various fields, including but not limited to executive assistance, social media marketing, web design, graphic design, and rebranding.
VaVa is an excellent platform to join if you have some experience in virtual jobs. The requirements include excellent communication skills, calendar management, and being adept in various technologies and project organization platforms. VAs on VaVa work as independent contractors on a part-time basis, and only residents in the US are eligible to apply.
VaVa VAs are paid a base rate of $15 per hour but may increase depending on their level of experience and specialty. You can find virtual assistant jobs remote openings and internship opportunities by visiting VaVa's jobs page.
---
15. 24/7 VIRTUAL ASSISTANTS
24/7 Virtual Assistants is a VA company that provides part-time virtual assistant jobs for beginners from home for both new and experienced VAs. The company assigns a dedicated VA to a specific client, taking into account the suitability of the VAs skills and experience to the client's needs.
24/7 is a legit platform for scoring virtual assistant jobs, whether you are in or out of the US. VAs are expected to carry out various tasks, so being knowledgeable in multiple industries and adept at learning new things is always an advantage. Since the company serves clients from different parts of the world, noting that you are bilingual or multilingual may help your application stand out.
If you are able to work at least 20 hours per month, then you should consider looking into the open positions 24/7. You can submit your application online and wait for the company to get back to you. the compensation is at least $10 per hour.
Related:
---
Online Jobs Marketplaces to Find Virtual Assistant Jobs for Beginners
16. Get Virtual Assistant Jobs for Beginners at

FlexJobs
One of my most favorite online job marketplaces is FlexJobs, and it also happens to be one of the best platforms to find full-time or freelance virtual assistant jobs for beginners worldwide. The truth is, there are lots of scam online jobs nowadays, and sending out your application to a fraud company or recruiter is very risky.
With FlexJobs, one is assured that all job listings are legit because the company strictly vets and inspects the companies that wish to advertise their openings. So, if you are looking for legit virtual assistant jobs from home with no experience, I highly recommend giving FlexJobs a try.
On that note, please remember that FlexJobs charges a fee ($14.95 a month or $49.95 per year) for you to use. But I think this is just a small investment in exchange for access to verified and legit virtual assistant jobs, whether you are looking for a full-time, part-time, or freelance role.
17. Get Virtual Assistant Jobs for Beginners Worldwide at UpWork
UpWork is another legit job marketplace where you can create a freelancer profile advertising your VA services. Companies looking for virtual assistants similarly post their openings on the platform as well.
There are lots of entry-level virtual assistant jobs on UpWork. Similarly, there are also lots of freelancers who are on the lookout for potential VA gigs. With that said, it is important to visit the platform regularly so you can send your bid for potential jobs immediately.
Since UpWork acts like a middleman, keep in mind that the platform will take around 10%-20% of your income as a fee.
18. Fiverr
Fiverr is a job search website where you can find various online jobs that pay $5 per task. There are also numerous listings for virtual assistant jobs from home on Fiverr, so this is one of the sites you ought to visit when looking for virtual jobs.
To get started, you just need to create a profile on Fiverr and highlight your skills. Utilize the search feature to find virtual assistant jobs that you deem fit for your skills. For instance, many people are looking for virtual receptionists, cold callers, and data entry specialists. Once you find a gig that's a great match, apply for it right away.
Your performance on Fiverr helps build your reputation on the platform. Clients can leave ratings and feedback, so having higher ratings and positive feedback will impact your chances of getting more virtual assistant jobs in the future.
---
Virtual Assistant Jobs for Beginners: How to Get Started
Working as a virtual assistant from home can be one of the best ways to grow professionally without having to wrestle with the 9-5 rat race. Not only do you grow with your current skills, but you also get paid to explore and obtain new ones, which you can use to level up in your career.
What do I need to become a virtual assistant, you may ask. Well, it all depends on the type of service you want to offer. Entry-level virtual assistant jobs may only require typing and basic computer skills, while more specialized virtual assistant jobs, such as Pinterest marketing, Amazon product research and more, may require some skills and experience.
if you have no experience, the good thing is that many virtual assistant companies offer free training, so you can acquire the skills you need to work for them and make money from home as a VA.
You can also choose to take online courses to learn virtual assistant skills and fastrack your success. If you are a complete beginner and want to learn how to get started as a VA, here are some VA resources to help you get started:
Gina has built a successful VA business in six months and has helped lots of people do the same.
---
YouTube
How to become a virtual assistant for free? Well, there's YouTube that's full of tutorials about anything. Whether you want to learn techniques on how to write your VA resume or learn Excel formulas and functions for a potential VA job, I bet you can find a YouTube tutorial for it.
---
Top Virtual Assistant Udemy Courses : Land Virtual Assistant Jobs for Beginners Faster
Udemy is my go-to place for really cheap courses to learn skills for online jobs. You can learn literally anything virtually at Udemy for as low as $12! As for highly-rated virtual assistant courses at Udemy, check out the following:
Work from Home as a Virtual Assistant
Work from Home as a Virtual Assistant covers how to launch your VA business, what you need before opening your business, how to set your rates, and more. Check it out here.
Become a Virtual Assistant
In this course, you'll learn basic virtual assistant skills, where to find virtual assistance positions, how to write your resume to get high-paying online virtual assistant jobs from home. Check it out here.
Learn How to Hire and Manage Your Virtual Assistants
If you're looking to build a virtual assistant agency, this course is for you. This course will teach you how to hire virtual assistants worldwide and best practices on managing your employees. Check it out here.
---
Are you a VA, and have you used any of the sites or companies mentioned above? Let us know about your experience in the comments!