How to Become a Virtual Assistant with No Experience
Are you looking for fully-flexible stay-at-home mom jobs to make a decent income from home? Do you need online jobs that don't require experience?
Virtual assisting is a great work-at-home option for you if you are keen on providing administrative assistance and support to other entrepreneurs.
In most cases, you don't need to have experience or a special degree to land a virtual assistant (VA) gig; you just need to have the skills to perform the required tasks.
If you're interested in this work-at-home job, you're in for a treat because today I am going to show you how to become a virtual assistant with no experience.
I will also be sharing a recent interview with Gina Horkey from Horkeyhandbook.com. Gina has made a name in this industry and built a successful 6-figure virtual assistant business in 8 months!
Be sure to check out the interview down below to learn more about her virtual assistant business and how to get started!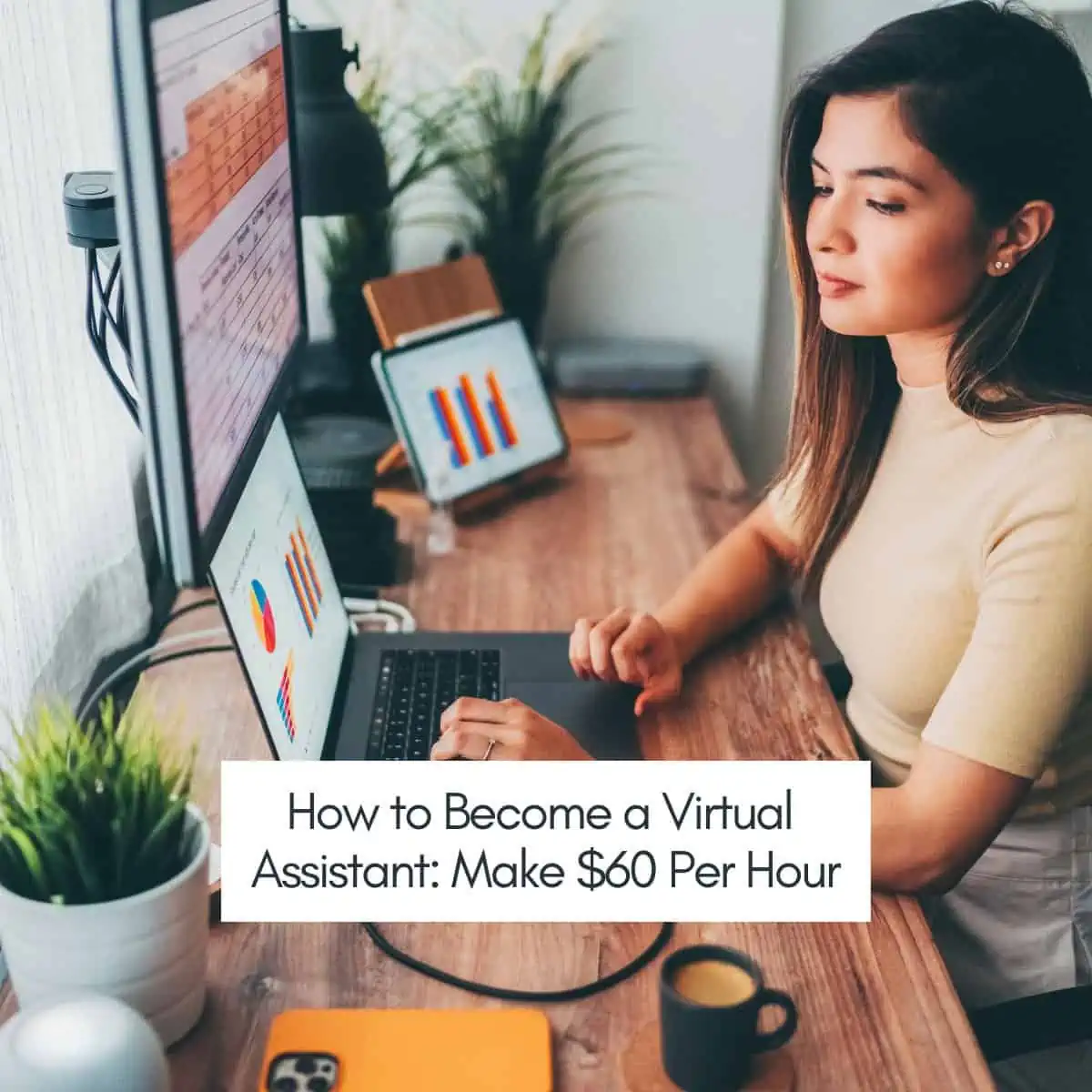 This post contains affiliate links. I may earn a commission for any purchases made through these links at NO additional cost to you. Please read my Disclosure for more information.
What is a virtual assistant?
If you are new to digital marketing, you might be asking: what exactly is a virtual assistant? What is a virtual assistant job?
In a nutshell, a virtual assistant provides services to a business or another individual from a remote location. Business owners and busy professionals need to outsource some of their tasks so they can focus on their core responsibilities.
And instead of hiring an in-office staff, they hire a virtual assistant to save on overhead costs like taxes, healthcare, and office-related expenses (think of computers, internet connection, and software).
Think of it as an online secretary, virtual administrative assistant, or virtual personal assistant.
Virtual Assistant Services: What Does a Virtual Assistant Do?
The virtual assistant job description varies a lot, but below is a list of virtual assistant services you can provide:
Data entry
Customer service
Social media management
Email management and correspondence
Ghostwriting
Marketing
Recruitment
Appointment setting
Event planning
Graphic design
You may perform multiple tasks for your client, or you could focus on a niche and offer such service exclusively.
You can focus on managing social media accounts, work as a Pinterest virtual assistant, or work as a virtual administrative assistant doing admin tasks for clients.
Depending on the kind of service/s you want to offer, below are some of the most important virtual assistant skills you should have:
Writing
Organizational
Computer/ typing
Customer service
Social media
As long as you have decent writing skills, you are organized and computer-literate, and you are knowledgeable of social media, you've got a high chance of landing virtual assistant jobs online.
---
Why work as a virtual assistant?
Huge Demand
Virtual assistance is a booming industry. More and more people or companies from around the globe are looking to hire VAs for their businesses because of the huge savings they make with these remote workers.
Professional Fulfillment
For a lot of people working as VAs, virtual assistance is a fantastic opportunity to earn a lucrative income without leaving their homes. Many women also find professional fulfillment working as virtual assistants.
Flexibility
Additionally, virtual assistants can take their jobs anywhere. As remote workers, they can work from home, a coffee shop, or the public library; and they can even go on vacation and still be able to perform tasks for clients.
Virtual assistants also appreciate their time, freedom, and flexibility. Although some may need to work on their clients' time zones, many VAs can charge per hour or project, allowing them to work at their own time. The flexibility this career offer makes it one of the most appealing stay-at-home mom jobs!
Lucrative
Although there are also lots of virtual assistant jobs that are low-paying, it's possible to earn really good money as a freelance virtual assistant if you're an efficient worker with lots of skills.
How much do virtual assistants make?
A freelance virtual assistant is typically paid per hour or a flat fee per project. On an hourly basis, the national average virtual assistant salary is $15.65 per hour, according to Payscale.com.
However, a lot of virtual assistants are making more than this, especially if you've acquired a lot of experience relevant to what the client needs.
Working as an independent contractor or service provider rather than working under an agency also allows you to command a higher rate. Some VAs charge as much as $40 to $60 per hour.
Gina even charges over $100 per hour!
---
What Do You Need to Become a Virtual Assistant?
If you're dead set to start looking for virtual jobs from home, then you must equip yourself with the necessary tools, technology, and skillset to make you successful.
Tools and technology
As a virtual assistant, you will perform remote assistant jobs.
That means you need a working computer with good specs as well as a reliable high-speed Internet connection. You may also want to add a good headset and clear webcam (for conducting meetings with clients).
It's also best to establish yourself online, so putting up a professional social media account and virtual assistant website help in attracting clients.
You can create a virtual assistant website for cheap (best price here!) If you need help setting up your website, check out my easy step-by-step tutorial here.
Skillset
Virtual assistants also need a variety of skills. You're expected to have excellent communication skills, the ability to meet deadlines, and organizational skills. You should also be open-minded. You will need to know some, most, or all parts of your client's business, and knowing how to adopt new knowledge will come in handy to you.
Education or Virtual Assistant Training
Virtual assistants don't need any specialized education or degree. If you are detail-oriented, can operate a computer, and are a quick learner, you can easily become a virtual assistant.
If you've studied and worked in a particular field, such as medical, legal, real estate, or accounting; then you have a clear advantage of scoring VA jobs in these industries. Working in a specialized niche allows you to have a competitive edge and charge higher rates.
However, if you have no prior VA experience and need to brush up your skills, virtual assistant training can help you land virtual assistant gigs faster.
Where To Find Virtual Assistant Jobs from Home
There's an abundance of virtual assistant jobs from home even for beginners, and it's up to you how to sell your services so that clients can see what value you can deliver to their business.
The first several places you can look into when looking for virtual assistant jobs for beginners:
Your existing network or circle
You can send emails or direct messages to your friends and colleagues announcing that you've launched a virtual assistance business. You never know, some of your friends may have too many things to do with their e-commerce stores that they could use an extra pair of hands.
Job boards
You can check out Upwork, FlexJobs, Craigslist, PeoplePerHour, among others to find virtual assistant gigs.
Facebook groups
Many entrepreneurs join Facebook groups where they can network, ask questions and referrals. When you spot someone looking for assistance with their business, that's your opportunity to offer your services.
---
Related: 18 Virtual Assistant Jobs for Beginners
Virtual Assistant Training
As long as you have the skill set needed for the type of virtual assistant job you want to get, you can get started working as a virtual assistant right away.
What if you don't know how to get started? There are also online training programs that will teach you the skills, build the foundation of your VA business, find clients, sell your services, automation, and more.
One of the most popular comprehensive programs these days is Gina Horkey's #FullyBookedVA program.
In this program, aspiring virtual assistants get to delve deeper into what niche they should specialize in, how to position themselves in the market, how to network and find clients, and how to set up rates, invoicing system,s and more.
Gina Horkey gives a sound stepping stone to people who wish to get virtual assistant training, particularly those who don't know where to start.
---
An Interview: How This Mom to Two Built Her Successful Virtual Assistant Business
I have had the chance to interview Gina so she could share with us her journey to working full-time as a VA and her tips to aspiring virtual assistants!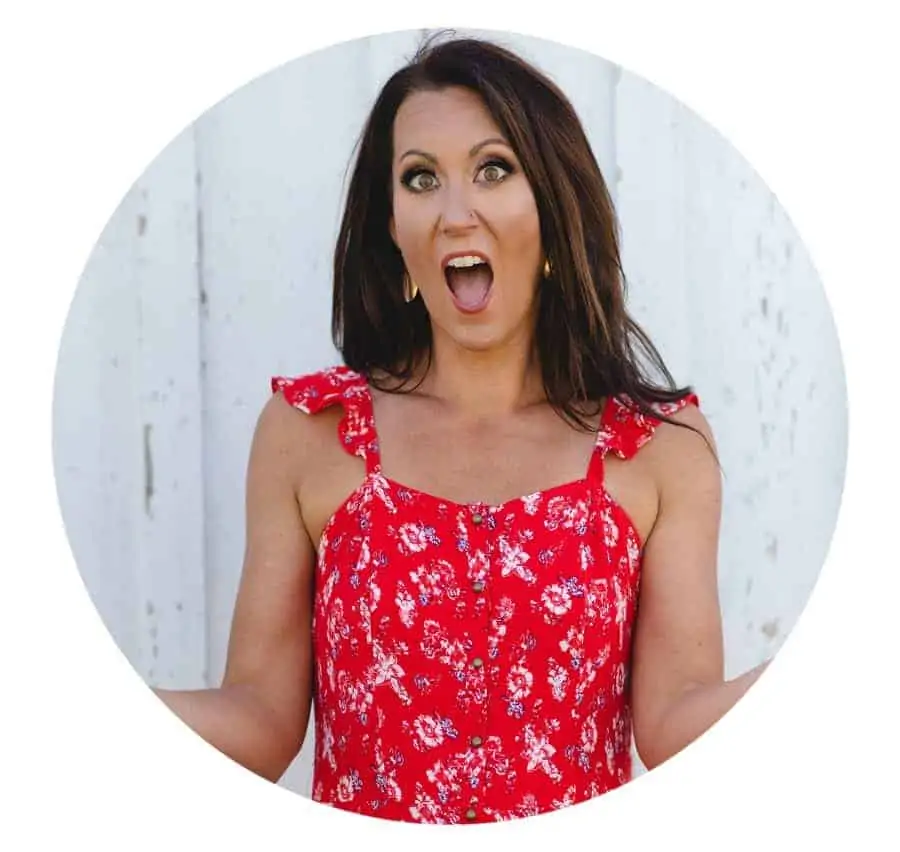 Could you give a little background on yourself and how you got started as a virtual assistant?
I started a freelance writing business on the side of my full-time job (in personal finance), in the spring of 2014 to "test the waters" for a potential career change.
At the time, I was (and still am) the sole breadwinner of our little family of four and my husband was (and still is) a SAHD to our two kiddos. Our youngest was less than a year old at the time!
That fall I added in virtual assistant services as a way to stabilize my income, make it more predictable, and use some of my other skills to help small business owners. Landing my first VA client is what gave me the confidence to put in my notice and quit my day job.
I haven't looked back since!
What was your typical day like when you started working as a virtual assistant?
Starting freelance writing turned virtual assistant side hustle was a trip! I worked full-time, had a 10-month-old and two-year-old and my husband had quit his job the year prior to become a SAHD. As I said, I was the sole breadwinner…
That meant I couldn't give up and quit my job to try and start a new career. Instead, I chose to start my business on the side and build up as much recurring work as possible to get as close as I could to replacing my day job salary.
That meant many mornings getting up at four o'clock a.m. – an hour or so before my baby would wake for her morning feeding. Most days I would get 2-3 hours of work in before getting ready and heading into my 9-5.
I worked much better earlier in the day. 😉
I had actually negotiated a 4-day workweek prior to this, so I also got to work on my business each Friday and crammed in some work on the weekends too.
It wasn't ideal, but it totally helped me accomplish my goal of quitting my job and taking my business full-time in 2015 – just eight months from looking into it in the first place!
Where there's a will, there's a way, right?!
What kind of person is a good fit for VA work?
What I hear from clients over and over is that they're looking for someone that's:
So while they're looking for people that can provide select services, they're mainly looking for the above. As long as you're trainable, you've got a shot!
How does a VA go about getting clients?
We cover more than a half dozen prospecting methods in #FullybookedVA, but a few of our favorites are:
Methods for finding and attracting high-quality clients haven't changed much over the last decade, but really understanding what they are, which you're best suited for and how to go about them in the right way are important. Luckily for our students, prospecting and building effective client relationships are kind of our speciality.
What is your favorite thing about being a virtual assistant?
The list is long!
What ranks at the top of mine is probably:

Flexibility to work from anywhere on my schedule (i.e. you don't have to keep banker's hours in most cases when working with clients)
Freedom (that comes with the whole flexibility thing I guess!)
Unlimited income potential (you choose how much to charge and can raise your rates as you gain more experience, look into other ways to make money online, etc.)
How can someone interested in VA work get started?
We'd be honored if you'd consider enrolling in #FullyBookedVA.
This training program will literally walk you through starting your new business – it's perfect for newbies, but existing VAs have taken it and moved their business to the next level as a result too.
We cover everything from:
What services to offer
Who to offer them to
How much to charge
Where to find clients
How to setup your website (including what should be on it!)
How to effectively pitch clients
Invoicing
Contracts
Working with clients
And a deep dive into about a dozen services you can offer
Plus, much, much more!
Who is the course for?
You need to be motivated, disciplined and have a desire to be self-employed.
While the course provides a great framework for you to plug yourself into, there's still work to be done on your part. If you like to read all of the things, but don't really enjoy taking action, this course is NOT for you.
Point blank, you'll get results if you do what we tell you to. But if you think that all it takes to start a new business is spending a little bit of money to purchase a course (and not doing anything as a result), you're going to be sorely disappointed.
We do offer a very generous 7-day money-back guarantee. Meaning if you find out right away that the course isn't the right fit for you, just send us an email and we'll refund your purchase in full.
What kind of results can you expect to obtain from the course?
Most students make their way through the material in a month or less.
Many end up getting hired by their first client before they finish. Results will vary based on the time someone has available, the amount of action they take, and the skill-set they enter the course with.
Some students have the goal of bringing in a few hundred extra dollars each month, while others want to replace a six-figure salary. We've watched numerous students accomplish both goals over the last several years – most land somewhere in between.
My personal favorite is when someone sends me an email or tags me on Facebook that they've just quit their soul-sucking job. 😉
What is your number one piece of advice for someone who wants to break into VA work?
You'll never know what you're capable of if you never try.
Don't think about what the worst case scenario could be – instead think about what's the BEST POSSIBLE OUTCOME that can come from trying something new?
Why not YOU, why not NOW?
---
If you enjoyed this post, I would be very happy if you shared it!
Don't miss any updates on work-at-home and money-making opportunities by joining my mailing list below!