How to sell on Amazon for beginners? If you're also asking this question, then you've found the right post. Today, I will be sharing an interview with Jessica Larrew who makes a good living selling on Amazon through retail arbitrage, one of the popular ways to sell on Amazon.
This interview is actually the first for the new series on my blog: Stay-at-Home Mom Journeys. In this series, I'll be interviewing moms who make a good living from home and ask them to share their inspiring work-at-home stories with us.
Interviews like this also inspired me to start my own work-at-home mom journey and showed me how it is possible for moms like myself to make money from home and become my own boss. I want to share interviews like this with you, hoping to inspire you as well and give you insights into the various incredible money-making opportunities online.
How to Sell on Amazon for Beginners with the FBA Program
As I've mentioned, I've always been interested in Amazon. When I first started looking for stay-at-home mom jobs, selling on Amazon through the FBA (Fulfilled by Amazon) program was at the top of my list. I had read stories of moms like myself making a good income selling on Amazon and even quitting their jobs to become full-time sellers. Jessica Larrew from The Selling Family, for example, made $100,000 in profit in her first year selling on Amazon full-time!
I knew I had to learn more about how to sell on Amazon for beginners! After all, Amazon has more than 105 million members in its Prime loyalty program, according to Consumer Intelligence Research.
It is also estimated that 82% of US households have a Prime account and 55% of users search on Amazon first for their shopping needs. I myself am one of these people!
That said, I believe that Amazon is the platform to be for an e-commerce business.
So, I reached out to Jessica and asked if she could share her story with us and give us insights into how to sell on Amazon for beginners. Thankfully, she was happy to answer my questions!
---
How to Sell on Amazon for Beginners: Business Models to Choose from for Sellers
First, let me make things clear. There are a few business models to choose from when you want to become an Amazon seller, and Jessica specializes in one business model, which is Retail/ Online Arbitrage.
With Arbitrage, you buy low-cost goods in brick-and-mortar retail stores or e-commerce stores and re-sell them on Amazon for a profit. This is a fantastic way to make money on Amazon most especially for those who are good at or enjoy finding deals at stores like Target and Walmart.
The other top ways to make money as a Amazon seller are:
Wholesale
Wholesaling is the process of buying a product in bulk and then selling them as individual units on Amazon.
Private label
Private labeling refers to selling your own product with your brand on it. The product already exists; what you just need to do is put your brand on it and then sell it like your own.
Dropshipping
With this business model, you don't keep your own product inventory, but instead, transfer your customers' orders directly to the supplier.
Handmade
Amazon's Handmade is for people who make their own products (by hand). Examples of products you can sell via Handmade include home decor, jewelry or accessories.
---
Q: Please give us a little background on yourself and what your life was like before you started selling on Amazon FBA.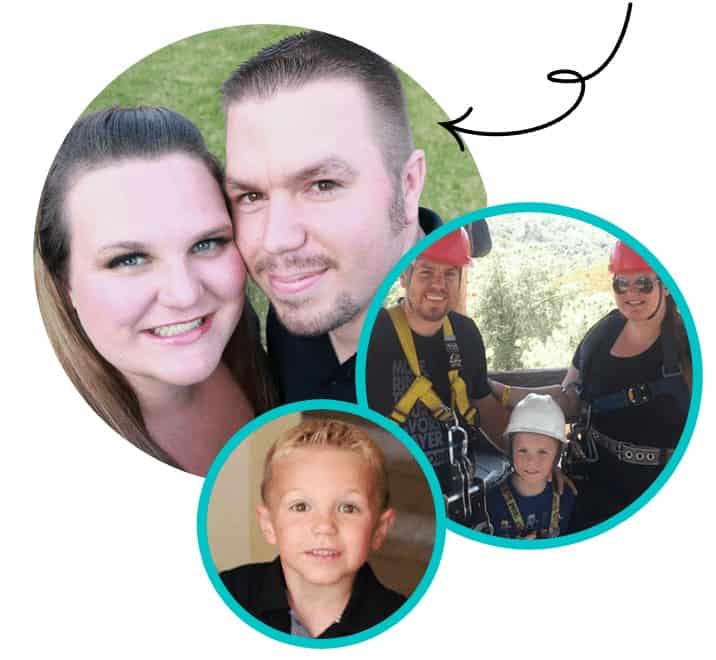 I can't wait to share my story with your readers, Jane.
Before I started selling on Amazon FBA, I was working a regular 9-to-5 job. I actually worked at the same company as my husband Cliff.
By all definitions, this was a "great job" with lots of potential. But when the economy got rocky in 2008, the company struggled financially. So at only 23 years old, I was let go from my full-time job.
I didn't panic. In fact, I knew that I never wanted to work at a regular job again!
But Cliff and I were newlyweds and we wanted to start a family right away. It was a terrible time to be down to just one income.
So I took the money from my last paycheck and started buying inventory at thrift stores. I sold thrifted items on eBay and it didn't take long to replace my old salary.
eBay was exhausting work though. If I wanted to earn more money, it meant putting in a lot more hours. Between buying inventory, making product listings, taking photos, boxing up orders, and driving to the post office…I didn't have a lot of extra hours to give.
I loved reselling but the eBay system just wasn't working. So I started paying attention to what other sellers were doing and heard a group of people talking about Amazon's new Fulfillment By Amazon (FBA) program.
I started reading about the FBA program and I was hooked! With FBA, I (as a third-party seller) was responsible for finding my own inventory. But after that, Amazon does most of the work!
It's so much less work than selling on eBay and it's the reason I was able to grow my business so quickly right from the beginning.
Q: How did your Amazon FBA business change your life? What are the perks that you enjoy as an Amazon FBA seller?
Amazon FBA changed everything because Amazon handles all of the fulfillment-related tasks of my business.
Here's how it works:
I buy inventory. I do this using a method called Retail Arbitrage. That means I go to regular stores like CVS, Walmart, and Big Lots to buy inventory.
Once I have purchased a good amount of inventory, I pack all of my products together (in big moving boxes) and ship them off to an Amazon warehouse.
Amazon employees unpack my items and store them for me. Then when a customer buys one of my items, Amazon employees will find my inventory, put it in a shipping box, and ship it off to the customer. The customer receives it in just 1 or 2 days if they're Prime members (which most people are these days).
If you want to learn more about FBA, I explain it in detail in my Beginner's Guide to Selling on Amazon.
The real benefit is that I get to spend more time buying inventory. This is the part that actually makes money. So when I don't have to waste time driving to the post office, I get to spend more time in retail stores.
Once we switched to FBA, we grew really quickly. I was able to "retire" Cliff from his manager job just about one year after starting with FBA. Now we work on the business together and we're able to stay home with our son.
This freedom to work from home as a family is the #1 perk of our FBA business.
Sometimes I still can't believe that I get paid to shop at Target! And the fact that I have my whole family there with me makes it that much better.
Another big perk of FBA is the freedom to travel and take time off. With eBay, if I wasn't home, I couldn't sell or ship my items. But now I can go out of town for a week and my inventory still sells on Amazon. I know that Amazon will get it to the customer so I don't have to worry about anything.
Q: Why did you choose Amazon FBA over other types of business?
Choosing FBA was easy 🙂 After leaving eBay, I knew that FBA was the only way for me to grow a reselling business.
The biggest decision I had to make in my FBA business was deciding where to get my inventory.
When I did eBay, I was buying items from thrift stores and yard sales. That meant I could only buy 1 item at a time because they were usually used or unique.
Around the time that I switched over to Amazon, I discovered Retail Arbitrage. That gave me an opportunity to go to one store, find a few profitable items, and buy 5-20 of them at a time.
Retail Arbitrage has been really good to us because I don't mind shopping in stores. I actually kind of love it!
But some sellers prefer to do Online Arbitrage so that they can shop online from home. I do some of that, too, but going out to stores is still my favorite.
Some people think that because I've been doing this for so long (nearly 10 years now!) that I must be ready to open my own store or start my own ecommerce website.
And that is the LAST thing I would ever do.
Leaving Amazon means walking away from their 100 million Prime customers. So I'm happy to keep selling on Amazon!
Q: How much does it cost to start this type of business?
For a Retail Arbitrage business on Amazon FBA, I recommend having about $1,000 to start selling on Amazon. That would cover your supplies, training expenses, and your first batch of inventory.
But there aren't really any minimums because reselling on Amazon is so flexible. I just think it's best if you have about $500 to spend on inventory. If you have less than that, you'll need to make really smart buying decisions and focus on cheap inventory like used books or clearance items.
Q: How much do you make from Amazon FBA and what beginners can expect to earn from it?
These days, our Amazon store brings in about $5,000 per month in sales. Roughly one-third of that is profit. We currently only work on our Amazon business about 5 hours per week because we have several other businesses we run that take up our time.
The first year that Cliff and I worked full-time on the FBA business together, we made about $100,000 in profit. That was off of about $300,000 in sales that year.
Amazon FBA is really a business model where the more you put into it (time and money), the more you can expect to get in return.
If you just have a few hours per week to work on this business, then you can expect to earn a part-time income. Some of my students really just want a business that brings in $500 – $1,000 per month. That's plenty to help pay bills or save up for vacations.
But some beginners really go all-in and can scale their earnings quickly. If you're willing to reinvest all of your profits back into the business for a few months (or longer), you'll see much faster growth.
Q: Can you describe to us your work routine as an Amazon FBA seller? What's your typical day/week like? When do you source products?
Our work routine has changed a lot over the years as our business has evolved.
When our son was a baby, we worked around his schedule. That usually meant dropping him off at his Nana's every Monday and we'd use that day to get all of our sourcing done.
As long as we sourced inventory on Mondays, we could do the rest of our work from home throughout the week.
Now that he's older, the schedule has changed. We have more flexibility and can even take him sourcing with us (not that he loves to go shopping all day!).
In the mornings we're usually busy with homeschool and in the evenings I like to work on my blogs.
In a typical week on Amazon, we might have one or two sourcing days. Then on the other days we prep shipments and do computer tasks like repricing our inventory.
Q: Tell us a little bit about your course Amazon FBA Boot Camp and who is it for? What do we expect from this course?
Our course, the Amazon Boot Camp, is the course I wish had existed when I was a new seller in 2010.
Back then there was almost no information about FBA so I had to do everything by trial and error. I did ok, but made some costly mistakes along the way.
So I designed the Amazon Boot Camp to be a step-by-step course for Amazon FBA sellers. In the course, we cover everything from setting up your Amazon account, learning some business basics, making sense of fees, packaging up your items for shipment, and how to find inventory to sell for a profit.
I teach it all in bite-sized videos with captions and transcripts so that students can pause and follow along as they learn. Starting a new business can feel overwhelming, so I've found that breaking it down into smaller pieces really helps.
The course is focused on the Retail Arbitrage and Online Arbitrage sourcing methods. This is how we got out start and we still feel it's the best way for new Amazon sellers to get started.
So if you're ready to start your Amazon FBA business, the Amazon Boot Camp will teach you everything you need to know to get started.
But if you've never heard about FBA until today, you might not be ready for the Boot Camp yet. If you just want to learn a little more about how FBA works, I have a free mini-course that will show you how to test the waters on Amazon. Click here to sign up for my Amazon FBA Starter Course for free.
---
Thank you so much, Jessica, for sharing your story with us!
UPDATE: A year after this inspiring interview and learning more about Amazon, I decided to try selling on Amazon, too! However, I went with Private Label, another business model on Amazon. It's another story to share with you, guys, so I hope you'll stay tuned. 🙂
Looking for more money-making ideas?