We've always known Amazon as a super-giant online store where you can find and order almost everything. But did you know that you can also make money from this platform by doing data entry jobs?
Amazon data entry jobs are available on its micro-tasking platform called Mechanical Turk.
---
What Exactly is Mechanical Turk?
Mechanical Turk, or simply called the mTurk, is Amazon's proprietary platform for crowdsourced jobs.
It is basically a micro-tasking site where you can get paid to work for someone. Jobs available on the platform are usually short-term and easy such as data entry, simple social media work, or writing captions for pictures.
It is a great platform to explore if you have short bursts of time that you can use to earn extra money.
This post contains affiliate links. I may earn a commission at NO extra cost to you for your purchases made through these links. Disclosure.
---
---
How Does Mechanical Turk Work?
As with any micro-tasking platform, people come to the platform to either post a job or find a task to make extra money. People looking to post a job or task are called "requesters" while the workers are called "turkers."
As a turker, you complete the tasks (also referred to as HIT or human intelligence tasks) posted by requesters to earn money.
To get started, all you need to do is, create a free account here. Click the "Get Started with Amazon Mechanical Turk" button.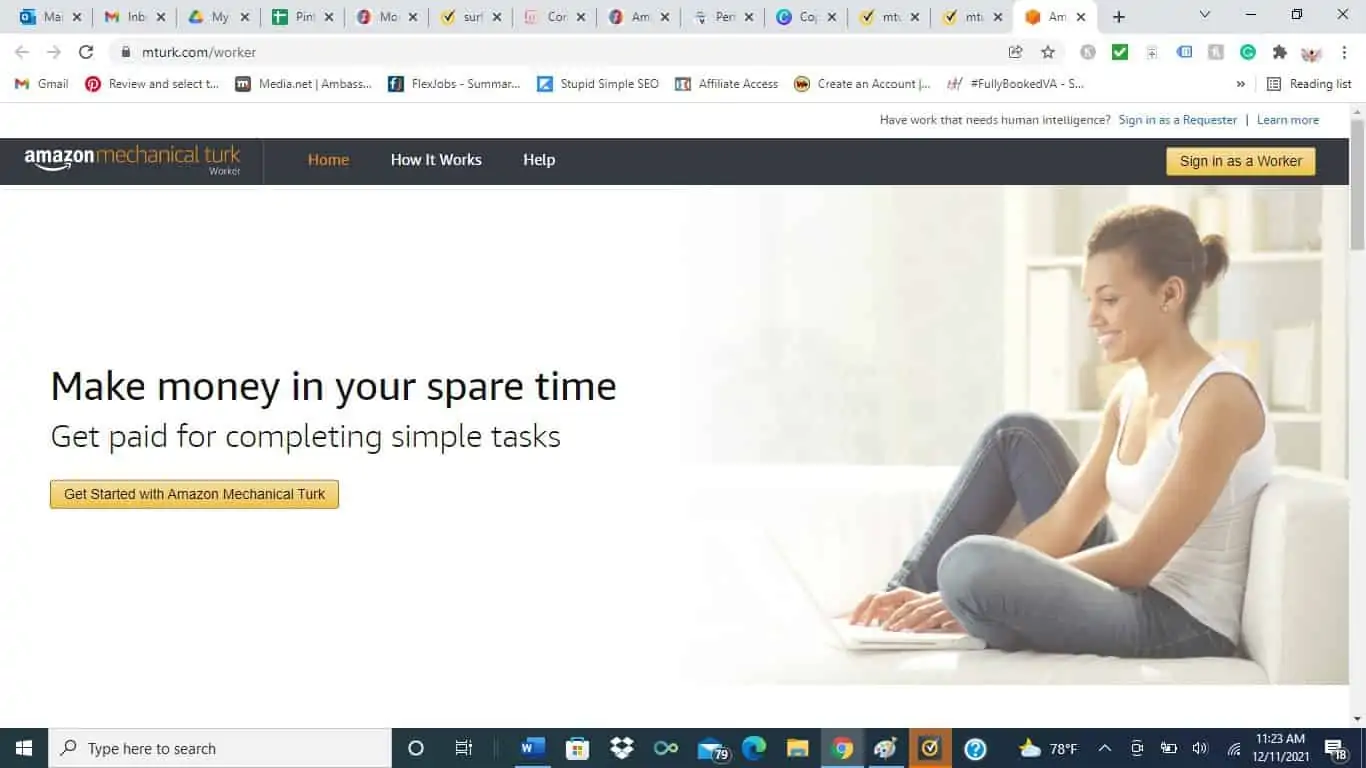 Then, fill out the registration form.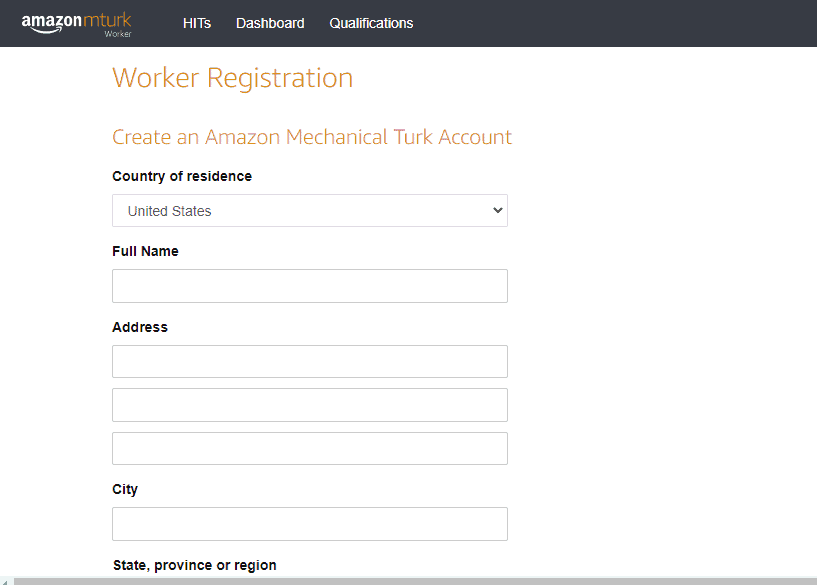 At the bottom of the registration page, you will be asked these questions and select an answer from the dropdown..

Click on the Create Account button.

Then you will see this message on your page. Just simply wait for an email from Amazon to get started.
Once you are approved, you can start selecting jobs. But, before you start accepting tasks, be sure to check out how much much you'll get paid for them.
If you're happy with the pay, simply click on a requester's job that you like and claim it.
After completing the HIT, submit your work, and once the work is approved by the requester, you'll get paid by Amazon. You can withdraw your earnings to your bank or convert them into an Amazon gift card.
Tip: If you're just starting on mTurk, don't expect all jobs to be available to you. You have to complete a number of HITs to unlock other jobs. The more small tasks you accomplish, the more job options you'll have in the future.
---
Easiest Ways to Make Money Online
---
How Much Do Data Entry Jobs at mTurk Pay?
How much can you make doing data entry jobs at mTurk? Unfortunately, there is no universal answer to this.
There are different online data entry jobs at mTurk, and how much each pays depends on how simple or complex a project is. You could get paid a couple of cents to enter the details from a receipt, or you could make a relatively larger income doing more sophisticated data entry tasks.
I think it's only fair to warn you that the rate for these "jobs" is far from impressive. Most of them only pay pennies. However, if you like doing data entry and you're somewhat a fast typist, I think the earnings could add up.
Speed and accuracy are essential in performing data entry, and if you're great at both, you should be able to earn a reasonably good amount on mTurk.
---
How To Find HITs That Count
Naturally, you want to make the most money by making the least effort, so it's essential to weed through the HITs dashboard and take data entry jobs that count.
Here are some tips!
Pick jobs that you insert in between tasks.
You can find a lot of simple data entry jobs from home that take a couple of seconds to complete. You can easily sneak them in between tasks, like during a two-minute commercial while watching TV or while waiting for your stew to cook.
2. Be patient and take low-paying, simple tasks to unlock higher-paying ones.
I believe every turker goes through this phase. Don't get bummed by taking a couple of low-cost tasks because it's just a way to build yourself up on the platform. Once you've completed a series of small tasks, you should be able to unlock high-quality HITs that pay more.
3. Think of HITs in terms of time vs. cost.
Another good way to evaluate a task is to determine how much time you need to complete it. Sometimes, even low-paying jobs that seem simple enough aren't worth your time, if it boils down to just a couple of cents per hour. If you think a task is too time-consuming and the compensation is too low, feel free to take a pass.
4. Filter your search.
Wading through thousands of HITs can be taxing. You can, however, try filtering your search. For instance, you can search for data entry jobs that pay $50 or higher. This way, you won't have to spend precious time looking over tasks that you have no interest in.
---
Mechanical Turk Pros and Cons
You're probably contemplating whether mTurk is worth it. So, I've listed the pros and cons below of using mTurk
Pros
Flexible, work-from-home gig
With Amazon mTurk, you can control how much you work and how much you earn. You can do a few HITs a day if you're feeling lazy, or complete as much as you can if you desire. You can conveniently log in any time you want, too, making mTurk even more appealing.
Simple tasks
You'll find plenty of simple tasks that you can easily accomplish within minutes, including data entry gigs. There are also short transcriptions, categorization, description, and easy writing tasks that you can do. You don't even need a college degree to join mTurk.
Preview before you accept
mTurk has this nice feature that allows you to preview the task so you can decide whether it's worth taking or not.
Cons
Meager income
I've read from a lot of people that mTurk doesn't pay much. While you'll undoubtedly find lots of jobs and the site loads new ones quickly, most of them are very cheap. You need to hustle a lot more if you want to make a good side income from mTurk.
Complete more HITs to unlock better-paying gigs
If you're new to the platform, you'll have to do the cheap tasks first to accumulate a number of HITs. Most of the higher-paying tasks require that you cross a threshold (for instance, 100, 500, or 1,000 HITs). Once you've gone past the required number of HITs, you can claim jobs that pay more money.
---
Data Entry Jobs at mTurk: Are they Worth It?
If you're looking for Amazon data entry jobs online that are flexible and convenient, getting them on mTurk is a good idea. You can work anytime you want, so it's easy to insert a couple of tasks here and there whenever you have spare time.
But many people have one compelling reason why they're not happy with the platform: the pay rate. If you want to take better-paying tasks, you need to complete a number of HITs first.
For me, if you're just getting your feet wet with working-from-home and trying out low-pressure jobs, mTurk might fit the bill. But if you're looking to earn more, then it's definitely not the place to be.
More Easy Ways to Make Money Online