Looking for lucrative side hustles for single moms? Here's a list of jobs that can help you make money from home or online.
As a single mom, you know that every little bit of extra money helps. Whether you're trying to make ends meet or just want some extra spending money, finding the right side hustle can make all the difference.
Fortunately, these days, there are so many legit ways for moms like yourself make extra income or even make a full-time income from home.
Since starting this blog, I've learned hundreds of ways stay-at-home moms or single moms can make money! In fact, I was able to turn one of my side hustles into a full-time income source.
It's really amazing how much opportunities we have these days, and its why I encourage you to check out these money-making ideas here. They are not only very lucrative, they are flexible as well. You can test the waters first and see how it goes!
What to Look for in a Side Hustle for single moms?
If you are going to look deeper, you'll find that there are indeed so many opportunities for single moms to make extra money.
However, I'd like to emphasize these important points when you're looking for side hustles for single moms.
Flexibility – If you have younger kids, you'll have to follow their schedules (nap time, feeding time, playtime.) With that said, look for side hustles that don't contain you into a rigid working structure. Fortunately, there are a lot of online jobs for single moms that allow for flexible work schedules.
Legit – This goes to say that you should only apply for jobs and grab opportunities that are legit. If possible, only apply to companies with an established reputation or track record. If you are venturing into business, make sure to sign up for legit online platforms as well.
Aligned with your interests and passions – If you want to have fun at work, and become more motivated and productive, then look for side hustles that align with your interests and passions. You don't have to force yourself into a writing gig if you're more interested in graphic design or video editing, for instance.
This post contains affiliate links. I may earn a commission at NO extra cost to you for your purchases made through these links. Disclosure.
The Best Side Hustles For Single Moms
These are my top recommendations because they are extremely flexible and can be lucrative as well. You can do these side hustles from home or anywhere in the world, at your own time or on top of your day job.
1. Virtual Assistant
Working as a virtual assistant is one of the best side hustle for single moms. If you are organized, meticulous, and have excellent communication skills, this could be the perfect job for you!
As a virtual assistant, you will be responsible for a number of tasks. Your client may assign you for content creation, social media management, calendar management, data entry, customer service, and many others.
A lot of virtual assistant jobs are paid by the hour. According to ZipRecruiter, virtual assistants make an average of $32 per hour. But there is potential to earn more money, especially if you upskill or take in more than one client. Plus, virtual assistant jobs are usually flexible, so you are likely able to work on a schedule that fits your lifestyle.
If you're interested, check out how to become a virtual assistant or this list of the best virtual assistant training courses.
If you want a more comprehensive VA course that will teach you everything on how to build a profitable virtual assistant business from scratch, check out #FullybookedVA by Gina Horkey. Gina has a free video workshop here that aims to teach you how to get 3 clients in 3 days!
2. Blogging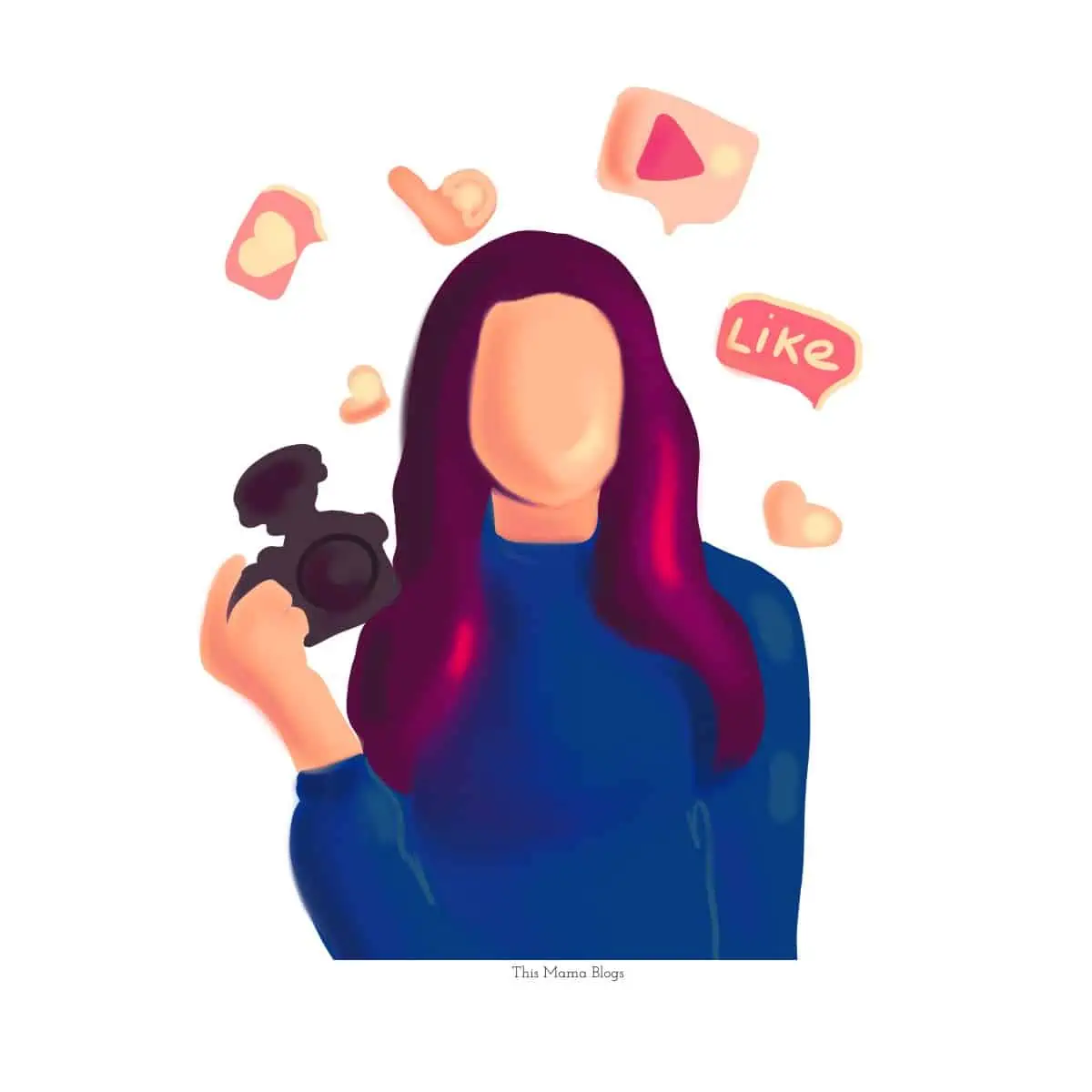 Blogging is one of my highly recommended side hustles for single moms, and for good reasons. Blogging can be a very lucrative side hustle idea, and it's flexible and fun as well.
This blog you are reading here makes over $50,000 a year from display advertising alone and it's only one of its sources of income.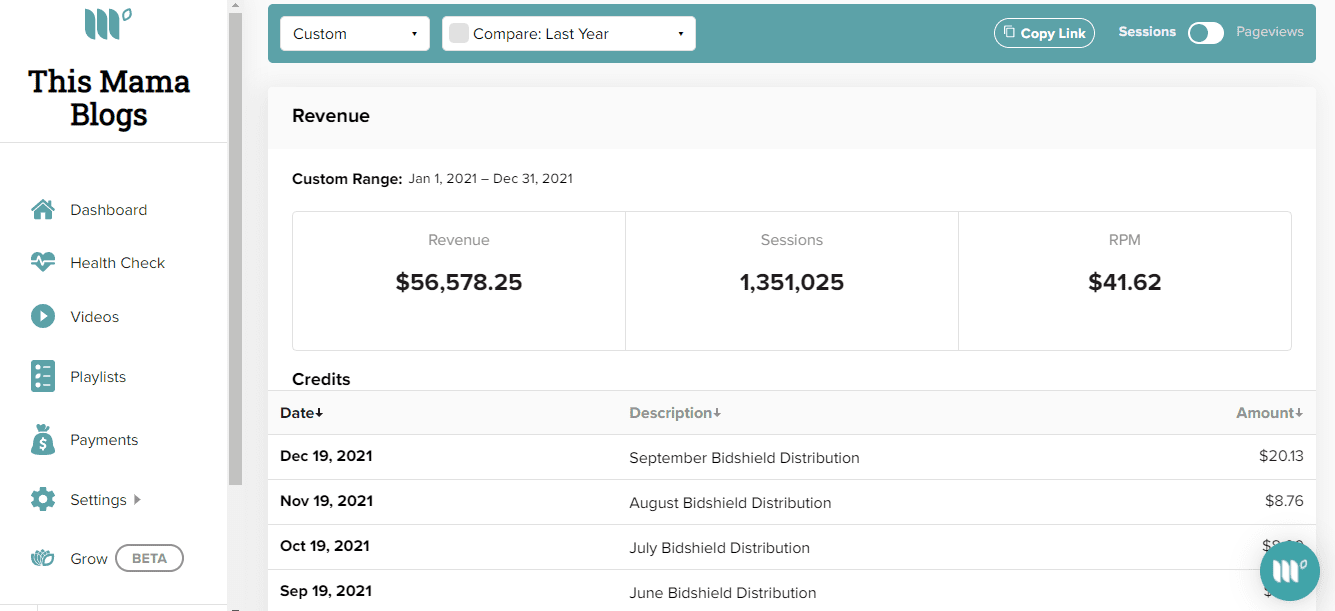 What I love so much about blogging is that I am this blog's CEO. I can work whenever I want and I can decide whatever I deem fit for it.
Blogging is all about sharing your passion with your community, and the world of blogging is so vast. You can always find a niche that you're passionate about.
The only drawback to blogging is that it takes time to gain traffic and traction, so you have to be patient. While you're at it, I suggest studying the trends and best practices. Over time, your blog will grow and you'll have more access to monetization. For instance, you can get paid for sponsored posts or you could make money by selling your products.
If you want a good side hustle for single moms, something that you can do even with your day job and other side hustles, then blogging is a perfect fit.
Check out my detailed guide on how to start a blog and make money for beginners! This guide will teach you the steps I took to grow this blog and make a healthy income from it without leaving home.
3. Bookkeeping
Virtual bookkeeping is another excellent way to earn some side income. If you are quite savvy with numbers and are extremely detailed and meticulous, then consider making money through this side hustle.
The thing is, businesses of all sizes and types need someone to monitor their daily finances. That means online bookkeepers will always be in demand. Your tasks include recording, monitoring, organizing, and reporting of daily financial transactions of a business. As you can see, this is not a job every business owner could handle, so they outsource it to online bookkeepers.
Online bookkeepers make good money. According to Ben Robinson of Bookkeepers.com, you can make $60 per hour as a bookkeeper as you earn more experience and develop the ability to juggle multiple clients.
To learn more how to become a bookkeeper, check out this free three-part classes by Ben himself, the founder of Bookkeepers.com.
4. Tax Preparer
Doing taxes is not everyone's cup of tea, so a lot of people hire tax preparers to do the work for them. If you already have some experience filing taxes or are willing to train as a tax preparer, this should be an excellent side hustle for single moms.
What makes this job an awesome side hustle is that you do not have to report to your client's office to work on their taxes. This is one of the many work from home jobs that offer flexibility in terms of work setup and schedule. However, expect the months before tax season to be busy. After the tax season, you might find lesser work, so it's an opportunity for you to make money on other side hustles.
If you're interested in this side hustle, don't miss this free workshop to see whether tax preparation is for you.
5. Amazon Seller
If you have products to sell and want to start a profitable side hustle as an entrepreneur, look no further than Amazon.
You can flip products from clearance sales and sell them for a profit on Amazon. You could also start your own private label by searching for the most in-demand products on Amazon and looking for suppliers. In both cases, you wouldn't even have to worry about packing, shipping, and customer service if you sign up for the Amazon FBA program.
Another way to sell online on Amazon is to create and sell eBooks and low-content books on Amazon. This side hustle allows you to make passive income because you only have to put in the effort of creating a book once, and you'll keep making money for as long as it sells.
If you are interested in private labeling (a.k.a. creating your own brand), check out this free 5-step guide. In this free training, you'll learn:
The simple 5 steps to start, grow, and scale your own brand that's 100% yours.
How to build a 7-figure Amazon business.
How to find products that sell with almost zero competition.
6. Proofreading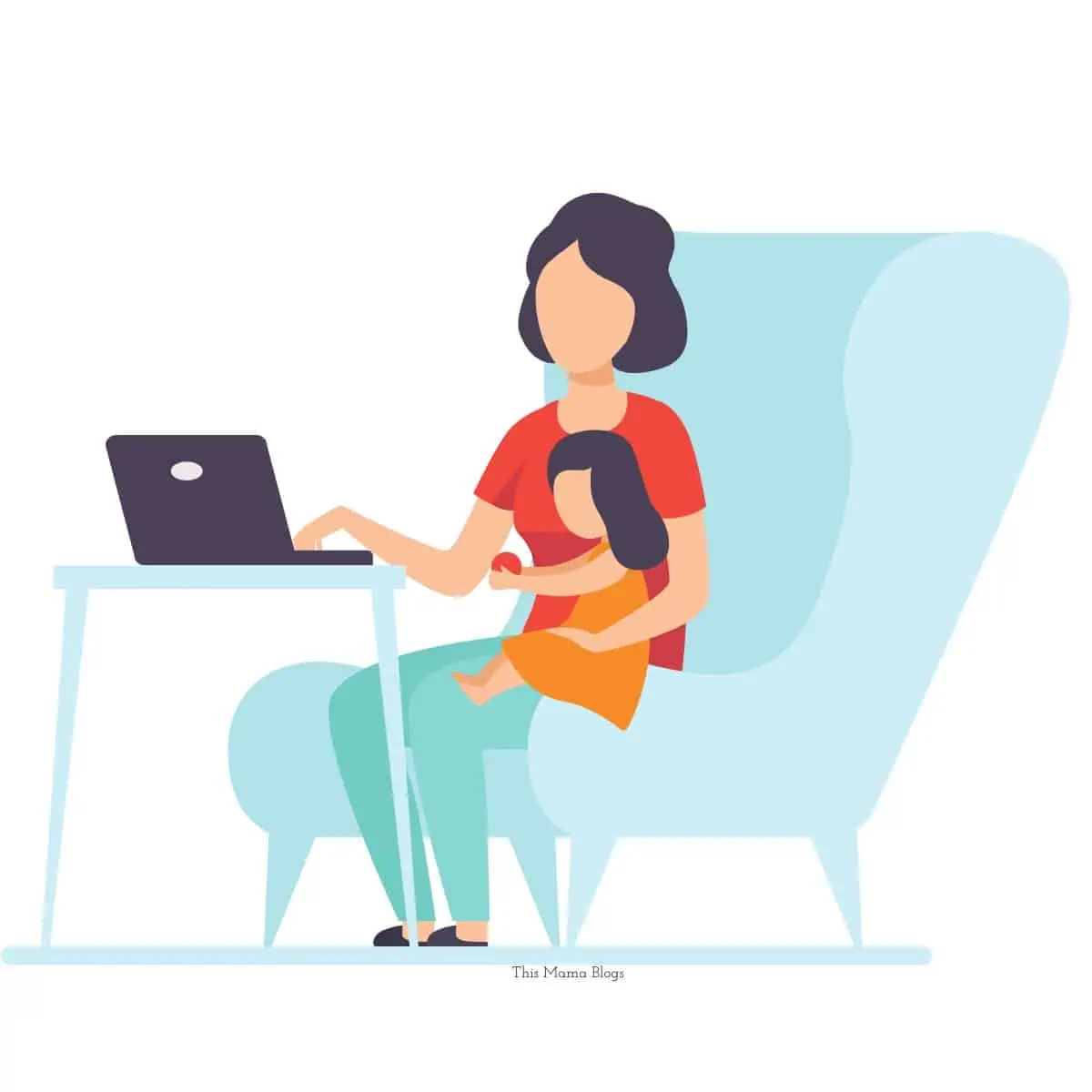 If you have a keen eye for spotting grammatical and spelling errors, then proofreading is a wonderful way to make money from home.
Proofreading is one of the easiest side hustles for single moms who have a strong grasp of English. Clients will send you a digital document they want you to proofread, you go over it thoroughly and correct the errors.
What makes proofreading an excellent side is that you can bring it anywhere with you. Nowadays, proofreaders work on their materials from a laptop or tablet, which allows you to do your job wherever you go and whenever you want.
According to ZipRecruiter, the average hourly pay for freelance proofreaders is $25 per hour, so it's really one of the best online jobs that make good money.
Caitlyn Pyle, a professional proofreader and founder of Proofreadanywhere.com, has put together a free 76-minute proofreading workshop. Check it out to learn more about proofreading and whether it is for you.
7. Transcription
Transcription is one of the easiest side hustles ideas because it has a low entry barrier. If you are a good listener and a quick and excellent typist, then transcription should help you make some extra income during your spare time.
You can easily start a freelance transcription career by signing up for a transcription agency like Rev, TranscribeMe, and SpeechPad. Oftentimes, working moms for agencies like these have better control of their time as they can grab and work projects as their schedules permit. What matters is that you produce quality work and beat the deadline.
If working for a company does sit well with you, you can also offer transcription services as your own business. While you'll be responsible for the bulk of the work, you'll also be able to set your own rates and pick your projects.
Easiest Ways to Make Money Online
8. Get Paid to Date
Getting paid to date is probably one of the most unorthodox ways to make money but it can be one of the best ideas for working moms. It doesn't require you any sort of degree or training. Plus, you'll meet new people, gain new experiences, have fun, and importantly, you'll make money quite easily.
In this job, you're expected to "date" people (mostly men). They might hire you as a formal date for a corporate event, or as a casual date. Basically, all you have to do is show up for the date, keep your date company, and get paid. You're also not expected to get into a romantic relationship with your client.
This single mom has been making money from paid dates. This job has allowed her to support her teenage daughter just by talking to and meeting men. As long as they are fine with her rate and are okay with her non-sexual rule, then she's happy to earn money this way.
9. Customer Service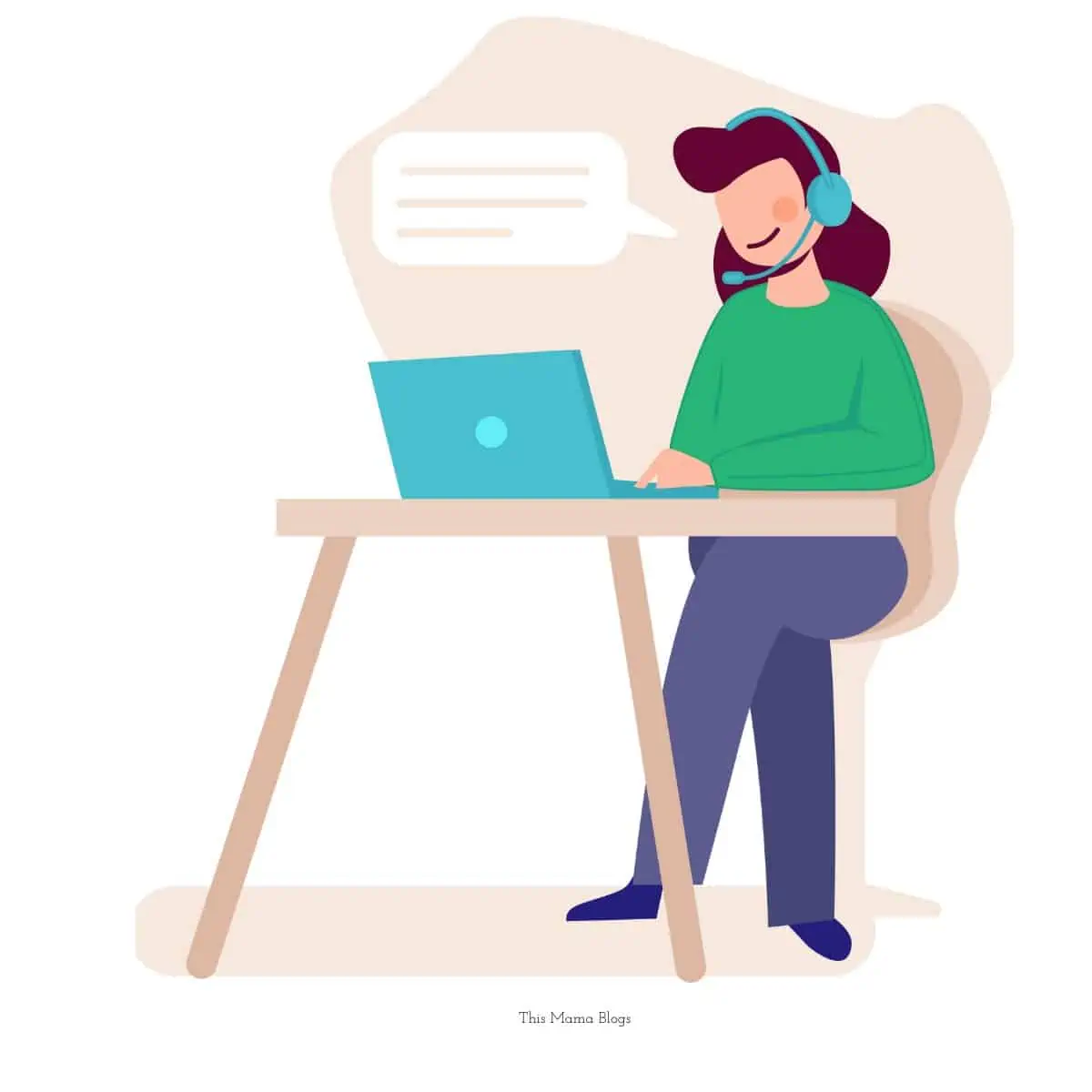 For single moms who have excellent chat and phone etiquette, are computer and internet-savvy, and have good communication skills, customer service jobs are some of the best side hustles.
Customer service agents or representatives connect with customers through phone, email, or chat, to help them with their orders, answer their questions or assist in troubleshooting. Fortunately, a lot of customer service jobs are now home-based, and many companies offer flexible shifts.
Customer service side hustles also pay good money. According to Glassdoor, work from home customer service reps makes an average of $53, 340 per year.
Related:
10. Sell Courses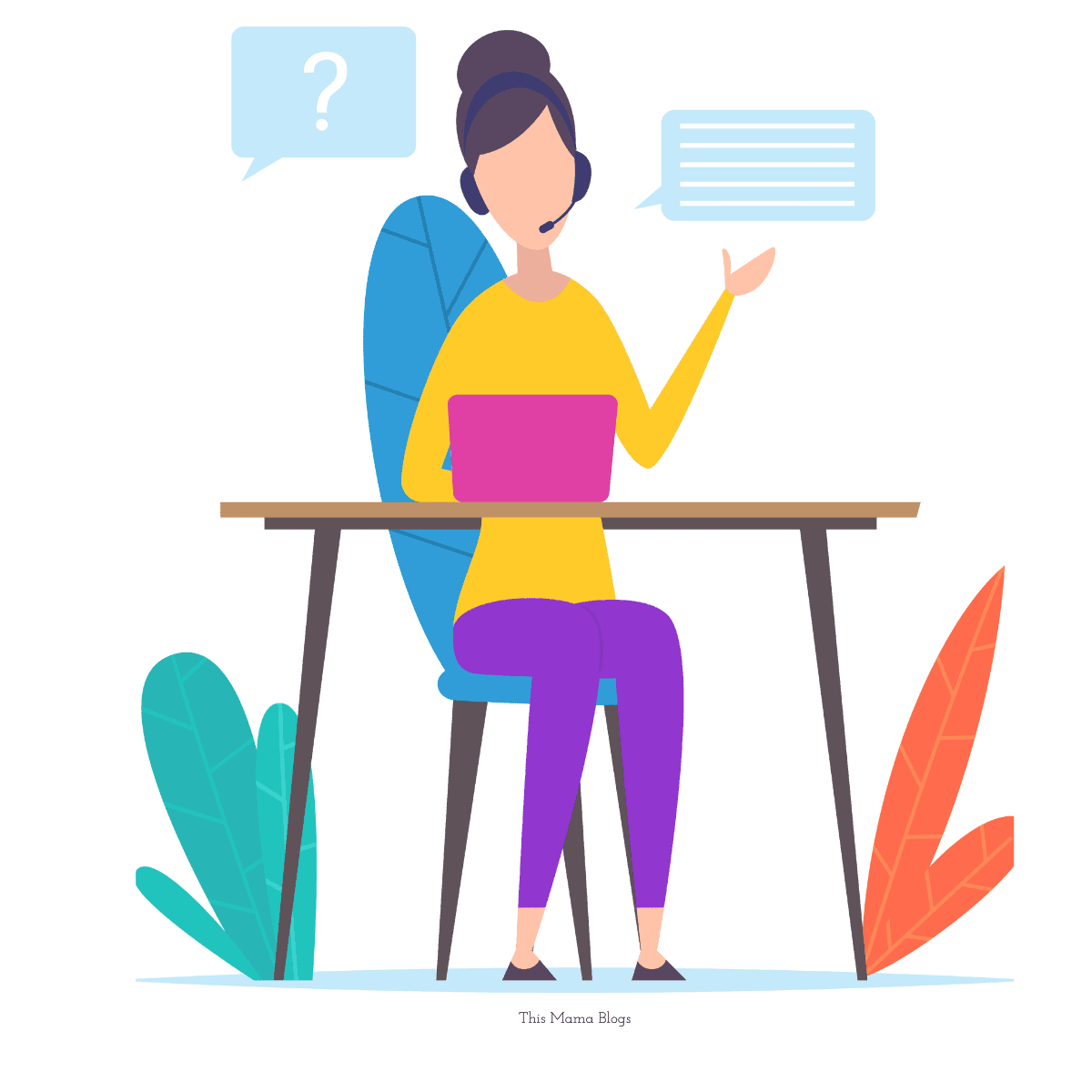 When it comes to earning passive income, selling online courses is one of my best recommendations. This is one of the best ways to make money from your passion and at the same time, be of help to your community.
Selling online courses begins with identifying what value you can give to your audience. The course should address a specific problem. After which, create and sell your online course on platforms like Teachable, Skillshare, and LearnDash.
Expect to put in a lot of work while developing your online course, but when it's ready to sell, you can relax and take it easy. You can make money repeatedly from the same course as long as people buy it.
11. Become a Coach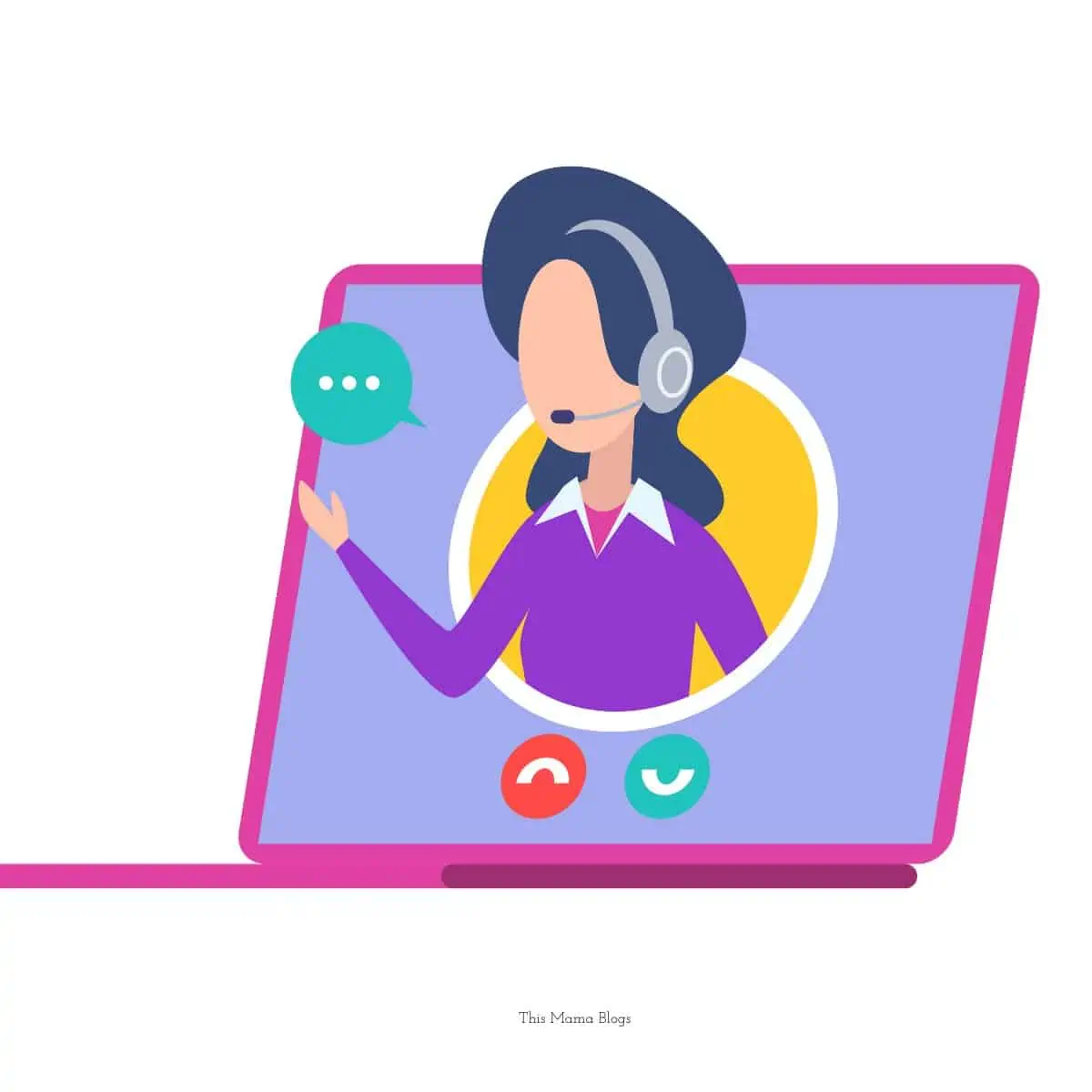 Coaching and mentoring others is a rewarding and great side hustle for single moms. You can offer your support to individuals who need it, perhaps provide a different insight or perspective on their problems.
You can be a coach for anything that you're skilled or an expert at. You can help fellow moms go through postpartum depression, line up their finances, adopt healthier habits, and more. Many moms need help in many areas, and being able to provide this kind of support can be a well-paying side hustle.
12. Sell Printables
Did you know that selling printables can be one of the lucrative side hustles for single moms? Take a look at Sarah Titus, a single mom herself, who managed to build a million-dollar empire, thanks to her printables business.
What makes printables a viable business, especially for moms? Well, printables are digital products that help people to stay organized. For example, a wedding printable allows couples to double-check everything they need for their big day while a budget printable helps people to keep track of their spending. And often, women and moms are most meticulous about these things.
You don't have to spend a lot to start making money from printables. You don't even have to be an expert on graphic design. Simple, user-friendly tools like Canva allow you to create astonishing printables. It's also what I personally use to make my printables for my shop.
You can sell these products on Etsy or your own website. And like online courses, selling printables online is also a wonderful way to make passive income.
If you want to learn more about selling printables on Etsy, check out this free workshop by Julie and Cody at Gold City Ventures. In this workshop, you'll learn printable ideas to sell, how to sell on Etsy and more!
Related:
13. Start a YouTube Channel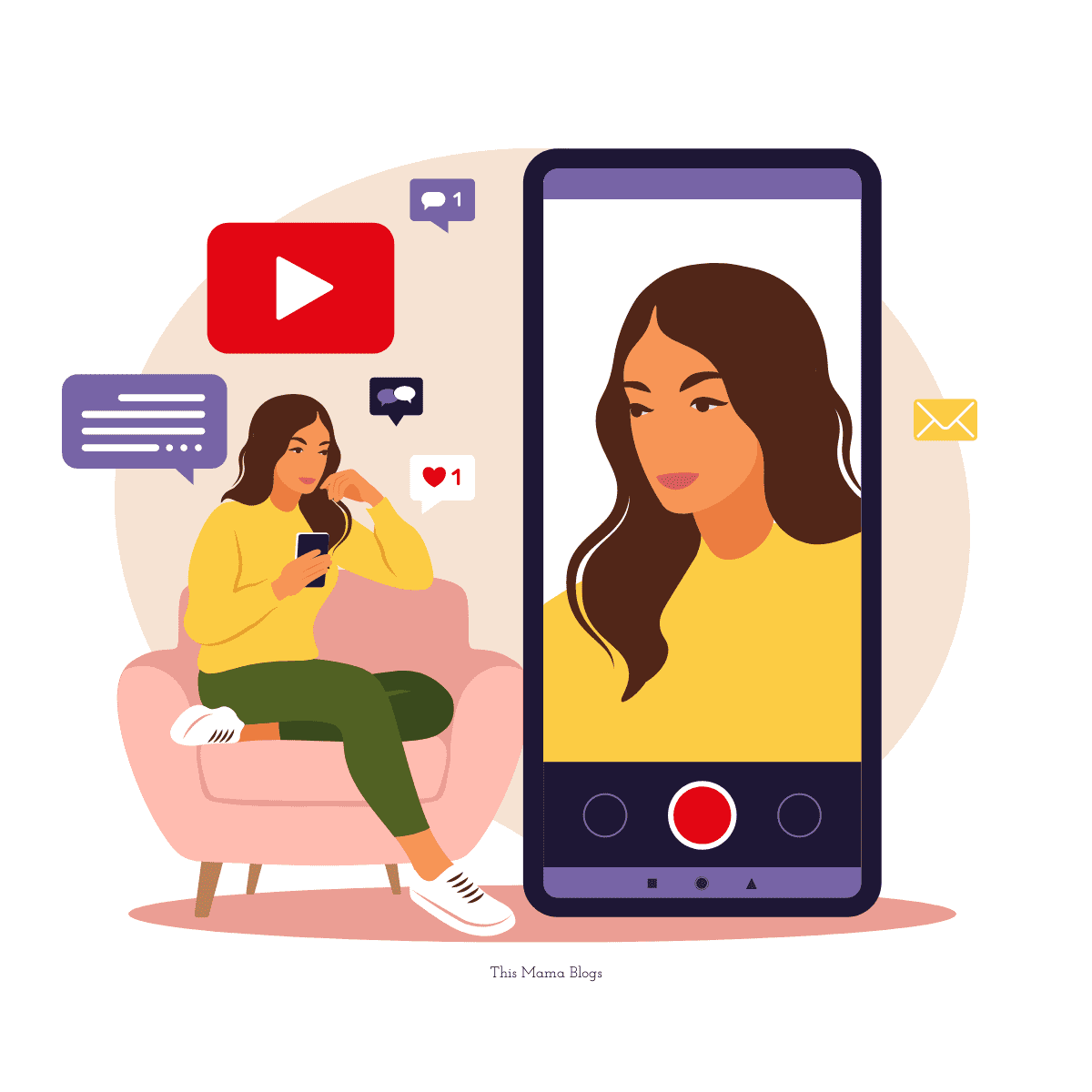 If you haven't considered YouTube as a way to make money from home yet, then it's high time you do.
Yes, running a YouTube channel is one of the top side hustles for single moms. With YouTube, you can create video content that matters to you. You could even start a channel that helps empower your fellow single moms.
Being a Youtuber is a great side hustle for many reasons. First, you get to decide what you want to put out on your channel. You can opt to review products, do lifestyle or daily vlogs, publish your travel videos, and more. So basically, you make money by being your own boss.
There are also different ways to earn an income from YouTube: affiliate marketing, ads, sponsored videos, and more. Also, being a YouTube influencer opens up a lot more opportunities for making money online. If you notice, many YouTubers have started their own product line, thanks to their YouTube fame.
14. Sell your Artwork on Etsy
If you are an artist or a craftswoman, selling your artwork on Etsy can prove to be an excellent side hustle. Whether you're into painting, or love creating handmade jewelry or decor, it is very possible to make money from home by running your Etsy business while taking care of your kids. It is also a very flexible side hustle because you can close and open your online store as you wish.
Starting an Etsy store is super easy, and you don't even have to be very tech-savvy to understand how it works. Once you have enough inventory, list them up on your store, and make sure to factor in Etsy fees and the cost of shipping in your pricing.
15. Internet Scoping
Not many people are familiar with internet scoping, but it is actually one of the best side hustles for single moms.
Internet scoping is the process of editing court transcripts. In short, scopists work as editors for court reporters. Court reporters use a machine to record court proceedings. To ensure that the files are correct and accurate, court reporters hire scopists to review and edit the transcripts for them.
So if you are proficient with the English language and grammar rules, you are an excellent typist and proofreader, and you are willing to become an internet scopist, this side hustle could very well work for you.
According to Scope School, scopists earn money per page they review and edit, ranging from $1 to $1.25 per page. Newly trained scopists can make around $30,000 per year, while experienced ones can make around $50K per year.
Related:
20 Companies that Offer Captioning Jobs From Home
16. Sell Photos
Got a good eye for photography? You could sell photos as a side hustle!
You can earn money from your photos by selling them to stock photography websites such as Dreamstime, Shutterstock, and Getty Images. And did you know that selling photos online is also a good way to make money passively? You just need to upload your awesome photos, and you'll earn money for each of their downloads or purchase.
Another way to make money online selling photos is to sell your feet pics. Many women including single moms, have monetized on their feet pics. You can sell feet pics on platforms like OnlyFans and Instafeet. Many people are willing to pay for beautiful feet pics and videos, so this is indeed a good side job to make money fast.
17. Freelance Writing
I also personally recommend freelance writing as one of the best side hustles for single moms who love writing. Freelance writing allows you to make extra money online by writing articles, web pages, press releases, ebooks, and other materials for your clients.
If you're still a new freelance writer, you could find freelance writing jobs in online jobs marketplaces like UpWork or FlexJobs. There are also online agencies that specifically hire freelance writers, such as ProBlogger, Verblio, and TextBroker. These sites don't necessarily pay the best rates, but they're an option if you wish to get started right away.
Looking for a scam-free job site? FlexJobs is my most recommended site for remote jobs. All job listings on the site are screened by the FlexJobs' hardworking team so you are assured the jobs are 100 percent scam-free. You can save up to 30% on your subscription if you sign up here using this discount code: FLEXLIFE
Freelance Writing Tips
To get paid more money in freelance writing, you have to sell yourself as a writer. On that note, consider zeroing in on a niche that you're most passionate and knowledgeable about. It is also wise to build a portfolio to showcase your work to potential clients.
Freelance writing can bring in a good income. Some freelance writers command a three-digit figure for a single article or copy, so imagine how much dollars a month they can possibly earn. So if you have a good way with words, then consider freelance writing as excellent money making opportunity.
To get started, check out my guide on how to become a freelance writer. Better yet, take this very affordable copywriting training by the American Writers & Artists Institute (AWAI) to learn how to write five of the most in-demand writing that businesses need the most. Many members of the AWAI are making thousands of dollars per month writing from anywhere in the world!
18. Talk to Lonely People
You probably didn't think that you can get paid to talk to lonely people, but yes you can! In fact, this is one of the top side hustles for single moms that offer a lot of flexibility.
Getting paid to talk to lonely people doesn't mean you're going to get intimate or kinky with them. Some people just need someone to talk to when they're bored or sad, and they're willing to pay good money to someone who can keep them company online.
If you are an excellent listener, you can empathize, and have a charming personality, then this is a great way to earn extra money online in your spare time. To get paid to talk to lonely people, check out these platforms and sign up: FriendPC, RentaFriend, Flirtbucks, and Phrendly.
19. Pet Sitting
Want to make extra money in the company of your furry friends? Pet sitting is an excellent side hustle for you.
Pet sitting is one of the best ideas for single moms to make extra money because it is easy and flexible. As for potential income, you can earn around $13-$17 per hour per pet. If you are going to throw in extra services, such as boarding, grooming, and dog walking, then you stand to make even more extra cash.
There are several pet sitting platforms where you can sign up as a pet-sitter, such as Rover, Fetch, Care, and PetSitter. You can set your own work hours and availability as well as indicate your rate. So if you're up to converting your idle hours into extra cash, pet sitting is indeed wonderful money making opportunity.
20. Rent Out Your Car or Extra Space at Home
Are you not using your car as much? If yes, then consider renting out your car. This is one of the best side hustles for single moms because it does not take a lot of effort to make money. Simply list your car on rental platforms like Turo, and get paid each time your car is rented out.
Renting out spare space at home is also one of the top side hustle ideas. Got a spare bedroom? Look for a roommate or list it out on Airbnb. You could also rent out your garage, attic, basement, driveway, and any other space on Neighbor.com, and easily make money from home.
21. Take Surveys and Join Focus Groups
A lot of people also recommend taking surveys and joining focus groups to make money online. I definitely think this is one of the best side hustle ideas because it is flexible and it's something you can do online and from home.
I admit that most surveys don't pay as much as the other side hustles mentioned on this list. But the advantage is you can do it in your spare time and you don't have to train or get certified for them. Consider taking surveys in your downtime and you'd be making extra cash without even realizing it. Many surveys also pay with gift cards that you can use to shop in your favorite stores.
Focus groups are also a good idea for side hustles for single moms. Focus groups are usually conducted by market research companies to generate feedback from consumers. These focus groups tend to pay well, so it's definitely one of the best ways for single moms to make extra cash.
22. Delivery Driving
Delivery jobs are so much in demand these days you can rake in some money fast through this job. A lot of companies hire delivery drivers, such as Instacart, Amazon Flex, Postmates, and Doordash, and many of them pay around $20 per hour, plus tips.
You can start your side hustle as a delivery driver as long as you have a not-so-old vehicle, you have an excellent driving record and you pass the background check. That's it, no need for any training or certification to get started.
Another advantage of this side hustle is that you can clock in whenever you want. For instance, you can start working as soon as you've sent your kids to school, as well as during the evenings and weekends.
Related:
Instacart Review: Make Money as a Shopper
Side Hustles for Single Moms Frequently Asked Questions
What is a good side hustle for single moms?
A good side hustle for single moms is one that offers the most flexibility. Many single moms don't get help in caring for their kids, so it's important that she can work on her side hustle without being confined to a very strict schedule.
What are good side hustles with kids?
There are several side hustles for single moms that work even with the kids around. For example, you can answer surveys, rent out your car or spare bedroom or sit pets with your kids. Some jobs require focus, such as freelance writing, transcription, and proofreading, so it's good to do these when someone watches over the kids, or when the kids are asleep or at school.
How can a single mom make money fast?
There are many ways for single moms to make money fast, including pet sitting, delivery driving, and selling online.
How do single moms survive financially?
Single moms can survive financially being learning how to earn extra money from side hustles. It's always good to have multiple streams of income. It is also wise to save money whenever possible.
How can a single mom make a passive income?
There are several profitable side hustles that earn passive income. Selling online courses, digital products, and photos online are some of my recommendations. These jobs only require upfront effort. But once the product is ready for selling, then you'll keep making money from it over and over again.
Conclusion
If you are a single mom reading this, I give my kudos to you. I understand that you want to make some extra money from home, so I hope this list of side hustles for single moms has been helpful to you.
I know that there is no perfect side hustle. Each of these jobs requires hard work and effort. Thanks to technology, we now have the means to learn new skills or enhance existing ones. Whether you want to learn more about virtual assistance, social media management, or running your own online store, you'll find plenty of resources to equip you for such side hustles.
What side hustles for single moms do you swear by? What are the other side hustles you'd want to get into? Let's connect in the comments.