If you landed here, it means you are looking for tried and true ideas on how to make 300 dollars fast. Perhaps you need extra cash to pay bills, pay off debt, or buy groceries when you're broke.
You're not alone. I used to be that person who would search terms like "how to make $500 fast" or "how to make $100 a day" in Google to find ideas to help me make money online as a stay-at-home mom.
I've learned a lot over the years, and that's why I am sharing this list of real money-making methods.
Some of these side hustle ideas may be unconventional and some you've probably heard of already. But rest assured that they all work!
What Does It Mean to Make an Extra $300?
But before we explore the ways on how to make 300 bucks fast, let us first try to understand what it means to make an extra 300 dollars. Because chances are, you may not realize what this extra $300 can do for you.
If you make an extra $300 dollars a week, you'd make an extra $1,200 per month. That equals $14,400 a year in extra money!
Just imagine what you could do with that extra cash. Learning how to make 300 dollars fast can give you the ability to deal with a financial emergency, pad up your savings, pay off debt faster, or save up for a dream vacation.
And for these reasons, it's about time you learn how to make 300 dollars quick at this very moment!
Legit Ways to Make 300 Dollars Fast
1. Open a New Checking Account and Earn Cashback Through Credit Card
Opening a new checking or savings account is a fast and easy way to make $300 today. Banks typically offer sign-up bonuses to make their financial products more appealing to new and potential customers.
Once you sign up for a new bank account, you can be eligible for cashback, travel miles, or points. So just by availing of a new card and using the same for purchases, you can earn hundreds of bucks almost without effort.
According to Forbes, here are the top credit cards with sign up bonuses for September 2021:
American Express Platinum Card – 100,000 membership rewards points
Capital One Venture Rewards Credit Card – 60,000 miles
Chase Sapphire Preferred Card – 100,000 bonus points
Chase Freedom Unlimited – $200 bonus
Ink Business Preferred Credit Card – 100,000 bonus points
2. Make Money Fast by Decluttering and Selling Stuff Online
How can you make 300 dollars fast without upfront investment? It's a question that gets asked often. Well, one good way to make money quickly is to sell stuff you don't use and no longer need.
Take a look inside and around your home and see what you can dispose of and make money from. Selling old baby gear, clothing, home décor, power tools, furniture, and collectibles could help you generate some emergency cash.
Clean them up, take photos, write descriptions of the items you want to sell online. You can post them up on Facebook Marketplace or Craigslist. If you have old electronics lying around that you no longer use, you can sell them on Gazelle or Decluttr.
3. Sell Pictures and Earn Cash from Your Hobby
Got a flair for photography? Selling your photos can be a quick way to make 300 dollars in a day.
There are lots of stock photography websites where you can sell your photos. And the best thing is, it's a passive source of income. You will earn money each time someone downloads or purchases your photos.
Some of the best websites to sell your photos are 500px, Shutterstock, iStock, Dreamstime, Etsy, and Foap.
Another way to make money from photos is by selling feet pictures online. Sure, it's a less popular, even intriguing route in making money, but it's also legit. You can make at least $5 from each photo to a couple of hundred bucks. Here's what you need to know about selling feet pics online.
4. Cut Off Unwanted Subscriptions to Save Money
According to GoBankingRates, Americans spend around $348 per year on subscriptions they rarely or do not use. So if you come to think of it, cutting off these unwanted subscriptions would have easily made you an extra $300 per year.
Start checking all your subscriptions, from entertainment services like Netflix and YouTube Premium to food and beauty subscriptions.
You might realize that you have forgotten or do not use some of these subscriptions, yet they continue to charge your bank or credit card. Cancel any unused or forgotten subscriptions to free up some money.
Thankfully, there's Trim, a service that tracks your spending, and finds and cancels your subscriptions so you can save money on your monthly bills. Trim will negotiate with service providers on your behalf to cancel unused subscriptions and put the money back in your pocket.
You can also check out Truebill, an alternative to Trim.
5. Offer Freelance Services and Earn Money Online in Your Spare Time
The gig economy has opened up excellent opportunities for us to make money with our talents and skills without being confined to a cubicle and strict work schedule. So, if you learn how to make $300 fast online as a freelancer, you will always have something to fall back on in times of financial need.
You can sell your services at Fiverr, Freelancer.com, or UpWork.
Freelance Writing
Freelance writing is a fantastic freelancing career. It does not require an upfront investment (a computer and internet service would already suffice), and you don't need a specific degree to get started. As there are lots of writing niches to choose from, there's a good chance that you'll find industry to write on that aligns with your interest.
My most recommended site for finding freelance writing jobs is FlexJobs. FlexJobs screens every job posted on the site, so you are assured every job listing on the site is legit and scam-free.
Offer a technical service
Did you know that you can also make some quick cash with your technical knowledge? You can easily make an income from doing graphics, building websites for small businesses, creating or editing videos, and more.
Proofreading
Proofreading is another great side job if you're good at spotting errors in grammar, syntax, or punctuation. Proofreaders make an average of $21.97 per hour but the best thing about this job is it can be done from home or online.
If you are interested in this side hustle idea, check out Caitlyn Pyle's free 76-minute workshop on proofreading.
6. Take Paid Surveys to Make Quick Money
One of the easiest ways how to make $300 online is by taking online surveys.
Online surveys are market research strategies that allow companies to collect opinions and feedback from consumers. Answering these surveys can be a great way to make free money in your free time. Some of them don't pay a lot, but premium surveys also pay $100 each. Here are our most recommended survey companies:
Get paid to watch videos, take paid surveys, shop online, and more with Swagbucks!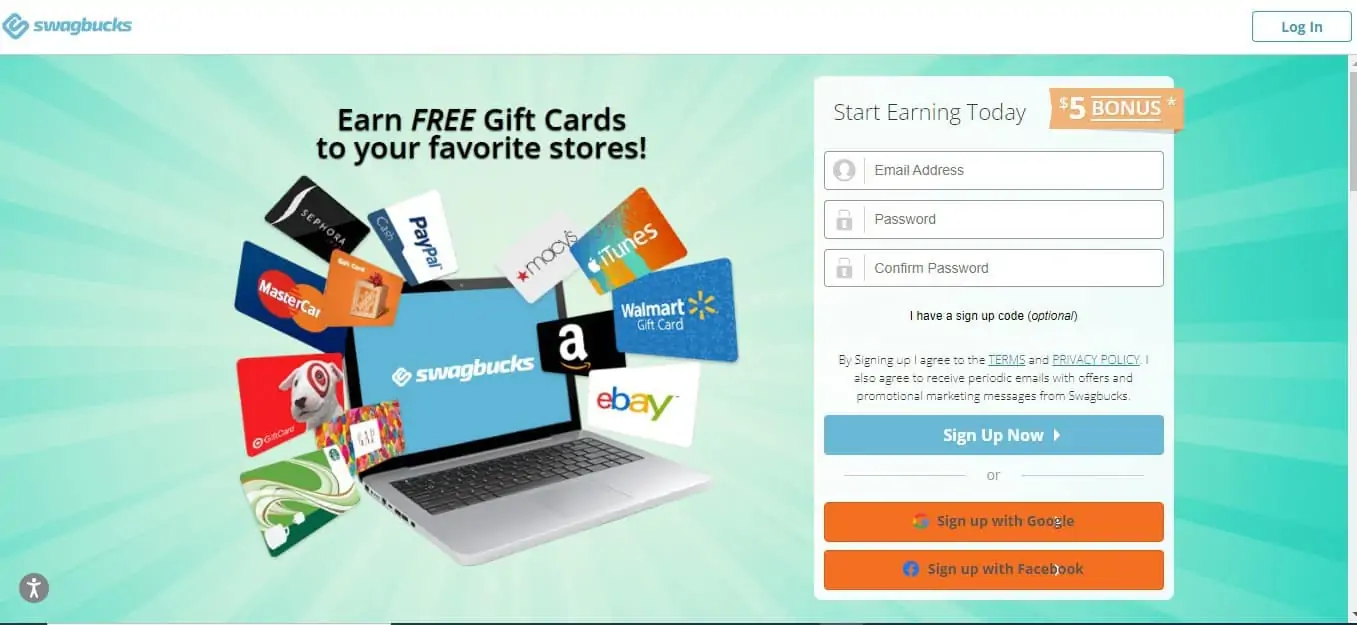 MyPoints – Get a $10 Amazon Gift Card with your First Purchase
MyPoints is another legit survey site like Swagbucks that pays you to answer surveys. Earn points every day for watching videos, shopping online, answering surveys, playing games, surfing the internet, and more! Your points can be redeemed as a gift card or cash via PayPal.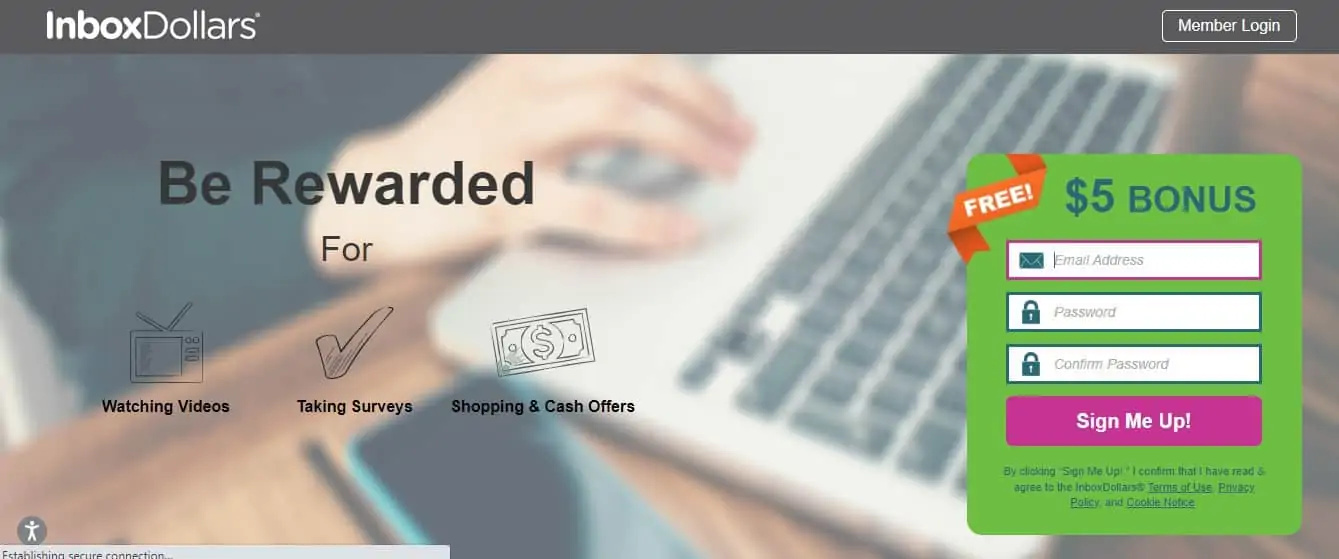 You can also become a respondent for online focus groups, another type of survey for market research, as they pay well. These surveys may be done online, over the phone, or in person and all you have to do is share your honest opinion regarding a product, service, or brand. These focus groups pay between $50 to $300 – $400 per hour.
7. Start a Virtual Assistant Online Business
How can you make fast cash without leaving your home?
Lucky for us, the technology has opened numerous work-from-home opportunities that pay well. If you have some administrative skills, are highly detailed and organized, and can communicate well, virtual assistance is a great option for you.
Virtual assistants provide support to business owners in their day-to-day tasks. Most virtual assistants handle tasks like email and calendar management, data entry, and setting appointments. Some VAs has specialties, such as eCommerce, real estate, and social media, allowing them to charge higher rates.
Do you think virtual assistance is an excellent fit for you? Read up on this guide to learn how to become a VA.
You might also want to check out these virtual assistant training programs to learn virtual assistant skills and help you find clients.
Easiest Ways to Make Money Online
8. Manage Social Media Accounts
You could also monetize your Facebook, TikTok, or Instagram habits by managing social media accounts of businesses. As a social media manager, you are responsible for posting graphics or pictures on your clients' business pages or managing Facebook ads for clients.
---
9. Teach Online
Teaching online is another fantastic gig to take if you want to make a steady stream of extra cash from home.
As a tutor, you teach students and help them with schoolwork. You can do this in one of the two ways.
First, build your own tutoring business. You have to get clients on your own and deal with them. The main advantage of this is that you can set your own rates.
Second, you join tutoring platforms where the company matches you with students. Some companies even provide prepared lesson plans, and all you have to do is follow them. Students may reach out to you with their specific subject concerns, and you have to work with them to understand the lesson.
If you are good at English, you could also teach English online at companies like VIPkid or Magic Ears that pays between $18 and $26 per hour.
According to ZipRecruiter, online tutors make an average of $21 per hour. So, if you are booked at least 15 hours per week, that would be $300 going to your account.
---
10. Sell Printables and Earn Passive Income
Printables help us become more productive organized, both in our day-to-day lives and significant events. For instance, many brides-to-be use a printable wedding checklist to ensure they have everything for their big day. Meanwhile, many moms use a meal planning printable, so they don't run out of dish ideas throughout the week.
Making printables doesn't require much investment. All you need is a computer and graphic software like Canva. You don't even need to be a professional graphic artist to come up with stunning printable ideas.
And the best thing about selling printables is that it's a passive source of income.
Read: 20 Best Things to Sell on Etsy Spoiler Alert: Printables is one of them!
11. Start a Dropshipping Business
Dropshipping is a business model that allows you to sell without holding a physical inventory of the products. Instead, you will list the products in your store and have the manufacturer or supplier process and ship the order to your customers. This means not needing a physical space to hold your products and the ability to operate the business from anywhere.
As with any other business, you have to pick a marketable niche, study your competition, choose a supplier and build your online store. Once you get these basics down pat, you're already on the right track in running your dropshipping business.
So if you want a business that you can run online, is very flexible, and comes with lesser risks than traditional models, give dropshipping a thought.
To learn more about dropshipping, check out the following Udemy courses:
The Complete Shopify AliExpress Course
Build a Dropshipping Empire From Scratch
12. Become a House Sitter and Make Money Fast
House sitting is another great way to make 300 dollars. People hire house sitters all the time. Often, they just need someone to look after the house while they go on vacation. The house sitter will keep the house clean and tidy and give the appearance that someone is home.
The tasks of house sitters vary depending on the customer. Some people just need someone to stay in their homes, while others also require their house sitter to feed the pets, clean the house, and do other things for additional costs.
The best way to snag house-sitting gigs is to join agencies like TrustedHouseSitters, House Sitters America, and HouseCarers. While these sites require you to pay a fee to keep and publish your profile in their database, joining them also gives a better chance of landing a house-sitting gig.
13. Become a Pet Sitter
Do you enjoy the company of animals? If so, this could be the gig for you!
Now that the country is opening up for domestic travel, the pet-sitting industry is predicted to grow by 8.7% in the next five to six years, according to GoBankingRates.
While you could start a pet-sitting business independently, joining a pet-sitting service like Rover is always a good idea. Rover has a massive database of people looking for pet sitters, and you can easily find some gigs near you. With Rover, you can search for available pet-sitting jobs and connect with pet owners.
You can offer different kinds of pet sitting services, starting from dog walking, pet grooming, pet boarding, and more. From dog walking alone, you can earn $15-$20 per dog per hour, so imagine walking two or more dogs simultaneously. You could easily make $300 fast just being in the company of those furry animals.
---
14. Start a Flipping Business
If you have an eye for classic, vintage, antique, and novel items that may seem useless to others, then you should start a flipping business.
How to make $300 in an hour as a flipper?
First, you have to find valuable items that are sold for cheap, even free. Visit garage sales, thrift stores, flea markets, and find products that have the potential to sell high later.
In doing so, you need to research the product to make sure that it's a real one and not a knockoff. For instance, some people may discard limited edition books. But if you know their actual value, you could quickly sell them for a nice price.
You could also flip other things, like vintage furniture, power tools, home décor, baby gear, and more. Give them a good clean, repair them (if necessary), take photos, and list them online. Depending on the type of item, you could sell them on eBay, Facebook Marketplace, Craigslist, etc.
If you're interested in making money through flipping, you should visit the Flea Market Flipper as they have rich resources for going about this kind of business.
Related:
15. Get Under the Table Jobs
If you want to learn how to make 300 dollars in a day without having to be "officially" employed, then you should look into under-the-table jobs.
Under the table, jobs are by no means illegal jobs. These jobs are often called "odd jobs" because you can easily earn your income at the end of the task or project. You won't have to go through a payment schedule like in the corporate setting, and your employer won't have to take out taxes, insurance, and other deductibles from your paycheck.
A lot of under-the-table jobs are likely readily available in your neighborhood. These jobs include snow removal, babysitting, photography, delivery driver, car-washing, and more. Those who are looking how to get 300 dollars fast as a kid will find a lot of under-the-table jobs that even kids and teens can do.
16. Become a Mystery Shopper
How would you like to get paid to shop? For a lot of people, that would seem like the dream job!
Research companies often hire mystery shoppers to observe the different aspects of a business's operations secretly. Typically, mystery shoppers are assigned to assess the level of customer service, cleanliness, courteousness of the staff, product display, and more.
Mystery shoppers are paid per task and not per hour. Simple tasks pay like $3 to $10, but some tasks go into the hundred bucks range. So, if you can find playing undercover at a store a fun way to make money, then consider applying as a mystery shopper.
BestMark, one of the oldest and most reputable mystery shopping companies, is constantly looking for mystery shoppers. BestMark's rate starts at $10, but they are certainly are projects that pay more.
Read: Mystery Shopper Jobs
17. Earn Cash Fast with Food Delivery
You can also make quick money in your spare time by delivering food to customers. As a delivery driver, you pick up customer orders at a restaurant or grocery store and then deliver them to the customers' address. You get paid per delivery and your rate usually depends on the distance you traveled to deliver the orders and the amount of time you spent to complete the transaction.
With this side hustle idea, it is easy to earn around $25 per hour plus tips. DoorDash is one of the most popular companies that offer delivery driver jobs. You can apply to DoorDash here!
Instacart also offers delivery jobs but with Instacart, you can also get paid for grocery shopping for customers. You can learn more about Instacart here.
---
17. Start a Business
Of course, let's not forget the most sustainable way to make $300 consistently: running your own business.
Operating your own business puts you in more control. You decide when to open and close shop, how many orders to cater, how little or much you want to work. But if you desire to make $300 or more, you should put in the effort and hustle.
There are several stay-at-home business options that you can start right now.
Depending on your interests and skills, you can run a freelance writing business, sell on Amazon, affiliate marketing, create a YouTube channel, maintain a blog, and more.
As you can see, these business options are online and have flexible schedules, giving you a lot more freedom than a typical business would.
---
Final Thoughts
I have discussed above how to make 300 dollars fast online. Now you have an idea of what money-making opportunities you can get into whenever you need extra 300 bucks!
How do you make 300 dollars fast? Have you tried doing any of the methods mentioned in the list? Let's connect in the comments.