Looking for the best transcription jobs online for beginners? Here's a list of legit companies hiring transcriptionists right now!
Transcription is an excellent career option for those who want to make money online. There will always be audio or video content that needs to be transcribed, hence there is a demand for transcription services.
If you think you will enjoy working with video and audio files and transcribing them, then check out this list of companies below that offer online transcription jobs for beginners!
But first, I'll take you through what transcription is all about and how anyone can get started transcribing audio files. Spoiler: You won't need any special degree- just some free time and the right tools for transcribing your chosen material.
---
What is Transcription?
In a nutshell, transcription is the process of listening to an audio file and then typing out the words into a word processing system. The files could be anything, from minutes of a meeting, movies, podcasts, conferences to informal conversations.
The good thing about transcription is that you don't need a degree to get started. If you're a fast and accurate typist and you're a good listener, you can easily find transcription jobs online for beginners.
This is a great job option for people who are looking for more flexibility in a job. With transcription, you can work from home and choose to work on your own schedule.
It also pays fairly well, too. According to ZipRecruiter, full-time transcriptionists make an average of $58,441 per year or $28 per hour.
This post contains affiliate links. I may earn a small commission at NO extra cost to you for any purchases you make through these links. Disclosure.
---
Things to Know about Transcription Jobs Online for Beginners
Before you get started, here are a few things you should learn about transcription:
Skills
It's important for transcribers to not only have excellent typing skills but good listening abilities as well because they need to accurately capture what is said in the material.
People with quick reflexes may find stenography, a type of transcription, most attractive because it requires less physical writing than other forms of transcription.
In contrast, if speed isn't your priority then transcribing recorded audio files into written word may be the best option for you.
Read: How to Become a Court Transcript Proofreader
General requirements
At the very least, to get transcription jobs online for beginners, you'll need a fast and efficient computer with a word processor, an internet, and a pair of headphones. You may also need to invest in a foot pedal to speed up your work.
Transcription Test
A great way to see if you're cut out for this line of work is by taking a transcription test.
Transcription tests are usually made up of three sections: dictation, editing, and proofreading. They can last anywhere from 20 minutes to an hour but it's not uncommon for them to take much longer depending on how many errors need correcting and whether or not there was any voice recognition software used in the process.
Transcription Training
Transcription training is not required, but if you don't have experience in transcription and don't know what to expect in this field of work, then you'll likely find taking a transcription course helpful.
Check out this free general transcription training to learn whether this type of work is a good fit for you.
Transcription Jobs Online For Beginners: Top Places to Find Transcription Jobs With No Experience
Ready to find transcription jobs from home? Check out these companies because they're constantly offering transcription jobs online for beginners!
1. Quicktate
Quicktate is a transcription company that transcribes voicemail messages, memos, letters, legal files, medical files, recordings of phone calls, conference calls, and other audio files.
That said, it is also one of the best places to find online transcription jobs for beginners.
To work at this company, you need to pass a transcription test and a background check that costs $20.

However, if everything checks out you can start working and you'll get paid per word every week. Most of the audio files to work on at Quicktate are short, often less than 5 minutes, and are typically in the form of voice messages, memos, and recordings. The company pays $0.0025 per word every week through PayPal.
2. CastingWords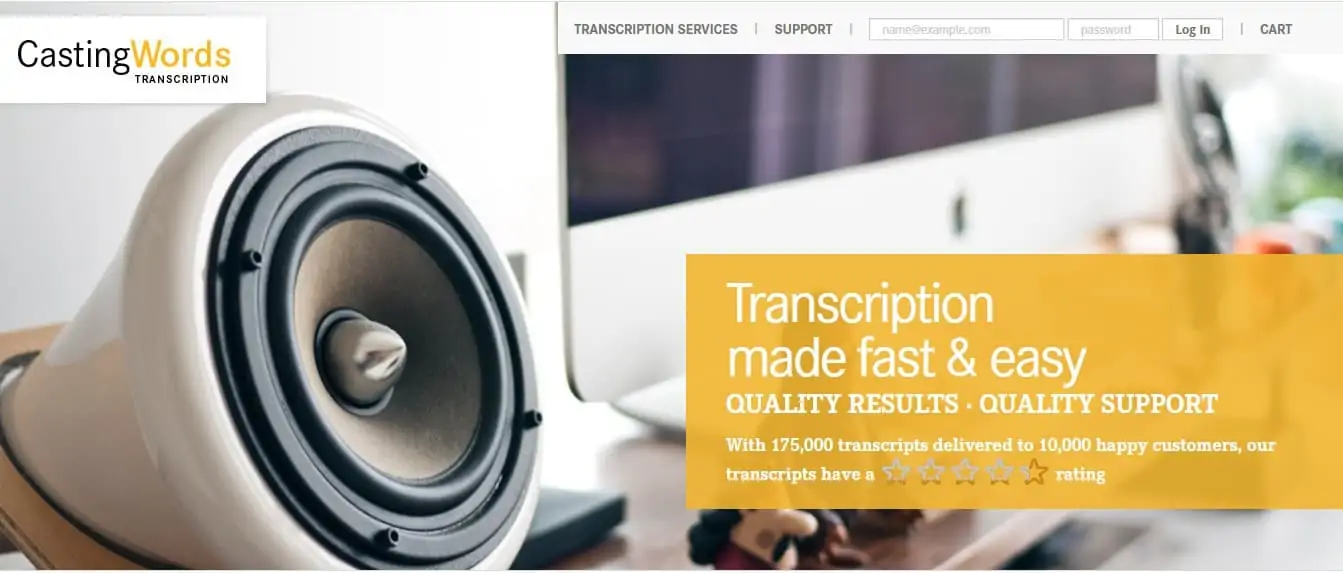 At CastingWords, you work as an independent contractor. You can also select projects to work on based on transcript requirements, pay rates, bonuses or lack thereof (depending on your badge level), etc.
CastingWords is one of the more popular transcription companies among job seekers because they accept beginners.
Rates at Castingwords depend on the project requirements, but the average is $1 per audio minute.
Read: CastingWords Review
3. TranscribeMe
TranscribeMe is also another good option for beginners. At TranscribeMe, you'll be paid $20 an hour of transcribed content, and be paid every week via PayPal.
So if you're looking for transcription jobs online that pay weekly, you might want to check out this company.
Read: TranscribeMe Review
4. SPEAKWRITE

SpeakWrite is another popular company that offers opportunities for transcribers. The company has a solid customer base coming from the legal and government sectors.
If you want to work for SpeakWrite, you need to pass their exams and demonstrate high-quality transcription skills with 60 words per minute typing speed and 90% accuracy. The company pays up to $20 per audio hour, twice a month, via check or direct bank deposit.
5. Accutran Global
AccuTran Global was founded in British Columbia, Canada, and has been in the industry since 2002. It has a vast repertoire of clients, ranging from legal, medical to financial sectors.
To work at AccuTran Global, you need to pass a test and must have a typing speed of at least 70wpm. You also need to be a resident of Canada or the USA, and own a bank account in these countries.
Rates at AccuTran Global start at $0.004 per word but could go higher for more challenging projects. According to our sources, you could earn around $15 per audio hour at AccuTran Global.
6. Rev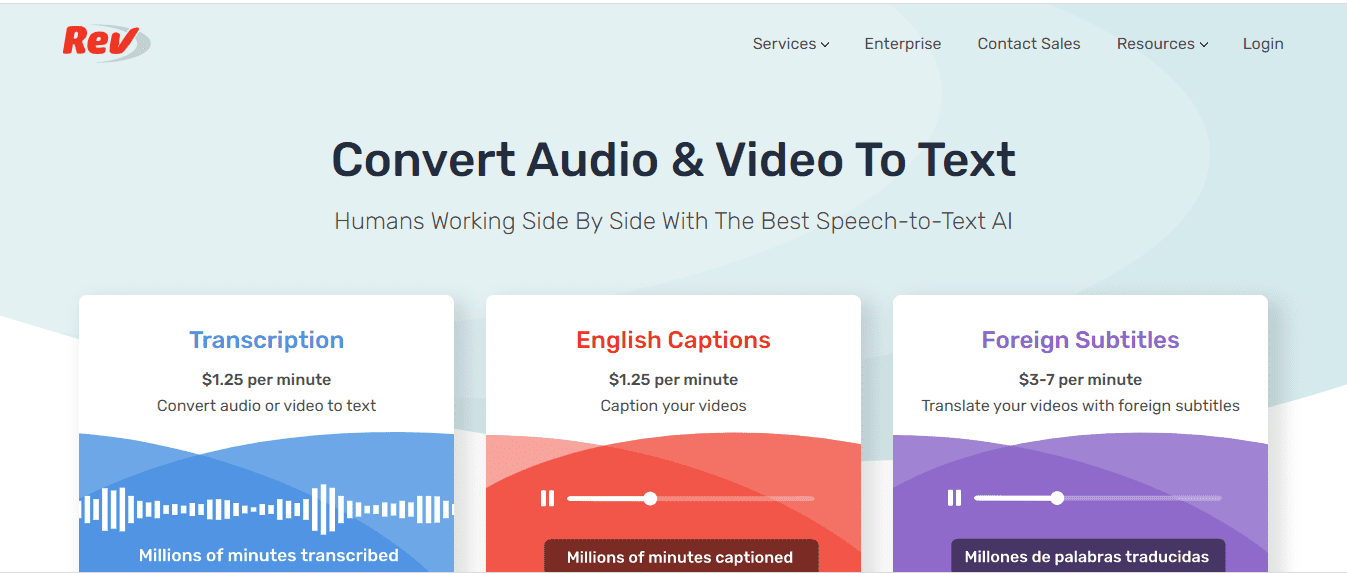 Rev offers a range of services such as captioning, translation, and transcription for clients. It is also actively looking to hire freelance transcriptionists.
To get accepted into Rev, you'll need to pass a transcription test divided into two parts. If you failed the first part, you cannot proceed with the second part. You need to wait one month and a half before retaking it again.
Rev accepts transcribers from around the world and pays via PayPal. It pays up to $20 per hour. Read: Rev Transcription Review
7. Ubiqus
Ubiqus is a 60-year-old company that offers transcription, translation, and interpretation services to its thousands of clients. As for transcription jobs, the company provides legal, foreign language, and medical transcription. Most of the projects at Ubiqus require timestamps and templates.
Note, however, that the company only hires native English speakers from the US. The company pays between $0.005 and $0.007 per transcribed word every two weeks.
8. Scribie
Scribie is another transcription company that offers home-based transcription jobs for beginners.
It pays around $10 per audio hour via PayPal and accepts non-US residents.
Read: Scribie Review
9. Babbletype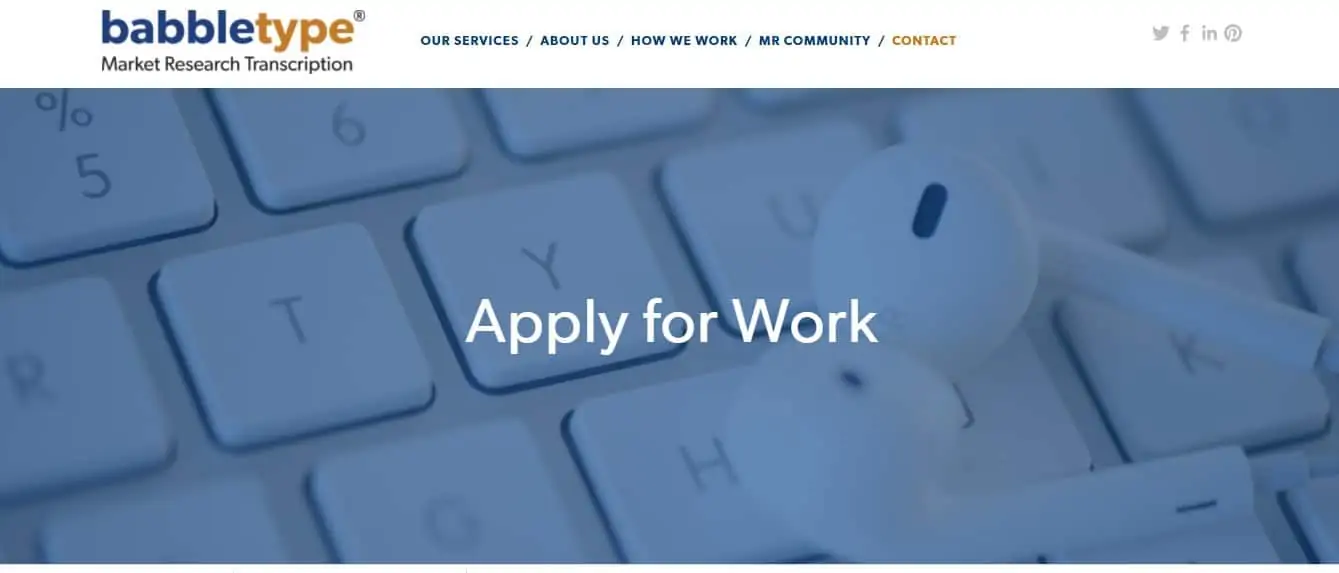 Babbletype specializes in market research transcription. There are thousands of files waiting to be transcribed at Babbletype, so the company is constantly looking for efficient and fast typists. Babbletype pays $12-$15 per audio hour via PayPal.
10. GMR Transcription
You can also find tons of transcription jobs from home at GMR Transcription. The company has a steady stream of transcription projects and always needs new transcribers.
Note that at GMR Transcription, you need to commit to transcribing one hour of audio file per day. GMR pays between $0.7 to $1 per audio minute.
11. SpeechPad
SpeechPad is another freelance transcription platform for beginners. Since you work as an independent contractor at Speechpad, you can work as much or as little as you want, without any set schedule.
To work at Speechpad, you need to be able to type at least 40 words per minute. Speechpad pays around $0.25 per minute or around $15 per audio hour.
12. TIGERFISH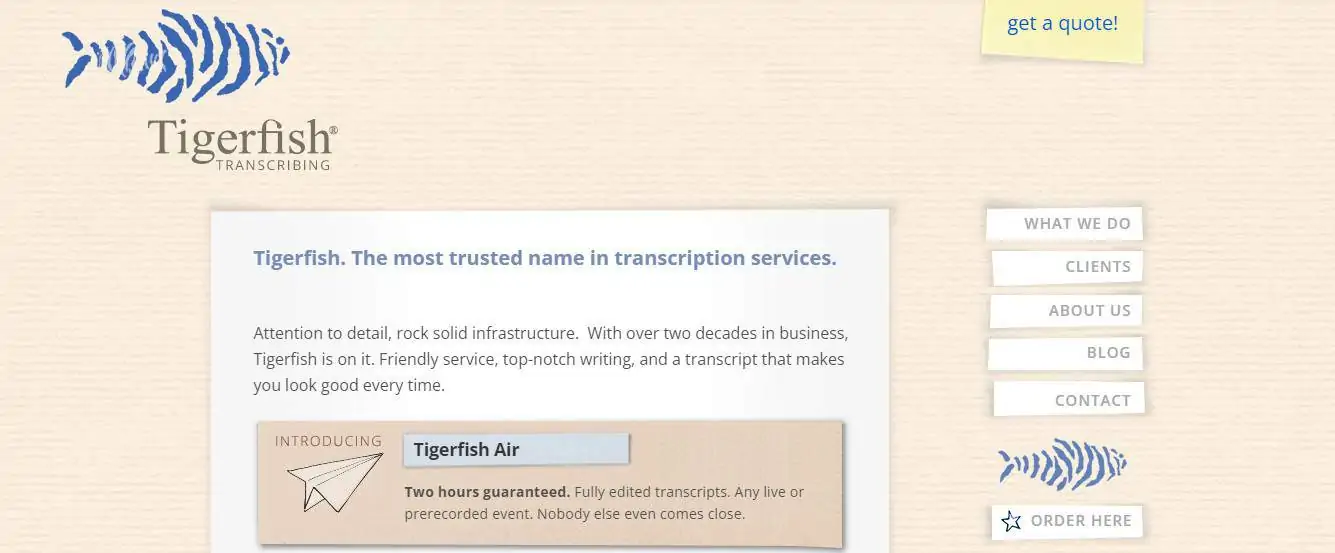 Tigerfish is one of the oldest transcription companies, being around since 1989. Some of its biggest clients are GAP and Airbnb.
If you want to want to work at Tigerfish, here are some of the qualifications you need to meet:
Be able to follow the company's style guide
Typing speed of 65WPM or better
Attention to detail
The company pays an average of $0.005 per word, translating to roughly $8-$11 per hour.
13. Crowdsurf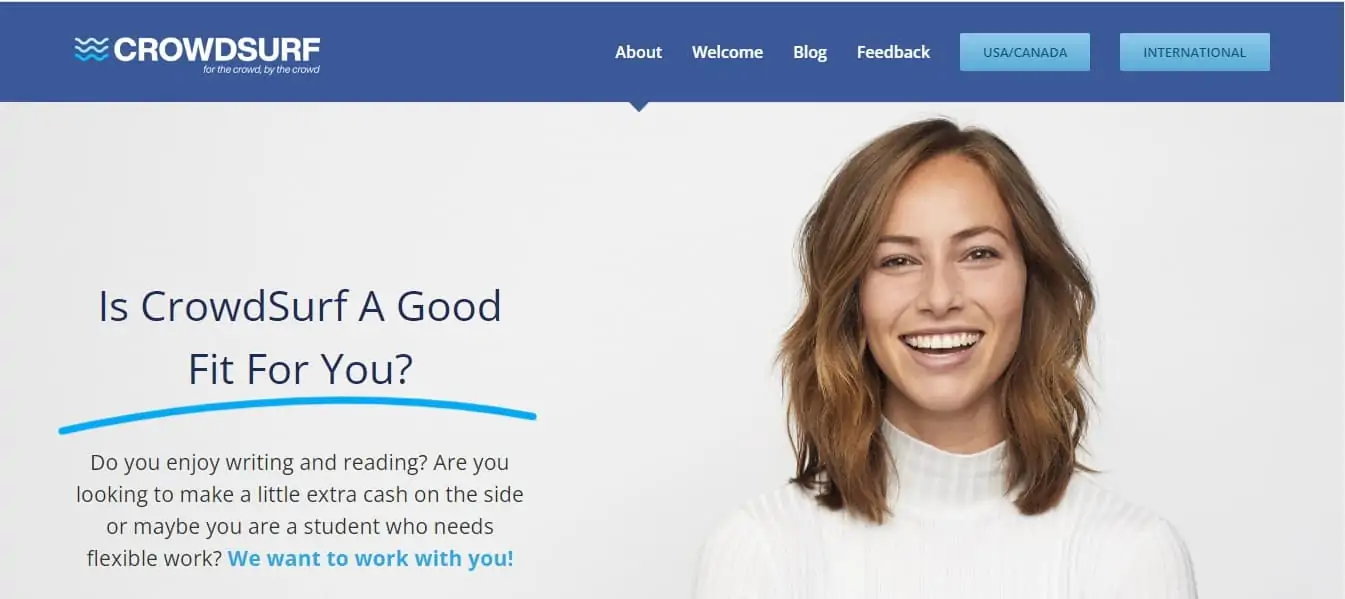 Crowdsurf offers on-demand transcription and captioning services and works with thousands of freelance transcribers from around the world.
It is easy to get into Crowdsurf but you need to keep a rating of at least 3.5 out of 5 to keep your job. Crowdsurf pays 10 cents per 25 audio seconds.
14. Daily Transcription
Daily Transcription is a US-based transcription company that has been around for at least 14 years now. The company serves a huge range of sectors, but it's well-known in the entertainment industry for transcribing audiotapes. Daily Transcription also has clients from foreign countries, so it accepts bilingual transcribers.
The company pays $0.75 – $0.85 per minute via PayPal. Its top-performing transcribers are reportedly making between $300-$900 per week.
According to Indeed, the average transcriptionist rate at Daily Transcription is $48.52 per hour.
Read: Daily Transcription Review
15. Go Transcript
GoTranscript, formerly known as SpeechtoText, is a translation and transcription company that has worked with Netflix and BBC, among other well-known clients. Go Transcript pays around $0.60 per audio minute and pays every week via PayPal or Payoneer.
Read: GoTrancript Review
16. BAM! Transcription
BAM offers a variety of transcription projects, mostly in the entertainment and legal fields. BAM pays a minimum of $0.75 per audio minute.
17. 1-888-TYPE-IT-UP
1-888-Type-It-Up offers a much higher pay rate than other transcription service providers. The company pays between $1-$2 per audio minute, which translates to up to $60 per audio hour. The downside is that the company has a lengthier hiring process. You'll also need to pay an application fee of $35.
18. 3Play Media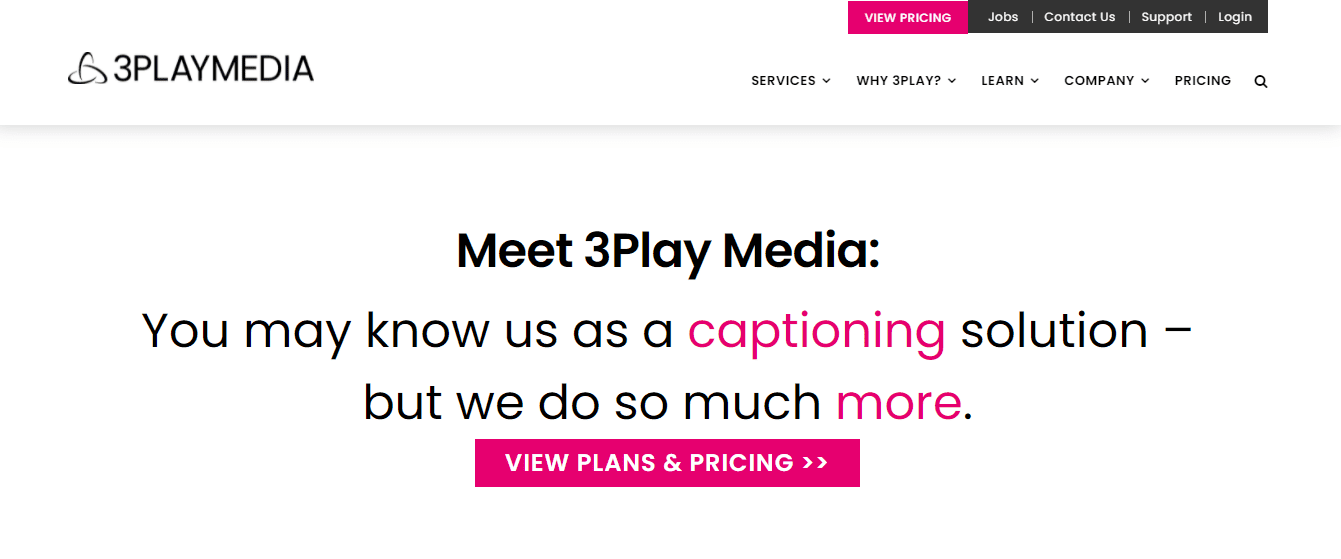 3Play Media is a well-known transcription service provider that has worked with Procter and Gamble, Yale University, and MIT, among other huge companies. It's easy to get into 3Play Media, but you do need to be a resident of the US to qualify.
At 3Play Media, your work consists of correcting and formatting files that have already been transcribed by machines. The company pays between $19-$30 per hour.
19. Appenscribe
Appenscribe offers online transcription jobs for beginners. The company hires newbies and even non-US residents, and pays $0.005 per transcribed word.
20. Birch Creek Communications
Birch Creek Communications offers a range of transciptions services, but it specializes in corporate and legal transcription. The company pays reasonably well, at $0.40 and $1.50 per audio minute for corporate transcription, and $0.65 and $1.75 per page for legal transcription. You need to be a US resident and willing to undergo a background check to be able to work at this company.
21. Focus Forward
Focus Forward has been around for over 15 years and takes pride in having successfully transcribed over 25 million minutes for its clients
Transcribers at Focus Forward usually work with lengthy files, often around 60-minute long. The company pays $10 for every 15 minutes of an audio file, but Spanish transcribers are paid more. You need to work at least 4 hours each week to stay employed.
22. Hollywood Transcriptions
Hollywood Transcriptions is a well-established company that has been in the transcription industry for quite some time. You may apply as a beginner, but you need to have at least 65wpm typing speed, have a high-speed internet connection, and have transcription software.
Hollywood Transcription does not advertise their pay rate, but some people who's worked for the company say they make $400-$500 per month working part-time at Hollywood Transcription.
23. Transcript Divas
Transcript Divas generally offers general transcription services, and offers beginner transcription jobs. It pays an average of $16 per hour.
24. Verbal Ink
Verbal Ink is yet another great company to consider for online transcription jobs for beginners. The company pays $10-$20 per audio hour.
25. Terescription
Terescription is a well-known transcription business in the entertainment industry. To work at Terescription, you need to:
Be a fast typist with a minimum of 70wpm typing speed
Can finish a transcription project within 24 hours, which is the usual turnaround time for projects at Terescription.
Be a US resident
It reportedly pays around $0.07 per line for one speaker audio file, and more for multi-speakers.
26. Athreon
Athreon is a speech-to-text and AI cybersecurity solutions provider. The company uses high-powered AI technology in the transcription process but also hires proficient transcribers to clean up the materials transcribed by its software.
While Athreon prefers applicants with at least two years of relevant work experience, you may be able to work at the company if you've finished a transcription training course or program. Payment depends per project and transcribers are paid weekly through PayPal.
27. Audio Transcription Center
Audio Transcription Center or ATC has been in the business for over 50 years. It's been transcribing a wide range of materials, including presidential oral histories, history interviews, webinars, tech financial files, and more.
You do not need to have transcription experience to work at ATC, but you need to be a fast typist (80wpm) and computer-savvy. Payment is not disclosed but ATC says it pays its transcribers weekly.
28. Averbach
To work at Averbach, you need to have a high-speed internet connection and know how to use transcription software like Express Scribe. Averbach pays $1 to $1.50 per audio minute depending on the complexity of the file.
29. Net Transcripts
Net Transcripts is a transcription company that primarily caters to law enforcement transcription. People who use Net Transcripts are criminal attorneys, police departments, investigators, and other government agencies. Net Transcripts hires remote transcribers and translators from the US, preferably those who have experience in law enforcement transcription.
If you're looking for legal transcription jobs, this site is a great place to start. Pay is not disclosed.
30. Pioneer Transcription Services
Founded in 1990, Pioneer Transcription Services is one of the oldest transcription companies and one of the first digital transcription companies to operate on a national scale.
Payment is not disclosed on the company website.
31. eScribers
eScribers is a legal transcription and reporting company. The company hires legal transcribers to transcribe legal documents, such as US tax court hearing transcripts.
To work at eScribers, transcription experience, and eligibility to work in the US are required. According to its website, eScribers pay its independent contractors competitively, but the actual rate is not disclosed on their website.
32. Neal R. Gross & Co.
Neal R. Gross & Co. Inc. offers court reporting and transcription services. The company serves businesses of all sizes and types and offers legal transcription services. It offers online transcription jobs for beginners, but it requires its transcribers to know how to use a transcription software. Payment is not disclosed.
33. Transcriptions N' Translations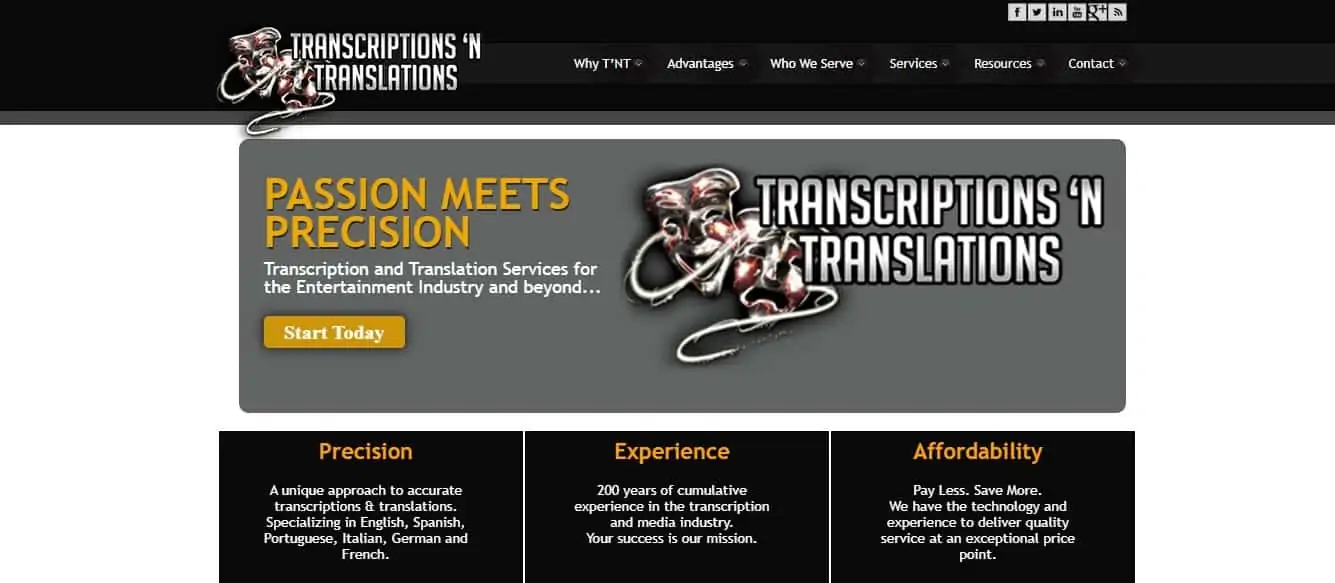 Transcriptions N' Translations has been offering language-based solutions for over 21 years now. The company offers transcription, translation, captioning, and subtitling in and to various languages.
Most of the company's clients come from all sizes of production houses for TV and film. If you're interested in joining the company's remote team and get paid for transcription jobs at home, you can apply here. Payment is not disclosed.
34. Transcription Outsourcing
Transcription Outsourcing LLC is a well-known transcription firm based in Denver, Colorado. The company offers transcription services for various industries, including medical, legal, and business.
Some of its services include academic, telehealth, insurance, court, and medical transcription. The company is continuously growing its team of remote transcribers and is looking to hire more US-based transcribers
All transcribers qualified to work in the company must pass a background check and earn at least 95% in the assessment exam. Transcriber pay rates vary depending on your field or specialty, but they can range from around $0.80 to $1.10 per audio minute or more, depending on the turnaround time and complexity of the material.
35. Transcription Hub
Transcription Hub is also a trusted transcription service provider by some of the biggest brands and institutions. Some of its clients include Walmart, Stanford University, Harvard, US Army, and The New York Times. The company offers remote transcription jobs.
36. Voxtab
Voxtab is Crimson Interactive's constituent brand, focusing on providing language-based services like transcription, translation, and language editing. Its transcription department was founded in 2005 and has been serving 50 different industries.
You can apply at Voxtab for transcription jobs online by first filling out a form here.
37. Literably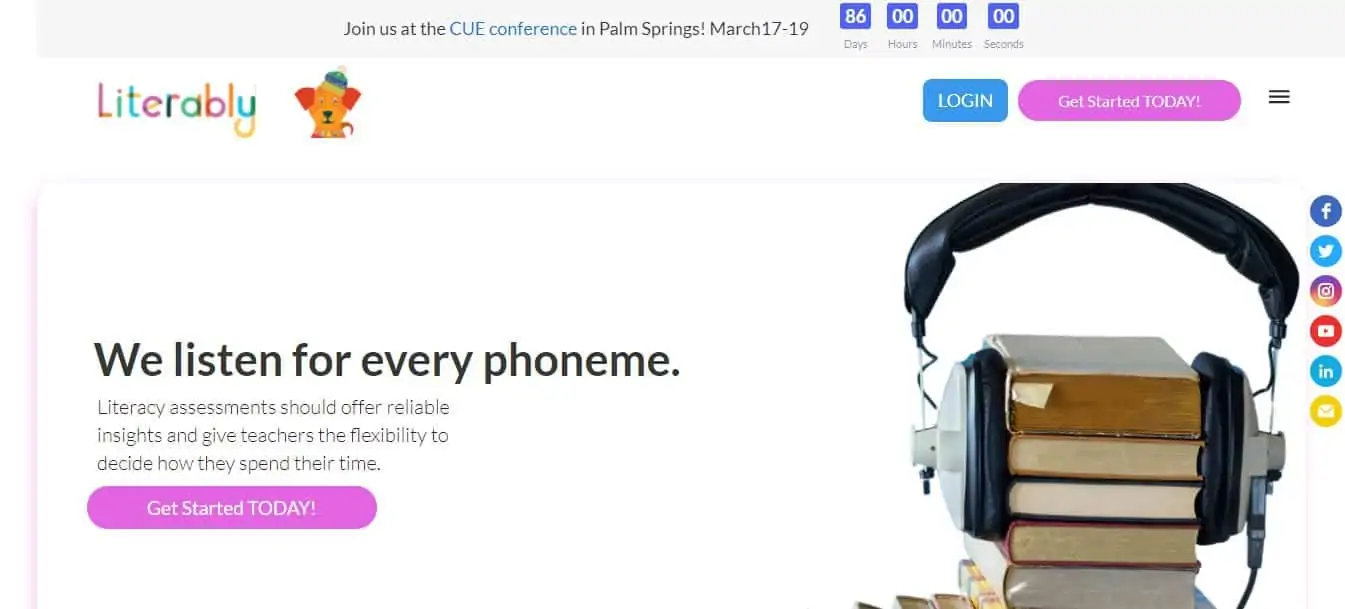 Literably is a tool that assesses a child's reading ability, but the company also constantly hires transcriptionists to help them assess their students' reading abilities. How it works: the company will send you a recording and you will listen to the recording and take note of errors such as when the student mispronounced a word or skips a word.
Then, you'll rate the student's performance to help teachers assess their students' progress. Read: Literably Review
Related Post:
13 Best Voice Over Jobs from Home for Beginners
---
Final Thoughts
As you can see, there are many companies that offer transcription jobs online. There are always audio files that need to be transcribed, hence there is a demand for such services.
If you want to earn more than $20 per hour as a transcriptionist, the best option for you is to start your own online transcription business. That way, you can set your own rates, get clients and scale your business by hiring transcribers.
If you want to learn more about transcribing and want to make transcribing your career, I highly recommend checking out this free general transcription mini-course.
Good luck!