Are you earning $20 an hour right now and wondering what it all comes down to as an annual income? $20 an hour is how much a year, before and after taxes?
And what if you want to break it down to per day, week, bi-weekly and monthly? How much are you going to make with this hourly wage? Importantly, are you going to be comfortable living with this income? Let's find out today.
$20 An Hour Is How Much A Year?
To help you find out how out $20 an hour is how much a year, you first need to determine the number of hours you work in a year.
Assuming that you work full-time at 40 hours per week, and you take two weeks of unpaid vacation, that brings you to 50 weeks of work per year, and each week you work 40 hours. In this case, all you have to do is multiply 50 weeks by 40 hours, giving you a total of 2,000 working hours per year.
So, 2,000 hours multiplied by $20 per hour, you should make $40,000 per year.
But what if you work all the weeks of the year? How much is $20 an hour annually?
In this scenario, we will assume that you work all 52 weeks in a year, and you work full-time. Therefore, you have 2,080 working hours per year. When you multiply that by $20 per hour, you will make $41, 600 per year as your income.
Making $18 an hour? Check out our post on how much $18 an hour is per year! Or do you want to know what it means to earn $30 an hour? Read: $30 an Hour is How Much Per Year?
$20 An Hour Is How Much A Year After Taxes
Let us remember that when we speak of annual income, it is before taxes and deductions. This is not your take-home pay yet. So, the question is, $20 an hour is how much a year after taxes?
There is no standard answer for this. According to Smart Asset, how much you pay in taxes depends on your taxable income, filing status, adjustments, exemptions, tax deductions, and tax credits.
But for illustration purposes, let us use the Tax Calculator to find out how much is $20 an hour annually after taxes.
Let us assume that you work 40 hours a week, put in 10 hours of overtime each month, you are single with zero dependents, your take-home pay would be $38,023 per year.
However, if you are married with two kids, and work the same number of hours and overtime, your annual income after taxes is $39,728.
Don't forget that certain life events can affect how much you pay in taxes, so these figures are not always set in stone. You may pay more or less in taxes if you change jobs, gotten married or divorced, have children, buy a home, move locations, or are planning to retire. If you earn $20 an hour while going through these life events, you can expect that your annual income after taxes will change too.
How Much Is $20 An Hour Monthly?
You probably would want to know how much is $ 20 an hour monthly, especially because a lot of our bills, like water, power, credit cards, phone, and internet subscriptions are paid month to month.
So, if you work four weeks a month and make $800 per week, your monthly income should be around $3,200. However, there are few months that have five weeks in them, so your income may fluctuate during those months.
20 Dollars an Hour Is How Much a Week?
Now that you know how much is 20 an hour annually, let's get down to knowing what your weekly rate looks like.
So, 20 dollars an hour is how much a week?
First, let us determine how many hours you work in a week. If you work full-time at 40 hours, then all you have to do is multiply 40 hours by $20 per hour, which brings you to $800 per week.
How Much Is $20 an Hour a Day?
If you make $20 an hour, then how much is 20 an hour per day? You can easily compute your daily rate by multiplying the number of hours you work in a day by 20. So if you work eight hours a day, then you should be making around $160 a day.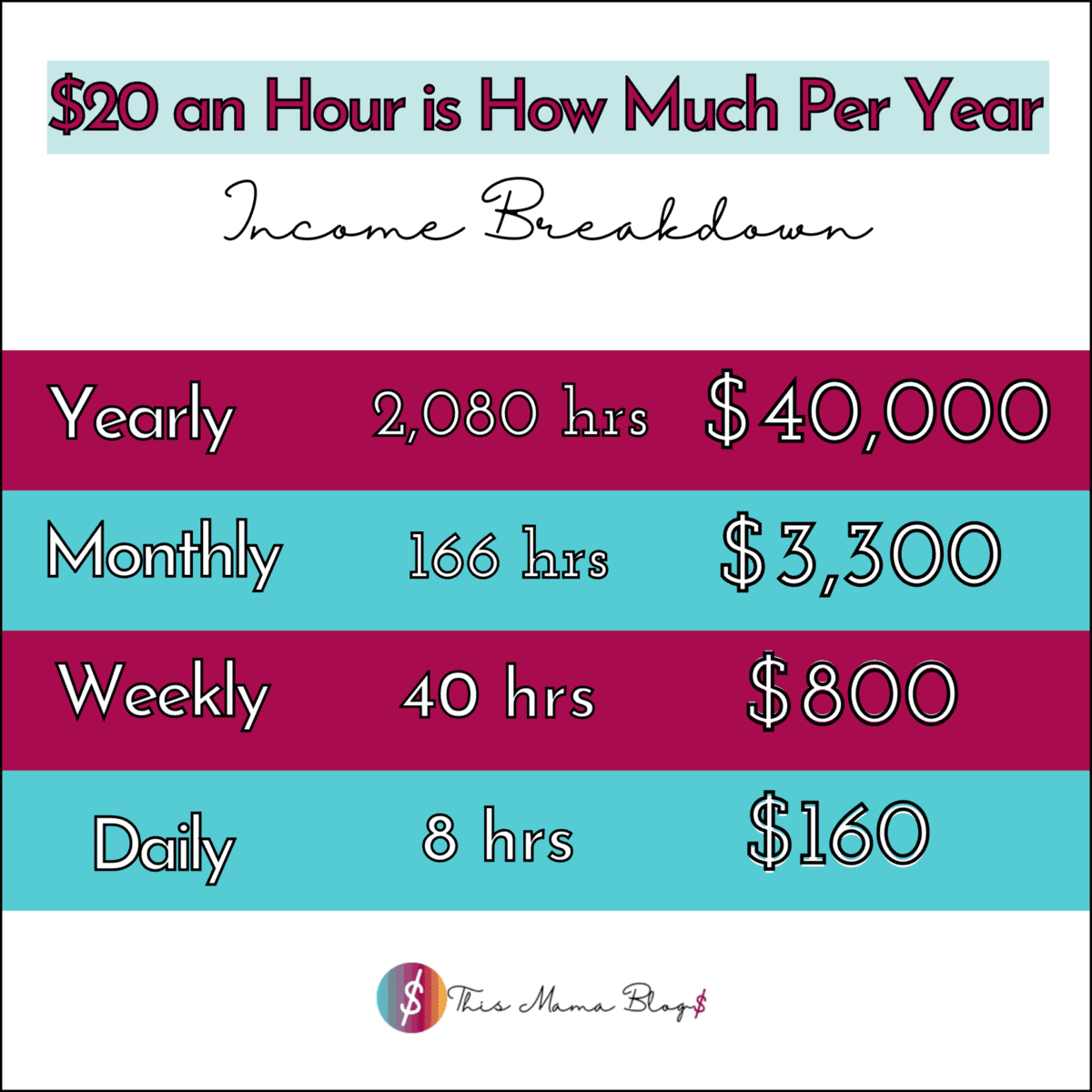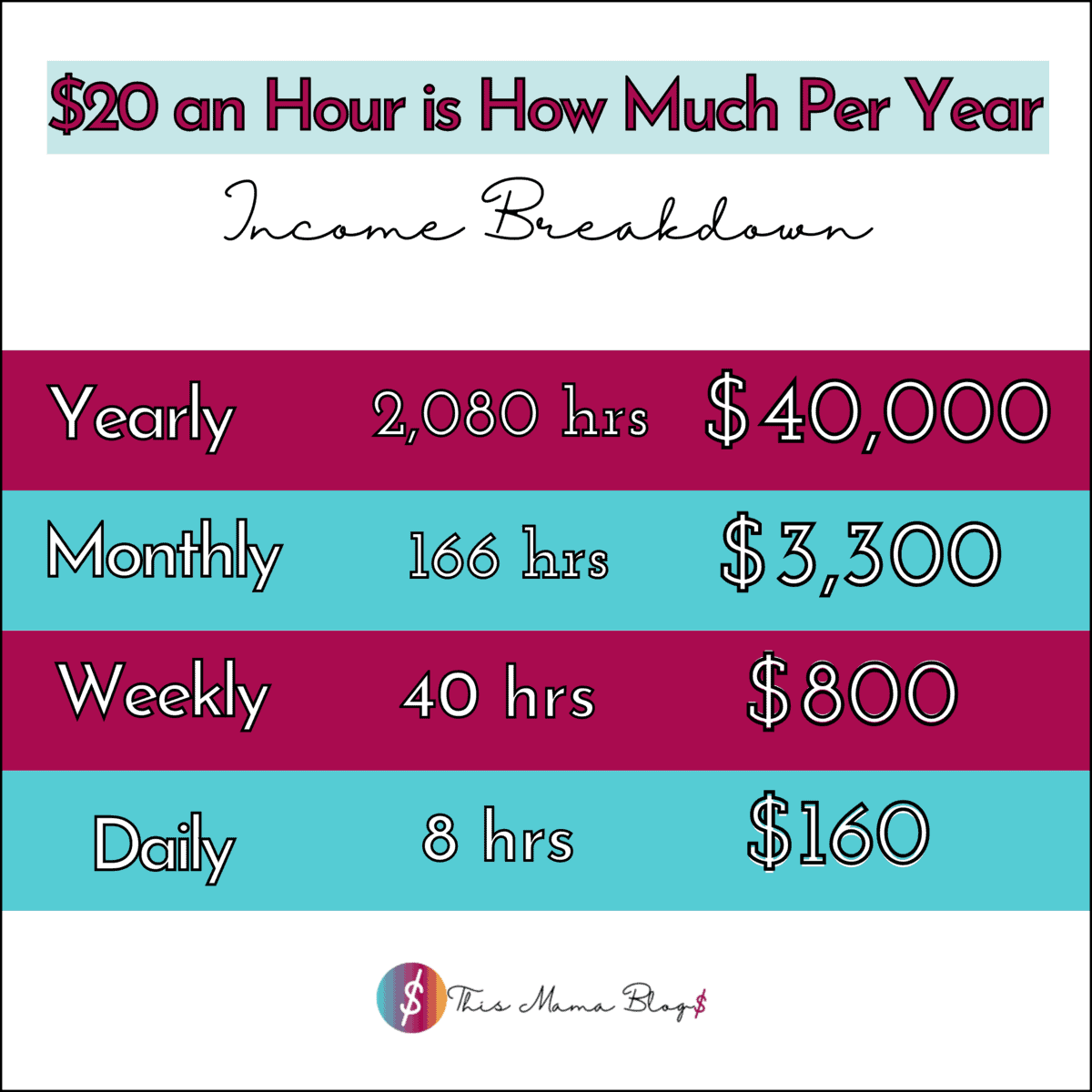 ---
Jobs that Make $20 an Hour
Now that we know how much is $20 an hour per year, month, week, and day, it's now time to determine what types of jobs pay this much. If you're looking to earn at least $20 an hour, you're in luck, because these jobs are quite common, and many of them don't even require a college degree. According to Indeed, these are the top jobs that pay $20 an hour.
Traditional Jobs
Medical coder
Carpenter
Wind turbine technician
Solar installer
HVAC installer
Personal trainer
Maintenance mechanic
Plumber
Insurance agent
Interior designer
In these traditional jobs, your employer or company has likely taken out your taxes, insurance, and retirement contributions from your paycheck, so what you receive is already your take-home pay.
Online, Work-from-home Jobs
I've also made a list of the best jobs that pay $20 an hour that you can do online. These jobs are beginner-friendly and have the potential for growth especially if you treat them as a business rather than just a job. So, if you want to work from home and earn at least $20 an hour, these are the perfect starting points:
Graphic and web design
Academic tutoring
Social media management
Self-employed online workers and freelancers are generally responsible for taking care of their own taxes, settling their insurances and retirement plans, among other deductibles. Dealing with taxes as a freelancer can be stressful, so it's important to know how to handle your tax situation as soon as possible.
Is $20 An Hour Good Money?
Can survive on a $20 per hour wage? Unfortunately, the answer is not the same for everyone.
But first, let us know where your hourly income stands in the bigger picture. According to the Bureau of Labor Statistics, the average hourly income in the US as of June 2020 is $29.35 per hour. So if you're making $20 per hour, you are earning less than the national average.
Meanwhile, according to the US Department of Labor, the minimum per hour wage is $7.25 per hour, which means you are earning at least thrice than the minimum wage earners.
Still, I believe income is a very personal thing, so earning $20 per hour can mean differently for all of us.
To help you determine whether $20 an hour is good money for you, first, you have to identify your location because it heavily impacts your cost of living. So if you live in the most expensive states in the country, such as Hawaii, New York, and California, you will most likely struggle with this income. Raising a family with this income can be very difficult because the housing prices alone are already very costly.
However, if you live in one of the most affordable states, such as Mississippi, Kansas, and Oklahoma, your might be able to sustain your lifestyle with $20 an hour quite comfortably.
How To Make The Most Of Your $20 An Hour Income
Is $20 an hour good money? Whether you say yes or no, what's important is that you make the most out of your income.
Create a budget

. Regardless of the size of your income, keeping a budget is essential in managing your finances.
Pay off high-interest debt aggressively. Interest on your debts can quickly eat up your income, so it's important to pay off high-interest debts first to prevent further interest from accumulating. Once you've paid off these debts, you will have free some cash in your budget.
Trim off unnecessary expenses. You can stretch your $20/hour income by prioritizing your expenses and getting rid of unnecessary ones. Perhaps you can look into canceling your gym memberships, cable, and cutting back on entertainment. Every little savings help.
Save consistently. Saving a portion of your income consistently will help you build a financial cushion for emergencies. You should also throw some money into your financial goals, such as retirement, home purchase, college education, and more. The key to growing your savings is being consistent and having the willingness to make some sacrifices.
---
Final Thoughts
As a recap, 20 dollars an hour is how much a year? That's between $40, 000 to $41, 600 before taxes.
Now, you might find $20 per hour too small an income for you, while others think that it's decent enough. You can find a lot of jobs offering this wage, some on-site, others online. You can even supplement your day job's paycheck with side hustles, which can help with cash flow. Who knows, you might find it enjoyable, rewarding, and profitable, and even elevate your income to six figures?