If you've found this post, then you're most likely interested in making money as a transcriber for CastingWords, a popular company that offers home-based transcription work.
I was curious about CastingWords, how much it pays, whether it is legit or not, how to apply to CastingWords, and whether it's worth working for this company. So I did some research and wrote this CastingWords review. If you are asking yourself the same questions, then be sure to read my entire CastingWords review to learn more!
---
CastingWords Review: About CastingWords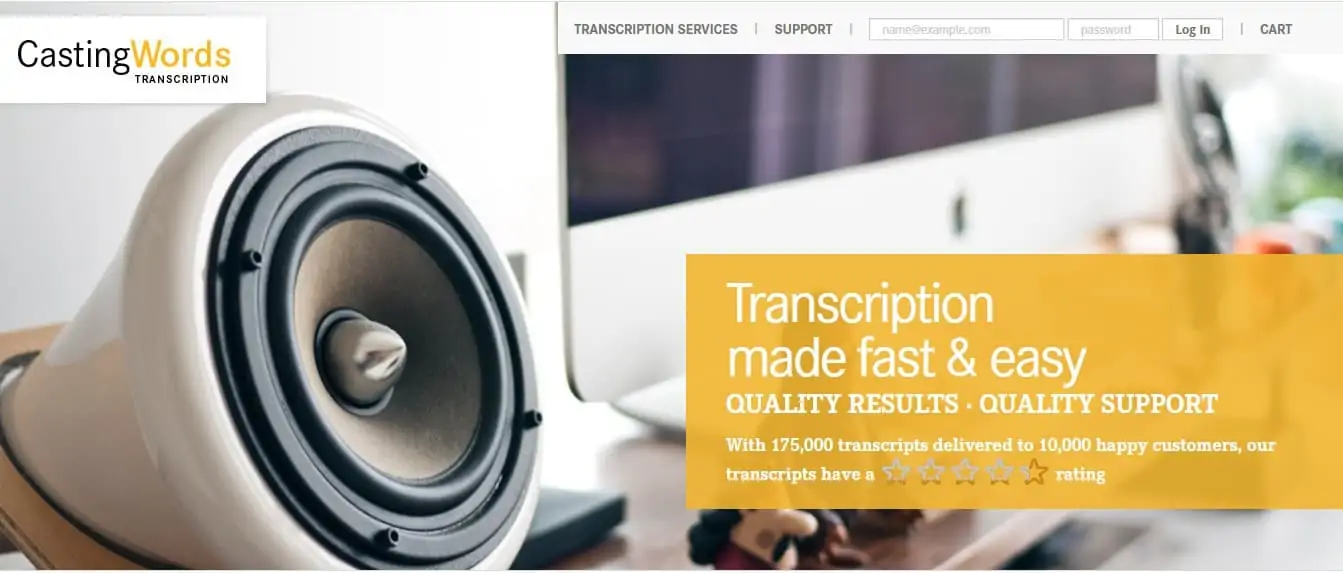 CastingWords is a transcription company founded in 2005 by Rachel Pearson and Nathan McFarland in Los Alamos, New Mexico. The company aims to provide online work to transcribers and serve clients with transcription needs.
The company has grown for the past 16 years, now employing numerous independent contractors from all over the world. CastingWords has also expanded its service offerings which now include subtitling and captioning.
CastingWords promises to deliver high-quality and accurate transcription work, as well as clear and affordable pricing, quick turnaround time, and excellent customer support. It managed to establish a solid reputation in the industry and worked with notable clients like NASA, Microsoft, and Wall Street Journal.
CastingWords hires qualified freelance transcriptionists, even those without experience. Transcribers can work on projects they like and anytime they want.
It's just important to remember to finish the material within the deadline and make sure that it is of high quality. CastingWords follows a grading system for their independent contractors, and your grade affects your ability to work on specific projects and earning potential.
CastingWords Transcriber Application and Requirements
Unlike other online companies, CastingWords actually has some of the most lenient requirements and easy application process. So, if you'd like to take CastingWords transcription jobs, you must satisfy the following requirements:
18 years old and above
Reside in one of the supported states or countries
Able to receive payments through PayPal
Able to work as an independent contractor based
If you meet all these requirements, you can already start applying at CastingWords.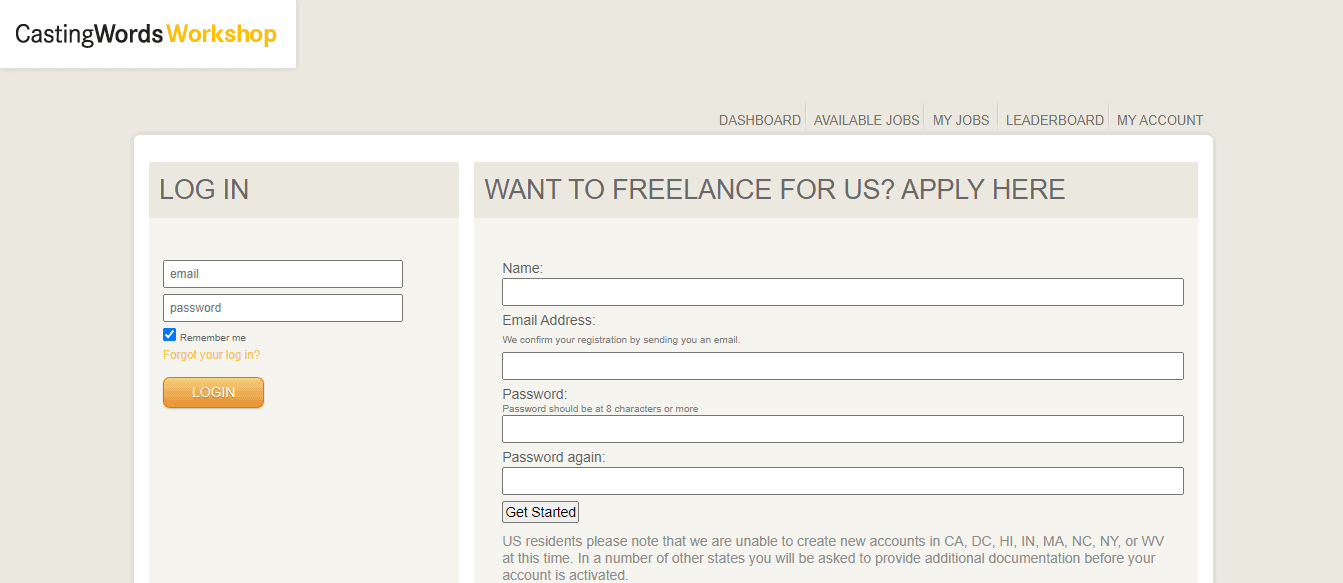 Sign up. Create an account with CastingWords and fill up a short bio.
Verify your email. Click on the verification link CastingWords has sent you to your registered email.
Take the test. Some applicants are directed to take a short transcription test, and others are not. Make sure to acquaint yourself with CastingWords's style guide as that will have a significant bearing on your test results. Also, observe correct English usage and go over your work before submitting the test.
If you fail to finish the test within that period, you may re-take it after 24 hours.
If you passed the test, you can start getting paid work at CastingWords.
CastingWords Review: The Work Process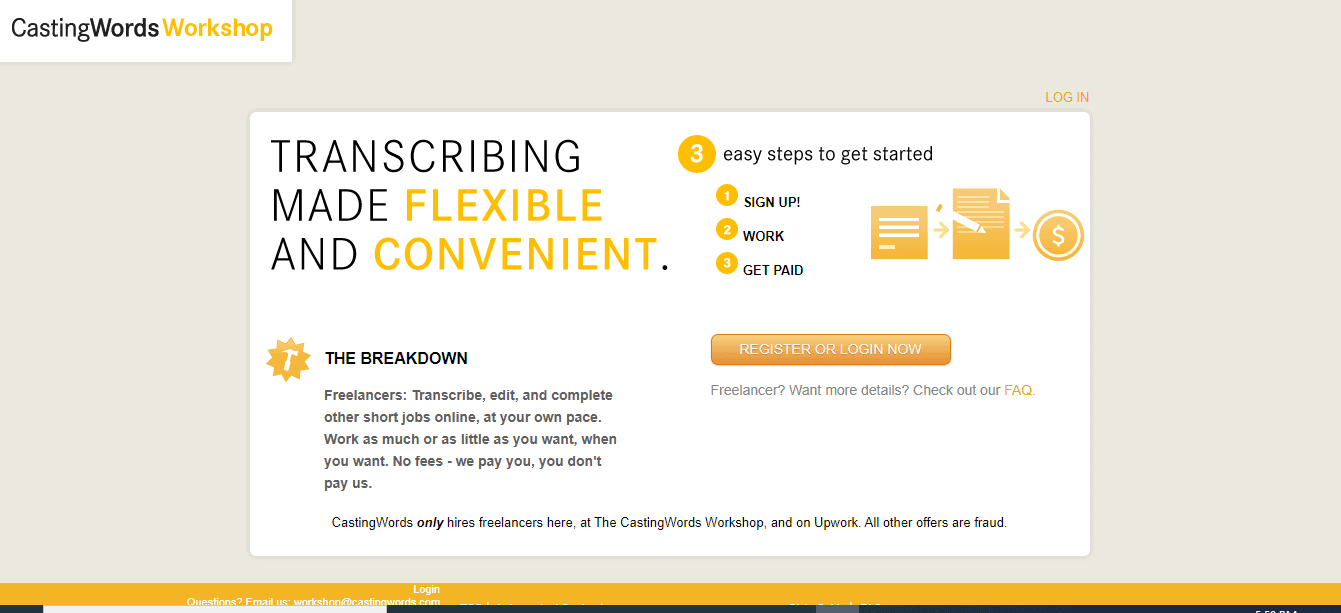 Once you get into CastingWords, it's best to familiarize yourself with the work process. You can start looking for tasks in the available job list. You may filter your search by typing in specific keywords or you can scour through all the jobs in the list.
When you've found a task you want to take, you can preview it so you know if it's really something you'd like. If it does, then click on "Work on This."
You will also see the turnaround time for each project. Once you grab a project, the timer starts counting down. You should strive to complete the task before the deadline expires.
You now have to download the audio file and transcribe the material with your preferred transcription app or software. After which, you upload the transcribed document into the platform.
The staff from CastingWords will now grade your work. As the grading process can take a while, you can opt to work on another task.
Returning assignments and requesting extensions
I think it's great that CastingWords is a bit more lenient about deadlines and extensions. You can return your assignment back into the pool for whatever reason, as long as the deadline has not expired yet.
If you feel like you can't complete the task within the deadline, you can ask for an extension. However, this option is not available for beginners. The longer you work for the company and the more tasks you take; you may be eligible to request deadline extensions in the future.
The badge system
Another thing to consider when you start working at CastingWords is that they apply badges to contractors. When you get in after passing the test, you automatically earn the New Transcriber Badge. The Beginner badge will be awarded to you after passing your initial paid task.
You will earn more badges as you take in more work. But you could also lose them. Badges are earned if you submit accurate, high-quality work within the deadline. As you gain more badges, you can access better-paying transcription work.
How Much Does CastingWords Pay?
Unfortunately, there is no clear-cut answer on how much money can make on CastingWords. The grade you receive for each task will determine your earning potential. According to the website, the CastingWords average pay is at least $0.85 to around a dollar per audio minute.
But that also depends on the grade you receive for each work. CastingWords's grading system starts at 0 and ends at 9. Work that's graded 0 to 4 are rejected and won't be paid. Work that gets a grade of 5 gets the base pay. And work that's graded 6 to 9 gets the base pay x 1.5 to 3.0. So, you have to make sure that you submit quality work and follow the CastingWords style guide down to a T increase your earning potential.
CastingWords courses out payments through PayPal every Friday.
---
If you want to start your own transcription business, seek your own clients and set your own rates, check out: How to Become a Transcriptionist and Make $60 per Hour
You might also want to check out Transcribe Anywhere, which offers popular transcription courses created by an established transcriptionist, teaching beginners how to listen to bad audio, punctuate correctly, and even type quickly.
Check out their FREE general transcription mini-course.
---
Is CastingWords Legit?
As with any online job, it's worth asking "as CastingWords legit?"
Based on the numerous sources online, I could say that CastingWords is legit. I checked it out on the Better Business Bureau database and found that it has an A+ rating. Additionally, CastingWords is present on various social media platforms.
Importantly, you'll find various CastingWords reviews at legit job posting sites like Glassdoor and Indeed, and reviewers vouch that the company does offer real paying transcription jobs.
The company cautions that legit work is available on their site, the CastingWords Workshop, as well as on UpWork. Job offers elsewhere are not legit.
Related:
---
Subscribe to our newsletter for more money-making ideas!
CastingWords Review: Pros and Cons
So, we've established now that CastingWords is legit, but is it really worth your time? Let's break down the pros and cons of working at CastingWords to find out:
Pros
Flexible work – you can take work according to your own schedule and decide how much or little you want to work.
Low entry barrier – you can apply at CastingWords even without transcription experience.
Choose your own projects – you can preview the project and decide if you'd like to work on it or not.
Reliable pay – CastingWords is known to send payments time.
Cons
Low pay – a lot of contractors say that they're not happy with how much CastingWords pays them.
Unfair grading system – some transcribers also say that the grading system is biased. Rejected work means no payment.
Low-quality audio – files with extreme background noise or incomprehensible speech are more difficult to transcribe.
Work is not guaranteed – some days are slow and you might get little to no work to do.
---
CastingWords Reviews: What do contractors have to say?
While looking around for CastingWords.com reviews around the web, I've found that there's a bit of a mix of good and bad points working for the company.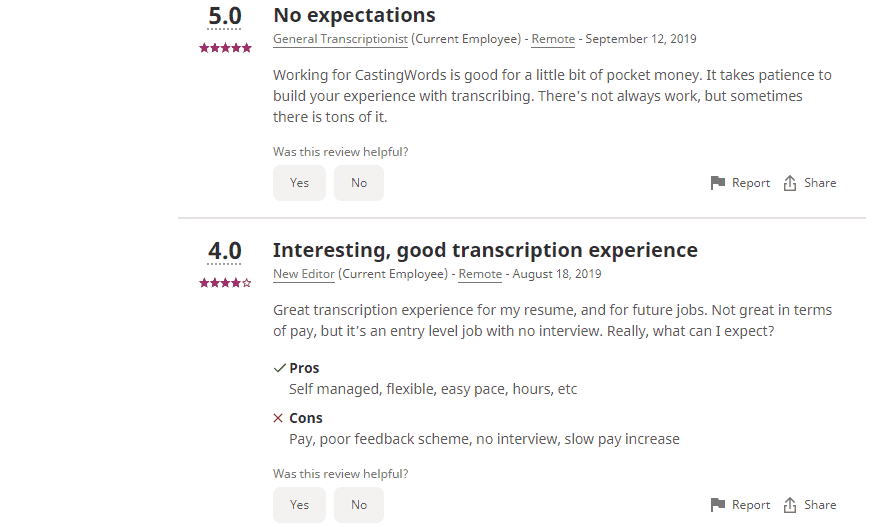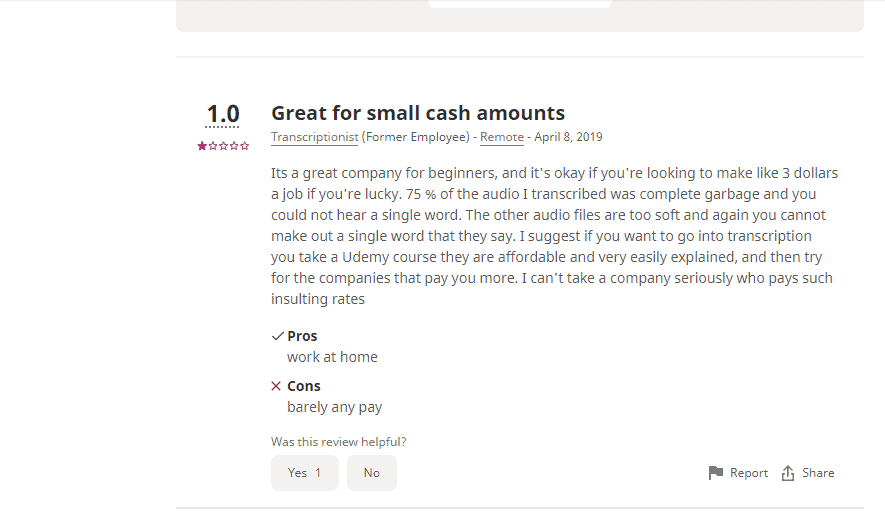 At Indeed, contractors say that work is not always stable. Some days there's a lot of jobs to pick from, others little to none at all. But they also pointed out that CastingWords has given them the opportunity to make money from home, even though the pay leaves so much to be desired.
I also found a couple of CastingWords Reddit reviews. Unfortunately, most of them are negative. According to this Reddit user, he transcribed a difficult audio and even went the extra mile of researching all the foreign terms mentioned in the material. In the end, the staff rejected his work and threw him "under the bus" so that the company could get the markup.
Another Reddit member also complained about getting his work rejected for the littlest detail which would have taken way less time to correct compared to the effort of transcribing the entire file.
CastingWords Review Conclusion
Now that we've reached the end of my CastingWords review, it's time to give the verdict. I would say that if you're looking to enter the world of freelance transcription and gain experience, CastingWords might just be the perfect entry point for you. You only need to apply, study the style guide and pass the test. After that, you can start getting paid work.
But as you gain more experience and develop an efficient work system, it's better to venture to other transcribing opportunities that pay better. You could also take transcription training to become better at this craft, and perhaps start your own online transcription business. But everybody needs to start somewhere, and if you're willing to get paid little to start, then CastingWords won't be such a bad idea.
Have you worked at CastingWords? If so, what was the experience like? Do share in the comments.