One of the latest trends in getting paid online is transcribing audio. Yes, you read that right. You can get paid writing out what is said in an audio file.
It's a relatively easy way to make money online because it doesn't really need fancy or technical skills and previous work experience. You just need to be a good listener and a fast and accurate typist.
A lot of companies offer transcription work to freelancers and work-at-home professionals. And depending on how much work you put in, it could be one of the best online part-time jobs with the potential to generate a full-time income.
TranscribeMe is one of the transcription service companies where you can make extra cash as a transcriptionist. But is TranscribeMe legit and worth it? Then, read more!
In this review, you'll learn:
What is TranscribeMe?
How to Apply to TranscribeMe?
TranscribeMe Pay
TranscribeMe Exam
TranscribeMe Reviews
Is TranscribeMe legit or Worth It?
But First, What is Transcription, Really?
Transcription is the process of turning an audio file into text.
Basically, you listen to an audio file which could be a script of a video or podcast, lecture, court hearing, or conference, and then type what you hear.
The transcription process may seem as straightforward as that, but there's more that goes into transcription.
You have to make sure that you know and understand English grammar, syntax rules, punctuation, and more.
Also, you need to be able to format the copy indicating who is speaking, and in some cases, including time stamps.
Now if you're committed to learning transcription and want to earn from it, TranscribeMe could be an excellent stepping stone.
TranscribeMe Overview: What is TranscribeMe?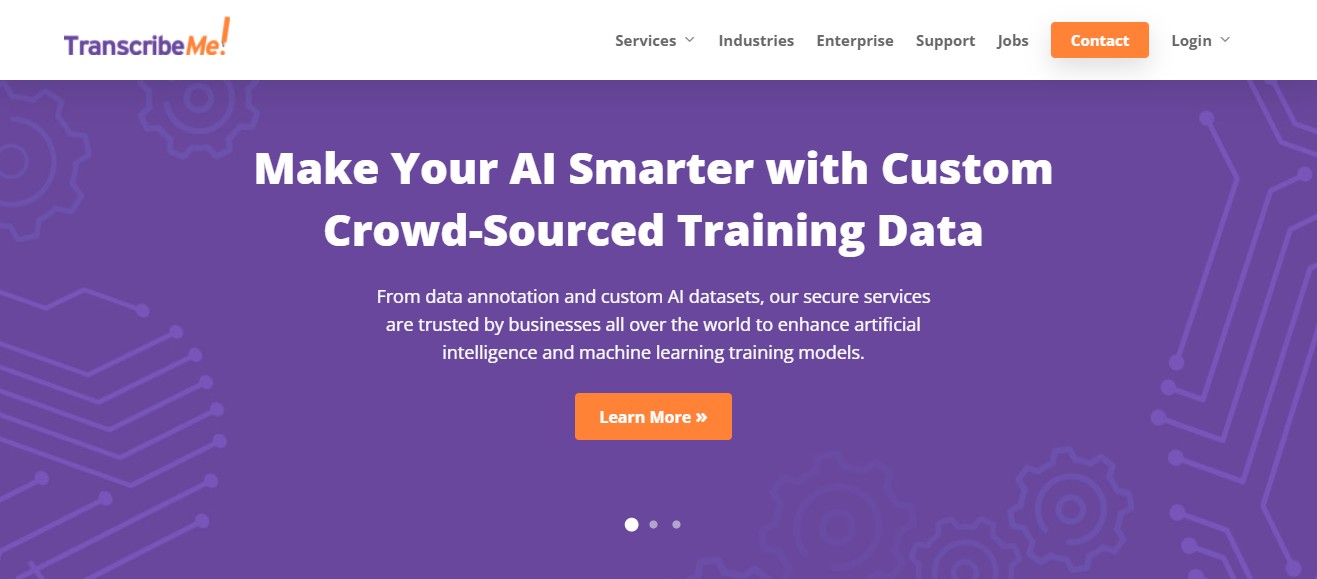 TranscribeMe claims to be one of the world's leading transcription service companies that cater to clients and freelance transcriptionists all over the world.
It was founded in 2011 and is headquartered in San Francisco, California.
If you're new to transcription and want to get paid to transcribe, then you might want to look into TranscribeMe because they are also open to beginners or entry-level transcribers.

How to Join TranscribeMe
Joining TranscribeMe is a fairly straightforward process.
Here's the application process:
Head to the TranscribeMe website.
2. Sign up by completing the application form. You'll need to provide personal information, such as your name, email, and country. You'll need to have a PayPal account, or your country must be able to accept PayPal payments to get paid.
3. After submitting your application, you'll receive a confirmation email. Confirm your email and click the link to their online training program.
Be sure to watch the video which provides a quick TranscribeMe overview. It will also show you their Style Guide, and how to transcribe audio using their transcription process.
4. Study the Style Guide and get ready for the exam.
5. Take the exam and wait for up to 12 days to know whether you passed it. If you passed the exam, you can start working right away.
TranscribeMe Test
The TranscribeMe entrance exam is composed of two parts. The first part is a multiple-choice test on grammar and it's followed by two audio files that you need to transcribe.
It's best to prepare for the exam because you can only take the TranscribeMe test 4 times.
If you fail on the first test, you can take your second chance after six months.
How to Pass the Transcribeme Exam?
Here are a few tips on how to pass the TranscribeMe transcription test:
Study the TranscribeMe Style Guide
Make sure to study their style guide on the proper use of punctuation and grammar before taking the exam. This should increase your chances of passing the exam.
2. Practice Typing
You need to be able to type at least 40 words per minute so before the exam, practice typing if you're slow.
3. Use a Good Quality Headset and Practice Transcribing
As mentioned earlier, the second part of the exam requires you to type out two audio clips. Make sure to use quality headsets to be able to hear the audio well.
It would also be a great idea to practice transcribing difficult audio, with background noise or heavy accents to get used to it.
The good thing about TranscribeMe is that you don't have to deal with lengthy audio.
The files are broken into shorter segments (1-2 minutes on average), so you can transcribe as many as you can.
You have to make sure that they're high-quality and accurate, though, so they don't end up getting rejected. Once you get the hang of it, you can grab as much work as the portal offers.
TranscribeMe Pay Rate
The pay you get from TranscribeMe is commensurate to how fast you can transcribe without sacrificing quality.
Currently, the rate per audio hour is $20. That means you get paid 33 cents for every minute of qualified transcription.
That's not much money if you're only doing it to pass the time, but TranscribeMe claims people who take it seriously can earn as much as $2,000. The average pay a transcriber makes is $250 per month.
Note: You don't earn $20 for every hour that you work on the transcription. You get paid $20 for every one hour worth of audio, no matter how many hours it takes to transcribe the file completely.
You can earn more if you get promoted to QA (quality assurance) or join special teams.
If you have experience in medical and legal transcription, that should help you earn more money, too.
Also, payments are processed via PayPal. You just log in to your TranscribeMe account and withdraw your earnings when you like.
The Pros and Cons of TranscribeMe
If you're looking for transcription for everyone opportunity, then TranscribeMe might be just the place to be. Here are the pros and cons of working for the company to help you determine if is TranscribeMe worth it.
Pros
Easy sign-up process
You don't need to go through hoops and loops to join TranscribeMe. You can sign up right away, take the exams, and when you pass, you can start working right away.
No need for experience
You don't need to be an experienced transcriber to work for TranscribeMe. If you're a self-starter and willing to learn, you'll learn about transcription as you work.
Work at your own time
You can work as a transcriptionist whenever your schedule permits. You can transcribe late at night, early in the morning, or at the weekends – you can be as flexible as you like!
Cons
Low Pay
TranscribeMe pays pennies for your hard work. Most people take around four hours or more to transcribe one hour of an audio file.
Unstable work
Although you can grab work at the portal whenever you like, TranscribeMe does not guarantee a steady stream of work.
Need More Money Making Posts?
How to Make $100 Per Day Online: Creative Side Hustle Ideas
Best Side Hustles for Moms to Make $1000 per Month
TranscribeMe Reviews
I looked around to see what others have to say about TranscribeMe.
On Trustpilot, I found mixed reviews from TranscribeMe's clients and transcriptionists. Most clients were happy with the company but, unfortunately, many of their transcribers were not TranscribeMe's pay.
Here are some of the negative reviews on Trustpilot: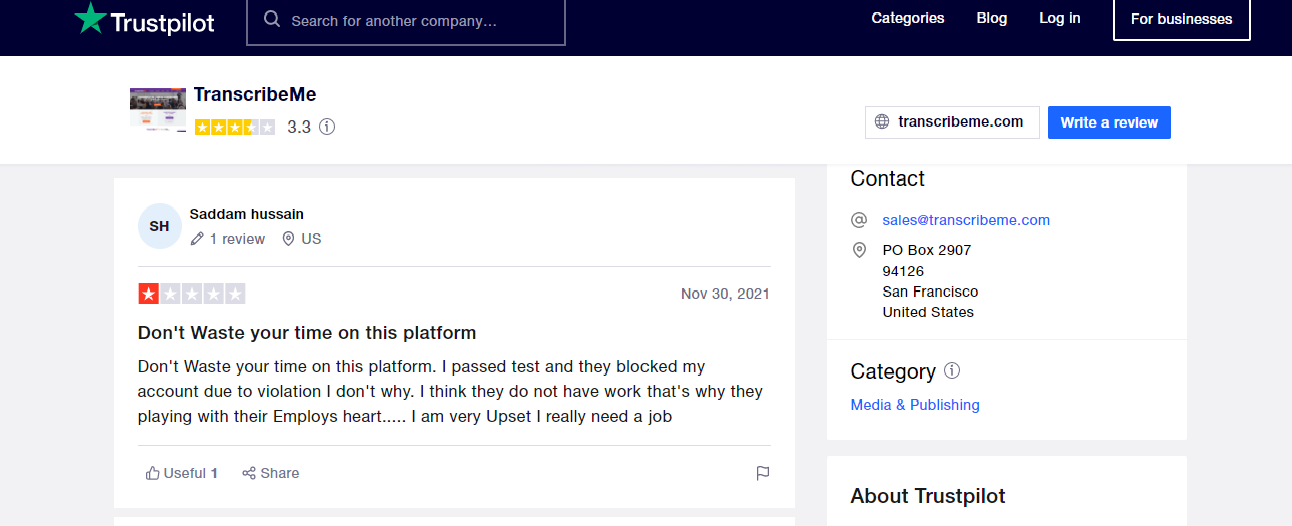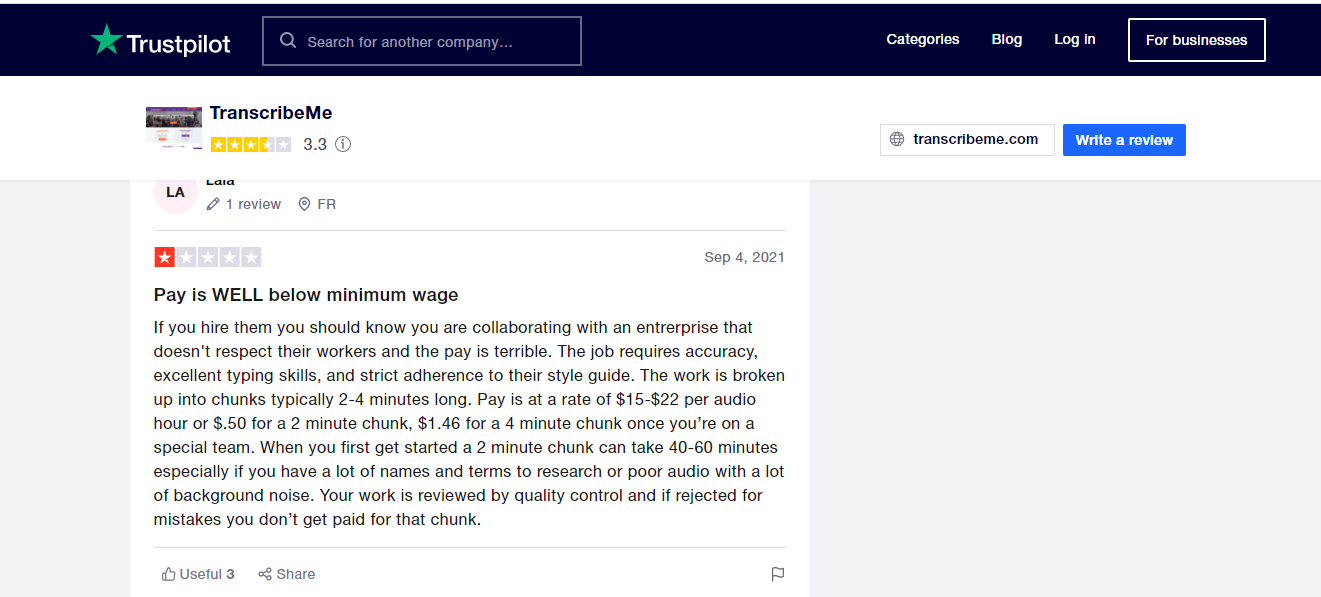 TranscribeMe Review: Join or Pass?
With all things considered in this TranscribeMe review, you might begin to wonder whether or not to join or pass TranscribeMe. You might also ask: is TranscribeMe legit?
Well, as far as legitimacy is concerned, yes, the company is legit.
It's been paying out freelance transcribers for many years now. However, should you join the company?
That boils down to whether or not you can work with the rate that they're offering.
Getting $20 per audio file may not be enough for you and you might find yourself frustrated having to grind several hours of work only to get such meager pay.
However, it can be one of the best online part time jobs for those who don't want to fully commit to a job and just want to make extra income.
If you want to get a great break into the transcription industry, it's better to invest in training and courses that'll set you up on the right track from the very start.
That way, you can build yourself as a professional transcriber and be able to start your own transcription business without having to affiliate yourself with a company. Your business becomes your own company. You can set your own hours, your own rates, and your own rules. You get to experience the true essence of running your own home-based business.
I also suggest reading this post where I talk more about transcribing as a side hustle and the things you need to get started. And if you are interested in transcription training, I also recommend checking out the following resources:
FREE General Transcription Mini-Course
FREE Legal Transcription Mini-Course
Final Thoughts
A lot of people consider transcribing as a fast and straightforward way to earn money.
While there's truth in that, it makes a huge difference how you do it. You can work for a company like TranscribeMe that feeds you with work (when available), or you can seek out your own clients and impose your own rates, which can be significantly higher.
Hopefully, this TranscribeMe review sheds light that transcription is hard work, so it's best to pick a route where you are better compensated for your time and effort.