Amazon Work-at-Home Jobs
When we speak of Amazon, the first thing that comes to mind is online shopping. It's our go-to place online for finding and buying just about anything. But did you know that the platform also offers work-from-home jobs that pay well?
If you are looking for more ways to earn an income from the comforts of your own home, read on to learn some of the best Amazon work-at-home jobs!
Why Work for Amazon from Home?
But first, what makes working for Amazon from home different from other online gigs out there?
Work and not just a freelance gig
According to this report, Amazon is one in the top 100 companies that offer remote jobs. And it's not hard to imagine why you should consider to work for Amazon from home.
With its extensive global reach, Amazon is constantly in need of skilled individuals in various fields. These include sales, advertising, customer service, administrative support, software development, accounting, and IT.
While some of these positions are part-time and some seasonal, a good number are full-time positions.
As a full-time employee working from home, you'll enjoy amazing employee benefits. This may include health insurance, a 401K plan, paid maternal and paternal leaves, and employee discounts.
The possibility of building a career
Amazon offers a tremendous opportunity to build your skillset, transition on to higher positions and more stable contracts, and build a career in a specialized field.
For instance, there's quite a high demand for people who can speak another language other than English in its customer service department. The company is also constantly hiring professionals in IT and cloud support services.
Amazing income potential
And of course, Amazon offers excellent opportunities to make an incredible income for entrepreneurs. Its global market reach brings your products instantly on the screens of billions of people. So, it's definitely one of the top platforms for an e-commerce business!
---
Important Tip When Finding Amazon Work-from-Home Opportunities
Amazon work-from-home jobs are classified by location. Make your search easy by heading over to Amazon's Virtual Locations Job page. Then, narrow your search by state, job type, and category.
Most positions, especially for customer service agents, require an online interview, while other positions may require a training period that might entail some onsite visits to a physical Amazon store.
Are you ready to learn some of the best ways to make money with Amazon? Let's get started!
---
If you want to learn how to get free Amazon products instead, then check out our post on Amazon direct ship freebies!
---
Amazon Work From Home Jobs You Can Do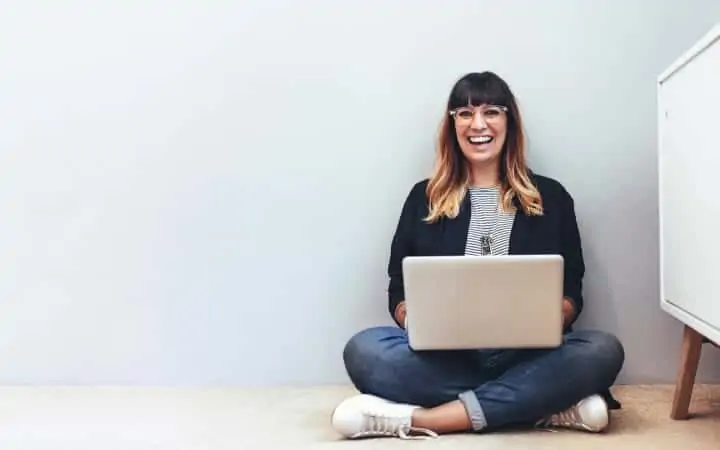 1. Amazon Customer Service
Among the most common Amazon work-at-home jobs are customer service positions. These cover account resolution, customer care, call center, and others. Full-time customer service agents are reported to earn $22,000 a year while higher-level customer service representatives earn over $90,000 annually.
To start working with Amazon at home as a customer service agent, you need to have a high school diploma and at least a year work experience in customer service.
Amazon's customer service jobs are one of the more "set" positions of the company. You're expected to work about 20-29 hours every week during Amazon's customer service hours which include evenings, weekends, and holidays.
As a customer service representative, you'll handle issues like product inquiries, complaints, promotions, refunds, etc.
---
2. Amazon Software Engineers
Aside from customer support, another attractive position for those wanting to work at home with Amazon is software design. As an online marketplace, it makes sense for Amazon to need software designers to support its worldwide operations.
The company is also developing a range of remote and digital products from the Amazon Game Tech to Alexa Smart Home Cameras. The work entails, from product design, testing, and roll out, requires specialized expertise from those with a background in computing and mobile software development.
A good number of these advertised positions still require a geographical base as some projects may require one to come in and work with the team. However, some positions entertain remote workers. These positions require at least a bachelor's degree in a related field and about 3-5 years of work experience.
Amazon software engineers are reported to earn an average of $121,931 annually, excluding bonuses and other employee benefits.
---
3. Amazon Technical Support Associate
While the work of Amazon's CSAs are more targeted towards customer experience and satisfaction, the Technical Support Associates provide, just as the name implies, a more targeted customer support in the form of technical advice. They provide troubleshooting advice in the use of Amazon's digital products, answer technical queries from customers, or sometimes walk them through installation and set-ups of Amazon devices.
These positions usually require familiarity with Amazon products as well as knowledge and a basic understanding of the device and digital platforms and services. In addition to the technical know-how, more importantly, TSAs are expected to be able to communicate the technical information into simpler language that any regular customer can understand. Like CSAs, many TSA positions are work from home but Amazon requires strong internet connectivity. The average yearly salary of an Amazon TSA is said to be around $42,000, about twice the pay of CSAs.
---
4. Amazon Product Trainer
Occasionally, Amazon would have demand for other positions such as this AWS Partner Trainer. Product trainers deliver training programs to companies and business partners that subscribe to Amazon's tech products like the Amazon Web Services.
Trainers work with Amazon partners in the adoption and rollout of the AWS infrastructure. Since most of these trainer positions are for Amazon's range of web and digital products, these jobs require technical expertise and training.
Adverts for jobs like this are open to remote workers but Amazon expects applicants to be near an Amazon company office. More often than not, positions also require a good deal of travel, so this can also be an important consideration for you.
---
5. Amazon Home and Business Services
Got a professional skill that you can offer to others? Amazon's Home and Business Services is one of the retail giant's newest features. It allows individuals to offer their professional services to others for a fee.
It's similar to sites like Fiverr but your professional services aren't just limited to copywriting, graphic design, or the like. Instead, it's a platform that offers a hodgepodge of services for home and business spaces. Examples of services you could offer include cleaning, plumbing, and electrical services.
Note, however, that to join this program, you may need to be licensed. You may also need to pass a five-year background check.
---
6. Fulfilled by Amazon (FBA)
This is probably the most common way to make money on Amazon. While it's not exactly a job but a business, in my opinion, it is one of the BEST opportunities there is on Amazon. You can do this from home or anywhere, in your spare time and you can set your own schedule.
You know that Amazon is an e-commerce platform, and you can make money on Amazon by selling products as a third-party seller. As such, what this means is you list your products on Amazon and keep your inventory in your own home. When an order comes in, you ship the product to the seller.
With the FBA program, you don't need to deal with the hoops and loops of packaging and shipping. Amazon will take care of the logistics for you.
Business Models to Choose from
There are also a few business models to choose from when you want to become an FBA seller, such as retail arbitrage, private label, wholesale and dropshipping.
With retail arbitrage, you buy low-cost goods in brick-and-mortar retail stores or e-commerce stores and re-sell them on Amazon for a profit.
Meanwhile, wholesaling is the process of buying a product in bulk and then selling them as individual units on Amazon. Private labeling is when you rebrand or rename a product and sell it like your own.
With dropshipping, you don't keep your own product inventory, but instead, transfer your customers' orders directly to the supplier.
How to Get Started?
If this is your first choice, create a seller account on the Amazon Seller account page. Also, explore the page as it gives you free access to tools and guides to help you start your own Amazon FBA business.
I also highly recommend investing in Amazon courses that will teach you how to start a successful Amazon business.
My friend Jessica Larrew over at The Selling Family has an amazing course that teaches you how to buy low at big-box stores and make money on Amazon with retail arbitrage. You can learn more about Jessica and her business in this interview here.
I am more interested in private labeling, so I invested in a coaching program that focuses on this type of business model. There are a few courses out there, and I advise you to do your own research in selecting the best training program to enroll in.
---
7. Amazon Mechanical Turk
If you feel like wanting to try freelance or part-time jobs instead, try mTurk.
Amazon's mTurk is essentially a small task site where you can sign up as a worker and perform simple random assignments that you can complete in minutes for a small payment.
It could be something as simple as tagging objects in an image to improve searches, selecting the best pictures that represent a product, or filling out survey data. Some tasks require some time, effort, and skills, such as verifying restaurant contact details. Other examples of tasks include removing duplicate content from listings, transcribing audio content, or translating a recording into another language.
You won't get rich from doing these tasks – the average earning is $2, with most tasks requiring 10 minutes on average to accomplish.
But like other similar gigs you can find on sites like Swagbucks, the key here is always quantity. The more tasks you complete, the more earnings you make. Plus, it's one of Amazon's online jobs for moms that don't require set hours so you can still keep to your daily routine at home.
Related: How to Get Amazon Data Entry Jobs
---
8. Amazon Direct Publishing
As a blogger and writer, this is another gig that I'm personally keen about. Amazon's Kindle Direct Publishing platform allows you to self-publish your own book, put it up on their site for sale, and start earning money from book orders.
While it isn't exactly working for Amazon from home, it's still another great income opportunity that the company offers for writers.
Earnings come in the form of royalties, and you have a choice between 35% or 70% royalty depending on how your work fits Amazon's price requirement for Kindle e-books.
Yes, this means that Amazon is getting a profit over the sale of your work, but it's still a sweet deal. In traditional publishing, your book goes through a couple of middlemen, effectively making your cut from the sale lower than you'd expect.
---
9. Amazon Flex
This is not exactly "work-from-home" but it is flexible and allows you to set your own schedule.
As a giant online shopping brand, it makes very good sense for Amazon to offer delivery driver jobs. If you're thinking along the lines of DoorDash or Postmates, yes, this is exactly what Amazon Flex is about.
And like most delivery driver jobs, your earnings depend on a few things. These include your location, how fast you can complete the deliveries or tips you get from customers. On average, Flex drivers earn $18-25 an hour.
And because Amazon pays in hourly blocks, you can have a pretty good idea of how long it will last, the work you can do, and how much you can earn.
A word of caution: Amazon continues to have an extensive delivery system in place, so Flex is more of a supplemental delivery option. This means that demand fluctuates week by week, and there may be days there are no deliveries to be made. If you are interested in this gig, I highly recommend signing up also with another delivery company like DoorDash.
What do you think of these Amazon work-from-home jobs? Have you tried any of these money-making opportunities at the world's biggest e-commerce site? Tell us in the comments below!
Related post: Under the Table Jobs: 22 Quick Ways to Make Extra Money
---
Other money-making opportunities
If you are interested in other work-from-home opportunities, check out the following posts!
If you've been here before, you know that my favorite home job is blogging. It's flexible and it allows me to earn a full-time income from home while raising my kid.
If you are interested in blogging, be sure to check out my blogging guide above where I shared the strategies I use to grow this blog!