The Best Online Proofreading Jobs for Beginners
Do you have an eagle eye for punctuation and spelling errors? Are you a grammar nerd and are familiar with APA, MLA, or CLM style guides? If so, you could make money from home with online proofreading jobs!
Online proofreaders are in demand these days. If you Google "how to make money from home" or "stay at home jobs," I bet you'd find opportunities like proofreading jobs from home, essay proofreading jobs, or eBook proofreading jobs. Dig deeper and chances are, you'll even find legal proofreading jobs online.
Millions of websites need high-quality content, not to mention the many authors and eBook writers that need help perfecting their craft. And proofreaders are needed across various industries, too, including legal and medical. Even students pay proofreaders to get their theses proofed for errors!
It is for this reason why I always recommend proofreading as one best stay-at-home jobs out there. Freelance proofreading jobs from home are a fantastic source of income that offers flexibility. You can work on your own time and work from anywhere while earning a good living.
But first, what is Proofreading? Proofreading vs. Editing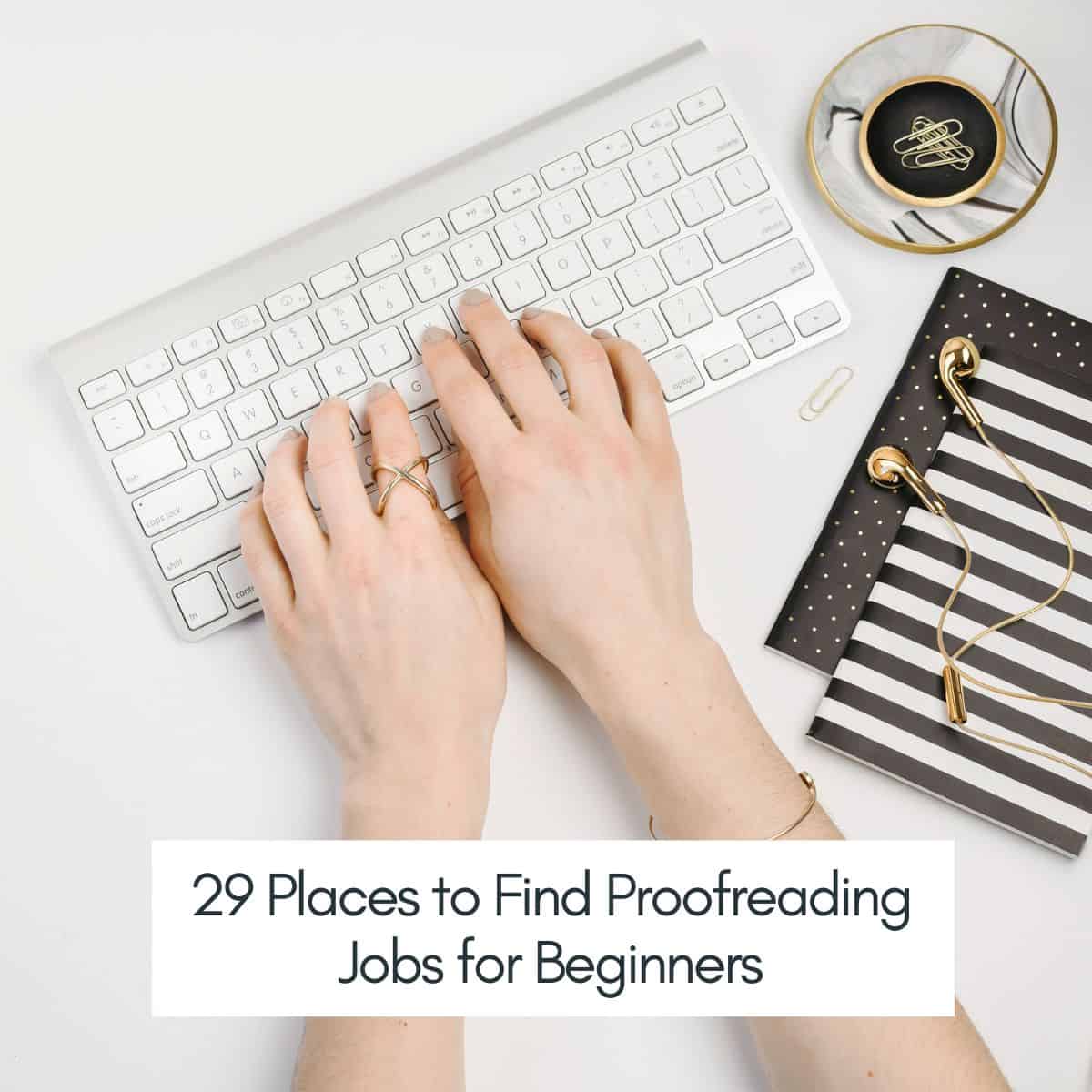 Proofreading is often confused with editing, but these two have distinct differences.
An editor edits a written text at a structural level. Editors may change the sequence or order of thoughts or improve the sentences without changing their intended meaning.
Proofreading, on the other hand, is the final stage of text preparation.
As a proofreader, your job is to polish well-edited content by correcting errors and inconsistencies in grammar, punctuation, and spelling among others.
So, if you are good at finding such errors in a written publication, then you may have what it takes to become an awesome proofreader!
How Much Can Proofreaders Make?
How much do proofreaders really make? Well, proofreaders' rates vary wildly, depending on many factors such as experience, education, and certifications. However, a certification or a degree is not always required.
According to Indeed, the average salary for proofreaders in the United States is $22.67. Meanwhile, according to Salary.com, the average salary for proofreaders is $53,321.
At Glassdoor, salary reports for freelance proofreaders range from $24 to $43 per hour.
---
Do You Need Proofreading Training?
You can start working as a proofreader even without formal training on proofreading. As long as you can demonstrate your skills and pass proofreading tests, you may be ready to jumpstart your career with entry-level proofreading jobs.
However, if you want to command higher rates, it may be a great idea to brush up on your skills by taking proofreading courses. The good news is that there are courses you can take online to learn how to proofread from home.
Caitlyn Pyle, a professional proofreader, has put together amazing 78-minute proofreading workshop for free!
It's a fantastic resource to assess your proofreading skills, brush up on your skills and be ready for online proofreading jobs for beginners.
Who is Caitlyn Pyle?
Caitlyn is the creator of two popular proofreading courses: General Proofreading and Legal Proofreading at Proofread Anywhere.
She started out as a proofreader for court reporters, and later on figured that she could actually make more money as a freelance proofreader than on her day job.
She started a freelance proofreading business in 2014 and earned $48,000 working part-time as a freelance proofreader. Today, Caitlyn has a successful online business earning 6-figures a month, helping thousands of others replicate her success.
If you want to learn more about proofreading, you might want to read my guide on how to become a proofreader here.
---
Pro Tip: Create a Website for Your Proofreading Service
Regardless of which work-from-home proofreading jobs you choose, I highly recommend setting up your own website for your proofreading services.
Having a business website can help you improve your visibility, show up in Google search results, showcase your skills or services, and provide social proof.
It doesn't cost much money (best price here!) and you also don't have to know how to code or design to be able to create a proofreading services website.
If you need help with starting a business website, you can simply follow this simple step-by-step guide on how to build a WordPress website and get your website set up in 15 minutes.
---
Online Proofreading Jobs for Beginners
1-3. Freelance Sites: UpWork, Freelancer and People Per Hour
I am not going to lie. There are more low-paying jobs on freelance sites like UpWork, Freelancer, and People Per Hour. Since there are millions of freelancers from all over the world using these platforms, there's always somebody bidding less on each job.
But they can be the perfect places to go to for when you're just starting out! You can use these sites to build experience and once you get a couple of great reviews, you can start charging more.
I've earned over $70k as a freelance content writer (with no experience in content writing!) from one these sites, so there's no reason for you to believe you can't do the same for proofreading.
I am no longer active on these sites but because I've earned over a hundred positive feedback from my previous clients, my account still gets exposure so I constantly still get messages about projects from potential clients and job recruiters interested in me.
That said, it is not really a bad idea to start looking for online proofreading jobs on these sites.
How to Get Started?
To get started , sign up for an account and create your profile. Then, browse through the job market and start pitching to clients! These sites mostly only differ in terms of fees:
Freelancer – They have a free membership and they charge a 10% or $5 USD fee, whichever is greater, for fixed price projects.
People Per Hour – It's free to register and the service fee for freelancers is between 3.5% and 20% of your earnings.
UpWork – It is free to register. UpWork charges freelancers a sliding fee based on the lifetime billings with a specific client. So, the more business you do with a client, the more you earn.
Specifically, UpWork charges the following fees:
20% for the first $500 billed with the client
10% for lifetime billings with the client between $500.01 and $10,000
5% for lifetime billings with the client that exceed $10,000
---
Work-from-Home Proofreading Jobs at Flexjobs
One of the disadvantages of working on the freelance sites mentioned in #1 is that the jobs posted on these sites are usually not screened for scams. While it's easy to spot scams, it can be time-consuming to weed them out from the real ones.
If you don't want to waste your precious time researching about the jobs to make sure you'll get paid, I highly recommend finding proofreading jobs for beginners at Flexjobs.
Flexjobs is a job board that lists a wide variety of remote flexible jobs, including online proofreading jobs. They even have a dedicated section for proofreading jobs here.
As of writing this, there have been 25,944 jobs and 5,172 companies on the site, and all have been hand-screened for legitimacy.
Flexjobs Fees
FlexJobs, however, charges a monthly subscription fee of $14.95, but I think this fee is reasonable and is worth it. While freelance sites like Freelancer have a free membership, they also charge between 3.5 and 20% of your earnings per project. That said, other freelance sites may cost you more in the long run.
The great thing is that Flexjobs does have a refund policy. You can sign up here and if you're not happy with it, you can simply cancel your Membership and request for refund within 7 days. It's absolutely risk-free!
---
5. ProofreadingPal
Proofreading Pal is a website that provides professional proofreading services to clients, and it is constantly hiring proofreaders. You must have a degree to get in, or at least studying in a US-accredited institution.
Additionally, the requirements in Proofreading Pal tend to be more stringent than others, but once you get in, you could earn $500 to $3,000 per month! doing freelance proofreading jobs!
You can apply to ProofreadingPal here.
---
6. Proofreading Services
Proofreading Services accepts proofreaders from any country. They also pay between $19 and $46 USD per hour, depending on your turnaround time
To work for Proofreading Services, you need to pass a screening test which runs for 20 minutes. It's an excellent platform if you'd like to set your own hours and still be able to earn a good income doing online proofreading jobs for beginners.
---
7. Gramlee
Gramlee is another great platform to find online proofreading jobs for beginners. But before you can work with Gramlee, you need to make sure that your English grammar is topnotch. Other than that, getting into Gramlee is fairly easy.
Gramlee's job board is accessible 24 hours a day, perfect for people who want to work at various times of the day.
You can take proofreader jobs late at night when the kids are asleep or early in the morning when everything is quiet – whatever works for you! You just need to make sure that you can proofread quickly without sacrificing quality because Gramlee's turnaround time is 24 hours for a 3000-word text document.
---
8. SCRIBE WRITING
Working with Scribe gives you the opportunity to get in touch with editors and authors. It's also a great venue to further level up your skills and improve quality because there will be a few more professionals working on the same document.
Scribe Writing also offers wonderful perks to full-time proofreaders, but there are also lots of work for freelance proofreaders and editors.
You may be able to earn an average of $50 per hour doing editing and proofreading jobs, so working with Scribe can be lucrative.
Check out proofreading online jobs at Scribe Writing here.
---
9. Kibin
Kibin is a platform that provides proofreading services primarily to students, especially those who need their thesis and essays checked. The job board is open 24/7 and freelancers may get work on demand.
Kibin is also known for its fair rates and sound management handling, as well as perks and bonuses.
If you'd like to work with Kibin, make sure to check back every couple of hours because the workload can fluctuate every so often.
---
Entry-Level Proofreading Jobs from Home
Babbletype is a specialized job boards site that caters primarily to transcribers and proofreaders. The site accepts proofreaders from native English-speaking countries like the USA, Canada, and Australia.
Pay at Babbletype for proofreading gigs can range from $0.13 to $0.18 per word.
---
11. Cactus Communications
Cactus Communications offers a more specialized writing, editing and proofreading services, such as in the fields of medicine, social sciences, physical sciences (all disciplines), life sciences and healthcare. This company has consistently ranked among the top 20 companies for telecommute jobs since 2016.
According to Indeed, the average Cactus Communications monthly salary ranges from approximately $3,000 to $4,000 per month for Freelance Editor.
---
12. Edit 911
Now this might not be the place for online proofreading jobs for beginners. Edit 911 pays really well but they only accept candidates with the following qualifications:
A PhD in English or another writing-intensive discipline;
A published scholar, with demonstrable talent and skills as a writer;
A teacher and/or book editor with verifiable experience;
A master copy editor and expert in various documentation styles, such as MLA, APA, and Turabian;
Proficient in MS Word and at least one other software application, such as InDesign or Publisher;
Dedicated to providing our clients with the world's finest, most professional editing.
If you meet these qualifications, you should apply to Edit 911 here.
---
13. Reedsy
If you are looking for online proofreading jobs from home that pay well, check out Reedsy! They have a publishing marketplace where you can bid on proofreading projects posted by self-published authors.
According to Reedsy, their proofreaders and editors make from $600 to $1400 for a 60,000-word copy.
Take note, though, that Reedsy charges 10% of your earnings as fee for using their service.
Find freelance editing and online proofreading jobs from home at Reedsy here!
---
14. DotDash
DotDash manages many popular websites such as The Balance and The Spruce so they are regularly hiring editors or proofreaders, in addition to content writers.
Make sure to regularly check out the Careers tab on their website to see if they are looking for proofreaders and editors.
15. Cambridge Proofreading and Editing
If you have experience in writing, editing or proofreading dissertations and theses from ESL students and academics, then check out Cambridge Proofreading and Editing for online proofreading jobs from home.
Due to the academic nature of the work though, you need to have at least a bachelor's degree to get accepted. Cambridge Proofreading and Editing typically pays proofreaders/editors between $20 and $30 per hour.
---
16. Proofread Now
Work From Home Proofreading at Proofread Now
If you live in the United Kingdom, Proofread Now is one of the best places you should check out for online proofreading jobs for beginners. You don't have to have a writing or English degree, but you need to have years of professional proofreading experience to get accepted into Proofread Now.
If you do, you can send your resume through this page.
---
17. Wordvice
Wordvice is constantly hiring freelance content writers, translators and editors. You can also find online proofreading jobs for beginners here, so make sure to bookmark this site and visit it from time to time for openings.
The company specializes in editing/ proofreading research articles, thesis, dissertations and college admission essays. And since the jobs are part-time and remote, you can work from anywhere and have the flexibility to only take on projects when you are free.
---
18.Wordy
Wordy is another great site to find online proofreading jobs for beginners. The company provides online proofreading and copy-editing services, thus the need for editors and proofreaders.
However, currently, the site is not yet accepting new applicants but be sure to bookmark their site and check back later to see if they have new online proofreading jobs from home.
---
19. Polished Paper
They are constantly looking for exceptional editors. If you would like to be considered, register for a user account and upload your resume at Polished Paper. Also be prepared for a 35-question editor test.
---
20. WordsRU
WordsRU is currently seeking technical/science editors, academic editors and business editors. To work at WordsRU, though, you must have a PhD or Master's in academic principle.
They also prefer applicants who are familiar with academic documentation citation and formatting styles, such as APA, MLA and Harvard Style. Experience in web content editing and editing business documents are also preferred.
You can apply to home-based proofreading jobs at WordsRU here.
---
Domainite is an excellent site to get started in your online proofreading career. It is a company that provides a host of online marketing services, and they regularly hire freelance proofreaders in their team. But since this is more like a content mill, don't expect wages to be so exceptional. It's truly a place for newbies, but you'd want to move on to better-paying companies later on.
You can apply at Domainite through their website. You'll be given a sample to proofread and edit. They will get in touch with you if they are happy with your work.
---
American Express Journal or AJE is a multi-awarded service provider that offers editing and proofreading services in various industries. Their specialization is helping professionals prepare their manuscripts for publication. AJE hires contract proofreaders for various fields, especially those who are studying or have already graduated from an accredited institution. AJE also prefers applications from proofreaders residing in the US and have native English proficiency. Compensation is based on the length of the manuscript.
---
Writer's Relief is a website for writers, and for writers to come up with the best materials, the company hires proofreaders. As a proofreader for Writer's Relief, you will be dealing with a variety of content across different genres, including poetry, books, and essays. The company is quite picky with its workers, and only hires the top applicants. Still, you'd want to give it a shot as they offer competitive rates.
---
Another great platform to score online proofreading jobs is EditFast. This is a company that provides freelancing opportunities to writers, proofreaders, and editors. If you are an efficient proofreader who has a university degree and a wide variety of interests, then you should consider applying at EditFast.
Once you get in, clients can contact you for online proofreading jobs. You cannot have direct communication with the client outside EditFast, though. You can look over the document to proofread and give your estimated rate. Once the client gives the go signal, you can work on the material and get paid on the next pay cycle. Just remember though that EditFast takes 40% off your earnings.
---
Scribendi is one of the largest platforms that offer online proofreading jobs. With over two decades of service in the proofreading industry, Scribendi has managed to established quite a solid reputation among its clients and freelance proofreaders.
Scribendi hires efficient proofreaders all over the world. They are looking for proofreaders who are native English speakers, hold a university degree, and can proofread and edit up to 1,500 words in an hour. They also offer monthly incentives, flexible work-from-home set-up, and the ability to pick your own projects. Scribendi is known to pay reliably through PayPal.
---
Based in the US, this online proofreading agency has over 400 proofreaders and editors all over the world. Some of its remarkable clients include Samsung, Philips, and Harvard University.
The company hires efficient and top-rated proofreaders. They're looking for applicants who have at least three years of relevant experience, post-graduate or Ph.D. degree, excellent English communicator, and adept in the English language. You only need to fill up an application form, attach your CV and cover letter, and wait to hear back from them. If you qualify, the company promises excellent work culture, flexible work schedules, and transparent payment.
Rates are on a per-project basis.
---
Editor World is another legit place to find online proofreading jobs. When you are accepted into Editor World, you won't have to bid on projects or pitch to clients, which is a huge plus. You will work remotely for a wide variety of clients, including authors, students, business owners, professionals, the government sector, and more.
Editor World currently hires proofreaders and editors with Ph.D. degrees, but they occasionally hire applicants with at least a bachelor's degree. Other requirements include English as the native language and at least some experience in proofreading and editing. You can submit your application online and pass a qualifying test before you proceed with the next steps of the application.
---
Sibia provides round-the-clock proofreading services performed by efficient and professional proofreaders from all over the world. The services are centered mostly on academic, professional, and business documents. Because of that, Sibia prefers candidates with high educational attainment and English as the native language. It's also an advantage if you're experienced with the different style guides, such as Chicago, APA, and MLA.
Sibia is not always hiring, but they need online proofreaders on an on-need basis. It's good to check their website from time to time to get an early chance of submitting your application when a position opens up.
---
This is a proofreading service provider that promises to give a quick turnaround at the lowest of prices. Edit 24/7 offers light editing and proofreading services especially to people who need their materials done as quickly as possible. Their clients range from authors, students, and professionals. They accept all sorts of materials to proofread and edit, including but not limited to papers, manuscripts, resumes, web contents, and creative work.
The application process can be pretty extensive. If you're interested in working at Edit 24/7, you can send them an email to [email protected], and make sure to include your resume and writing sample.
---
This online proofreading company caters primarily to academic proofreading. Their clients are mostly students who need their thesis, manuscripts, and papers proofread efficiently.
Based in the Netherlands, Scribbr has over 500 online proofreading freelancers from all over the world. The application starts with a language quiz that gauges your ability to quickly spot errors. You then move on with the application where a senior editor gives feedback on your work, and then proceed to the academy where you complete simulation orders in 24 hours. After passing all these rigorous steps, you can join the editor community where you can actually start getting paid for work.
According to the Scribber website, editors earn an average of €20 to €25 per hour or (24-30 USD).
---
Work as Independent Contractor
You may want to apply for a couple of the proofreading job boards above so that you never run out of work, but also consider doing it solo by working as an independent contractor.
It may be a daunting venture because you'll be in charge of everything–from marketing, pitching to clients to meeting deadlines. But it's also the best opportunity to set your own rates and hours.
If you'd like to do this, consider putting up a website where you can advertise your services and demonstrate your skills.
Also make sure to check out Caitlyn Pyle's FREE proofreading training to stand better chances of getting high-paying online proofreading jobs from home.
Related Posts:
How to Make $3000 Fast: 12 Ways To Generate Cash in 2022
How to Make an Extra $100 a Week Effortlessly
---
Ready to Start Making Money with Online Proofreading Jobs for Beginners?
Proofreading can give you plenty of opportunities to make money from home, or anywhere for that matter. And it's a good thing that there are lots of online proofreading jobs for beginners, so you can choose which projects you'd want to work on and which ones you'd want to pass. You may decide to find jobs from online freelancing sites, or you could establish your name as a skilled and professional proofreader – whichever works for you. If you enjoy proofreading and you apply for the right jobs or establish your own career in this field, your income should start rolling in at no time.
P.S. I am not a great writer and I constantly make mistakes. If you've found errors on this post, that could be a sign that proofreading is a good fit for you!
Did you enjoy this post?
Share this post with friends!