This post contains affiliate links. Read the full disclosure here
Your Ultimate Guide on How to Start a Blog and Make Money
If you landed here, it means you want to learn how to start a blog and make money blogging as a beginner. You want to write about your passions and the things you love and at the same time make money so you can stay home with your family.
Maybe you've also heard stories of stay-at-home moms making an incredible income from their blogs and you want to know whether it is also possible for you. And you want to learn how to get started when you absolutely have no blogging experience.
Welcome! You're in the right place!
I am sure you can find hundreds of "how to start a blog and make money" guides online, but in this guide, I'll go several steps further to help you not only set up a blog today but also to help you soon make money with a new blog.
Blogging is an incredible income opportunity. It's flexible—you can do it from home or anywhere, and you have huge income potential. What I love so much about blogging is that it becomes passive over time.  
I have to admit, though, that it is not a walk in the park at the beginning. I put in a lot of hours of work when I first started, but today I only spend five hours a week maintaining this blog. This allows me to have more time to learn other income streams, and have more time with my family.
This post contains lots of recommendations so be sure to bookmark this page or save it to Pinterest so you can find your way back to this article later!
Why I Started Blogging?
I was probably where you are right now back before I first started blogging. I was searching the internet for work-at-home jobs so I could stay home with my family.
I was pregnant with my son, and I knew that working from home was the best option for me. But, I didn't want just any work-at-home job. I wanted something that:
Is creative and I would enjoy doing for the long term
Could replace a full-time income.
Would only require me to write (no phone required)
Would allow me to earn passive income over time
Would not require a huge investment
I soon found that there are so many incredible work-at-home jobs out there, but blogging was one of the few that truly met my criteria. So, the idea of creating this blog was born!
But, let me make things clear in case you're thinking I am a pro. When I first started, I was a real beginner and I honestly did not expect that I would make money from this blog. This whole making money blogging thing was new to me. I didn't even know what affiliate marketing means and had no idea how to create a self-hosted blog.
I just slowly built this blog by reading blogging guides like this one you are reading right now and watching YouTube tutorials. During the first months, this blog served more like a creative space where I share my research, tips, and ideas.
Until I earned my first sweet blogging dollar and my view of blogging completely changed!
A few months after reading more about blogging, I started making money, at least $1000 per month, from ads via Mediavine.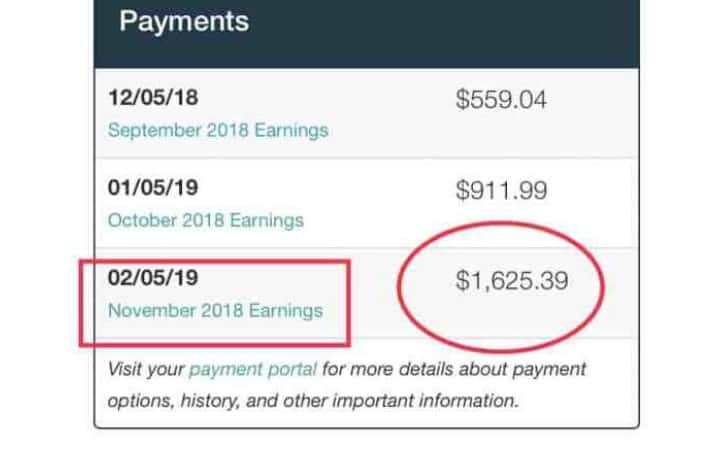 I even documented my blogging progress in the following income reports:
My early income reports are proof that you can make money blogging as a beginner without experience in blogging and social media.
My blogging income has been steadily increasing since then. And 23 months into blogging, I made $13,000+ in one month! Almost $11,000 of which was "passive income" from display advertising and $2,000+ from promoting other people's products or services (affiliate marketing).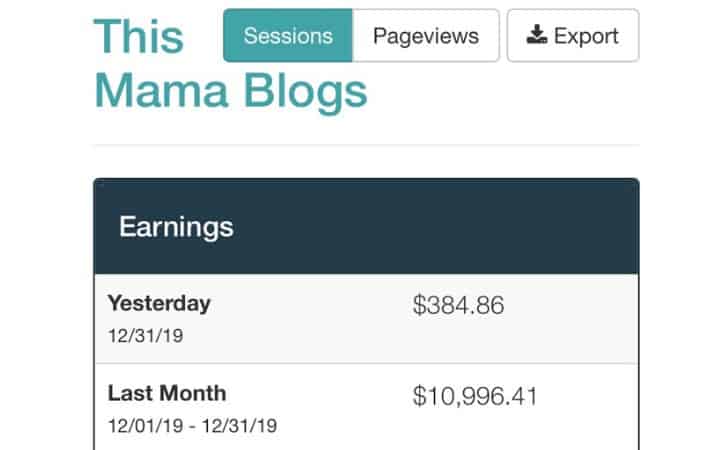 I am not really comfortable sharing these numbers. That will probably be the last income-related numbers you'll hear from me on this blog. I am only sharing this because I wanted to inspire you and give you one life-changing idea of what you could do in your spare time today and what you could earn in the future if you started your blog today.
Do You Need To Be Someone Special to Start a Blog and Make Money?
Many people never get past this hurdle of getting their blog set up because they think they are not someone special or they think they don't have special talents to start a blog. If this describes you, let me tell you this: you don't really have to be someone "special" to start making money blogging. And you don't need to be a great writer to become a blogger.
Trust me because I am not a great writer, and I was not even an expert in my niche. But this only proves to you that you can start a blog and make money even if you are just like me.
You could be a homemaker sharing your best ideas on how to organize your home or a mom sharing your parenting tips or recipes that your friends or family love. Maybe you are an adventurer who wants to share your travels with the world or like me sharing my knowledge on how to save and make money from home.
I must admit, though, blogging isn't a get-rich-quick scheme and while some bloggers made money a month after launching their blogs, the majority made $0 in the first few months.
If you are looking for extremely quick results, you are going to be disappointed.
But, if you are committed to your blog, you deeply care about the topic you are writing about, and you are willing to learn how to grow your blog, I believe you will succeed.
---
How to Start a Blog and Make Money for Beginners
If you are now ready to learn how to start a blog and make money fast, I want you to follow these steps:
1.Know what kind of blog you want to start.
Ask yourself these questions:
What do I want to blog about? What am I passionate about?
Who are my target readers?
Do I see myself writing in this niche for years?
Is there a profitable need for my topics in mind?
While you can blog just about anything, you also want to make sure that there is a profitable need for your niche. After all, your goal is to make money with your blog, right? If no one cares about your posts, then no one wants to come to your site (except perhaps your family and friends).
Therefore, you want to write about topics that are relatable and that will help you attract more visitors. Below I've listed a few examples of popular mom blog topics you might want to write about.
Motherhood
Making Money
Frugal Living
Babies
Parenting
Home Décor
Health and Fitness
Weight Loss
Parenting
Homeschooling
Budgeting
Food/recipes
Crafts
Fashion
Beauty
Travel
Homesteading
I want you to really give this a good thought because you'll want your blog name to reflect your topic, too.
2.Choose your platform
I know that many, if not most of us, are hardly techie gurus, which is why choosing to start a site or a blog on WordPress or any of the convenient blogging platforms is a smart and convenient choice.
The beauty of using these platforms is that you don't need to pay someone to design your site and set up the features you need.
My blog is set up on a WordPress.org platform, and it's been one of the best decisions I made for this blog. What I love about using WordPress.org is that it is so easy to customize. There are a lot of themes available for WordPress that you can use for FREE and a lot of free plug-ins to use to optimize your site.
However, your choice isn't limited to WordPress. There's also Blogger, Wix, Squarespace, Weebly and more.
Please note that WordPress.com and WordPress.org are two different platforms. Many beginners often confuse WordPress.org and WordPress.com, which leads them to using the wrong platform for their blogs.
I recommend using WordPress.org because it's open-source, which means you have full control of your website. You can install plugins to optimize it, and build it however you like.
WordPress.org is also free to use. All you need is a domain name and web hosting to use it.
If you are going to use WordPress.org as platform, then proceed with the next few steps.
3. Identify your domain name.
Once you've decided on your platform, it's now time to set up your domain name.
The domain name is essentially your web address, the word or phrase that comes before .com or .net. Before setting up your blog, it is important to carefully think of the best name for it, so that it's relatable and memorable, and therefore more likely to drive more traffic and possibly make more sales.
Spend a good amount of time picking a domain name. You have to consider the niche that you're writing on and what your long-term visions are for your blog. Also, think of a domain name that's not overly lengthy (ideally up to three words only), and one without hyphens and numbers.
Most importantly, it's something that should reflect and speak your brand. If you are a creative mommie, you'd want your domain name to show the craft or art that you do.
If you aim to establish yourself as an expert in your field, you can simply use your name as the domain name. However, if the blog is all about your business, then it's best to use the business name as the domain name as well.
You can also get more creative with the domain name if you wish. Important thing to remember is you will be using the domain name to direct people to your blog so it's important to pick one that really fits your blog.
For a no-frills extension, I'd suggest simply choosing a ".com" extension as it's the most popular and easy to remember
This post contains affiliate links which means I might earn a small commission if you make a purchase through these links at NO extra cost to you. Please read my Disclosure for more information.
4.Host your site with Hostgator
Now it is time to decide on a hosting provider.
But first, what is hosting?
In a nutshell, hosting gives your blog its own space on the web. If your blog is not self-hosted, it's likely to read like www.domainname.wordpress.com or www.domainname.blogspot.com.
Why You Should Pay for Hosting
Now you might be thinking, "Why not start a blog for free?"
While you can start a blog without paying anything, I strongly advise against it because it will be hard to monetize it when it is not self-hosted.
It won't also look professional and will turn off sponsored post opportunities.
Moreover, ad networks like Mediavine and many affiliate networks only accept self-hosted sites, so I definitely recommend starting your blog the right way with a domain name and web hosting. The good news is that you can start a self-hosted WordPress site for only $2.75 per month!
Hosting is also an important part of setting up your website because it basically ensures that you are able to provide all the functionalities of your site to your customers. When your WordPress blog or site is hosted by an external company, you are given enough storage space to keep your site up and running as you would want it to.
With the content I share, it's important for me to have a reliable and secure hosting company that will ensure that I won't have any problems like my blog crashing when there's extra heavy traffic on my site.
Hosting Your Blog on Hostgator
For a cheap and easy hosting, I recommend Hostgator if you are just starting out and have limited resources to invest in your blog. It was what I used for two years before I switched to a managed hosting with Big Scoots and I can highly recommend Hostgator to new bloggers.
Hostgator is one of the most popular web hosts with over 8 million domains. They have 24/7 support you can access by phone, email or chat; 1 click WordPress installation and 99.9% up time. Hostgator also offers a FREE SSL certificate and a free domain name for a year ($15 value).
It is one of the least expensive and easiest ways to get your blog up and running today. Plus, Hostgator also offers a money-back guarantee for 30 days after you purchase your plan.
You can always change your plan later or even cancel your account within 30 days if you decide that blogging isn't for you after all.
Make sure to select the Hatchling Plan. It's the cheapest and it's all you will need to start out.
Get started with Hostgator here.
Still need help with setting up your blog on Hostgator? Check out this simple step-by-step guide here!
---
My Gift For You!
As a thank you gift for purchasing Hostgator through my link, I want to give you this beautiful 20-page Success Planner for FREE ($19 value)!
This printable Success Planner set comes with quarterly, monthly, weekly, and daily goal planners; project tracker' motivational quotes pages' and Pomodoro tracker to help you achieve your blogging goals! Simply send me a message at [email protected] with the email you used to sign-up, and I will send this printable bundle to you as a thank you gift for signing up with Hostgator!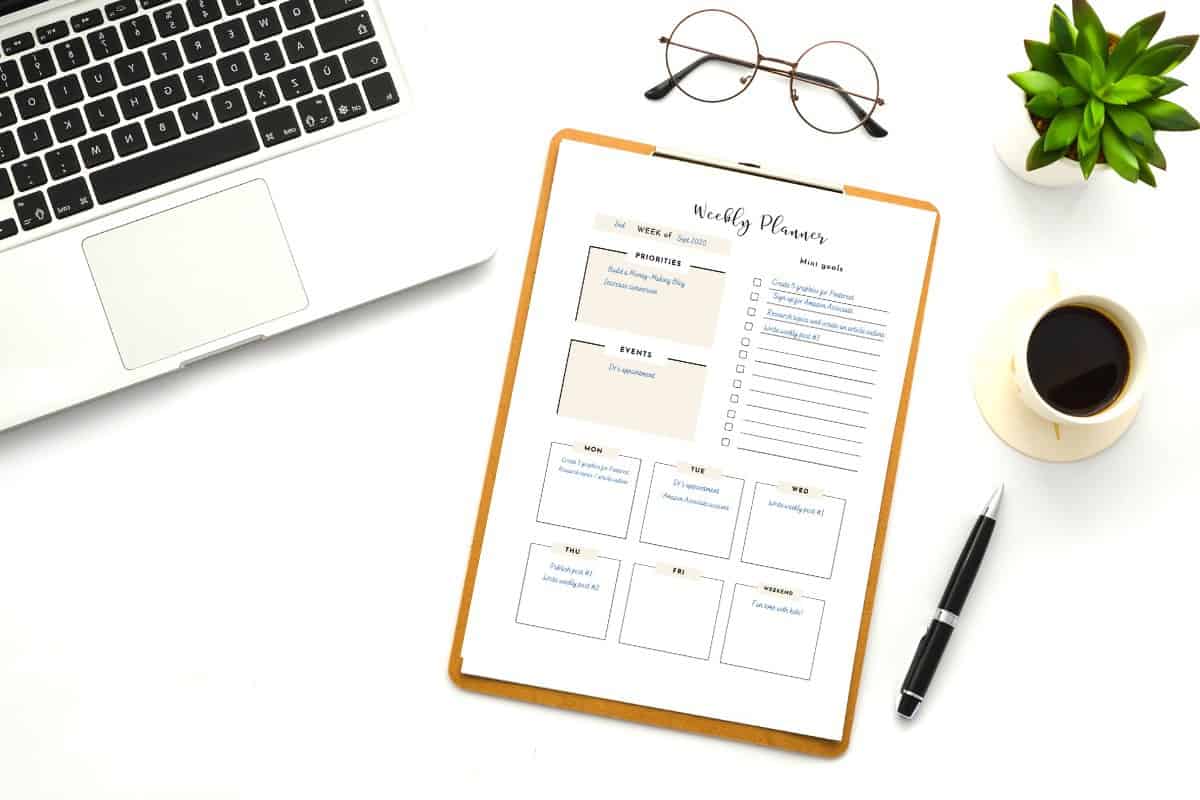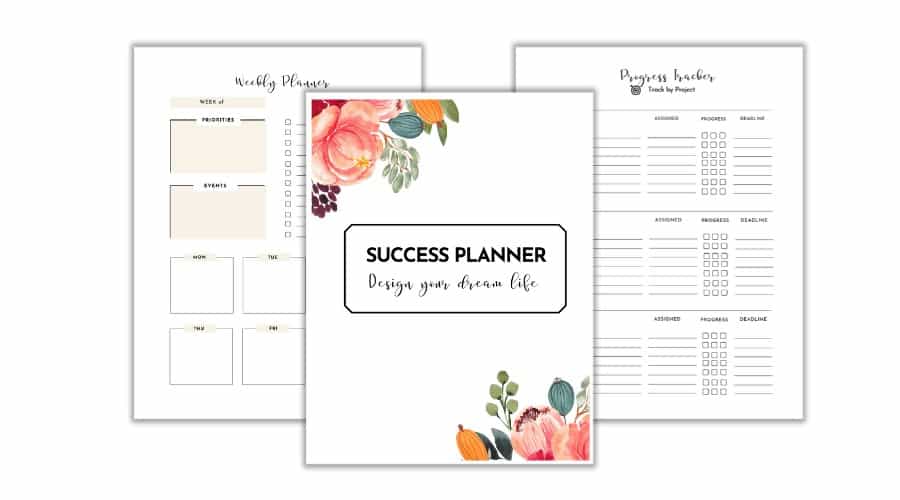 ---
5. Start creating useful content.
A blog is not a blog without content, so once you've set up your blog, now it's time to write your posts. But, if you really want to create an impact and be noticed online, you should focus upon creating USEFUL content. Why? Because 2 million posts are written per day and you want to set yourself apart from the rest.
But how?
It took me long to figure out how to write my posts. When I started blogging, I fell into this common misconception that a blog post had to be about myself.
While you are free to include your stories, make sure that they are relevant to your topic or niche, and that they can help you make a point.
If you really want to make money blogging, focus your attention on creating useful content that will help your target audience. And remember that your blog isn't just about you, it's about helping your target audience.
In time, I realized that good blog posts are posts that are:
Useful and that provide a solution to a particular problem. That's your main purpose for writing your post.
Packed with information so your readers do not have to go elsewhere to learn more about your topic.
Designed for your target audience. It's clear who are writing to (i.e. stay-at-home moms, working moms, anyone who wants to save money.)
Easy to read, composed of short paragraphs and images.
Many readers and friends have asked me to teach them how to start a blog and make money, so I decided to create a free e-course with more actionable tips on blogging. You can sign up below for my free course to receive blogging lessons over the next 7 days. My free course covers how to create a self-hosted WordPress blog, the technical side of blogging, generating traffic and more. It's designed for beginners and it's a completely free training with bonuses inside: a Free Success Planner (Digital), and a list of profitable blog niches to select from.
6. Learn the different ways to make money with a blog
So, you already have a blog set up and have written a few useful posts, now it's time to learn how you can actually make money blogging.
The beauty of blogging is that you can choose to have as many income streams as you like and you have unlimited earning potential. But as I mentioned, blogging isn't easy and it may take a few months to a year or more to make real money blogging. This is not to say, though, that you cannot make money in your first month blogging.
But first, let us learn the different ways to make money with a new blog.
Your income sources are not limited to this list, but these are the most popular ways that most bloggers use to make money with their blogs.
Advertising
Ad networks (Adsense, Mediavine, Adthrive)
Sponsored posts
Sponsored social content
Podcast
Giveaways
Ambassadorships
Affiliate marketing
Shopping sites such as Amazon
Affiliate Networks such as Flexoffers, Awin, Impact
Private Affiliate programs
Services
Speaking
Freelancing
Coaching
Training
Design
Products
Virtual
Ebooks
Printables
Courses
Apps
Physical
---
---
How Beginners Can Make Money Blogging
As you can see, there are so many ways you can monetize your blog. However, many of these income sources require a ton of work. So , for a beginner, I recommend starting with the following so you can soon make money with your blog:
1. Make Money Blogging with Display Advertising
Google Adsense is great for beginners and if you want to make money right away, apply to Google Adsense. As a beginner with little traffic, though, you cannot expect to earn a lot of money from this source because, obviously, display advertising is traffic-dependent.
The most that I earned from Google Adsense before I switched to Mediavine was $85.50 in one month.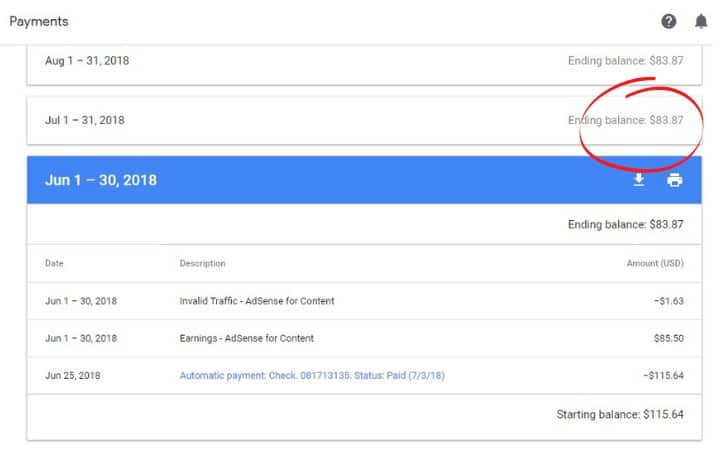 Yes, it's not that much but ad income is passive income, too. Once you've set up your ads on your site and you have growing traffic, the ad money will keep trickling in.
I recommend that when you reach 50k sessions per month, apply to Mediavine immediately. I know I keep saying this but Mediavine changed the course of my blogging journey from earning $85/ month on ads to at least $5000 per month with a small blog.
That said, while you are still with Google Adsense, keep improving your traffic so you can join higher-paying ad networks like Mediavine.
---
2. Make Money Blogging with Affiliate Marketing
First, what is affiliate marketing? In a nutshell, affiliate marketing is a way of making money by promoting other people's products.
Here's Neil Patel's definition of affiliate marketing:
The idea behind it (affiliate marketing) is that you promote other people's products, often through an affiliate network, earning a commission if people actually end up buying thanks to your marketing.
As a beginner, you probably don't have your own products yet but you can still make money by promoting other people's products through affiliate marketing. You can do this through the following:
Join Affiliate Networks
Each of these affiliate networks have hundreds of products/services you can promote on your blog to earn a commission. Sign up with them and browse through their offers to see which ones you think would appeal to your target audience.
Join the Amazon Associates Program
As a beginner, you can immediately apply to the Amazon Associate Program to earn an advertising/ referral fee from Amazon. If there's any product you mentioned or recommended in a post, link them to Amazon using your affiliate links, and you'll earn a commission each time a reader purchases an item through these links.
The beauty of using Amazon is that there are millions of products you can promote and can potentially earn you a commission. This could work well for you most especially if you are blogging about crafts, food, home improvement, motherhood, etc.
3. Make Money Blogging with Sponsored Posts
Even as a beginner, you can also make money writing sponsored posts. I know, because I earned $120 for a 500-word sponsored post even as a new blogger blogging in only 3-4 months! Then, I increased my rate to $500-$1000+ per sponsored post after a year blogging.
For sponsored posts, your rate may vary depending on your traffic, niche, or social media following. But as your blog grows, you could easily ask for hundreds to even thousands for one sponsored post.
Sponsored Post Opportunities
If this interests you, here are some of the most popular places you can find sponsored posts opportunities for your blog:
---
How to Grow Your Blog
Traffic is the lifeblood of your blog and I know every blogger would agree to this: more traffic = more money
No traffic = no money
More traffic will increase your ad earnings and potentially increase your affiliate earnings. More traffic may also bring more earning opportunities for your blog such as collaboration with brands, ambassadorships or speaking engagements.
When you have more traffic, you also could easily make money selling your own products. More traffic means it's easier to score sponsored posts, and the list goes on…
Therefore, your goal is to increase your blog traffic to be successful.
---
So, How I Went from 0 Page Views to 100k Page Views?
As a beginner, these are the things I did to increase my traffic from 0 in January 2018 to 3,000 page views in February, to 100,000 page views in January 2019.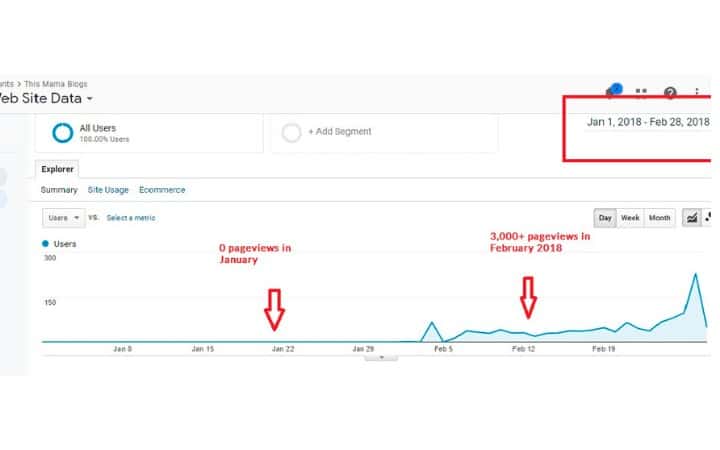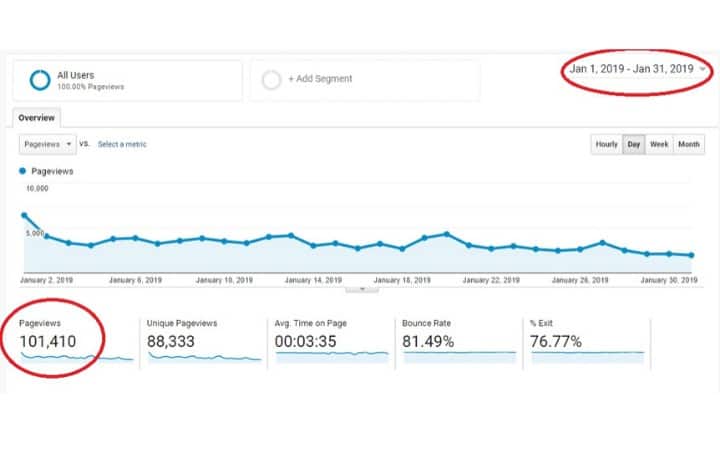 1. Use Pinterest
Pinterest is free and can bring you tons of traffic if you know how to use it. As of writing this, Pinterest is still my main referrer.
There's a lot to learn about using Pinterest to drive traffic to your blog, but below, I've listed the first important things you need to do as a beginner. Please note that there is a lot more to each step, so I recommend doing your research if you need a tutorial for each of the steps below.
1.Create a Pinterest Business Account and enable Rich Pins.
2.Create click-worthy pins for each of your posts
To promote your posts or blog on Pinterest, you obviously need to create pins for your posts because Pinterest is a visual search engine.
You want click-worthy pins that stand out on Pinterest so other users want to click your pins, save or share your pins. I know mine are still not the best pins out there, but I've definitely improved my graphic design skills as I created more and more pins.
There are a few sites or tools you can use for creating your pins, but I do mine on Canva. It's FREE and absolutely beginner-friendly. Canva offers a lot of FREE templates as well as tons of FREE images and vectors too to help you customize your pins to your liking and branding.
I do recommend signing up for Canva Pro if you don't take your own photos. With Canva Pro, you'll have free access to thousands of photos, videos, and vectors to grow your Pinterest and attract more visitors. There are also thousands of templates you can use for your social media marketing.
3. Create your Pinterest boards and save your pins to your boards.
First, create your "Best of your" blog's board which will contain ALL your blog pins. This way, if someone finds your profile, they have a board to browse through to learn more about your topics and posts.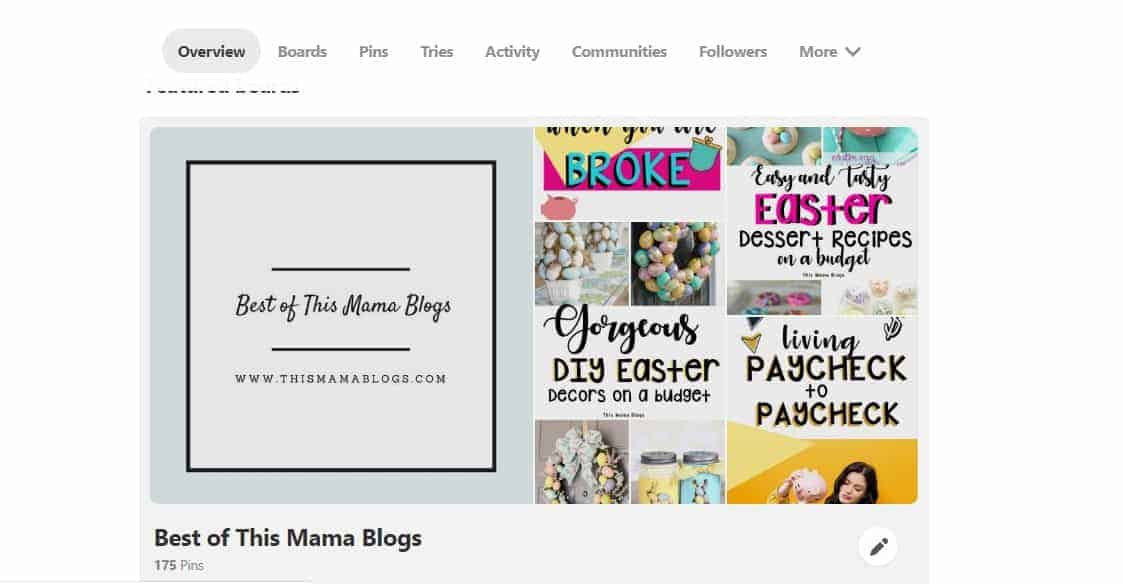 Then, create at least 10 niche or topic boards to categorize your posts. For example, I generally blog about money but I write about many topics related to this main theme. So, I created the following topic boards:
Financial Freedom
Save Money
Best Money Tips
Budget Tips
Make Money from Home
Make Money Fast
Stay-at-Home Mom Jobs
I also recently added new boards for the recent topics I added to my blog:
Budget Recipes
Weekend Jobs
Jobs for Women
After creating topic boards and your best of your blog's board, save your pins to these boards.
Save other peoples' pins to your personal boards/topic boards, too, as you likely don't have enough content to pin.
4. Join group boards
A group board works like your regular board. The only difference is that other people/bloggers are allowed to pin to these boards.
Using group boards is a quick way to promote your new blog, most especially if you were able to join group boards whose members are power pinners or big bloggers. If your pin gets picked up by another blogger and gets shared to his/her audience, that pin will also likely get more exposure.
Make sure that you also pin other members' pins. After all, helping each other is the purpose for why these boards were created.
How to Find Group Boards
I simply just stalk other bloggers in my niche and check out their Pinterest boards to see which group boards they contribute to. Group boards look like this:
If see whether a group board is open for contributors, check out the board description. Just simply follow the instructions and wait for the owner's invitation for you to join the board.
There are tons of group boards out there, but you only want to join relevant boards that will generate results for you.
PRO TIPS
Join group boards that are relevant to your niche/s.
Join keyworded boards because Pinterest is a search engine, too. Keyworded boards are likely more visible on Pinterest than those that aren't.
Avoid joining "all niches" boards or "best posts from bloggers" boards.
Do not join crazy active boards with over 100 members. You want your pins to get seen by other bloggers, too, but if the stream moves way too fast for other members to see and repin your pins, then it's pointless to join these boards.
I constantly rave about this eBook because this was the product that truly helped me increase my traffic using Pinterest, from 10k page views per month, to 50k page views and then to 80k page views in December. In January 2019, I finally hit 100k page views, all thanks to this product.
As a beginner, you may be skeptical to invest in a blog that is not making money yet but I truly believe that this is a great investment to make if you are a beginner and you want to learn more strategies on how to use Pinterest to grow your blog.
I am not saying this because I am an affiliate but because I truly believe that it's a worthy investment for those who are new to Pinterest. It only costs $35 and it is jam-packed with a lot of information.
6. Pin EVERYDAY and pin to your boards
Yes, I pin everyday to group boards and my personal boards. This is a MUST if you want to grow your Pinterest account to increase your traffic.
I personally do manual pinning and also automate my pinning using Tailwind. But as a beginner, let me assure you that you can still grow your Pinterest account without a scheduler.
I did manual pinning during my first few months blogging but as I wrote more and more posts and created more and more pins, I later decided to invest in a scheduler to save time.
If you want to save time and be able to schedule your pins for the week or month ahead , I highly recommend Tailwind as it is a Pinterest-approved scheduler. You can get $15 credit when you sign up through this link.
---
UPDATE 11/20/2020 : I no longer find the need to use Tailwind. Many bloggers still recommend it, but I now focus on creating fresh pins instead of re-pinning old pins. This strategy is not set in stone. Like any search engine, the Pinterest algorithm keeps changing and so are my strategies. BUT for now, I am happy with the results of fresh pins.
---
2. Write about popular topics
A quick way to boost your traffic is to write about topics that are popular or trending on social media. I honestly wished I did this sooner or that I learned this lesson earlier, and that's why I am here to share with you how important this is to grow your blog. Popular topics tend to get more traction or are likely to get shares.
I was able to reach 25k sessions to get into Mediavine with just one viral post. So, yes, it only takes ONE viral post to boost your traffic and improve your income!
But how to find trending topics?
There are a lot of sites you can use to find trending topics, including Buzzsumo, Quora, LinkedIn Pulse and Pocket. However, since I promote my posts mainly on Pinterest, I usually just search for what's trending in my niche on Pinterest. Just simply put your cursor in the search bar and Pinterest will tell you in the drop down the current trending topics on the platform.
That means, if making paper flowers is trending and it is RELEVANT to your niche, then it might be a great idea to write a post or do a tutorial about it!
You can also use Tailwind to see how much reshare other bloggers' pins have. This is a great strategy to see what kind of topics have the potential to go viral on Pinterest.
---
3. Keep learning!
There is so much to learn about blogging so it is very important to keep learning to keep up with the trends.
If you want to continue your blogging education, I highly recommend the following:.
Learn SEO (Search Engine Optimization)
I understand that as a beginner, there's so much stuff you have to learn to launch your blog and you need a lot of time to write posts and promote your blog . But I think it's also equally important to learn SEO from the start. You don't have to learn everything right away but at least learn basic SEO practices such as using keywords, using Yoast plugin, or optimizing your slugs.
I really regret not learning these things from the start when I could've just read about them online.
When you are ready to widen your understanding on SEO, I recommend taking this valuable SEO course.
FYI: this course only opens a few times a year, so if you want to be on the waitlist or want to know when it will open, check it out and sign up using the link above.
This SEO course is by far the MOST VALUABLE BLOGGING PRODUCT I have ever purchased and that I definitely recommend if you want to SEO your site from the start. Thousands of bloggers have taken this course, and there are even many successful bloggers inside the course!
The course is jam-packed with information that you most likely won't find in one place somewhere else. This course will also teach you strategies on how to outrank your competition on Google.
I decided to buy this affiliate marketing course in October 2018 to improve my affiliate income of $37 (September 2018). I've read a lot of great reviews about this course as it was created by a successful blogger who consistently makes $50k a month through affiliate marketing and in this course, she shared all her strategies.
After taking the course, my affiliate income increased from $37 in September to:
The course itself is short and easy to go through. And while it only took me a few hours to finish it, the strategies that the course teaches take a lot of time to implement. So, I did not expect immediate results from this course, but I was really surprised that even if I was only able to implement a few tips, my affiliate income increased one month after taking it.
Update (2021) : My affiliate income has grown so much since writing this post, and affiliate marketing has become my favorite way to make money from a blog!
---
Are you ready to start a blog and make money?
Blogging has been one of the best decisions I ever made. I know I keep saying this here but it's the truth. I really enjoy what I do, I make money "secretly" with my blog, and I get to share my passion with the world. More importantly, blogging allows me more freedom and more time to spend with my family.
I know, though, that blogging isn't for everyone. Blogging requires a lot of work, learning, patience, time, and more, but all these sacrifices will pay off once your blog starts getting a substantial amount of traffic.
For me, blogging is an amazing business that offers a huge ROI. You could start one with just the cost of a cup of coffee per month but could make you so much more in the future.
Did you find this post helpful? Pin this or share with your friends!