Impact-Site-Verification: -149099279
Your Ultimate Guide on How to Start a Blog and Make Money
If you landed here, it means you want to learn how to start a blog and make money blogging as a beginner. You want to write about your passions and the things you love and at the same time make money so you can stay home with your family.
Maybe you've also heard about stay-at-home moms making an incredible income from their blogs and you want to know whether it is also possible for yourself. And you want to learn how to get started when you absolutely have no blogging experience.
Welcome! You're in the right place!
I am sure you can find hundreds of "how to start a blog and make money" guides online, but in this blogging guide, I'll go several steps further to help you not only set up a blog today but also to help you soon make money with your new blog.
Blogging is an incredible income opportunity. It's flexible—you can do it from home or anywhere, and it's one of the very few businesses you can start with little money. What I love so much about blogging is that it becomes passive over time.
In 2020, this small blog generated $52,000 from display advertising alone via Mediavine, and ads are only one of its sources of income.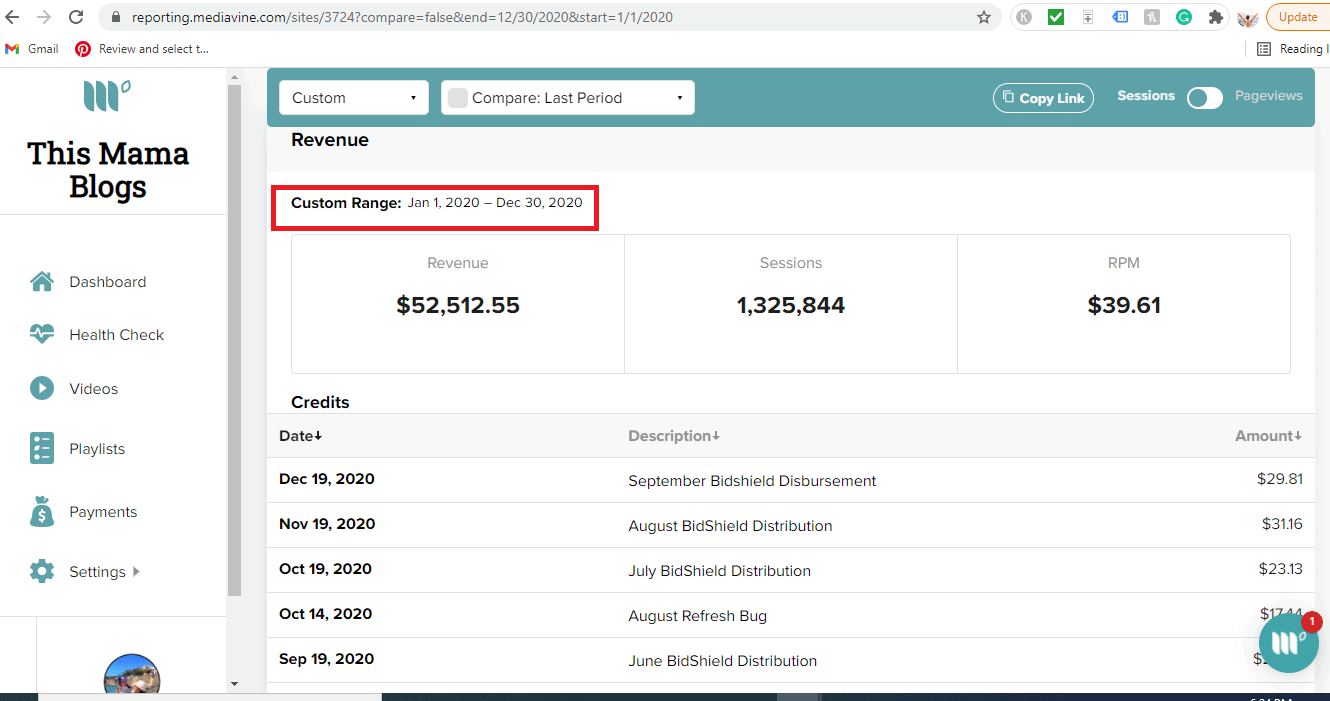 I have to admit, though, that it is not a walk in the park at the beginning. I put in a lot of hours of work when I first started, but these days I only spend around 10 hours a week maintaining this blog.
This doesn't mean that I only spend that much time every week. Sometimes I work more but NOT because I have to but because I want to do more than just "maintain" my site.
This post contains lots of recommendations so be sure to bookmark this page or save it to Pinterest so you can find your way back to this article later!
Why Start a Blog?
I was probably where you are right now back before I started blogging. I was searching the internet for work-at-home jobs so I could stay home with my family.
I was pregnant with my son and I knew that working from home was the best option for me. But I didn't want just any work-at-home job. I wanted something that:
Was creative and I would enjoy doing for the long term
Could replace a full-time income.
Would only require me to write (no phone required)
Would allow me to earn passive income over time
Would not require a huge investment
I soon found that there are so many great flexible jobs for women, but blogging was one of the few that truly met my criteria. So, the idea of creating this blog was born!
Blogging, as I said, is an incredible income opportunity. And not only can you make money from it, blogging is also one of the very few businesses that you could start cheaply. For as low as $2.75 per month, you could start your own blog!
But what is interesting about blogging that many people don't know about? It's actually virtual real estate. It's an asset, and you can sell it. I constantly receive great offers from brokers and buyers alike who are interested in acquiring this blog.
So, if you are looking for a great investment of your time, blogging is definitely one of the best options you have out there.
But, let me be clear in case you're thinking I am a pro. When I first started, I was a real beginner. This whole making money blogging thing was new to me. I didn't even know what affiliate marketing means and had no idea how to create a self-hosted blog.
I just slowly built this blog by reading "how to start blogging" guides like this one you are reading right now and watching YouTube tutorials. During the first months, this blog served as a creative space where I shared my research, tips, and ideas of online jobs and saving money.
Until I earned my first sweet blogging dollar and my view of blogging completely changed!
A few months after taking my blog seriously, I started making money, at least $1000 per month, from ads via Mediavine.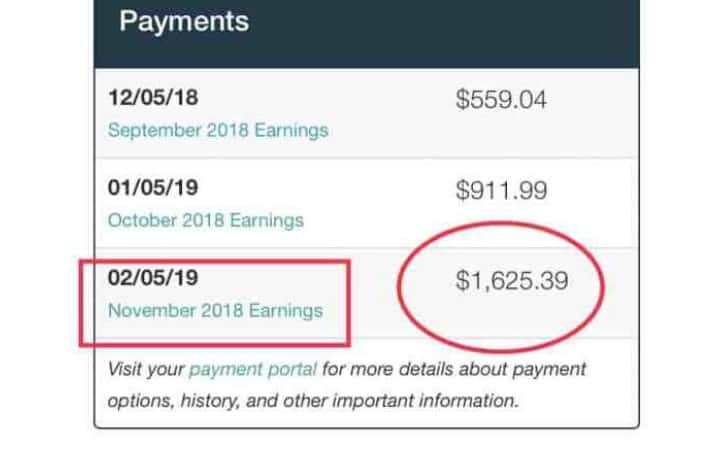 I even documented my blogging progress in the following income reports:
My early income reports are proof that you can make money blogging as a beginner even without experience in blogging and social media.
My blogging income has been steadily increasing since then. And twenty-three months into blogging, I made $13,000+ in one month! Almost $11,000 of which was "passive income" from display advertising and $2,000+ from promoting other people's products or services (affiliate marketing).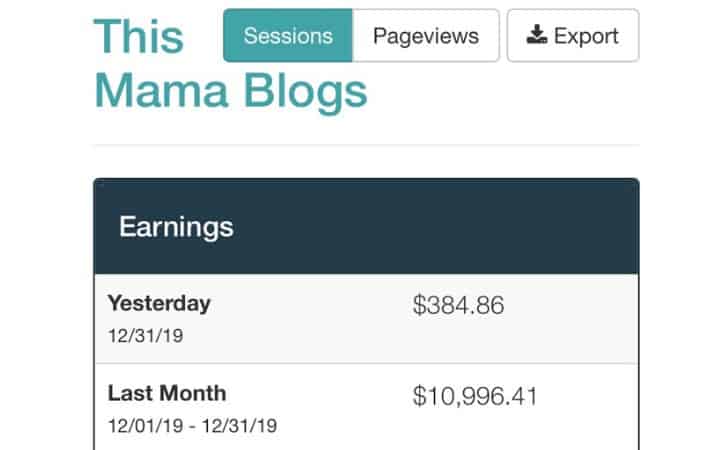 I am not comfortable sharing these numbers. That will probably be the last income-related numbers you'll hear from me on this blog. I am only sharing this today because I wanted to inspire you and give you one life-changing idea of what you could do in your spare time today and what you could earn in the future if you started your blog today.
Do You Need To Be Someone Special to Start a Blog and Make Money?
Many people never get past this hurdle of getting their blog set up because they think they don't have the special talents to start a blog.
If this describes you, let me tell you this: you don't really have to be someone "special" to start making money blogging. And you don't need to be a great writer to become a blogger.
You don't always even need to be an expert!
As long as you know how to create valuable and well-researched articles that provide a solution to your target readers, you can make money blogging.
You could be a homemaker sharing your best ideas on how to organize your home or a mom sharing your parenting tips or recipes that your friends or family love. Maybe you are an adventurer who wants to share your travels with the world or like me sharing my knowledge on how to save and make money from home.
I must admit, though, blogging isn't a get-rich-quick scheme and while some bloggers made money a month after launching their blogs, the majority made $0 in the first few months.
If you are looking for extremely quick results, you are going to be disappointed.
But, if you are committed to your blog, you deeply care about the topic you are writing about, and you are willing to learn how to grow your blog, I believe you will succeed.
Ready to learn how to start a blog and make money? Let's get started!
Important: It may take some time to implement all these tips I am going to share here so I recommend bookmarking this page or saving this pin to Pinterest so you can easily find your way to this post when you need it.
---
Lesson 1: What to Blog? Selecting a Niche
So, you've decided to learn how to create a blog to make money, but you might be asking, "What should I blog about?"
Great question! And it's the first thing we should address in this blogging tutorial.
Picking a niche is crucial to your blogging success. Because while you can blog just about anything, you also want to make sure that there is a profitable need for your niche.
After all, your goal is to make money with your blog, right? If no one cares about your posts, then no one wants to come to your site (except perhaps your family and friends).
Therefore, you want to write about topics that are relatable and that will help you attract more visitors.
But what is a niche, really? Well, it could be a topic or a type of industry that you can most identify your blog with. For instance, my niche is "money" since I blog about work-at-home jobs and saving money.
I would recommend selecting a niche that you're deeply interested in or passionate about. It would be something that you can talk about or blog about non-stop.
But note that not all bloggers have a niche. There are bloggers who write about parenting today, pet care tomorrow, and fashion the next week. I believe there is nothing wrong with this, as a blog is a venue to express your thoughts.
But the most successful bloggers have a niche. The right niche will not just make blogging easy and enjoyable, but financially rewarding, too.
So, how do you select a profitable niche that you love? Here are some tips!
How to Choose a Profitable Blogging Niche
When choosing a profitable blogging niche, I'd recommend doing the following steps:
Determine your passion or interests
Conduct market research
Narrow it down
Assess its income potential
Now, let's discuss each step in detail.
Determine your passion and interests
For me, the first caveat in picking the right niche is to find one that you're most interested in. Some bloggers give up after a couple of months because they've lost interest in their topics. For you to succeed in blogging, you must find a niche that you'll never get tired of sharing with others.
You may or may not know what it is, but there must be something you're interested in or passionate about. There has to be something you'd want to learn more about or something that you want to keep doing over and over again. The more you learn and do this "thing," the more your interest deepens.
With a pen and paper in hand, think of all the things you like. Brainstorming can help you hone in on a niche, especially if you feel have too many or if you don't even have one. Think of the things you loved as a child, the books you read or the movies you watch. Look around your house to see if anything sparks an idea. Consider what you were good at in school or which field you excel in right now. List ideas as they come to you.
Narrow down the list to a smaller list of topics you feel you can't get enough of.
2. Conduct market research
Once you've decided on a niche, assess whether other people are interested in it. This is crucial because if nobody's reading about your niche, then it would be a challenge to monetize your blog. To make a profit, there must be a demand.
But how do you determine the demand for your chosen niche? Here are some ways!
You can do market research on a potential niche by checking out Google Trends. Type in the keywords into the search bar, and Trends will generate a graph that details the increase and decline of a particular topic on the web. If it is stable or increasing, then there's a demand for your niche.
Another way to check whether your niche has demand is by using Pinterest. I love Pinterest. It does not only give you ideas on "trending" topics but also helps drive traffic to your blog.
Now, to use Pinterest for market research, what you could do is type in a topic idea (related to your chosen niche) in the Pinterest search bar.
For example, if you want to create a blog about gardening, I simply search topics like "gardening tips" in the Pinterest search bar. If Pinterest generates lots of related pins for your search and lots of keywords in the drop-down of the search bar, then it means:
Pinterest users are searching those topics/ keywords on the platform.
This could also mean there is competition in this niche. There are bloggers writing about the topic, which could mean there is money in this niche.
3. Narrow it down
It's also essential to check out your possible competitors when you delve into a particular niche. If you find that you have too many competitors and most of them are the authority or big websites, you can narrow down your niche and focus your content on a more targeted audience.
For instance, you want to start a food blog because you love cooking and love taking beautiful pictures of food. But,"food blog" is itself very broad. You can narrow it down to a type of diet like paleo or keto, or maybe specialize in a type of cuisine such as Italian or Chinese. This can still be even narrowed down by ingredients, cost, or method of preparation such as Instant Pot or baking.
A perfect example of a successful food blog is The Minimalist Baker. This blog shares simple recipes with ten ingredients or less, or recipes that require 30-minute or less preparation.
With this type of blog, you attract a specific audience—busy people who are looking for recipes that are healthy and easy to prepare.
4. Assess its income potential
Finally, you have to know whether your niche of choice will bring in some money. It's good to be blogging about your interests, but it's even better if you can create a nice income out of your blog as well.
There are many ways to determine whether you can make money from your blog or not. You could check out blogs in the same niche and see if they have ads, sponsored content, affiliate links, or if they have their own products or services to offer. These are some of the signs of the profitability of a niche.
A quick search on Google will tell you if there are ads running on your niche. If this is the case, it means there are products or services within the niche you chose.
You could also check whether big brands or e-commerce stores are selling products within your niche. If they do, it's very likely that you can monetize your blog.
But remember, your income doesn't have to be limited to ads or physical products. You could also earn money from sponsored content, writing e-books, selling courses, and providing coaching services within your niche.
---
Examples of Profitable Blogging Niches
Here are a few examples of niches that make money! But let me be clear, though, that this is not the ultimate list of profitable blogging niches.
Make Money Online
You're here because you want to make money online, and that's exactly the reason why
this niche is profitable; people like you want to know how to generate income through
the internet.
In this niche, you are taking advantage of technology to make money online, and hopefully, through it, achieve financial freedom. These topics can range from how to make money on YouTube, blogging, affiliate marketing, e-commerce, email marketing, social media marketing, and so on. If you are interested in the internet industry and how to make money from it, then this is the niche for you.
Pros:
● It has a very high demand. The internet is here to stay, so it's likely that more and more people would be interested to learn how to make money online over the following years.
●. You can take advantage of this niche to sell your own products and services. This niche is fantastic for marketers, freelancers, and business owners.

Cons:
● There is lots of competition. You will be up against many marketers and internet experts who have proven themselves in this industry.
● People fearscams. While many people are interested in making money online,
there are also those who are wary because of scams.
One of the most successful make-moneyonline blogs is Nick Loper's Side Hustle Nation which caters to both newbies and seasoned entrepreneurs in becoming the most efficient "hustlers." Nick comes up with a quarterly progress report on his blog, and according to his 2020 first-quarter report, Side Hustle Nation has had over one million page views over the last quarter.
---
Parenting
Parenting is an excellent niche, simply because most parents, especially moms, turn to each other for support and advice. And there are a whole lot of things you can cover in this niche including pregnancy, postpartum care, children's activities, and even personal stories. You could even narrow your niche down further by focusing on parenting for babies, toddlers, or teens.
Apart from the wide range of topics, think of all the earning potential you can make through sponsored posts from brands, affiliate links, and ads. Parents buy a lot of products for their kids, from diapers, baby wash, and feeding bottles to clothes and toys, so the demand is undoubtedly there.
Pros:
● Covers a wide range of topics. Parenting brings so many lessons and experiences that you won't run out of topics to write about.
● Form a tribe with other parents. Parents love getting support from fellow parents. You can use your blog to create an exclusive community of parents.
Cons:
● Subject to criticism. Parenting styles are different from one parent to another and others can be critical of the content you put in your blog.
If you're hoping to find inspiration for a parenting blog, you can check out ModernMom, run by two authors, Brooke Burk and Lisa Rosenblatt. The blog tackles the different issues and experiences on parenting, aiming to provide solutions and inspirations to other moms.
---
Beauty And Fashion
Beauty and fashion are also two of the most profitable niches for blogging, and they often go together. There are loads of skincare products, cosmetics, and apparel you see in-store and online. As a beauty and fashion blogger, you can get invited to events as well as get first dibs on newly-launched products.
Having a beauty and fashion blog also complements having niche accounts on YouTube, Pinterest, and Instagram. You could also collaborate with other beauty and fashion influencers to widen your reach and exposure.

Pros:
● Lots of earning possibilities. You can earn from product endorsements, affiliate marketing, and more.
● Get free products. Beauty and fashion brands may send you PR packages of their latest products for free. It's a great way to get first dibs on products that are about to be released in the market.

Cons:
● Not good for shy people. You will have to network with brands and other influencers in this niche. If you're shy and lack confidence, this niche is not for you.
● Spend your own money initially. At first, you need to purchase your own products and tools (clothes, skincare, cosmetics, etc.) so expect to spend money out-of-pocket.
One of the must-follow beauty bloggers right now is makeup artist Katie Jane Hughes. Katie uses her blog to showcase her craft as a makeup artist. Her blog worked so well that she landed deals with beauty brands and got published in various magazines.
---
Health and Wellness

People read health-related content for a variety of reasons: to lose weight, manage lifestyle diseases like diabetes, or learn recipes for specific diets. And since many people put importance on health and wellness, this niche will always have constant demand. You can even consider narrowing down your niches, such as putting up a blog for natural home remedies, acupuncture, or senior care. The earning potential can come from ads, sponsored content, and affiliate marketing. You could also offer courses and consultations, especially if you have knowledge of a specific health topic.

Pros:
● Lots of topics to choose from. The health and wellness niches are broad ones, so it's likely you'll find a sub-niche that you'd be interested in.
● Constant demand. As the saying goes "health is wealth." Many people would turn to the internet to learn more about their health-related concerns.
Cons:
● Requires careful research. You don't have to be an expert to run a health and wellness blog, but you always need to be careful of the content you put out there. Health and wellness matters are backed by science so make sure to provide accurate information.

Fit Bottomed Girls, a blog run by fitness professionals Jennipher Walters and Kristen Seymour, provides helpful information on fitness, workout, recipes, product reviews and more. They also use their blog as a platform to promote their podcast and coaching services.
---
Self-Improvement / Personal Development
Self-improvement and personal development niches are also highly profitable niches.
You'd be surprised at how many people are willing to pay for courses, books, and training that can lead to their own improvement. Whether readers are overcoming stagefright, wanting to learn to become a better public speaker, or become the best leaders, these
niches are very in-demand. What's great about a self-improvement and personal development blog is that you can use it to promote coaching and counseling services, as well as e-books, podcasts, and courses.
Pros:
● Create a positive impact on people's lives. Blogging about self-improvement and personal development helps other people change their lives, uncover their
potential, and become a better version of themselves.
● Land writing and speaking gigs. By demonstrating your knowledge and expertise on self-improvement and personal development on your blog, you can get invited to write for publications and speak in events.
Cons:
● Some people can be critical of self-improvement courses or programs. If you're offering a course or program through your blog, expect that not everybody will be pleased by it.
● Prove yourself. There are already a number of personal development coaches who are into blogging, and the most reputable ones have already proven themselves and their programs. Expect to face some stiff competition in this niche.
One of the most famous bloggers on self-help and personal development is Mark Manson. He covers topics on relationships, personal values, and life purpose. Mark's blog has a massive following. He also offers downloadable articles, books, audio commentaries, and courses on his blog.
---
Food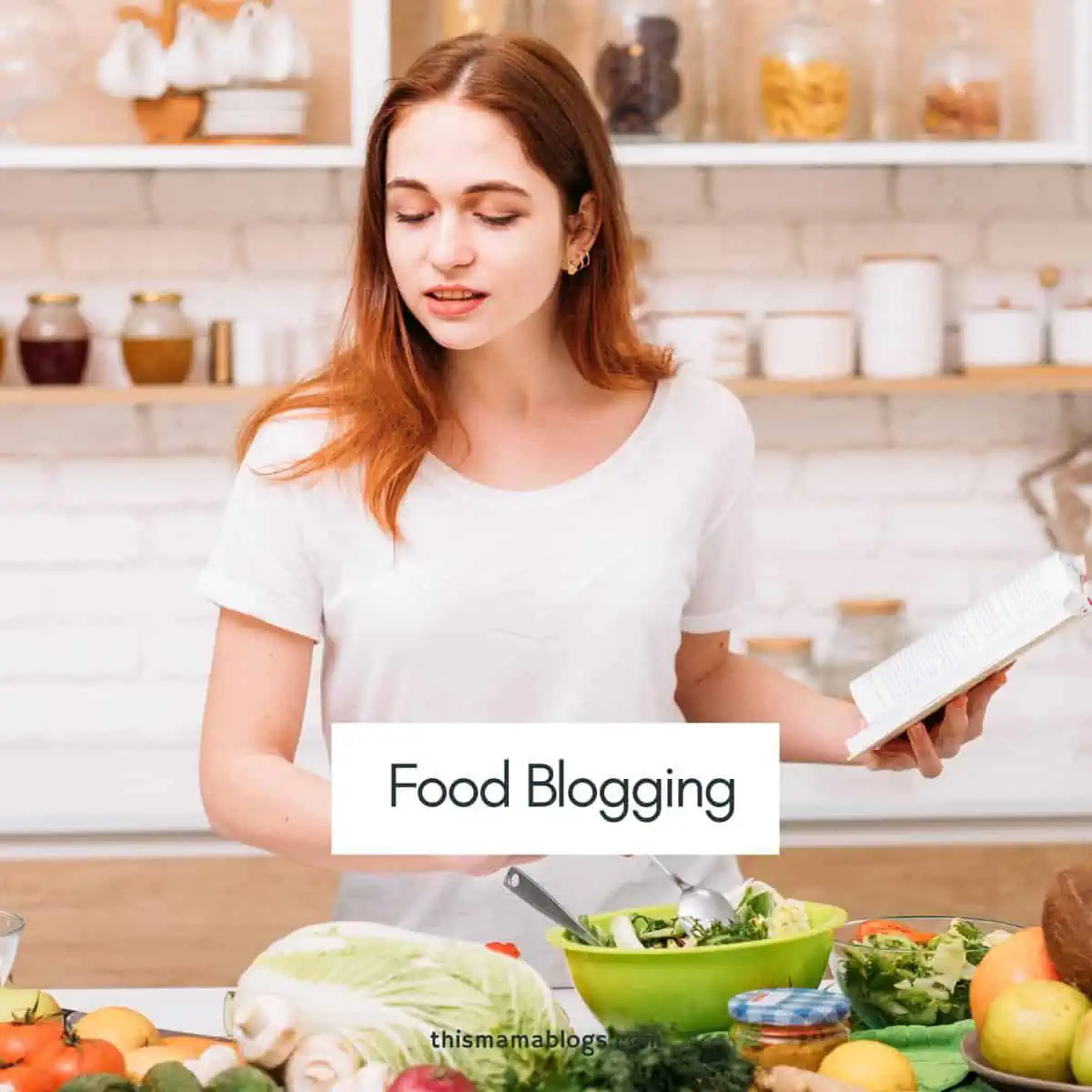 Of course, food is another profitable niche. Come to think of it: who doesn't like food?
We need to eat to survive, but food bloggers can offer more than just basic cooking
skills. There's a whole lot you can put on the table.
Food bloggers can cover a wide gamut of topics, from diet-specific recipes, cooking
techniques, and even reviews on kitchenware. With this type of blog, your potential earnings come mostly from ads, affiliate links, and selling courses and training.
Pros:
● Wonderful perks. Blogging about food can bring in a lot of wonderful perks, such as getting invited to events and food establishments to sample their dishes. Brands in the food industry may also send you their products for you to try and review.
● Build connections in the food space. You can network and socialize with other food enthusiasts, build connections, and even win friends with like-minded people.
Cons:
● Visual requirements. Food blogs need to have enticing pictures of food to keep the audience interested. Having the right photography equipment, decorative accessories and photography skills are some of the most essential investments you need to create a good food blog.
One of the top food blogs you can take inspiration from is the Smitten Kitchen by Deb Perelman. She blogs about all things food, from meringue pies, beach bean salad, flatbreads to banana toffee cake, and all kinds of things in between. The Smitten Kitchen blog also helped Deb launched her own Smitten Kitchen cookbooks.
---
Travel
If you're quite the wanderer and loves to explore new destinations, then putting up a travel blog is perfect for you. Travel blogs attract a lot of traffic the whole year round, making them extremely easy to monetize, especially with affiliate marketing, ads, and
sponsored content.
You can feature food establishments, parks, tourist destinations, accommodations, private resorts, and beaches on your blog. If you like giving practical tips, you can also
sub-niche on itineraries, backpacking guides, hotel and airline reviews, among others.
Pros:
● Get paid to travel. Successful food bloggers can get free flights, accommodations to hotels, resorts, and AirBnBs in exchange for reviews. If you like to travel without spending so much money, then a travel blog would be worth all the work.
● Opportunity to learn new things. Traveling can unleash your talents in different fields, such as photography and writing. It will also allow you to socialize and network with lots of people.
Cons:
● Travel can be expensive. Before you can score all those free flights and accommodations that successful travel bloggers enjoy, you must initially spend for your own travel expenses.
A Broken Backpack, by a Canadian named Melissa Giroux, is one of the best travel blogs
right now. Melissa has traveled to different parts of the world with her backpack. Her
blog has so far amassed 69,000 pageviews as of January 2020. She also offers content
creation for destinations, brand ambassadorship, and advertising on her blog.
---
Digital Marketing
In this day and age, more and more people are looking to fully utilize the internet to their business' advantage. That's why digital or internet marketing is such a hit niche among many. Within this niche, you can provide information on email, content, or social media marketing. You may also talk about SEO, mobile apps, search engines, and more. And if you're offering services in one or more of these fields, you can use your blog to demonstrate your expertise. Apart from promoting your services, you can also earn additional income through courses, webinars, consultations, and training.
Pros:
● Marketing is an integral part of a business. Running a blog on the digital marketing niche allows you to help brands and businesses create effective marketing strategies on their website, mobile apps, and social media pages.
● Showcase your expertise. You can use your blog to showcase your expertise in content creation, graphic design, SEO, and other areas. In a way, the blog speaks about your work and can attract potential clients.
Cons:
● Digital marketing is an expansive niche. Digital marketing can be a rabbit hole and blogging about it as a whole can be quite an undertaking. It's wiser to focus on areas you are most knowledgeable in.
Brian Dean's Backlinko blog is one of the top digital marketing blogs of today. It initially focused on link-building techniques. He explains concepts in a very simple way so that even beginners can follow. This blog has been instrumental for Brian's publication in numerous notable publications such as Entrepreneur, Forbes, and Social Media Today.
---
Personal Finance
Personal finance is another in-demand niche, simply because everybody wants to know
how to make and save more money. Personal finance can target a lot of people including
stay-at-home parents, young professionals, retirees, and more.
If you're interested in running a personal finance blog, you can tackle topics like budgeting, investing, getting out of debt, and earning additional income through sidehustles.
Pros:
● Help people manage their money. There are many people who struggle with paying debt, saving regularly, and earning more income. A personal finance blog can give them ideas so they can be better at handling their finances.
● Get paid from sponsorships, ads, and affiliate marketing. You can use your blog to connect with brands in the finance industry, whether they're banks, financial planners, or mobile apps, and make money from these partnerships.
Cons:
● Be transparent with your financial status. Many personal finance bloggers disclose their income, budget, and other financial data with their audience to demonstrate their progress. If you are not comfortable sharing the details of your financial life, this is not the right niche for you.
One of the most notable personal finance bloggers is Michelle Gardner of Making
Sense of Cents. The blog started out as a hobby where she shares her journey on
personal finance. Right now, Michelle works full time on her blog which earns around
$100,000 per month.
---
Lifestyle
Lifestyle blogs are multi-topics blogs that discuss things like parenting, pet care, recipes, creative hacks, experiences, and life lessons. If you aren't sure what you like to blog about or want to blog about a multitude of things, a lifestyle blog is a good fit for you. You can segment the blog into sections so that it's easier for your audience to find content on particular topics. It's also essential to have a "voice" for your blog and write posts that address your audience like you're talking directly to them.
Pros:
● Perfect for bloggers with multiple interests. You can write content based on different interests and talk to people from different walks of life.
● Possibility to work with various brands. You can network with brands for pet products, gardening, fashion, interior décor, and other topics in your blog posts. You aren't confined in working with brands in very specific industries.
Cons:
● No specific target audience. Since lifestyle blogs are a little bit of everything, it can be tough to pinpoint a target audience. One post could be talking to parents and another post could be talking to college students.

A Cup Of Jo is one of the top-performing lifestyle blogs. Run by Joanna Goddard, this blog tackles everything from parenting, culture, style, food, relationships to travel.
Joanna earns through sponsored posts and affiliate links featured on her blog.
Need more niche ideas? Don't forget to bookmark this page or save this pin to Pinterest!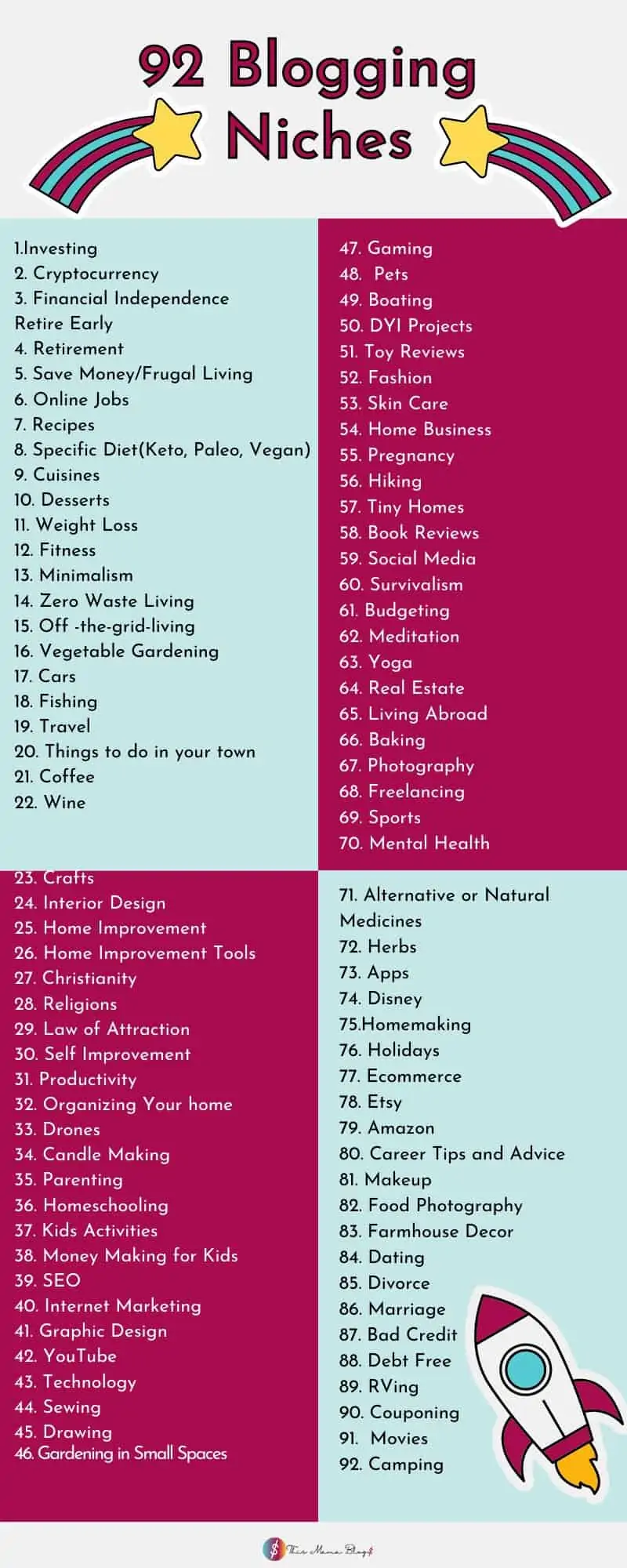 ---
How To Choose A Domain Name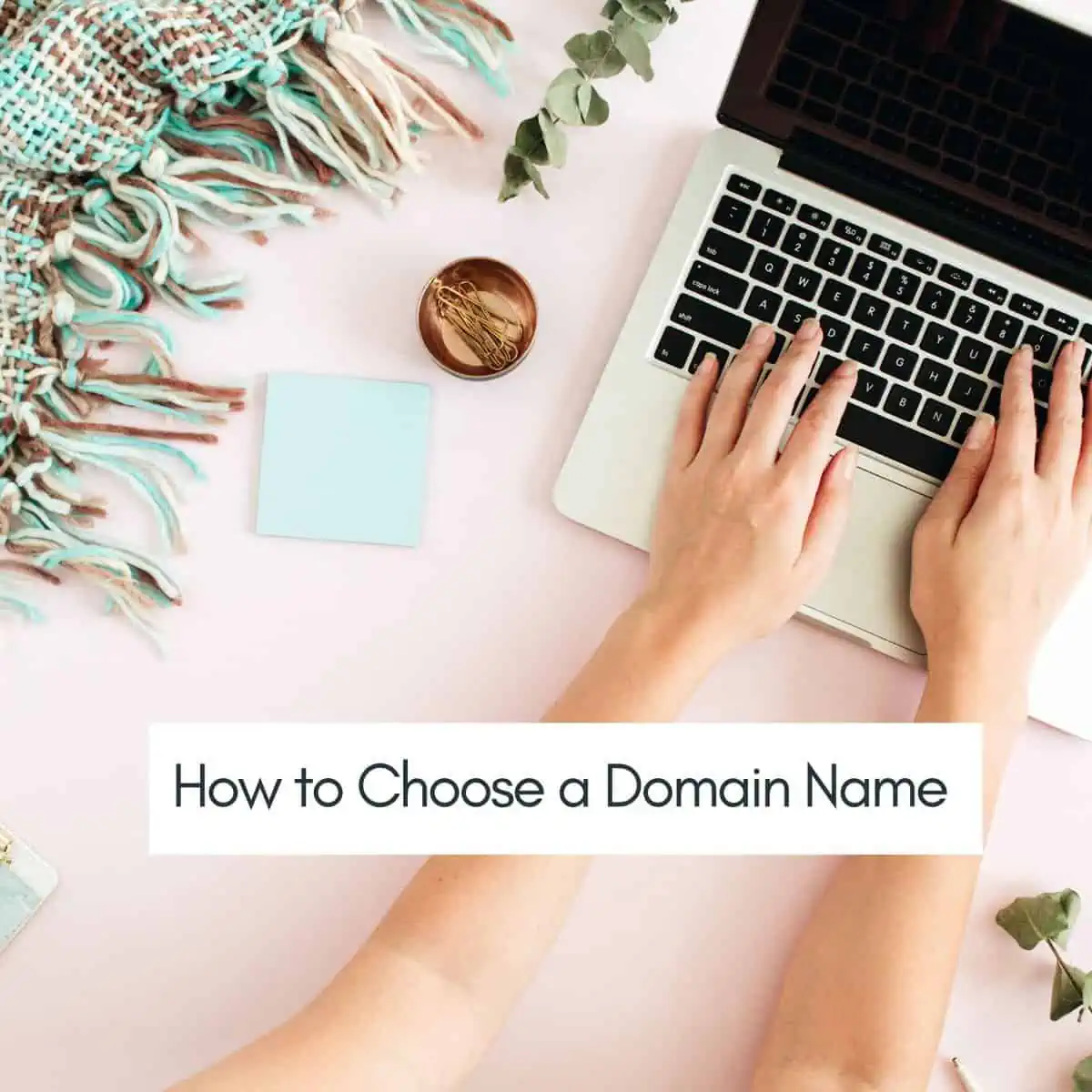 After selecting a niche, now it is time to select a domain name for your blog!
Your blog's domain name is an essential element of your branding. The domain name is essentially your web address, the word or phrase that comes before .com or .net.
Before setting up your blog, it is important to carefully think of the best name for it, so that it's relatable and memorable, and therefore more likely to drive more traffic and possibly make more sales.
It is important to pick the right domain name from the get-go, as it will be hard to switch later on. Here are the most important things to keep in mind when choosing a domain name.
1. It should be a dot-com domain name
While there are several other domain name extensions to choose from, dot-com domain names remain the gold standard. Domain names that end with .com tend to be more memorable. Most people would usually type domainname.com, instead of domainname.net or domainname.org. Also, dot-com domain names tend to get higher search engine rankings because your URL is easier to find.
2. Pick a short but memorable name
You don't want people to have trouble remembering your domain name, so keeping it short and sweet is the way to go. I recommend domain names with only up to three words.
Also, shorter domain names are less prone to misspellings, so people find it easier to type in your URL without mistake.
3. Make it easy to pronounce
Your domain name shouldn't only be easy to type, but also easy to speak. Imagine someone is to speak of your domain name over the phone, or before an audience in a webinar or a podcast. Having a domain name that's hard to pronounce will only create confusion among your audience, and the likelihood of your site losing its much-needed traffic.
5. Ensure its availability
Finally, make sure that your domain name of choice is available. There is no use in selecting a domain name that's already been claimed by another. You can do a trademark search to determine whether your chosen domain name has already been trademarked. You could do this by going to USPTO, click on Trademark, enter the domain in the quick search bar for trademarks.
You also want to search on Google and across social media platforms to find if such domain name is already in use. This is not only to avoid confusion but also to deter legal consequences of using a trademarked domain name.
6. Think of a domain name that reflects your brand.
Consider a name that reflects and speaks your brand. If you are a creative mommie, you'd want your domain name to show the craft or art that you do.
If you aim to establish yourself as an expert in your field, you can simply use your name as the domain name. You can also get more creative with the domain name if you wish. One thing to remember is you will be using the domain name to direct people to your blog so it's important to pick one that really fits your blog.
---
Lesson 2 – How to Start a Blog the Right Way
You might be asking how to create a blog for free. Can you start a blog with no money?
The truth is that you actually can with free platforms like Blogger.com or WordPress.com. BUT, if you really want to make money from your blog, you should start a self-hosted blog.
What does it mean to be self-hosted? Well, it basically means your blog has its own space on the web because you are paying for it.
If your blog is not self-hosted because you went for the free route, it means that you don't actually own your blog. The company hosting your site can delete or shut your site down at any point.
Here are some other reasons why you should not go for the free route
The company hosting your site will put ads on your site and make money from your content (instead of you making money from it!)
It would be difficult to join affiliate networks and ad networks if your site is not self-hosted.
As mentioned, you don't actually own your site if it's not self-hosted. Your domain will look like www.myblog.wordpress.com.
It wouldn't look professional.
You can better customize your site when it is self-hosted. This means you can add more features that will help you improve your blog.
I can't stress enough how important it is to pay for hosting if you really want to make money blogging.
---
How to Start a Self-Hosted Blog?
You basically need three things to have a self-hosted blog:
Hosting
Domain name
Platform (if you don't know anything about coding)
Think of hosting as a place where you store data and your domain name as your web address. The platform is the architecture of your blog and what allows you to customize your blog.
When it comes to platform, my most recommended and what most bloggers use is WordPress.org. However, your choice is not only limited to WordPress. There's Wix, Blogger, Weebly, Squarespace, and more.
My blog is set up on a WordPress platform, and it's been one of the best decisions I made for this blog. What I love so much about WordPress.org is that offers the most flexibility for design. There are also a lot of themes (think of themes as your blog's design or look) for WordPress and a lot of free plug-ins to add functionalities to your site.
---
WordPress.com vs. WordPress.org
Please note that WordPress.com and WordPress.org are two different platforms. Many beginners often confuse WordPress.org and WordPress.com, which leads them to using the wrong platform for their blogs.
WordPress.org is open-source, which means you have full control of your website. You can install plugins to optimize it, and build it however you like.
To be able to use this platform, all you need is to pay for hosting and get a domain name, which I am going to discuss in detail below. Then, install WordPress on your hosting.
---
Host your site with Hostgator
There are many hosting companies out there such as Hostgator, Bluehost, and SiteGround. I used Hostgator for two years before I moved to a managed hosting with Big Scoots and I can highly recommend Hostgator to beginners who are looking for cheap hosting.
Why Choose Hostgator?
Hostgator is one of the most popular web hosts with over 8 million domains.
They have 24/7 support you can access by phone, email or chat
1- click WordPress installation and 99.9% up time.
Hostgator also offers a FREE SSL certificate
A free domain name for a year ($15 value) if you purchase at least a 12-month plan.
It is one of the least expensive and easiest ways to get your blog up and running today. Plus, Hostgator also offers a money-back guarantee for 45 days after you purchase your plan.
You can always change your plan later or even cancel your account within 45 days if you decide that blogging isn't for you after all.
Make sure to select the Hatchling Plan. It's the cheapest and it's all you will need to start out.
Because I am an affiliate of Hostgator, if you use this link, I will receive a commission from them which helps me keep this blog free for you. Rest assured that I would never recommend anything I never personally used and love.
---
How to Host Your Site with Hostgator
To set up your blog with Hostgator, simply follow the following steps!
Sign up with Hostgator.
Visit Hostgator's main page through this link to get the $2.75/ month price and click "Get Started Now."
Select a Hosting Plan
Hostgator offers a few hosting plans to suit different needs. However, if you're on a tight budget and just starting out, I suggest you pick out the 'Hatchling' plan. It's the cheapest plan and it's all you really need to get started.
You can always upgrade to another plan if you need more space later on, but Hatchling is perfect for beginners.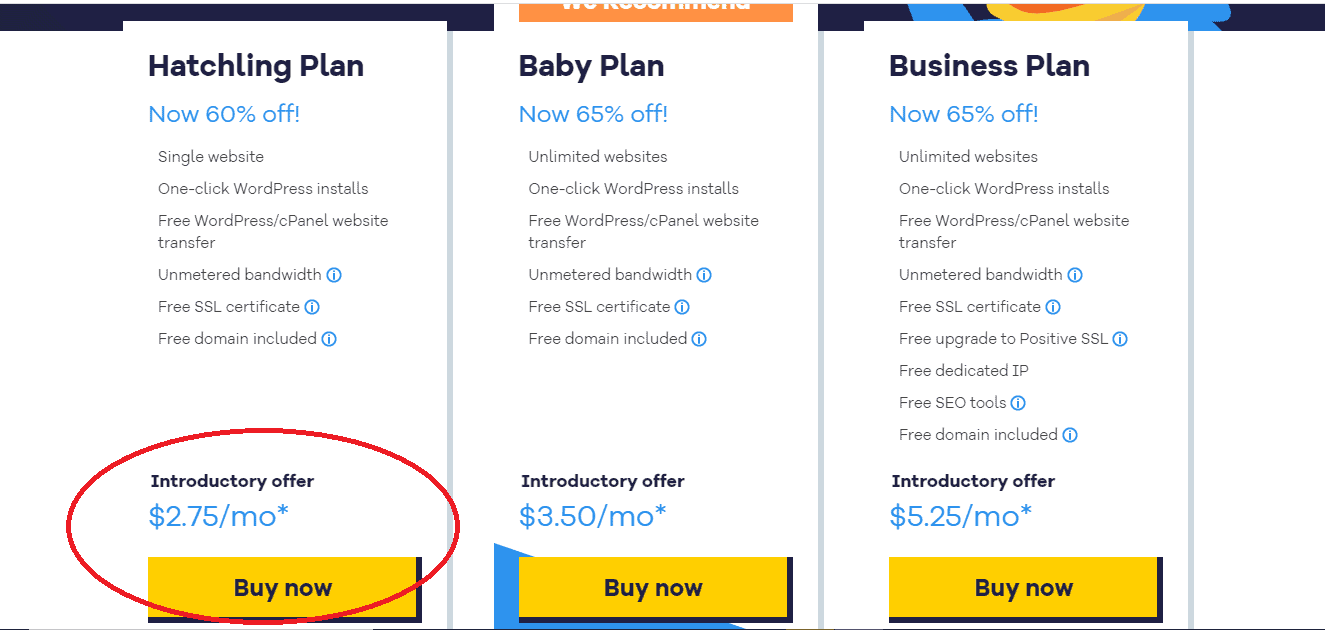 Click "Buy Now" to be directed to the next page.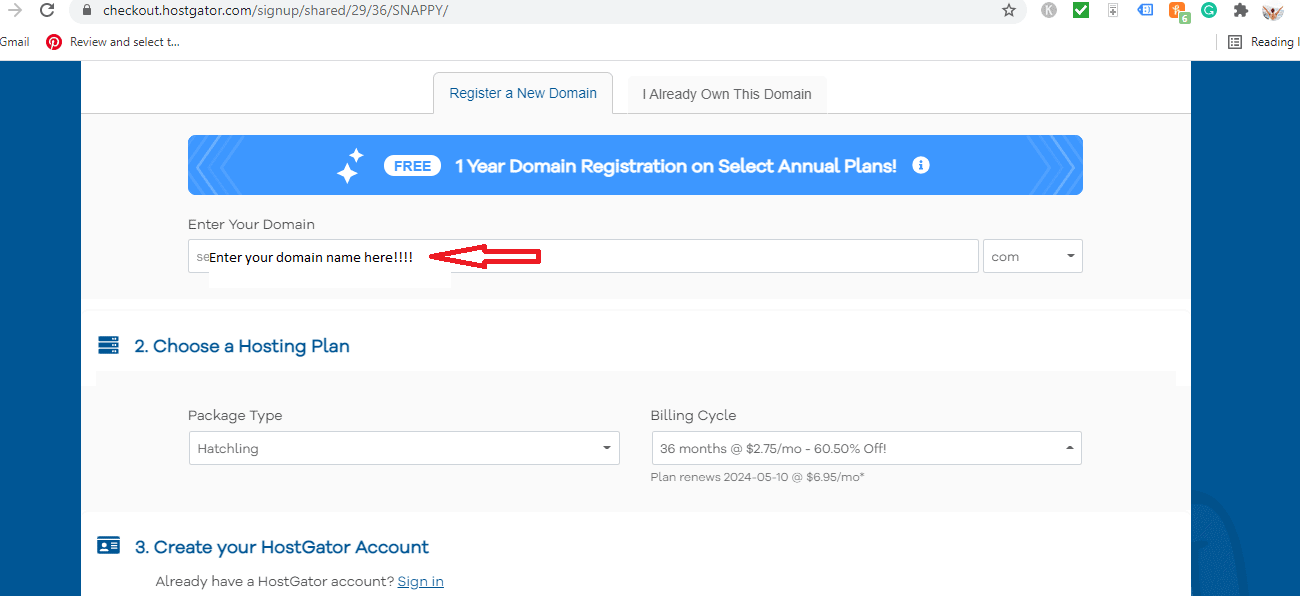 If you already own the domain name you want to host on Hostgator, you can now just click "I already own this domain."
However, if you're looking to host a completely new domain, you can get one from Hostgator directly by entering your domain name into the Enter Your Domain bar.
Select the 36 Months billing cycle if you want to enjoy the lowest hosting rate at $2.75/ month. However, if you are testing the waters and not sure whether blogging is for you, you can also choose to pay monthly or pre-pay at least 6 months.
I'd suggest getting at least one year worth of hosting and give blogging a shot for at least a year. That gives you ample time to test, build, and grow your blog.
Provide your billing information.
You will be prompted to select your payment method, such credit card and/or PayPal, and other personal information.
Connect your domain and pick additional services.
You'll also be asked to pick additional services. These services are optional and you can uncheck them for now and your blog should still set up smoothly.
I personally did not select any of these when I first started.
If you're happy with what you have, you now have to tick off the terms of service box and proceed to check out.
After signing up, you should get an email from Hostgator about your log-in information to be able to access your cPanel.
Log in to your cPanel and install WordPress.org to your hosting account with just one click. It's literally a one-click process using the Softaculous Apps Installer which you can find inside your cPanel.
Hostgator has an easy-to-follow video tutorial here to help you install WordPress using the Softaculous Apps Installer.
Note: It may take up to 48 hours for your site to be fully propagated, which means within this period you cannot do anything on your site but wait. You can use this waiting time for creating content for your new site!
---
Thank You Gift!As a thank you gift for purchasing Hostgator through my link, I am happy to give you this pretty Success Planner (printable) for free!
---
Thank You Gift!
As a thank you gift for purchasing Hostgator through my link, I am happy to give you this pretty Success Planner (printable) for free!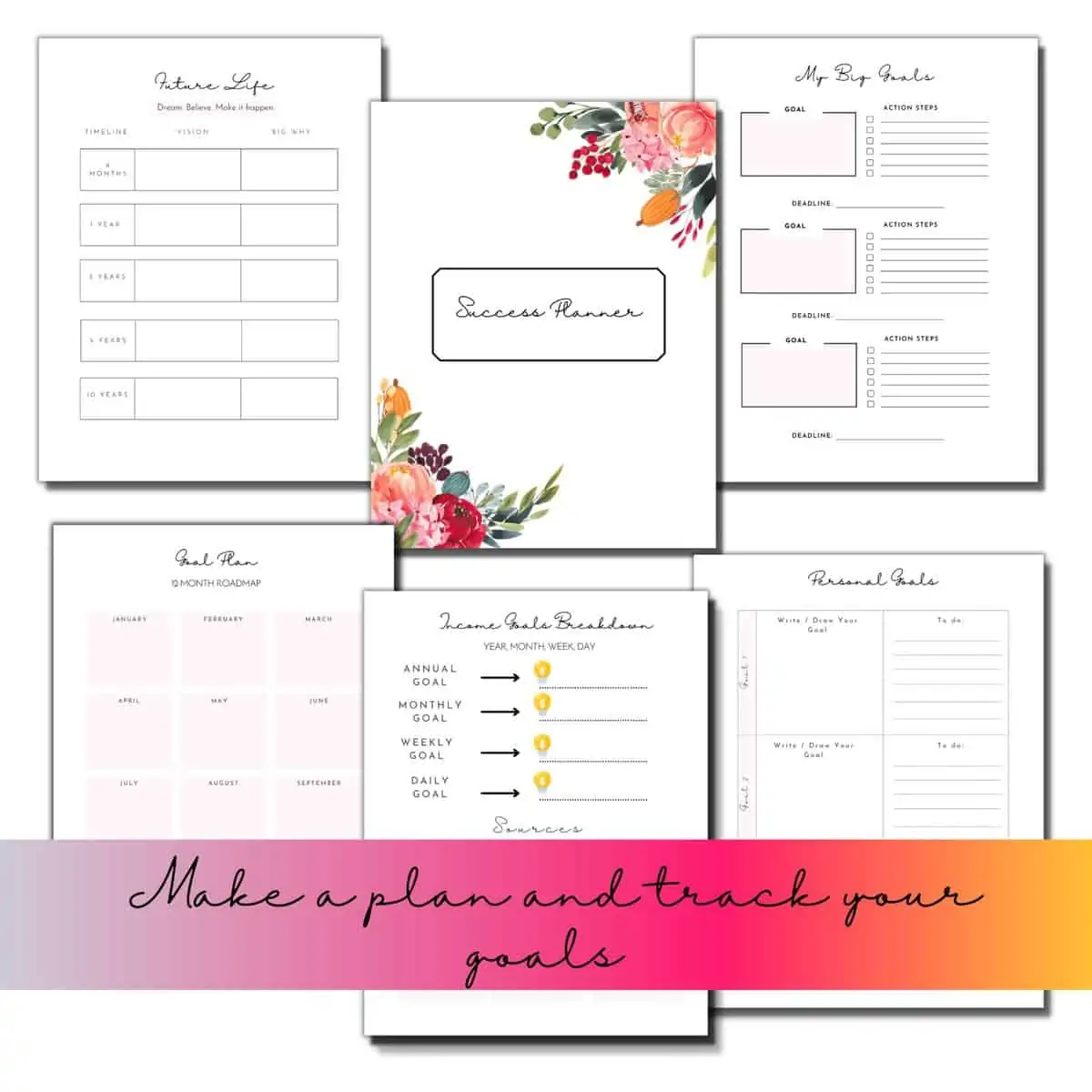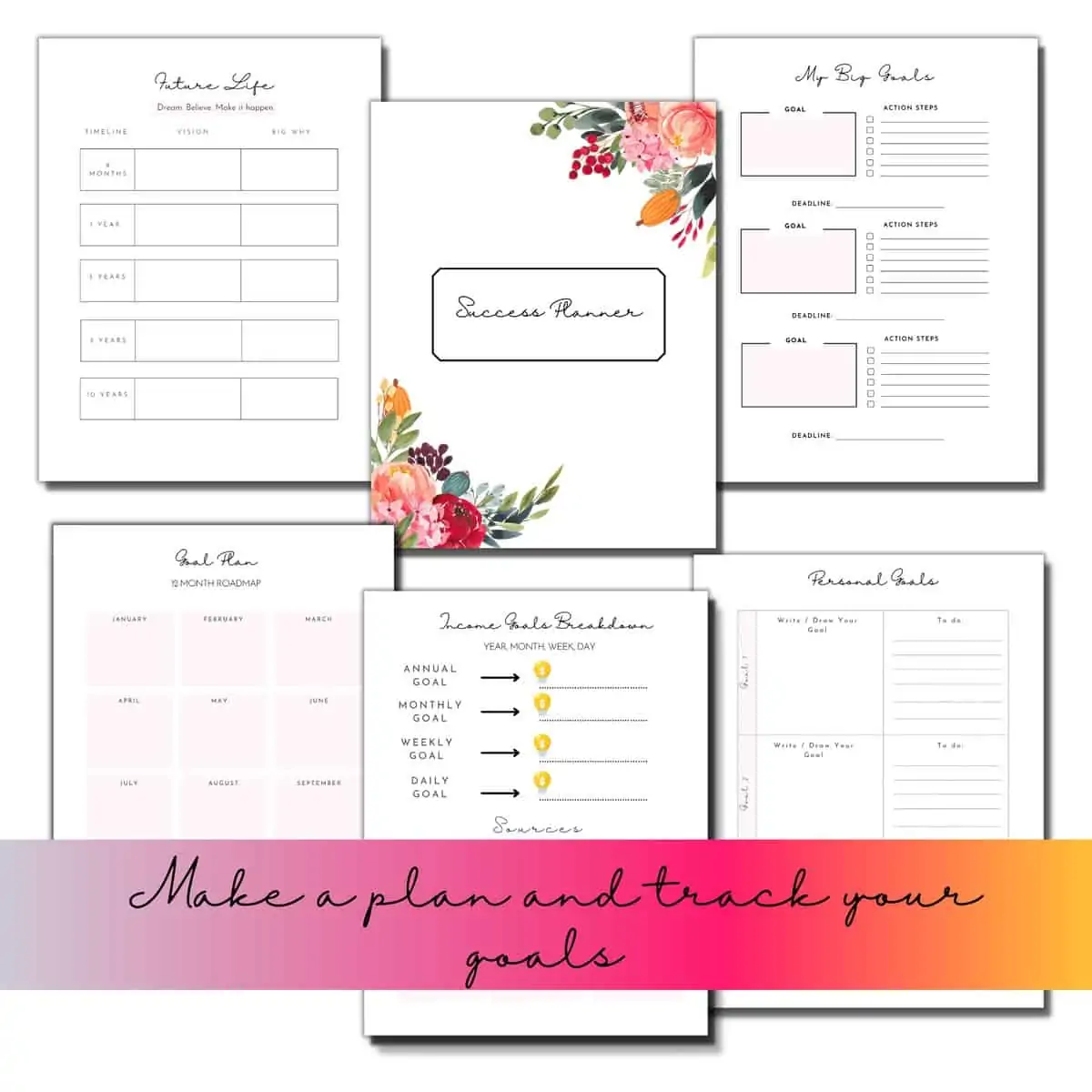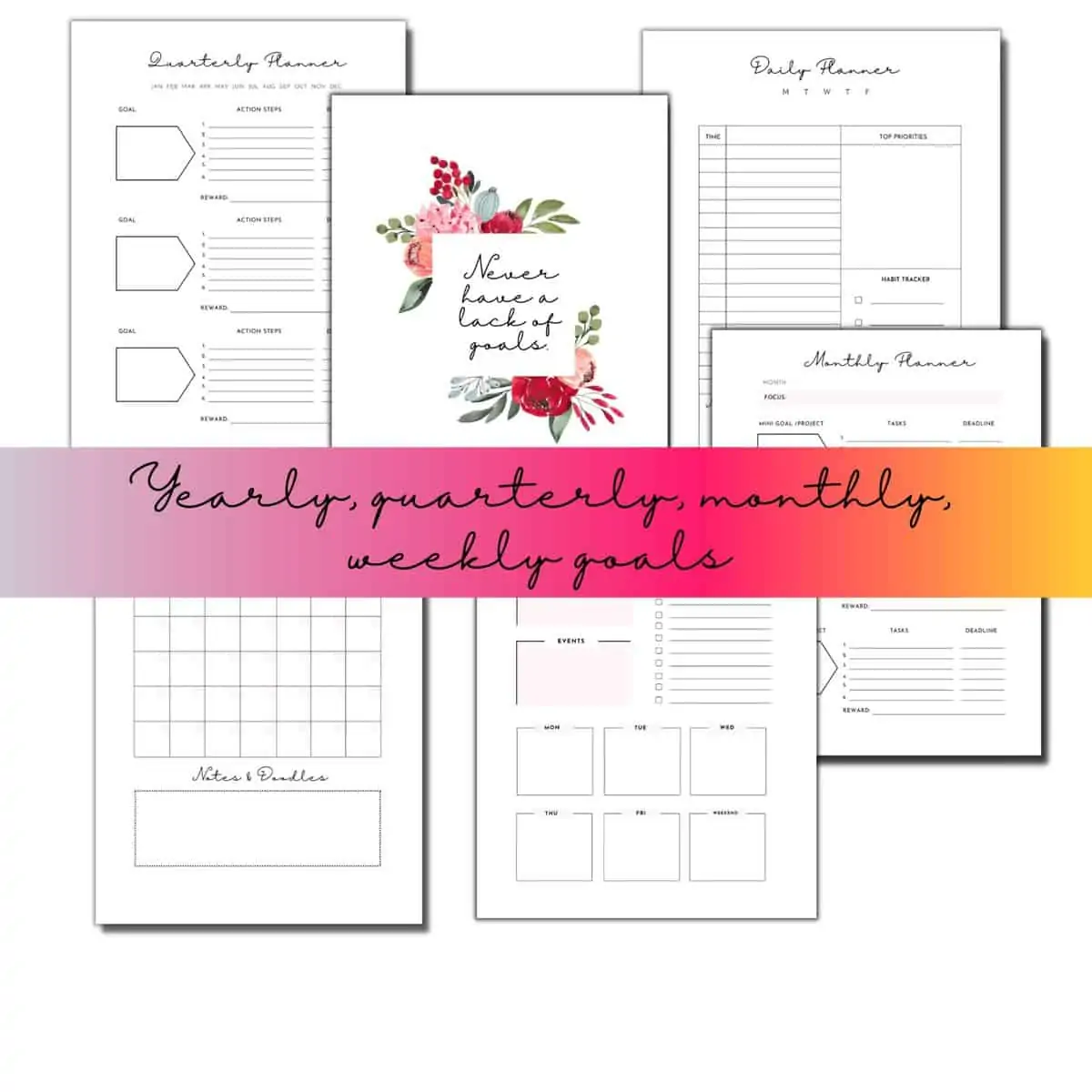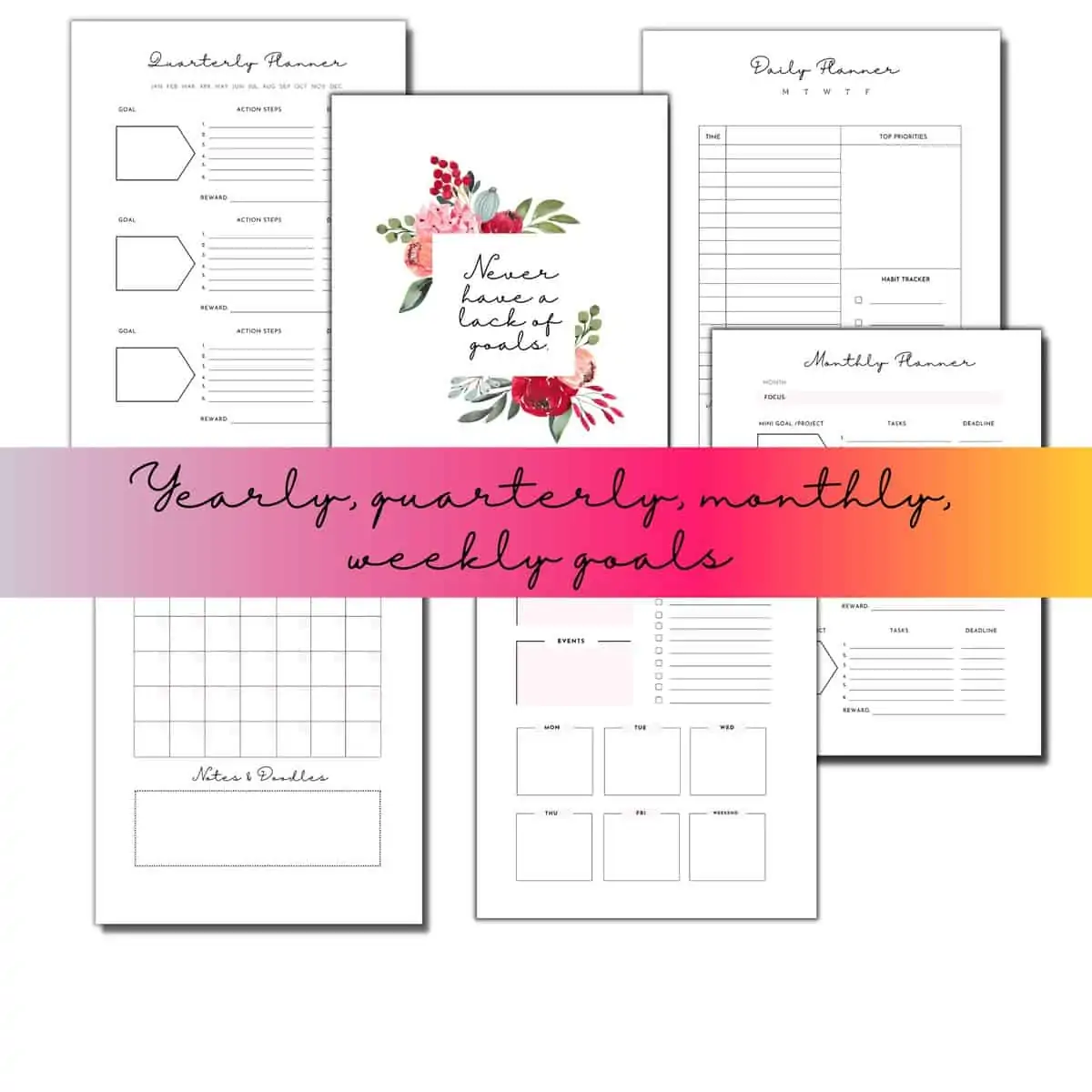 This Planner includes:
Quarterly Planner
Monthly Planner
Weekly Planner
Daily Planner
Project tracker
Pomodoro tracker and more
Use this Success Planner to help you plan your blogging goals! Simply send me a message at[email protected] with the email you used to signup, and I will send this printable bundle to you as a thank you gift for signing up with Hostgator!
Signed up with my Bluehost link instead? Send me an email just the same and I will give you this Success Planner for free!
---
Lesson 3: The Technical Side of Blogging
Congratulations on setting up your own self-hosted WordPress blog!
Now you might be thinking…you have already set up a blog with Hostgator or your chosen host, what now? Well, it's time to get to work!
Here are some of the things you need to learn at this point.
1. Install a theme
There are literally countless themes you can choose from, from free to paid ones. A theme is basically the look of your blog. It also features several functionalities, customization options, and speed.
You could spend hours and hours looking for the right theme, so, it's important to have a set of criteria when you choose a theme and stick to what you really want in your blog. Some of the most important (I'd even say they're nonnegotiable) factors when choosing a theme are:
Responsiveness–you want your theme to work exactly the same way whether your audience accesses your blog through a laptop or a smartphone. Be sure to pick a responsive theme from the very beginning, and skip the themes that aren't. You can also use mobile-friendly testing tools to gauge the responsiveness of the theme you have your eyes on.
Speed–people now are impatient and have a limited attention span, and no matter how beautiful your theme is, if it's slow, you won't be able to reel them in. Lightweight themes generally perform excellently in the speed department, so you might want to check them out first.
Ability to customize–whether your chosen theme is perfect as it is or needs a little tweaking, having the ability to customize allows you to play with it without calling a professional web designer. Maybe you want to change the fonts or color a little bit, or perhaps play around with the layout. The degree of customization depends on the theme itself, so check its customization features beforehand.
SEO-friendliness–Google needs to find your blog, so if your theme is not SEO-friendly, there's a very low chance of this happening. Most themes will indicate if they are SEO-optimized.
My top recommendation is using the Genesis Framework and a Genesis Framework child theme. You can think of the Genesis Framework as a core theme (the parent), which you can dress up (the child), to your liking. What I love about using Genesis Framework is that there are so many child themes out there. When I want to change the look of my blog, I can easily do so by replacing my theme without messing up its codes.
Another benefit of using Genesis Framework is that it's cheap compared to hiring a professional web builder. It only costs around $60, and this is a one-time payment (not a monthly subscription) that gives you a lifetime of access to the framework and support. You can also use it over and over again for your other websites, so that would mean lots of bang for your buck.
---
You can get the Genesis Framework at Studio Press and purchase a child theme separately.
---
Now, you might be wondering if you need to use the Genesis Framework and a child theme right now? Certainly not! You can opt for a free one while you're starting out!
Now that picking out a theme is out of the way, the next thing you need to do is install it. Don't worry, installing a theme takes only a couple of clicks here and there. Here's how to go about it step-by-step:
Open up your dashboard and click "Appearance" and then "Themes."
---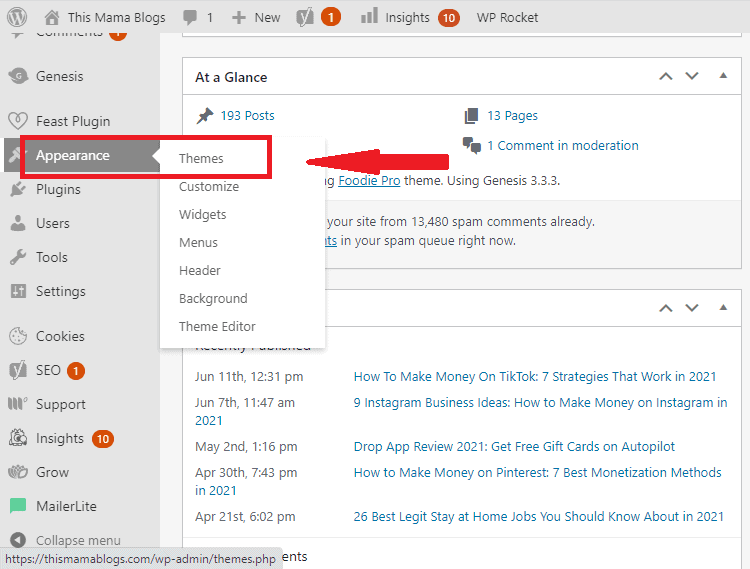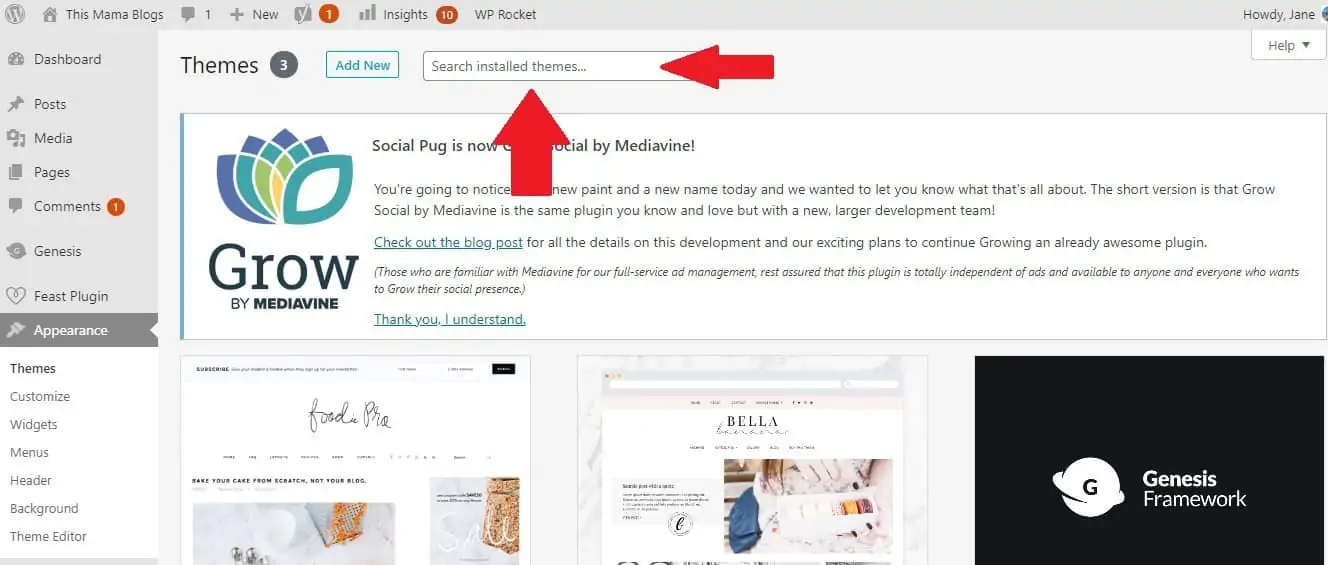 If you already have a theme in mind, just type it into the Theme directory. But if you still want to explore, you could go over the numerous themes available. You may also use the "feature filter" to narrow down your search.
Hover your mouse over the chosen theme to find "preview" and "install." If you want to see how the blog will potentially look like without installing it yet, choose preview. If you're dead set on the theme, choose install.
Click "activate" to apply the chosen theme. Your blog is now all set up with the new theme.
And there you have it, your blog with its brand-new theme!
---
2. Set up the things your blog needs
Now that your blog is all set up with its new theme, you're almost ready to start blogging. But before you do that here are a couple of things that your blog needs and shouldn't go without:
Custom Professional Email
Having a custom professional email gives your blog a more professional feel, and this is an essential feature, especially if you're looking into monetizing your blog. So instead of your professional email that ends with @yahoo.com or @gmail.com, you can have a custom email that ends with your blog's domain name.
Newsletter/marketing tool
An email or marketing tool allows you to capture your subscribers' email addresses so you can send them updates on new blog posts. These tools are essential in nurturing a relationship with your audience, as well as increasing blog traffic and conversion rate. Ideally, your email marketing software of choice is already up and running on Day One.
I personally use Mailerlite because it is inexpensive. You don't have to pay anything for the first 1,000 subscribers or 12,000 emails you send a month. Mailerlite is also free to use in the first month with all its awesome features, and you get a 30% discount if you opt to pay for the entire year.
---
Plugins
A plugin is an additional tool that adds more value to your WordPress blog. Plugins make your blogging experience more meaningful as you add more customization features than originally came with your theme. There are plugins that allow you to embed YouTube videos into your post, create contact forms, build landing pages, improve SEO, and other functions. Plugins give your blog that extra boost in functionality so that blogging becomes more seamless, convenient, and enjoyable.
How many plugins do you need?
There are thousands of WordPress plugins out there. If there's something you want to do to your WordPress site, there's a good chance that there's a corresponding plugin for it. But having too many plugins can do more harm than good so it's best to keep the numbers reasonable.
There's no wrong and right answer as to how many plugins your blog should have. Every site is different, and people have different goals for their blogs. But it's worth remembering that every new plugin you put to your site is like giving it extra work. If your site needs to perform several functions at the same time, it will affect its loading speed. With that said, you should remember to:
Update plugins to keep them working efficiently
Remove plugins entirely if you're not using them
Not install multiple plugins with the same functions
Obtain plugins from WordPress or from another legit and trusted source
Recommended plugins
I know picking plugins can both be fun and overwhelming. But if you're just getting started with blogging, here are the top plugin picks that will serve you well in your blogging journey.
Yoast
This is a free WordPress plugin that helps you step up your SEO game. As you know, optimizing content can take some work, but having the Yoast plugin makes it easy somehow.
What Yoast does is assess your post for SEO-friendliness, taking into account the title, meta description, keywords used, length of the content, etc. Yoast also gives you a readability analysis so you can lessen the usage of passive voice, use more transition words, reduce lengthy sentences, and break up lengthy paragraphs.
ShortPixel Image Optimizer
This is an image optimizer that automatically re-scales or resizes images so they become lightweight and quick-loading. Optimized images are essential in any SEO strategy, and this plugin does the job splendidly.
Easy Table of Contents
Putting a table of contents in your blog allows for easier navigation which, in turn, improves user experience. With a table of contents, your readers can easily see the structure of your content, and navigate to specific sections quickly.
The Easy Table of Contents plugin is a free and easy-to-use plugin that allows you to generate a table of contents and insert it into your page or post. It is customizable, supports seamless scrolling, and works with a diverse range of editors.
Cookie Notice
As mentioned above, it's important to inform your readers that your site collects cookies, and doing otherwise is unlawful.
One of the most popular cookie notice plugins nowadays, is well, the Cookie Notice, by dfactory. This plugin allows you to create an elegant cookie notice with its rich features. You can customize the cookie notice message, animate the message box upon acceptance, play with text and background colors, and loads of other options.
Akismet Anti-Spam
The Akismet Anti-spam is a pre-installed plugin, but it will only function if you activate it. What this plugin does is filter out spam comments. Since manually moderating comments can be a tedious task, this plugin does the job by catching potentially scam comments before they even make it to your moderation list. This helps you save time and energy by focusing your attention on legit comments.
---
Permalinks
Permalinks, the shortened term for permanent links, is another important thing you need to know and understand when you start blogging. They are permanent. So if you've been blogging a couple of posts, those links will remain unchanged in the future. Therefore, you have to get permalinks right from the very start.
What are permalinks and what are they for?
Permalinks are essentially URLs for every blog you publish. Each blog gets to have its unique permalink. For example, the permalink of this post you are reading right now is: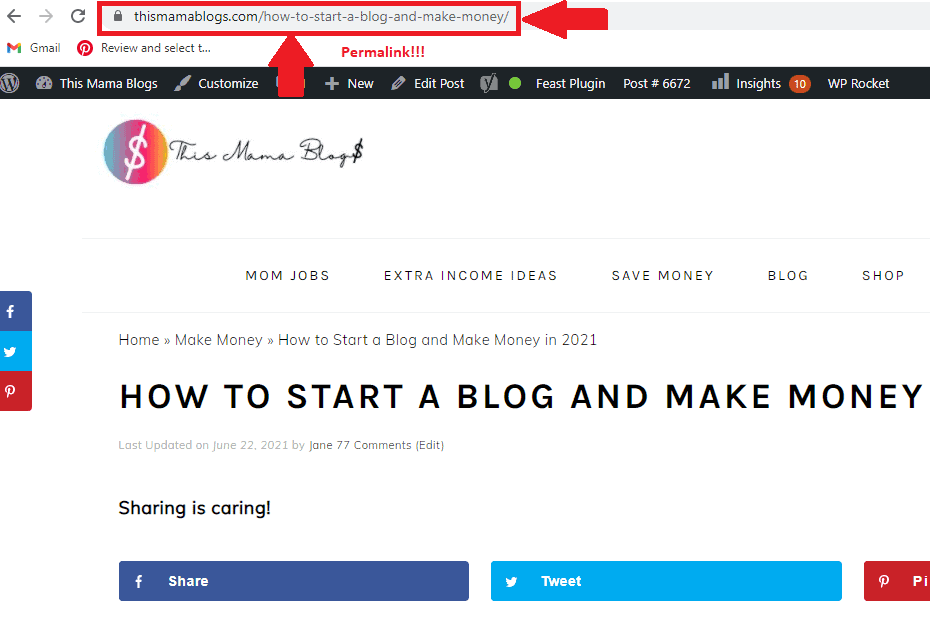 These are the links you use when linking out within or outside your blog, email, and other places on the web. Think of permalinks this way: each blog post resides in its own unique address, which is the permalink.
Permalinks in WordPress
When you write a blog post, WordPress assigns a permalink to it. This is all good and fine, but only until you notice that the address is composed of an incomprehensible string of letters and numbers. These numbers are like your blog post's ID. Search engines can understand what these numbers are, but not when it comes down to SEO.
How to change a permalink's structure
You want to make sure that your permalinks are clean and not gibberish, and importantly, enhances the post's SEO. I recommend using the "Post Name" structure as it doesn't contain numbers.
DO NOT EVER SKIP THIS STEP! This is VERY important. I made this mistake and ended up paying someone to redirect my posts a year later.
To modify the permalink structure in your WordPress blog, go to Dashboard and click Settings.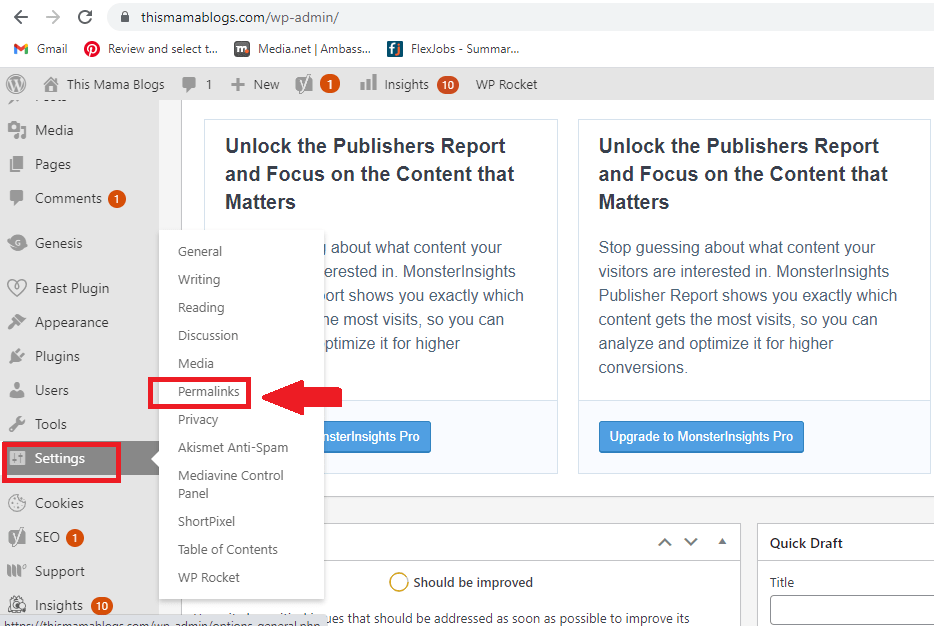 Next, click on Permalinks, and choose Post Name. Click on Save Changes.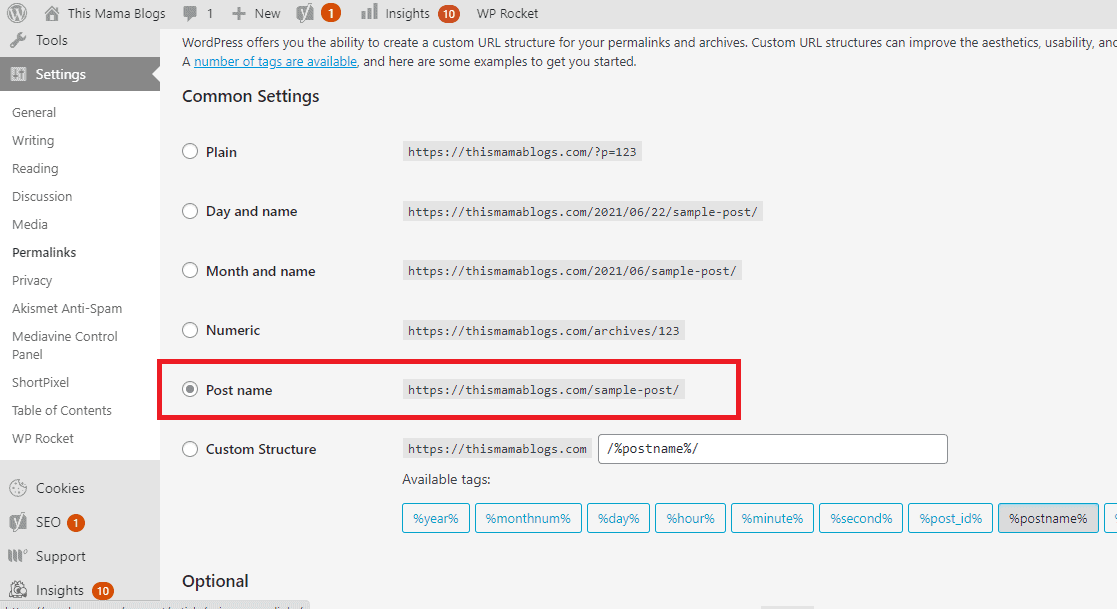 NOTE: You may also change the permalink for every blog post by clicking "edit" next to the Permalink field which is located below the title field. I find this important when my post title is super long, and I want to make it shorter.
For example, this post 25 Stay-at-Home Mom Jobs that Pay Well in 2021 would have this permalink if i didn't edit it: https://thismamablogs.com/20-stay-at-home-mom-jobs-that-pay-well-in-2021.
It is best practice to use shorter permalinks so I edited it to : https://thismamablogs.com/stay-at-home-mom-jobs/to make it more memorable.
IMPORTANT: Always be on the lookout for setting the right Permalinks for every post because it can be troublesome to do it later on when you've already published hundreds of blogs. This can result in redirections and page errors, which can ultimately hurt your SEO game badly.
---
3. Set up the essential pages
Pages are essential parts of the blog that provides static information to your audience. These pages inform the audience of who you are, what your blog aims to do, as well cover the legal and marketing aspects of your blog. Here are the basic pages you have to set up before you start blogging.
About Page
Every blog should have an about page. It's what introduces you and your brand to your audience. People love to know who you are, what you do, and why they should read your blog. This is not a biography or formal description, but it should give enough information to let people know the person behind this blog.
I'd suggest adding a front-facing profile picture so they can put a face to the name as well.
Contact Page
The contact page is another important part of your blog that allows you and your audience to form a relationship with each other. You have to let people know how to reach you, whether they have a content idea you want to cover, propose a collaboration, discuss advertising opportunities, or just want to ask your questions or give feedback.
Another caveat in creating the contact page is to provide a short contact form. You may also link out your social media pages and indicate your blog email address in this portion.
Privacy Policy Page
The privacy policy page informs your audience that your blog collects their data and how you intend to use it. For instance, you could collect your readers' names, email addresses, and other personal information when they subscribe to your blog. Additionally, you might collect cookies and other tracking information.
With that said, the privacy policy gives you legal protection against privacy issues and helps reassure them that they can trust you with their personal information. Importantly, the privacy policy page is a legal requirement for any blog or website, so never compromise on this.
Disclaimer Page
The disclaimer page gives you legal protection by "disclaiming" the contents of your blog. You don't want to be held responsible for anything that you post on your blog, and that readers should take your advice with their own judgment. For example, if you are blogging on a health niche, you want to disclaim that any information found on your blog should not be taken as professional medical advice.
Additionally, you can disclaim the accuracy or completeness of the information found on your blog. So, if people rely on your content for information and were unsatisfied or harmed along the way, the disclaimer page on your blog protects you from possible legal charges.
Cookie Policy Page
Cookies are bits of data that are stored on the website or blog that you're visiting. Your blog is collecting this data too, and you need to reassure your audience that you are taking their privacy seriously. Such transparency increases your blog's credibility and trustworthiness. But importantly, having a cookie policy page is all about complying with the law.
Once you have these first five pages down pat, you could start writing on your blog!
---
Lesson 4: Let's Start Writing!
Once you've set up your blog, set up the plugins and functionalities your blog needs, now it's time to start writing! But first, learn…
Anatomy of a WordPress Post: Key Elements Your Blog Needs
Here's a quick overview of the anatomy of a WordPress post/ page:
Title – the title or headline of your blog post should be interesting and compelling that it gets the audience to keep reading. As titles play a crucial role in ranking your content in Search Engine Results Pages (SERPs), it's important to do keyword research and include relevant keywords in the title.
Meta description–this is a snippet of what your blog is all about. Meta description appears in the search results, so it's important to write a concise but compelling one to entice the audience into clicking your post.
Subheaders (H tags)–sub-headers break down your blog content into smaller, digestible chunks with a subheading title in each of them. Sub-headers are indicated by H tags: H1 for the title, H2, and H3 for succeeding sub-headers. Also, remember to integrate relevant keywords in your sub-headers to increase optimization.
Featured image–this is the image that sits right on top of your blog post and represents individual blog posts in a list (such as on the search page). The featured image is important in drawing the attention of your audience and enticing them to keep reading. Pick a featured image that's appropriate for each post, and make sure to optimize them as well.
Links–links, both inbound and outbound, give more value to your blog. Linking out to credible and authoritative sites is very useful in your SEO strategy and in establishing connections with other bloggers. Inbound linking, on the other hand, allows you to establish your reputation in the niche by creating a web of links on that same subject. Your blog should have both inbound and outbound links.
Media–a whole block of text can be tiresome to read, so it's important to include multimedia into your post to maintain your audience's interest. You can use social media posts, videos, and photos to split the blog into segments and make it easier for the eyes. Using media also reinforces the message you want to convey, therefore giving your content more value.
Call to Action–your blog should never go without a call to action (or a CTA). CTAs are often located in the last part of the blog, and tell your audience to do something after reading your content. You can ask them to subscribe, answer a question, download your digital product, join your online training, and more.
---
Writing a new blog post
Here are the steps to writing and publishing content on your blog.
To get started, log in to your WordPress account and locate the dashboard. From the dashboard, click on "Add New."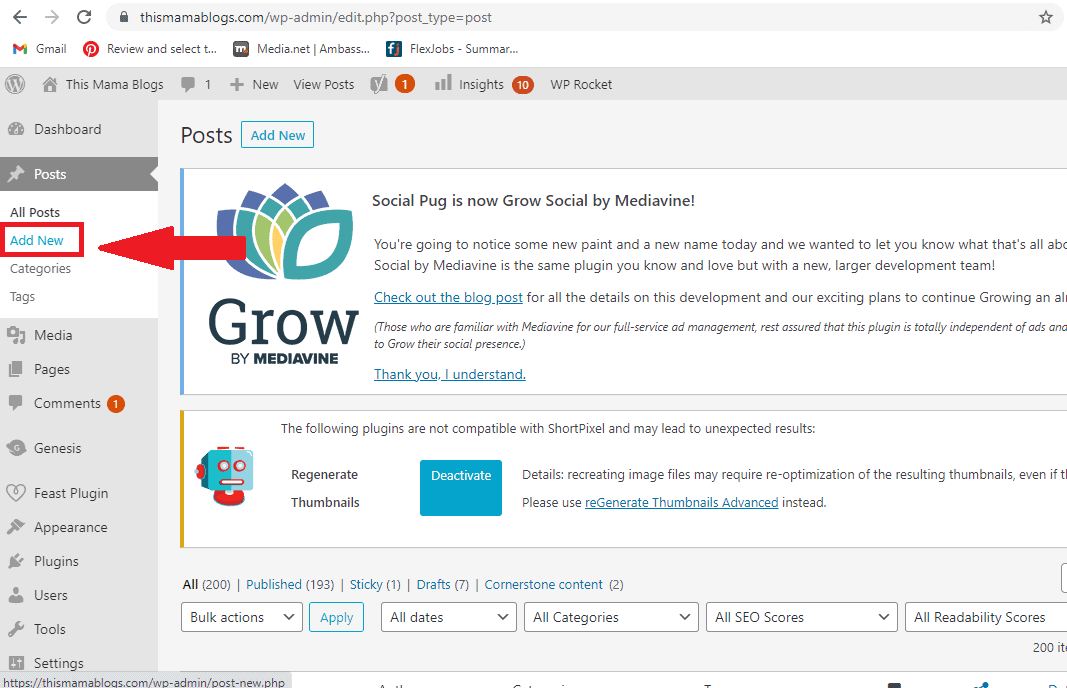 Write the title and the body of the blog
Once you're in the WordPress editor, you should find the appropriate places to write the title and the body of your blog. You can also utilize the formatting toolbar to set the font and font size, alignment, numbering, bullets, and more. It's almost like writing on a conventional word-processing software.
Click on "insert media" to put photos and/or videos within the body of your post.
You can now upload files from your computer. Once they're uploaded, you will find them on the media library. Click on the image you want to use, and WordPress will insert it into your post.
Assign categories and tags
You can create different categories so that your posts are grouped accordingly and your readers can easily locate content based on these categories. If you don't assign a category, the post will fall into the default "Uncategorized" group. It's always better to assign each post its appropriate categories to save yourself the trouble of doing it when your blog has accumulated several posts.
Additionally, you can add tags to each post.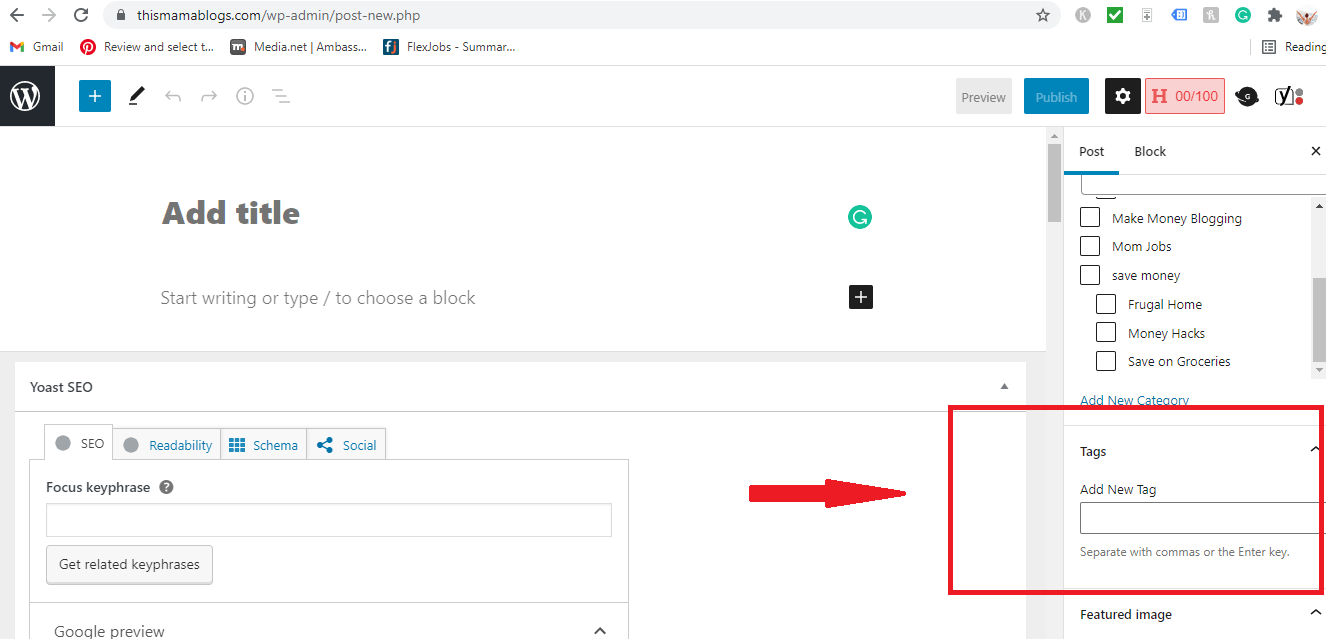 Tagging allows you to "link" similar posts together. For instance, if you're writing on the category "making money online" you can tag your posts as "part-time jobs," "work-from-home jobs," "online business," etc. This way, if the readers are interested in more "online business" contents, for example, it would be so much easier for them to locate such posts.
You're almost ready to publish, but first, check it out before it goes live. The preview button allows you to see what the post will look like when it's published. It gives you the opportunity to go over it one more time and tweak it as needed. And oh, always make sure you save your work as you incur changes on your post.
If you're now happy with your blog post, you're ready to publish it. Simply hit the "publish" button and it should go live right away!
---
How to Write Your Posts
I did not know how to write my posts when I first started. I fell into this common misconception that a blog post had to be about myself. So, for a little while, I wrote so much about myself, neglecting my target readers.
Don't get me wrong. I am not saying you should not write about your life. I am actually encouraging you to share some bits and pieces of your life and share stories because readers just LOVE stories.tThose stories will help you make that emotional connection with your readers.
BUT…don't neglect the main purpose of your post. You are writing to your readers not just because you want to share your life but because you want to help them, whether in making a homemade detergent or how to live on one income or to inspire them to start a blog.
So, what makes a great blog post? Well, for me, there's more to a successful blog that meets the eye. There are nuts and bolts that a killer blog copy should have to ensure that it relays the message to your audience effectively, increase your search engine rankings and establish your brand's authority.
Here's my checklist for writing a killer blog post:
Identify your purpose
Identifying the purpose of your blog sets your writing path straight from the beginning. Before you even start writing your blog, you should answer this question: "What does my blog aim to do?"
In doing so, you should also identify who your audience is, what their needs or problems are, and how your blog intends to help them. Sticking to the purpose of your blog post allows you to focus on the topic and address your readers' pain points.
2. Entice with your title
Think of the title as the first point of contact between your post and your audience. If your title is not strong, enticing or seductive enough, your audience will not be clicking it.
A strong blog title should contain your primary keywords andbe descriptive enough for the readers to know what your content is all about.
3. Research keywords
Using the right keywords is essential in helping your audience find your content in search engines. Doing keyword research before you start writing a blog post allows you to determine what kind of content your audience wants to read. By feeding them the information that they need, you're also giving your blog a competitive edge in search engine results.
You can start by creating a list of seed keywords, and then plugging them into keyword research tools like SEMRushto narrow down your keyword options. Also, check out your user search intent and use long-tail keywords in your overall keyword strategy. Try SEMRush's 7-day trial here and generate keywords free for a week. You can easily cancel before the trial is over.
As a beginner, you want to use keywords that are not very competitive, which means the websites that are ranking for these keywords have low domain authority ( DA 30 or below).
Simply plug in your seed keyword in a keyword tool and it should tell you what is the monthly search volume of the keyword, and the DA of the websites ranking for the keyword.
4. Check for content gaps
There are millions of blogs out there, so you have to make sure that your blog gives your audience true value. You have to provide what your competitors do not provide to make your blog stand out.
Content gap analysis is the process of identifying missed opportunities and using them to your advantage. By "spying" on your competition, you'll find keywords that they're ranking for, and then you can try to outdo them by creating content that's more relevant, useful, and valuable.
5. Identify headlines and sub-headlines
Using headlines and sub-headlines breaks down your content into organized, digestible ideas. They allow your readers to breathe before moving on to the next concept.
Importantly, headlines and sub-headlines are strategic locations to plug in relevant keywords that can immensely help with SEO.
Your blog should follow a heading structure: H1 for the title, and H2, H3, H4, and so on for the sub and sub-headings. Each sub and sub-heading should discuss one main point to keep the flow of thought organized and logical.
6. Mind the post length
The ideal post length for blogs is no less than 1,500 words. Why? Because you'll have plenty of opportunities to discuss the topic in-depth, hence provide more value to your readers.
Also, remember that "dwell time" is an essential ranking factor. The more time a visitor spends on your content, the better it is for SEO. Striking a good balance of value to your readers and SEO makes a better blog.
7. Keep paragraphs short
Keeping the paragraphs short in your blog, regardless of the blog's overall length, makes the content easier on the eyes. Strive to write only two to three lines or around 20 words per paragraph to make the blog less daunting or overwhelming to read.
Additionally, observe white space in your blog structure. White space refers to that space between blocks of text or graphics that allows your audience to "breathe" and make the post scannable.
8. Emphasize important information
Fonts are communicative tools that you can use in your content, and strategic use of typography can have a profound impact on your blog's success. You have to make sure that the post is easy to scan, quick to digest, and that readers can find the most important information almost right away.
Using bold text to highlight essential bits of information is a formatting technique that always works. It makes your content sticky to your audience, meaning, they're likely to return or spend more time on your site.
9. Add images
A whole wall of text is never enticing to read because readers would get bored before they can even finish the entire content. Adding images, on the other hand, give your content more value because imagesmake the post easier to understand. Additionally, images break up texts and give the blog its much-needed white space.
While photos are common options, there are plenty of other images that you can incorporate into your blogs, such as diagrams, infographics, and illustrations.. Images are also very handy in making the blog post more appealing when shared on social media.
10. Add links to other blog posts
Internal linking is a proven SEO practice wherein your current post contains links to your other blog posts within the related topic. This strategy helps to keep your visitors longer on your site, get search engines to understand your niche better, and thus help with SEO, as well as establish your authority within the niche.
To be able to do internal linking effectively, you need to have lots of content, link deeply into your other blog posts (do not link to your homepage or contact page), and only link to relevant content.
11. Finish with a clear Call-to-Action
A clear Call-to-Action (CTA) is what you want your readers to do after reading your blog. Do you want them to purchase your products, subscribe to your mailing list, share your post on social media or download your whitepaper? Whatever your CTA is, you want to make it clear so they know right away what you want them to do.
Finishing your post with an effective Call-To-Action helps improve your conversion rate (rate of converting viewers to customers or followers), generate more leads, and gives you the opportunity to monetize your blog instead of just letting it sit as a hobby.
Related Post: 18 New Ways For Females to Make Money Online (I Love #7!)
---
Lesson 5 : All About the Money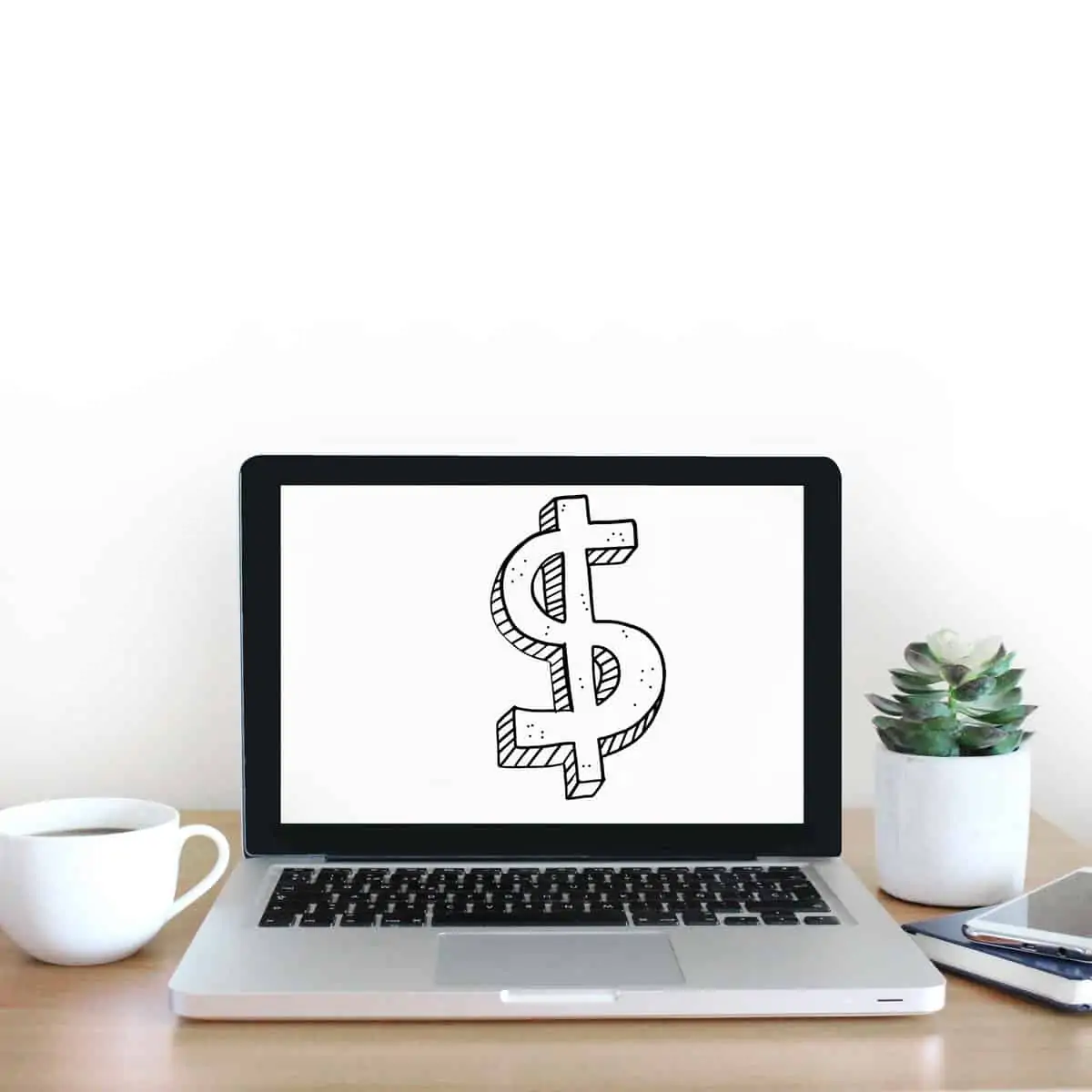 Now let's talk about the fun part of blogging—to make money off your blog!
But how do bloggers really make money? How can I make $1000 a month blogging? How to make money as beginning bloggers? What's the fastest way to make money blogging?
I. Get. These. Questions. A. LOT! Not only from my readers but also from friends and family.
I get it. I used to ask myself the same question when I jumped into blogging: how can I really make money from my blog?
I did not even think I could make $500 per month off my blog, and honestly, to make thousands per month was beyond what I had truly hoped for before I started blogging.
The beauty of blogging is that you don't have to have millions of readers to start making money. My early income reports were proof that you can start making money blogging without a huge following.
So in this lesson, I'm going to explain the proven blog monetization strategies that work for me and a whole bunch of other bloggers out there.
I'd like to show you that getting serious with your blog (and treating it more like a business than a hobby) can fast-track your success.
But, I'd like to emphasize that most blogs do not make money right away. And it's never the same for everyone. Some bloggers make money in the first few months after they launch their blogs, while others make thousands in dollars just before their blog's first birthday.
With that said, you shouldn't focus on the money right away. Focus on providing valuable content and mastering a few marketing skills. Once you've got these things going, making money from your blog will be much easier.
---
How Do Bloggers Make Money: 5 Strategies In Monetizing Your Blog
1. Advertising
The most popular way bloggers make money is through ads. Advertising on your blog can be done in two ways:
Ad networks
Direct advertising
Ad Networks
Ad networks such as Google Adsense, Media.net, Adthrive, and Mediavine place ads on your blog. These ads are paidbased onPPCs (pay per click) or CPMs (click per impressions–an impresison is the ad being seen by one visitor to your site). With PPCs, ad networks count the number of clicks your ads have obtained on your blog. While with CPMs, you will get paid per 1,000 impressions made by visitors on your ads.
In both cases, you should strive to obtain a good amount of traffic to increase the number of clicks and impressions your ads receive on the blog.
Most blogging beginners start making money from ad networks. I also earned my first few blogging dollars through ads with Google Adsense.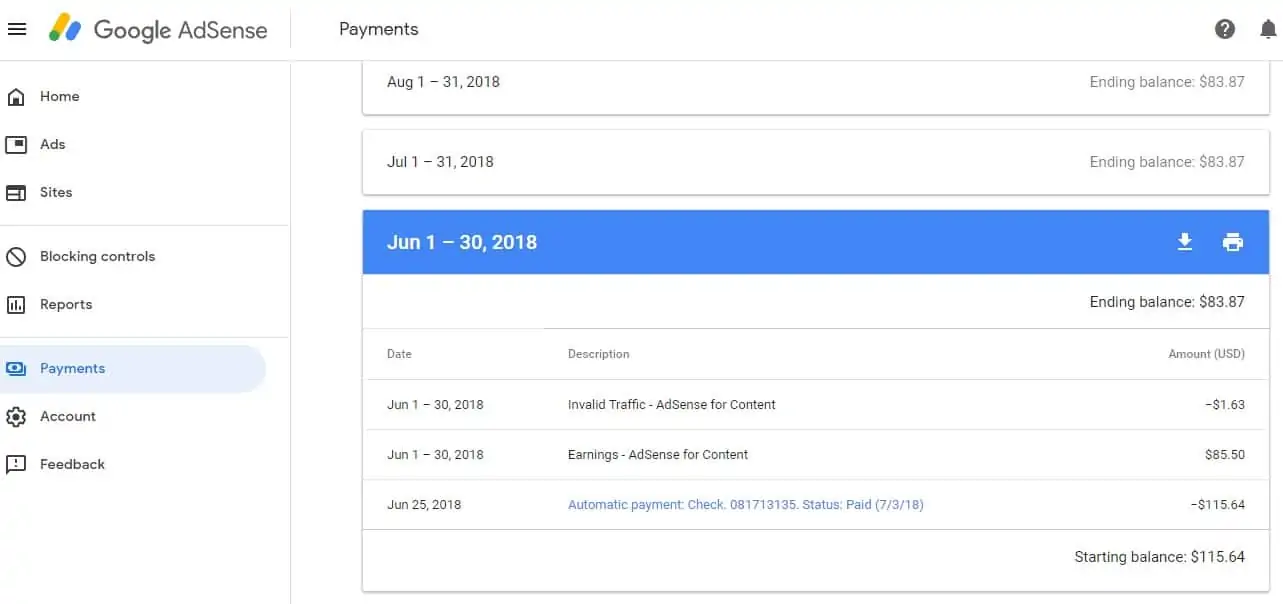 As my blog grew, my ads income increased from less than $85.50 per month from Google Adsense to thousands per month ( now at $5000- $11,000) when I joined Mediavine.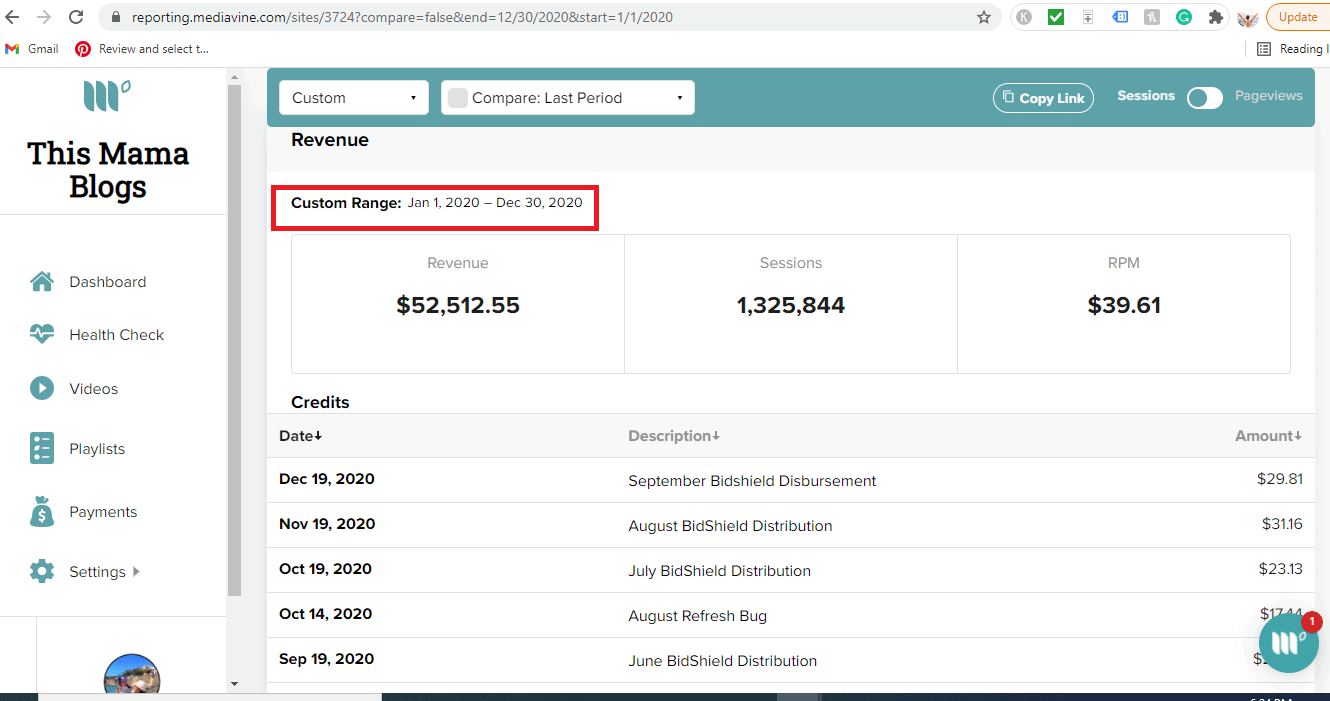 So, yes, there is money in ads, and the best thing about monetizing your blog through ads is that it is passive. Once your ads are set, your ad earnings will keep trickling as you gain more visitors.

I have only tried Adsense and Mediavine, so I can only speak for them. But joining Mediavine has been one of the best decisions I made for my blog.
Note,though, that to be accepted into Mediavine, your blog needs to have at least 50k sessions per month.
In the next section, I will show you a few strategies on how to increase your traffic and meet Mediavine's requirements.
Direct Advertising
Direct advertising is also another way of monetizing your blog with ads. But instead of signing up for an ad network, you can reach out to advertisers or have advertisers contact you directly.
In fact, I also get lots of requests from brands to put their ads on my homepage.
With this strategy, you're selling specific portions of your blog for advertising. You can charge the client per size of the banner and per month that the ad runs on your blog.
---
2. Affiliate marketing
Another very popular way bloggers make money is through affiliate marketing. Affiliate marketing is the process of promoting a brand's product or service through affiliate links. Bloggers link out to specific products in their articles, and when a visitor purchases an item, the blogger is paid a pre-determined commission.
Affiliate marketing is also one of my t favorite monetization strategies from which I also make a good income every single month. And I love it because:
1. Affiliate income is passive income. You can make money with affiliate marketing literally while you sleep. For example, I have a lot of posts on my blog that I wrote two years ago that still make me money until today.
2. There are so many products and services to promote to make money with affiliate marketing! There is no limit to what you could promote on your site.
3. There is no limit to your earnings! How do you make money with affiliate marketing?
Well, if you're a fashion blogger, for example, you may perhaps write a tutorial blog on how to style using specific garments. Or, you could write about the top five accessories for summer, and provide an affiliate link for the products mentioned.
Unlike network ads where you don't have control over the products displayed on your blog, you could actually choose the products and services you want to promote in affiliate marketing. This is crucial because you're giving your audience recommendations, so you want to only promote products that you actually use or truly believe in.
How to Get Started with Affiliate Marketing to Make Money with Your Blog
Join Affiliate Networks
Each of these affiliate networks have hundreds of products/services you can promote on your blog to earn a commission. Sign up with them and browse through their offers to see which ones you think would appeal to your target audience.
Join the Amazon Associates Program
As a beginner, you can immediately apply to the Amazon Associate Program to earn an advertising/ referral fee from Amazon. If there's any product you mentioned or recommended in a post, link them to Amazon using your affiliate links, and you'll earn a commission each time a reader purchases an item through these links.
The beauty of using Amazon is that there are millions of products you can promote and can potentially earn you a commission. This could work well for you, most especially if you are blogging about crafts, food, home improvement, motherhood, and other top niches.
I suggest that as soon as your blog is up, start applying to these networks and find programs/products that you could promote on your blog. You don't have to write "affiliate posts" right away but at least get an idea of programs that would help your target audience.
Tip: don't just select high-paying programs. I even found success in programs that only pay $4-5 per conversion.
---
3. Digital and physical products
Many bloggers have also come to realize that a blog is a powerful platform from which to sell products. For instance, bloggers in the personal finance niche can create and sell budgeting and cash flow printables, while those in the personal development category can make money selling journals or time management templates.
A lot of bloggers have also delved into creating and selling courses and eBooks. Wondering how do food bloggers make money through this method? fFood bloggers can compile all their recipes into a hardbound or digital book and sell it.
In fact, regardless of your niche or trade, you can always create your own course or eBooks and make money from them, too. As long as you are willing to share your knowledge and expertise about something, and give value to your audience, creating eBooks and courses can be a lucrative stream of income for you.
Apart from digital products, you can sell physical items, too. You can use your blog to promote almost anything, such as apparel, personal products, home items, electronics, and any other tangible items related to your niche.
I have also just started adding this income stream to my blog! I am still working on creating new products for my store, but you can check out my new Shop here!
---
4. Sell services
Many bloggers are moonlighting as freelance writers, photographers, virtual assistants, and graphic designers. They know that their blog can become their portfolio of sorts and be used to attract more clients.
The great thing is you can offer a slew of services to clients through your blog. If you're a photographer, you can showcase a couple of your outtakes to give clients a glimpse of the kind of work that you do. If you're a freelance writer, your blog gives clients a solid idea of your writing style and capability.
Apart from selling your freelance services or side hustles, your blog could also lead you to other money-making opportunities such as podcasting, consulting, or coaching.
---
5. Sponsorships
Finally, bloggers make money through sponsored content. Many companies use the blogging platform to gain more exposure for their brands and products. Established bloggers are well-respected for their influence and authority, and brands take advantage of this by paying bloggers to create content for them.
I personally don't seek out sponsorship opportunities because I really don't have the time, but I receive a lot of emails from companies wanting to sponsor a post on my blog. I did not accept all of them because I am quite choosy with the topics I post on my site. But the ones I worked with, I charged them $500 to $1000 per post.
Here's an example: https://thismamablogs.com/make…
Sponsorship of content is typically disclosed at the beginning of the article. This is to let the audience know that you have received compensation for writing and posting such an article.
Established bloggers do not have to do so much work to get sponsored content, but newbies may find it challenging. One of the best ways to win sponsored content is by joining sponsored networks such as:
Another great tip–I learned is to stalk other blogs and using the search bar on their blog, simply search the word "sponsored." Since sponsored posts must be disclosed, the search results should show whether they have done some sponsorship work for some companies. This simple search will give you an idea of which companies have sponsored a post on their blogs. If you think these companies are a great fit for your site, reach out to them via email to see if they would like to work for you.
These are the top ways you could make money with your blog! You don't have to wait until you get lots of visitors to start monetizing your blog. You could start today even as a new blogger!
---
Lesson 6: Grow Your Blog Using Pinterest
Traffic is the lifeblood of your blog and I know every blogger would agree to this: more traffic = more money
No traffic = no money
More traffic will increase your ad earnings and potentially increase your affiliate earnings. More traffic may also bring more earning opportunities for your blog such as collaboration with brands, ambassadorships, or speaking engagements.
And the list goes on…
Therefore, your goal is to increase your blog traffic to be successful.
There are many ways to get traffic but in this lesson, I am going to talk about Pinterest, which was my main traffic source when I first started. Even now, 60-70% of my traffic comes from Pinterest.
any ways to get traffic but in this lesson, I am going to talk about Pinterest, which was my main traffic source when I first started. Even until now, 60-70% of my traffic comes from Pinterest.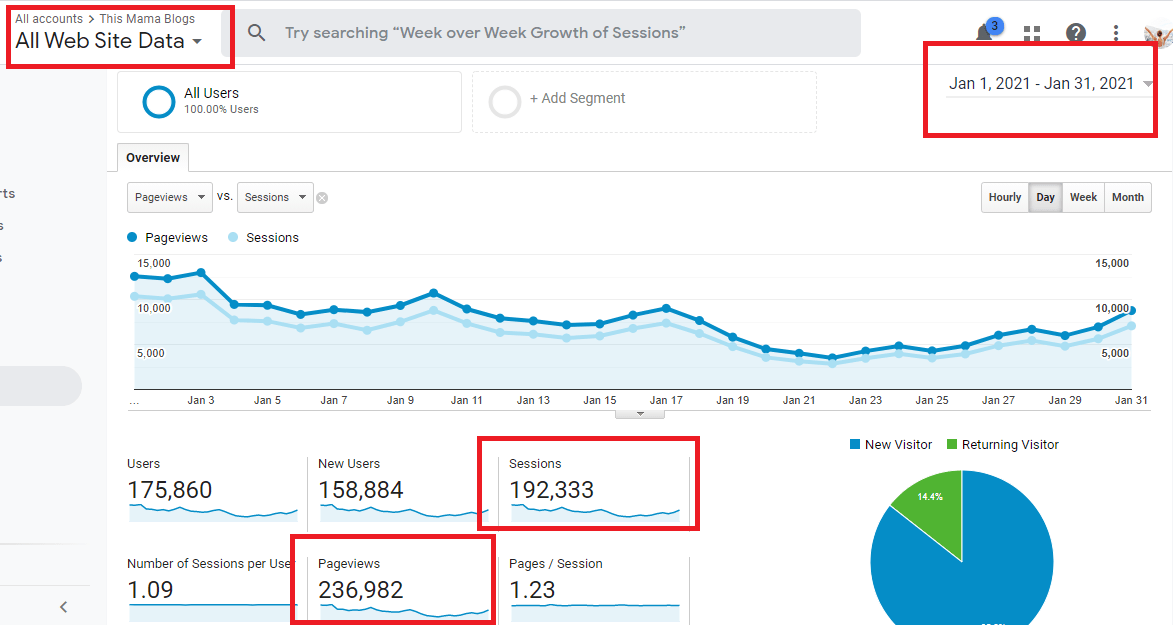 My Pinterest is getting over 3 million impressions and driving over 100,000 visitors to my blog every single month.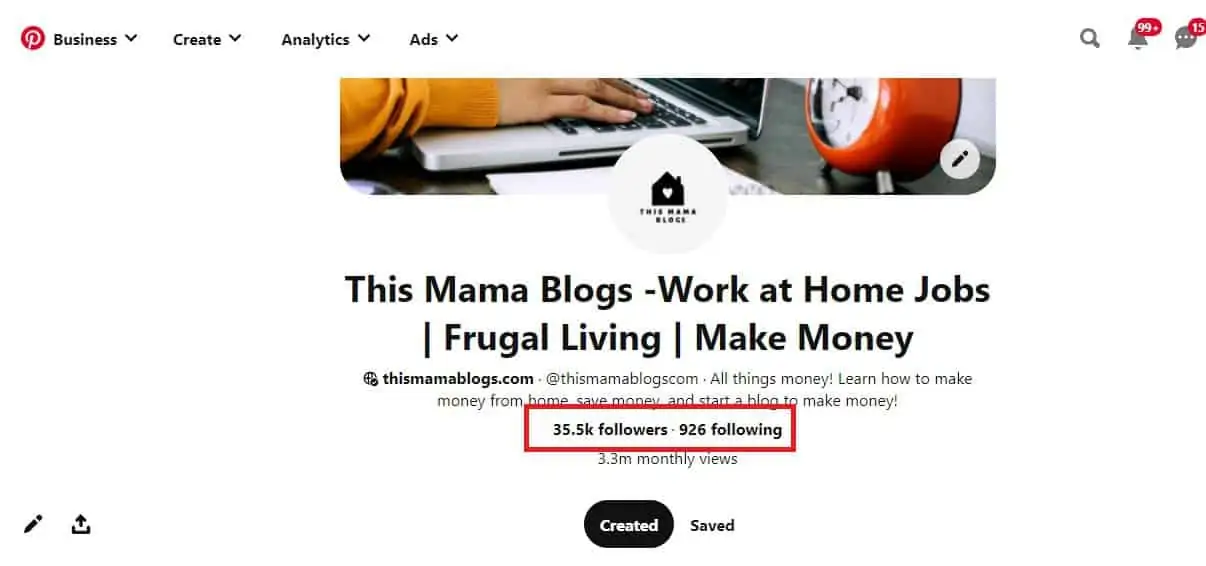 You can follow me here to give you an idea on the pins / content I have on Pinterest.
While I only talk about Pinterest in this lesson, I want to emphasize that growing organic traffic through SEO (Search Engine Optimization) is also equally important. I definitely recommend growing your Pinterest and organic traffic at the same time. I did not learn SEO until only about a year ago, and I truly regret not doing it sooner.
If you want to learn more about SEO, check out these free amazing SEO lessons here.
Now, on to Pinterest! What is Pinterest, exactly?
What is Pinterest
Pinterest is a discovery platform. Basically, it is also a search engine like Google. People use the platform to find or discover ideas, but the beauty of Pinterest is that it allows you to bookmark or save the ideas to your Pinterest account. What I love about Pinterest as well is that it is a visual search engine. Many use Pinterest to find inspiring photos, recipes, travel pics and more.
Pinterest is a great platform to use to grow your new blog because:
Pinterest has over 400 million active users each month. You can put Twitter and Snapchat users together, and Pinterest would still come out as the bigger platform.
60% of Pinterest users are women. Women are known to hold the household budget and make most of the purchasing decisions. What more, 80% of moms are also on Pinterest. That means putting your products and services before the "purchasers" and "decision-makers" gives you the upper hand in generating more sales.
That said, Pinterest will not only help you drive traffic to your blog fast but also monetize your blog. I was able to get into Mediavine, an exclusive advertising network, just because of just one viral post on Pinterest.
Now, I know you are asking: how to use Pinterest to grow your blog? I have a separate article on Pinterestwhich will help you understand how to use Pinterest.
I can summarize my strategies in 2 steps:
1. Write about topics that have "demand" on Pinterest
2. Learn Pinterest optimization
---
Pinterest Strategy #1: Choose topics with demand
Now that you have a blog, you probably already have topics in mind that you want to write about.
But if you want to grow your Pinterest faster, you'd want to write about topics that people really search on Pinterest. Simply because no matter how good your post is, it won't gain traction if there is no demand for the topic.
A perfect example is an article I wrote about "making money through car advertising." This article gets Google traffic, but no matter how many pins I launch on Pinterest for this post, my pins rarely get clicks from Pinterest. They don't get saved and shared as much as the "trending" topics that Pinterest love.
But how do you know if a topic has demand? Here are some tricks:
1. Check out Trends to see what topics are currently trending on Pinterest. If making paper flowers is trending, it might be a great idea to write about it if it's related to your niche.
2. Another trick is to search a topic in the Pinterest search bar. Just simply put your cursor in the search bar, and type in the topic without hitting enter.
For example, search the keyphrase "frugal living tips."

If Pinterest shows you related keywords in the drop-down, for me it is an indication that people are searching the keyword and its variants on the platform. That equals demand.
3. Use tailwind. You can also use Tailwind to see how much reshare other bloggers' pins have. This is a great strategy to see the topics generating Pinterest traffic for others or your competition.
4. Another great tool to use for brainstorming topic ideas is Pinterest Predicts where you can see topics or niches that Pinterest predicts to be in demand in the near future. This would give you ideas of trending search terms that you might want to consider writing about to grow faster.
---
2. Learn Pinterest Optimization
Learning Pinterest optimization is crucial to your success on Pinterest. After all, Pinterest is also a search engine like Google. Here are some of my top Pinterest tips to drive traffic to your blog!
Optimizing your boards
Optimizing your boards is a crucial aspect of getting traffic from Pinterest. All Pinterest users can set up boards where their respective pins would go. Boards are the categories of topics you are blogging about and pinning on. You can create super generic boards, or you can niche down to specialized topics.
It is essential that users find your boards to encourage traffic. So that's where optimizing your boards come in. Here are the top proven ways to making your boards search engine and user-friendly:
Give them the right name. The names of your boards should be relevant to your topic or niche, so don't try to be overly fancy or creative, or you might lose potential traffic. Just give your boards their apt names so that your visitors will know exactly what they are all about. For example, I created a board "Stay at Home Mom Jobs" for articles on mom jobs or money-making ideas for moms, and "Frugal Living Tips" for articles about saving money and frugal living.
Add a board description. One of the best places for optimization in your Pinterest account is the board description. Craft a short description that encapsulates the entire message of your board.
• Add relevant keywords, which I am going to discuss below. People search for ideas on Pinterest using keywords, so make sure that your boards have relevant keywords in them.
Joining Group Boards
Joining board groups is another strategic way to widen your pin's reach. Group boards are set to public, so the pins placed on these boards stand a good chance for better exposure. Also, people who are members of the group may re-pin your pins to other group boards, which now creates a viral effect.
Pinterest is crazy about activity and engagement. Most group boards instruct contributors to repin the pins from their boards. This means that apart from your pins being seen by a lot more people, Pinterest will also likely show pins from your board in the smart feed. When you think of it, it's like hitting two birds with one stone.
So, here are the hacks to get you into the right board groups:
Find the right boards. There are a couple of things that you must remember when finding group boards to join. First, it should be within your niche. Niching down is also recommended. It's also best to identify group boards that have more followers than you do. Finally, pick group boards with less than 100 collaborators (50-20 is a great number).
Join boards with like-minded collaborators. The reason why it's best to find specific group boards in your niche is that you get to collaborate with like-minded people. This is a good way to generate targeted traffic towards your own pins.
What is a group board? A group board works like your regular board, and they look like: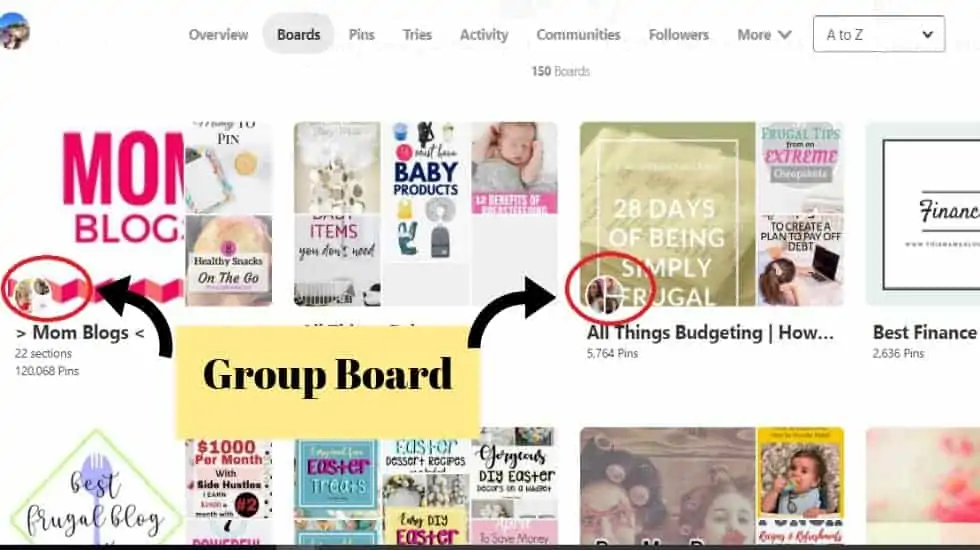 The only difference is that other people/bloggers are allowed to pin to these boards.
Using group boards is a quick way to promote your new blog, most especially if you were able to join group boards whose members are power pinners or big bloggers. If your pin gets picked up by another blogger and gets shared with his/her audience, that pin will also likely get more exposure.
Make sure that you also pin other members' pins. After all, helping each other is the purpose for which these boards were created.
Look them up on Facebook. Head over to Facebook and look for board groups in your niche. Here you can find board groups that are looking for collaborators. Alternatively, you can post a query on joining board groups, and wait for people to send you the links of their board groups. The comments section is also another great place to find potential board groups you can join.
Ask to join. Once you've searched the right boards you'd want to join, it's time to connect with the board owner. Make sure to follow the board owners so you can send them a message and get invited to their boards. Send a friendly message to the board owners, through Pinterest and email, asking to get invited to their boards.
---
Creating Your Pins
Pins act like anchors to your website, blog post, or any other designated landing page. If your pins aren't generating clicks, then your website won't get traffic from Pinterest. That's the reason why you must create pins that attract. Pins that appeal to the audience have the best fighting chance of giving you the much-needed traffic.
Fortunately, you don't have to be an expert graphic designer to make compelling pins. I create all my pins and graphics on this blog using Canva and I highly recommend this tool. It's beginner-friendly and it offers lots of free images, ready-made templates, and graphics you can use for your pins.
With Canva, you can play around with various fonts and colors, choose layouts and even customize your pin size. Once you've created your ideal templates, you can just swap out the images and text for each blog post. I would suggest sticking to the identifying elements of your template, such as font style, layout, and logo so that your audience can recognize your pins right away.
Canva has a free plan which is still great for beginners, but you might want to invest in Canva Pro later. I find Canva Pro really useful not only for Pinterest but for my blog as well. Instead of buying images elsewhere (which can be expensive), I just get all my images from Canva Pro. It saves me a lot of time and money!
More Pinterest Pin Tips
When creating pins, you have to remember the following:
Create different pins for each blog post. This is to improve your chances of getting your pins noticed by your audience, and ultimately, leading them to your website.
Some niches perform best with images, while others need text accompaniment. For example, super visual niches such as beauty, food, fashion, decor, and travel allow images to speak for their topics. Meanwhile, other niches, such as business, need text overlay or copy to briefly explain what the pin is all about.
Make pins that are easy to read. Mind the layout, font style, and contrast of your graphics.
Use templates to save time and effort. You don't have to create brand-new pins from scratch by having ready-made templates handy.
Avoid repinning your pins too often. My strategies change from time to time but lately, I've been seeing results with fresh pins. Instead of repinning old pins, I just create fresh pins for old and new posts.
Create pins every day! I've been seeing results doing this so I highly recommend creating pins every day.
Also, experiment with launching fresh pins at different times of the day to learn which time your pins are getting more impressions or engagement. For example, my pins get more impressions or engagement at night so I often launch fresh pins at night from 6pm to 11 pm.
Optimizing Pins
As I said, Pinterest is a search engine, and the chance of your pins getting found by your audience depends on how you optimize the pins. Here are the top ways to make sure your pins are optimized for Pinterest.
Incorporate relevant keywords in the pin description. The pin description is one of the most valuable real estates that you should utilize for pin optimization. Write a description that includes your target keywords.
Write the description in full sentences. Some people only list the target keywords in their pin description but this strategy is outdated, not to mention spammy. Pinterest favors descriptions that provide the best value to its users. Write the description with a sprinkling of your relevant keywords, and make sure that it makes sense.
Incorporate both broad topic and niche keywords. This helps you target both super niche and broad audiences in your pins. Again,mind that the description makes sense.
Write a different pin description for each of your pins. If you have 2-3 pins for each blog post, then you should also come up with 2-3 pin descriptions.
Include a CTA (Call to Action). CTA's are powerful prompts to get your audience to perform a desired action.
Add hashtags. Incorporating relevant hashtags in your pin description allows people to see your most recent content.
Update ( June 22, 2021): There has been talks around that Pinterest no longer likes hashtags because spammers are misusing them. Please use hashtags with caution.
Don't forget to optimize your images too. Utilize the ALT TAG feature in your blogging platform, and make sure to create custom descriptions of all the embedded images you've used. This gives Pinterest a better idea of what your pin is about and shows it relevant searches.
Finding the right keywords
Incorporating relevant keywords into your pins is a key factor in getting your pins discovered by your target audience. Using keywords strategically in your Pinterest content gets you in the good graces of Pinterest because you are giving value to its users. Fortunately, finding the best keywords to use isn't rocket science. You can use the following tips to nail down the best keywords to use for your pins.
Use the Pinterest search bar. Simply type in your query in Pinterest's search bar. Without hitting enter, Pinterest should show you the relevant and popular keywords and phrases related to your search. Take note of the ones that are most relevant and related to your content.
I incorporate 5-10 keywords in the pin description. You could also use hashtags.
---
Lesson 7: SEO and Getting Google Traffic
In simple terms, SEO ( Search Engine Optimization) is the process of improving your site to increase its visibility in search engines like Google. Think of SEO as a way to bring more people to your site/blog, in addition to using Pinterest marketing.
There are many SEO strategies out there to help you get Google traffic but, in this lesson, I am going to focus on:
On-Page SEO (Search Engine Optimization).
Basic Keyword research
I believe these two are super important for beginners like yourself to know from the get-go.
On-Page SEO Explained
On-Page SEO refers to anything you do on your page/ post to improve its visibility in Google or other search engines. You want to make sure that every post or page on your blog is structured right so Google easily finds it.
Here are some of the basic concepts you should learn about On-Page SEO:
Your blog post's title is tagged with the H1 header tag. It is one of the most important parts of a post or page, and it should contain your most important search term or keyword.
Always use headings and subheadings (H2, H3, H4) (and so on) tags, most especially in long-form content. It not only helps search engines understand what your content is all about but also breaks up your content into a few parts, making it easier to reading for humans.
As mentioned in the previous lessons, you can customize your post URLs and make them search engine friendly. The title does not have to be the URL of the post because in most cases titles are long. What I usually do is use the primary keyword in my URL and keep it short.
For example, instead of using the full title of the article, which is "20 Stay-at-home Mom Jobs that Pay Well in 2021" as the post's URL, I shortened the URL to: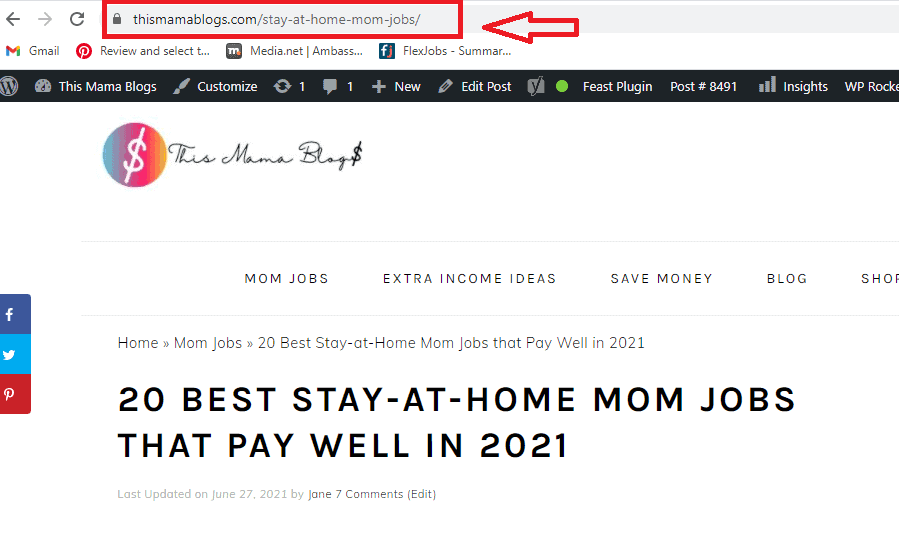 Help search engine bots to crawl more of your blog/site by linking to relevant posts/pages in your post. Plus, this also helps your readers find your other relevant posts, which improves the amount of time they spend on your site.
Don't forget to include external links in your posts but be sure to use high-quality links. Linking out to high-quality sites with high domain authority will help send signals to the search engines that your information is accurate. Not sure whether the site you're linking to is "high-quality"? Here are some tips:
Go to Ubersuggest or any keyword tool and plug in the URL of the site to know the site's domain rating or domain authority. Make sure that the site has a rating of at least 20, but best if you're linking to sites with a rating of over 50.
Make sure that the site is secured and that its URL starts with https.
Use keywords in the title, headings, and body of your content. Remember to use variations of the main keyword in your content. But remember not to over "optimize" or keyword-stuff your content. Each keyword should not comprise more than 2 percent of the overall content.
If possible, put the keyword or key phrase within the first paragraph or first 100 characters of the post's body. This helps confirm that the content matches the title of the post.
---
Basic Keyword Research to Help Your Blog Rank
How do you find keywords to use in your content? The best way to goabout it is by using a keyword tool. Keyword tools like SEMRush can give you information on:
How many searches a keyword has per month
Which websites are ranking for this particular keyword
How competitive the keyword is
Whoyour competition are and more
SEMRush is one of the best keyword tools out there if you want to do thorough keyword research. I highly recommend checking it out and try their 7-day free trial to get your free keywords lists for 7 days. You can easily cancel SEMRush before the trial is over.
I love SEMRush but it's a little bit expensive. So, if I want to do thorough keyword research, what I usually do is subscribe for one month or so, and do batch research. This should give you lots of keyword ideas that you can use for at least the next 6 months.
A cheaper alternative is Ubersuggest. It gives you a few free searches a day, which is good enough for beginners. If you need more searches, you can upgrade your plan for only $12 per month.
Here are some of my tips for keyword research:
Know your competition
First, know your competition. You are a new blogger, and your domain rating or authority is 0, so it will be an uphill battle if you are going to compete against the authority sites with a domain rating of 50 or 70. Using a keyword tool, find your competition. My rule of thumb is not to compete with sites with a domain authority or rating of more than 30 when you're just starting out.
Find the keywords your competition is getting traffic from
Using a keyword tool, plug in the domains of your competition to see the keywords for which they are ranking.
For example, using Ubersuggest's Traffic Analyzer tool, this site about homesteading is getting 7,000 organic traffic per month and has a domain rating of 21.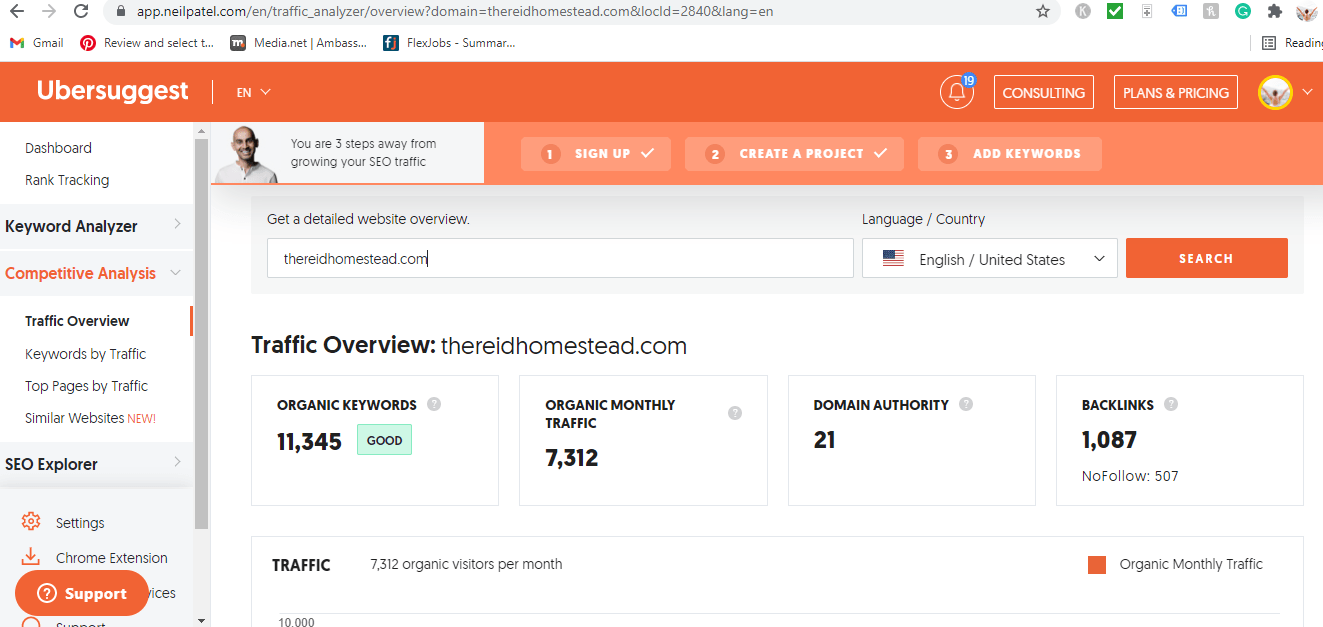 When you scroll down below, you can see the list of keywords for whichthis blog/site is ranking.
If this is your niche, this site might be a great site/blog to find ideas on topics to write about and hopefully be ranked for.
Go after the low-hanging fruit
Don't try to compete on the most popular keywords with hundreds of thousands of searches. Instead, focus on long-tail keywords or keyword phrases because they are more specific and much easier to rank for.
For example, instead of trying to rank for the key phrase "work at home jobs" which has 550,000 monthly searches and an SEO difficulty rating of 80, I went after the key phrase "stay at home mom jobs" which only has 12,000 searches per month and 56 SEO difficultly. The keyword also captures a more specific audience, my target readers.
SEO has a huge scope. There's also off-page SEO, site speed, and more to consider that are important for ranking as well.
---
How to Start a Blog and Make Money : Blogging FAQs
In this section, I'd like to answer some of the most frequently asked questions about blogging and questions I often get from my readers.
What is a blog and what's the difference between a blog and a website?
In essence, a blog is a website. A blog can be used to reach people who are interested in your topic. With blogs, you write on something you know about and promote that knowledge. Meanwhile, a website can be a blog, a membership site, an e-commerce site, or a business site where you publish information about your business.
There are a few things you should understand about what a blog actually is. Blogging is the process of regularly posting articles in order to create an ongoing dialogue with your target audience. The content created for a blog needs to add value. By this I mean, your topics should be interesting enough that people would not only visit your site for them but would also share them with others.
---
Are blogs dead?
In 2005, blogs were a big deal. A lot of people had them, and everyone wanted one. They were easy to create and full of potential to market your business or brand in ways that hadn't been thought possible online before.
But with so many other options available today for sharing information on the web – social media, microblogs (like Twitter), networking sites like Facebook, etc., are blogs really still valuable? Do they have any place left in today's internet marketing world?
The short answer is YES. While they may not be as valued as they were back when they first came out or even during some of the years since then, blogs are still definitely not dead. Blogging is growing, especially now that people are more dependent on the internet.
---
Why do blogs fail?
One of the harsh truths about blogging is that more than 80% of blogs fail. BUT note that this failure rate is common in any type of business in any industry. Research by Bloomberg shows that 8 out of 10 businesses fail in the first 18 months. And that includes new blogs.
So, what exactly are the common reasons why blogs fail?
Lack of a Plan
Many blogs fail because the person running it doesn't have a plan in place for success. If you treat your blog like a business, you must also have a good marketing plan. You must be strategic with what you write and post in order to get faster results.
Lack of motivation or change of plans
It's easy to lose motivation in blogging! I know, I've been there, too, and I believe most new bloggers experience this at some point.
Blogging is the type of business that requires a lot of upfront work and time, in addition to perseverance. Unfortunately, there is no shortcut to blogging success. A lot of bloggers can't wait long enough to start making money from their blogs, and when they don't see much progress in the first few months, they give up.
Based on experience, it usually takes 6 months for a post to rank on Google, and it takes months of hard work to start gaining traction on Pinterest. It took me 6 months or so to start making a couple of hundred dollars a month and a year to start making at least $1,000/month from my blog. I could haveeasily given up blogging within its first year and move forward with a stable job that pays more, but I didn't.
---
How to make $1000 per month blogging?
It's most new bloggers' goal to earn at least $1000 per month or $2000 before they decide to quit their jobs. But how do you make this much and is it even possible with a NEW blog? My short answer is yes, it is possible, but many blogs don't make $1,000/month in their first year. You can earn $1000 per month or even a full-time income right off the bat if you offer a service such as freelance writing or virtual assistance on your blog.
BUT, if you rely on display advertising or affiliate marketing, which are both traffic-dependent, it may take some time for you to start making $1000 or more from your blog.
To give you an idea, my Mediavine ad RPM is $30-60, depending on the season. This refers to how much Mediavine (my ad network) pays me per 1000 sessions (pageviews) on my site. Let's say you're on the lower end at $20 with other ad networks, you need to have at least 1,500 sessions per day to make $1,000 per month from display advertising. This may not be possible with a new blog because you likely don't have that many daily readers yet. The beauty of blogging, though, is that you can combine income sources. In addition to display advertising, you can offer services or promote other people's products through affiliate marketing.
---
How do bloggers get paid and when?
Most ad and affiliate networks pay either through PayPal or bank transfer once a month or twice a month.
How do I start a blog for free?
You could start a blog for free with platforms like Blogger, WordPress, or Wix, but as I said, it's not the recommended way to start a blog and make money. If you want to make money from your blog, the best route is to pay for hosting (see Lesson 2 above) and install WordPress. If you still want to learn how to start a blog for free, all you really need is to go to the free platforms, create an account and start blogging! You don't need to pay anything and can start blogging right away.
---
Bonus: Blogging Resources
Because I am an affiliate of some of the blogging resources below, I will get a commission if you click the link and buy from them, which helps me keep this blog free for you. Rest assured that I would never recommend anything I never personally used and love.
Stupid Simple SEO
Stupid Simple SEO, is hands down, one of my favorite and highly recommended blogging resources. Stupid Simple SEO is a course that helps you learn how to create search engine optimized blog posts and get on the good side of Google! The course has SEO for bloggers, which is perfect for those who are new to blogging and have zero to little knowledge about search engine optimization. This course takes away all the technical jargon about SEO so you can understand it in plain, basic English. It's worth every penny! Check out Mike's FREE SEO training here.
Making Sense of Affiliate Marketing
Making Sense of Affiliate Marketing teaches you how to monetize your blog without spending loads of money or employing complicated strategies. Affiliate marketing is a popular blog monetization strategy that helped the course creator make $50,000 per month from affiliate marketing alone.
The She Approach to Pinterest
Pinterest is a significant traffic driver for me, and I have learned many of the best practices from The She Approach to Pinterest. This is an eBook that teaches you how to generate astounding nmbers of pageviews on your blog. It dives into the nitty-gritty of creating pin graphics, pinning schedules and frequency, how to use Tailwind, and more! It's one of the best resources.
Canva
A fantastic blog comes with beautiful images. Fortunately, there's Canva, an app that allows you to create amazing graphics, even when you don't have graphic design knowledge. With Canva, you can choose from numerous templates, implement your branding, pick your font and palette and so much more. There's no limit to what you can do with Canva.
Hostgator
If you're a new blogger, you want to get your own domain and hosting for cheap, I can highly recommend Hostgator. It's what I used for two years, and its cheapest plan (Hatchling) is all you really need to get started.
Big Scoots is a hosting provider that provides a wide variety of content management solutions and services, advanced infrastructure, and excellent round-the-clock customer service. And if you're looking for managed WordPress hosting plans, BigScoots is the way to go. The company is pretty wellknown for its impressive loading speeds, 99.99% uptime, and data backup feature.
Genesis Framework
Building a WordPress website may sound daunting for someone who's not a website developer. But it's actually easy, especially if you use the Genesis Framework. tThe Genesis Framework lets you build WordPress websites easily and quickly. It already has everything you'd need for a website–SEO, performance and security. I also love that the Genesis Framework can cater to numerous child themes, which means you can customize your WordPress site to your liking.
You can get the Genesis Framework at Studio Press and purchase a child theme separately.
Foodie Pro Theme
Every blog needs a theme, and I'd always recommend getting one of the Genesis themes from StudioPress. My ultimate favorite theme is the Foodie Pro, a lightweight, minimalist yet feature-packed theme that works for several blog niches, not just food blogs.
Ubersuggest / SEMRUsh
Optimizing your blog with keywords is crucial for generating traffic and conversion. Some people may think that keyword research is hard, but it's not if you use the right tools. For this, I recommend SEMRush and Ubersuggest.
These tools will help you uncover the best keywords to use for your content. They come with content analysis and competitor analysis tools to help you discover potential keywords that you can outrank your competitors for.
While you can use the free or trial plan of these keyword tools, I suggest getting their premium versions to enjoy more features.
Email marketing is an essential aspect of blogging success. When it comes to an email marketing platform, Mailerlite is my favorite. Mailerlite is an easy-to-use newsletter service that fits both new and seasoned bloggers. With Mailerlite, you can create sign-up forms in a breeze, create automated email sequences, integrate with WordPress seamlessly, and much more. Even better, you can take advantage of Mailerlite's free plan, and it already has all the things you need to run and managed successful email marketing campaigns. The paid plan is so affordable, too.
If you're just getting started with blogging, and you can see yourself doing it long-term, then I highly recommend getting these blogging tools and resources. You can always try the free or trial version first to check them out, and then upgrade later. If you really mean business about your blog and are dead set onmaking money from it, then spend your money on tools and resources that would truly give you the best bang for your buck.
---
Final Thoughts
Blogging has been one of the best decisions I ever made. I know I keep saying this here but it's the truth. I really enjoy what I do, I make money "secretly" with my blog, and I get to share my passion with the world. More importantly, blogging allows me more freedom and more time to spend with my family.
I know, though, that blogging isn't for everyone. Blogging requires a lot of work, learning, patience, and time, but all these sacrifices will pay off once your blog starts getting a substantial amount of traffic.
For me, blogging is an amazing business that offers a huge return on investment (ROI). You could start one forjust the cost of a cup of coffee per month but it could make you so much more in the future.
Did you find this post helpful? Pin this or share with your friends!