Would you like to know if making money with Apex Focus Group is worth your while? Read this Apex Focus Group review to find out.
I have always been interested in making money online and how I can help moms like myself earn an income from the comforts of their own homes. And I think one of the most understated options is joining paid focus groups.
While I was looking into this money-making opportunity, a company that goes by the name Apex Focus Group caught my attention. The company claims to pay up to $750 per week, which is definitely a lot more than what survey sites like Swagbucks pay.
I wanted to learn about how Apex Focus Group works, how ordinary people like you and me can make money with focus groups and clinical research studies, and of course, how much these gigs pay. Most importantly, I wanted to know for sure: is Apex Focus Group legit?
So I dug deeper into what Apex Focus Group is all about and put the pieces together in this review. So if you're looking to make money with paid focus groups through Apex Focus Group, then read on and learn whether this opportunity is for you.
What Is A Paid Focus Group?
Before we dive into this review, let us first try to understand what is a focus group is and how it works.
A focus group is a group of people, or a panel, consisting of consumers, who are paid to give their feedback and honest thoughts about a brand, product, or service.
The company takes note of what was discussed during the focus group session. Taking into account the feedback from the panel during the session, the company tries to improve the product and work on its weaknesses. The product takes on a new and improved version when it is launched (or relaunched) in the market.
As you can see, conducting focus groups is an essential strategy for many companies. It helps them craft their products and services and improve on the weak areas. Paid focus groups provide companies a whole new perspective so that their products and services become more valuable to target consumers.
However, focus groups can take some time and work, so they outsource this task to third-party companies like Apex Focus Group.
Who Can Join Focus Groups?
Unlike other online jobs that require specific educational background, training, or certification, working as a panelist does not require much.
You would notice when you apply for most of these focus group websites that you need to answer a lengthy questionnaire, asking for your very specific information. That is because you are going to be matched to topics and studies that fit your profile.
For instance, some companies need parents as panelists because their products or services are geared towards kids. Others need panelists who own a smartphone, car, or other electronic devices because their company works within this niche or industry.
So, most people can certainly join focus groups, even ordinary humans like you and me. It always boils down to finding studies that match your profile, and this is what Apex Focus Group aims to do.
About Apex Focus Group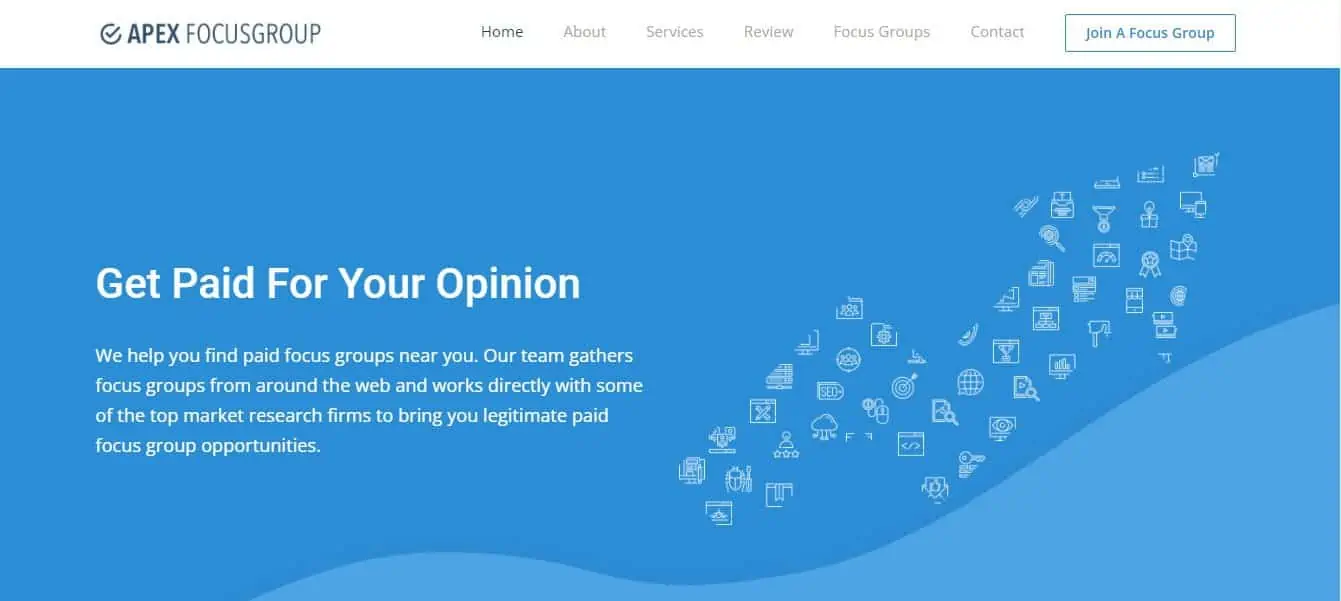 Source: Apex Focus Group
Apex Focus Group is a focus group company that acts as a middleman between brands and companies and people seeking extra money through paid focus groups.
According to its website, Apex Group offers access to more than a thousand top paying market research firms, over 800 eager participants, and operates in 41 states in the US.
Apex's services are centered in the market research industry, which includes:
Focus groups – directs eager participants to paying market research studies.
Clinical trials – connects people who are willing to get paid to undergo clinical research trials.
Paid survey panels – let your opinion count about products and services through quality panel opportunities.
How Does Apex Focus Group Work?
How do you make money by participating in paid Apex focus groups?
It's quite easy.
First, you sign up on Apex as a panelist.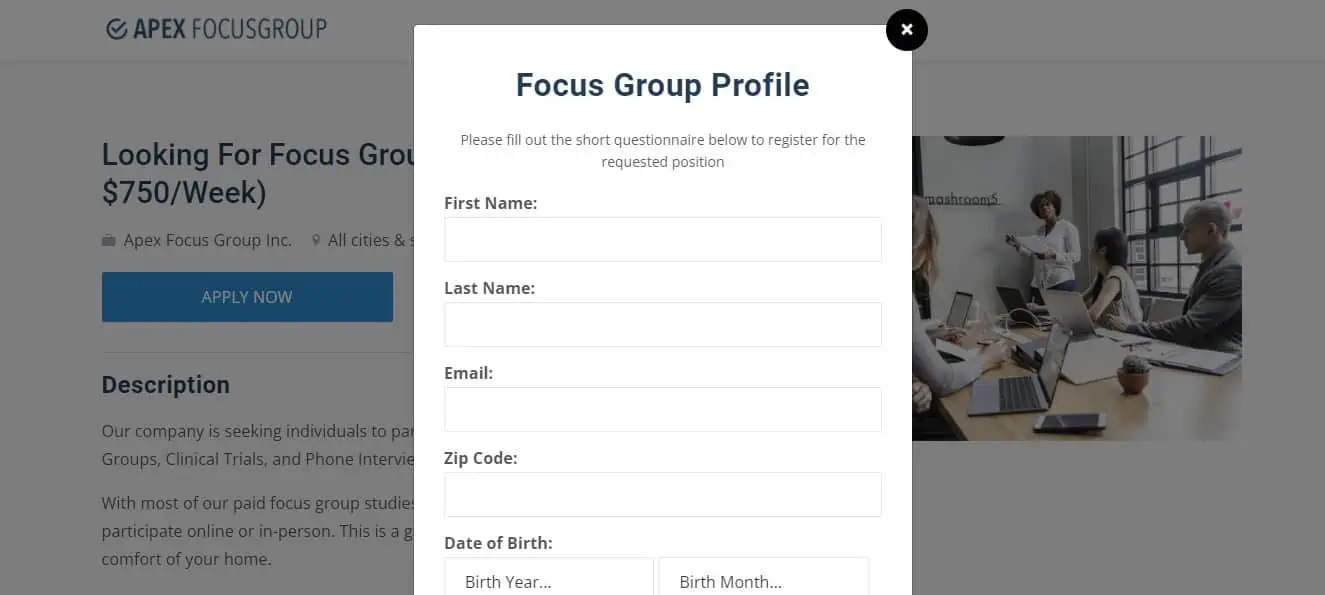 The company is always hiring participants for national and local paid focus groups, as well as people willing to do phone interviews and paid clinical trials.
When you join Apex, you will be asked to complete a questionnaire. This questionnaire not only asks for basic information like your name and birthdate but also about other specifics, such as:
Your smartphone
Number kids you have
Employment status
Education level
You must give honest answers because Apex Focus Group will try to match you with the appropriate paid focus groups and surveys.
Once you are registered as a panelist at Apex, you can start looking for paid focus group opportunities online. Simply click on the "Focus Groups" tab on the website's homepage, and you will be directed to a page where you can find paying market research studies.
Each Apex focus group opportunity indicates the topics, company, payout, location, age, and gender of the panelist that the market research firm is looking for. If you find one that fits your profile, you can sign up and wait to be contacted as a panelist.
For instance, if you want to sign up for the paid focus group by Plaza Research as seen above, you click on sign up and a new page opens where you can find the details of such focus group study.
For this one, the topic of the study is automotive, and the focus group study is conducted through phone interviews. This specific gig is a potentially lucrative study that pays $125 per hour. If you want to learn more before signing up, you should head over to Plaza Research's website.
Many focus groups posted on Apex would indicate that potential panelists are contacted on a first-come-first-served basis. This means that while you won't always qualify for each and every focus group or survey you apply to, it pays to be vigilant when new opportunities come up and sign up as quickly as possible.
Joining Apex Focus Group: Requirements
If you think making money with focus group opportunities is up to your alley, then you need to know if you really qualify for these focus groups.
Apex needs participants for these topics:
Child-related
Entertainment
Cellphones
Automobiles
Electronics
Food
Pets
sports
If you have an interest in any of the topics above, then you are welcome to apply at Apex.
Fortunately, you don't need to meet stringent qualifications to become a focus group participant. You only need the following to work on available Apex focus groups:
A smartphone, laptop, or desktop with a working camera
Stable internet access
Ability to comprehend and follow verbal and written instructions
Willingness to participate on any of the topics mentioned above
One of the best things about making extra money through Apex is that you don't need any experience, training, or specific educational background. As long as you qualify for these studies and show up on your sessions, then you're good to go.
Take note, however, of the following responsibilities:
How Are Focus Group Sessions Conducted?
According to Apex's website, the listed focus group opportunities can be participated online or in-person.
So if you're looking for flexibility by setting your own schedule, and saving time and money from the commute, online and phone studies are the way to go. But if the time and location are pretty convenient to you, then you could always go for in-person focus groups.
How Much Does Apex Focus Group Pay?
According to Apex, focus groups pay as much as $750 per week.
Per one-hour session is about $35 to $75, while multi-session studies make around $350 to $750.
This is a pretty standard rate for similar money-making ventures. But the question is, can you really make up to $750 per week as a focus group participant on Apex? You'll see later when you get to Apex reviews from users.
Is Apex Focus Group Legit?
One of the most crucial things you need to know when dealing with online jobs is legitimacy.
And right now, we are going to try to determine if Apex is indeed legit?
For one, the company's website does offer substantial information about the focus group jobs it offers. I like that it is transparent with its rates right away, so you would know if you'd like to sign up for that specific focus group opportunity.
However, the company does seem to lack in social media presence. Plus, the Apex BBB profile says the company is not accredited by the Better Business Bureau.
From those observations, it's hard to ascertain whether Apex is legit. Some people say that they did successfully secure some focus group opportunities through the site, but there are also others who said that they had to wait forever (or are still waiting) to become panelists for focus groups.
Apex Focus Group Pros and Cons
Are you interested in making money from paid social clinical studies and focus groups? You're probably wondering if Apex is the best site to do this. I've listed down the pros and cons to help you make the right decision.
Pros
Good pay when hired as a panelist. Single sessions charge at least $35 an hour, while multi-sessions earn you a couple of hundred bucks. Users who were contacted for clinical studies even made at least a thousand dollars.
Works with the top market research firms. Joining Apex allows you opportunities from legit focus group sites.
Flexibility. Apex offers a wide range of market research services, and a lot of them allow you to work on your own schedule. You could join an in-person focus group or take an occasional online survey whenever your schedule allows.
Cons
The low success rate for qualifying for paid studies. A lot of users complain of no focus groups received especially if they do not match the profile needs of available studies, or if they live far from Apex offices (since they won't be able to attend in-person focus groups).
Spams your inbox. Some users are also not happy about receiving too many emails in a day, and many of these emails are jobs they don't even qualify for.
Lack of customer support. Apex's customer support team is hard to reach as they don't have a hotline or social media accounts.
Apex Focus Group Reviews
I understand that it's not enough to judge any online company based on your personal impressions, so I wanted to feel the pulse of those who have actually used Apex to find real focus groups opportunities.
Since Apex's presence is virtually non-existent in social media, and the company is not widely discussed on Reddit, I took my search for Apex reviews on Glassdoor, where I have noticed a good mix of positive and negative feedback about this company.
Let's start with the good ones, shall we?
First, this user said that while he doesn't fall within the demographic profile required for most studies, the ones that he did pay promptly. Also, most of the market research he participated him earned him cash or gift cards.
Many users also said that they enjoyed doing something easy and fun, and then making decent money afterward. A few examples would be this person who got invited to become a panelist for a tax software development project. He said he got paid right away through PayPal after the session.
But some people do have complaints about Apex Focus Group as well. For instance, one person mentioned that he did not have enough time to squeeze in a group meeting into his schedule because he was not given enough lead time.
Others said they experienced worse. This person said that Apex is nothing but just a lead generation company that's after people's data. There are also reviews pointing out to massive spam they receive on their inboxes and non-payment for surveys.
Other Easy Ways to Make Money
Swagbucks – Earn cash by answering surveys, watching videos, and searching the web using the Swagbucks app. Receive a $5 bonus for joining here.
MyPoints– MyPoints is another reputable survey site that pays you for completing quick surveys. Receive a $10 Amazon gift card for joining and using the site for shopping.
Ibotta– Earn cash back on items you regularly buy at the grocery store, such as milk, bread, vegetables, fruits, meats, toilet paper, or toothpaste. Join Ibotta for FREE and receive up to a $10 bonus after scanning your first grocery receipts. Read: Ibotta Review
Rakuten– Rakuten is a FREE app or site that pays up to 40% cash back for eligible online purchases. Receive a $10 welcome bonus after making your first $25 purchase. Read: Rakuten Review
Related Post: 30 Companies That Send You Products To Review For Free
Apex Focus Group Review Frequently Asked Questions
Is Apex legitimate?
Most of the Apex Focus Group reviews say that this company is legit. It does offer real focus groups that pay. However, you shouldn't expect to qualify in every focus group listed on the website. Some people never qualify at all.
What is it like working for Apex?
Based on most reviews, working for Apex is fun, easy, and interesting. You get contacted for appropriate paid focus groups, and you make money just by giving your honest thoughts and review. You could also choose between an in-person group, or do it over the phone or online.
Do focus groups actually pay?
Yes, focus groups actually pay, and when you qualify as a panelist, you could earn good money. But with any online opportunity, it pays to research the company well, and make sure that it is legit so you don't waste your time and effort.
How do I join a focus group and get paid?
There are numerous focus group websites you can apply to. I would say join as many as you can handle. If one market research company does not have anything for you at the moment, then you still have a few other options if you've signed up for other focus group companies.
Are online focus groups legit?
Yes, a lot of focus group companies do conduct online focus groups, as in the case of Apex Focus Group. You need a smartphone, laptop, or desktop with a camera to be able to join the sessions online.
Is Apex Focus Group Worth It? Should You Try It?
For me, Apex Focus Group is worth it, especially if you have the patience to wait until you're accepted to clinical studies and focus groups. The pay is great and prompt, so it's always a good option to make extra money.
But this is just my warning: you don't want to pin all your hopes on Apex, or other similar companies, for that matter.
I say this because signing up even for a respected market research company does not guarantee you a stable income. You might qualify on a few surveys and studies, but you certainly won't be eligible to join each and every one of them. This means that your income is quite limited to only those that you qualify for.
So my advice is to keep your doors open for focus group opportunities as they do tend to pay well if you get accepted. But while waiting for that invitation email to become a panelist, I suggest looking for other opportunities online. You could try learning high-income skills so you can make a full-time income without putting all your hours at work.
More Ways to Make Money Online
Get Paid to Proofread Documents
Start a Virtual Bookkeeping Business