You can make money online by chatting with strangers or as a customer support agent. Here are 24 legit companies where you can get paid to chat.

Do you have the flair for carrying interesting conversations with strangers? Are you highly communicative and have the ability to help people sort out their problems? If you say yes to both questions, then you can get paid to chat in your free time.
It's definitely possible, and there are a few different ways that you can do it. In this article, we will cover the different companies and platforms where you can get paid to chat.
I have divided them into two groups: one is for companies where you can find a customer service role, and the other is where you get paid to chat with strangers online.
This post contains affiliate links. I may earn a commission at NO extra cost to you for your purchases made through these links. Disclosure.
Skills and Requirements to Get Paid to Chat Online
I know that the tasks and responsibilities in these two roles are far different from each other. One aims to help with customer queries and troubles, and the other aims to provide virtual companionship or friendship to lonely people (particularly with men).
If you want to start making money online chatting, then here are the basic skills and requirements that you should meet:
You possess strong communication skills
You have a high-speed internet connection
Related work experience may be necessary, especially for the chat agent role
You are internet and tech-savvy, especially if you want to apply for a technical support position
PayPal account or bank account to receive your income
You have a reliable laptop or computer, nd a noise-canceling headset.
Related:
Get Paid to Chat as a Customer Support Representative
Now let's start exploring the different ways to get paid to chat, starting off with companies looking for chat support representatives and tech support agents.
1. FlexJobs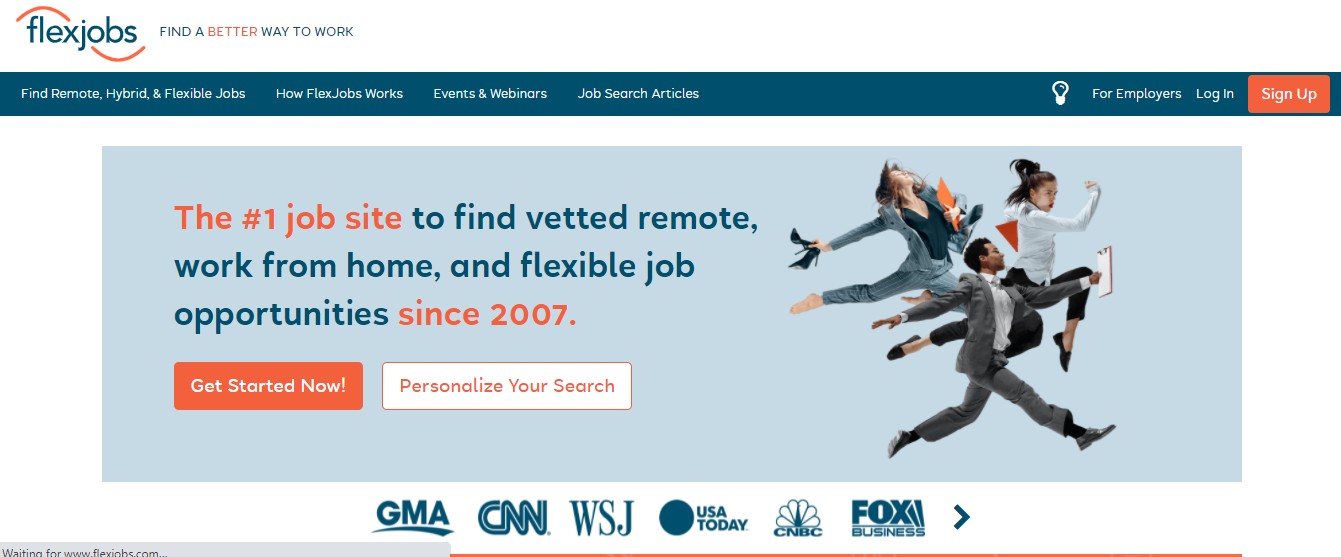 FLexJobs is actually a jobs site for all sorts of freelance jobs, such as freelance writing, proofreading, virtual assisting, and more. There are also remote online chat jobs listings on the site so it's worth checking out.
While I normally advise steering clear of sites that charge a fee for access to their listings, I think FlexJobs is worth it.
FlexJobs carefully vets all job posts on the site, so you are guaranteed 100% legitimate job listings. Their membership also only costs $14.95 per month.
Flexjobs is offering readers of This Mama Blogs an exclusive discount of up to 30 percent off with the promo code FLEXLIFE. Go here to get this special.
2. Amazon Chat Support
When it comes to online chat opportunities, Amazon is one of the top places to check out.
Amazon hires people from over 130 locations worldwide. You can get paid to chat by Amazon by answering customers' questions, solving their problems, and overall delivering customer satisfaction by email, chat, or phone calls.
Amazon's chat agents work from home, and there's always the potential of getting hired full-time if you do your job well. Look out for chat jobs on Amazon during holidays, such as Black Friday sale, because they tend to hire more people online during these busy seasons.
According to Glassdoor, Amazon work from home customer service representatives earn around $13 per hour.
Related:
3. Premium.chat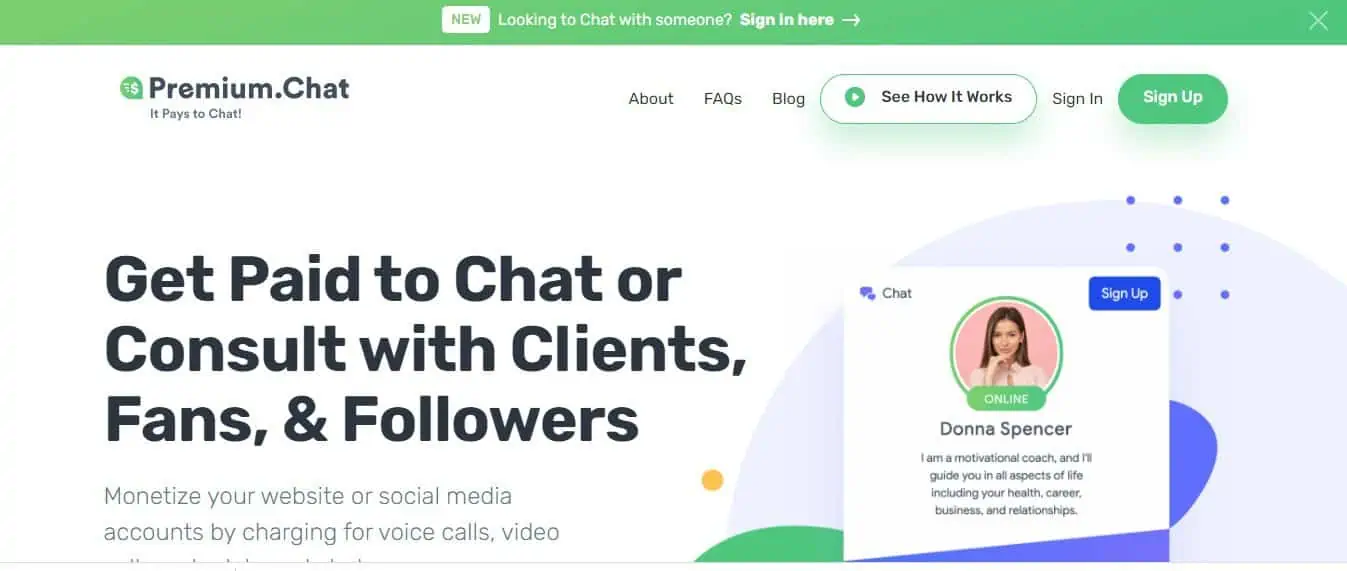 Another great way to get paid to chat is to offer your consultancy services through Premium.chat.
Premium.chat is a platform where you can get paid to talk via text chat, video, or phone calls. It is a great place to offer paid consultations with clients, especially if you are an influencer, tech support, coach or consultant, tutor, a medical or legal practitioner, or even a model.
The best thing about Premium.chat is that you can set your own flat rate or per-minute rate for calls, texts, or video calls. Plus, you can promote your services by installing a chat widget on your website so that clients can easily connect with you.
You can also set your own hours by adjusting your availability whenever you need to. This way, you can be your own boss and earn money in your free time.
4. LiveWorld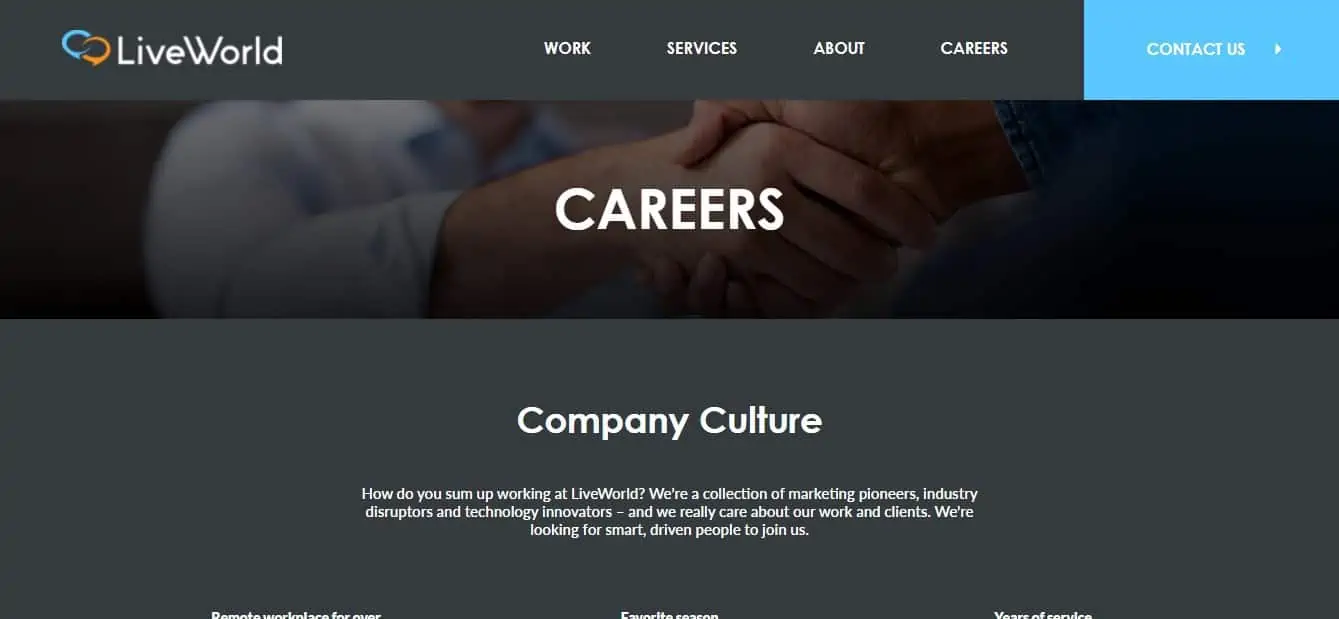 LiveWorld is a digital agency that hires part-time work-from-home chat agents.
Chat agents on LiveWorld mainly deal with social media moderation as well as customer service, so it helps to have good communication skills, fast typing skills, and the ability to multi-task.
LiveWorld offers competitive rates to its home-based chat support agents, plus a handsome benefits package that includes 401K contributions, health insurance, and paid time off.
Apply as chat support representative at LiveWorld here.
5. Apple at Home
Apple offers online chat jobs for people who can provide customer support as an At Home Advisor. As Apple's chat agent, your main role is to answer customers' questions regarding the brand's products and services and provide technical support.
One of the best perks about being one of Apple's chat agents is that you will be provided with an iMac to use for the job, plus an internet allowance. You'll also receive employee discounts, paid vacation, and get enrolled in a career development program.
Apple is one of the best companies that provide equipment to workers.
According to Glassdoor, Apple at Home Advisors get paid an average of $20 per hour.
6. SiteStaff Chat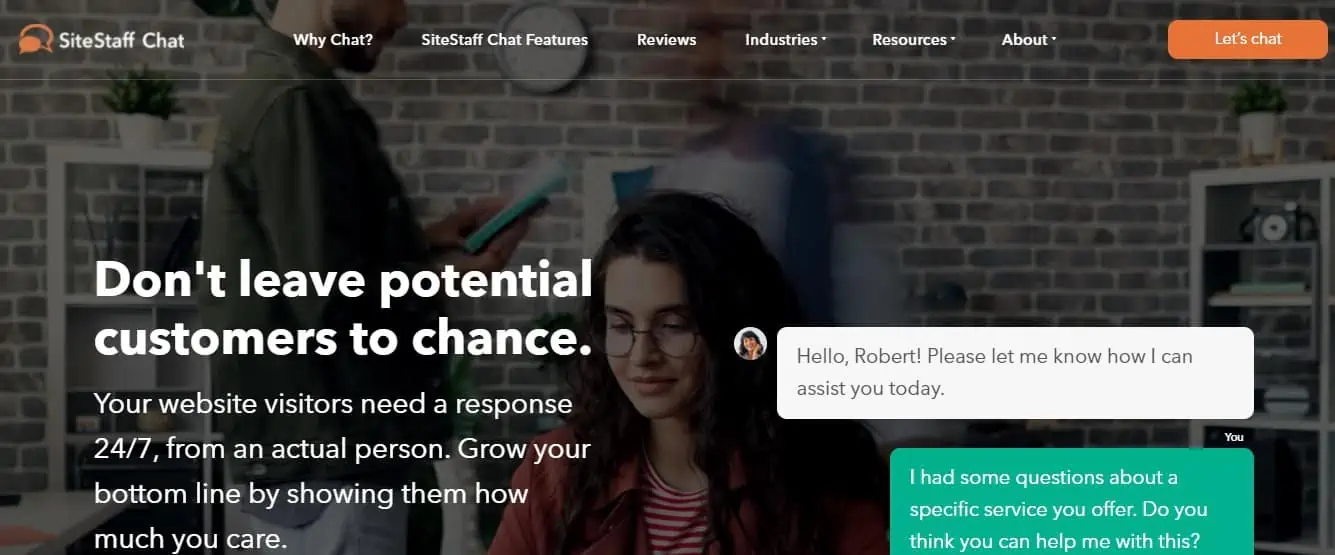 SiteStaff Chat offers live chat service for businesses.
The company is always accepting applications for chat agents. If you want to become a chat host at SiteStaff Chat, you must be able to type at least 65 WPM with proper punctuations and spelling and can chat in 3-4 different conversations simultaneously.
This position pays an average of $10 per hour.
7. Outplex
Outplex is a digital messaging and voice outsourcing company. It hires chat agents to directly communicate with customers via email or live chat.
Outplex is one of the best places to get paid to chat, especially if you don't like talking over the phone.
As a chat agent, you need to have excellent writing skills, be able to multi-task and be a fast and accurate typist. Candidates with previous experience working for a call center company are also highly desirable.
As for rates, Indeed reports that Outplex pays its chat agents an average of $13 per hour.
You can apply to Outplex here.
8. Accolade Support
Accolade Support is a company that provides call center services and hires US-based chat agents. Accolade's chat services include helping customers with their concerns from tracking orders to troubleshooting.
Keep in mind, though, that as with most home-based call centers, you are going to be hired as an independent contractor. This means that Accolade Support will not provide you with employee benefits and packages.
But the great thing about being an independent contractor is that you can get paid to take on other chat jobs and have more control over your own schedule.
Accolade Support does not disclose how much it pays its agents, but according to Glassdoor, it is an average of $19 per hour.
9. Support.com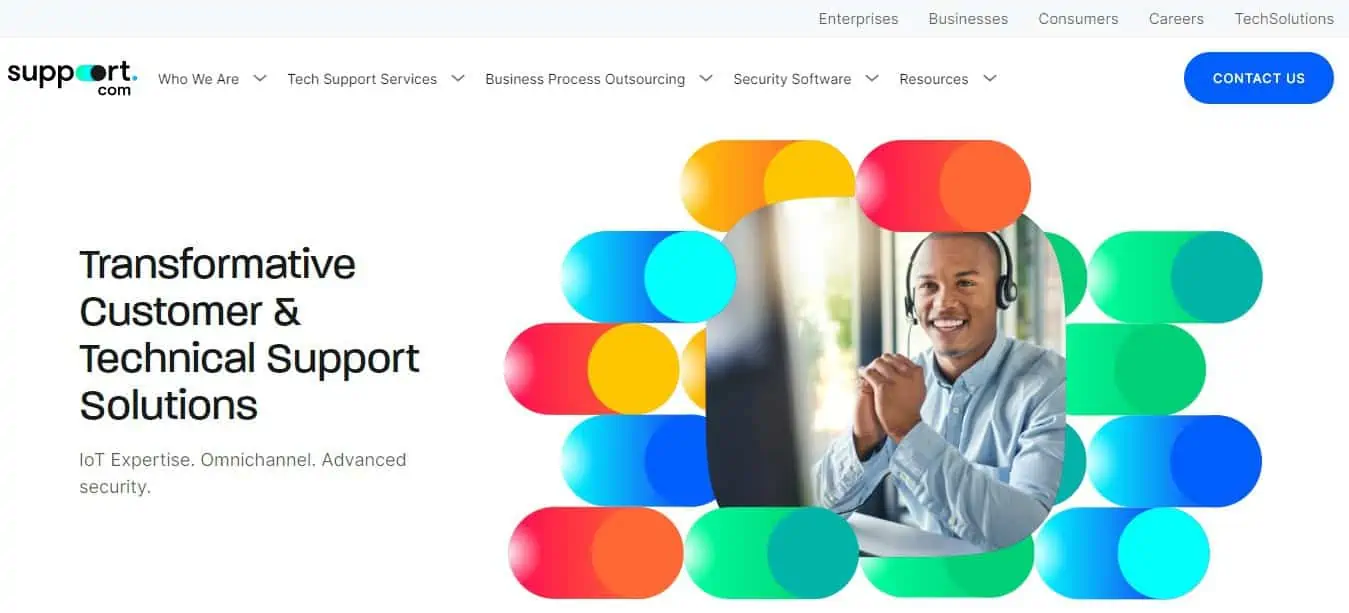 Support.com is a company that provides technical support to customers. So if you have a lot of technical knowledge on things like computers and smartphones, then you can be a chat agent here.
This is a fully remote company, which means you'll also be working from home 100% of the time. But the good thing is, you'll be considered an employee, not an independent contractor. You'll have a generous employee package that includes paid life insurance, bonus opportunities, paid holidays, and more.
According to Payscale, client support specialists earn an average of $12.18 per hour.
10. Arise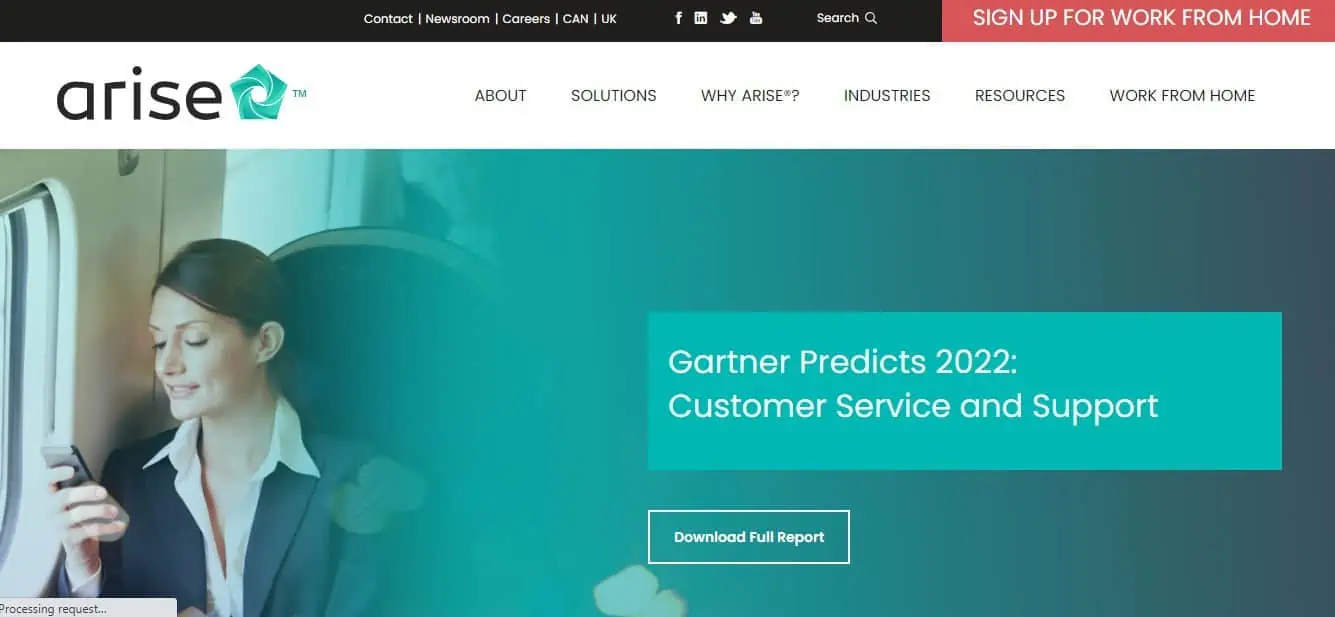 Arise is a customer care company that provides outsourcing solutions to its clients. It's also a legit company where you can get paid to chat.
Arise offers online chat jobs to home-based customer service agents. Ideally, you are bilingual, an excellent problem-solver, and have good communication skills.
You don't need a degree to work for Arise. However, you need to be committed to finishing a virtual certification course to ensure that you'll provide excellent customer service.
Arise pays $9-$18 per hour.
Read: Arise Review
11. Asurion
Asurion is a company that provides tech services, protection plans for gadgets and appliances, and processing of claims. It has over 25,000 employees from 55 various locations around the world.
If you are looking for a legit customer service job and get paid to talk to customers, then Asurion is a good place to check. The company provides a generous employee benefits package which includes health insurance, 401(K), and flexible schedules.
As for the job, Asurion has literally hundreds of openings for chat support representatives. If you are an expert in repairing devices, you could pretty much become an asset to the company because it offers repair and troubleshooting services to customers.
The average rate for Asurion's customer service representatives and tech support agents is $20 per hour, but bilinguals do get a slightly higher rate.
12. Presto Experts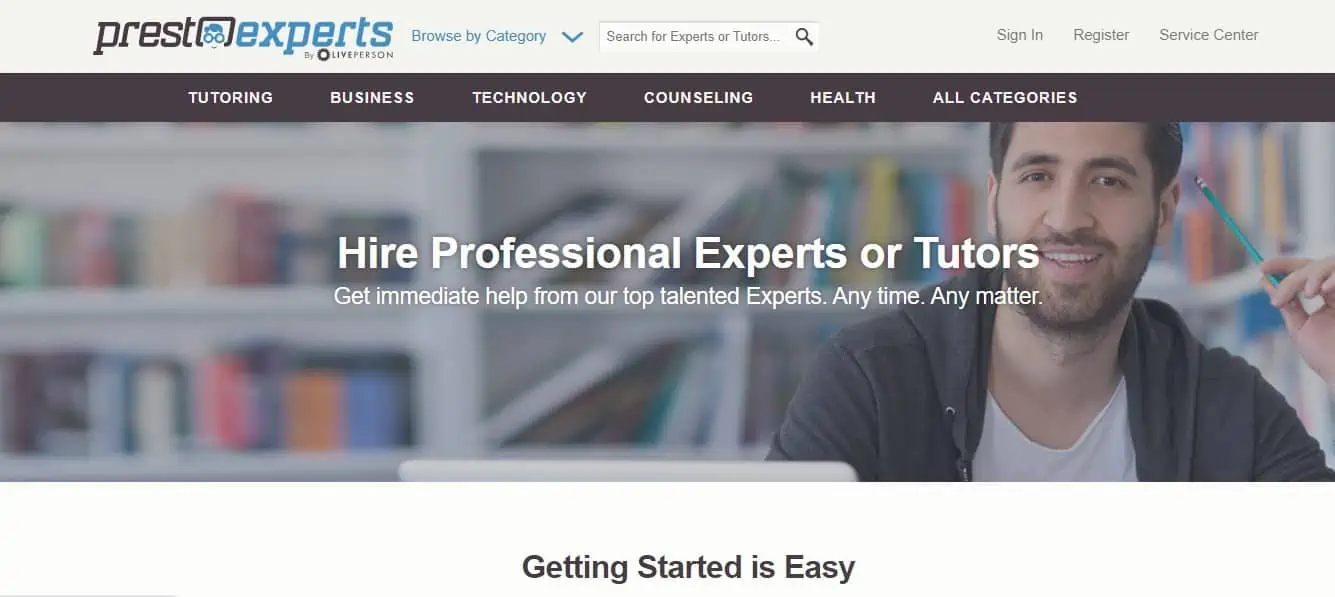 Put your professional expertise to use by helping people who need it, quickly and easily, through Presto Experts. In this platform, you can get paid to chat with customers who need your advice or counsel through chat or email.
Presto hires professionals in technology, design, health, business, tutoring, and more. What I like about Presto is you can set your own rates. Presto will direct bank transfer your earnings once you've collected at least $50 in earnings.
13. The Chat Shop
The Chat Shop is a company that provides live chat services to brands. As such, The Chat Shop hires live chat agents to respond to customer queries. The company has headquarters in the UK and US, but its operations are fully remote.
So if you love to help people and chat online, apply to the Chat Shop as an agent and make extra money.
To become an agent at The Chat Shop, you must be a native English speaker, own a dual monitor set up, possess fast and accurate typing skills, and be able to work 16 to 32 hours per week. The company will train every qualified agent before they start.
As for rates, agents earn an average of $11 per hour.
14. JustAnswer
Similar to Presto Experts, JustAnswer is also a platform where you can get paid to chat with customers and answer their questions. The site aims to connect people with experts from different fields who are available to chat and answer questions as quickly as possible.
So with JustAnswer, you are going to use your professional expertise to help people via online chat. Customers can connect with you through text chat, email, or call over the phone.
You and the customer will go with the conversation back and forth until your answer is accepted. The rate for each accepted answer is $5 to $90, and you'll earn 20% of the payment if you're new to the platform.
However, you make as much as 50% of the rate if you maintain high ratings. You can withdraw your earnings to your PayPal when you've reached $20.
15. Working Solutions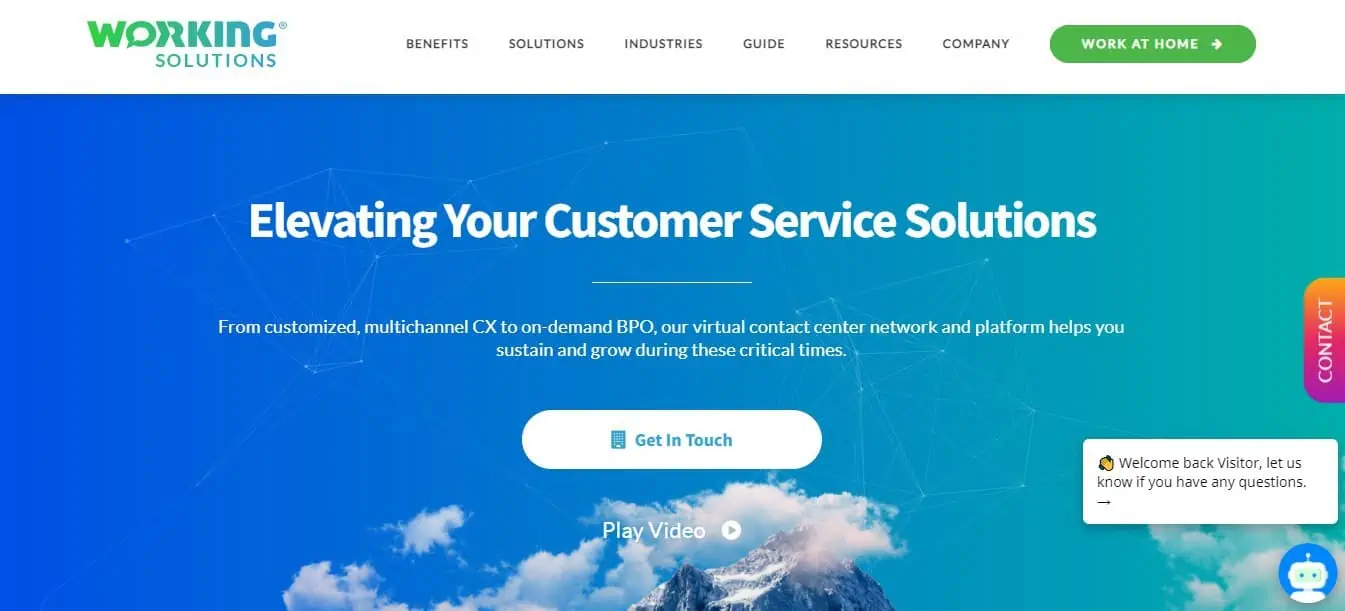 Another great way to get paid to chat and make extra money online is to become a customer service agent at Working Solutions. This is a company that provides call center services to businesses, and it is looking for agents to chat online with customers.
You can make more money working from home as an independent contractor for Working Solutions. This means that you can make as much or as little as you want because you can set your own schedule.
You earn money based on the program and incentives. Some will pay per talk minute, others per sale that you make (or even a combination of both). But according to Working Solutions, its agents make an average of $15 per hour.
16. VIPDesk
VIPDesk is also an excellent company where you can get paid to chat online. This is a customer care company that works with iconic brands. It hires customer service representatives to work as brand ambassadors, working full-time or part-time from their homes.
The role of brand ambassadors may include interacting with customers via social media, SMS, email, and phone. You may also need to provide troubleshooting assistance when necessary, so technical knowledge is preferred.
This job pays an average of $14 per hour.
Get Paid to Chat with Strangers and Lonely People
YES, there are many lonely people in this world who are willing to pay you to talk to them!
If customer service roles do not appeal to you, you can still get paid to chat with strangers and lonely people. In most of these online chatting platforms, you become a virtual friend or chat operator where you get paid to talk and listen to your customers.
17. FriendPC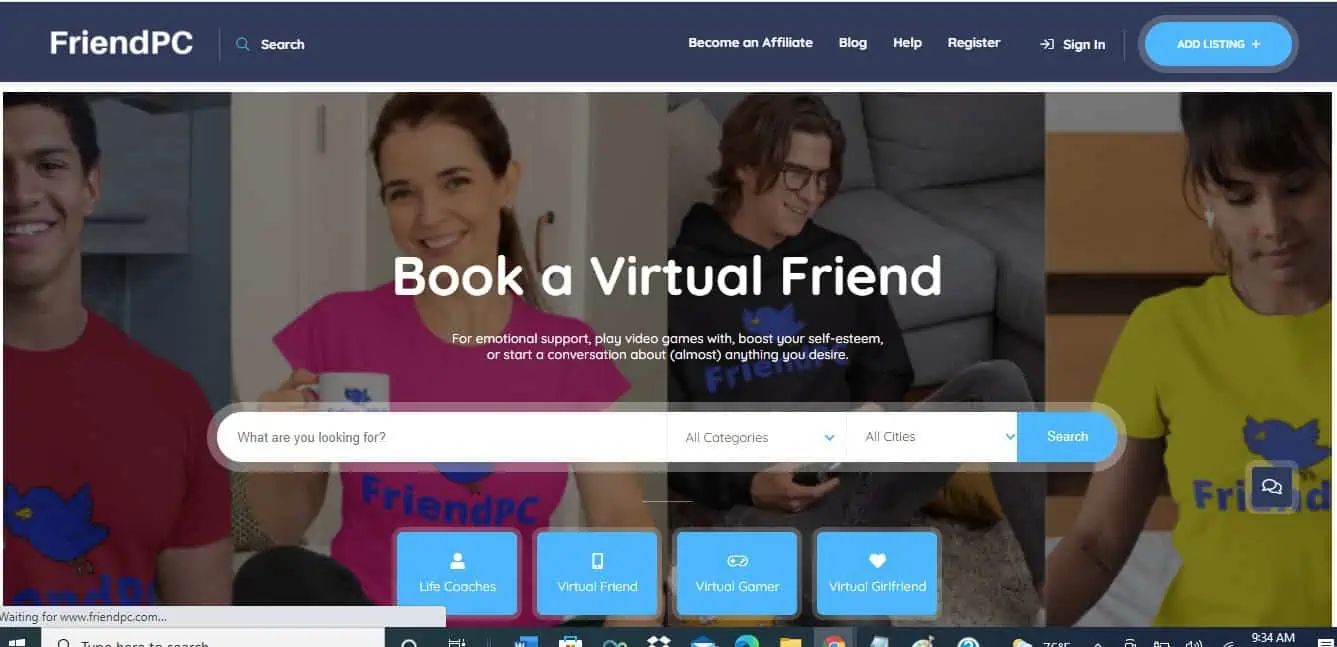 FriendPC is a well-known online chat service that allows you to earn money from forming a virtual friendship with another person. As a virtual friend, you become an online companion and get paid to talk to lonely people.
You can start to earn money on FriendPC by signing up and getting the completely free Starter Package. With this, you can list your friendship services, which by the way, are purely platonic and non-sexual.
You can set your own rates and decide on the services that you want to offer. For instance, you can meet up in person and become your friend's tour guide of the day, take a class with him or learn a new skill.
18. Rent A Cyber Friend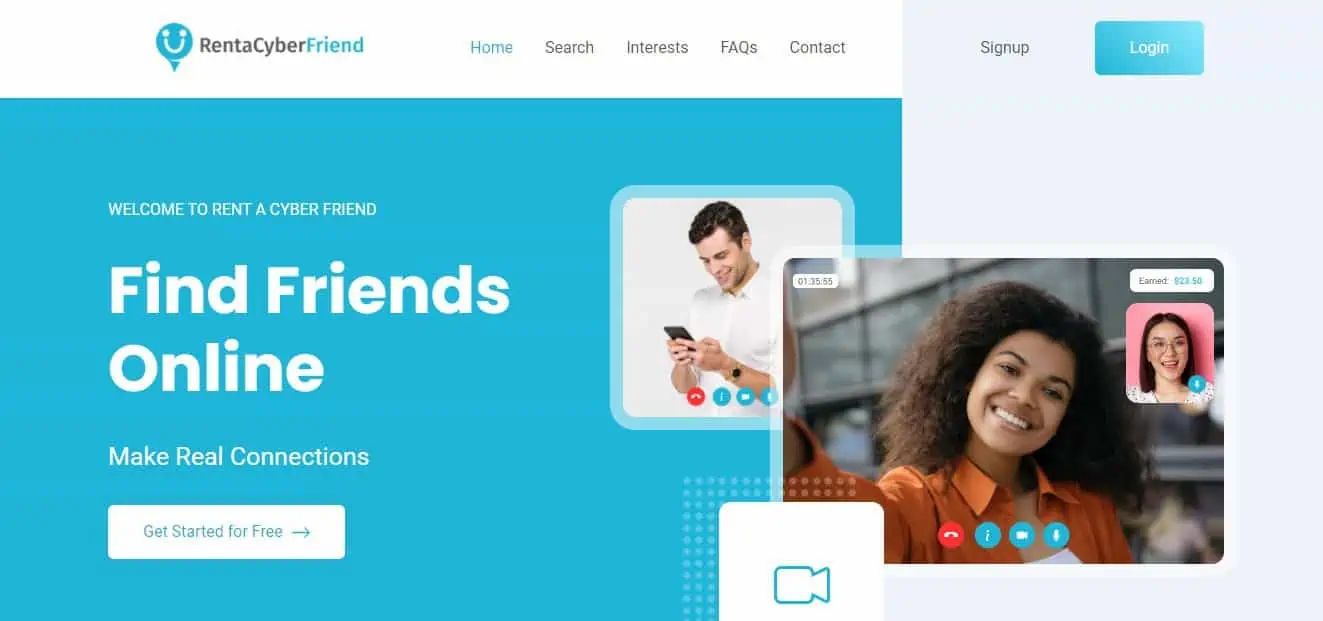 RentaCyberFriend is another legit platform that allows you to earn money when you chat online. The way it works is super easy. You sign up for an account, list your hobbies and interest, and search for friends. From here on, you can connect with others and start getting paid when you talk to lonely people.
The requirements for joining this platform are extremely basic. You just need to be at least 18 years old and have a stable internet connection. RentaCyberFriend also prefers friends who are able to talk via a video call, so a high-quality camera is also a requirement.
You can set your own rates, but the average is around $20 per hour. However, you'll see some friends charging upwards of $100 per hour.
But really, the best way to make extra money on platforms like these is to be genuine, empathetic, and being a great conversationalist. This way, your friends will keep availing of your services and you're guaranteed to earn money each time.
19. RentAFriend
RentaFriend is a friendship website where you can get paid to chat with your virtual friends. Your friends pay you for your companionship, whether online or in person. Friendships on this platform are strictly platonic.
Unlike other friendship sites that are strictly online, RentaFriend allows for in-person meet ups. You may get paid to talk with your new friend while he is exploring the city, invite you to a work event or social gathering, or come to classes and outdoor events together.
All members need to pay a small fee to join the platform and this is how the site earns money. So when someone books you for a friendship, service you get to keep all your income at no extra cost. You can set your own rates based on the services or events you offer, but most friends start at $10 per hour.
Related: RentAFriend Review
20. Chat Recruit
Chat Recruit is a UK-based company that pays people to chat online. Unlike friendship websites, Chat Recruit is a little bolder in that it allows adult-themed conversations. So if you are game with this kind of side hustle, then you can apply as a chat hostess.
To get paid to chat online, register and offer the following services: adult phone chat, adult webcam chat, and psychic phone chat. Just remember to have a dedicated phone line, a stable internet connection, and a high-quality webcam before signing up. Submit your online application and once approved, you can start making extra cash right away.
You can set your own rates based on the services you offer and earnings reflect real-time on your account. Also, you get all your income (without any fees on your end) or The company could transfer your income to your bank account monthly or bi-monthly.
21. Phrendly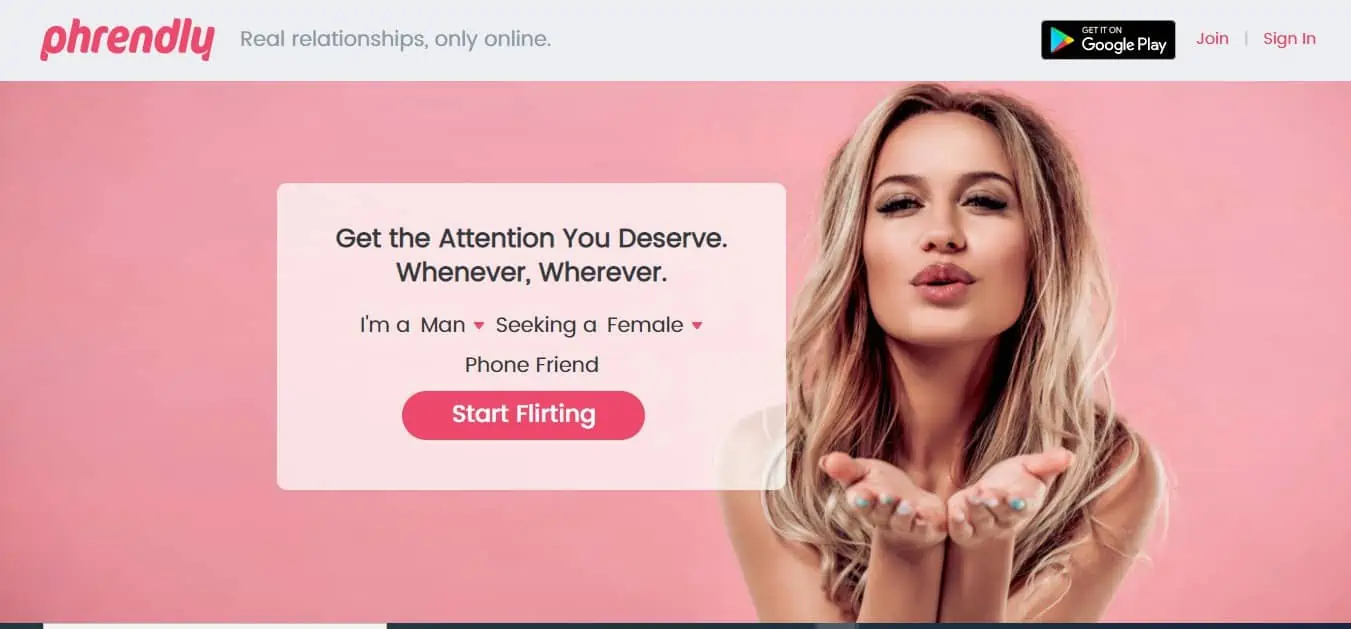 Phrendly is another great site and a chat app where you can get paid to chat. This site allows you to earn extra cash by being a "phrend" and talk to lonely people in your spare time.
Phrendly works by giving people the chance to buy virtual drinks. When someone shares that drink with you, then you are supposed to have chat sessions that typically last for a few minutes. If your friend wants to keep talking, then he'll have to refill your drinks so you can continue your conversation.
Chat sessions may take on a flirty theme, so be sure you know this before signing up. If you are comfortable talking to lonely guys, then Phrendly is a good site to join. A text chat costs $0.35 while you can set your own rates for phone and video chats. Friends can also send you virtual cash gifts.
You get to keep 70% of your video and chat income and 90% of your gifts, while Phrendly keeps the rest.
Related: Phrendly Review
22. MyGirlFund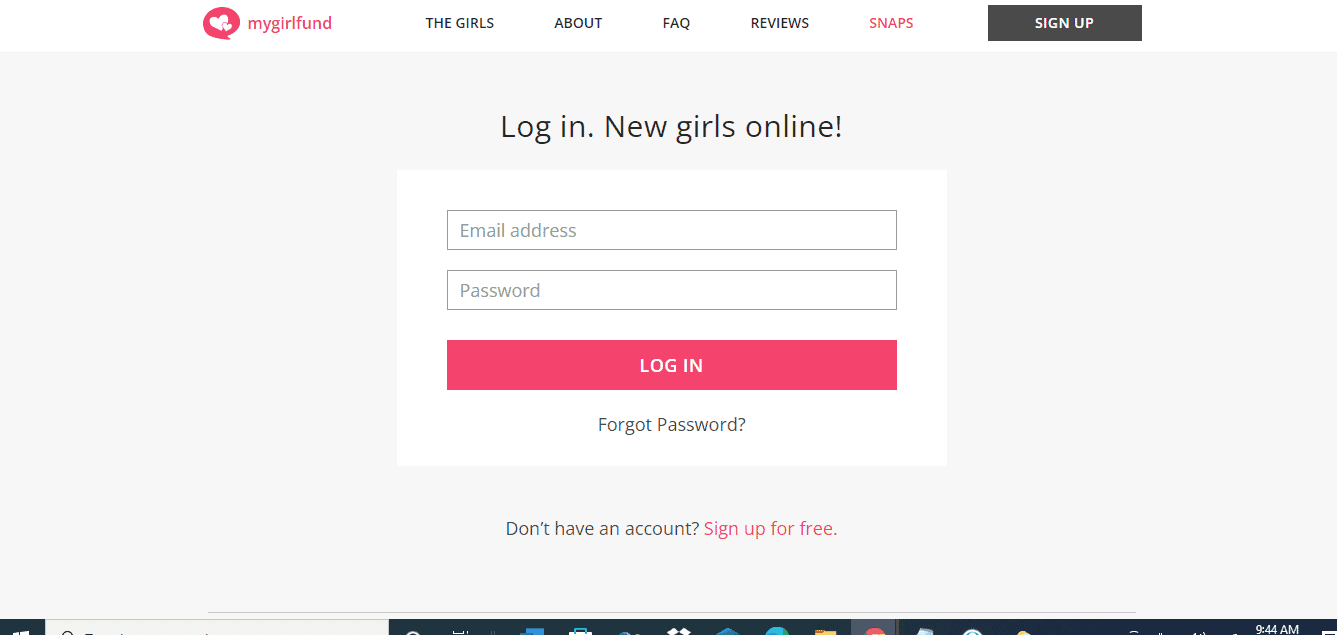 This may not be for everyone but you can get paid to flirt online. Yes, you can turn your charms into extra cash by indulging lonely men in an online chat with you on MyGirlFund.
On MyGirlFund, you get paid to talk to lonely people who need someone to flirt with. Lonely men are willing to part with some of their money if that means having someone to chat with, and that someone could be you. All you need to do is sign up, set up your profile, and connect with lonely guys.
The best part is you get to decide who to chat with and how much to charge for your time.
23. Flirtbucks
If you're looking for more options to get paid as a text chat operator, then you should definitely look into Flirtbucks. This is a site where chat hostesses get paid to talk with lonely men, so if you are a charming conversationalist and have excellent communication skills, you might want to sign up here.
On Flirtbucks, you get paid to talk, and you're not expected to perform. If you think a conversation is getting rude or distasteful, then you can end the chat without having to explain anything.
You can earn money on Flirtbucks through video chat and text chat. Each text chat costs 10 cents per minute while a video chat costs 40 cents per minute. The longer you keep your customer in the conversation, the more money you'll make.
Related: Flirtbucks Review
24. ChatOperatorJobs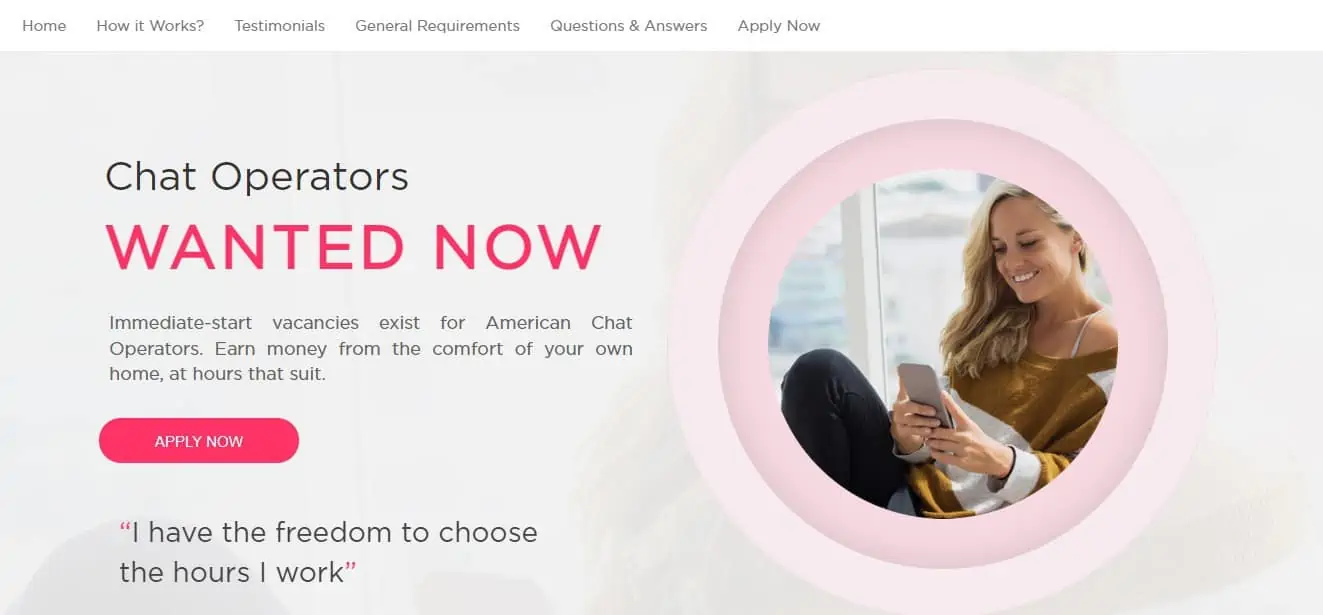 Chat Operator Jobs is a website that advertises openings for chat operators, people who respond to adult-themed messages. With these jobs, you can work flexibly and independently, allowing you to make as much money as you like.
The site guarantees a steady stream of income, so if you're up to adult online chat, this is one of the places to check out.
According to the website, each answer pays you $0.20. You can use your mobile phone, laptop or desktop to send messages.
This job does not require experience, but you must be a pretty quick and accurate typist, you are at least 23 years old and have an active PayPal account to get paid.
25. Texting Factory
As the name implies, this platform focus mainly on text chatting, so if you're not comfortable talking to people over the phone or video calls, then this is the place for you.
On Texting Factory, you will be given different roles, depending on what your customer wants. Texting Factory claims some of their clients just want to talk about everyday life such as culture, work, and relationships.
According to its website, chat operators on Texting Factory earns an average of $300 to $400 per week, depending on the time you're willing to commit to the job.
Get Paid to Chat Frequently Asked Questions
Where can I chat and get paid?
There are numerous places where you can get paid to chat. In customer service, you can check out Amazon, Apple, and Outplex. But if you want to talk to lonely people and make money, then you should check out Phrendly, FriendPC and Flirtbucks.
Can you get paid to chat?
Yes, you can apply to companies that hires chat agents, customer service representative, and tech support. Alternatively, you can become your own boss and work as a virtual friend or chat hostess.
How do I get paid for a conversation?
You can join platforms where you can get paid to talk, such as FriendPC, RentaFriend, Chat Recruit and Texting Factory. Be warned though that in some of these places, you are to indulge in adult-themed conversations.
Can you make money talking to lonely people?
Yes, a lot of lonely people turn to online chat to pass the time or connect with another individual. They might be looking for a virtual friend or online companion, while others want to meet someone who can carry casual and flirty conversations.
Conclusion
Ask any personal finance expert, and you'll likely receive advice about diversifying your income. We've all heard it before: do not place all your eggs in one basket.
Fortunately, making a second, third or fourth stream of income is easier nowadays, thanks to online jobs that pays to chat.
You could be fully employed by a company and enjoy numerous benefits, or you could run your own chatting business by joining a couple of the platforms mentioned above. The bottom line is, there is money in chatting if you know where to look.