Want to start a business on Etsy but not sure what kind? Etsy is overwhelmingly huge, so knowing what to sell exactly gives you a good head start in running an online business on Etsy. I've gathered a list of Etsy shop ideas that might inspire you on what kind of store to run on this platform.
But first…
What is Etsy?
Etsy is a global marketplace where people can buy and sell unique, handcrafted and vintage products. It is a fantastic place for artists and crafters to sell their products.
According to Backlinko, there are over 4 million active sellers on Etsy, while there are 81.9 million active buyers. The site made over $10.28 billion in gross sales in 2020, which is double the sales that were made in 2019.
As you can see, Etsy is a huge eCommerce platform, and it continues to grow. So if you have unique, handmade, and vintage products that you want to sell, Etsy is the best platform for them. Here are tips on how to sell on Etsy successfully.
Etsy Shop Ideas: How to Choose Products to Sell
There are literally millions of Etsy businesses right now, so it's important to identify what sells best on Etsy. So, if you were asking yourself "what should I sell on Etsy?" then aim to answer the following questions:
Is there a demand for it?
First and foremost, you need to know if there are people who would want to buy your products. It makes no sense to create something and sell on Etsy, hoping that someone would put in an order. You must first identify if there's a market for your product before you actually open the shop.
One good way to know if there is demand for the product you have in mind is to visit Etsy and search for those said products. If you can see people selling and buying those, and the numbers are looking great, then chances are, your product is going to be saleable. You just now have to find a way to set your product apart from the competition, which now leads us to the next point.
What does your competition look like?
While you're on Etsy and searching for products that you want to sell, you want to check out other Etsy shops offering the same items. Don't fret if there are other stores selling the same product that you have in mind, because Etsy has a lot of things to sell. But if you have a few competitors, then it's a good Etsy shop idea. Remember that having some competition is healthy for the business; you just have to study in-depth how to beat them.
Will you have enough supplies for raw materials?
Another important thing to consider when running an Etsy business is the accessibility and supply of raw materials. If you are making things to sell on Etsy, you'd want to identify sources of raw materials beforehand to make sure you'll have enough to create your products. You also want to source quality materials in bulk but at cheaper prices to increase your profit margins.
Improve Your Etsy Shop With eRank Tool
Etsy has its own algorithm, and using a tool like eRank helps you better understand how Etsy works and evolves.
Etsy Rank or simply eRank can help your Etsy shop in so many ways, such as:
Optimizing your Etsy website by improving listing using the right tags and keywords
Research trending keywords
Identify your top competitors and their statistics
With eRank, you discreetly spy on your competitors. You can identify their best practices and perhaps take a leaf from their books. You don't want to copy what they do, but instead, get some inspiration from their methods and input your own tweaks.
eRank comes in free, basic, and pro plans. So if you're thinking of opening an Etsy shop, think of eRank as one of the best weapons you can have in your arsenal.
40 Etsy Shop Ideas: What Can I Sell on My Etsy Shop?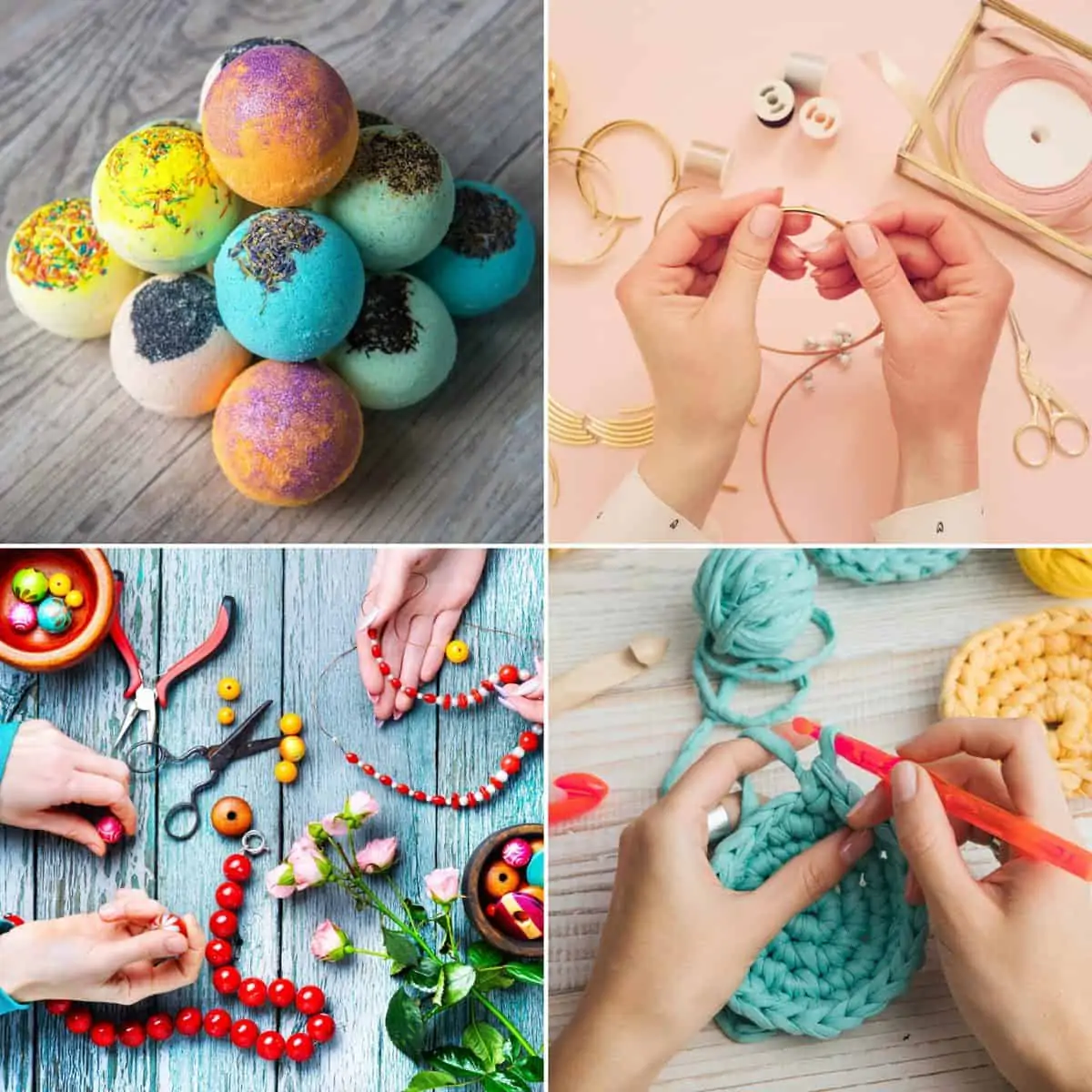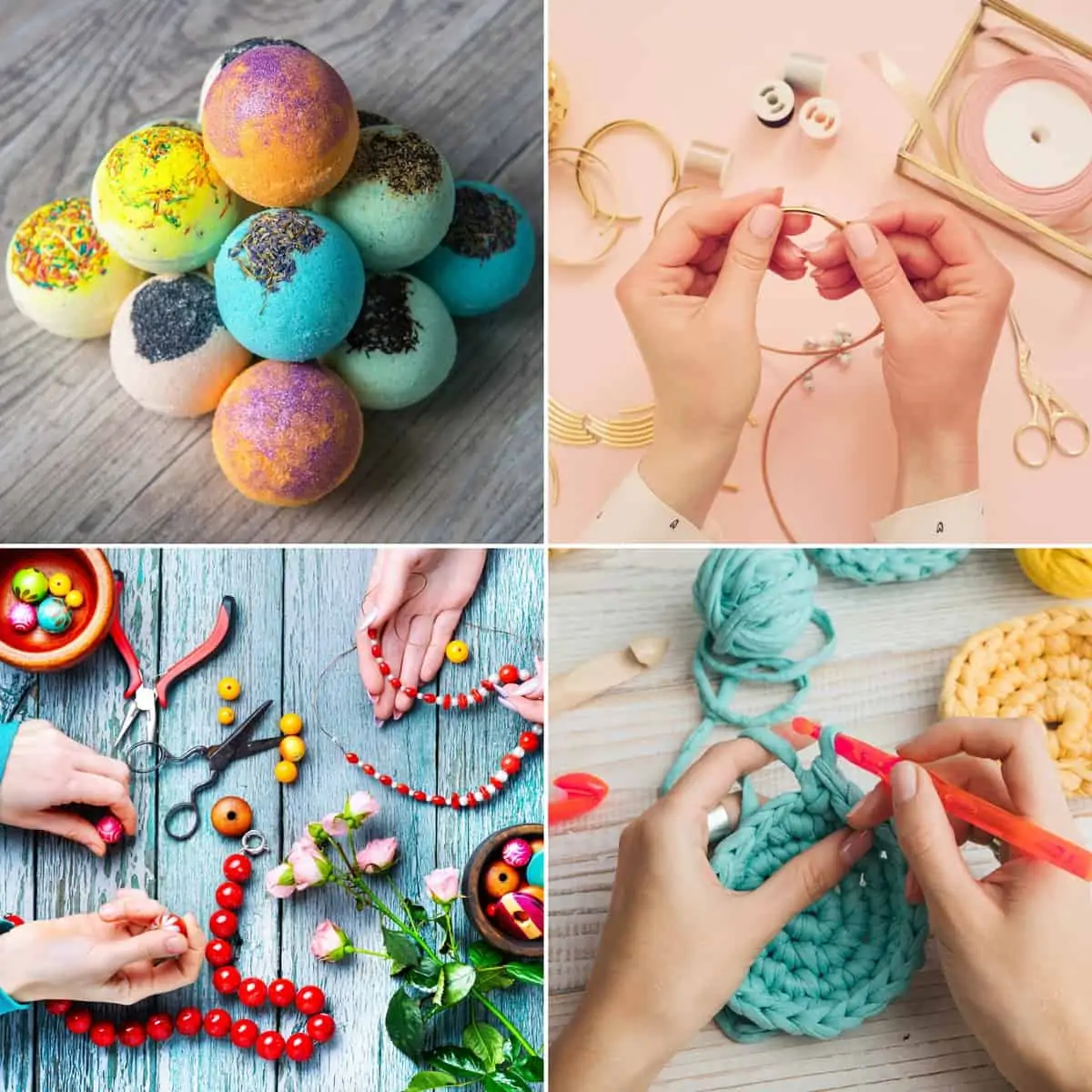 1. Craft supplies
Always topping the list of Etsy best-sellers are craft supplies, and for a good reason. Crafters and artists need raw materials to produce their masterpieces, so this Etsy store idea can be a great option.
Check out Nicole de Bruin Charms that sells all sorts of charms and beads for handmade ornaments and handmade jewelry.
Sales: 715,950
2. Personalized jewelry
From letter necklaces, name rings to memorial handwriting rings, personalized jewelry are among the most in-demand products on Etsy.
CaitlynMinimalist has an amazing collection of these dainty pieces.
Sales: 1,180,571
3. Jewelry supplies
Jewelry supplies have a market on their own, given that now lots of people are making and selling handmade jewelry. So if you're looking for Etsy shop ideas that won't require you to create jewerly items yourself, then this can be a great choice.
Yakutum, a Turkey-based shop, sells gold and gold-plated jewelry connectors and charms, as well as silver letter pendants.
Sales: 882,789
4. Customized clothing
Personalized clothes are also top sellers on Etsy. You can sell customized shirts for specific people (grandparents, aunts, and uncles, pet-lovers, coffee addicts, for instance) or for specific occasions, such as Valentine's and Mother's Day. Print and Arrow is an example of this booming Etsy business.
Sales: 102,896
5. Stickers
Stickers are pretty popular products, and that's for two reasons: they can be customized and have low upfront costs. Plus, you can choose to offer stickers are digital or physical products. PlannerKate1 is one of the most popular Etsy shops offering stickers in various sizes, shapes, and styles.
Sales: 1,752,744
6. Baby care essentials
Soon-to-be and new moms are less resistant when it comes to spending for their babies, so selling baby essentials is always a good idea. Check out MamaBearBabyWear for inspiration, a shop selling reusable cloth diapers and cloth wipes.
Sales: 40,996
7. Crochet patterns
Have crochet patterns to sell? This could be one of the best Etsy shop ideas for you!
People who are into knitting or crochet purchase patterns from Etsy to recreate handmade crochet products that they can keep for themselves or sell. One of the successful Etsy stores selling crochet patterns is TheEasyDesign which offers crochet patterns for beanie hats, handbags, and vests.
Sales: 100,057
8. Handmade bags
Artisan handbags are also good things to sell on Etsy, and they've made more unique because of the effort to create one. One fine example is FrenchBasket, a shop that sells straw-made handbags and beach bags.
Sales: 12,503
9. Scarves and blankets
Scarves and blankets are not just accessories. They're also staples in the wardrobes of many women, making them excellent items to sell on Etsy. You can check out InTheBagDesign which sells scarves for all seasons and plaid blankets as well.
Sales: 18,722
10. Baby bows and headbands
Bows and headbands are among the easiest things to create. BabyBloomzBoutique is selling these as well, and you can see they're winging it.
Sales: 111,911
11. Bath Bombs
Many people now have the time to pamper themselves at home, which means products like bath bombs are a huge hit. You can look at LifeAround2Angels because this shop sells bath bombs (along with other bath products) with much success.
Sales: 44,845
12. Personalized wood signs
If you're quite handy with wood and talented in creating wood signs, then this business is a good fit for you. The shop VeryWoodBasement sells custom wood signs that are perfect for gifting and as decors for home and commercial establishments.
Sales: 10,971
13. Handmade soaps
Handmade soaps have risen in popularity on Etsy, not just because they're personal care products, but they also make excellent wedding favors. LittleFlowerSoapCo even has soap gift kits that are perfect to give to bridesmaids.
Sales: 87,606
14. Organic and vegan cosmetics
More and more women are making the move towards organic and vegan cosmetics and skincare products. MoonRiseCreek sells them too, featuring natural mascaras, botanical blend foundations, and mineral foundation powders.
Sales: 70,592
15. Candles
Handmade candles are more spectacular than plain ones, and that's why they're hot on Etsy. RedBarnCandlesCo sells organic aromatherapy candles in gift boxes, making them even more presentable and marketable.
Sales: 19,635
16. Holiday ornaments
Holidays are always made more festive with decors and ornaments, that's why this Etsy business idea is always easy to market. Giving your buyers an option to customize will also give your shop an edge, just like what ChristmasKeepsake does.
Sales: 42,085
17. Handmade Greeting cards
Greeting cards don't go out of fashion, but those that are handmade are the most thoughtful. If you're starting a greeting cards business, you should put a unique spin on them, just like these pop-up greeting cards by PoppinPaperCards.
Sales: 12,526
18. Pet clothing and accessories
The pet industry is massive, so there's always a market for pet clothing and accessories. TheHouseofBarkley, for instance, sells modern shirts and hoodies for dogs that are too good to resist.
Sales: 2,946
19. Wall art
Wall arts can put a unique touch to any space, and that's the reason why they sell fast on Etsy. LaMourFouPrintShop sets itself aside by selling wall arts with gorgeous animal prints.
Sales: 54, 663
20. Printable planners and planner inserts
Printable planners allow anyone to access templates online and have them printed at home. For inspiration, check out PhenixPrintable that sells planners for different kinds of needs, such as budgeting, fitness, medical, debt payoff and more!
Sales: 71,221
21. Wedding favors
The wedding niche is huge on Etsy. Soon-to-be couples are always looking for ways to set their weddings apart, and customization is always a good idea. ModParty carries an extensive list of custom-made products that make the perfect wedding favors.
Sales: 1,074,701
22. Personalized leather products
SoGoodSoWood, a shop that exclusively sells personalized leather products, has everything from dog leashes, Dopp kit for men, tote bags, leather wallets to luggage tags – all made with leather.
Sales: 255,438
23. Customized face masks
Face masks are now a daily essential. But instead of selling generic, unbranded ones, you can offer customization so that businesses and companies can use them as merch products, and this is exactly how Mascly sells them.
Sales: 111, 945
24. Printable invitations
Editable invitations are some of the best-sellers on Etsy, so if you have a knack for graphic design, this should be a great Etsy business for you. Check out DesignMyPartyStudio for inspiration! This shop sells printable invitations for all sorts of occasions.
Sales: 217,209
25. Personalized phone cases
Customized, pretty cases give our phones their own personalities. And personalizing phone cases is easier than most people would imagine. The shop OhSoPrettyCases has successfully sold thousands of personalized cases, which may means it's a good market to penetrate given the right skills.
Sales: 125,326
26. Kids' clothing
Kids' clothing is also one of the best things to sell on Etsy, especially if you can set your shop apart. Think along the lines of ZoeySattic, a shop that sells birthday shirts and sibling shirts that are perfect for family photoshoots.
Sales: 311,521
27. Fabrics
Fabrics are also hot things to sell on Etsy, especially because a lot of crafting projects require them. Sell fabrics with a variety of prints, colors, and textures, just like Spoonflower, to give customers a lot of options.
Sales: 696,334
28. Live plants
If you have a green thumb, selling live plants is one of the best shop ideas for you. A lot of people are now shopping at stores like SproutingTiger to find various types of greens to grow in their homes.
Sales: 3,272
29. Party decorations
Decors are the life of the party, so these things obviously make a good Etsy shop idea. Even small and private parties need some decor to make them look more festive. Themed decors like dinosaurs, unicorns and flamingos just like those on HoorayDays are selling great too!
Sales: 303,319
30. Vintage collectibles
If you want to sell stuff on Etsy that has seen its glory days, then you opt to open a vintage shop. Shops like SunnyDayVintage sells old things like rubber stamps, cake toppers, children's toys, and dinnerware. So if you have a collection of vintage items at home (at least 20 years old) or know where to find them, then this is a perfect Etsy business idea for you.
Sales: 4,953
31. Motivational printables
Inspirational quotes and motivational printables are some of the easiest things you can make and sell on Etsy. You can list physical products or create custom quotes as requested by the customer. PrintableSky has a lot of these in beautiful fonts and clean backgrounds, so that's something you can look into.
Sales: 91,560
32. Mugs
Mugs are always great gift ideas, so their demand stays all year round. Take a look at JitterBeanMugs which sells mugs with witty quotes.
Sales: 8,633
33. Washi tapes
Pretty, colorful, and extremely versatile, washi tapes are like tapes and stickers combined. If you don't know what these are, take a look at CraftSupprise shop because there are lots to choose from.
Sales: 43,504
34. Silk pillowcases
I don't know about you but I love silk pillowcases! They just feel divine to sleep on and that's why they are selling like hotcakes on Etsy. Check out MoonBerrySilk to find some ideas.
Sales: 14,732
35. Wooden gift items
Wood products are also a hit on Etsy! Check out these adorable wood photo gifts by FamilyFotoFun.
Sales: 47,420
36. Table runners
If you have the skills in creating pretty table runners, then you're in for this amazing Etsy shop idea. You can play with different materials. For instance, TheRuffledDaisy sells table runners made with burlap and they look fantastic!
Sales: 37,437
37. Photo overlays
Bloggers and photographers use photo overlays for branding and image enhancement, but so do ordinary people. You'd be surprised that you can sell photo overlays in your Etsy shop, just like RStudioDesign, and make some great money from them.
Sales: 101,408
38. Dried flowers
Fresh flowers are great, but dried flowers make money on Etsy. In fact, these products are some of the best things to sell on Etsy. Check out AimGoFloralDecor that sells dried or preserved flowers for inspiration!
Sales: 13,347
39.Wooden toys for kids
Wooden toys are now more popular because they don't have the toxic chemicals that are found in plastic ones. So, if you are crafty with wood, these are some of the best DIY things to sell on Etsy! Look around BusyPuzzle for some inspiration.
Sales: 305, 388
40. Self Care Packages
Many people have come to realize how important self-care is because of the global health crisis. You can incorporate a couple of products in the package and market them as gifts for bridesmaids, pregnant women, and new moms, for example. The shop UrbanQuaintrelle, sells postpartum care packages, and I think it's a great Etsy shop idea!
Sales: 1,405
Related Posts:
24 Best Websites To Sell Stuff Locally and Make Quick Cash From
Conclusion
We've come to the end of our list of Etsy shop ideas, but believe me, there's a lot more out there that you can explore! Once you learned how to open an Etsy shop, the next thing you need to do is go through these shop ideas and find one that speaks to you. The shops I've mentioned in this post are just to give you ideas and inspiration, but I know there's something out there that you'd love to sell on Etsy and make money from.
So, with research and maybe some trial and error, you'll learn how Etsy works and find the best strategies to increase your sales.
If you were to put up a store, which of these Etsy shop ideas do you find most appealing? Let's connect in the comments.