This post contains affiliate links. Read the full disclosure here
Discover what are the best things to sell on Etsy to make money! I've validated this list using e-Rank, a tool used by professional Etsy sellers!
Do you wish to run a business consisting of products you've crafted yourself? If you say yes, you might want to consider opening your own Etsy shop and make money from home.  Etsy is the perfect outlet for all of those creative entrepreneurs. But, if you're new to the platform, you might be wondering what are the best things to sell on Etsy to make money?
After opening a store on Amazon and Shopify, I knew that my next target was Etsy. After all, Etsy has 81.9 million active buyers worldwide. So, I did some research to find out what are the best things to sell on Etsy that actually make money.
---
My Research Method
As an Amazon seller, I learned how crucial it is to use a product research tool to make sure that the products you have in mind actually have a demand on the platform. Don't ever start selling blindly, hoping that people would buy or find your product!
Thankfully, I discovered a tool called eRank for Etsy. I signed up with eRank to get more data about the best things to sell on Etsy.
eRank has a free plan but it also has affordable paid plans that allow you to do more in-depth product research.
---
Let me be clear: I am NOT an affiliate of eRank and I DO NOT earn a commission for promoting it here. I signed up for a paid plan because I wanted to know the data behind the "best things to sell on Etsy." I also wanted to support this article with real data gathered from the tool.
---
The great thing about eRank, just like the tool Helium10 for Amazon, is that it gives you an idea on:
How many searches a keyword gets per month on the platform?
Is the product competitive? How many listings are there with this keyword on the platform?
Who are your competition?
Who are the top sellers in your chosen product category?
It even gives you ideas on the keywords to use for your listing. Remember, Etsy, like any other marketplace, is a search engine for buyers, and you want to make sure that your listing shows up in the search results by using keywords.
Be sure to check this tool out and see for yourself how much data you can get from it.
Interested in selling on Amazon instead? Check out How to Sell on Amazon for Beginners with Retail Arbitrage
---
What Are the Best Things to Sell on Etsy to Make Money
Please note: trends change, and so will the data that I was able to fetch during the time of the research. I highly recommend validating this list again and doing more in-depth research using eRank should you decide to use some of the product recommendations on this list.
---
1. Jewelry
When it comes to things to make to sell on Etsy, handmade jewelry comes as a top choice. It's probably one of the reasons why even the famous Tiktok personality, Halle Bailey, has decided to put her own jewelry Etsy shop.
Handmade jewelry is unique and special, and they make wonderful gifts for special occasions. This is why many people purchase jewelry on Etsy.
Popular Products to Sell on Etsy in the Jewelry Category
According to eRank, the popular search terms in the jewelry category last month are:
Rings -89,000 searches per month
Earrings – 82,900 search per month
Leather accessories for men – 72,000 seaches per month
I searched "rings" on eRank and it gave me a long list of ideas for things to sell on Etsy under this sub-category. Then, I found a few product ideas with less competition, such as "promise rings for couples." It might be worth checking out if you're looking for low-competitive products.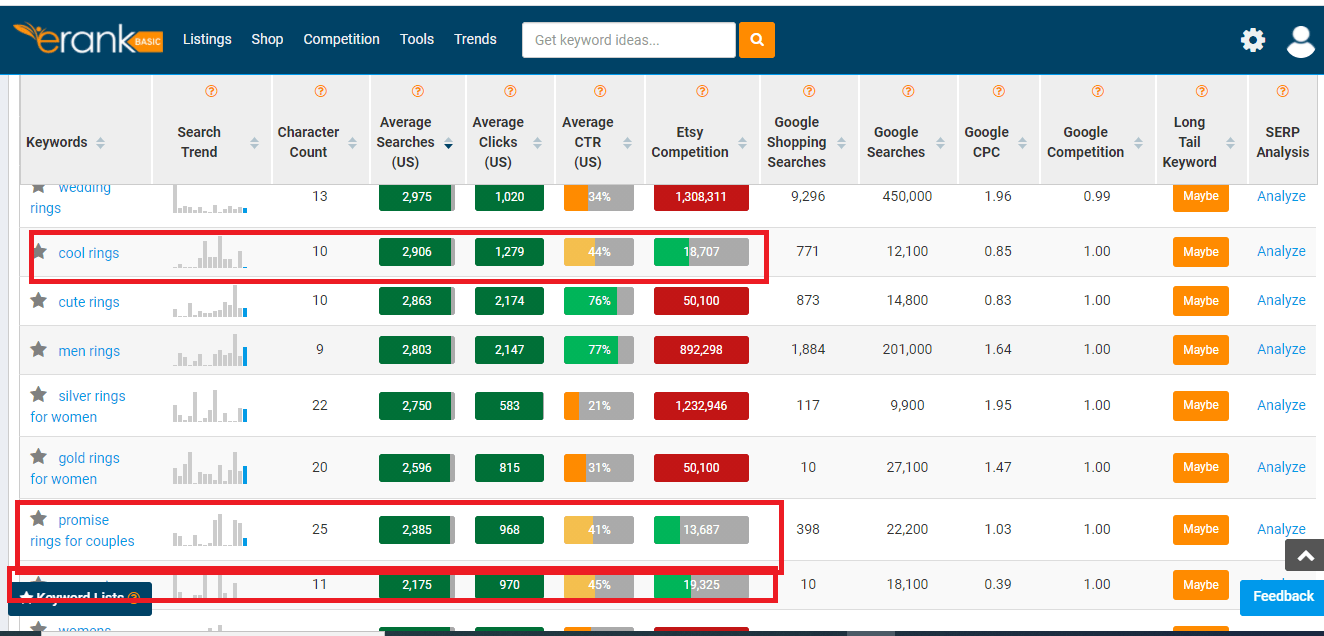 I highly suggest searching "earrings" and "leather accessories for men" to see more keywords/ product ideas under these broad terms, and how competitive are those keywords and product ideas.
Top Sellers in the Jewelry Category
According to eRank, the top jewelry sellers on the platform are:
CaitlynMinimalist with 1,142,625 sales

MignonandMignon

with 529,610 sales

delezhen

with 319,753 sales

GracePersonalized

with 287,023 sales
---
2. Stickers
Stickers are popular things to sell on Etsy and for good reasons. First, it does not require much upfront. If you're a whiz in graphic design or simply enjoy coming up with creative sticker ideas, then this could be an excellent option for you. Plus, there's a wide range of markets you can sell your stickers to.
For instance, laptop stickers have become on Etsy. But you can also sell stickers for scrapbooks and planners, wall decals, mugs, pins, pens, and other corporate merchandise.
Now, if you don't want to be bothered by shipping and other logistical concerns, and simply focus on coming up with amazing designs, you can integrate a print-on-demand service with your Etsy shop.
Popular Sticker Products to Sell on Etsy
According to eRank, stickers have 78,000+ monthly searches and it is a sub-category under Craft Supplies and Tools.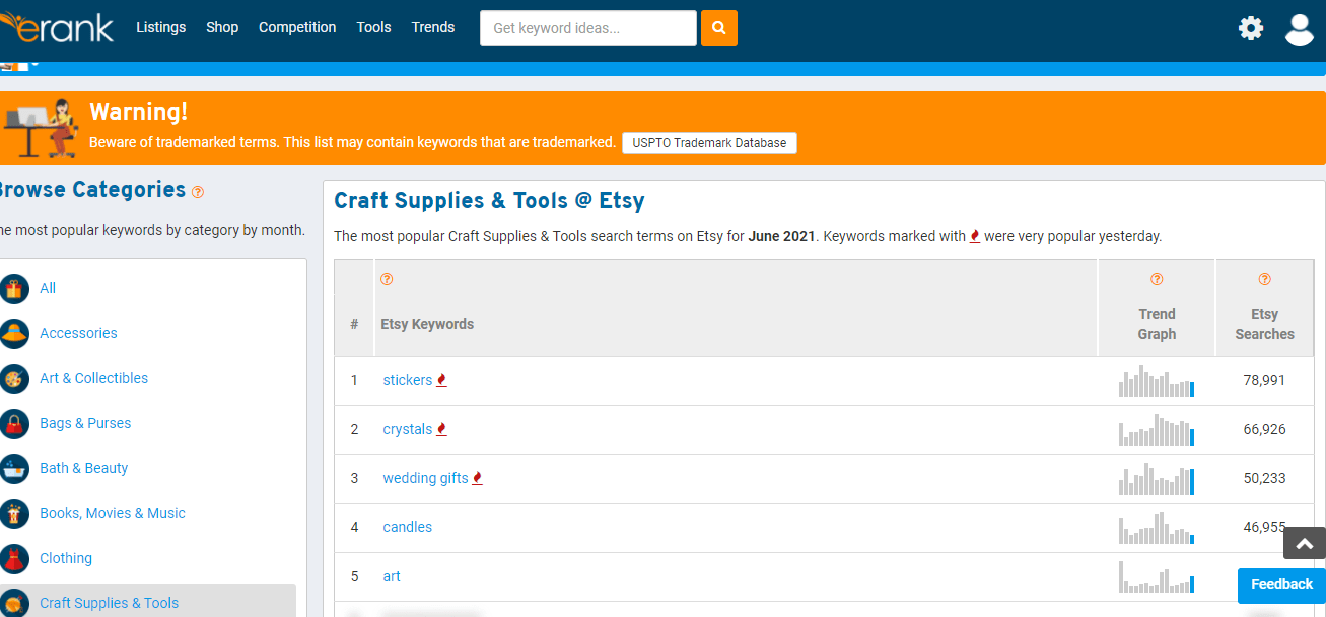 Some of the most popular keywords under "stickers" are:
eRank would also even tell you the competition for the keywords or product ideas it generates for you. As you can see in the picture, planner stickers and anime stickers are already saturated. On the other hand, "animal crossing stickers" may still be worth checking out for beginners!
Top Sellers in the Craft Supplies and Tools Category
Stickers isn't a main category. Many sticker products on Etsy are listed in the Craft Supplies and Tools category and in the Paper and Party Supplies category. So the following list of top sellers may not necessarily sell stickers alone but also sell other products in their categories.
Top sellers in the Craft Supplies and Tools category
PlannerKate1 with 1,734,245 sales
Beadboat1 with 1,149,820 sales

yakutum

with 871,502 sales
KJewelryMetal with 781,762
Meanwhile, the top sellers in the Paper and Party Supplies category are:
---
3. Printables and Planners
Printables are wonderful digital products to sell on Etsy. These are downloadable online products that give you a stream of passive income. So all you have to do is come up with a pretty and useful printable and list it up in your store.
Selling printables on Etsy is also relatively low-cost. If you have a background in graphic design, good. If not, there are always tools like Canva that can help you whip up amazing, professional-looking printables in no time. And while you're at it, make sure that your printable serves a specific purpose or solves a specific problem, like planners.
If you'd like to get started selling printables, Etsy marketing expert, Miri Campbell, has a course on Create and Sell Printables Planner that might interest you.
Popular Digital Products to Sell on Etsy
When I searched printables on eRank, it gave me a list of product ideas or keywords that are still less competitive such as:
Bullet Journal Printables
Organization Printables
Home Management Printables
Vision Board Printables
Top Sellers in the Art and Collectible Category
Printables is not a main category. Many of these printable products are listed under the main category "Art and Collectibles" and under the sub-category "digital prints." Other printable products are also listed under the Paper and Party Supplies category. The top sellers listed below may not necessarily sell printables and planners.
According to eRank, the top sellers in the Art and Collectible category are:
---
4. Wedding
A wedding is a very special event, and most couples want to give their weddings a unique and personalized twist. No wonder the wedding market is doing so well on Etsy. Couples can find almost everything they need for their wedding on Etsy, whether that's a vintage wedding gown, personalized wedding invitations, jewelry, accessories, and more. And given that there's usually a lot of things one needs for a wedding, Etsy makes it easy to put your wedding products for sale in front of savvy shoppers.
So when it comes to unique and creative things to sell on Etsy, wedding supplies are always an excellent option.
Popular Products to Sell on Etsy in the Weddings Category
This category is a treasure trove of products with demand! Here's what eRank gave me after searching the monthly trends in this category:
Bridemaid gifts – 67,220 monthly searches
Groomsmen gifts- 55,027 monthly searches
Wedding Gifts – 50,233 monthly searches
Engagement Gifts – 45,562 monthly searches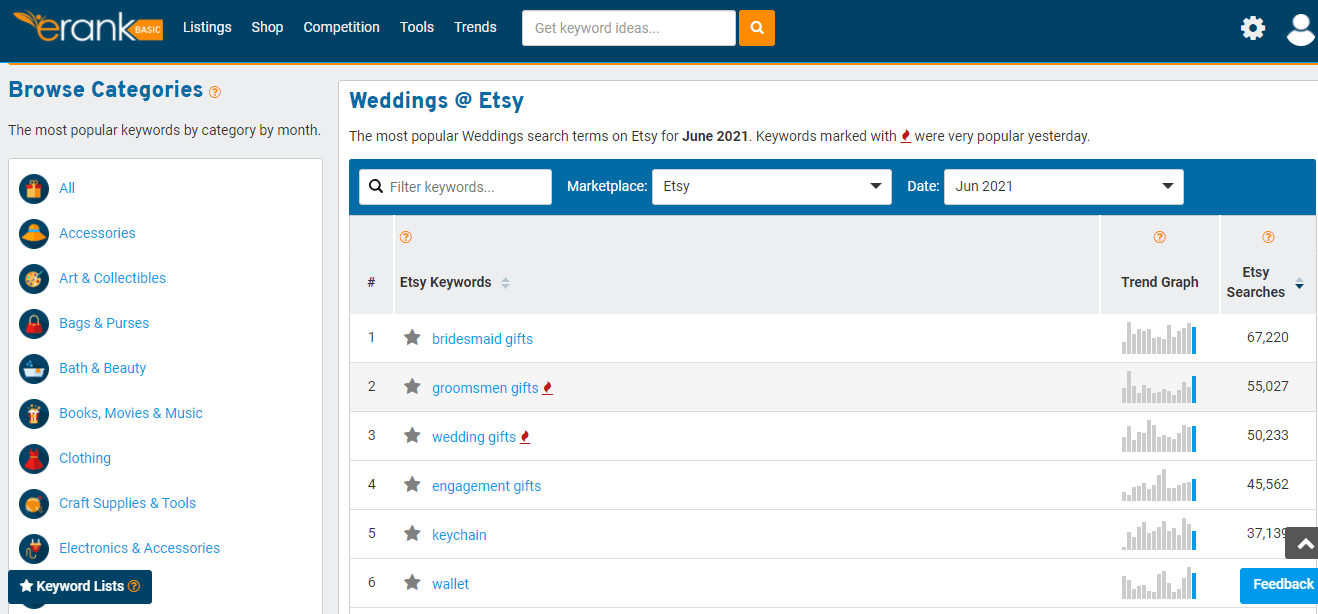 Top Sellers in the Wedding Category
ModParty with 1,046,150 sales

EverlyGrayce

with 304,533 sales

marrygrams

with 260,222 sales
EverythingDecorated with 242,779 sales
---
5. Party Supplies
Special events need to be special, so most people don't settle for anything generic. Instead, they turn to Etsy and find party supplies that support a theme. Whether one is looking for a retro-themed party for their grandparents or a dinosaur-themed one for their son, Etsy is a treasure trove for all things customized. So if you're into creating cake toppers, banners, and other party needs, Etsy would definitely be the perfect place to sell them.
Popular Searches in the Paper and Party Supplies Category:
Father's Day Card with 34,275 monthly searches
Bachelorette Party Favors with 19,197 monthly searches
Planner with 26,916 monthly searches
These could be great ideas for things to sell on Etsy!
Top Sellers in the Paper and Party Supplies Category
---
6. Home decor
Home decors are also some of the most profitable things to sell on Etsy. From shelf hangers, planters, wreaths to personalized stands, the options are just endless for anyone wanting to sell home decors on Etsy.
Handmade home decors are cool things to sell on Etsy, and you can work with materials of your choice, whether it's wood, fabric, concrete, plastic, vinyl, and more. It's also a great idea to produce seasonal home decors as homeowners enjoy giving their homes a new look as the seasons change.
Home Decors is a sub-category under the main category Home and Living. According to eRank, the search term "home decor" has 101,000 searches.
The other search terms that came out were:
Personalized home with 4,000 monthly searches
Gothic home decor with 3,600 monthly searches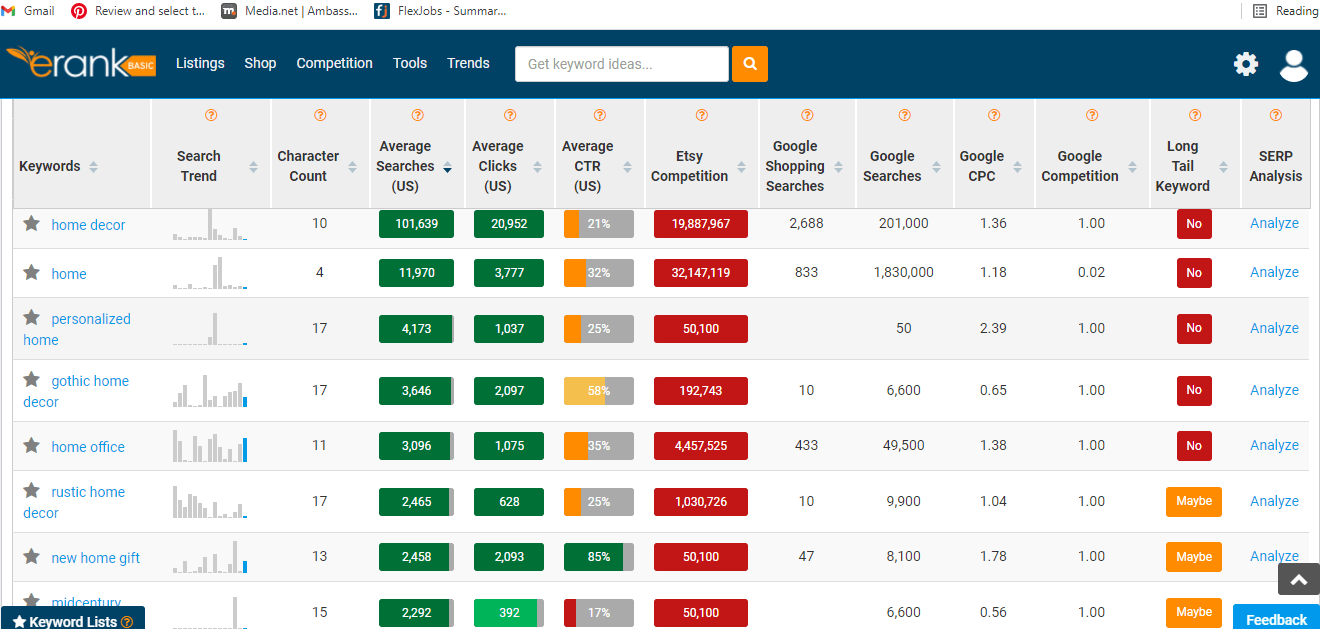 Top Sellers in the Home and Living Category
eugenie2 with 239,667 sales
YippeeDaisy with 232,654 sales
MyPersonalMemories with 205,057 sales
---
7. Vintage items
If you have a collection of old things that you'd want to sell, then consider putting them up on Etsy. As you well know, Etsy is a place for finding and selling unique items, and vintage products are pretty hard to come by, which makes them even more valuable. As a rule, your products must be at least 20 years old to be classified as vintage.
If you'd like to sell vintage items on Etsy, consider categorizing them (per decade, per type of item, sizes, and more).
What vintage items sell best on Etsy?
Some of the most best-selling vintage products on Etsy include clothing, jewelry and accessories, rugs and carpets, and silverware.
It's also good to be very descriptive with your listing and provide as much information on the product as possible. People who are looking for vintage items are usually very specific with what they are looking for, and they're also more inclined to shell out the money if they find it in your Etsy shop.
Popular Vintage Things to Sell on Etsy to Make Money
According to eRank, some of the most popular products people search in this category are:
Vintage Sweatshirt with 14,000 monthly searches
Vintage Clothing with 12,689 monthly searches
Vintage Rings with 12,200 monthly searches
Vintage Dress with 7,400 monthly searches
Top Sellers in the Vintage Category
WhoKnowsWhat with 231,740 sales

PastPatternsPalooza

with 121,370 sales
VintageRoseFindings with 79,766 sales
---
8. Pet supplies
Pets are also part of the family so it's not surprising for pet owners to spend some money to spoil their furbabies. So if you're passionate about pets too and enjoy creating products for them, you're in some luck because pet supplies are some of the simple things to sell on Etsy.
Looking on the site, you'd find that there's a wide range of pet products being sold on Etsy. There are dog beds, leashes, personalized dog tags, even adorable pet costumes for various seasons of the year. Customized pet products, like water bowls and toys, are also a huge hit among buyers.
Popular Things to Sell on Etsy in the Pet Supplies Category
Dog Collar with 29,969 monthly searches
Dog Tag with 24,584 monthly searches
Dog Bandana with 21,930 monthly searches
Dog Bed with 14,486 monthly searches
Top Sellers in the Pet Supplies Category
P

uddleJumperPups

with 121,524 sales
MadeByCleo with 97,005 sales
shopmimigreen with 87,194 sales
CollarDirect with 86,064 sales
---
9. Accessories
If you enjoy making pretty and stylish accessories, then you could very well make money from them because accessories are also some of the hottest things to sell on Etsy. The accessory category can be a broad branch, and it can include things like scarves, beanies, friendship bracelets, hairpins, scrunchies, and headbands. But you can also create other types of accessories like keychains, coin purses, car, and desk accessories because they also sell well on Etsy. So if you want to make handmade things to sell on Etsy, accessories will always be a popular choice.
Popular Search Terms in the Accesories Category
Keychain with 37,139 monthly searches
Enamel pin with 27,200 monhly searches
Pins with 22,971 monthly searches
Patches with 22,300 monthly searches
Bucket Hat with 22,053 monthly searches
Top Sellers in the Accesories Category
---
10. Handcrafted self-care products
With all the craziness in the world in the past year, many of us have had the time to realize if we've been taking care of ourselves enough. Many people are moving away from using chemical-based products and preferring to use organic, sustainable alternatives.
And it turns out, self-care products are also some of the best things to make and sell on Etsy. think of handmade bath bombs, lotions, and masks, as well as organic cosmetics. So if this is something you'd like to get into, Etsy is an ideal place for you to put up shop.
Please note you may need FDA approval to sell self-care products legally. So, do your own due diligence before selling such products.
Popular Search Terms in the Bath and Beauty Category
Face mask with 19,506 monthly searches
Lip Gloss with 11,291 monthly searches
Care Package with 9,555 monthly searches
Body Butter with 7,866 monthly searches
Top Sellers in the Bath and Beauty Category
---
11. Handcrafted Toys
The market is oversaturated with toys for kids, most of them are made of plastic. But according to experts, plastic toys can pose hazards to kids, so many parents are looking for better and healthier alternatives.
This is where handcrafted toys come in. Wooden toys are excellent things to sell on Etsy because they are safer, educational, and eco-friendly. Wooden stacking toys, wooden puzzles, and pretend play sets are some of the best examples. So if you have the talent in creating wooden toys for kids, I'd say put them up on your Etsy store.
Popular Products in the Toys and Games Category
Lawn games with 42,947 monthly searches
Dice with 35,765 monthly searches
Dungeons and Dragons with 17,313 monthly searches
Top Sellers in the toys and Games Category
---
12. Craft Supplies
People are into crafting nowadays, and many of them turned their hobbies into legit businesses. And as you already know, Etsy is a platform for handmade items — not just the finished products, but crafting supplies too.
Crafters, both hobbyists, and entrepreneurs are always looking for knitting patterns, charms and beads, ribbons and yarns, and even small tools and devices to come up with their creations. So, far as demand goes, craft supplies are some of the best ideas for things to sell on Etsy.
Popular Things to Sell on Etsy in the Craft Supplies and Tools
Stickers with 78,991 monthly searches
Crystals with 66,926 monthly seaches
Candles with 50,233 monthly searches
Crochet with 26,835 monthly searches
Top sellers in the Craft Supplies and Tools Category
PlannerKate1 with 1,734,245 sales
Beadboat1 with 1,149,820 sales
yakutum with 871,502 sales
KJewelryMetal with 781,762
---
Other Cool Things that Sell on Etsy
13. Baby items
Parents love splurging on their kids more than on themselves, so the market for baby products is quite huge on Etsy. It's difficult to resist cute and nice things for babies. Headbands, bow clips, personalized pacifier clips, milestone blankets, customized onesies are just some of the cute things to sell on Etsy under this category. So whether a buyer is looking for the best baby shower gifts or a mom wishing to dress up her baby's nursery, there are just so many things you could make and put into the Etsy market.
14. Digital artwork
Digital artwork is also some of the awesome things you can make and sell on Etsy simply because they can cost less to produce. These are photos and artwork that buyers can download and print at home. Some people may use the images for business purposes, while others love quotes that they can frame and hang in their homes.
The best part about selling digital artwork on Etsy is that you don't have to worry about shipping costs which give you even more room for profit. So when it comes to creative things to sell on Etsy, you should look into creating and selling digital artwork.
15. Journals and notebooks
Yes, even if we live in a highly digital world nowadays, a lot of people still prefer the touch and feel of real paper. That's why journals and notebooks are considered two good things to sell on Etsy.
Personalized journals and notebooks give buyers a sense of being in touch with their innermost thoughts. But buyers can be quite picky with their journals, so if you're selling those, you have to go above and beyond. For instance, leather-bound journals give off a high-quality impression, which makes them perfect gift ideas as well.
16. Candles
There's a good market for candles on Etsy, so if you're crazy about candles as well, it's high time you start selling them. Candles are easy to make at home, can be colored to your liking, decorated according to season, and even infused with essential oils. If you take a good look around Etsy, you'd find lots of candles with different designs and price points. So if you want to make an income selling things on Etsy, you must make sure that your candles stand out and are memorable among your buyers.
17. Personalized cards
Anything personalized is a good thing to sell on Etsy, and personalized cards are some of the best-sellers. Even if it's easy to send greetings via the internet nowadays, there's nothing as special and as thoughtful as personalized cards. And admit it, finding the perfect card for the right occasion can be quite a struggle for some people, that's why they turn to Etsy to have their cards customized.
So if you're adept with graphic design and wondering what sells good on Etsy given your talent, you can sell personalized cards with a good chance of success. Buyers can send you their preferred photos and messages, you do the design work and then ship it to them once finished. I don't think anything can be personal than that.
18. Personalized clothing
Personalized clothing also made it to this list of top things to sell on Etsy. We are not talking about random, generic shirts here, but ones that you customized with your own designs. So if you're adept with stencil painting on fabric, for instance, then this could be a viable business for you.
The great thing about making and selling customized clothing is that you can create designs to appeal to your target market (moms, engineers, teens, hobbyists, for instance). Also, keep in mind that you can partner with a print-on-demand service, which means you can focus on designing and POD will take care of printing and shipping to your customer.
19. Seasonal gifts
From Valentines Day, Mother's and Father's Day, Thanksgiving to the holidays, there are just so many gift-giving seasons in a year, and you can make money off them. Seasonal gifts are some of the best ideas for things to sell on Etsy, especially if you can come up with unique gift ideas.
You can also inject these ideas into your usual products. For instance, if you are selling baby items, you can come up with a gift set for babies on Easter or if you're selling candles, you can create Christmas-themed ones for the holidays. Many people are willing to spend more money during these occasions, so coming up with seasonal gifts can be a huge advantage to your shop.
20. Collectibles
Some people are crazy about growing their collections, so they look high and low to find more items to add to their treasures. If you like scoring collectible items and re-selling them for a profit, then Etsy would be a wonderful platform for that.
Collectibles command a good price on Etsy and many people are willing to part with their money just to get their hands on their coveted items. Some of the best-sellers in this category include genuine postcards, figurines, memorabilia.
---
Etsy FAQs
What is Etsy?
Etsy is an eCommerce platform for all things handmade, vintage, and unique. It was established in 2005 by a group of friends as a site for people to trade their crafts. Etsy grew rapidly over the years, and it even continues to flourish even in the midst of this health crisis.
The platform is home to over 4.3 million sellers of all things nice, cute, and unique, serving almost 81.9 active million buyers worldwide. Most people go to Etsy to find unique items created by independent crafters rather than those mass-produced by a company. On Etsy, you will find a slew of handmade crafts, decors, toys, accessories, crafts supplies, and more. Etsy is also a wonderful place to find seasonal items, like gift ideas for Mother's Day as well as holiday decorations.
Why start an Etsy shop?
If you're still undecided whether you should open an Etsy shop right now, I've gathered up the thoughts from different sellers and experts on why they chose to sell things on Etsy:
Recognizable platform
Frankie Croker, an Etsy mentor, says Etsy is a recognizable platform. Etsy gives independent sellers a platform with a built-in reputation and familiarity. Millions of people buy on Etsy, so even if you're just a newbie, you don't need to build your reputation from scratch. Etsy has that "trust" factor. People trust Etsy, so they might just as well trust buying from you. This gives you amazing leverage of putting the best things to sell on Etsy in front of millions of potential buyers.
User-friendly
Ashley of A Crafty Concept, sells crochet items on Etsy. According to her, Etsy's platform is so easy to navigate that a seller with basic computer and internet skills can easily make her way around. You don't have to be super techy to succeed on Etsy because you just need to fill up fields or choose the appropriate option on the drop-down menu to list your products.
Free selling site
Trina who sells original artwork prints on Etsy, says that selling on Etsy gives you the freedom to start, stop and resume anytime you like. Life happens, and when you need to temporarily abandon your ship to focus on more important matters, you can do so. When you decide to return to your business, you can open your shop once again without going through hoops and loops.
Work on your own schedule
Jami King of Handmade Journey provides training for aspiring Etsy sellers. She also sells inspirational tees and tanks from home through her Etsy shop. According to Jami, Etsy gives you the flexibility to work on your own schedule. You don't necessarily have to open shop at 9 am and close at 6 pm. You can attend to your orders in your free time, at night, or even while your kids take a nap. This means so much if you're a parent working from home because schedules are never rigidly structured. You can make your business hours work for you no matter what goes on in your life.
How much money can you make selling things on Etsy?
You must remember that running a shop on Etsy is a business and you shouldn't expect a predictable income. Your income will not always be the same. It depends on the demand for your products, how soon you can replenish your inventory, how much time you invest in your shop, and how well you market your business.
Some people make a couple of hundred dollars per month from their Etsy stores, and it's fine with them. If you think of your Etsy business as a way to be compensated for your passion project, then that's all good.
But some people realize their potential to make it big on Etsy, so they go above and beyond. I've scoured some income reports from Etsy sellers and found some really impressive numbers:
Jenni Waldrop of Fuzzy and Birch, was able to quit her corporate job and focused on her Etsy business. She started low and slow but eventually made $4,000 a month in pure profits in just 30 days.
There are still many sellers out there who rake in amazing sales on Etsy. Some of them were able to branch out and sell on other platforms, but they could never discount the fact that starting a shop on Etsy has been instrumental in their success.
---
Conclusion
So there you have it, the best things to sell on Etsy! I love how easy and cheap it is to open an Etsy store, which takes some of the risks of putting up your own business. Plus, it's a platform that you can manage at your own time, giving you the freedom to run your business on a schedule that suits you best. So if you've always enjoyed creating unique products and want to sell them to millions of potential buyers, I recommend checking out Etsy.
Do you have an Etsy shop? What products are you selling? Let's connect in the comments.