There are numerous ways to make money from home, and one of them is captioning jobs. Learn what captioners do, how much they make, and where you can find captioning jobs from home.
If you're looking for a way to make some extra money from home, captioning jobs may be the perfect opportunity for you. Captioning is a process of adding captions or subtitles to videos, and it can be done remotely from your own home.
What Do Captioners Do?
Captioners are responsible for writing captions that accompany video content. the goal of the caption is to help those with hearing issues understand the content, so captions cover more than just the words spoken but also background music, noise, and effects.
With captions, one can watch a video and understand the message because it indicates both what's being said and not said in the content.
Captioning videos is an important undertaking, so much so that even social media platforms like Instagram and TikTok have already integrated their own caption platforms. YouTube has enabled its captioning feature since 2009 and most YouTube videos can be viewed with captions, thanks to its speech recognition technology.
But on a larger scale, especially when it comes to concerns with the hearing impaired, captions are jobs for humans.
Captioners typically apply the same techniques that court stenographers use, owing to the fact that captions must be written quickly and accurately.
Captioning vs. Transcription vs. Subtitling
Are you confused between captions, transcriptions, and subtitles? Well, some people do mistake these three things as one or the other.
Now let's understand how captioning is different from transcription and subtitling.
Closed captions, such as those that you see on Netflix and Youtube, are created to help the hearing impaired comprehend a video content by displaying all the dialogues as well as other audio descriptions (for instance, the banging of the door, the howling of the wind, etc.).
Captions are also essential to people who are not native speakers of the video being shown, and when you need to watch the video without sound or in a distracting space.
Subtitles are also shown in most videos, but it's often with the assumption that you can hear them. Subtitles allow you to comprehend a video that is not in your native language by reading the translation of what was being said.
For instance, K-drama fans get to enjoy Korean shows and movies by reading the English translation of the speech, in the form of subtitles.
Finally, there's transcription, the process of typing out exactly what you hear. Apart from videos, transcription is applied to several other formats, such as speeches, interviews, meetings, commercials, and many others. Basically, you take a video or audio file and convert it into written material.
In a way, you are transcribing when you are captioning, but captions and transcriptions have different purposes.
This post contains affiliate links. I may earn a commission at NO extra cost to you for your purchases made through these links. Disclosure.
Easiest Ways to Make Money Online
Types of Captioning Jobs
Captions are not created equal. Depending on the situation and format, you may need to do either real-time captioning or closed captioning. But what is the difference between these two?
Real-Time Captioning
This refers to the process of producing captions for live events, such as news broadcasts, online lectures, congressional meetings, and more.
Real-time captioning requires you to have fast typing speed and be adept at using the stenotype machine.
Closed Captioning
Closed captioning refers to captions that were integrated into the videos after they were recorded and before they are aired. This allows you to work on captions with more flexibility because you can stop, listen, type, and even rewind the file to get the captions accurately. Understanding how time codes work is also essential to make sure that closed captions are in sync with the frame on the video.
How Much Do Captioners Make?
You can make money as a captioner, but your income potential depends on the project, company, and level of experience.
According to Glassdoor, closed captioners with zero to minimal experience earn around $43, 363 per year. But as you gain more experience and become a professional captioner, you can make a six-digit income.
The company you work for also affects how much you can make as a captioner (as you will find later). The pay rate of some transcription and captioning services agencies leaves so much to be desired, but other captioning firms pay an impressive hourly rate.
Compared to closed captioning jobs, real-time captioners tend to get paid more. According to Salary.com, real-time captioners earn an average of $20 per hour.
How Do You Become A Captioner?
Are you thinking of becoming a captioner? Fortunately, the job outlook for captioners is growing at a rate of 10% for the next two decades, thanks largely to the growth in online learning and video streaming. The aging population also plays a crucial role in the demand for captioning jobs.
So how do you become a captioner?
Education, training, and certification
To start with, you don't need a specific educational background to become a captioner.
However, it is best to invest in training and certification, particularly one that teaches you to become a court reporter since the basic skills required for both jobs are essentially the same. The Stenotype Institute is one of the best places to learn caption writing. You could also obtain certification from the National Court Reporters Association (NCRA) as a Certified Realtime Captioner.
Additionally, you can find online training courses for captioning such as Learn Video Captioning From Scratch To Pro-Level, which provides a certificate of completion.
Skills
If you want to be successful in captioning jobs, then it's essential to have the skill set required for this field:
Stenography skills – This is essential, especially for real-time captioners. This allows you to write in short-hand during a live broadcast.
Fast and accurate typing speed – According to Indeed, you should be able to type at least 200 words per minute and obtain a 98% accuracy.
Excellent English skills – You also need to be very well-versed with the English language as well as broaden your vocabulary in the niche or field you are captioning on. Some companies also hire bilingual captioners, so are at an advantage if you are a master of another language.
Time coding skills – Time coding is the process of synching the right frames to the right captions, so knowing how time codes work is also an important asset in this job.
Equipment
It is important to secure the following equipment to help you get started with a captioning job:
Your own computer or laptop
High-speed internet connection
Specialized software for caption writing
Noise-canceling headset
Steno machine and other peripherals for real-time captioning
Where to Find Captioning Jobs: 20 Companies Hiring Captioners
Now that you know what it takes to become a captioner, you can start looking for caption jobs in these legit companies.
1. 3Play Media
This company is based in Boston, and it hires captioners for both closed captioning jobs and real-time captioning jobs.

3Play Media receives thousands of captioning projects each month, so that means it needs to hire lots of captioners to cope with the workload. Working from home as a captioner means you won't be a regular employee, but a freelancer.
This could be a great opportunity for beginners as well as bilinguals since the company offers captioning jobs for English-Spanish speakers. The pay rate is around $20 per hour.
2. Vanan
Vanan is one of the most established companies in the captioning field. Along with captioning services, Vanan also offers translation, transcription, and other audio and video services. It says it has worked with reputable companies like Netflix and Amazon.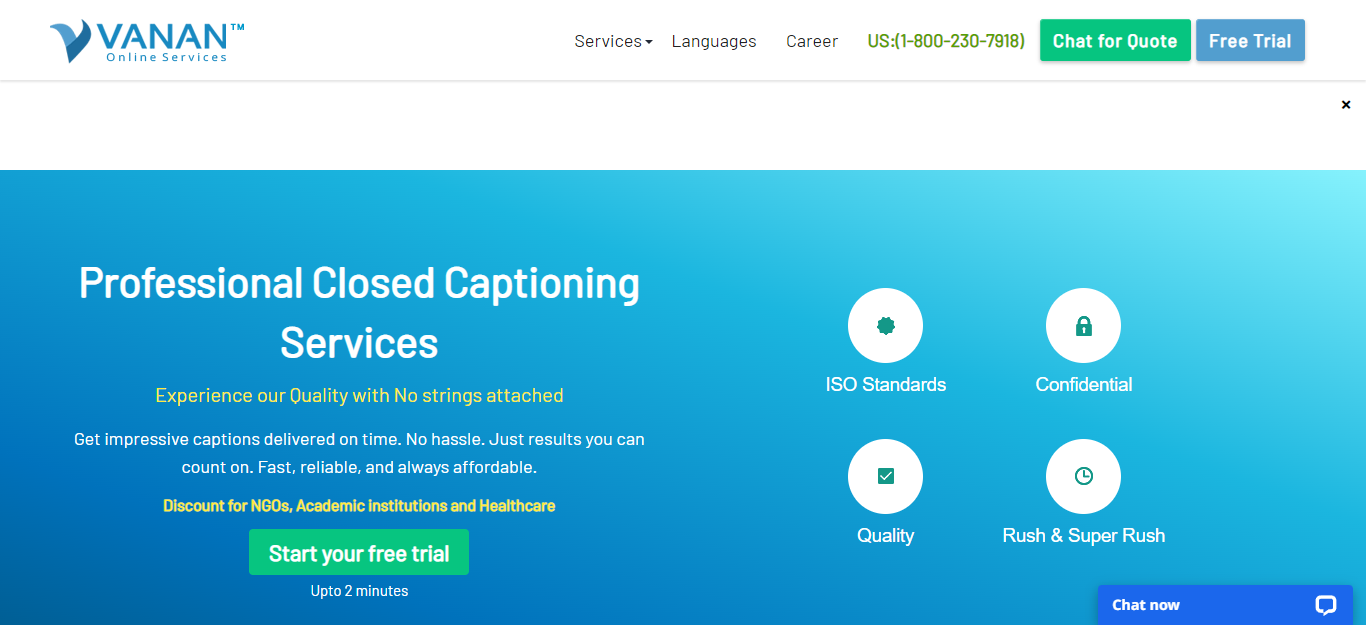 You can find captioning jobs on its career page. You can apply to Vanan by filling up an online application on their website.
3. Aberdeen Broadcast Services
Aberdeen caters to the broadcast community through its captioning services, as well as video transcoding, subtitling, and voice dubbing.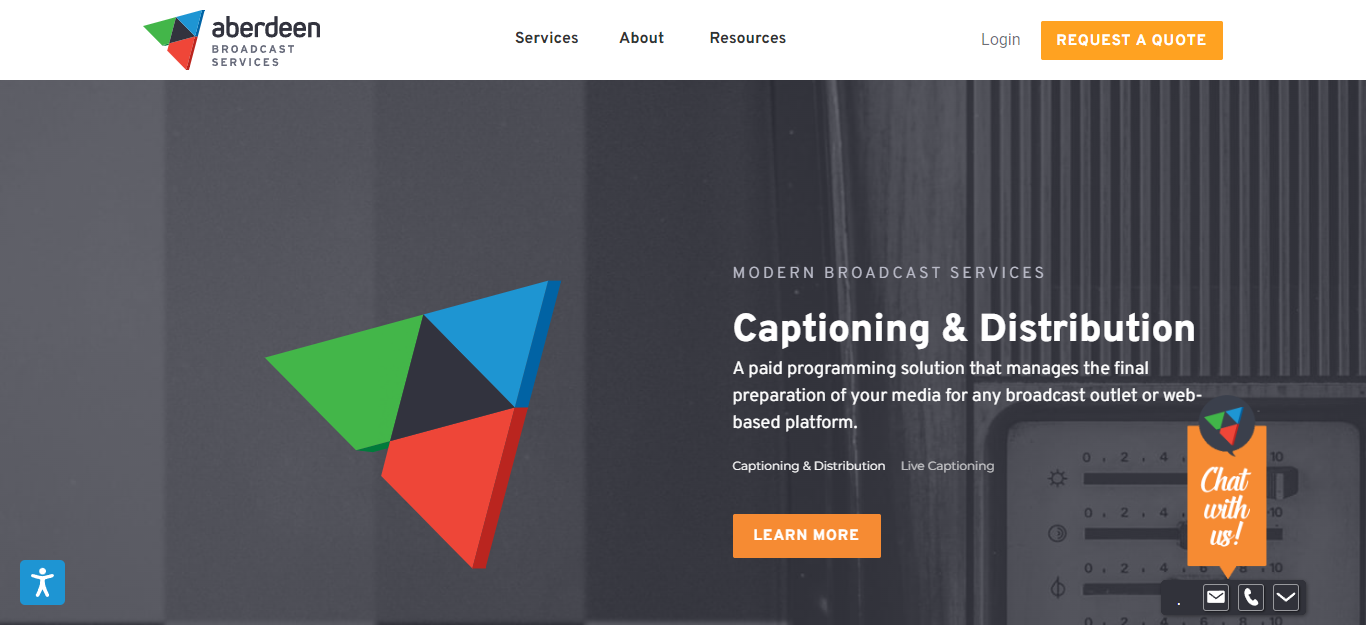 Aberdeen's captioning jobs cover both offline captioning and real-time captioning. To join the team, you must be able to type 180-220 words per minute and have a 98% accuracy.
Captioners must also secure real-time captioning software, two computers, three phone lines, and a backup internet. This position is fully remote and pays around $75 per hour.
4. Capital Captions
Capital Captions is one of the best places to secure work-from-home closed captioning jobs. The company is based in the UK, but it hires freelance captioners, transcribers, translators, and voice talents from all over the world. These jobs are subcontracted, so that means you are to work as an independent contractor.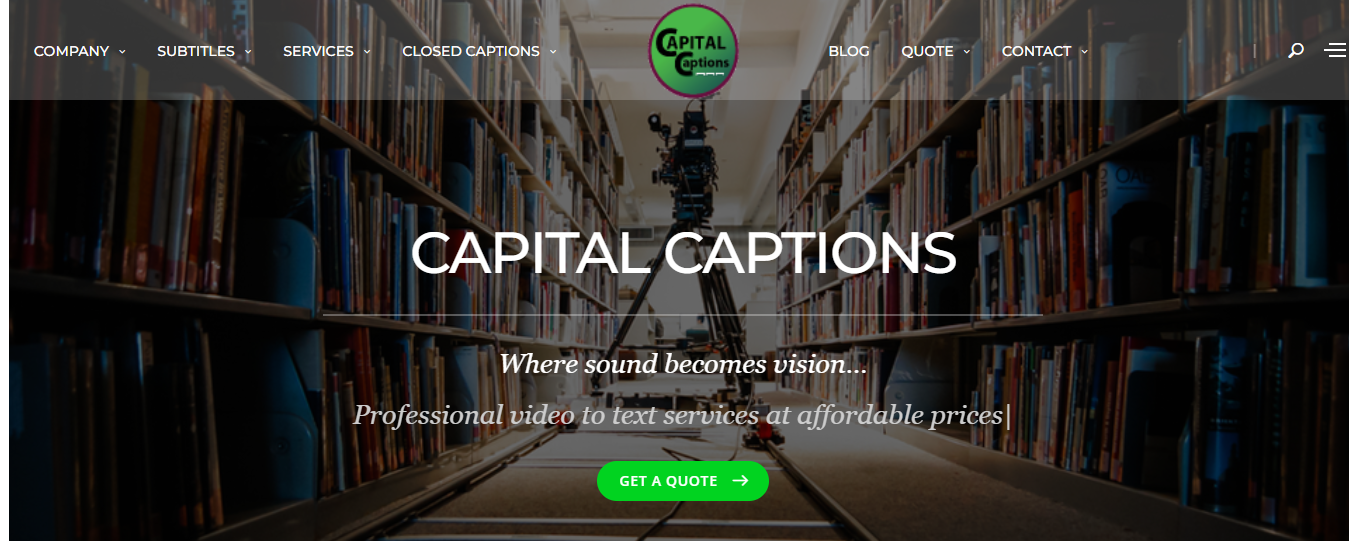 Capital Captions is always hiring people for offline captioning. To qualify, you must have at least two years of experience in captioning jobs, own captioning software, and have a typing speed of at least 65 words per minute.
5. Caption Max
Caption Max aims to make media accessible, so it provides captioning services to a wide range of industries, including the media and entertainment, education, government, and corporate sectors. It specializes in providing scripts for pre-recorded video content as well as live broadcasts.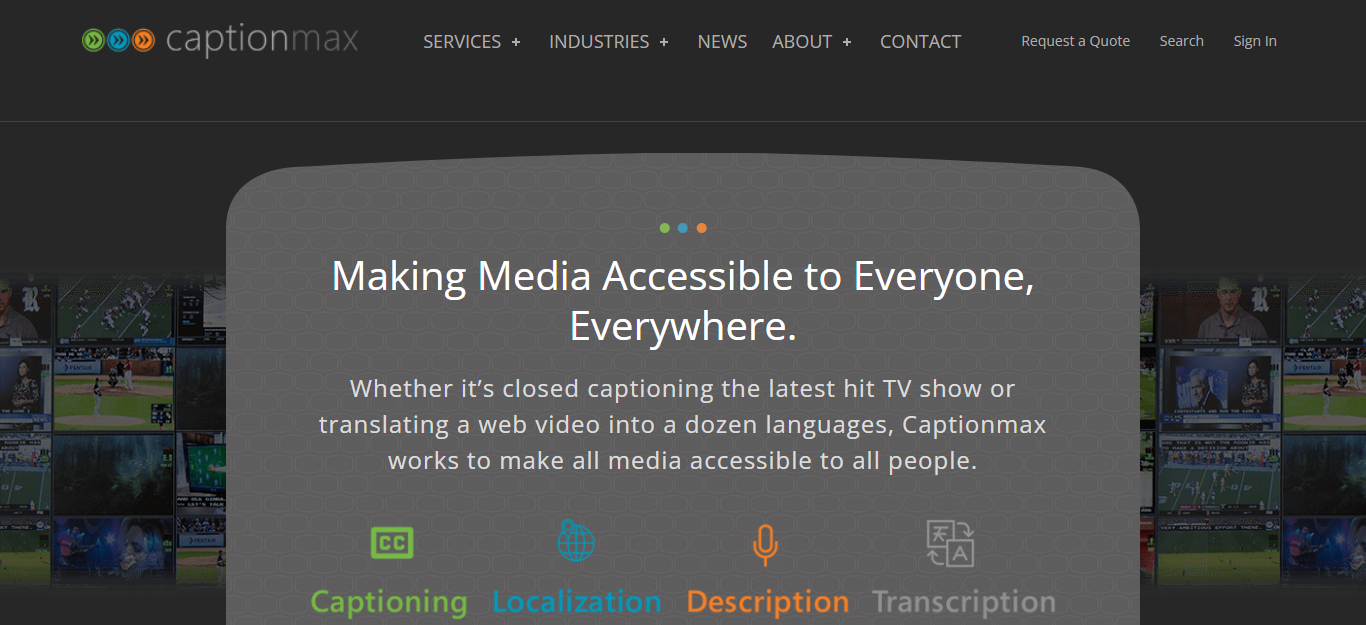 Caption Maax provides an impressive employee package, which includes medical plans, 401k contributions, and paid time off. The pay rate is also competitive as well.
According to Glassdoor, close captioners get paid $16 an hour, while real-time captioners earn $25 per hour.
6. Dotsub
One good way to get a home job as a captioner is to work at Dotsub, a company that specializes In language services. Dotsub hires people who can do closed captioning jobs as well as subtitling jobs in a work-from-home arrangement.
If you join Dotsub, expect to become a freelance captioner. You can accept or decline projects and work at home on your own schedule. Dotsub pays per minute of the video you are captioning, including seconds. You get paid once every month through Tipalti.
7. Impact Media
Impact Media is a captioning and subtitling company that works with a lot of sectors both in the US and Canada.
The company primarily deals with the broadcast industry and provides captioning services for TV shows and commercials.
Additionally, the company also provides closed captioning for online video content, such as YouTube and Vimeo, and the client's own website.
The company offers work from home and in-office jobs, but it does not have available positions at the moment. Still, it is worth checking out and applying when the opportunity arises.
8. Caption Media Group
CMG has been in the captioning and subtitling business for over two decades, and it's one best places to find work in the captioning space.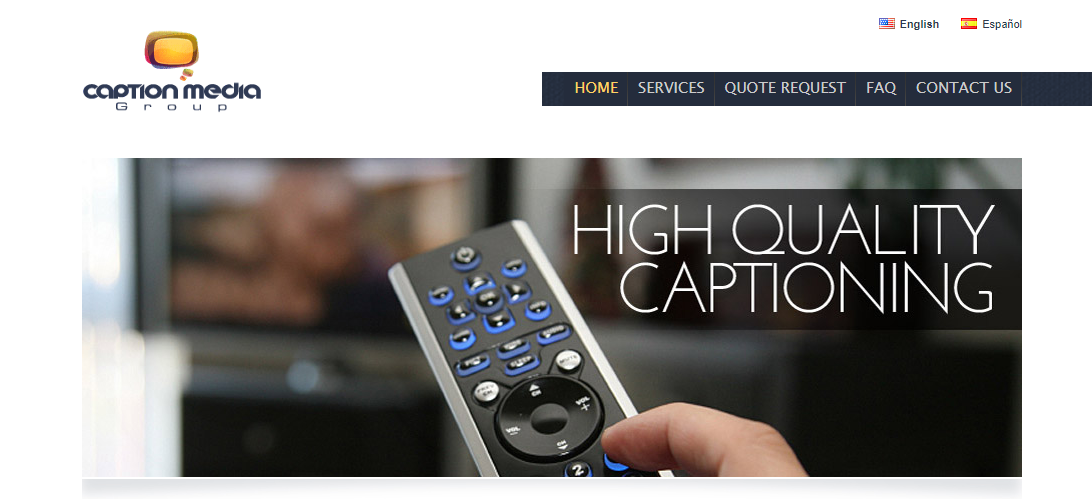 The company provides captions for all sorts of pre-recorded content, whether those are TV shows, movies, and video materials that are to be uploaded on YouTube or the client's website. Captioners provide offline captioning with any master tape or file in any of the company's supported formats.
CMG does not have a career page, but you can check out their LinkedIn page to find out if they are hiring captioners.
9. CaptionCall
CaptionCall is a service that provides captioning for phone calls, allowing people with hearing impairment to understand what their callers are saying.

It provides one of the best platforms to get a captioning job for beginners. You have to be at least 18 years old, type at least 30 words per minute, and be willing to train in-office. You may qualify for a work-at-home job after the training. Compensation is based on location.
10. Vitac
Vitac is one of the biggest names in the captioning industry, trusted by well-known brands with the likes of CNN, Fox, Discovery Channel, and BBC. It specializes in providing high-quality, standard-compliant captions and audio descriptions, both for live events and pre-recorded videos.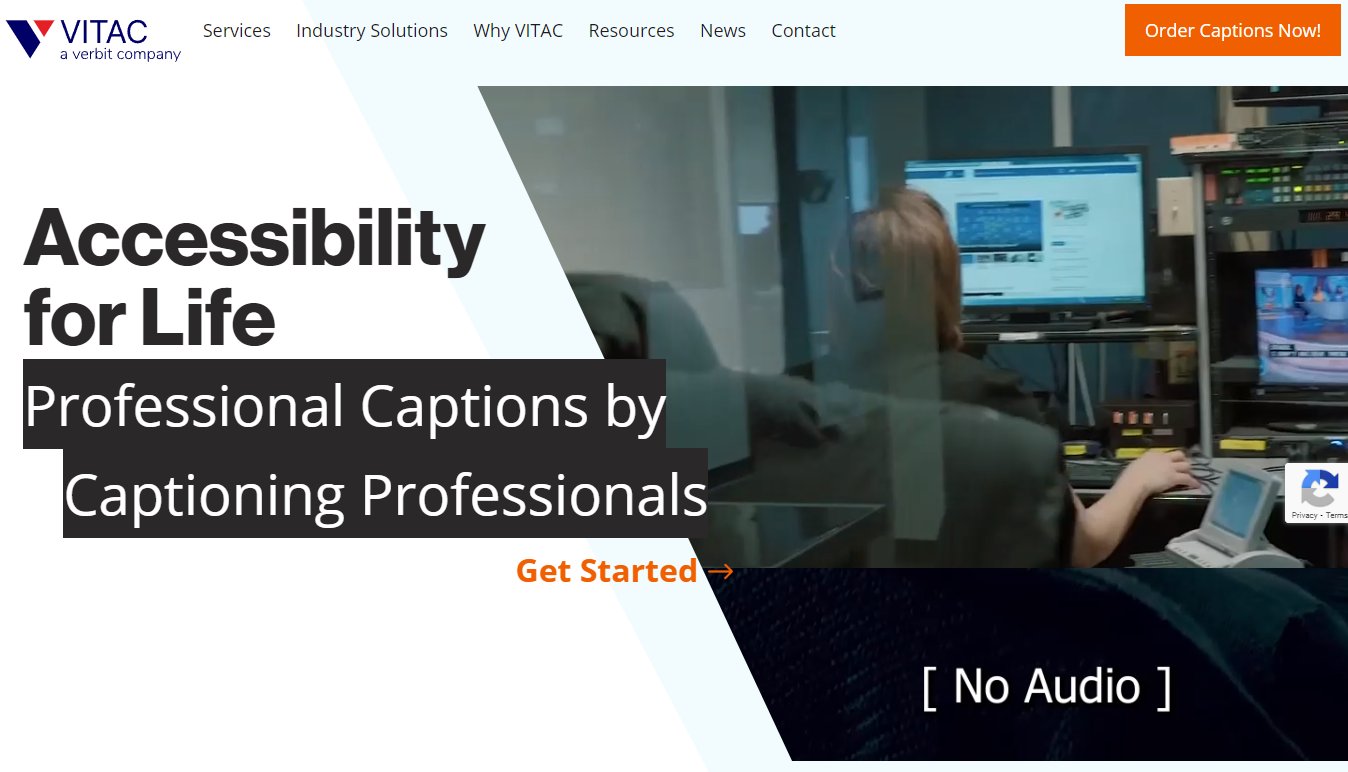 Vitac is always hiring captioning experts, both for offline captioning and live captioning jobs. Many of the jobs are in-house, but you may also qualify for closed captioning jobs that you can do remotely from home.
If you get hired as a full-time employee, you become eligible for a benefits package. Vitac's pay rate plays between $11 to $30 per hour, depending on one's speed and accuracy.
11. Daily Transcription
Daily Transcription is primarily a transcription agency, but it provides closed captioning services as well. Some of its notable clients include the US Air Force, MTV, HBO, and The New York Times.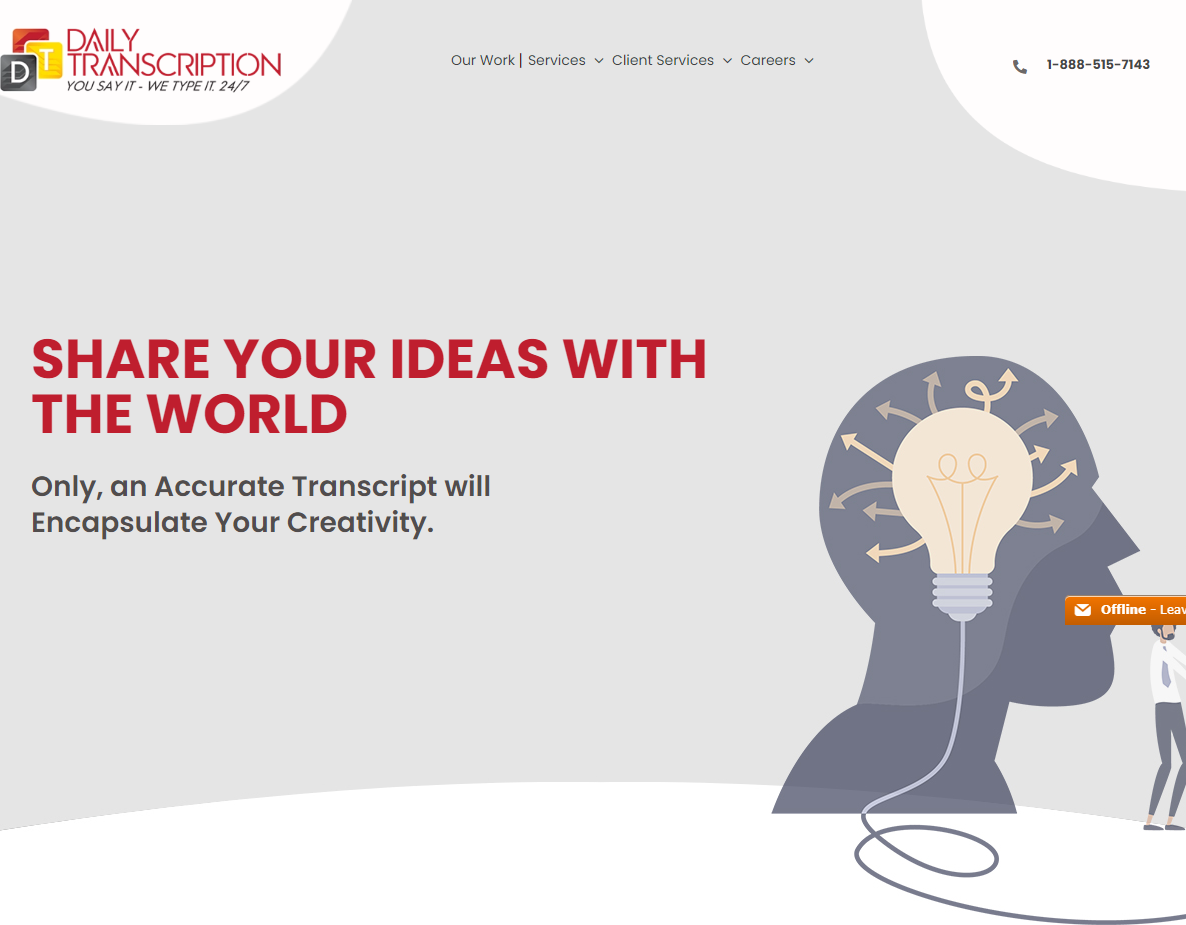 Captioning jobs at Daily Transcriptions are home-based. Freelancers from all over the US are welcome to apply. Simply head over to the website, click on the career page and submit your application online. For captioners, you need to be at least 18 years old and must have some captioning experience. Also, you need to sign an NDA form to start working.
Related: Daily Transcription Review
12. National Captioning Institute
NCI is a nonprofit corporation that aims to provide quality captioning services to help deaf or hard-of-hearing people access media.
It pioneered live captioning for television in the 1980s and it continues to serve the broadcasting industry, the internet included, with captioning service.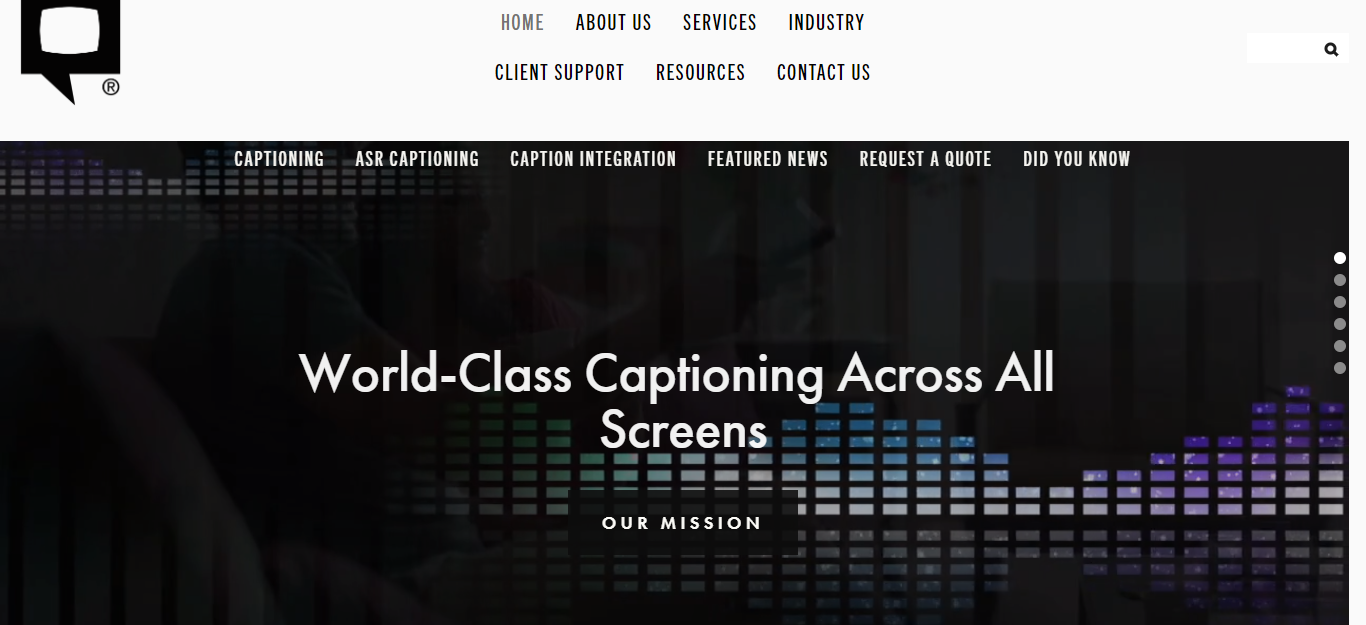 Captioners who are interested to work at the NCI should have at least an undergrad degree in English, Communications, or a related field or have completed a training program in captioning or court reporting. having impeccable English, communication skills, and the ability to use computer applications.
NCI provides training, benefits, and a $35,000 per year base salary for live captioners.
13. Rev
Rev is an agency that provides speech-to-text services, and that include transcription, subtitling, and captioning for various platforms, including Facebook, Vimeo, Youtube, Amazon, and iTunes, among others. It's also a good place for beginners to gain some experience while working from home.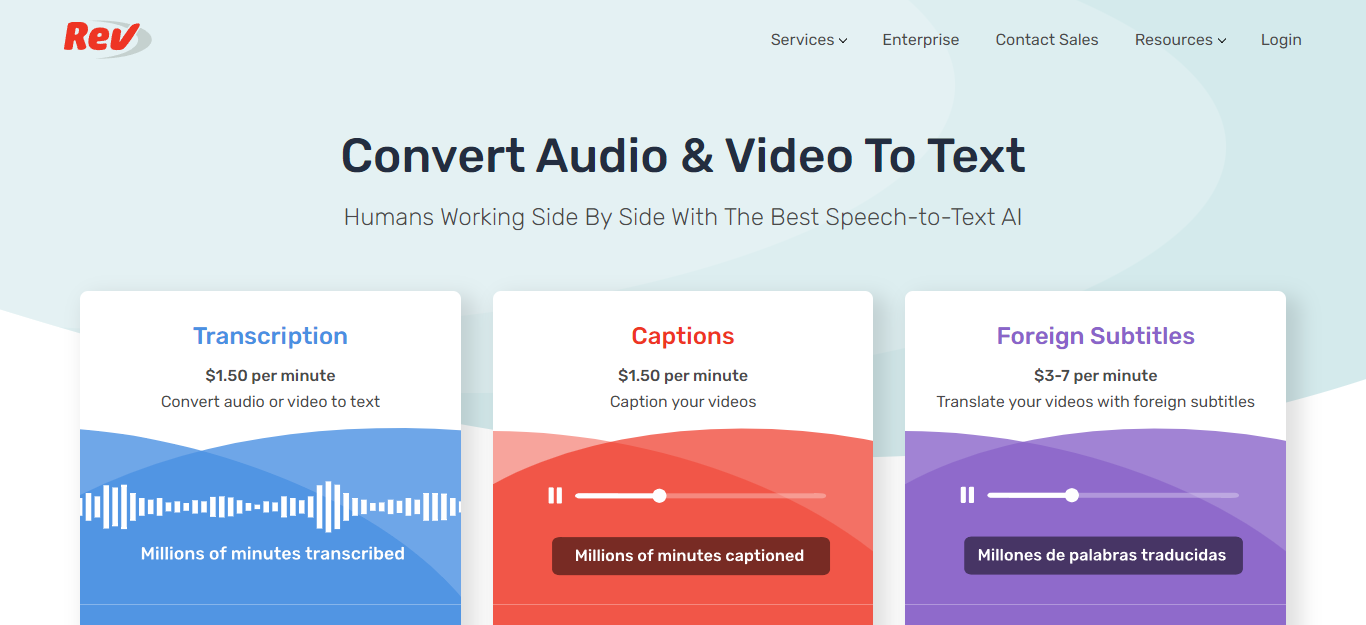 Rev's closed captioning jobs are done at home by contractors from all over the world. You can apply for Rev online, take the test and submit a sample. Once approved, you can browse through numerous closed captioning jobs from the platform and work from home. Rev pays around $0.54 to $1.10 per audio or video minute, paid weekly via Paypal.
Related Post: Rev Review
14. AI-Media
AI Media is a technology company known for providing top-notch live and closed captioning services. With its incredible technology and human workforce, the company is able to serve numerous clients from across industries.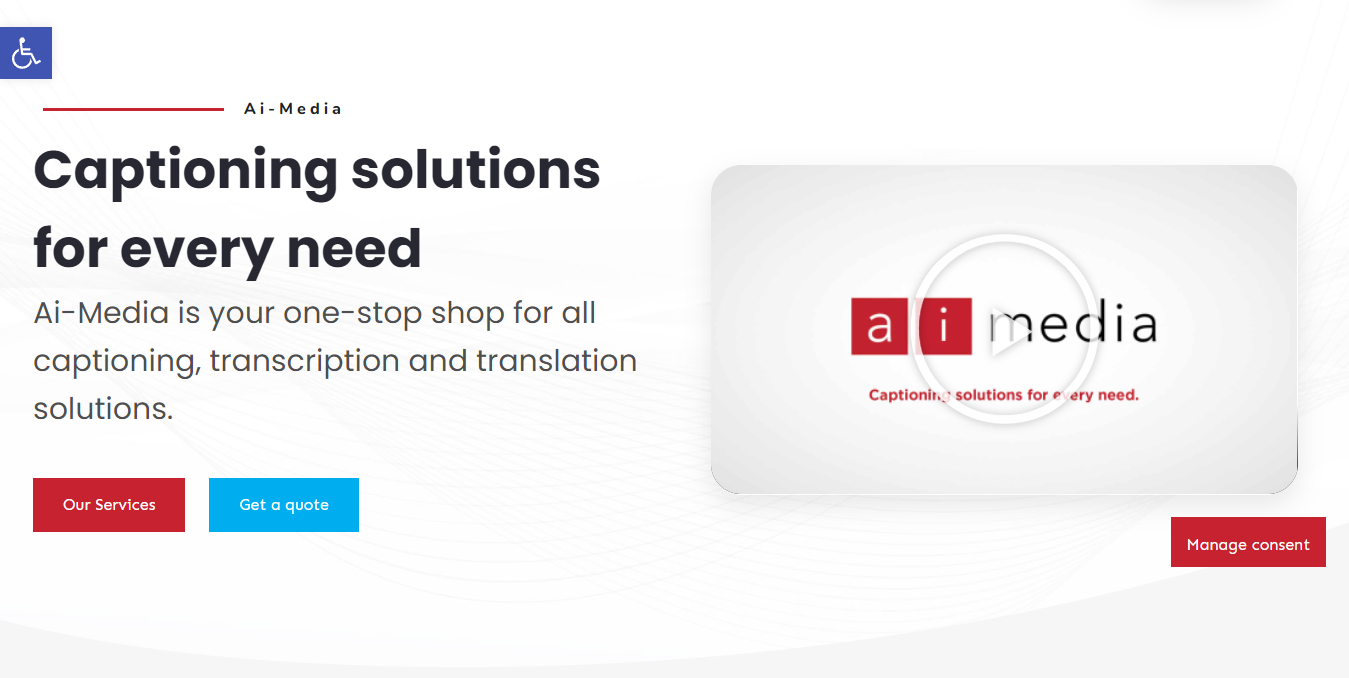 AI Media has a global team of captioners who work from home. The company hires live captioners who are able to attend a three-week. You don't need any experience in captioning as long as you have a good grasp of English and can work under pressure. To learn more about AI Media's vacancies, you can do a quick search on Indeed, Glassdoor, and LinkedIn.
15. Captioning Star
Captioning Star is a platform that focuses on providing captioning services, both for closed captioning and live captioning needs. It has over 10,000 clients and has captioned over 50,000 hours since the company was launched.

Captioning Star allows you to make money as a captioner while working from home. The pay rate is undisclosed.
16. Classroom Captioning
Classroom Captioning is a company that provides real-time captioning for students who have trouble hearing.
With Classroom Captioning, students are able to understand their lessons by translating them word-for-word on the computer or mobile phone.

Classroom Captioning hires captioners and transcribers. According to ZipRecruiter, this company pays around $27 per hour.
17. FlexJobs
Looking for more video captioning jobs? Turn to FlexJobs, a website for remote and part-time jobs that are guaranteed legit. All job listings are vetted by the FlexJobs staff to ensure that you apply for closed captioning jobs provided by real companies. You have to pay a membership fee to use the website, but it's worth it since you know you won't get scammed.
18. Crowdsurf
Crowdsurf is an online marketplace for jobs, so if you're in the market for work-from-home closed captioning jobs, then Crowdsurf is worth exploring as it focuses on in-demand captioning and transcription services.
This site is great for beginners and freelancers who are looking to get their feet wet in captioning. Simply sign up for a free account and start surfing for offline captioning jobs.
19. Fiverr
Fiverr is a marketplace for jobs and it's also a good place to find remote captioning jobs. You basically become a seller when you join Fiverr, as you would "sell" your captioning services to clients. You can set your own rates per hour, project or video minute. But remember that Fiverr will take a portion of your income as commission.
20. Upwork
You can also use Upwork to find work, as this website is known for being home to freelancers from all over the world. Just sign up on Upwork and bid for captioning jobs posted by clients. If a client is interested in working with you, he or she will do an interview and provide a contract. There are numerous freelance jobs here, but competition can be tough too, so it's good to be on your toes and apply for opportunities while they are fresh.
Captioning Jobs from Home Frequently Asked Questions
How do I become a captioner?
You can work from home as a captioner by getting the necessary training, particularly in court reporting and stenography. You also need to familiarize yourself with the captioning software and enhance your typing speed and accuracy.
Can you get paid to type captions?
Yes, companies from different industries would pay people to type captions. Broadcasting companies, video content platforms like YouTube, churches, universities, and even the government need captioners for both live and pre-recorded videos.
How much do you get paid to do captions?
It depends on the company you are working for and your level of experience. Agencies like Rev pay minimally per video minute, but companies like Aberdeen pay as much as $75 per hour.
Can you do closed captioning jobs from home?
Yes, it is very possible to work from home as a captioner, particularly if you're doing offline closed captioning.
Conclusion
If you have impeccable typing and communication skills, why not take advantage of them, make money and work at home as a captioner?
Many companies give you the flexibility to work on projects you like and hours that are most convenient to you. Others even provide a benefits package for full-time employees. So if you want to become a remote or freelance captioner, look up the companies I have mentioned above.