Stay-at-Home Moms Business Ideas
Let me guess. You're here because you are looking for low-cost business ideas that you can start from home.
Maybe you're a stay-at-home mom searching for stay-at-home business ideas that:
Let you set your own hours
You can start with little upfront capital
Have a huge income potential
You can actually do even without a college degree
Or perhaps you have a day job that you hate, and you dream of finally being your own boss? You want to work on your terms and have more time for the things you love. Maybe to travel and see the world, follow your passions, and become financially independent.
But you don't have money and don't know where to start?
How Can I Help You?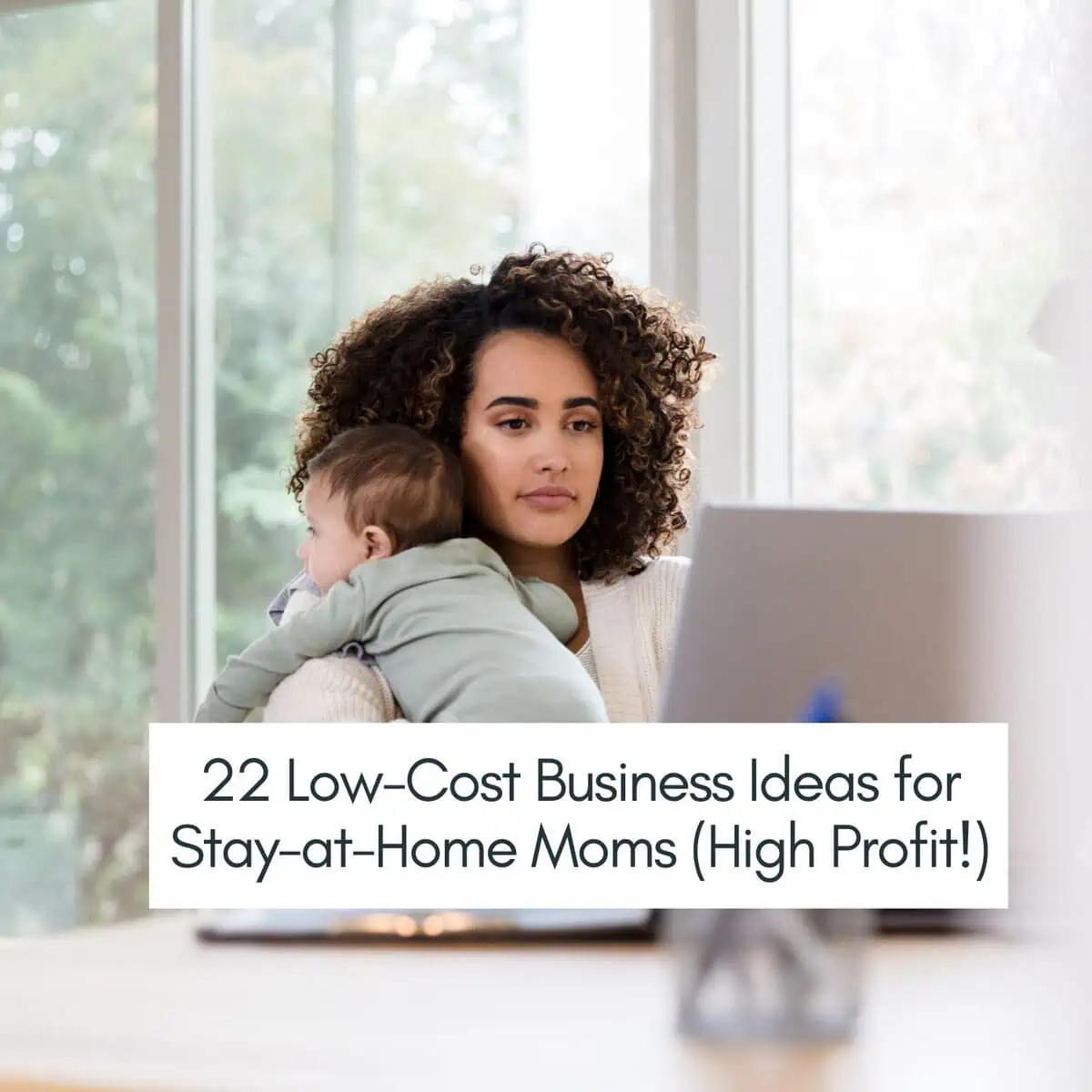 Listen. I was exactly where you are a few years ago, desperately searching for ways on how to start a business with no money. I had jobs I didn't love.
When I moved to Puerto Rico, I faced another career crisis: I couldn't find a meaningful job. For a little while, I was working a phone job that I hated every day.
I decided I had enough of wasted time searching for that "dream traditional job!" In 2018, I decided to seriously find a remote job that paid well and build a low-cost stay-at-home business that would allow me to make money from home.
Guess what? After over a year, I was able to turn this blog into a full-income source!
Since launching This Mama Blogs, I have learned so many incredible small business ideas for stay-at-home moms like myself! Some of these business ideas may even allow you to earn passive income!
What have I learned over the years? There are more ways than ever to realize your dream of building a profitable home business! The opportunities are out there but you need to take action and start.
Ready to learn more?
Benefits of Starting a Home Business
This post contains affiliate links. This means I may earn a small commission for purchases made through these links at NO extra cost to you.
Why start a home business, you ask? There are many reasons why you would want to start a home business. You probably want to:
Work on your own terms and time. You can work in the wee hours of the night, in between mom duties, or anytime you choose.
Spend more time with your family.
Have a creative outlet.
Work at home or anywhere. Depending on the type of business you choose, you may also be able to work while traveling.
Reach your financial goals without having to leave your home.
Earn more money while working less.
You want to quit your job.
The list goes on!
---
Stay-at-Home Moms Business Ideas To Start with Little Money
I decided to rank each of these business ideas on a scale of 1-10 (1 being the lowest and 10 being the highest) in terms of:
TIME : How much time you will need to get started? (10 being the most time-consuming)
INVESTMENT: How much money you will need to get started? (10 being the most costly)
INCOME: How much money can you earn through this stay at home moms business idea? (10 being the most lucrative)
DIFFICULTY: How easy or difficult is it to make money through this business idea? (10 being the most difficult)
Ready to learn what are the best stay-at-home business ideas to start this year? Let's dive in!
Easiest Ways to Make Money Online
---
1. Start a Freelance Writing Business
For me, freelance writing is one of the best stay-at-home business ideas out there because you don't have to pay anything to start making money from it. At the very least, you'll only need a computer and an internet connection.
Also, there's no shortage of writing jobs online. And it is even possible to make six figures with just a freelance writing business!
If you don't believe me, take a look at Holly who started freelance writing while working a typical 9-5 job. Holly left her lucrative corporate job when she started earning over $40,000/year from freelance writing.
Now, Holly consistently makes $200,000 per year from this online home business alone!
You may be thinking, perhaps Holly is an incredibly talented writer.
Well, according to Holly, you don't really need to be exceptionally talented (although that helps) to start making money with freelance writing.
Having decent writing and research skills is important but the secret to your success lies in your marketing skills as well.
How to Get Started?
While this is not a requirement, having your own freelance writer website and portfolio is important to show to your potential clients that you are a business providing services to other businesses. This allows you to set your own rates as well as build credibility as a professional freelance writer.
Fortunately, you don't need to be tech-savvy to create a website. I have an easy step-by-step tutorial here to help you set up a website/blog in minutes!
---
Want to know more about starting a freelance writing business? Read my in-depth guide on how to become a freelance writer with no experience. Better yet, check out Holly's freelance writing course here if you want to get serious.
---
TIME: 1
You can start a freelance writing business even today using freelance sites like Upwork, Freelancer, and Guru. While there are many downsides to using these sites, such as project fees and high competition, these freelance sites still offer a great starting point for those if you do not have writing experience.
I also highly recommend checking out FlexJobs, a listing site for remote, flexible jobs. What I like about FlexJobs is that every job posted on this site is screened by the FlexJobs team so you can rest assured that it is legit and scam-free.
INVESTMENT: 1
You only need to have a computer and an internet connection to get started.
INCOME: 8
If you are fully booked, it's possible to earn six figures per year!
DIFFICULTY: 5 (Intermediate)
You don't need to have professional writing experience, but you may need to demonstrate your skills to get hired.
---
2. Start a Blog
Blogging is one of the more popular home business ideas for stay-at-home moms for a few reasons. Blogging is flexible and fun. You can blog about your passions and get to help other people by sharing your ideas, projects, recipes, and more.
The world of blogging is also vast, so you can always find a niche that you'll enjoy writing about.
Your earning potential is also huge with blogging and you can have multiple income sources. You can earn through display advertising, sponsored posts, brand partnerships, and affiliate marketing.
I started this blog on a whim and never thought I could turn it into a full-time business. You might not believe it but it's possible to earn six figures from a small blog like this blog you are reading right now.
How to Get Started?
Check out my detailed guide on how to start a blog and make money for beginners. It's one of the most comprehensive, free blogging guides you'll find online. It contains a few chapters that will teach you how to start a blog, the technical side of blogging, how to write your posts, and how to grow your blog and make money from it.

Related Posts:
15 Inspiring Hobbies that Make Money
How to Make $3000 Fast: 12 Ways To Generate Cash in 2022
TIME: 7
You'll only need a few minutes to set up a blog but it can take some time to start earning an income from your blog.
INVESTMENT: 1
You'll only need to pay for hosting (best price here) and a domain name to start.
INCOME: 10
You have a huge earning potential. You could be earning $1k a month or $100k a month like Michelle of Making Sense of Cents.
DIFFICULTY: 7 ( Challenging/ Difficult)
It takes time and a ton of effort to start making your first dollar as a blogger. You will have put in a lot of hours of work at the beginning, but blogging can become passive over time.
I may be biased but for me, blogging is one of the most flexible and financially rewarding stay-at-home mom business ideas anyone could start!
---
3. Start a Proofreading Business
This business idea is perfect for people who have an eagle eye for errors in grammar, spelling, and syntax. If you can easily spot errors on a restaurant menu or blogs, you could make a great proofreader!
Caitlyn Pyle made $43,000 in her first year proofreading part-time! Proofreading has been her primary source of income since 2012, and in 2014, she started Proofreadanywhere.com as a blog to help others start and grow their proofreading business like she did.
How to Get Started?
TIME: 1
You can get started right away. Once you have your resume ready, create the perfect pitch and send it to potential clients.
INVESTMENT: 1
You don't need to invest some money to get started. However, investing in proofreading courses can help you land gigs faster most especially if you don't have professional experience in proofreading.
INCOME: 5-7
Proofreading online rates vary–from $25 to 40 per hour. According to ZipRecruiter, the national average rate for freelance proofreaders is $51,391 annually.
Your rates may increase considerably as you establish experience and credibility as a proofreader.
DIFFICULTY: 3 (Easy)
You don't need certifications to become a proofreader. You just need to have the skills which you can also learn from Caitlyn's proofreading courses.
---
4. Become an FBA Seller
If you want to start an e-commerce business, then Amazon's FBA program might be for you. FBA, which stands for Fulfilled by Amazon, is a program that provides a means for third-party sellers to automate their order fulfillment and shipping services. The concept is simple: sellers sell and Amazon ships the orders.
There are a few ways to make money as an FBA seller. One way to do this is through a business model called retail arbitrage wherein you shop at physical stores and sell the items for a profit on Amazon.
But for me, the best way to make a lot of money on Amazon is through private label. This business model involves creating and sourcing your own products and selling them under your own brand on Amazon. This is what most of the 7-figure Amazon sellers do.
What's great about Amazon's FBA program is that you can focus on finding great products and marketing, and then Amazon takes care of the logistics for you. That means you don't have to store your products in your home or ship the products to your customers.
How to Get Started?
Private Label:
If you want to learn how to source products and sell them under your own brand on Amazon, I highly recommend checking out this FREE 5-step guide (normally $47) and learn the steps to start, grow, and scale your own brand on Amazon. This guide will teach you how to find products that sell with almost zero competition.
Most successful sellers on Amazon use this business method as it is more scalable.
Retail Arbitrage:
Check out The Selling Family's Amazon Boot Camp or sign up for their FREE 7-day email course here to learn more about how to make money reselling items on Amazon.
Jessica from The Selling Family makes six figures in profit per year on Amazon through retail arbitrage, and she's also helped a lot of stay-at-home moms make money on Amazon doing the same thing!
TIME: 5
This business idea can be time-consuming and has a huge learning curve. Launching a private label business may take at least 4 months but once it's set up, it can become passive.
INVESTMENT: 7
This will require some money to start but according to The Selling Family, you can start with as little as $600.
Meanwhile, starting a private label Amazon business may require more upfront capital of at least $3000, depending on the products you choose to sell. It is still, however, considered "low-cost" compared to putting up a physical store.
INCOME: 5
Since this business is product-based, your income is dependent on how much money you invested and how much sales you made. You could be making a few hundred bucks a month to thousands.
DIFFICULTY: 5 (Intermediate-Difficult)
This stay-at-home mom business idea has a steep learning curve so it's a great idea to take a course to cut this learning curve and avoid common beginner mistakes.
---
5. Start a Bookkeeping Business at Home
If you love working with numbers, bookkeeping could be the perfect home business for you. As a bookkeeper, you oversee a business's daily financial transactions and record them.
The great thing about bookkeeping is that you don't need a degree to get started. And because every company, regardless of size, needs someone to do the books for them, it is safe to say that the demand for bookkeeping is bound to stay. It's even regarded as one of the recession-proof businesses of today.
According to Salary.com, the average salary for bookkeepers is $44,767 per year and the more experienced bookkeepers make $55,182.
However, Ben Robinson, founder of Bookkeepers.com, says you could make $60 per hour from virtual bookkeeping and could make a great annual income bookkeeping for a few clients.
HOW TO GET STARTED?
Check out how to become a bookkeeper from home to learn more about bookkeeping. I also recommend taking this FREE 3-part series about bookkeeping by Ben Robinson himself. These free classes are designed to help you determine whether bookkeeping is for you.
Time: 5
If you have bookkeeping experience, you can get started right away by applying to bookkeeping companies. However, if you want to set your own rates and be able to scale your business, then consider starting your own virtual bookkeeping business.
Bookkeeper Launch can teach you everything about starting a profitable bookkeeping business, including the necessary skills and the legal side of bookkeeping.
According to Bookkeeper Launch, if you dedicate 1-2 hours per week for learning, you could launch your business in 3 months or less.
INVESTMENT: 3
You only need to invest in training and software to get started.
INCOME: 7
According to Ben Robinson, virtual bookkeepers could make $60 per hour. You can scale your business by taking more clients.
DIFFICULTY: 5 (Easy to Intermediate)
It sure is not for everyone, but since it does not require a degree, bookkeeping appears to be easier to get into compared to accounting.
---
6. Start a YouTube Channel
Starting a YouTube channel is one of the best stay-at-home moms' business ideas for those who love creating video content. YouTube is a massive platform with billions of monthly visitors, so there is definitely money in this platform. You can monetize your channel in so many ways including ads, sponsorships, selling your own products, and affiliate marketing.
How to Get Started
Need a good head start with your YouTube business? Read this guide on How to Become a YouTuber and Make Money!
Also, check out Video Making for Beginners and Become a Successful Product Reviewer on YouTube on Udemy.
TIME: 1
It's easy to start a YouTube channel but it takes a bit of time to start making money from it. You'll need to have at least 1000 subscribers and 4,000 watch hours to monetize your channel with Google adsense.
INVESTMENT: 3
You don't need much to get started. If you don't have a good camera, you can start filming your video using a smartphone. Over time, you might have to invest in a good camera, editing software, and extra gear such as an external microphone and lighting equipment.
INCOME: 8
YouTube can prove to be a lucrative business, especially if you've established a solid community. If you don't know, one of the top YouTubers is a 7-year-old who makes millions of dollars per year by unboxing and reviewing toys.
DIFFICULTY: 1 (Easy)
You can get started right away! If you aren't tech-savvy before engaging in this business, you will have to learn a specific set of skills such as filming (taking into consideration, lighting, angle, and background), video editing, and video marketing. These are things you can learn online for free.
---
7. Affiliate Marketing
I think women are the best marketers. Many women can't stop gushing about a product that they like very much, whether it's a baby bath, skincare, or cookware. That's why I know affiliate marketing is one of the best business ideas for women.
Affiliate marketing is the process of promoting a product through an affiliate link or code. As an affiliate, you will promote a product through your blog, website, or video. When someone clicks on the affiliate link and purchases the product, you earn a commission. This process can go on even when you sleep or are on vacation, so it's an incredibly good way to earn some passive income.
I just want to add that if you want to be an effective affiliate marketer, you must genuinely love the products you are promoting. Better yet, you must have at least tried using the product yourself so you can give honest and authentic feedback.
If affiliate marketing is an entirely new ballgame for you, check out Michelle Schroeder's Making Sense of Affiliate Marketing. Michelle is one of the biggest bloggers out there who consistently make $50,000 in affiliate income every single month.
TIME: 3
Affiliate marketing has a learning curve, so it's best to give yourself the time to study all the resources you can find. You can start by setting up a blog or website, identifying a niche or products you want to promote, and signing up for affiliate programs.
INVESTMENT: 2
You don't need much investment to start earning from affiliate marketing. At the very least, you need a blog or website or a social media platform where you can talk about a product and promote it.
INCOME: 6
There's no saying how much you can earn from affiliate marketing, but there are people who make four-digit incomes a day with this business.
DIFFICULTY: 6 (Intermediate to Difficult)
Affiliate marketing takes effort, from researching a product, generating traffic, to converting visitors into buyers. There's a whole technical side to affiliate marketing that you have to learn to fully optimize your income potential.
---
8. Print on Demand
Print-on-demand (POD) is also one of the best small business ideas for stay-at-home moms. Print on demand has low start-up costs, can be operated from home (or anywhere), and is also an excellent source of passive income.
Basically, POD is all about creating designs that can be printed on merchandise, such as shirts, mugs, caps, and bags. You will only be in charge of the design, and marketing of your merchandise. When someone makes an order, the order is forwarded to the supplier who then prints your design on the merch and sends the product to the customer.
So, if you have the flair to create designs, this could be one of the best low-cost business ideas for you. There's no need to stock up on inventory (which saves you time, space, and money), you can work on your own schedule, and everything else is almost automated for you.
TIME: 3
Once you've set up a store in platforms like Printful and Printify, most of the work now falls on creating the designs. You can even create designs on Canva. It's free and beginner-friendly!
INVESTMENT: 3
Print on demand requires minimal investment. At most, all that you're going to need is a laptop or computer, and a reliable internet connection. There's no need to stock up an inventory of merch products.
INCOME: 6
How much you earn from your print-on-demand business depends on a couple of things, such as demand for your design and how well you were able to market it. Some people make a few hundred dollars a month, but successful ones make enough money to quit their day jobs and work on POD full-time.
DIFFICULTY: 4 (Easy)
It's a relatively easy business to get started most especially for graphic artists. If you don't have any talent in designing, you can also outsource the design tasks to freelance graphic designers. Fiverr is where I usually go for affordable graphic designers!
---
9. Rent Out Spare Space on Airbnb
If you have a spare room at home, you can turn it into a money-making machine by renting it out to guests and tourists. Airbnb provides an excellent platform for you to earn passive income.
According to Capital Counselor, the average stay for guests is 4.3 nights and hosts earn an average of $102 per booked night.
Starting up an Airbnb business involve some capital, and how much you need depends on what you want to achieve with your unit. At the very least, you'll have to spend on repairs, maintenance, and amenities. You also need to do some market research to nail down the best price point for your rental and provide outstanding customer service to keep the bookings coming.
How to Get Started?
Simply list your space on Airbnb and check out YouTube tutorials on how to make residual income with Airbnb.
TIME: 4
To get started, all you'll need is to prep your space, take good pictures of your space, list it on AirBnb and prepare all the necessary paperwork before launching your business.
INVESTMENT: 6
Airbnb rentals come with ongoing expenses, such as utility bills as repairs, maintenance, cleaning services, and restocks of amenities.
INCOME: 8
On average, Airbnb hosts make around $924/month, but the number may fluctuate based on your location, how busy your rental is, the quality of your unit, and the services you offer.
DIFFICULTY: 4 (Easy)
Running an Airbnb business isn't very difficult especially if you've taken care of the legal side of it. The business side is an ongoing effort that you'll get a hang of as you push through it.
---
10. Start a Craft Business
Did you always want to embark on a fun, creative project at home such as making baskets, knitting, sewing, making jewelry, or making home decors? If so, you could also turn your hobby into a business!
Selling profitable crafts is one of the best small business ideas to start with little money. And thanks to the internet, it's now easier than ever to sell your crafts. Use platforms such as Shopify and Etsy, or sell your products on Facebook or on your own website.
How to Get Started?
Create great products! If you are looking for ideas, check out:
20 Best things to Sell on Etsy
72 Easy Crafts to Make and Sell
Sign up for a seller account on Shopify or Etsy and create a marketing plan.
TIME: 7
You will need to dedicate a bit more time creating your products and marketing.
INVESTMENT: 1
Crafts are usually low-cost.
INCOME: 6
If you priced your items right, you could make a good profit and get paid for your labor, artistry, and time.
DIFFICULTY: 1-5 (Easy)
Related: 24 Best Websites To Sell Stuff Locally and Make Quick Cash From
---
11. Start a Consulting Business
Do you have knowledge in an industry that may help other people? Maybe you're a business expert, an expert in digital marketing, or a culinary expert. Whatever your specialized knowledge is, you can make money by offering consultation services to people who need your expertise.
One of the advantages of this business idea is that you may well have an existing network of contacts who can give your new career a jump-start.
How to Get Started?
Have the qualifications necessary to get the job done, and be up to date in the knowledge department with all the trends and changes in your area of expertise.
Begin networking or contact your existing network, create a consulting website, advertise your services and start cold calling.
TIME: 5
You may need a special license or special certification before you can begin operating as a consultant.
INVESTMENT: 4
This won't need a lot of money to start. At the very least, you'll only need to invest in a computer, an internet connection, or a telephone to get started.
INCOME: 5
Consulting can be a very lucrative business and the overhead cost is minimal, too. You can get paid hundreds of dollars per hour and can work from home.
DIFFICULTY: 5 (Intermediate)
Depending on your area of expertise, you may need certifications, a degree, or a certain level of experience to become a qualified consultant.
---
12. Start a Virtual Assistant Business
Internet marketing is booming, so is the demand for virtual assistants (VAs). And you could never go wrong with a VA business if you like providing support to business owners.
Virtual assistants are remote workers who assist their clients in day-to-day tasks, from scheduling appointments, managing social media, answering customer queries, email management, producing content, designing graphics, and so on.
If you're an organized person with good attention to detail, a self-starter, and willing to learn, a virtual assisting business could make one of the most lucrative stay at home moms business ideas for you!
It helps if you're already quite savvy about social media, but don't worry if you aren't, almost everything can be learned online.
How to Get Started?
Check out this guide on how to become a virtual assistant to learn more about working as a VA or check out this list of virtual assistant training courses.
If you want to get serious, check out #FullyBookedVA by Gina Horkey. This training program covers everything you need to know about becoming a fully booked VA including:
Foundations of a VA business
Establishing your online presence
Finding high-paying clients
Marketing
Automating your tasks to manage your time and more
Don't miss Gina's free training video that will teach you how to how to get 3 clients in 3 days! Check it out here!
TIME: 2
If you are familiar with social media, know some graphic skills, or have great customer service or writing skills, you should be ready to start!
INVESTMENT: 1
You just need a computer and internet connection, but it is also highly recommended to start a website for your business to attract more clients.
INCOME: 7
According to Payscale, the average rate for virtual assistants is $15.65 but it's possible to earn $40 to $100 per hour as a VA, depending on the tasks you offer. What's also great about this business is that you can create a team of VAs to help you manage multiple projects, increasing your income.
DIFFICULTY: 1 (EASY)
It is easy to start a VA business and the skills you need to become a VA can be learned online. What may be challenging is finding your dream clients.
---
13. Start a Tutoring Business
If you are looking for easy home business ideas for stay-at-home moms, offering a tutoring service is also a great option. This is especially true if you live in a neighborhood with many schoolchildren, you love children and you are a former teacher or educator.
As a private tutor, there are no formal education requirements but having a teaching experience, a bachelor's degree and teacher certification are plusses.
You can also offer virtual tutoring. If you have a bachelor's degree, are fluent in English, and like teaching English, you could earn $22 per hour as an ESL (English as a Second Language) online teacher.
How to Get Started
Read: Online Tutoring Jobs
TIME: 1
You can start teaching right away.
INVESTMENT: 2
You'll only need a little space in your house to hold your tutoring classes.
INCOME: 4
According to Payscale, entry-level tutors make an average hourly salary of $19.65.
DIFFICULTY: 3 (Easy)
It is easy to start if you have relevant experience.
---
14. Graphic Design
Graphic designers are responsible for creating various materials, such as logos, brochures, posters, flyers, and more. And now that most people turn to the internet for almost everything, businesses turn to graphic designers to create materials that communicate their brands.
If you are skilled in designing with the use of computers, starting a graphic design business might be a great idea for you. The great thing about being a graphic designer is that you hold your own hours, you can set your own rates and choose your projects.
As this business can be operated entirely from home and all forms of communications can be managed online, graphic design proves to be one of the best homemade business ideas for women.
How to Get Started?
You can start offering your services at Etsy, Creative Market , Fiverr or your own website.
New to graphic designing? Need to brush up your skills? Udemy has a lot of affordable courses that only cost $9.99 each. You can check them out here.
TIME: 4
Like many of the stay-at-home business ideas on this list, this business may require just a bit of time to get started. You may need to create a portfolio, market your business and pitch to potential clients.
INVESTMENT: 5
The bulk of your investment would probably go towards your graphic design gear. Since you have to ensure the quality of each graphic, not all computers would make the cut.
Most graphic designers go for powerful computer systems and top-of-the-range editing software. You'll also spend on a professional website that can double as your portfolio to show to potential clients.
INCOME: 6
According to the Bureau of Labor Statistics, the average income for graphic designers is around $50K per year.
DIFFICULTY: 3
If you're already a creative person at heart, graphic design shouldn't be too hard for you.
---
15. Selling Online Courses
No matter who you are, what your profession is, or what you're passionate about, you can make money selling online courses. You don't even have to be the perfect writer to start writing and selling courses. You just need to be able to share your skills or expertise in a way that gives significant value to your audience.
Creating and selling online courses is one of the best stay at home business ideas for moms because:
You get to decide what course you'd like to offer .
You'll rely heavily on what you're already good at.
You get to work on the course whenever you like.
Selling online courses is also a great way to earn passive income. As long as people want to access your course, you'd be making money even while you sleep.
How to Get Started
You can upload your video or written course on platforms like Teachable and Thinkific. Another way to sell your course is through your own website, though this might need some technical expertise in maintaining your site.
TIME: 2
You have total control of your time when it comes to creating online courses. You can work on it whenever it fits your schedule, so the only deadline you have to beat is the one you set for yourself.
INVESTMENT: 3
Creating online courses also doesn't need much investment. You'll need a computer and internet connection, as well as a website where you can sell your course.
INCOME: 8
If you can nail down a successful and profitable online course, you stand the chance of earning quite a lucrative income. According to Online Course How, several course creators earn at least $1,000/month, while some others up to $50K/month.
DIFFICULTY: 2 (Easy)
If you're creating a course on something that you're most familiar with, skilled in, or passionate about, the difficulty level goes down significantly. Creating online courses is all about sharing what you already know with others, so the creation part will probably come naturally to you.
---
16. Start a Baking Business at Home
Sell birthday cupcakes/ cakes, pies and other baked goods and package them into gifts. Market your business on social media and through networking, or consign your products at local cafes. The best thing about this business is that you can do it at your own time and at home, perfect for stay at home moms!
How to Get Started?
Perfect your recipes and designs, take beautiful pictures of your products and create social media profiles for your business.
TIME: 3
While a home-based baking business is quicker to start than when you have a physical bakery, there are still lots of things to work on before you can open your business.
Among these things are the products you are going to offer, how much these products cost, your overhead cost, where to get your supplies at cheaper prices, and more. You may even have to alter ingredients to adjust your prices that appeal to your target market.
INVESTMENT: 5
You can start a baking business with less than $500, if you already have an oven. Once you get more orders, you might need to invest in better equipment such as a good mixer such as this one and other baking essentials.
INCOME: 3-7
It depends on how much work you put into your business. If you're just taking special orders, you can make between $200 and $400 per month. You can earn more if you work more hours or offer specialty products, such as wedding cakes.
Your income is also dependent on the type of products you sell.
DIFFICULTY: 1-5 (Easy)
It doesn't need certification or a degree to get started.
---
17. Social Media Influencer
Are you a social media person? Another great way to earn a living off social media is to become an influencer. You see people on Facebook, Instagram, YouTube, and TikTok all the time, promoting brands and companies on their accounts. Whether or not they are celebrities, these people are considered influencers. Their main tasks are creating content that spread brand awareness, encourage interaction and connection.
If you'd want to go this route, think of the things that you are passionate about that you'd want to promote. You can create content around makeup, baby caring, cooking, cleaning, exercise, and more. You can make money from the ads and views, as well as getting brands to sponsor your content.
How to Get Started
The course How To Become A Successful Social Media Influencer is a wonderful resource that shows you what it takes to be successful in this field. If you want to learn how to monetize Instagram, check out our post on Instagram business ideas you could start today. Meanwhile, if TikTok is your thing, here is how to make money on TikTok!
TIME: 5
You can start out as an influencer right away even if you have a small following (micro-influencers have at least 1,000 followers). You have to show passion for what you do and establish some knowledge about the brand or product you are promoting. But because it takes time to build a following, it's essential to truly make an effort to grow your following by being more real and "personal" with your viewers.
INVESTMENT: 3
Influencers don't need to shell out a large amount to get started. Most of them only need a decent camera and peripheral equipment, while others spend a bit more on things like outsourced editing and web design. Travel influencers also don't get to enjoy all their trips for free, so expect to spend out-of-the-pocket in coming up with content.
INCOME: 7
Your income as an influencer can depend on a lot of things, such as the size of the following, the channel used, and the amount of effort to create the content. You can earn per post (Instagram, Twitter, or Facebook), or per video (YouTube or TikTok). According to Influencer Marketing Hub, micro-influencers can earn around $100-$500 per Instagram post, while YouTube videos can command up to $1,000 each video.
DIFFICULTY: 3
The great thing about being an influencer is that you are already doing what you're already good at or passionate about (only now you're trying to promote a brand or product). Most of the work lies in creating content that would satisfy both your audience and the brand sponsoring your content.
18. Social Media Manager
Social media management is also one of the best business ideas for moms because you can do it from home.
As a social media manager, you manage your client's social media accounts to expand reach, get more brand exposure, establish a positive brand image, and nurture the brand's community. In short, you manage those accounts to ensure your client's business is seen in a positive light.
TIME: 4
If you like to work on your own schedule, then consider pushing a career in social media management. You'll find it easier if you love social media and use it daily. However, you need to devote time doing in-depth learning on the new trends, setting up campaign ads, and creating excellent content.
INVESTMENT: 3
You don't need much to start your own business as a social media manager. You need a computer and mobile phone (there are certain features in social media platforms that are only accessible on a smartphone). You may also need a subscription for social media schedulers, although the free and built-in ones work great, too! y expand your business.
INCOME: 6
Working as a social media manager can help you generate extra money. According to ZipRecruiter, you can make around $26 per hour, and possibly more, depending on your experience and expertise.
DIFFICULTY: 4 (Easy to Intermediate)
What I love so much about social media management is that it is accessible. While you need to invest time and effort to study the ever-changing trends, the fact that most of us are exposed to social media regularly makes it more manageable.
19. Grant Writing Services
Apart from freelance writing business, another home business that's a great fit for writers is grant writing. You can put your writing skills to work and earn money by writing grants. Essentially, you'll be working with businesses and helping them secure grants from the government, non-profits, and foundations. As a grant writer, you will write proposals outlining the goals of the project and how the business intends to use the funds.
TIME: 5
You need some time to set up your own business in grant writing. It helps to have a business plan in place, establish your online presence, and network with small business owners and other businesses.
INVESTMENT: 4
Grant writing s one of the best home business ideas for moms with low startup costs. You may need to invest in your own website, create marketing materials, and perhaps obtain online courses to help enhance your skills.
INCOME: 7
You can make money online from a grant writing business and earn per hour or project. According to Glassdoor, grant writers in the US make around $52,000 per year. Successful grant writers frequently build long-lasting relationships with their clients. This strategy can lead to ongoing business and a reliable source of INCOME. Also, you typically work on your own hours, allowing you to manage more than one client at a time.
DIFFICULTY: 6 (Intermediate)
Managing a grant writing business requires expertise in grant financing, writing, research, and effective communication. The industry is competitive, but with dedication and knowledge, it can be lucrative.
20. Dog Walking or Pet Sitting
If you're looking for a home-based business idea that does not require any particular skill or degree and only requires you to be passionate about animals, then this is the job for you. You might think that dog walking and pet sitting are simple jobs, but they can generate a nice stream of side income with the right strategy.
How to Get Started?
Advertise your service on social media or join Rover and Wag.
TIME: 2
If you already have a good amount of experience taking care of your own pets, you can launch a dog-walking and pet-sitting home business immediately. Start by signing up on pet-sitting websites like Rover, establishing your social media presence, and offering your services in your neighborhood.
INVESTMENT: 3
The investment required to start and operate this home-based business is relatively low. Proper pet care requires supplies like leashes, waste bags, and promotional materials. Overnight pet sitting may require additional supplies for pet comfort, but overall expenses can be kept minimal.
INCOME: 6
You can easily make extra money from home with dog walking and pet sitting. The more furry clients you have, the more money you make. According to Indeed, dog walkers make an average of $18 per hour, and that adds up quickly if you take out 2 or more dogs on a single walk. Ensure to provide excellent service because this business opportunity tends to grow with word-of-mouth and referrals by existing clients.
DIFFICULTY: 3 (Easy)
It isn't so hard to make extra income from this home business. Caring for pets requires love, responsibility, and good time management. It can be challenging, but it's not too difficult. Establishing trust with pet owners, marketing your services effectively, and delivering reliable and quality care are key factors for success.
21. Sell Digital Products and Templates
Want to run a home-based business idea for moms while taking care of your own children? You need a flexible business idea that allows you to work in your own schedule, such as selling digital products and templates. This is an excellent online business idea because it is in demand and is a nice way to generate passive income.
How to Get Started?
Check out this free workshop to learn more about selling printables on Etsy.
Also read: How to Create Printables to Sell and How to Make Money Selling Canva Templates.
TIME: 3
Selling digital products and templates can be a great way to make money and share your knowledge with others. The best part is that it doesn't require a lot of TIME or upfront investment. You could create content on user-friendly apps like Canva, Adobe Photoshop, and Illustrator, and then sell them on Etsy, Creative Market, or your own website.
INVESTMENT: 3
If you're thinking about starting a business selling digital products and templates, you're in luck! The investment required to get started is typically low. You'll typically just need a graphic design app or software and a platform for selling your products.
INCOME: 7
Selling digital products and templates can make you some serious dough! Of course, it depends on how many people want what you're selling, how you market it, how much you charge, and how big your audience is. But the great thing about digital products is that you can sell them repeatedly without having to pay for production, so your profits can be attractive.
DIFFICULTY: 4 (Easy)
Selling digital products and templates is one of the best business ideas for stay-at-home parents because it is accessible. Anybody can learn to do it! Research your target niche or market, and find products that are in demand. From there, you can operate this business with relative ease and in the comfort of your own home!
22. Meal Planning Business
Have you ever thought about starting a meal planning business from home? It's a great option for parents who have awesome recipes to share and want to make some extra cash.
The beauty of this business is you can sell your meal plan over and over to parents who need your awesome meal planning skills. Because believe it or not, meal planning can be complicated to many people.
You can create weekly meal plan, and deliver it to your clients by email. You can cater to people who want to save money by cooking delicious but cheap meals, families who need a healthy weekly meal plan, or busy people who want quick and easy meals.
How to Get Started?
You can sell your meal plan service on social media but the best way to get started is to have your own website where people can read more about your meal planning service. Check out the $5 Meal Plan for inspiration.
TIME: 6
Starting an at-home meal planning business can be time consuming at first but it can become passive over time. You'll need to plan meals, create recipes, and make the shopping list for your clients.
INVESTMENT: 1-3
There's really not much to invest expect here but your meal planning skills and awesome recipes.
INCOME: 6
Starting a meal-planning business at home can be profitable. The key factors are the number of clients, pricing, and demand. Offering healthy and customized meal plans can build a loyal customer base and provide a steady income. We all need food, and it's a business idea that never goes out of fashion, so this can be a truly great business opportunity for stay-at-home moms.
DIFFICULTY: 6 (Intermediate)
You need to know what's up with different diets and what your customers like. And let's not forget about being super organized and able to learn internet marketing to sell your meal planning service. But if you can nail all that and still keep things fresh and exciting, you'll be ahead of the game in no time.
---
There you have it! Some of the best stay-at-home mom business ideas!
There are tons of small home-based business ideas out there. But remember: whatever type of home business you choose to start, be sure to pick something you see yourself doing for the long term, and that aligns with your goals. And more importantly, don't let a lack of skills intimidate you from it. Instead, invest in learning how to make it work because, chances are, there are lots of online courses or resources that can help you make your dream of running your own home-based business a reality.