Learn how to become a well-paid virtual assistant from the best virtual assistant training courses online.
---
If you are looking to work from home and build your own freedom, becoming a virtual assistant (also known as VA) might be the perfect career choice for you!
It's one of the best ways I know to build a long-term, sustainable, profitable income from home.
Offering services as a virtual assistant is a dream come true when it comes to creating a business because there are so many directions you can go with it depending on your skills, background, and interests…
Fortunately, you can learn VA skills online from the right virtual assistant training courses.
It is pretty much my life's mission here to show you how to build your own freedom while doing what you love.
So, I spent a lot of time researching the best virtual assistant courses online, so you don't have to.
In this post, I will share two of the best courses that will help you jumpstart your virtual assistant career and make money from home.
These VA courses will teach you how to find your dream clients and set yourself to be the best VA your clients are looking for.
---
Are Virtual Assistants in Demand?
But first, why would you even want to get a virtual assistant training course? Is it really worth becoming a virtual assistant today?
The VA industry is booming rapidly. And VAs are now in high demand, thanks to the global shift in workplaces, from on-site to online.
As you've also probably seen in your area, businesses that used to operate purely in their physical stores now have an online component.
This means that virtual assisting is one of the high-income skills that can bring in a lucrative income.
According to Forbes, the pandemic pushed virtual assistance to the limelight. VAs help entrepreneurs and professionals by providing administrative, technical, and creative support in running a business.
Whatever that a client needs to be done, as long as it can be performed via a phone call or computer, then a remote VA can most certainly do it.
So yes, virtual assistance is in demand and it will continue to be so in the following years.
As more online shops open, there will also be more demand for web content, social media management, and customer service, among others. All of these tasks can get overwhelming for an entrepreneur, so he or she will most likely hire another person to work on them.
And outsourcing the tasks to a VA makes the most sense. One, the tasks can be delegated, performed, and finished online without needing to lease an office or purchase extra equipment. Additionally, you can have the VA work as little or as much as your business needs. One can always set up amenable work and payment schedules that are perfect for both parties.
Now let's get down to the best virtual assistant courses online. I have narrowed down the contenders to the top 2: 10K VA and Fully Booked VA.
When you're looking for virtual assistant courses distance learning programs, I suggest looking into these two courses first because they are the most popular with raving reviews!
Related:
How to Become a Virtual Assistant and Make $60 per Hour
18 Virtual Assistant Jobs for Beginners
---
Best Virtual Assistant Training Courses Online
This post contains affiliate links. I may earn a small commission at NO extra cost to you for purchases made through these links.
1. Fully Booked VA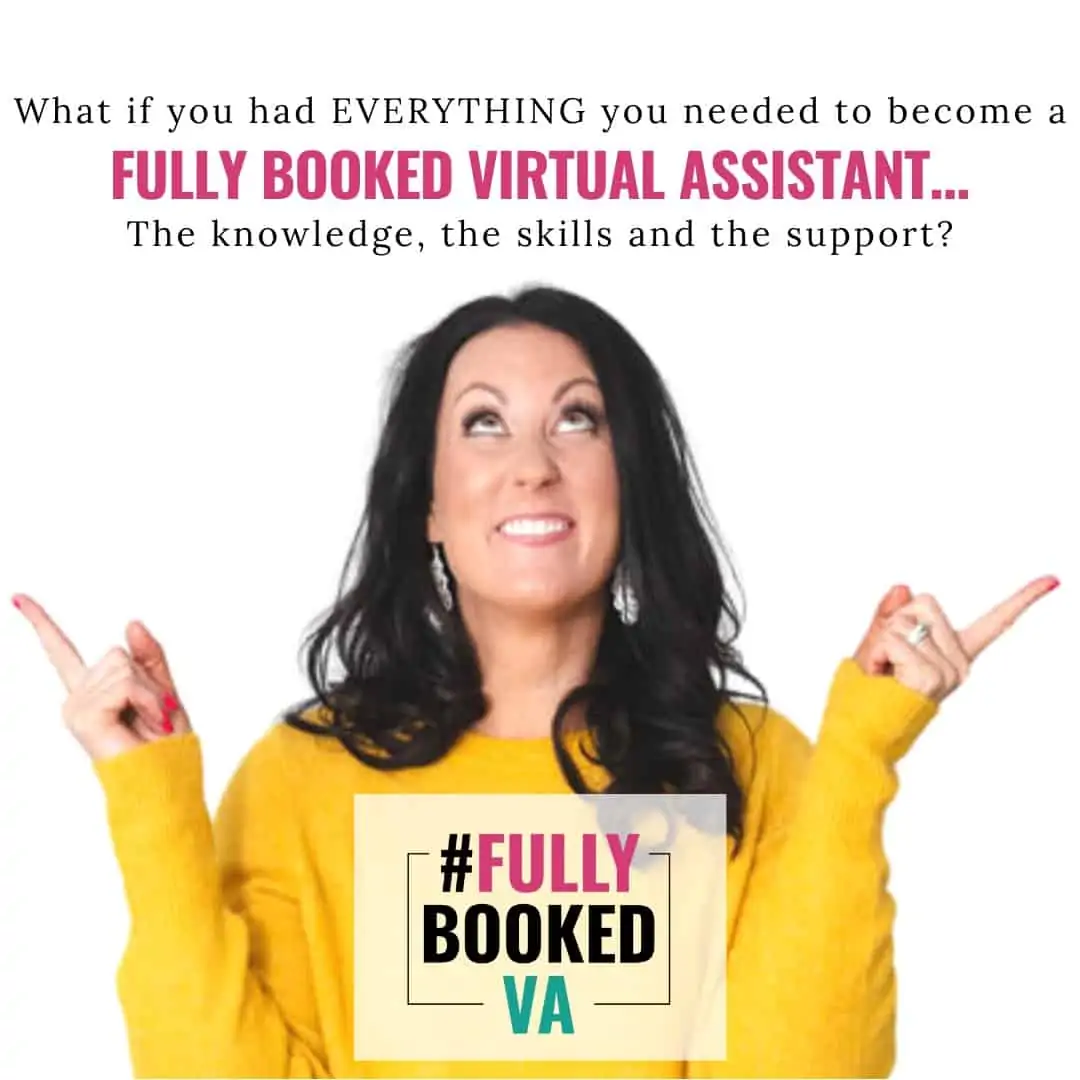 If you're thinking of taking a massive leap of faith, but not doing it blindly, then take a look at the Fully Booked VA program.
By far, this is one of the most jam-packed and comprehensive virtual assistant training courses. It walks you from the very start of your VA journey, offering lots of support and motivation as you build and scale a truly successful VA business.
The Fully Booked VA was created by Gina Horkey, a prominent figure in the virtual assistance industry that many people look up to her as an inspiration.
The Fully Booked VA aims to help you launch your VA career and land paying clients within the first 90 days. This is an amazing course that's perfect for anyone who wants guidance from the very first day and navigates their VA career with much confidence.
The Fully Booked VA course is divided into three phases: the Foundations, Certification, and Specialization.
The Foundations
In this phase, you will learn how to start your VA career following Gina's step-by-step instructions.
It covers all the pertinent topics for any aspirant, from picking your services, finding clients, determining your process, building your online presence to setting up your business legally.
Certification
Once you've finished the entire Foundations course, you will move on to getting certified. Gina will award you with the Horkey Handbook Certification to show clients that you have trained adequately as a VA.
So if you were wondering how to become a certified virtual assistant, this course should come top of mind.
Apart from the certification, you will also gain access to Full Booked VA's hundreds of client leads. These are business owners who are looking to hire VAs who have graduated from the Fully Booked course. With this, it is indeed possible to land your first VA even before you finish the entire program.
Specialization
Finally, you want to specialize. In this phase, you will learn about the different specialization tracks and choose which ones you would like to focus on. The current specialization tracks are:
Social media and community management
Customer service and admin
Content marketing
Tech and automation
Marketing strategy.
You will gain access to all these specialization tracks. Maybe you'd want to focus on one or two, or perhaps throw in a couple of other services.
Once you've unlocked this phase, you'll also gain access to the Horkey Handbook's skills courses which include:
Freelance writing
Real estate VA
Email management
Social media management
Project management
So there you go, the three phases of the Fully Booked VA training course. Everything is all mapped out for you and all you have to do is follow the course step-by-step. You will also receive lots of community support, weekly group coaching, and bi-monthly in-depth training with experts.
Fully Booked VA: The Claims and Promises
I'm impressed with the way Gina mapped out the course. She made sure that her students would get a solid start and that they will have plenty of support as they go through the program.
There is nothing impossible in what the course promises. The course claims that you can start a VA business from home, one that gives you a lot of flexibility and freedom. It also claims that being a VA will help you bring in another stream of income so that you can build a secure future for your family.
It's also notable that the course promises to help you land your first few paying clients in 90 days or less.
This is not impossible, considering that you can gain access to Gina's potential clients who are looking to hire their own VAs.
It's interesting to know that this course won't just make you any other VA. Sure, you can help clients with some data entry work here and there.
But as you go through the specialization phase, you'll discover what you love doing the most and what you're most good at, and you can offer this service at premium rates. This is something a lot of other virtual training free courses do not offer.
How Much Does Fully Booked VA Cost?
The cost of the Fully Booked VA starts at $497. It is also payable in three installments at $199 each.
Learn more about Fully Booked VA here.
---
2. 10K VA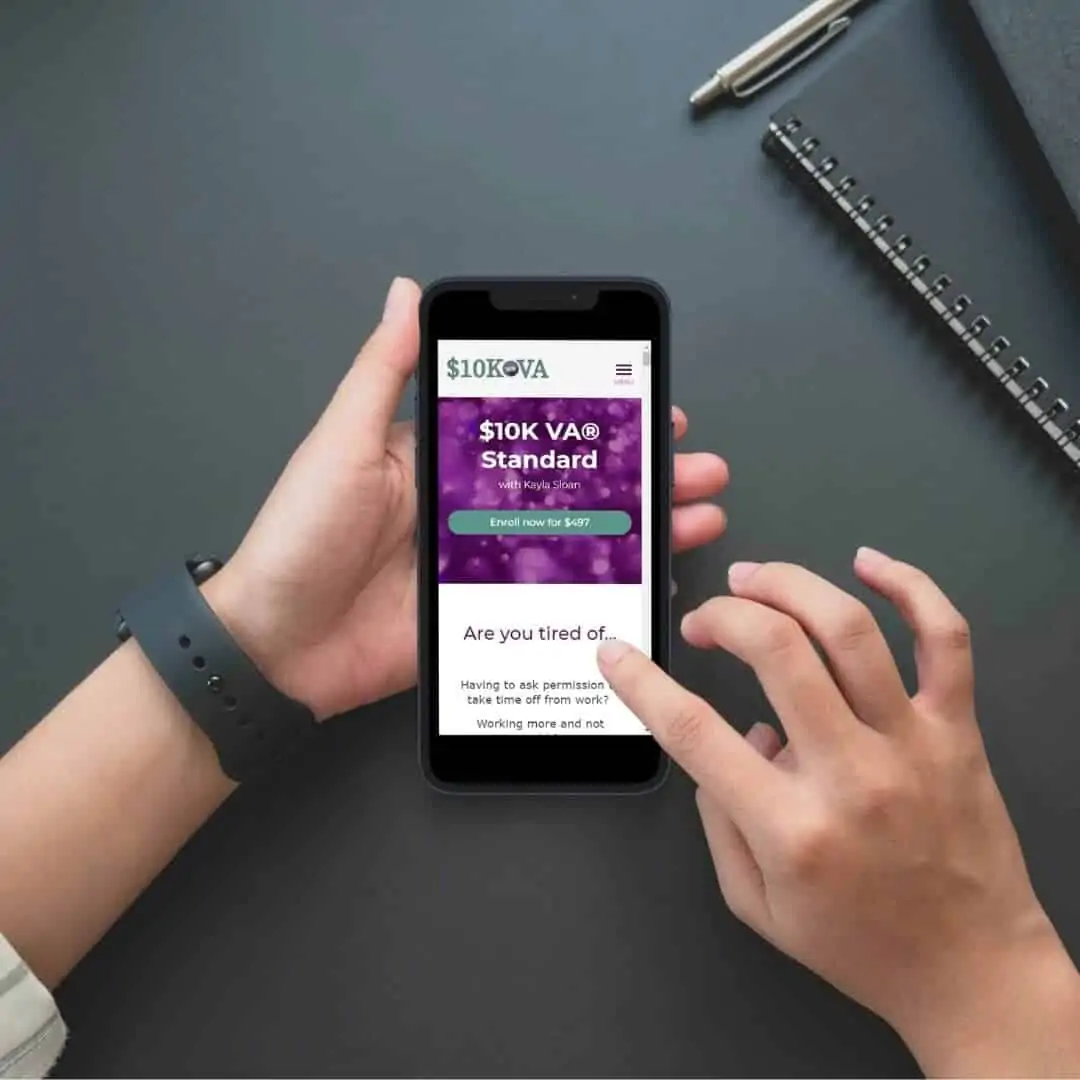 10K VA is a virtual assistant training program online created by Kayla Sloan. Kayla is a resident VA for an online personal finance community. With the help of her virtual assistant business, Kayla is able to make $10,000 per month (hence the name, 10K VA).
So, the 10K VA is an amazing training ground for people who want to become a VA, even those without experience. The course tells you that everything can be learned, so it's possible to offer advanced services and command higher rates. Also, the course is self-paced, so it's easy to study the program while attending to other life responsibilities.
10K VA: What's Inside the Course?
The 10K VA has very practical materials. These are information that you would need to launch, run and scale a VA business or career.
So, whether you're an aspiring VA or a seasoned one that needs a good polish, then this virtual assistant course is certainly something you'd want to check out.
The 10K VA course is divided into seven modules. It starts with the basics of what virtual assistance is and what VAs do. You will swiftly move on to finding and pitching for VA jobs, putting a price on your services, building VA-client relationships to running your actual VA business.
The course also covers how to make your VA business legit and how to level it up.
Everything is self-paced, so you can start, leave and pick up whenever it's convenient for you. The course also comes with a lot of bonus content such as:
Interviews with successful VA professionals
Access to an exclusive Facebook community
One on one coaching with Kayla herself
A discount for upgrading your subscription where you can gain access to client leads.
All in all, the 10K VA course is a well-thought and put-together course that covers almost everything you need to know about virtual assisting.
Given that it was designed by a fellow VA who has "been there, done that," this course should give you an excellent headstart in your VA career.
10K VA: The Claims and Promises
So what does the 10K VA course offer you?
First, it claims that it will help you learn how to put up a five-digit income per month as a VA. Kayla even calls it the 10K VA course because it claims to show you the path on how to start earning at least $10,000 as a VA yourself.
Also, the course should teach you how to become a professional VA in lesser time and without going back to school. You can set up a business that won't annoy your family and friends on social media with your marketing tactics. Importantly, this is going to be a legit, well-paying home-based business, so you should be able to operate your business even in your pajamas.
But of course, as with any other course, these promises are nothing if you don't put in the effort. VA training courses like these are simply blueprints of what worked (and didn't) with the course creator and other VA professionals. It's also a wonderful course if you're just starting out and would like to offer general VA services.
How Much Does 10K VA Cost?
The cost of the 10K VA Standard course is $497. This price includes all seven modules and all the bonuses mentioned above.
---
10K VA vs. Fully Booked VA: The Pros and Cons
If you're still not sure which virtual assistant coaching and training to take between the 10K VA and Fully Booked VA, then let's inspect the pros and cons of each one.
Fully Booked VA Pros
The content is very comprehensive
Provides certification after finishing the Foundations phase
You can study a specialized niche at no extra cost
Access to client leads
Comes with a 90-day money-back guarantee
Fully Booked VA Cons
You need to pay for the course on a subscription basis, so you need to pay according to plan regardless of your pace
10K VA Pros
Easy to follow and self-paced
Content and materials are perfect for all virtual assistants, even those without experience
You gain job leads that are helpful in scoring your first clients
10K VA Cons
The course does not offer a return policy
The direction is for a generalist VA, so you probably need to take another course if you want to specialize.
---
Alternatives to 10K VA and Fully Booked VA
I understand that both 10K VA and Fully Booked VA aren't exactly cheap, especially if you're just starting out. They both promise to help you land your first client quickly, but before then, everything is an investment. And all kinds of investments come with risks.
To help you gain more understanding of virtual assistance and whether or not it's a great fit for you, I checked out some of the best virtual assistant training courses on Udemy.
Udemy is my favorite place for cheap online courses which only cost around $15.
3. Work From Home as a Virtual Assistant
Work From Home as a Virtual Assistant has had a total of 4,492 students and it is rated with 4.5 stars.
The course provides foundational information on what virtual assistance is, how to prepare yourself and your office, choosing a business name, creating office policies to caring for your clients. The entire course runs for almost five hours and it covers all the basics, and then some. This online course costs only $14.99 on Udemy.
Work from Home as a Virtual Assistant Pros
It's cheap
You can finish the entire course in 5 hours or less
It offers certificate upon completion
Work from Home as a Virtual Assistant Cons
It only covers the basics and the basics you'll learn from it may not be enough
According to some student reviews: it does not go into detail on how to handle emailing, social media, tech, and other things a VA would need to do
You may easily get the information it offers from free resources online
You're on your own. It does not offer exclusive group you can join for job leads or to easily get in touch with the course creator and fellow students
4. Must-Have Tools for Virtual Assistants
The course Must-Have Tools for Virtual Assistants is a bestseller on Udemy. It has over 3000 students and a 4.6-star rating. The course costs $17.99 and runs for three hours.
This course is perfect for someone who already knows that she wants to become a VA, but lacks the knowledge of using the tools of the trade.
It teaches you how to use over 30 tools that are essential in running a VA business, including tools for security, time tracking, finances, communication, social media, and CRM.
Must-Have Tools for Virtual Assistants Pros
It offers information on how to use the best tools which many other virtual assistant courses lack
Easy to complete
It is cheap
Must-Have Tools for Virtual Assistants Cons
It doesn't teach you how to start a VA business from scratch
It doesn't teach you how to find your ideal clients
You may get the information from various free resources online
You're on your own. It does not offer exclusive group you can join for job leads or to easily get in touch with the course creator and fellow studdents
---
How To Choose The Best Virtual Assistant Training Course
There are lots of other virtual assistant courses online. Some of them discuss the job in general, while others tackle more specific topics. I know picking the right course can be quite overwhelming, so I've listed down the top three factors in choosing the best virtual assistant training course:
1. Content
You are mainly paying for the content of the course, so this is the first thing you should always check. When it comes to virtual assistant training manuals or courses, find a course that is as comprehensive as possible. Courses that contain templates, quizzes, worksheets, and other materials make learning more engaging and interactive. Also, if you are a visual learner, courses that use photos and videos alongside texts are more effective.
2. Access and support
Another important thing to check is what kind of access and support you'll get from the course. I appreciate courses with an active online community because this is actually where you can find answers from real people. The community can answer your questions, point you to the right path, even cheer you up when you're feeling down.
As for access, some courses may give you lifetime access, while others are limited. If you want self-paced online courses, find ones that give you the longest access (such as lifetime access), so you don't have to keep paying for it after the subscription expires. Some courses may be paid per month, which means you have to try to finish the course within a specific timeline.
3. Price point
Finally, consider how much the course costs. It's not surprising to find online courses with exorbitant prices, but this is not always the best indication of the quality of the content.
A course's price point can be justified by how well-versed and experienced the course creator is on the field. So if you're paying for a course made by someone who has proven herself in the VA industry, then that means you're paying for useful content.
Whenever possible, take advantage of the virtual assistant free online classes or sessions first before making any financial commitment.
---
The Verdict
I am confident that all the courses I've recommended in this post are great choices. They all have great reviews and are priced fairly. I believe that you can never go wrong with investing in any of these courses.
However, if you are to choose only one, I recommend assessing your options based on: content, support, price, and your career goals.
In my opinion, Fully Booked VA is a great choice if you want to specialize, and the 10k VA is an excellent option for generalist VAs.
If you're looking for cheap courses, the Udemy VA courses are definitely the best way to go.