Wondering if working for Instacart is a great side hustle? Then, find out in this post. Welcome to my Instacart review!
Getting a good side hustle is a great way to supplement your income. Whether you're looking to have extra cash to spend for the holidays, to throw into debt payments, or pad up your savings, we cannot underestimate the power of the gig economy nowadays.
And speaking of the gig economy, did you know that delivery driver jobs are some of the most in-demand side hustles? Instacart, one of the well-known grocery delivery services today, is constantly hiring new shoppers and delivery drivers to serve its growing number of customers in various locations.
But is working for Instacart worth it? Find out in this Instacart review.
This post contains affiliate links. I may earn a commission at NO extra cost to you for your purchases made through these links. Disclosure.
What is Instacart and how does it work?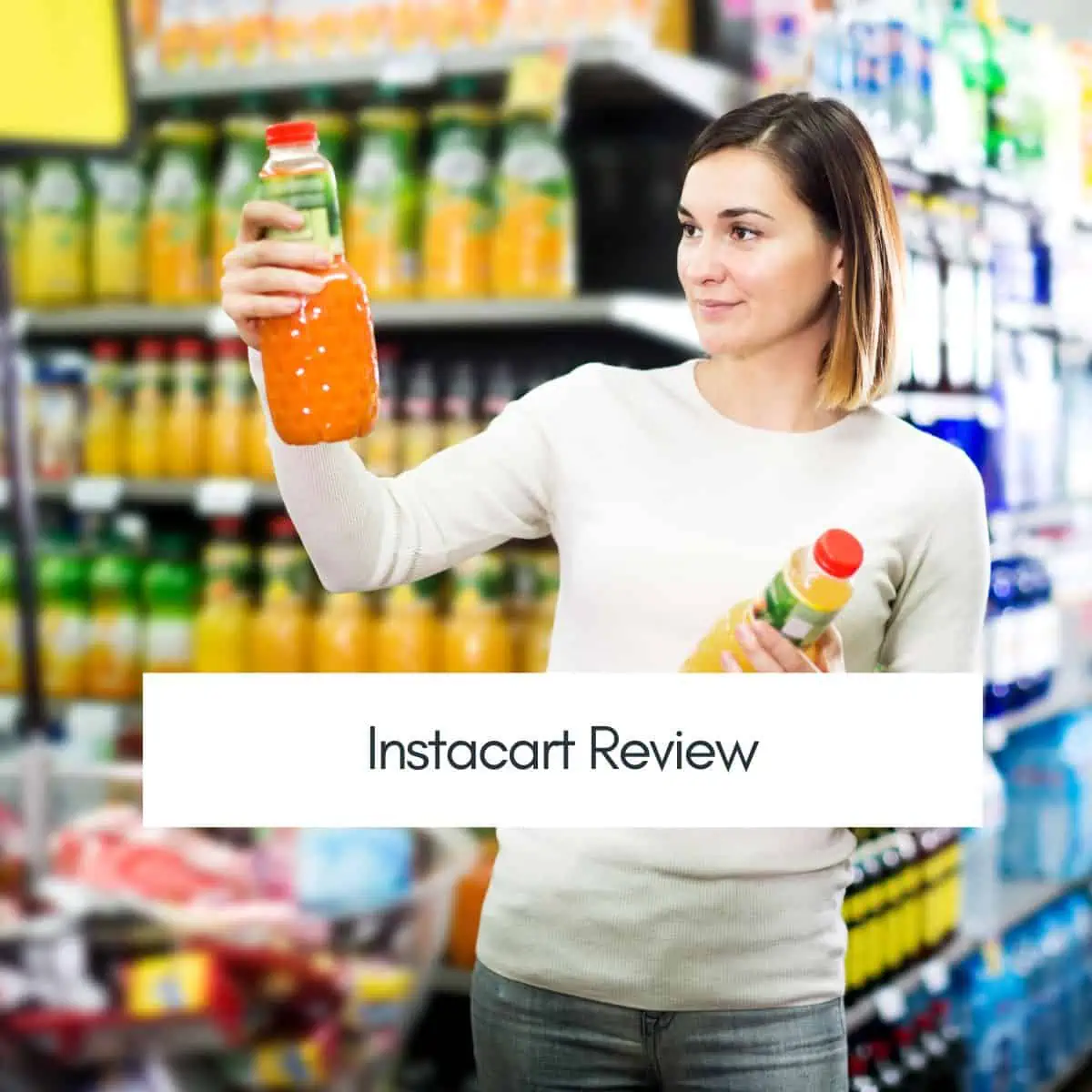 Instacart is a delivery service platform that shops and delivers various kinds of goods, from fresh produce, groceries, alcohol and beverages, household essentials, beauty products, and office supplies. Customers use the Instacart app and website to shop from their favorite stores, including but not limited to Walmart, Dollar Store, Costco, Sephora, and many others.
There's also Instacart Express, which focuses on grocery delivery service in as quick as one hour.
A customer places his or her orders through the app or site. The orders are forwarded to a "personal shopper" working for Instacart. The shopper picks up the orders from the stores and delivers said orders to the customer's address.
Instacart is currently serving over 5,500 cities in the US and Canada, and customers are able to shop among 40,000 local shops and grocery stores.
Easiest Ways to Make Money Online
How to Make Money With Instacart?
I know you've come to this Instacart review job post to learn how to make money on the platform. You have two options on working for Instacart, as a full-service shopper or as an in-store shopper.
In-store shopper
In-store shoppers are part-time workers who only shop for customers' orders. The job entails receiving orders through the app and then picking up the items from the stores. In-store shoppers can set their own schedules, but they cannot work more than 29 hours a week.
Perhaps the biggest advantage about working as an in-store shopper is that you earn a fixed hourly rate, so it's easy to predict how much your income would be based on the hours you work.
You can join Instacart as an in-store shopper here!
Full-service shopper
Full-service shoppers are independent contractors who can work as much or as little as they like. Their job involves receiving orders through the app, picking the items from the stores, and then delivering them to the customer's address.
Full-service shoppers do not have a fixed hourly rate. Instead, they are paid for each order they take, plus tips. Typically, jobs are paid based on the size of the order and the distance the shopper has to travel when delivering the goods.
You can join Instacart here as a full-service shopper!
Related Posts:
How to Apply to Instacart?
Based on the numerous Instacart delivery reviews I've found, applying to Instacart is a pretty straightforward process.
1. First, you have to meet the requirements:
You must be 18 years old or above
You are eligible to work in the US
You own a smartphone (iPhone 6s or Android 5 or newer)
You can lift 50 lbs with or without assistance
An additional requirement for full-service shoppers is consistent access to a vehicle since they'll also be delivering the orders to the customers' locations.
2. Sign up through the app. Provide the information being asked.
You can join Instacart here as a full-service shopper!
3. Wait for Instacart's approval of your application.
4. In-store shoppers need to go through in-person onboarding.
5. Start working.
How Much Money Can You Make With Instacart?
Now we get to the highlight of this Instacart delivery review: how much do Instacart shoppers make? Do Instacart shoppers make good money?
For full-time shoppers, each job comes with Instacart's estimated pay rate and it's up to them whether to accept the job or not. The estimated rate is based on the size of the order, the driving distance, and the amount of effort the shopper needs to exert to complete the job. Additionally, full-service shoppers get to keep 100% of their tips.
On an hourly basis, though, Glassdoor estimates full-service shoppers to make $9 to $29 per hour.
Meanwhile, in-store shoppers earn a fixed hourly rate. While Instacart did not divulge the exact amount on its website, most Instacart employee reviews say it's $13/hour on average.
Instacart Reviews: What Do Shoppers Have to Say About Instacart?
I wanted to get a feel of what shoppers feel like working for Instacart, and I've gathered quite a mix of reactions from Instacart reviews Reddit users.
One user is happy to report that he's been making quite a good income on Instacart:
Source: Reddit
However, one shopper expressed his frustration after getting low tips from customers:
Source: Reddit
I also took a look at Glassdoor to check on what shoppers are saying. Most people cited that they are happy to work on their own hours and that they can cash out their earnings instantly. However, some shoppers complained that their work is mostly controlled by Instacart's algorithms and the low pay rate.
Source: Glassdoor
Based on numerous Instacart shopper reviews I've found, many would agree that Instacart provides a good side hustle as it is very flexible and has a low barrier to entry. However, the most complaints I've found revolve around Instacart's low pay rates, inconsistent income, issues with the rating system, and zero to little tips from customers.
Pros and Cons of Instacart
You can easily make money on Instacart shopping for others and delivering the orders to them, but it also has its pros and cons:
Pros
You get to work on your own schedule. Both in-store and full-service shoppers can work anytime they like (although in-store shoppers are limited to 29 hours per week).
Keep all your tips. You can increase your earnings by getting tips from customers.
Guaranteed pay for in-store shoppers. They earn a fixed hourly rate no matter how busy (or not) their shift is.
Full-service shoppers earn more as they take in more orders. Full-service shoppers basically earn as much as they are willing to hustle.
You can join Instacart here as a full-service shopper!
Cons
Full-service shoppers need to pay for their own gas, car repairs, and maintenance.
You pay your own taxes. Instacart shoppers are independent contractors, hence, they need to take care of their own taxes.
Tipping is optional for customers. Some shoppers may receive zero to little tips, depending on the customer.
Is Instacart Reliable?
Is Instacart a trustworthy stream of income?
If you were looking for a job you can easily qualify for without going through hoops and loops, I would say Instacart is a good option. Most of us know how to shop, so shopping for others is a far easier job than other side hustles that require more specialized skills.
However, it still depends on a number of things. First, if you are an in-store shopper, you can only work as much as 29 hours per week, which kind of puts a limit on your earning potential. Still, that is good than having no guaranteed income at all.
Meanwhile, full-service shoppers can make as much or as little as they like, depending on how many orders they decide to take that day. I have read a couple of Instacart express reviews from shoppers saying that they make a good income from Instacart. But some shoppers are also saying that there are some bad days too when they don't make as much as they like.
Also, tipping is a common concern, as tips can significantly boost one's earning. However, since Instacart does not make tipping mandatory and suggests a minimum of $2 for each delivery, some drivers are not happy with their tips (or the lack thereof).
Easiest Ways to Make Money Online
Is Working for Instacart Worth It?
Instacart presents you with an opportunity to cash in on your spare hours by spending them shopping for someone else.
I say yes, especially if you're looking for a side-hustle that can help supplement your income. You can work on your days off and the weekends if you have a day job. But it could also potentially turn into a full-time gig especially if you live in a busy location where people prefer to have their groceries delivered because they don't have the time to shop.
But it's also worth factoring in other things, such as gas and the wear and tear on your vehicle. You'll also take care of your own taxes and have no employee benefits.
If you think working for Instacart is not worth your time, don't worry because there are still so many options you can explore. I believe that no matter what job you take, as long as you put in the work, you are eager to learn and provide exceptional service to your customers, things will always be in your favor.