Would you like to make money by renting yourself out as a friend on Rentafriend.com? But is Rent A Friend really legit and safe? Let's find out in this RentAFriend review.
There are some unorthodox ways to make money online, and one of them is getting paid to be somebody's friend for a few hours.
I mean, I've always believed that you can't put a price on true friendship. But if you're willing to rent yourself out as a friend to someone, and accompany him to a gathering, or even show him around the city, then that wouldn't be too bad, right?
Rent A Friend, a friendship rental platform, allows you to do just this. On rentafriend.com, you can earn quick cash by lending someone your time and attention, just as you would to your real-life friends. It's an excellent side hustle that requires no special skills or training and is open to everyone of legal age around the world.
But what is Rent A Friend, how does it work, and is it safe and legit? This review will show you everything you need to know about this platform.
What is RentAFriend?

Did you know that in Japan, there's a market for people for rent? People can actually hire others to stand as their friends, dates, even parents. For instance, when parents are too busy to attend their kids' school activities, they could pay "actors" to pose for them.
This led Scott Rosenbaum to wonder: if the Japanese can hire people to play various roles, then would the Americans welcome the concept of paying someone to be their friend for an hour or so?
Renting a friend sounds bizarre for many of us. It is even of the weirdest things you can rent.
But Rosenbaum probably had the foresight that the rent a friend industry would blow up, not just in the US, but all over the world.
So in 2009, he started a company called Rent A Friend, a platform where people can hire a friend for various purposes. It's also one of the best sites where you can earn extra cash by being somebody's friend.
How Does Rent A Friend Work?
The concept behind Rent A Friend is pretty simple. People who are looking to find a new friend just need to use the website to search for friends in their location.
On the other hand, if you want to offer your friend rental services, you just need to sign up for an account on rentafriend.com, create a profile, list down the activities and services that you offer, indicate your location, and you're good to go.
If someone wants to hire you, you can discuss the details of your meeting through your phone number or direct email messaging. This is the best time to agree on what you'd like to do together, where you'd like to go, your rate per hour, and other concerns.
Just keep in mind though that Rent A Friend is not a dating website or an escort service agency. It is a platform for platonic friendship. There should be no expectations of being intimate or sexual. Otherwise, you can report the profile of the member who hired you.
What Services Can You Offer As a Friend?
People can hire you for various friendship purposes, such as:
Companionship for the seniors or the disabled
Become somebody's wingman or woman
Prom date or companion to family functions
Workout partner
Going to sporting events together
Giving tours or sightseeing around a new city
Hanging out at the beach, hiking, or going on a picnic
Companion for learning new skills or hobbies
As you can see, your service is to provide companionship for personal, business, or family events. You will be paid per hour, and any fees, such as tickets to events, are going to be shouldered by the friend who hired you.
If you come to think of it, it's easy to make money as a friend for hire. If you like going to baseball games, and your friend invited you to one, then you wouldn't have to worry about spending money on the tickets. It's like hitting two birds with one stone.
Some people hire a friend for a deeper, personal reason. For instance, this woman hired a friend through rentafriend.com because she was feeling lonely and needed someone to hang out with. So if you're empathetic and a great listener, working on rentafriend.com sounds like a good idea.
How to Make Money on RentAFriend
Earning money on Rent A Friend is a quick and painless process.
Signing Up
First, you need to sign up as a friend on the Rent A Friend website.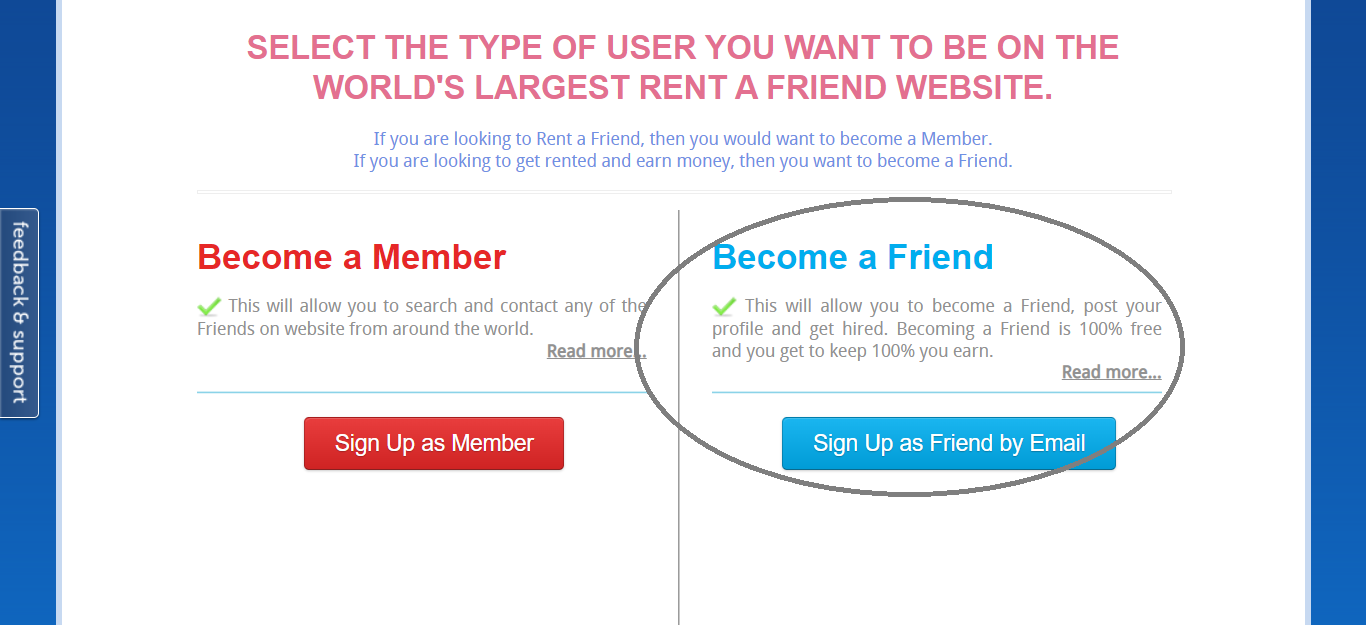 Signing up as a friend is free. However, those who want to become a member needs to pay a membership fee of $24.95 to gain access to thousands of friends.
Fill up an online application form and provide the required information. Once your account is approved, your profile becomes live on rentafriend.com. People can now search and book your friendship service to members.
A member who's interested in hiring you can send you a message or contact you through your phone number. At this point, you will discuss the time, date, and nature of your activity, as well as your hourly rate. If everything is agreeable to both parties, then you go meet in public, enjoy, and collect your payment.
Requirements
There are a few conditions to meet before you can apply as a friend:
You must be at least 18 years old
You've never been convicted of a felony
You were never listed as a sex offender
You can read the rest of Rent A Friend's Terms and Conditions here.
It is important to emphasize, once again, that rentafriend.com, is a platform for platonic friendships, and should not be used for dating opportunities. Additionally, anybody who instigates physical or sexual advances should be reported on the site and banned from using this service.
Fees
Rent A Friend is free to join and use by friends for hire. You also get to keep everything you earn.
However, those who wish to become a member need to pay a membership fee to use the service. The fee to join the platform is $24.95. This payment allows members to search for local friends, stay anonymous, get billed discreetly, and even get a 100% refund if unsatisfied or unhappy with the services.
How to Get Paid as a Friend
One of the most common questions on the website is how does a rented friend get paid?
It is important to remember that rentafriend.com is only a platform for people looking for platonic friendships among users. As long as both parties follow the terms and conditions of the website, Rent A Friend will not intrude with anything in your transaction, including the terms and method of your pay.
So when someone makes contact with you and expresses his/her intention of hiring you as a friend, it is essential to discuss every detail of your meet-up. This includes how much you charge per hour, the activities that you're going to do, and how you get paid.
In most cases, friends for hire are paid with cash after the event or activity.
How Much Money Can You Make on Rent A Friend?
The hourly rate can vary from person to person, but on average, people charge 10 to 50 an hour. It depends on how much it cost to hire you per hour and how busy you are doing this gig.
According to rentafriend.com, they have friends who make over $2000 a week working full time. Meanwhile, there are people who make at least $300 just for working on the weekends.
Here's a detailed breakdown of your earning potential if you charge 20 and 50 per hour working part-time and full-time on RentAFriend.

Also, remember that you should be paid in cash by the person who hired you and you'll keep all the money you make (RentAFriend will not take out any fees from the money you earn).
However, since you are not an official employee of RentAFriend, you are responsible for taking care of your own taxes.
Is RentAFriend Legit?
I understand if you can't help but wonder if Rent A Friend is legit. After all, it's so easy to make money on this website.
The company has been around for the past couple of years, and it has managed to build an excellent reputation for people seeking and offering companionship and platonic friendship. The site boasts of having millions of active members from all over the world.
Rent A Friend is a legit business that truly does what it says it does: connect strangers and allow them to become your friends for a few hours. This friendship rental service works for both parties. Members find local friends in the area, while friends get hired to accompany members on their chosen activities.
Unfortunately, Rent A Friend and rentafriend.com are currently not yet listed and accredited on Better Business Bureau, so that's something you'd want to keep in mind.
Is Rent A Friend Safe?
I find that safety is one of the major concerns when working for Rent A Friend. After all, you are meeting someone new for the first time, and you're going to spend some time together.
Unfortunately, Rent A Friend does not do background checks on its members. This means some people might not be who they say they are and that Rent A Friend cannot guarantee your safety at all times.
But most users don't think this is a problem especially if you take all the possible safety precautions during your "friendly date." So if you are hired by a member and would like to go ahead with the job, then keep these things in mind:
Meet in a public place
Bring your own vehicle
Inform your family where you're going
Bring a fully-charged phone and your own money
Keep a pepper spray near you
Listen to your guts. If something feels off, cancel or cut the date short quickly
Rent A Friend does not escort service. When a person makes physical or sexual advances on you, flee the scene and report him immediately. To make sure that you and your friend are on the same page, discuss what you allow and don't allow.
For instance, you could emphasize that shaking hands is fine with you, but you're not okay with holding hands or hugging.
Rent A Friend Reviews
Looking at Rent A Friend reviews would help us paint a better picture of what this company does and how it may benefit you. However, I could not find any review on Trust Pilot and BBB.
There are some testimonials on the website, though.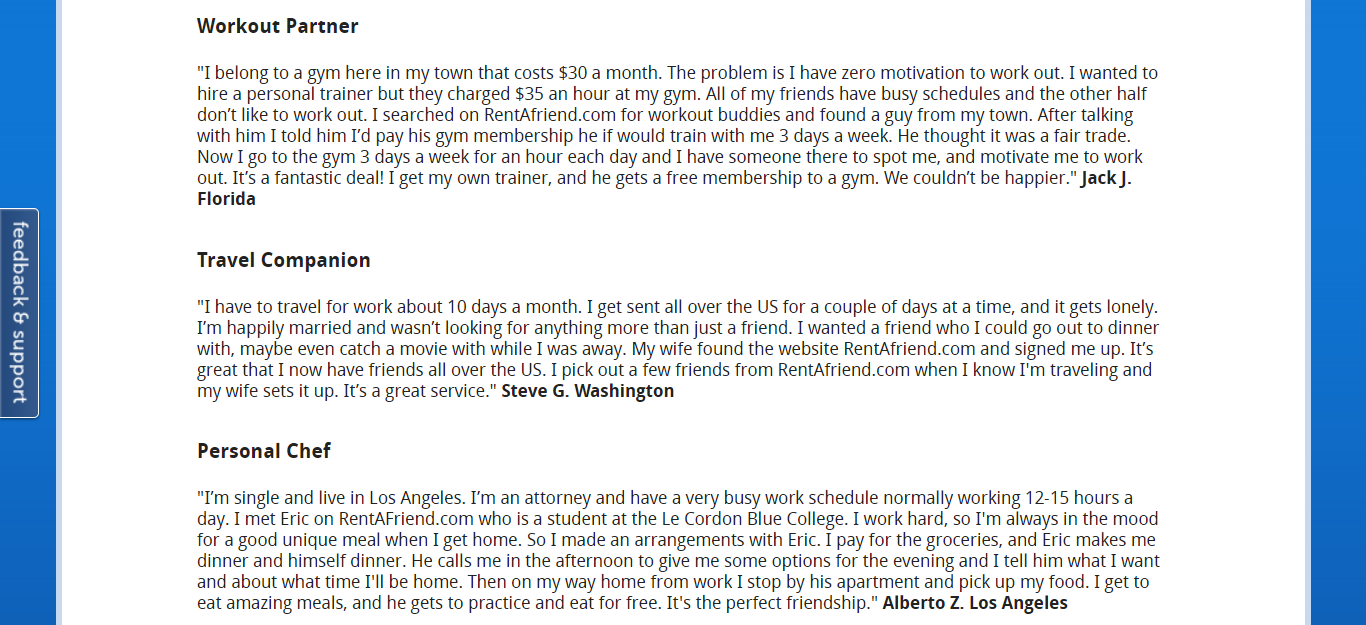 But I wanted to look at more objective feedback from users, so I searched Reddit for more reviews, and here's what I've found.
These users found Rent A Friend very helpful especially when they need a companion on-demand.


Source: Reddit
When you're renting your friendship as a business, you must remember that your experiences can vary from one person to the next. Vicky* had her fair share of bizarre and disturbing encounters with other members who hired her.
One woman hired her to a onesie party where she wore a kangaroo overall costume and they pretended to be best friends. There's also this one guy who said he collects women's underwear and said he would pay for hers for $50.
Rent A Friend has indeed helped people like Vicky earn some extra cash with so little effort and at times, a lot of fun.

Source: news.com.au
Overall, the reviews indicate that Rent A Friend is a legit platform for making money. It does expose you to a wide array of personalities and experiences, so always expect the unexpected.
Rent A Friend Pros and Cons
Are you still on the fence about whether Rent A Friend is a suitable way to make money for you? Here are the pros and cons to help you figure it out.
Pros
It is free to join. You pay nothing to sign up and use the platform as a friend for hire.
It is a fun and easy way to make money. You don't need any special skills, training or diploma to make money as a friend. You just need to have a fun, charming personality and great socialization skills.
Make money in your spare time with Rent A Friend. You could accept gigs during weeknights or weekdays, or any other day or time that you're free. You're not bound to clock in 9 to 5.
You keep all your income. Rent A Friend does not charge you any fees or commissions.
Offer platonic friendship to others. Dating and being physically intimate with the person you hired is not allowed. Both parties agree to wholesome and safe activities.
Cons
No background checks for members. Rent A Friend does not vet members who sign up on the platform, so there's always the risk of encountering scammers.
This is a freelance gig so you cannot expect benefits and you have to file your own taxes.
It may sound weird for some people.
Related posts:
25 Great Ways to Get Paid to Chat from Home
Get Paid to Date: 15 Legit Websites that Pay
RentAFriend Review Frequently Asked Questions
Can you get paid for being a friend?
Certainly. Platforms like Rent A Friend allows you to make extra money for being a friend. Alternatives to rentafriend.com that offer similar services are FriendPC, Rent A Cyber Friend and Rent A Local Friend.
Related: Get Paid To Be a Friend Online (Up to $50/Hour!)
Do people make money on RentAFriend?
Yes, a lot of people are able to make money on Rent A Friend. All you need to do is sign up on rentafriend.com and respond to members who would like to book you.
How much can you make on RentAFriend?
On Rent A Friend, friends charge $10-50 an hour. You could charge more depending on the activity and how well you negotiate with the person that hired you.
How does RentAFriend make money?
Rent A Friend makes money from the membership fee charged to users who use rentafriend.com to seek local friends for hire.
Other Easy Ways to Make Money
Swagbucks – Earn cash by answering surveys, watching videos, and searching the web using the Swagbucks app. Receive a $5 bonus for joining here.
MyPoints– MyPoints is another reputable survey site that pays you for completing quick surveys. Receive a $10 Amazon gift card for joining and using the site for shopping.
Ibotta– Earn cash back on items you regularly buy at the grocery store, such as milk, bread, vegetables, fruits, meats, toilet paper, toothpaste, or medicines. Join Ibotta for FREE and receive a $10 Ibotta Bonus after scanning your first grocery receipts. Read: Ibotta Review
Rakuten– Rakuten is a FREE app or site that pays up to 40% cash back for your online purchases at any of Rakuten's partner stores. The company has over 2500 partners including Amazon, Macy's, and Best Buy- but you can also use it when shopping in physical locations! Receive a $10 welcome bonus after making your first $25 purchase. Read: Rakuten Review
Is RentAFriend Worth It?
If you've got some free time during the weeknights and the weekend, then you could certainly make money on Rent A Friend. I like that there are not a lot of requirements to meet to qualify as a friend, and you could sign up quickly and easily.
Most of all, Rent A Friend allows you to become your own boss. You can work whenever you want, choose the people you want to be with, and even rejected and accept invites based on the type of activity. You also get to set your own hourly rate.
So if you're looking to pad up your savings by making some extra cash in your spare time, I believe that Rent A Friend is a platform worth exploring.
Looking for Better Ways to Make Money Online?
Check out:
How to Sell on Amazon with Retail Arbitrage
22 Real Stay at Home Mom Jobs that Pay Well in 2022 (I love #1)
How to Start a Blog and Make Money ( Earn Six Figures!)
Low Content Publishing: What Is It and How to Make Money From It