Are you a night owl? Do you want to increase your income without disrupting your busy schedule during the day? Then, getting part-time night jobs from home might be for you!
The good news is that there are so many legit part-time night jobs out there! If you are only willing to burn the midnight oil, you could easily make extra money with these extra income ideas. The best part is you don't need to leave home to make money!
I even started my "work-at-home journey" in the evenings back when I was a new mom. I dabbled in freelance writing, transcription, Pinterest VA, and blogging in my spare time at night!
Two years later, I was able to turn one of my side hustles, this blog, into a full-time job.
If you are ready to make money at home in the evenings, here are some work-from-home night jobs you could start today!
This post contains affiliate links. I may earn a small commission for any purchases made through these links at NO extra cost to you.
Who are Part time Night Jobs From Home Best For?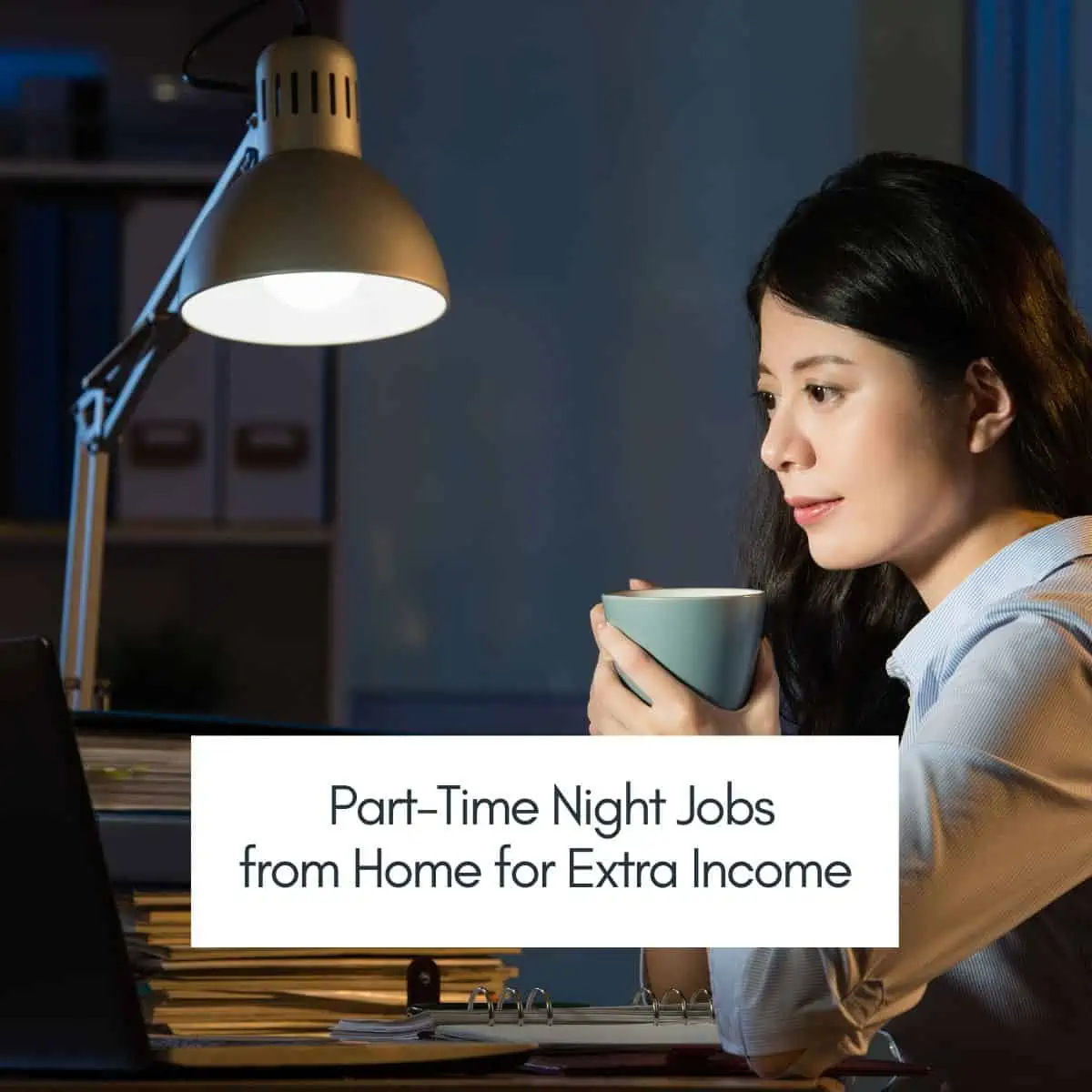 Flexible part-time evening work-from-home jobs are ideal work set-ups for:
Moms or stay-at-home parents who have their hands full during the day and want to earn some money in the evenings
College students
Night owls. Some people are just more productive in the evenings and that's why night jobs from home are great for them. If you're one of the people whose brains work on overdrive and creative juices just seem to flow freely during night time hours, then these are the types of jobs that might be a good fit for you.
This post contains affiliate links. I may earn a commission at NO extra cost to you for your purchases made through these links. Disclosure.
---
15 Part-Time Night Jobs From Home
1. Customer Service Representative at Working Solutions
If you have previous call center or sales experience, or simply have incredible communication skills, you could work as a home-based customer service representative at Working Solutions.
As a home-based agent, you provide customer service via chat, email, or phone. Working Solutions allows you to set your own schedule but they require you to work 15-25 hours per week. Working Solutions pay between $9-$30/an hour, depending on the program you handle.
Related: 22 Best Chat Support Jobs from Home in 2022
2. Customer Service Agent at Alorica
Alorica is a Business Process Outsourcing company that operates in 120 locations all around the globe. Currently, they work with over 100,000 independent contractors.
Alorica agents perform a variety of tasks, including customer service, and technical support. The company also offers paid training at $8-$9 per hour.
You work flexible hours at Alorica but you need to work at least 10 hours per week.
3. Remote call-center agent at LiveOps
LiveOps is another reliable outsourcing company that offers part-time evening jobs from home, particularly for remote call center agents. Agents work on a renewable 6-month contract.
How much you earn from LiveOps depends on your client. It could be per talk minute, flat rate, or commission basis. According to Indeed, LiveOps agents make $15-$18 per hour.
Related Posts:
Easiest Ways to Make Money Online
4. Teach English at VIPKid
If you have a passion for teaching kids, then working as an online English tutor might be for you. Check out VIPKid, one of the most popular platforms for teaching English to Chinese kids aged between 4-12.
As an online tutor at VIPKid, you can earn $14-$22 per hour from home, and you can choose your work schedule.
You just need, however, to have a bachelor's degree to apply and you should also pass an interview and teaching demo. Once hired, you will teach one-on-one with a student assigned to you, and the entire session will take place over VIPKid's online platform.
As for the schedule, you can be as flexible as you want to be. You can work part-time or full-time as well. However, if you want to make real money from this gig, consider that kids in China study during the day, which is night time hours in the US.
---
---
5. Transcribe at Rev
Rev is a transcription company that serves over 170,000 clients all over the globe. If you're a quick and accurate typist, working part-time night jobs (or anytime you like) at Rev might be for you.
Note, however, that in order to work for Rev, you need to pass a test that assesses your typing speed, grammar, and transcription skills.
You are paid for every project but your rates vary depending on the complexity of the assignment, the number of speakers in the audio file, the length of the audio, and your turnaround time.
According to Rev, their transcriptionists make an average of $156 per month, while seasoned transcribers make almost $1,500/month.
Other transcription companies to consider include Scribie, CastingWords Review, GoTranscript, and TranscribeMe.
---
6. Evaluate Social Media at Appen
Appen is another one of the legit companies hiring social media evaluators. Social media evaluators assess feeds on social media, such as Facebook, Twitter, and Instagram, and then rate them based on the given guidelines.
The particulars of the evaluation aren't always laid-out to the public, and evaluators usually need to sign an NDA before they can start working.
Appen offers flexible working hours, so you can evaluate social media whether at the crack of dawn, in the middle of the day, or late in the night.
Your pay depends on the program that you handle and your location. According to Glassdoor, social media evaluators in the US can earn around $14/hour on average.
Related:
Make Money Online as a Web Search Results Evaluator
7. Virtual Assisting with Fancy Hands
Fancy Hands offer virtual assistant jobs for beginners! As a virtual assistant, you provide support to clients in a variety of tasks. You may manage calendars, do data entry, set appointments, design flyers, write descriptions, and more. If you have a lot of skills, are computer savvy and extremely organized, virtual assistance is an ideal online job for you.
Each task at Fancy Hands has a corresponding rate. Simple tasks may earn you $2, while complicated ones are $7 or more, but you could make more with bonuses. One of the best things about working at Fancy Hands is that you can work anytime you like and choose tasks that you want to do.
If you want to get serious with virtual assisting and make more money, check out Gina Horkey's VA training course, Fullybooked VA, to learn how to set up a profitable VA business from scratch.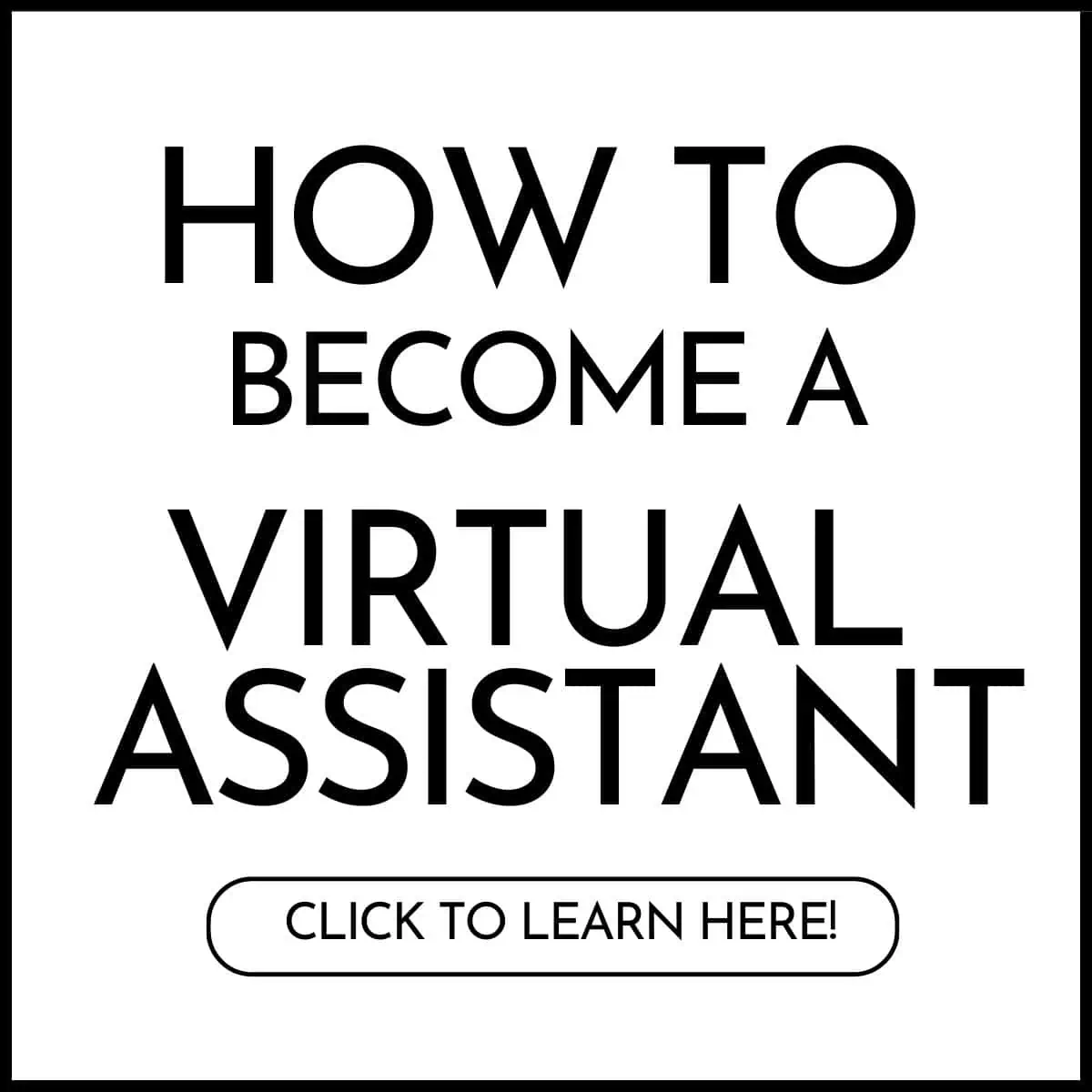 Related posts:
How to Become a Virtual Assistant with No Experience: Make $60 Per Hour!
18 Virtual Assistant Jobs For Beginners and How to Get Started
---
8. Data Entry at Smart Crowd (VirtualBee)
Previously known as the Virtual Bee, Smart Crowd is one of the most reputable data entry companies in the market today. They hire independent contractors, so if you're meticulous with details and you're a fast and accurate typist, this job might be a great fit for you.
You have the freedom to pick your own working hours, so you can choose to work during night time hours.
At Smart Crowd, you are paid based on number of keystrokes ($0.20-$0.80 for every 1,000 keystrokes). That may not seem much, but it is flexible, and it can fill in the gaps should you have slow days with your other online jobs.
Related:
11 Best Legit Typing Jobs from Home
9. Do Micro Jobs with Clickworker
Clickworker specializes in micro-jobs. These are simple and short-term tasks that you can do in your free time, such as typing, web research, translation, and more. They hire remote contractors to perform these tasks, and since each task is different, rates vary as well.
Since you can grab tasks anytime you like at Clickworker, you can choose to work part-time at night at Clickworker. However, remember, you want to complete a task as quickly as you can so you can move on to another task to earn more money.
Clickworkers are paid once every week via PayPal. According to Glassdoor, Clickworker independent contractors earn $6-$11/hour.
10. Inbound Call Agent at NexRep
NexRep is a call center company that is constantly hiring inbound calling agents. It means your job is to receive calls from customers instead of making outbound calls to customers.
To work at NexRep, you need to pass a background check, and NexRep charges $25 for this process. They also conduct a two-week training which takes place between 10 am-3 pm EST time.
However, once you start working for NexRep, you will make money on a 100% commission basis without a cap or limit to how much you can earn. You'll also need to work at least two hours per day and be able to work at least 15 hours per week.
11. Customer Service Representative at World Travel Holdings
Does working as a travel agent appeal to you? Check out flexible online jobs at World Travel Holdings.
As a customer service rep at World Travel Holdings, your job is to book and confirm reservations. You may also be asked to handle both inbound and outbound calls, as well as do some tasks in sales.
According to Glassdoor, you can earn around $10-$12/hour as a customer service rep.
12. Transcribe at Scribie
Transcribing is another great part-time night job from home for those who have good listening and typing skills. The company specializes in general transcription, so you're most likely to transcribe audio files of meetings and interviews.
They also accept both newbies and seasoned transcribers from all over the world.
You can work as much or as little as you desire. There are also no fixed work schedules, so this can be a great part-time evening work from home that you can do in your free time.
According to Scribie, Scribie transcribers are paid an hourly rate of $5 to $20. The rates at Scribie vary depending on the complexity of the audio file, length of the audio, the number of speakers in the audio.
Interested in transcription? Check out this list of companies hiring transcriptionists!
13. Editing Transcripts at 3Play Media
3Play Media has been around since 2006, and its been providing translation, transcription, and captioning jobs to independent contractors.
As a transcript editor, your role is to spot errors in a transcript and then correct them. So, you need to have a good grasp of the English language or be well-versed in the grammar, punctuation, and syntax rules.
3Play Media allows their transcript editors to work anytime at their convenience and take as much or as little work as they like. The company also prefers that you work at least 15 hours per week.
As for the pay, 3 Play Media's transcript editors make $10 to $30 per hour.
14. Moderator at Modsquad
ModSquad is a US-based digital engagement company that offers services revolving around customer support, moderation, and social media. They provide remote work opportunities even to newbies.
As a moderator at ModSquad, your job consists of the following: chatting with customers, answering queries, doing inbound calls, hyping a product launch on social media, creating a buzz, and more. So if you're active on social media and you're quite savvy about creating posts, sharing, and commenting, then you're likely to become a great mod!
You get to pick the campaigns you'd like to work on, as well as choose your hours. According to Glassdoor, Modsquad moderators are paid around $9-$10/hour.
Related:
15. Various Jobs at Fiverr
Fiverr is a gigs and services marketplace where clients come to hire contractors for various jobs. It is called Fiverr because each task costs $5 or more.
There are plenty of opportunities to make money on Fiver such as content writing, commenting on forums, doing voice-overs, designing websites, and more!
With Fiverr, you can start earning $5 at a time, doing the thing you're best at. Since it's all remote work, you can apply and take jobs around your schedule.
A lot of people have made some serious money selling their services on Fiverr, such as this dad who made $1.5 million from doing voice-over gigs.
If you are interested in freelance writing, check out my guide on how to become a freelance writer without experience.
Related Posts:
16. Sell Feet Pics
Now, this is probably the weirdest extra income idea here, but it's a thing and thousands of women are making big bucks selling pictures of their feet. If you are interested in this money-making idea, check out our FeetFinder Review or read about how to sell feet pics to make money.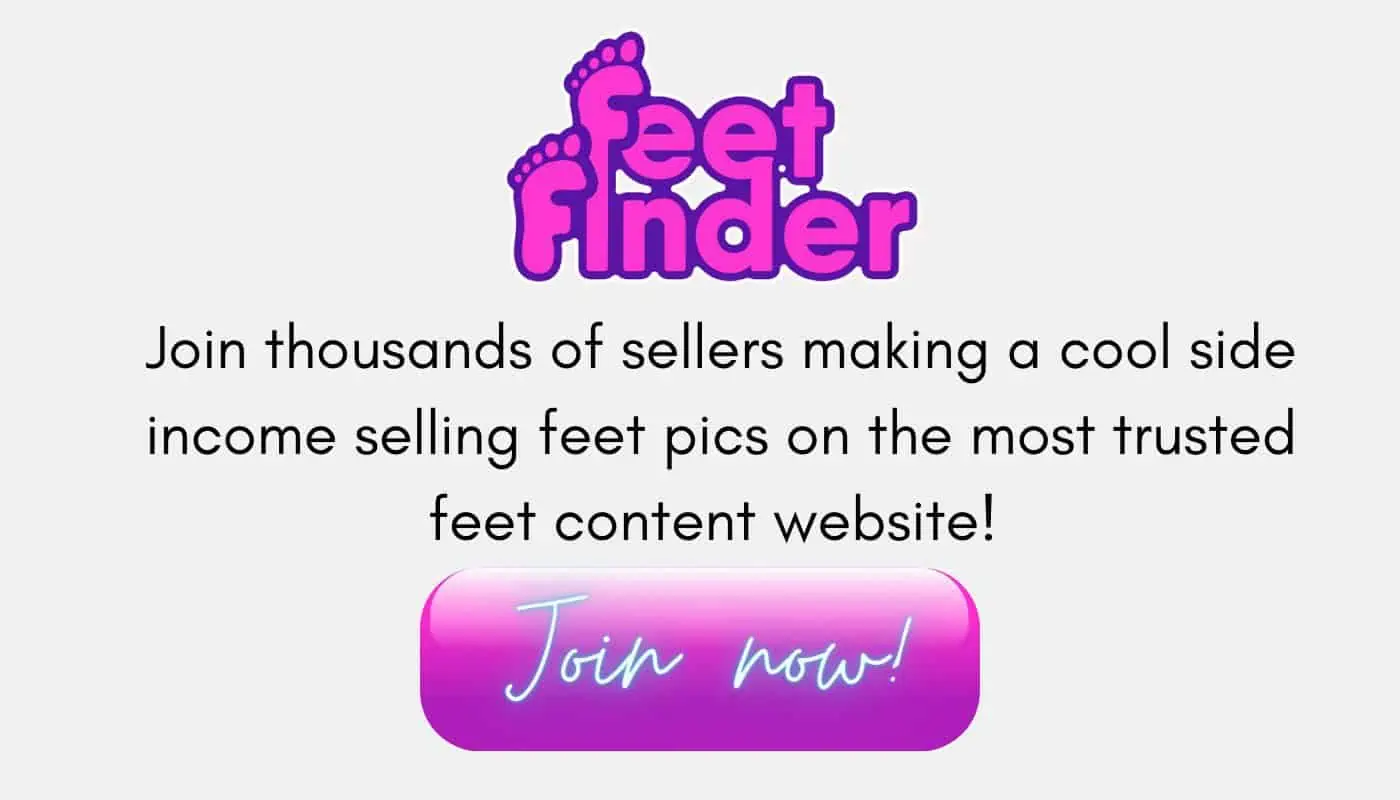 Ready for Part-time Night Jobs from Home?
If you have a lot of spare time in the evening, and you want to turn that time into cash, getting part-time night jobs from home might be for you. Most of these jobs are flexible, so you can work around your own schedule.
However, if you are looking for a job that you can do in the evenings, and you can turn into a fully-fledged business, I highly recommend checking out this post wherein I talk about high-income skills jobs that let you work for yourself.
Do you like any of these part-time night jobs from home? Which of the side hustles mentioned above are you interested in?
---
Easiest Ways to Make Money Online