Do you have excellent communication and people skills and you're looking for a remote job that allows you to work on your own schedule?
Well, you're in luck! There are many work-from-home jobs for people like yourself. Some of them are offered by a virtual call center company called Liveops.
But is Liveops legit? Is it worth looking into?
In this Liveops review, I am going to help you discern whether Liveops jobs are worth taking.
But, first, a quick disclaimer:
I am not a member or an affiliate of Liveops. It's been my mission here at This Mama Blogs to help you find ways to make money doing what you love. In line with this goal, I write reviews of opportunities, jobs, or companies to help you decide whether they are a real deal or not. This Liveops review has been researched with information or testimonials available on the internet. Any conclusion drawn in this post is entirely my own.
---
What is Liveops?
Liveops is a virtual call center company that offers offer a range of customer care services to brands and companies.
The company started out in 2000, straight from its founder's garage in Florida. One of its first biggest projects was a psychic hotline that required quite a number of call center service agents. The network required a massive agent capacity and the company realized that the traditional call center way won't cut it.
So, the company started going virtual. Instead of confining call center agents in their cubicles in offices, Liveops allowed for a home-based call center set up where agents can receive and take calls for brands they represent.
The setup worked perfectly for the company, its clients, and agents. Soon enough, Liveops was taking in Fortune 500 companies as clients.
Nowadays, Liveops has flourished so much that it has built a massive network of call center agents in different locations of the country.
Liveops continues to grow in the call center industry. It is constantly looking for people who can deliver the same customer service quality that the company stands for.
What are Liveops.com Jobs? Liveops Career Opportunities
Liveops provides work-from-home opportunities to call center agents.
At Liveops, you can work on your own time and who to work with and get paid as an independent contractor.
Your job as a call center agent is to represent a brand and provide efficient and top-quality service to that brand's customers. Liveops has a massive roster of clients from different industries, including:
Retail support
Inbound sales
Tax support
Insurance sales
Insurance claims
Healthcare patient support
On-demand entertainment
Home delivery support
Customer service
Government support
Liveops caters to various industries, and each one requires various technical and soft skills.
So, if you have experience in processing orders and assisting customers in the retail space, you're most likely to work wonderfully as a retail customer service agent. If you are empathetic and are able to provide a listening ear to patients who are on prescription medication, healthcare support could be a great fit for you.
It's safe to say that you can find almost any type of customer job here. Plus, you have the opportunity to train for these different industries so you can take in more work and make more money.
---
Liveops Jobs From Home: What Is It Like to Work at Liveops?
Liveops supports a culture of flexibility and work-life balance. Liveops agents can work as much or as little as they want. Agents are free to create a work schedule that befits their individual lifestyles.
Here are a few things to note, though, if you're interested in working for Liveops:
This is a work-from-home arrangement. You need to prepare your own gear and equipment to support your role as an independent agent.
As a side note, I've prepared a list of work-from-home jobs that provide equipment.
You need a dedicated, quiet space to work in. Phone jobs need to be performed in quiet spaces so that agents can effectively communicate with customers.
If you're not up for phone jobs, check out these chat support jobs from home.
You are under a six-month contract. Liveops will evaluate your performance for this entire period and decide whether or not to hire you for another contract. Liveops asserts that while you can work as little as you want, inactivity can affect your odds of getting re-hired.
You are an independent agent, not a regular employee. You are not entitled to employee benefits. However, you can take in other jobs outside Liveops as long as you honor the contract with the brand you represent at Liveops.
---
Is Liveops Legit?
Everybody needs to be wary of any online job opportunity that comes their way. So, the question you've been begging to ask, "is Liveops legit?" now gets an answer.
The short answer is YES, Liveops is legit.
Liveops has been in the industry for over 20 years and it has proven itself as a legitimate company that provides customer service jobs. It also received prestigious recognitions over the years to cement its reputation, such as:
One of the 5000 America's Fastest-Growing Companies by Inc.com
Bronze Winner for Sales and Customer Service for the 2021 Stevie Awards
One of the Top 100 Companies to Watch for Remote Work in 2019, 2020 and 2021 by FlexJobs
Also, Liveops is listed on BBB and has obtained an A+ rating. According to the listing, Liveops is headquartered in Arizona.

Source: Better Business Bureau
Liveops also has a verified Facebook business page followed by over 30,000 people, and a LinkedIn company page, which also features the profiles of its employees.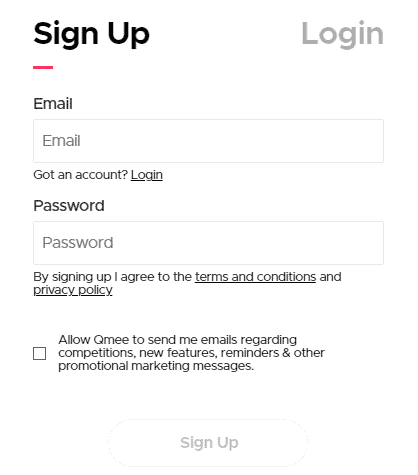 Source: Liveops Facebook Page
It's worth noting that both BBB and the Liveops Facebook page has sent out a warning about scammers using Liveops in offering fraud online jobs. Remote work has become more in-demand now more than ever, and this has driven some people to use established companies like Liveops to prey on others.
Liveops reminds everyone that all applications will be coursed through their official website and would never use third-party platforms like Telegram or Skype.
So, if you're looking for online and home-based jobs, watch out for the red flags to avoid getting scammed.
How Does Liveops Work?
Liveops work with companies that need customer service personnel to handle this aspect of their businesses. Liveops supplies the manpower so that its clients wouldn't have to deal with the agents themselves.
Liveops's roster of clients comes from a wide variety of industries. Depending on your skills and availability, you may be able to handle at least one "line" or brand simultaneously.
But before you can do that, you must first Liveops's eligibility conditions and technical requirements as an independent agent.
How to Become an Agent at Liveops: The Eligibility Conditions Application Process
Liveops has basic eligibility conditions for independent agents. So if you want to land Liveops jobs from home, you must:
Be at least 18 years old
Graduated high school or equivalent
Reside in one of the eligible states in the US
As for the eligible states, Liveops can hire any qualified candidates in the following states: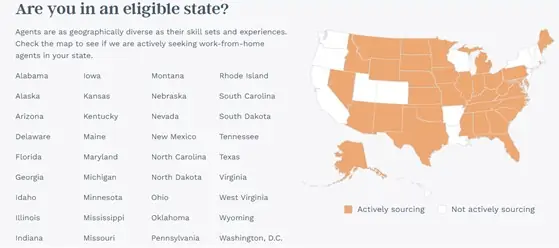 Source: Liveops
How to Apply at Liveops?
The application process at Liveops is a straightforward process. First, you have to meet the basic eligibility requirements mentioned above.
Next, look into the current openings and see which Liveops work from home job is a great match for you.
Each job opportunity lists the benefits, what the client requires, skills needed for the job, as well potential compensation. For independent contractor call center representative jobs, the list would like this: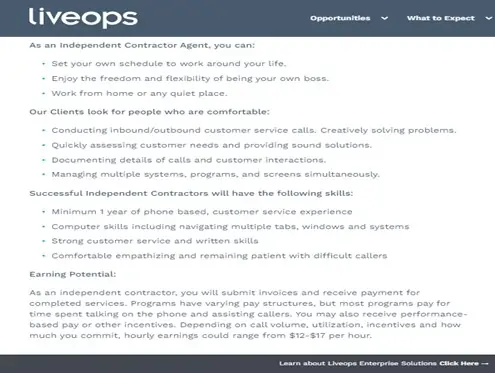 Source: Liveops
Liveops Requirements: Computer Requirements and Background Check
You have to meet the computer requirements and pass a credit and background check before you can get onboarded by Liveops. Computer requirements are very specific, so make sure to have these ready when you ready:
For the telephone:

Source: Liveops
For the computer and internet: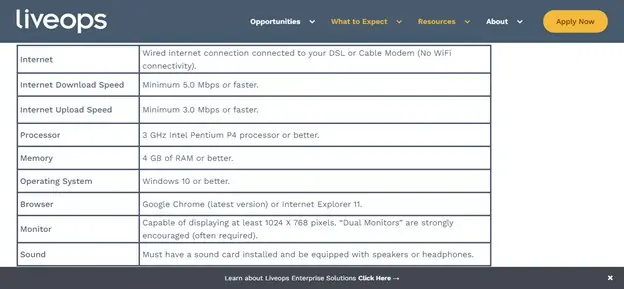 Source: Liveops
Basically, these are the technical requirements for independent contractors:
A reliable computer
A steady, wired internet connection
Headset
Quiet, distraction-free workspace
Since you will be talking and listening to customers while on the job, you also need to have a quiet place to work in.
By making sure that you meet these technical requirements, you will be able to provide the best service to customers and establish a good reputation with Liveops. You don't want your computer hanging up on you or your internet connection tripping while taking a call. So prepare these things ahead of time to get onboarded quickly.
The entire application process, which includes the background check, can be completed within a week. But depending on the volume of applicants, it could be longer.
About Liveops Certification
Now, let's talk about certification. When you are hired by Liveops, you follow an onboarding process. Every new agent needs to complete a certification course first before you can take your first call.
The certification course is designed to equip you for your job, and the course is designed for the brand or client you have been matched with. The entire course can take hours or days to complete. These are self-paced, so it's up to you how fast you can finish the course. Typically, the certification process takes around two weeks.
Liveops offers the certification program for free. However, you will also not be paid for the time spent completing the certification. But think of it as an investment. And the more programs you get certified for, the quicker you can grow your homebased call center business.
Liveops Background Check
Another thing you have to keep in mind when applying for Liveops call center jobs is that you need to submit yourself to a background and credit check.
Why does Liveops do this?
Liveops independent contractors act like brand representatives. So, to ensure the protection of the brands that Liveops work with, every new contractor needs to pass the background check.
Liveops works with a third-party background checker, Sterling. So when you apply at Liveops, you must make sure that all information you provide is correct and verifiable.
During the background and credit check, you are asked to provide information of your home-based business address, Social Security Number, and driver's license. Additional documentation like a utility bill, passport, and government-issued ID may also be required.
I understand that not everyone is happy to go through the background and credit check and is wary about providing personal information even before they are officially hired.

Source: Liveops
But Liveops assures everyone that these "background checks are conducted in accordance with the applicable laws."
Cost of Background and Credit Check
The background and credit check, unfortunately, is not free. When you go through the background check, you need to pay a one-time fee of $45 directly to Sterling.
It is also worth noting that the fee is non-refundable, whether or not you pass the background check.
The background checking process is typically completed within 1-3 business days. Liveops will send you a notification message when the screening is done.
How Much Does Liveops Pay?
How much money can you make doing Liveops online jobs? This is another pressing question that demands an answer.
Well, that varies, depending on the program and volume of calls you take.
For instance, some clients would pay per talk time, between 25 to 34 cents per minute.
How much does Liveops pay per hour?
It is approximately $15 to $20 per hour.
Some clients pay a base rate and commission, while others are paid entirely on a commission basis.
Here's a graphic representation of how much you can potentially earn with Liveops: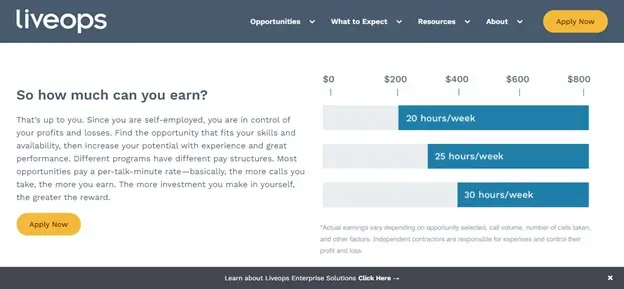 Source: Liveops
But since you are an independent contractor with Liveops, you are free to pursue other work-from-home jobs. You just need to create a schedule that works so that you can still provide the best customer service experience during your working hours. This way, you can earn more money from home and make use of the same technology (computer and internet) for your other side hustles.
Liveops Reviews and Complaints
Is Liveops a good company to work for?
I scoured various Liveops jobs reviews on the internet to answer this question, and here is what I found out.
First, I checked the Liveops reviews on Glassdoor.
Right off the bat, I saw that Liveops has a rating of 4 out of 5 stars, which is pretty good. Most of the people are happy Liveops offers flexible work-from-jobs for independent agents.
Meanwhile, the most common complaint I saw is that the Liveops agents are typically paid per volume of calls.

Source: Glassdoor
I also noticed that the fun work environment and culture get mentioned a lot. Agents are also loving that the CEO, Greg Hanover, seems to sincerely care for his agents.
All in all, Liveops reviews on Glassdoor seem to put the company in good light. Now, let's check out what Liveops reviews on Indeed have to say.
Liveops has a rating of 3.8 stars out of 5 on Indeed. Similar to Glassdoor, the biggest pros of working at Liveops is the flexible work schedule.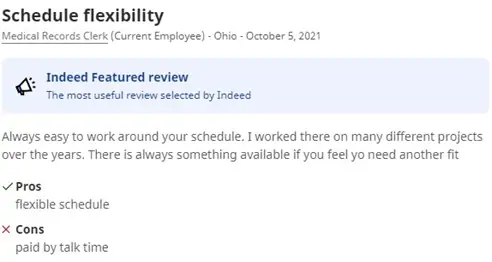 Source: Indeed
However, the pay rate, which is computed per talk time, continues to be a pain point for many agents.
I'd also like to add that some people consider Liveops as a great way to establish a home-based career. Although Liveops agents do not receive regular employee benefits, the ability to work on their own schedules seems to make up for it.
And lastly, let's check out Liveops's profile at the Better Business Bureau. I was surprised to find that Liveops only has a 1.5-star rating from customer reviews despite it being rated A+ by BBB.
As of the time of this writing, there are 35 complaints and 19 of which have been closed over the past 12 months.
So what were the Liveops complaints on the Better Business Bureau?
One person complained that she was unjustly "fired" from the system and was accused of fraud, despite passing the background check and going through the onboarding process properly.
Another reviewer wrote that it's not fair to not get guaranteed base payment from Liveops. The talk time pay rate seems too measly.

Source: Better Business Bureau
---
Liveops Pros and Cons
There seem to be mixed reviews on Liveops on different platforms. So if you decide to work for Liveops, you must properly weigh the pros and cons.
PROS
It is a flexible, work-from-home gig. You can work on your own schedule that works for your lifestyle.
There are no fees to apply for Liveops jobs.
Getting certification courses is also free, and you can these certifications to score more jobs.
CONS
You need to pay for a background and credit check
You are not paid for the time spent on certification courses.
The talk-time pay rate is not sufficient for many agents.
---
Top 5 Alternatives to Liveops
If you can't find any Liveops jobs openings or are unhappy with this company for some reason, don't fret. There are still other reputable work-from-home customer service jobs out there that you can explore:
Final Thoughts
So we've come to the end of this Liveops review, and hopefully, this answered the question: is Liveops a legit company?
I will say it again, Liveops is a legit company that provides work-from-home jobs for independent customer service agents. It's been in the industry for over two decades, and it has a proven track record.
Many people like that Liveops allows for a flexible work-at-home arrangement, although some people say that Liveops's pay rate leaves so much to be desired for. It depends on how many calls you get and how many hours you're willing to put.
But it's not for everyone. You need excellent communication skills and provide the best customer service experience. If this is not your cup of tea, you should check out these jobs for people who hate people.
Have you tried Liveops customer service jobs? What do you think about them?