How to Become a Transcriptionist
So you want to learn how to become a transcriptionist and make money from home? Excellent! Transcribing is a lucrative side income idea, but if you take the transcription job seriously and establish yourself in the transcription field, you could very well leave your day job and work full-time with the potential for lucrative earning.
Fortunately, general transcription doesn't require much investment, apart from a good computer, internet connection, excellent headset, and perhaps a foot pedal. But if you would like to venture into specialized niches of transcription, such as legal and medical transcription, you may need to invest in training and certificates to become qualified.
Whichever niche you choose, if you are dead serious about earning from transcription jobs, then it pays to know as much as you can about what the job entails, how to get started and what you can do to bring yourself farther in this industry.
---
What is a Transcription Job?
Transcription refers to the process of turning an audio file into text. The person who works in transcription often referred to as a transcriptionist or sometimes a transcriber. He or she listens to the audio and then types the words into a word processor.
But the transcriptionist meaning extends far beyond converting audio into text. As a transcriptionist, you also need to make sure that the text is free from grammatical errors. You are also expected to research the appropriate words or phrases to ensure the quality of the transcript.
Why Are Transcription Services Important?
Transcripts are essential in several industries and professions, including business, legal and medical fields. While it can be cumbersome to listen to an audio file to seek the information you need, a transcript, or its written counterpart, allows for an easier search just by typing in a keyword.
Additionally, it's more convenient to read (than listen to) a transcript of a meeting, podcast, or video, wherein the speaker is inaudible. It is easier to make sense of a thought or statement from the written form than from an audio file that's hard to decipher or understand.
How Much Do Transcriptionists Earn?
Professional transcriptionist services are in high demand, and those who work these jobs can earn a decent to a lucrative amount. According to Indeed, transcriptionists in the United States can make an average of $13.39 per hour. Established companies may pay more, as much as $60 per hour.
Transcriptionists are often paid per project, usually per audio hour or minute of the file you need to transcribe. According to Thumbtack, general transcriptionists charge between 75 cents to $1.50 per minute of the audio you are working on.
Factors that affect your rate
The rates can increase in certain instances, like if you receive a bad-quality audio file. The speaker's accent, background noise, volume, and clarity of the audio file can impact the rates you set for the job.
Finally, the cost of the transcription service may increase depending on the turnaround time. If the client requests for a rush transcript, that is, the text must be sent quicker than your standard turnaround time, then you can demand a flat fee for the rush work or increase the standard per audio minute rate.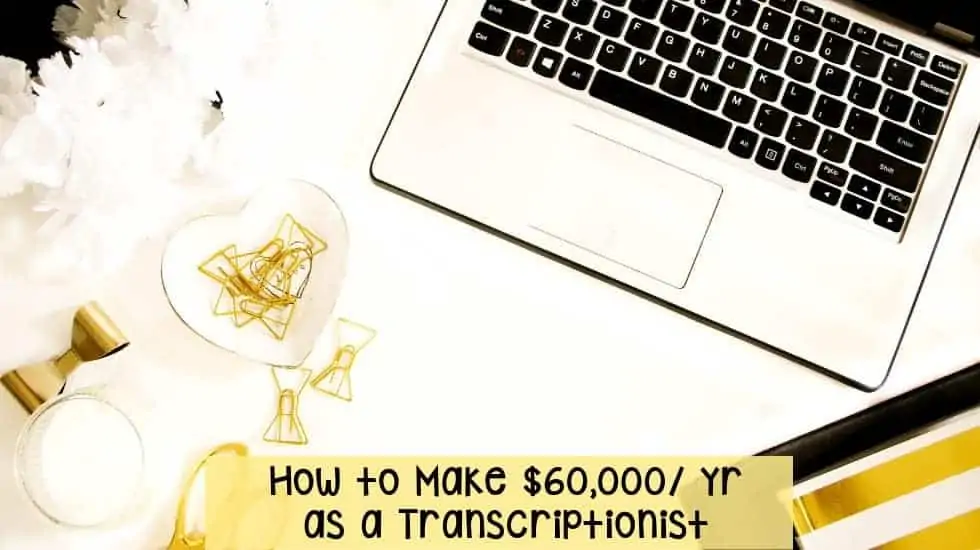 The market for transcription jobs is relatively easy to enter, given that you have the right attitude, skills, and equipment.
To become a transcriptionist, you need to have the following skills and attitude to flourish in this opportunity:
1.Good command of English
A good transcriptionist has firm grasps of English rules, including grammar, punctuation, syntax, and more. Some projects may require verbatim copies, that is, you need to type the file in the exact way they were uttered, there are also others that require non-verbatim. For the latter, you need to make sure to produce a clean, error-free, and easy-to-read transcript, following the proper rules of the English language.
2.Excellent listening skills
A good transcriptionist must have a good ear for listening. Some audio files may be easier to transcribe than others, but sometimes, you'll come across difficult ones containing background noise, thick accents, decipherable speech and more. You should be able to listen attentively and make sense of what's being said to produce a clean, high-quality transcript.
3. Fast typing speed
Since transcription jobs are rated per every audio hour or minute of the file, it is essential that you can type fast and error-free to earn as much as possible. A lot of transcriptionists are savvy typists, and a good starting point would be 40 words per minute. However, through more practice and training, you can bring your typing speed considerably up to 80 to 100 words per minute. The faster you type, the more work you can do and the more money you can earn.
4.Patience
Transcribing can be repetitive work. You need to listen to the file, rewind, type, and listen once again to capture the true utterances. In addition, you also have to be patient and diligent in repeating the process to provide outstanding output.
5. Accuracy
You also need to be accurate in your work to create a high-quality transcript. With that said, you should have a keen eye for detail, be highly precise and diligent in performing research. In this line of work, you will hear words and phrases you've never encountered before, such as names of people or places or complicated medical terms. You have to research these ideas to ascertain that they are the right words uttered by the speaker.
---
Invest In Your Equipment
Not only do you need the right skills and attitude, but you should also have the proper equipment to start your career in freelance transcription. You need to have the following to begin offering your services:
1.Computer
A computer is essential and a must-have in producing digital files of audio. You should also have a word processor like Microsoft Word where you can type in the text.
2. Internet connection
Most transcriptionists work remotely, so an internet connection is a must-have. It's good to have a website and business email where you can download the audio file and upload the transcribed content.
3. High-quality headset
A good pair of headsets allow you to listen to the audio file more closely. Headsets with noise-canceling features are perfect for this job as they diminish background noise, allowing you to focus more intently on the job.
4. Foot pedal
A foot pedal is a device that allows you to play, rewind and fast forward the audio file by having to step on the levers instead of doing it manually from the audio player or software. This device can help you complete the transcription process quicker than doing it without.
5. Good to have equipment and devices
Once you've rounded up all the equipment above and you could see yourself working in the transcription field for a long time, you may consider investing in a few more devices and equipment that can speed up the process. These may include a transcription software (particularly crucial for formatting and time-stamping), ergonomic keyboard, comfortable office chair, time-tracking software, dictionary and thesaurus, and a file converter.
---
Pick Your Niche or Category
Transcription jobs are generally classified into three categories: general, medical, and legal description. Depending on your skills, education, and work experience, one of these categories may be better suited for you than the others.
General transcription
This involves transcribing audio files for interviews, videos, and podcasts. It may also encompass business transcription wherein you transcribe meetings, discussions, and conference calls. You don't need special training or certification for general transcription, although you still need to be a fairly fast typist with a good eye for accuracy.
If you want to learn more about general transcription, check out this popular General Transcription course that teaches everything you need to know to start working as a transcriptionist.
For a limited time, Transcribe Anywhere also offers a FREE General Transcription mini-course. See for yourself if this is the right career path for you.
Legal transcription
This involves the transcription of court hearings, depositions, and so on. You need to have some legal background to do legal transcription and be knowledgeable with the legal terms and phrases to be proficient in it.
If you want to specialize in legal transcription, this Legal Transcription course could also help you get started with a legal transcription business. This course has 14 modules designed to help you learn the skills you need to land legal transcription jobs. You can check out the course here.
Medical transcription
This involves the transcription of doctors' dictations, as well as other medical documents. Medical transcription needs specialized training, and you need to be knowledgeable about medical terms and procedures.
Finding Transcription Jobs
Whether you decide to work as a freelancer, independent contractor, or under a transcription agency or company, it's good to know that transcriptions jobs are abundant out there. For remote transcription, you can start looking at these sites for potential money-making opportunities:
Are You Ready to Jumpstart Your Professional Transcription Career?
Does transcription seem like a good fit for you? If yes, you may consider investing in a course that could help you level up your transcription skills, speed, and quality so you can offer high-quality and top-notch services to your clients.
Transcribe Anywhere offers popular transcription courses created by an established transcriptionist, teaching beginners how to listen to bad audio, punctuate correctly and even type quickly.
The courses also serve as an excellent refresher for seasoned transcribers. And the best part is you get a certificate after completing the course, which makes you look more professional and credible before the eyes of potential clients.
FREE Legal Transcription Mini Course
Transcribe Anywhere also offers free mini-courses which get your feet wet initially into the transcription world.
You can sign up for the FREE general transcription workshop or mini-course here to see if working as a transcriptionist is right for you.
If you are more interested in legal transcription, they also have a free legal transcription mini-course.
Conclusion
Transcription is one of those work-at-home opportunities that allow you to work at your own pace, set your hours and determine your rates. It's perfect for moms who are savvy about the English language and grammar, have impeccable typing speed, and are good listeners.
You also don't have to spend so much on business equipment to get things moving. And if you're willing to go the extra mile, you can spend some time and money learning the ropes through certified courses and workshops.
If you're still wondering if learning how to become a transcriptionist is a great work-at-home gig, the short answer is yes!
All in all, there's a good demand for high-quality transcriptionists out there, and you could be one of those people earning a decent income without leaving home or missing family milestones!