Welcome to our FeetFinder Review!
Interested in selling feet pics online for extra money? It may sound weird but selling feet pics is a real gig and has worked for many people. There is a demand for such photos, and the good thing is that you can sell these photos without revealing your identity to buyers.
One of the most talked-about websites for buying and selling feet pics is Feetfinder. So, I dug around FeetFinder to see if it is legit. Or is it just another one of those scam sites we've exposed on this blog? Find out what FeetFinder is all about in this Feetfinder review!
In this post, I will also answer the following questions:
What is FeetFinder?
How does FeetFinder work?
What are the pros and cons of FeetFinder?
What people have said about FeetFinder?
Is FeetFinder safe?
How does FeetFinder compares to Feetify and Instafeet?
Now, I can completely understand if this is not your idea of a perfect side hustle. If it's the case, simply skip this post and check out the following popular posts instead:
These posts above talk about our most recommended way to make money online!
---
What is Feetfinder?
Disclaimer: I am not a member or an affiliate of Feetfinder. It is my goal at This Mama Blogs to help you find legitimate money-making opportunities. In line with this goal, I write reviews of opportunities, jobs, or companies to help you decide whether they are a real deal or not. This FeetFinder review has been researched with information or testimonials available on the internet. Any conclusion drawn in this post is entirely my own.
Many people may find the idea of making money by selling feet pictures online funny, even ludicrous. But Patrick Nielson , the founder of Feetfinder, believes that selling feet pics on FeetFinder offers people an opportunity to earn extra cash in a safe and secure environment.
FeetFinder touts itself as one of the safest online marketplaces for selling feet pictures. Since 2019, the site has now over 160,000 verified active users.
The concept of FeetFinder is simple. Anyone can sign up to be a feet model, take feet pictures and videos and make them available to individuals and companies for a price.
How to Sell Feet Pics on Feet Finder
So, how does FeetFinder work? Here's a rundown of how to use Feetfinder to make money by selling feet pics: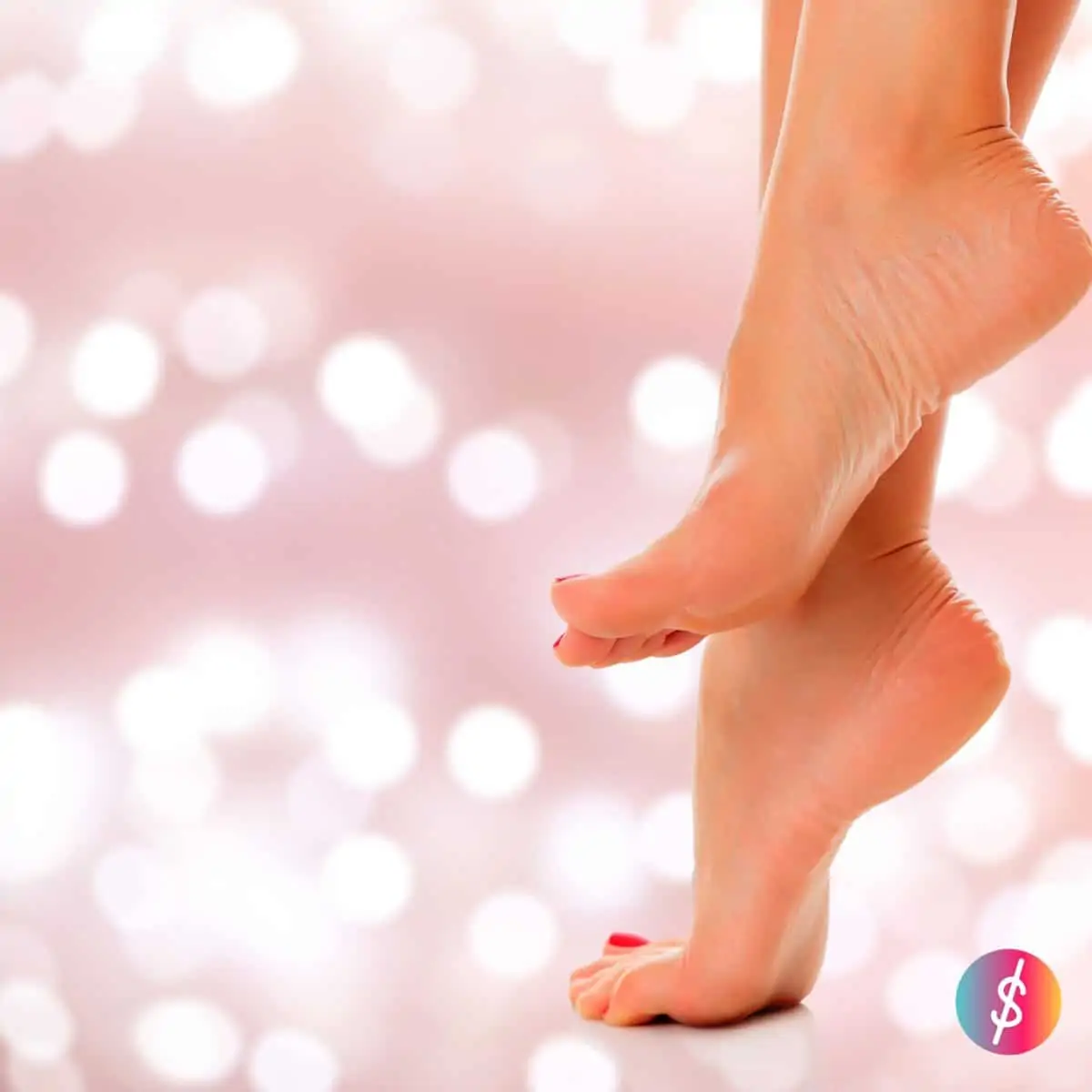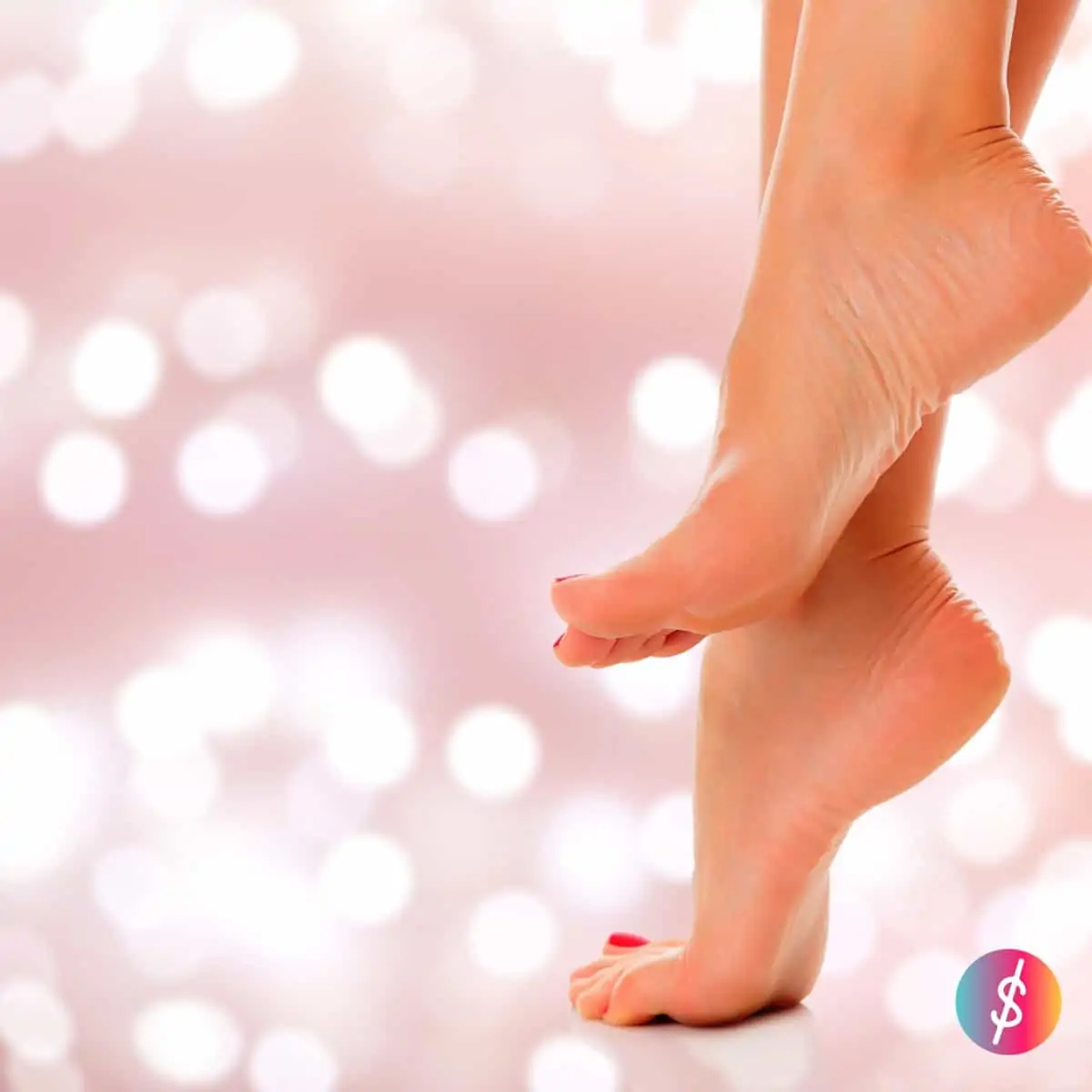 Set up an account. Click the "Sign-up" button and on the landing page, you'll be asked if you're registering as a seller or a viewer/buyer of content.
Fill in the information. You'll be asked some basic information including your country, location and birthday. You need to be at least 18 years old to use the platform.
Verify your identity. Upload a photo of any government issued ID or take a selfie with that ID to verify your identity and age. Feetfinder assures that this information will be kept private and only to ensure that sellers are real people and not bots or trolls.
Pay the subscription fee. Once you've confirmed everything, the last step of the registration as a seller is to pay the subscription fee of $2.99 every month or $24.99 for a year. According to its website , the introduction of this fee is to make sure that only those serious about selling content are able to use the platform and to weed out non-active users. This fee in turn will be used to beef up marketing and promotion of sellers, and to develop and improve website features for a better user experience that can contribute to increased sales.
Start uploading content. Once you've been verified, you can start adding content on your Feetfinder "My Content" page. There is no limit to the number of photos or videos you can upload, but pictures must be no more than 1GB or no more than 10 minutes long for videos.
Get paid for your sales!
---
How much do people earn from selling feet pictures?
How much do people really earn from selling feet pictures? If you've read our ultimate guide on how to sell feet pics, you'd learn that it is possible to earn thousands of dollars from feet pics. But your earnings can depend on a lot of things such as the quality of your pics and how you market them.
I took a look around to see how much money people are making on Feetfinder and I found these reviews on Trustpilot.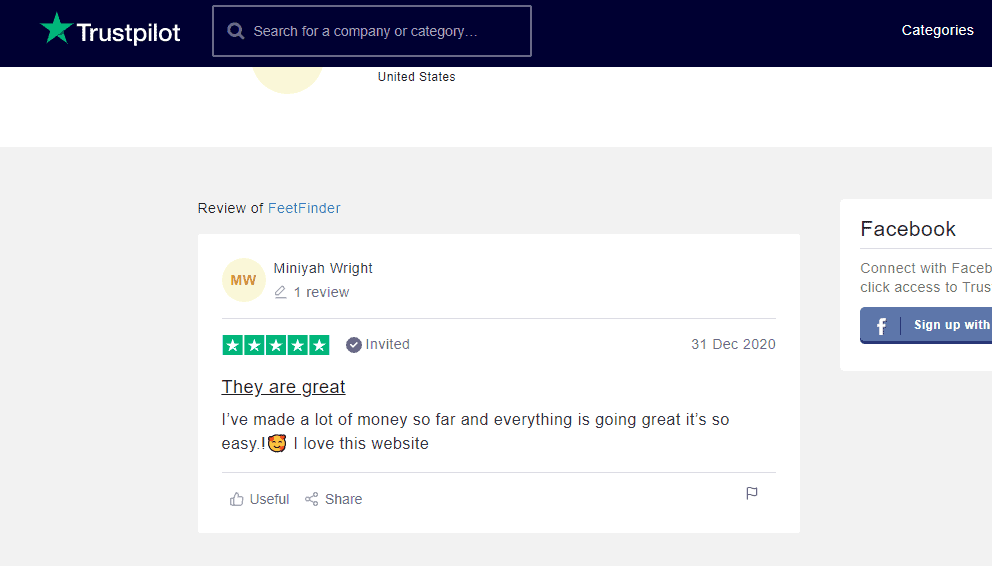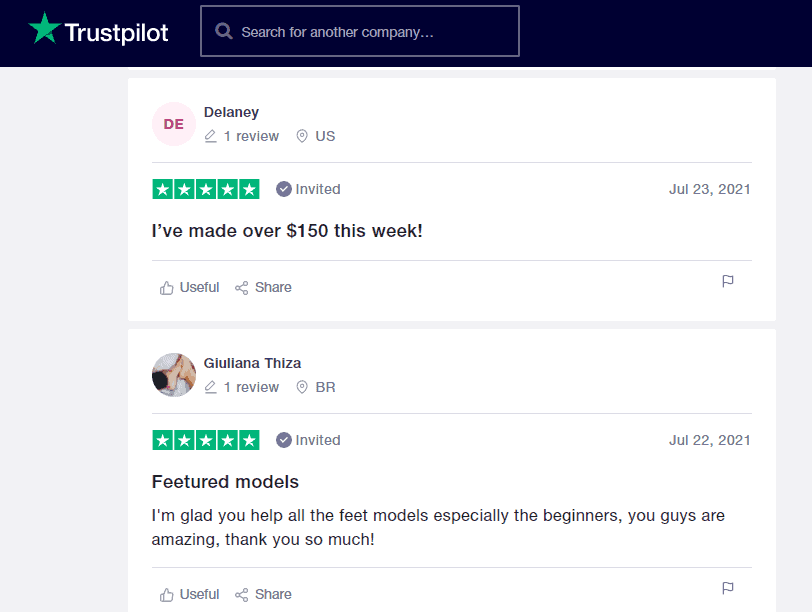 The income you can earn on this platform is highly variable, depending on the content you put out and the extent it meets buyers' needs.
But the good thing is that as a seller, you price your own content. You can sell your photos for as low as $10 or bundle them up for $30. Some feet videos are even priced over $50. It all depends on the category and the demand for certain types of feet pictures and videos.
If you're a featured model, you could get more eyeballs on your account, and therefore, you are likely to sell more. You can also offer customized content and charge more for those photos.
Another way to rack up extra earnings is by making a commission from the sales of sellers who joined the platform using your referral code. This, however, relies on your social reach.
One thing to bear in mind is that Feetfinder keeps 20% of your earnings as a service and administration charge.
Is there a FeetFinder app?
Unfortunately, Feetfinder does not have an app for users. It is a web-based platform, which means that you can only access the site via the web browser on your computer or mobile device.
Related Posts: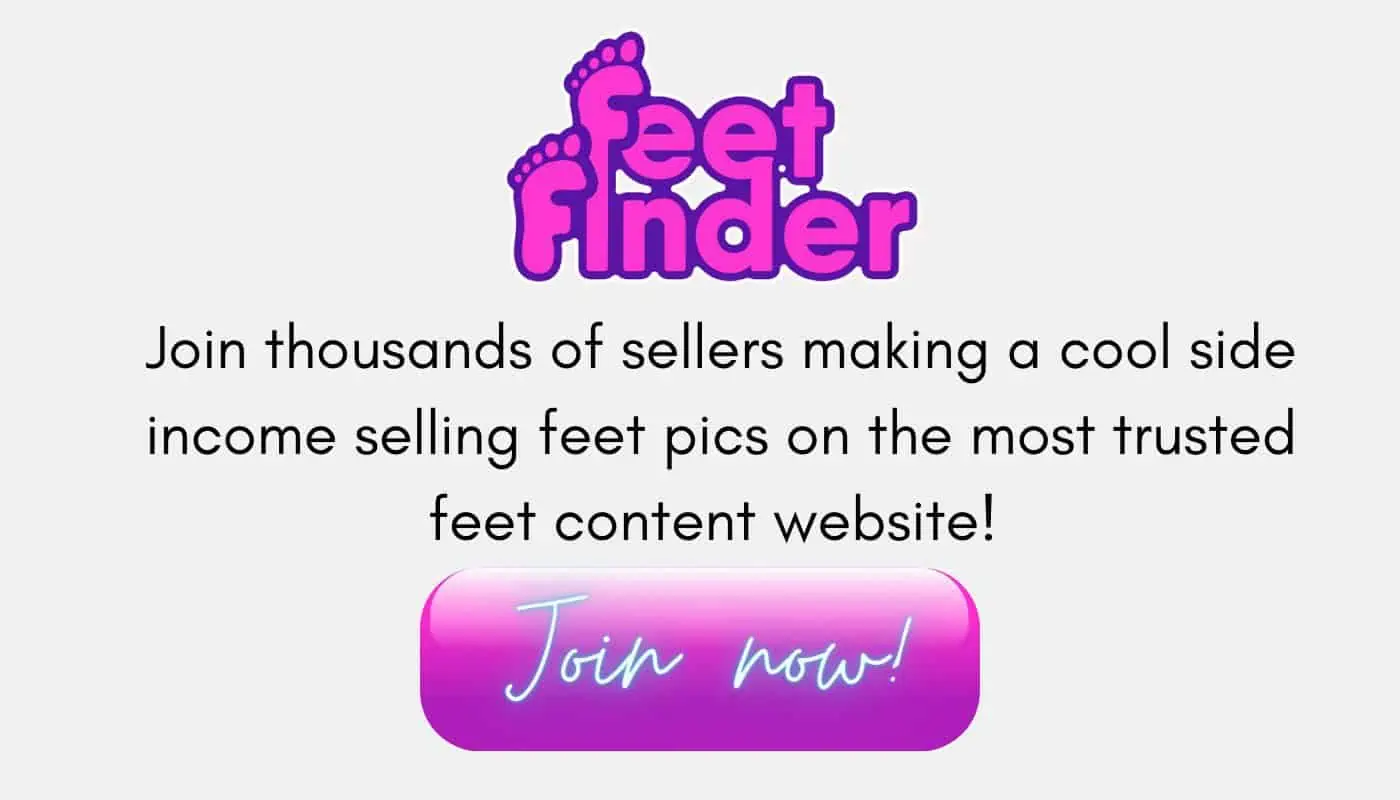 Can You Sell Feet Pics on Feetfinder If You Live Outside of the US?
Yes, you can use Feetfinder anywhere in the world!
What Else Can You Sell on Feetfinder?
Feetfinder is for feet pics only. Selling nude pics is prohibited on the platform.
Feetfinder Review: Feetfinder Pros and Cons
Pros
It touts itself as a safe and secure way to make money by selling feet pictures. Like other similar platforms, Feetfinder is a legitimate gig that you can consider if you're looking for ways to make a few extra bucks.
Seller sets the price. You set the price for the content you put out, so you essentially determine your earning potential. If you have a smart business strategy, you can make the most out of the platform.
Helpful site. The website itself provides quite a handy, comprehensive set of information so users are well informed.
The FAQs provide more information about the ins and outs for sellers and buyers. Users can freely click on the "Popular Categories" tab to have some idea of the content that's available on the site, and interested sellers can see how much people are pricing their feet photos and videos. If you're considering selling feet pictures online, you'll find the Feetfinder website a helpful platform to check out.
FeetFinder is free for all buyers which could attract more "foot finder" or buyers. More buyers means more opportunities to earn money.
Cons
Compared to its counterparts like Instafeet and Feetify, Feetfinder is not entirely free. The subscription charge is automatic to anyone who signs up as a seller, regardless of the amount of content you wish to put out.
I can understand why they require an ID to sign up, but this can work against you if the company does not have a secure system.
The site also charges a 20% commission of your sales.
Feetfinder Review: Feet Finder Success Stories
Fortunately, most of the Feetfinder reviews I've found online are positive. On Trustpilot, for instance, 92 percent of the 600+ reviews were 5 stars.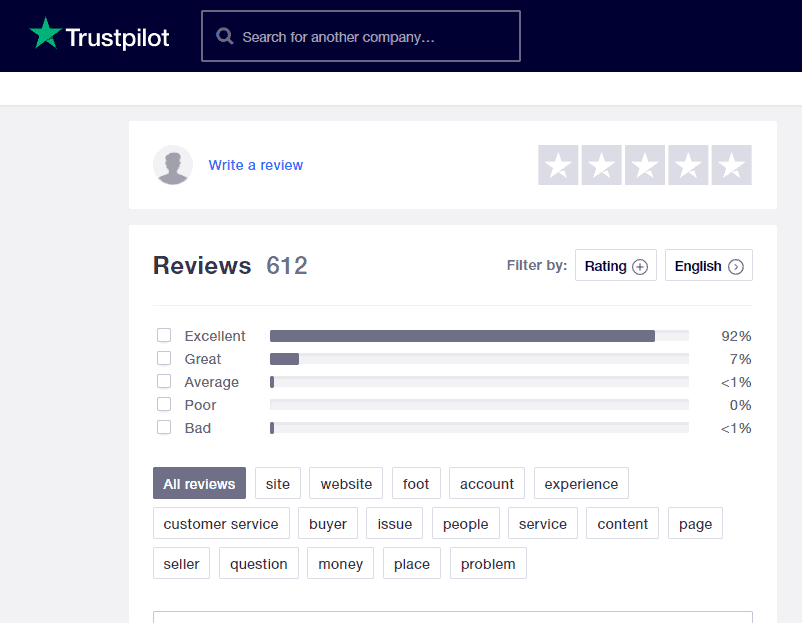 Many users commend the company's excellent customer service, just like Leylah whose issue with a billing mix-up was quickly sorted out within 24 hours. Others talk about how easy it is to navigate the website and upload content on the site. As far as being a safe, trusted, and legit platform, Feetfinder has received an overall 4.8 rating on Trustpilot.
As far as negative Feetfinder reviews are concerned, I've found this one: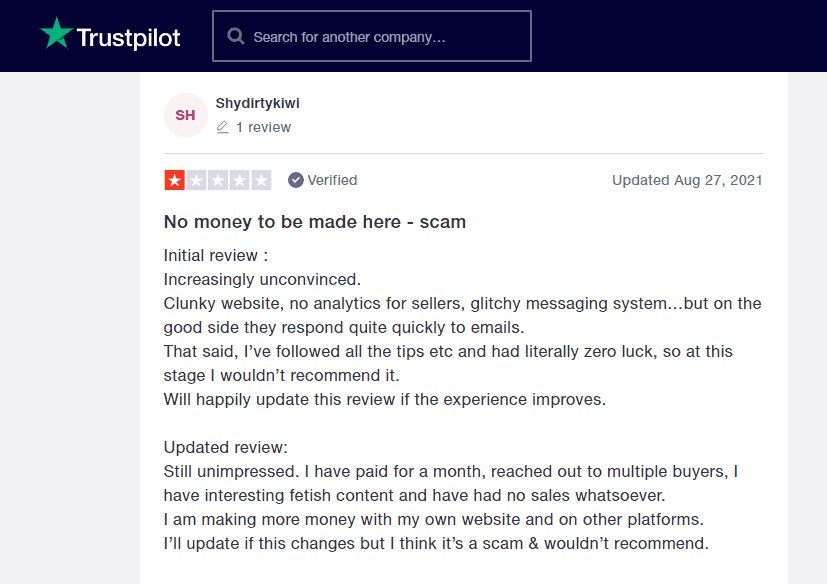 Feetfinder vs. Feetify to Sell Feet Pics
Feetify is another platform for buying and selling feet pics and it works similar to Feetfinder.
Like FeetFinder.com, Feetify offers a lot of resources for buyers and sellers alike on their website. I love how well-developed their website is with a comprehensive FAQs page, a contact page, and more.
But compared to FeetFinder, Feetify does not charge sellers an upfront subscription fee. So, you can get started selling feet pictures at Feetify with a $0 cost, which is perfect for those who would like to test the waters first.
This, however, puts some limits on the number of content you can upload, visibility to certain buyers, and even the extent of your interaction with a given number of buyers.
If you want unrestricted interaction with buyers and to be able to upload as much content as you like, you need to have a premium membership. According to Feetify's website, you can become a premium member for 6 months if you buy an eBook on selling feet pics that costs $46. This membership can be extended to up to a year if you are actively selling feet pics on the website.
The biggest benefit of premium membership is that you take 100% of your earnings, and you can even receive more incentives and cash awards even during the periods you are not making any sales.
FeetFinder's subscription is relatively cheaper at $24 per year, but you pay a 20 % commission. The company does not also offer free membership.
FeetFinder vs Instafeet to Sell Feet Pics
Instafeet is another website for buying and selling feet pictures.
Instafeet content is only accessible to users who are subscribed to your seller page. This means that there is far more limited potential to earn because your first task is to build a solid circle of subscribers, rather than have your content easily visible to any verified buyer at the onset.
Similar to Feetify, you can sign up for free at Instafeet, which makes Instafeet a good option for beginners. But similar to Feetfinder, Instafeet charges a commission for the sales you make on the site. Instafeet keeps 10% of your earnings on the platform as a service fee.
You pay less on commissions at Instafeet than at Feetfinder, but Instafeet seems to have more negative reviews from sellers.
UPDATE: We no longer recommend Instafeet. Read our Instafeet Review for more information.
Related: FeetFinder vs FunwithFeet
---
Is Feetfinder safe for selling feet pictures?
As of writing this, I cannot find any Feetfinder review related to the security of the site. It seems like it is a trusted site based on its Trustpilot rating. It is, however, not listed on Better Business Bureau.
Is Feetfinder legit?
Of course, this Feetfinder review wouldn't be complete without giving you an answer to this question: is Feetfinder legit?
Compared to Instafeet which I am skeptical of, I am more confident that Feetfinder is not a scam. However, I'd still suggest being extra careful when signing up. After all, we do not know how they protect the information collected on their site. So, I would not give out my primary bank account, passport, or any ID that shows lots of information about myself.
Feetfinder Review: Final Thoughts
There are pros and cons to using Feetfinder just like with any other feet content site, so whether it is the best site for you really depends on your goals. For example, if you just want to test the waters first, you might want to try the free sites or market your pictures on social media.
If you are looking for a safer and more anonymous way of selling feet pictures where you don't have to give out your information such as your Paypal account to each of your buyers, then Feetfinder is one of your best options out there.
However, if you are looking for other ways to make money online, I'd suggest looking into blogging, virtual assistance, online bookkeeping, working as a tax preparer, selling on Amazon business, and freelance writing. These are opportunities that you can also scale and make a huge income from for the long term!
Easiest Ways to Make Money Online