Looking to cash in on your good accurate typing speed? There are various online typing jobs from home you can do right now. Here's a comprehensive list of legit online typing jobs.
Most of us spend a lot of time typing on our computers, whether we're replying to work emails, chatting with family and friends, or doing some writing work. But did you know that you can make money online if you're a fast and accurate typist?
If you have impeccable typing speed and accuracy, you can find various online typing jobs and make money online. These jobs range from easy data entry jobs to high-paying freelance writing jobs.
Introverts also find some online typing jobs ideal. You'll be spending most of your time typing than talking to clients or colleagues.
So if you are interested in finding online typing jobs from home, then you should read till the end of this post.
What are typing jobs? How much money can you earn?
A typing job is anything where you can get paid to type. You could type documents, spreadsheets, or write materials on the computer or laptop. As long as you are typing on your keyboard, and are getting paid for it, then you are practically working on a typing job.
There are different types of typing jobs, and most of them you can do from home. There are also companies that offer typing jobs for different experience levels.
Now, how much money can you make from typing jobs from home?
It depends on the type of typing job and how experienced you are. For example, data entry jobs for beginners pay around $11, while experienced transcribers fetch more than $100,000 in income per year.
You could even command higher rates if you get certification for the typing job you are working on. For example, legal and medical transcription jobs pay more because these are specialized fields that require certification.
So if you work on your typing skills and turn in work with top speed and quality, then it's highly possible to more money from typing jobs from home.
It also pays to remember that in most online typing jobs, fast and accurate typing skills are just one of the requirements. You should also have excellent eye-hand coordination. Transcription and captioning jobs require great listening skills, while online chat jobs require excellent communication skills.
How Do You Become a Very Fast Typist?
Excelling in a typing job requires great typing speed. Some home typing jobs even require applicants to go through a typing test to prove that they are up for the task.
Since you already know how to type, now you just have to learn how to improve your typing ability.
Familiarize the Keyboard
Know where the keys are and position your fingers correctly. As you master the proper positioning and key locations, you will be able to type quickly without looking down on the keyboard.
Keep Practicing
You want to achieve a higher WPM since a lot of home typing jobs require fast and accurate typists. The best way to do this is to keep practicing your typing skills. You could also level up your typing practice by watching video tutorials.
Take Typing Tests
You can monitor your progress by taking typing tests. A lot of websites offer free typing tests, such as Key Hero, Monkey Type, and TypeTest.io.
Tools and Equipment for Online Typing Jobs from Home
Whether you're aiming to become a freelance writer, transcriptionist, or data entry specialist, having the right tools and equipment are crucial to your success.
Here are what you need to work on typing jobs from home:
This post contains affiliate links. I may earn a commission at NO extra cost to you for your purchases made through these links. Disclosure.
Types of Typing Jobs From Home
1. Blogging jobs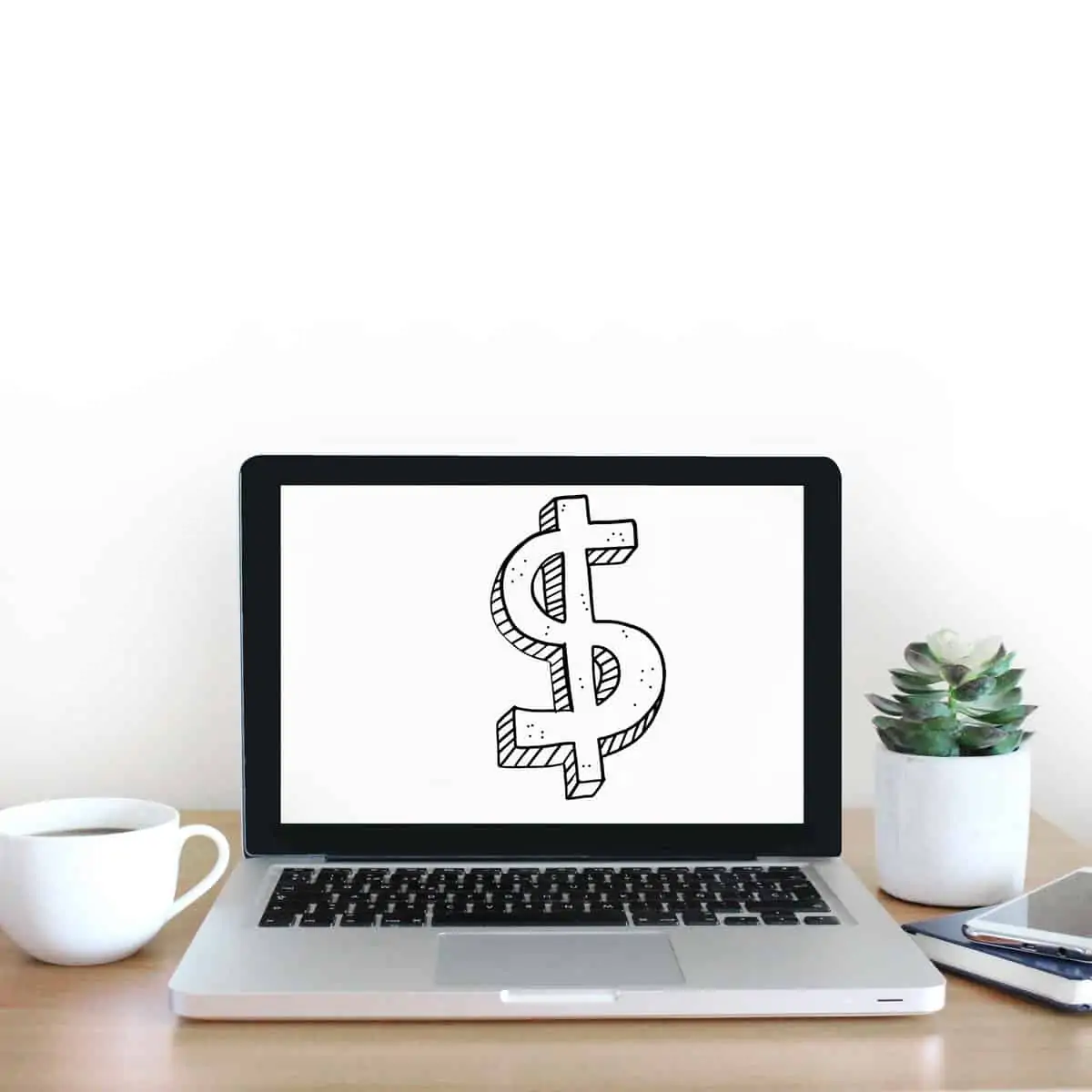 Let me start with one of the online typing jobs I personally swear by, which is blogging.
Yes, you can make money from blogging jobs, whether it's from your own blog or providing blog writing services to others.
Let's discuss the first option: writing on your own blog.
Writing and managing a blog is one of the best typing jobs from home. That is because you treat your blog as more than a hobby or creative outlet, but importantly, as a job or as a business.
A blog can make you money in different ways. Companies may compensate you for sponsored content, you can make money from affiliate posts, and you can promote your online business in your own blog. You even make money from the ads displayed on your blog.
You could also build blogs from scratch, populate them with engaging content, build a solid following, and then sell them later for a profit.
If you come to think of it, blogging can provide you with both streams of passive and active income.
Apart from writing on your own blog, you could also work as a blog writer for others. Companies and businesses need relevant content regularly for their business blogs. As a blog writer, your main role is to research and write engaging and timely topics about your client's industry.
Blog writing is an excellent online job that pays well. According to ZipRecruiter, blog writers make an average of $31 per hour.
If you are interested in blogging, check out my detailed blogging guide for beginners! Learn how to start a blog from scratch and how to make money from it!
2. Proofreading or Editing Jobs
Got an eye for spotting errors in a written text? Then proofreading and editing jobs are two of the best online typing jobs from home that you can do.
Online proofreaders catch mistakes in spelling, punctuation, and grammar. Editors, on the other hand, strive to improve the quality of written material by checking facts, tone of voice, and structure of the content.
Both editing and proofreading jobs are excellent home typing jobs that give you a lot of flexibility. All you need is a computer, laptop, or even a tablet, as well as an internet connection to get started.
If you want to find online proofreading jobs, you should first harness your proofreading skills to provide the best work quality to your clients.
One of the best proofreading courses today is Proofread Anywhere by Caitlyn Pyle. This is a comprehensive proofreading course that walks you step by step in putting up your own online proofreading business. You will learn not just to spot errors, but also to market your services.
You can assess if proofreading is the best typing job for you by taking up Proofread Anywhere's Free Online Workshop. This is a 76-minute workshop that shows you if proofreading is suitable for you, how it works, and ways to attract prospects.
According to ZipRecruiter, online proofreaders earn around $25 per hour, while editors make around $27 per hour.
Where to find proofreading jobs:
Easiest Ways to Make Money Online
3. Virtual Assistant Jobs
A virtual assistant does a lot of typing, from creating reports, and performing data entry jobs, writing articles, and managing social media. So if you're a fairly good typing speed, organized, and have a number of administrative skills, then working as a virtual assistant is a great online typing job for you.
VAs provide support to small business owners by doing small tasks. Some VAs earn more by specializing in a service, such as a real estate VA or a Pinterest VA. But others are generalist VAs who provide a wide array of tasks to support their clients.
There are plenty of freelance jobs in the VA space. But if you have no experience in this field, you could have a competitive edge over others by completing a virtual assistant course.
The Fully Booked VA is a wonderful resource to get you started in virtual assistance. Its creator, Gina Horkey, was a freelance writer and virtual assistant herself. She created this course to help others find fulfilling online jobs in virtual assistance.
The course teaches you to identify over 200 types of virtual assistant services, inventory your skills, find your first client and manage multiple roles (apart from being a VA). The good thing is, that Gina has a free course to help you assess if becoming a VA is the right path for you.
VAs make around $20 per hour, but according to ZipRecruiter, you could scale this income up and make six digits if you upskill and offer even more valuable services to your clients.
Where to find virtual assistant jobs:
4. Online Chat Jobs from Home
Working as a chat agent is also one of the best online typing jobs. In most cases, you will be assisting customers through live chat, social media, and other chatting platforms. If you are averse to phone jobs, then you can turn to home typing jobs as a chat support agent instead.
Chat agents need fast typing skills as they communicate with customers over chat. Most companies that hire chat agents require applicants to reach the minimum words per minute (WPM).
Additionally, they must be helpful and possess technical knowledge, if working as a technical chat support agent.
There are plenty of opportunities to find online chat jobs, including the following:
Alternatively, you could also make money by chatting with lonely people. Although this typing job is a little different from the others mentioned on this list, it is perfectly legit.
These typing jobs essentially require great personal skills. You must be friendly and empathetic. Your clients are likely men who just need someone to chat with in their idle time. You can terminate the conversation if the client violates the regulations and seem to steer to intimate and personal topics.
You need to be at least 18 years old to qualify for these jobs. Also, several websites that offer such kind of chat support pays per response or exchange of messages.
Here are legit sites where you can chat with lonely people:
RELATED:
5. Data Entry Jobs
Data entry jobs are the most popular types of online typing jobs. Online data entry jobs don't require certification, making them an excellent choice for entry-level applicants.
Data entry jobs are also fairly easy to do, although they can be quite monotonous. Most of the data entry jobs involve the following tasks: typing a PDF document into a word processor, entering information into spreadsheets, removing erroneous data, and filling out online forms.
As you can see, there is a good amount of typing tasks in data entry, and most companies require you to have good typing speed.
According to Flexjobs, most data entry jobs pay around an average of $14 per hour, but it's possible to find data entry jobs that pay more, especially if you already have experience.
Where to find data entry jobs:
Easiest Ways to Make Money Online
6. Online Transcription Jobs
Transcription jobs are some of the most in-demand home typing jobs. Transcription refers to typing in what you hear may. It could be a video or audio file of an interview, a casual conversation, meeting, webinar, commercial and so much more.
So apart from having excellent typing skills, you also need to be a great listener. Transcription online jobs also often come with deadlines, so you need to have the right equipment, like a foot pedal and a noise-canceling headset to work more efficiently.
There are three main categories of transcription: general transcription, legal transcription, and medical transcription.
General transcription serves as a catch-all term for transcriptions as long as they are not in the medical and legal fields. A general transcriptionist transcribes radio shows and TV programs, lectures, phone calls, and webcasts, among others.
Legal transcription is dedicated to typing a legal document from a video or audio recording. This allows lawyers and other law practitioners easily find information. Legal transcription involves transcribing an audio file of a deposition, interrogation, testimonies, etc.
Medical transcription is the process of transcribing the voice reports of medical experts and healthcare providers into text. The transcribed output is then filed into the hospital's database.
Both medical transcription and legal transcription pay more because they are highly specialized. However, if you want to take a typing job under transcription but have zero to little experience, I suggest getting Transcribe Anywhere's free general transcription course.
This free mini course teaches you what transcription is all about, the skillset and tools you need to run a successful transcription business, and how to operate this venture as a home-based online typing job.
Where to find online transcription jobs:
7. Captioning Jobs
Another way to make money from home typing jobs is to type captions.
Captioning is the process of typing in what you hear from video material. While this sounds a lot like transcription, captions are added to help people with hearing impairment understand the content.
So apart from the spoken words, captioners also add background audio, such as the banging of doors, thunders, whispers, dog barks, etc. These are called closed captions.
Captions have become an essential part of video content, not just in movies and television shows, but also on social media platforms like YouTube and TikTok.
Captioners also work in real-time during live events, such as congressional meetings and news broadcasts.
If you think this is an excellent typing job for you, then you need to level up your typing skills and get a high-speed internet connection.
According to Salary.com, captioners earn an average of $20 per hour.
Where to find captioning jobs:
RELATED:
20 Companies that Offer Captioning Jobs From Home
8. Freelance Writing Jobs
Freelance writing is one of the most popular freelance jobs. These writers write various types of content for entrepreneurs, ranging from blogs, newsletters, press releases to news articles, among others. If you have the flair for creative writing, you could also make money writing ebooks and fiction.
What I appreciate most about freelance jobs in writing is that it offers a good amount of flexibility, making it a wonderful side hustle for parents like me.
A freelance writer must have a fast typing speed. It is also important to have your own website where potential clients can reach you and read your content. Being knowledgeable in SEO, content marketing and other digital marketing techniques is also a plus.
Freelance writers make good money, with an average of $32 per hour. But as you gain more experience and establish your network, it's totally possible to make six digits as a freelance writer.
If you want to become a well-paid freelance writer, I do recommend to check out Proofread Anywhere's proofreading course. With the skills gained in this course, you can become a confident writer with great editing and proofreading skills.
Where to find freelance writing jobs:
RELATED:
How to Become a Freelance Writer
9. Translation Jobs
If you are quite adept with two or more languages, then you can make money from remote translation jobs.
Translation jobs are typing jobs where you translate material or content from one language to another. This is a fantastic side hustle for someone who can type fast but is also bilingual or multi-lingual.
Translators make around $17 per hour, but the more experienced ones can earn up to $100 per hour, according to ZipRecruiter.
Where to find remote translation jobs:
RELATED:
12 Companies for Online Translating Jobs for Bilinguals
10. Moderator Jobs
Community moderation is also one of the best typing jobs from home. As a moderator, your role is to moderate content in a community, may it be on social media or online forums. You need to make sure that no one violates the rules of the community, remove spammy and abusive messages, and overall keep a positive community spirit.
Moderator jobs pay fairly well. According to ZipRecruiter, the average income of an online moderator is $19 per hour.
Where to find moderator jobs:
11. Social Media Management Jobs
If you're one of the people who spend a lot of time typing on social media platforms, then you should consider taking up a career on social media management.
Social media is one of the most rewarding home typing jobs. You focus on creating quality and relevant content for your client's social media accounts. You also implement and monitor ad campaigns, as well as grow the brand's following by engaging with the community.
If you come to think of it, social media management requires is also a heavily typing job. According to Glassdoor, social media manager make around $75K per year.
Where to find online jobs in social media management:
Frequently Asked Questions
Can I work from home typing?
Of course. There are plenty of home jobs that revolve around typing, such as data entry, transcription, captioning, blogging, and freelance writing.
How do I start a typing job online?
Apart from your typing ability, you should also make an inventory of your other skills to help you identify the suitable typing job for you. For example, if you are cheerful and personable, you might be a good fit for chat support jobs. If you are creative and have a way with words, then you could become a freelance writer. If you have a couple of administrative skills and are highly organized, then consider becoming a virtual assistant.
How do I find a legitimate online typing job?
Not all typing jobs are legit, so make sure to sign up or send your application through the company's website. You could also use a premium job board as it most likely filters job listings from scams. It also helps to read online reviews of the companies you have your eyes on, to give you a better idea if they are legit or not.
Conclusion
Having impeccable typing skills can surely help you make money from home. Even if your job does not require heavy typing, acquiring this skill allows you to be even more efficient and productive.
If you're already a great typist, then you should assess the typing jobs mentioned above and see which would be a great fit.
Which of these typing jobs are the most appealing to you? Let's connect in the comments.