If you're a voice actor, chances are, you've stumbled upon VoiceBunny, a platform where you can potentially find voiceover work. But what is VoiceBunny, how does it work, and does it pay its voice actors well? Find out in this review.
One of the best ways for people who have nice-sounding voices to score homebased work is voice acting.
Voice acting is giving life to a material with your voice. TV commercials, internet videos, radio ads, audiobooks, and movie trailers all need voice actors to become more effective.
Voice acting skills can be a real money-maker, especially if you know where you can find voice acting jobs. VoiceBunny claims to help voiceover (VO) talents make money through "crowdvoicing" or crowdsourcing voice actors, which in the process, also helps clients save time and money by finding the right voice talent for their needs quickly and efficiently.
VoiceBunny does seem to have a wonderful business model for both clients and the voice actors. But is this platform really as good as it claims? And can you really start a new career as a VO artist on VoiceBunny?
Do you want to start your own business in voice acting, but don't know how to start? Check out this Intro To Voice Over Free Mini Course, a free online resource that helps you get on the right path to becoming a voice over talent.
What is VoiceBunny?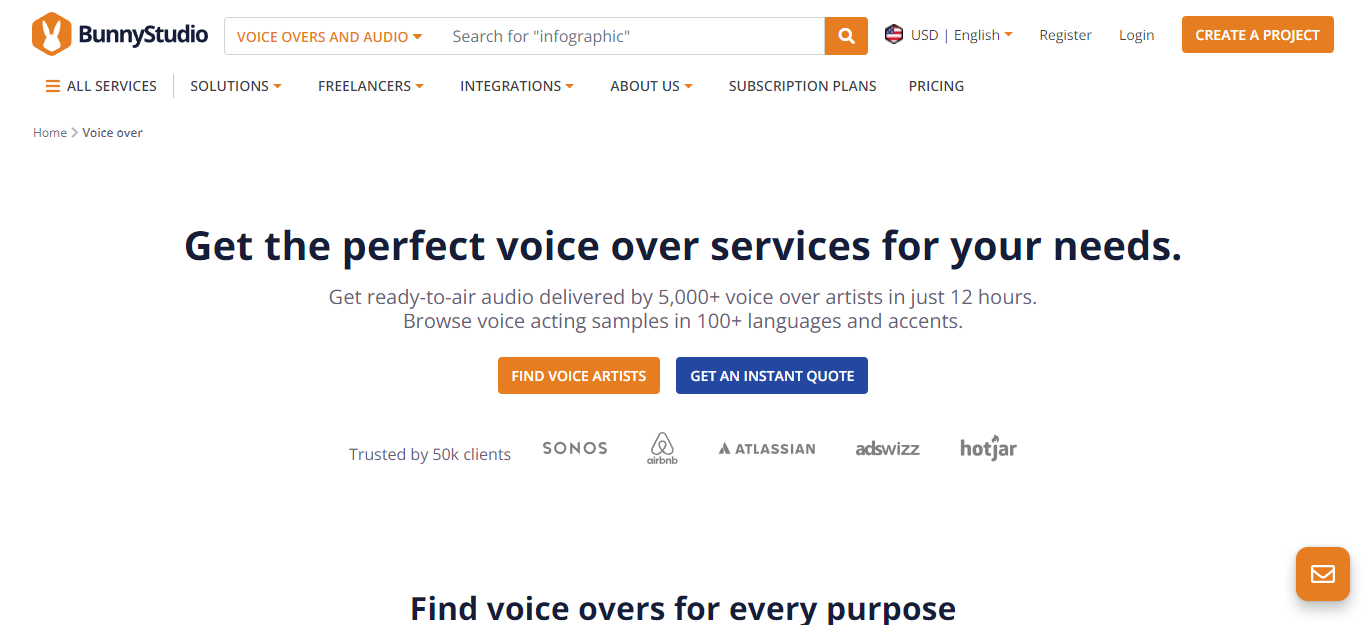 VoiceBunny is a voiceover platform under Bunny Studio. It was launched by couple a named Alex Torrenegra and Tania Zapata. Tania is a voice actor herself, and she says she understands the plight of voiceover talents struggling to land voiceover work because of the complicated process they have to go through.
Before VoiceBunny, Torrenegra launched Voice123, an online voice casting service that works similarly to VoiceBunny. But Torrenegra said that there are still certain gaps that need to be filled, so they came up with VoiceBunny, a new platform with a slightly different business model.
So with VoiceBunny, voice actors don't need to go through rigorous auditions to land voice over work. It aims to speed up the process by allowing clients to simply upload their material on-site and pick the most suitable voice talent for the job.
Right now, VoiceBunny operates under Bunny Studio. It says it is trusted by over 50,000 clients and only hires the top 4% of the global creatives, ensuring that clients only work with the best voice actors. VoiceBunny provides voice overs for different types of materials, ranging from commercials and presentations, product videos, video games, audiobooks and podcasts.
Who is VoiceBunny For?
Anyone who is looking for voice over work can apply and join VoiceBunny.
Voice actors who desire to work for VoiceBunny must own professional recording equipment, can work on projects within the given deadline, follow every instruction on each project, and communicate with the Voice unny team or staff for any concern or issue.
Since VoiceBunny only hires top talents, they consider them professional voice actors. As such, voice actors get excellent perks and benefits, including getting invited to jobs that match their skills, getting paid for every approved submission (even if clients reject them later), and the ability to set their own rates.
How to Join VoiceBunny
Want to learn how to join this platform and become a voice actor? Here's what the entire process looks like: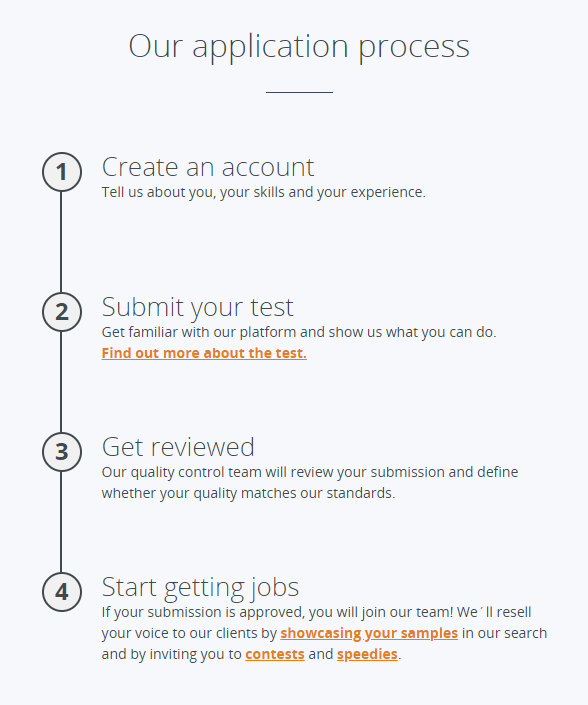 First, you apply as a professional voice actor on VoiceBunny by creating an account. Submit your profile and make sure to fill up all the required information, including your rate, language, and accent.
After that, submit your application project which the quality control team will evaluate. If it passes, then you will be sent a verification code so you can finally log into the website. Sign the account agreement and get ready to work!
You get four chances of applying to VoiceBunny.
How Does VoiceBunny Work?
Now that you're a "pro" on the platform, you can start doing voice overs. But how do you make money on this platform?

So, there are three ways VO artists make money: bookings, contests, and speedies.
Bookings
Bookings are jobs requested by the clients that are sent directly to your profile. You don't have to audition or go through online casting to get them. If you accept the project, you will work on it and submit the finished material to the quality control team. If it passes quality control, then they will deliver it to the client. Otherwise, you will be asked to revise the material until it passes quality control.
Contests
Another way to do voice overs and make money is to join Contests. Contests are a great idea when clients are unsure what they are looking so they get top options from the pros. If chosen to join a contest, you will be asked to do a voice a over of not more than 100 words. If the client likes it and picks you, you are to deliver the voice over for the entire material and get paid.
Speedies
These are projects wherein clients upload their scripts to the site and allow Voice Bunny's algorithm to pick the most suitable Bunny pros to work on the project. Voice actors who were chosen to work on speedies and accepted the job must be able to deliver the finished audio files within the specified timeline.
Remember that you get to set your own rates while working as a professional voice actor on VoiceBunny, and then the company will mark it up with their own fees.
All of your submissions must pass quality control, so make sure that you use high quality audio equipment and record from your quiet home studio. The good thing is, VoiceBunny will still pay your voiceover even if the client decides to reject it later.
Getting Paid on VoiceBunny: How much can you make as a voice actor?
There is no standard rate that voice actors receive on VoiceBunny because they get to set their own. Looking at the profiles of some of the voice actors, you can see some of them charging as much as $88 for a 150-word voiceover, while others charge $59, $119, and others in between.
As VoiceBunny claims that there are no hidden fees, then it makes sense that you get the same rate that you've indicated on your profile. Studio Bunny makes money by marking up your rate and then charging it to the clients. Your income will vary depending on how often you get booked to perform voice overs, the length of the material, and if they all pass quality control.
The downside with this kind of set up is that you get locked into your rates regardless of where clients are going to use your voice overs. One of Voice Bunny's competitor sites, voices.com, gives an idea of the industry standard on how much a voice actor must charge depending on which industry the VO is to be used.
To give you an idea, non-broadcast voice overs (like audiobooks or e learning materials) are charged per word. Meanwhile, a broadcast voice over project is computed (like TV commercials) is computed based on the duration of the campaign and market size. If the commercial is to run for weeks and covers national placements, then you, as a professional voice talent, ought to earn more.
Related Posts:
Is VoiceBunny Legit?
Yes, VoiceBunny is a legit platform that now operates under Bunny Studio Services. Bunny Studio provides solutions to creative projects by crowdsourcing talents. Apart from voice overs, Bunny Studio Services is also home to professional writers, translators and transcribers.
Overall, Bunny Studio does seem to have good reputation in the voiceover and audio production industry. It has an excellent rating of 4.6 on Glassdoor and 4.7 on TrustPilot. The reviews are mostly positive as well.
VoiceBunny Pros and Cons
If you want to make a career by doing voice overs from your home studio, chances are, you've looked up Voice Bunny and wondered if it's a good option for you. Here are the pros and cons that VO artists must consider when joining Bunny Studio:
PROS:
You get to set your own rates and won't be deducted with a commission.
You get to work from home as long as you have a professional home studio set up.
You can accept or reject offers of voice over work at your discretion.
You can sign up and maintain a profile on the site without any costs.
CONS:
The application process is very time consuming.
Your work can be rejected and won't get paid for it.
Some voice actors report that there aren't a lot of auditions.
VoiceBunny Reviews
Now it's time to find out what people have to say VoiceBunny.
First, I looked the company up on Reddit and found some members who are quite dissatisfied with their experience on the platform.
This person, for example, said that she can't get to auditions quickly enough because she receives alerts at ungodly hours. By the time she gets the alerts, the audition has already been filled up.

This other member also said that quality control was inconsistent. He said he was not accepted despite recording his audio file with high quality home studio.

I also took my search to TrustPilot and found a lot of positive reviews, mostly coming from the clients.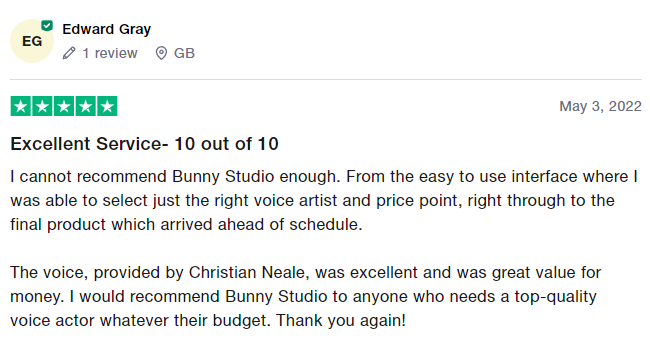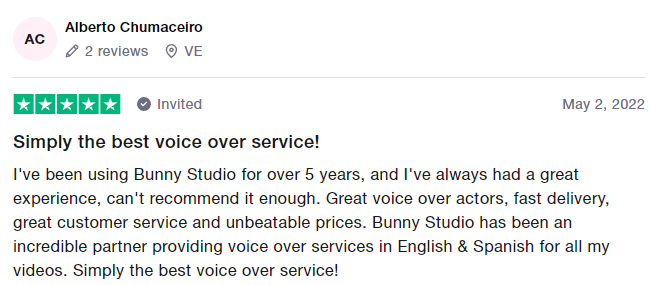 Voice actors do have something to say about the application process, though.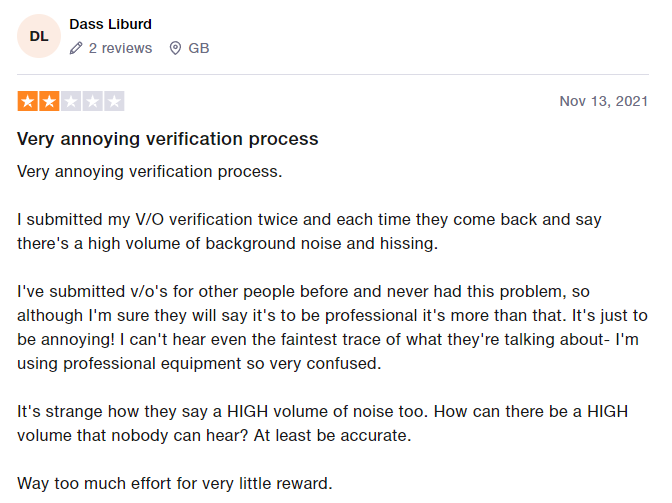 Meanwhile, other voice talents do seem happy with their experience with Voice Bunny.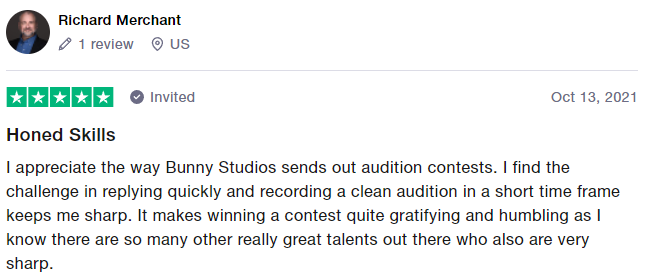 Frequently Asked Questions
Do you have to pay for VoiceBunny?
No, joining Bunny Studio does not cost money. You just need to apply, and if your audio sample is accepted by the quality control team, then you can start offering your voice over services.
Is Bunny Studio free?
Yes, for talents who want to provide voice over work, signing up on Bunny Studio is free.
Is Bunny Studio trustworthy?
All in all, Bunny Studio did manage to uphold a good reputation in the voice over industry. While the rates are probably lesser than what most voice over talents receive from other platforms, there seems to be no complaints about voice artists receiving their pay. Based on other reviews, clients do seem happy with the services that Bunny Studio provides.
How do you get a job at voice Bunny?
There are three ways to get voice over work on Voice Bunny: through bookings, wherein clients offer you the voice over work directly; contests where talents compete for projects, and speedies, where talents are matched with projects with the use of Voice Bunny's algorithm.
Conclusion
A lot of people do voice overs as their main source of income. If you are a voice talent who are considering to audition for Bunny Studio, there are a couple of things you must keep in mind.
First is that you get to set your own rates. But because there are already a lot of voice artists on the platform, competition can be stiff. If you overshoot your rates, you might not get any projects. But if you undersell yourself, then you'd be missing out on potential income.
Second, you need a professional home set up to do your recording. VoiceBunny expects to hire only professional voice talents, and if you have a crappy microphone, computer or recording software, then you're less likely to make the cut.
But if you have already invested on high quality equipment and you already have some experience doing voice overs, then it's good to maintain a profile on VoiceBunny.