Do you want to make money from home managing social media accounts or online communities? If so, you might want to learn about Modsquad, a platform that offers such opportunities where you can earn money from your social media skills. Check out my Modsquad review!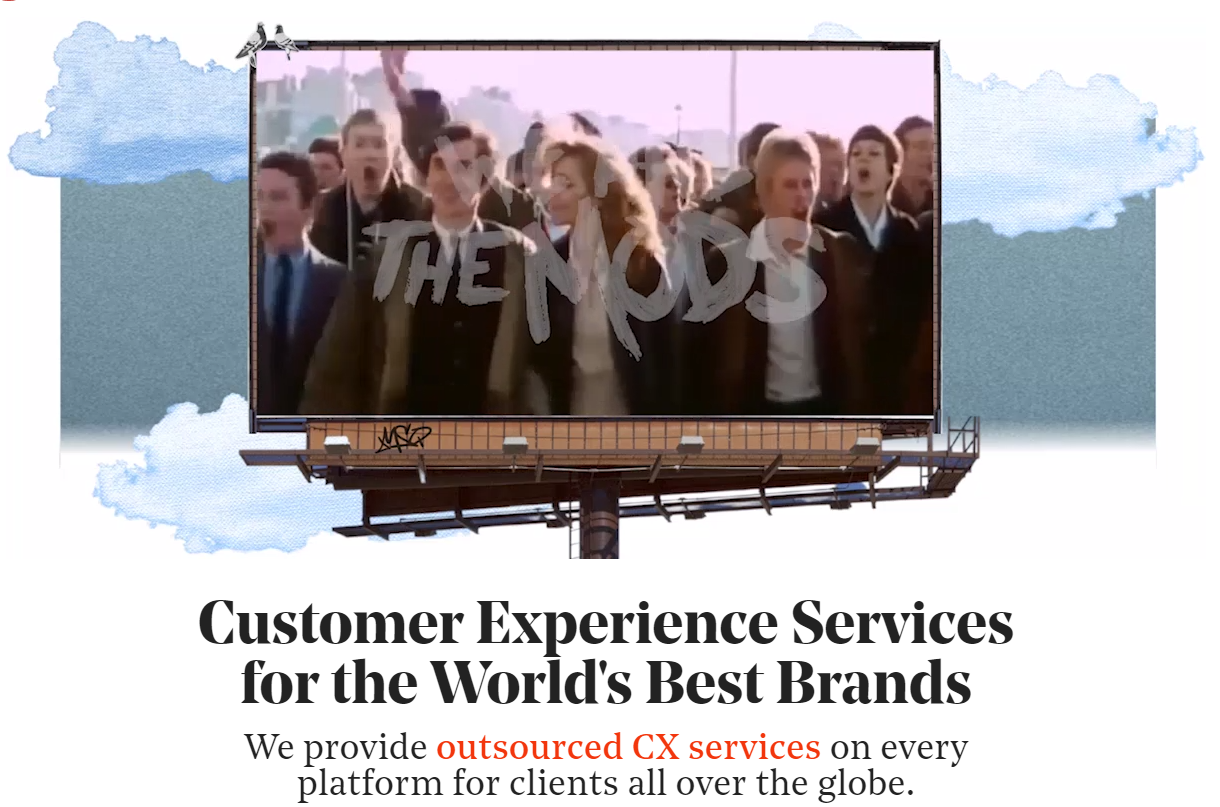 Modsquad is a platform that hires freelance online moderators from all over the world. Its independent contractors, called the Mods, perform various tasks from home, from moderating online communities, and providing customer support to chatting to customers through phone or social media.
Modsquad is best known for offering online moderation to some of the biggest brands in the world. But is working for Modsquad as a moderator right for you? How much does Modsquad pay? And is working for Modsquad worth it?
In this Modsquad review, you will learn:
What is Modsquad?
How to join ModSquad?
Pros and Cons of working for Modsquad
Is Modsquad legit?
Is Modsquad worth it?
What is Modsquad?
Modsquad is a company that provides customer experience services to its clients from all over the world. The services it offers includes content moderation, social media and community management, customer support and trust and safety.
Modsquad believes that traditional outsourcing doesn't work anymore, so it hires the best independent contractors from all over the world. The company says it has freelancers from over 90 countries, speaking various languages.
The company has been around since 2007 and has grown a lot since then. Nowadays, Modsquad works with some of the biggest brands, including Zendesk, Warner Brothers, and Vimeo.
So if you are looking for a work from home job along the lines of customer support, social media management or online moderation, you might consider becoming one of the Mods.
FlexJobs is an alternative platform where you can find legit remote jobs, including community moderator jobs. All job listings on the site are screened by the FlexJobs' hardworking team so you are assured the jobs are scam-free. You can save up to 30% on your subscription if you sign up here using this discount code: FLEXLIFE
What is a Mod?
When you apply for a job on Modsquad, you'll see the word "mod" being used a lot.
Simply put, a mod is an independent contractor working for Modsquad. So instead of calling you a customer support agent, a social media manager or a community moderator, you are called a Mod.
According to Modsquad, their mods are the pros in customer experience. Mods do a lot of different things, from answering phone calls, monitoring livestreams, gaming with others for a playtesting session or talking to customers.
Easiest Ways to Make Money Online
Benefits of Working for Modsquad
Modsquad seems like a wonderful platform to work from home. According to the company, they offer the following benefits for all the mods who join their team:
Pick your own projects. You can do customer support if that's what you like, but if you hate talking over the phone, you can do social media management or content moderation instead.
Pick your own schedule. You can choose how much time you want to devote working for Modsquad as well as working schedule that fits your lifestyle.
Work from home. Mods are independent contractors and freelancers who work from the comforts of their own homes.
Moonlight as an independent contractor. Modsquad will not tie you down to the company. You can keep your day job and moonlight with Modsquad. A lot of the mods have full-time jobs, others are housewives, students and retirees.
Work with amazing brands and companies. If you've always wanted a job with the coolest companies in the world, this might be your chance.
How to Join the Mods: Requirements and Application Process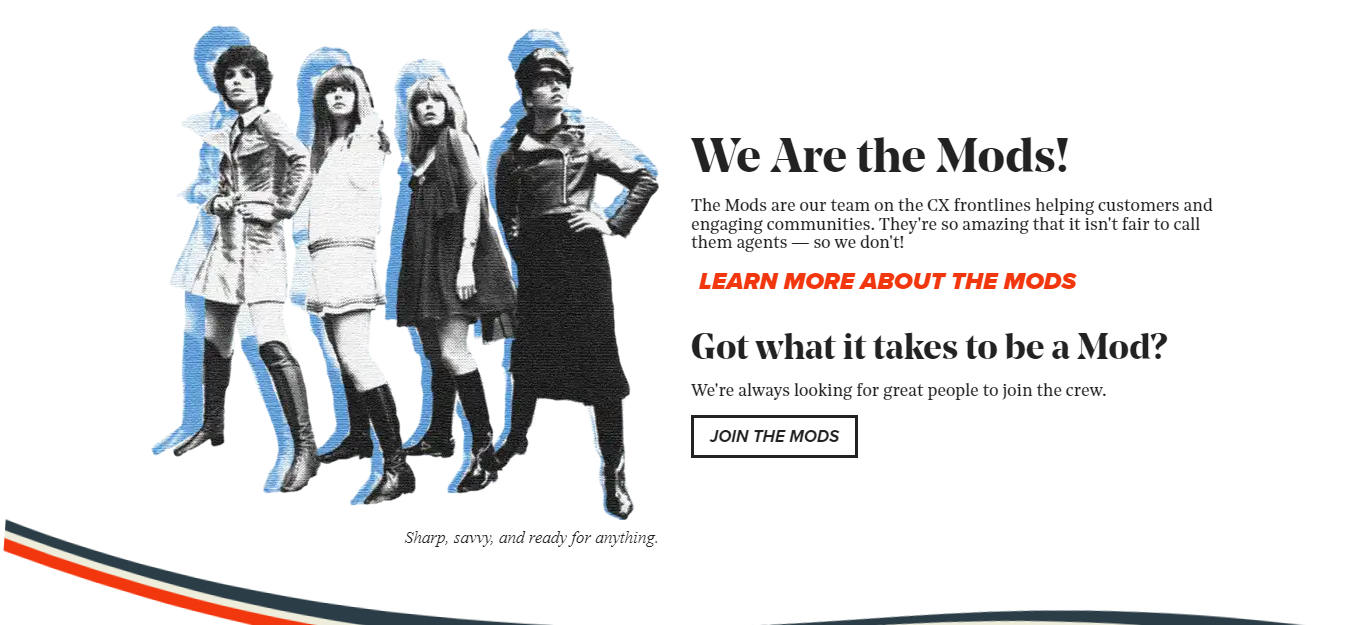 Are you ready to take on exciting projects and work with some of the best brands? You can start the application process right now. Here's what you've got to do:
Go to Modsquad's official website and click on "Join The Mods."
You will be directed to a page where you fill up information as an independent contractor. Here you will attach your resume and provide basic personal information. Also, you will be asked a few open questions during the application process.
Once you've completed this part, Modsquad's recruitment team will review your application. You will receive an acknowledge email within 72 hours.
As soon as you get accepted, you will be asked to complete a few more steps before you can start working. You have to pass a background check and complete your contractor agreement.
Working on Modsquad
You'll have access to available projects. If you see something you're interested in, you just need to apply for it.
In case there are no suitable projects for you, Modsquad will still keep you on their team. The company is always taking on new clients, so new opportunities should come up soon.
Mods are open to working for other companies, and Modsquad even encourages it. Since you can set your own hours and schedule, this should be more of an advantage to the contractor.
If you want a more regular career over freelancing, you can check out Modsquad's career page and apply for open positions that are suitable for you.
Modsquad Pay: How Does Modsquad Pay and How Much Can You Make?
Modsquad does not disclose its pay for Mods. It says that pay is based on your experience and skills, performance and the project that you are working on. While you can work on your own hours, it is important to note that the company does not pay for overtime.
But just to get give you an idea, according to Glassdoor employee reviews, the base pay for most contractor positions starts at around $9 per hour.
Modsquad pays monthly via PayPal.
Want to earn more? Here are the jobs where you can make $10k per month.
Is Modsquad Legit?
Before you join and get a job on Modsquad, it is first important to determine if this company is legit.
Modsquad seems to have an established reputation online. On Glassdoor, it has 3.7 star rating. Meanwhile, the company got a 3.4 star rating. It has also been in operations for a couple of years now and it has indeed given numerous opportunities for people to work from home.
Modsquad Pros and Cons
Theere are several benefits of working at Modsquad, but it also has its downsides too.
PROS
You can pick the jobs and projects you like.
You can work full time if you wish, or set your own schedule.
You are allowed to work for other companies while working at Modsquad.
The application process is pretty simple and straightforward.
CONS
You won't be paid if you don't get picked for projects, which means loss of income.
The salary is a little too low compared to other similar companies.
Modsquad Reviews
I wanted to see for myself what people thought of Modsquad, what the company is like and how it is working with them. So I've rounded some of the reviews I've found online.
On Indeed, Modsquad did get a lot of positive reviews. Most people praise it for its fun work environment and positive work culture.


Source: Indeed
The same can be said for reviews on Glassdoor. However, some people cite that they don't get enough working hours, low pay and poor training.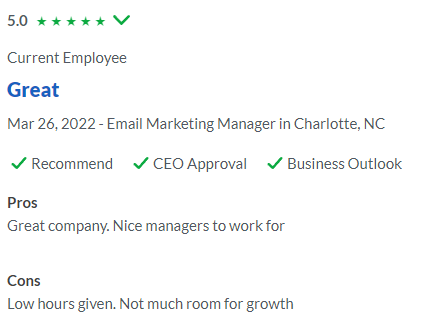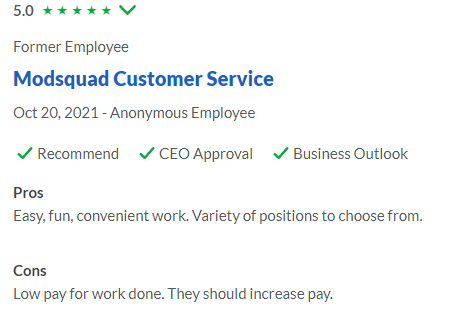 Source: Glassdoor
Related Posts:
Frequently Asked Questions
What does ModSquad do?
Modsquad is a company that provides customer experience services to clients. Among the services that it offers include content and community moderation, social media management and customer support.
How much can you make on ModSquad?
Your pay on Modsquad depends on a couple of things: how many hours you work, the projects that you are working on, and your skills and experience. As per most reviews, base pay starts at around $9 per hour.
Is ModSquad a legit company?
Yes, Modsquad is a legit company and it has been operating for a couple of years now. It has an excellent track record and a lot of brands and companies trust Modsquad for their customer experience needs.
What is a mod job?
A mod job is any job you do at Modsquad. It may include gaming for playtesting, talking to customers via phone, email or chat, as well as moderating content and communities.
What's it like working for ModSquad?
Modsquad allows for flexible, work from home set up. You can apply for jobs that apply to you, set your own schedule and work as much as you like (although you don't get paid overtime). A lot of the contractors rave about Modsquad's positive and fun working environment.
Conclusion
If you have the passion, as well as skills and experience on any of the services that Modsquad offers, then it's wise to consider joining the Mods team. Modsquad has good online reputation and works with a lot of cool clients. As an independent contractor, you get to choose which jobs to work on and how much work to put in. Although the pay is not so great, it could still work if you're just starting to find your footing on freelancing.
As an alternative, you could go to FlexJobs to find part-time, remote and freelance work. FlexJobs screens the listings carefully to ensure that jobseekers only apply for legit jobs. A lot of amazing companies also post their open positions on FlexJobs, so it's definitely worth checking out.