If you're a voice talent, you've also probably wondered whether Voices is a good place to find job opportunities. Read this Voices.com review to learn more.
The demand for voice over jobs is fast-growing, with podcasts being more popular and video content being more accessible. So if you are gifted with a pleasant-sounding voice, you could very well make money from home as a voice talent.
Voices.com is one of the most popular platforms for finding job opportunities as a voice over artist. But what is Voices, how does it work and how much can you make from the Voices platform?
Want to get into a VO career but don't know where to start or if it's right for you? Take this Intro to Voice Overs Mini Course.
This course covers everything you have to know to start a career as a voice over artist — how it works, the equipment you need to work from home to the skills required in succeeding as a voice talent. Julie Eickhoff, the course creator, is a voice over artist and audiobook narrator, and she will show you that working from home as a voice actor can be fun and rewarding.
What is Voices.com?
Voices calls itself the #1 voice marketplace. Since 2005, it has over 2 million registered users, both from brands and creative teams as well as voice actors, to work together on voice over, music, and audio projects.
The Voices platform has grown so much over the years that it now provides voice talent to leading brands, including Shopify, Microsoft, and GoDaddy. It is also now home to over 2 million voice over artists who are based in 160 countries.
Voice actors and job seekers use Voices to score job opportunities. The platform boasts of over half a million jobs posted, so it's highly possible to find a gig that suits your niche, skills, and the client's budget.
So if you are a voice over artist and want to apply for numerous job offers, voices.com is one of the best places to go.
What Jobs Can You Get on Voices.com?
One of the most outstanding things about Voices is the sheer amount of voice over jobs available here for both new and professional voice actors. Voices offers a wide range of voice over jobs, so its possible to find one-time jobs, ongoing job opportunities, and full services on the platform.
Right now, you can find job posting on nearly all possible voice over niches and skills, including:
animation
audiobooks
documentaries
eLearning
podcasting
movie trailer
internet videos
radio ads
television ads
narration
video games, and more!
Clients may also hire you based on other characteristics like language, age, accent, style, and role.
It seems like there are a lot of jobs to go around for the voice actors, and it's just now a matter of standing out and providing the best services so you can keep making money off this platform.
What Does It Cost to Join Voices?
Before we get into how you can apply to the job offers on voices.com, let's first put out there what it costs you to join Voices as a professional voice talent. Here are the different levels of talent memberships, their features, and costs.
Free membership
First, there's the free guest membership. Guest members can join Voices without spending anything. With a free guest membership, you can create a free profile and upload as many demos on your portfolio to showcase your skills. You can also receive private invitations from clients and enjoy the benefits of payment protection system through SurePay.
Premium membership
While it is possible to find job opportunities with a free guest membership, most people would recommend paying for a premium membership to unlock more features.
The premium membership costs $499 a year, and it comes with all the benefits of the free membership. The advantages of a premium membership include getting matched to jobs that interest you, being able to create and send custom responses to potential clients, becoming more visible in search results, using the Statistics feature to keep track of your progress, and enhancing credibility by being Voices Verified.
Platinum membership
Premium members may upgrade to platinum membership. This tier is for serious and professional voice actors who are looking to land high-paying, lucrative jobs.
With the platinum membership, you get all the benefits that premium members enjoy. But you also get the highest priority in appearing on the top search results, being able to participate in Talent Showcases, joining the Voices Insider Program, and access to a dedicated account manager.
Platinum is the most expensive tier among talent memberships, costing $2,999/year.
How Does Voices Work?
Whether you want to give Voices a try as a guest member or fast-track your voice acting career by paying for a premium account, it is important to understand how the platform works.
Fortunately, using Voices to find and score voice over jobs is pretty simple and straightforward.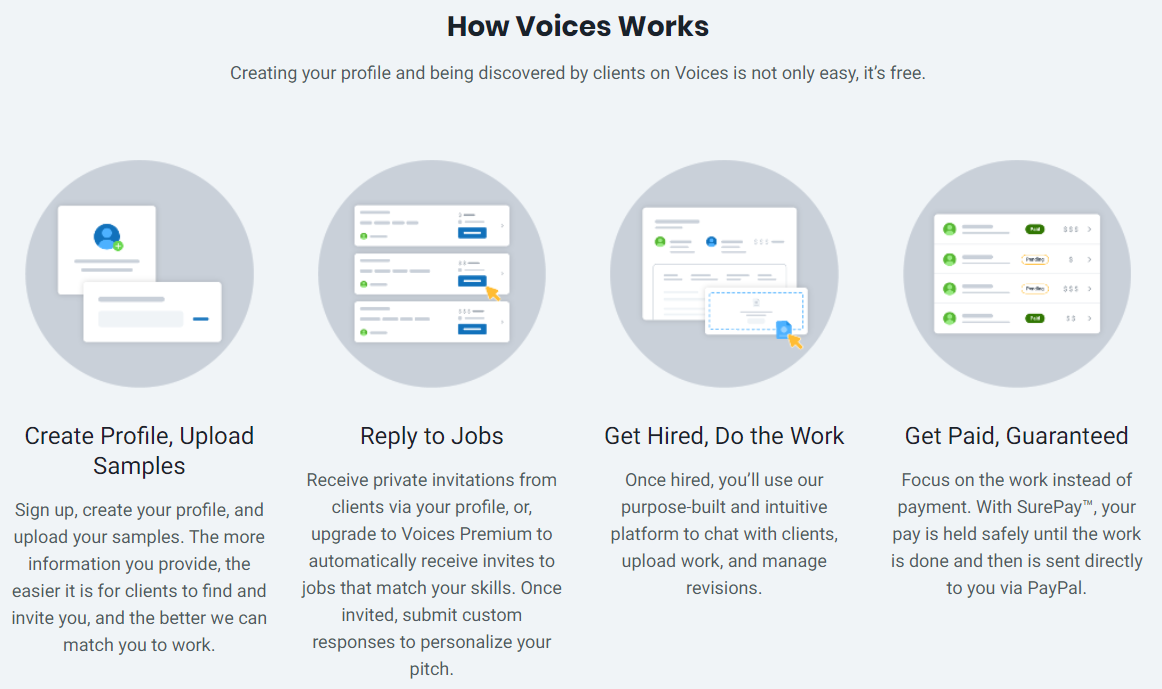 1. Create a profile
To get started, create a profile on Voices as a voice over talent. Make sure to provide as much information as possible to allow clients to see if you're a good match for their projects. Also, ensure that you upload your best demos to showcase your talents and skills.
2. Reply to jobs
With a free account, Potential clients will send you private invitations if they think you're a great talent that matches their needs. You could also opt to upgrade your membership so you can receive invites to all projects that match your skills. You could also search for open jobs and go through the audition process set by the client.
3. Get hired
If the client loves your audition, you can start working on the project. Once that's done, simply upload the material through the platform. Make sure that it is of good audio quality so that the client is pleased with your work.
4. Get paid
Voices uses an escrow system wherein the client pays the platform first, and you'll receive your payment once the work is approved by the client. This means that you should just focus on producing good quality voice over material because payment is guaranteed upon client approval.
How Much Money Can You Make on Voices?
One of the best things about voices.com is that voice over artists stands to make good money, depending on the size or length of the project. As a voice actor, you can set your own rates or apply to jobs with budgets that appeal to you.
But to keep things reasonable and competitive, Voices has a rate guide so that you know you are charging fairly based on your skills and type of work.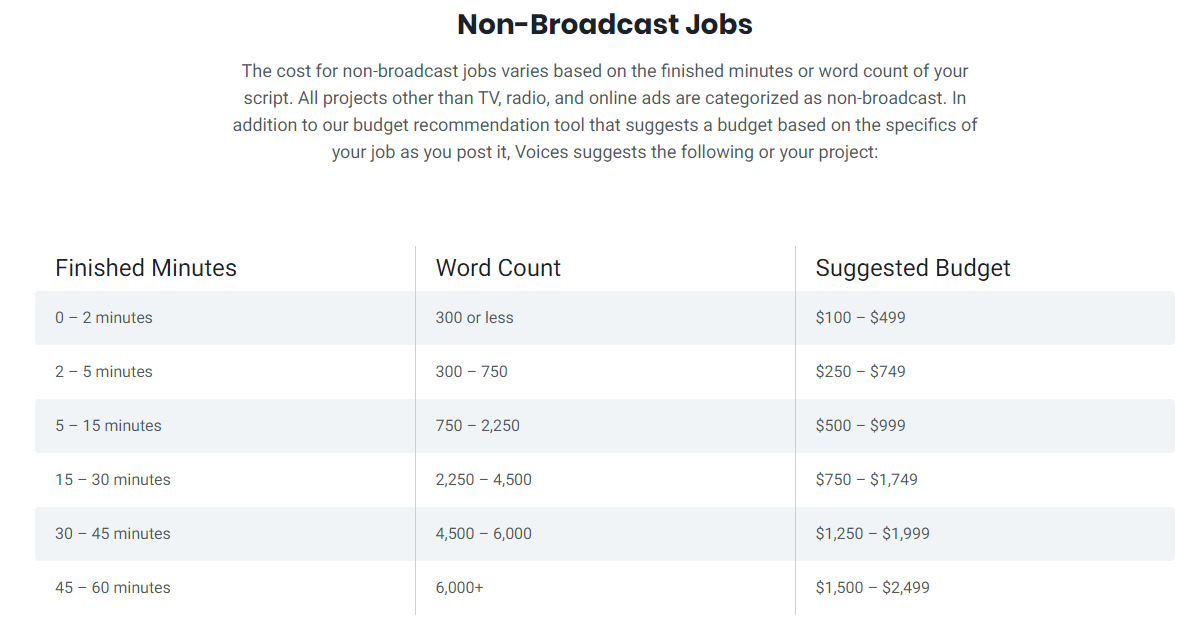 Above is a guide for non-broadcast jobs or voice overs that won't be aired on mainstream media like TV and radio. In this rate guide, you'll see that material with less than 300 words and 2 minutes in length fetches at least $100, while voice overs that are around one hour in length pay as much as $2500!
Again, this is just a rough guide, and it's possible to earn more if you attract clients with a higher budget range. Of course, that entails maintaining a good reputation as a voice over artist on the platform. Just make sure that you don't undersell yourself.
Related Posts:
Voices.com Review: Is Voices.com Legit?
We get this question a lot: is voices.com legit?
If you are going to scour through different voices com reviews, you'll see this question popping up quite often.
Yes, Voices.com is legit. The company has etched its reputation in hiring talent for voice over jobs from all over the world to meet the demands of its numerous customers. It is also proven that it provides voice over jobs to millions of voice over artists that have joined the platform.
Additionally, Voices has an impressive A+ rating with the Better Business Bureau. If you are searching for a company's credibility among its customers and workers, you should definitely go check out their rating on Better Business Bureau because it speaks a lot about how well they manage their business.
More Reviews:
Voices.com Reviews
If you're looking to start or grow your VO career on Voices, you're probably wondering about what voiceover artists have to say about this platform.
So, I took the liberty to look around for such feedback. First, I headed to TrustPilot.com and found that Voices is a verified company with a 4.2 rating. 76% of the reviews indicate that working with Voices is such a positive experience.
Positive Voices.com Reviews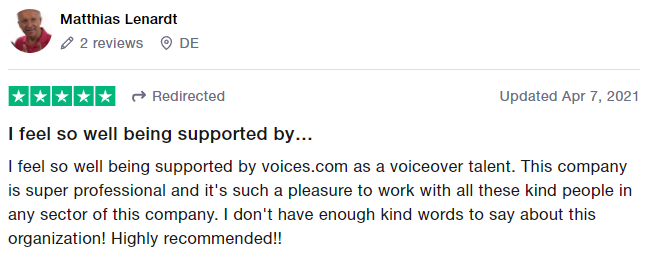 Many voice over artists is quite happy with how Voices worked in their favor. Most of them cite that the customer service team is prompt in answering their questions and concerns.
I also looked around customer feedback and many of them say that Voices say that working with Voices is also such a positive experience. Here's an example of a positive review left by a paying customer.

Here's another wonderful review left by a satisfied paying client: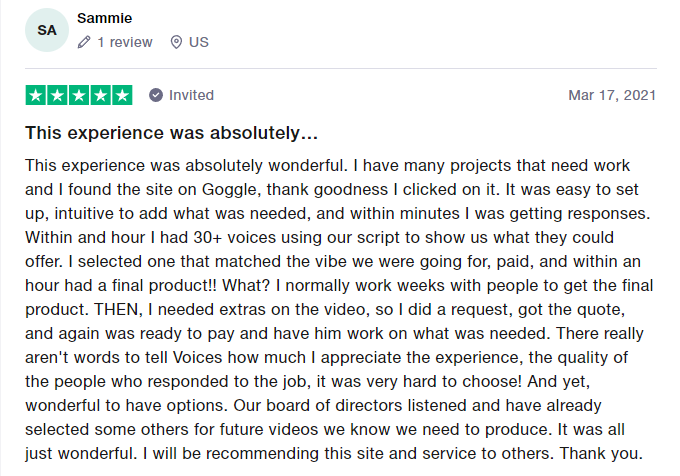 Several of the feedback, both from voice talents and customers are positive and rosy. But that's not to say that Voices do not have any negative reviews.
Negative Voices.com Reviews
A voice over artist by the name of Bryan Saint said that Voices has"unethical business practices." He says this because apparently, the professional services team manages clients casting needs, including the talent budget. However, he said that there is a huge difference in the rate of the same jobs posted on other sites as compared to those posted jobs on Voices.

Source: bryansaint.com
Bryan did say that he would still stay on the platform as he managed to build his reputation there and earned money, but he would stay away from full service jobs as these are ripping off both the client and the talent.
Unfortunately, it was not only Bryan who observed Voices' poor handling of both clients and talents. Similar negative reviews are posted on other online platforms. This one is from SiteJabber.

Voices Pros and Cons
Given that Voices has both positive and negative reviews, it is important to weigh your options properly before signing up on-site as a voice over artist. So let me present to you the Voices' pros and cons.
PROS
It is a legit company that hires voice artists from all over the world.
There are tons of voice over work to go around.
The Voices staff are friendly and helpful.
You can start with a free membership.
CONS
The subscription fee for paid membership is exorbitant for a starting voice artist. You'll also have to upgrade to a premium membership to get better chances of getting hired.
There are talks of Voices ripping clients and talents off through its platform fee and slashing the talent budget without the client knowing.
Voices.com Review Frequently Asked Questions
Is Voices com a legit site?
Yes, voice.com is a totally legit site, both for voice actors and people who are hiring talent to do voice-over work. It has an excellent BBB rating and an impressive web presence.
How much money can you make on Voices?
It depends on the type and length of the project. Voices has a rate sheet guide to help both clients and voice talents set their rates reasonably. You could set your own rates though and only apply to jobs with competitive a budget range.
How much does it cost to be on Voices com?
You can start with a free membership at zero cost. You can create a profile, upload demos, and get invited to a job posted by a client. But if you want to be more visible to clients when they are looking for the best talent, and get matched to gigs that interest you, then you should spend for a premium membership that costs $499 a year.
How do you make money with voices com?
You make money with voices.com as a voice talent. You get invited to jobs or apply to jobs, and then audition for the role. If the client likes your demo, you get to work on the entire job and get paid once the material is approved. Getting a slew of successful projects helps you build a good reputation on the site and increases your chances of getting hired and re-hired.
Conclusion
Voices.com provides plenty of opportunities for both new and seasoned voice over artists to make money from home. It is easy to sign up and there is plenty of voice over work to apply to. But many talents are not happy with Voices' business model. Apart from the costly premium membership, Voices also takes off 20% of the talent's earnings from each of his or her successful projects.
All in all, Voices is a good website for finding voice over work, and if you're not happy with the charges, you can always consider other job platforms.