Want to learn how to increase income without working more? Then, check out these beginner passive income ideas that you could start today with no money or minimal investment.
So many people aspire to earn passive income. If you have heard the phrase "make money while you sleep," that is what passive income is all about.
I myself have also been obsessed with the idea of passive income for the past two years or so, after reading books like Rich Dad, Poor Dad. And this blog you are reading now is one of those things that I worked on for over two years to earn money passively.
It was only because I realized that corporate wasn't for me. I hated my last job, and I knew that I couldn't work that kind of job for years.
Neither did I want a high-paying job that would only chain me to a desk for 8 hours a day, 5 days a week, and 300 days a year.
I wanted to have the liberty to be more present for my family, and at the same time, have the freedom to follow my passions. Because the truth is, we all could earn a living, but we can never take back the time that we lost.
But with passive income, you can have more time to do what you want to do, at the same time, earn money whether you're asleep or awake.
What Is Passive Income?
Passive income is an income earned without actively working for it. With passive income, you don't have to actively trade your time for money, just like what we do with a regular 9-5 job. However, to start earning passively, you also obviously have to put in the initial effort and investment but after a while, that investment will make you money even while you're asleep.
Suffice to say, passive income is your initial big step towards financial independence.
Beginner Passive Income Ideas that Require Zero to Minimal Investment
There are a LOT of ways to do it, but these tips are geared to those who initially have nothing or little to invest.
If you're just getting started with passive income, this list contains great business ideas to start with or to mix into your financial strategy. The best thing about passive income is that you can have as many sources as you like and can combine different income streams.
Number 8 might change your life!
There are affiliate links in this post. This means I may earn a small commission (at NO additional cost to you) if you use a service or product through these links. Please read my full Disclosure for more details.
1.Crowdfunded Real Estate
When it comes to passive income, real estate comes top of mind. A lot of people would purchase real estate properties, fix them up and have them rented. The income stream would just keep on coming month after month as long as there are tenants.
It's an excellent idea, but the only problem is that you need a lot of money to invest in real estate this way.
Thankfully, investing in real estate has been made more affordable and accessible for the average earning people through crowdfunding.
Crowdfunded real estate companies like Fundrise allow you to start investing with a minimum of $500. Instead of you doing all the work, the company invests the money in real estate businesses, say apartment complexes and condo units in your state, and you will receive a dividend from it. It's also a handy way to learn the ropes of investing in real estate without needing to own physical property.
2. Lend Your Money
Lending money has always been one of the oldest, most traditional ways to earn passive income, and thanks to technology, you can participate in it without leaving your home. Peer-to-peer lending is like a crowdfunded lending and borrowing system wherein you can lend people some money and earn a decent interest of 3% to 8% from that amount.
Lending Club and Prosper are two of the leading peer-to-peer lending sites today. P2P lending works by connecting borrowers to borrowers on the site.
After approval and determining the borrower's risk category, the site connects the borrower to lenders or a group of lenders. As a lender, you get better rates of returns parking some of your money in P2P lending than letting it sleep in the bank, or worse, stored under the bed mattress.
Related: How to Save $100k in 3 Years without a Six Figure Income
3. Create an Online Course
Creating online courses is another excellent way to make passive income. I know because I myself have spent some good amount of money on courses.
A lot of people have been making a decent amount of money from this strategy, such as Michelle of Making Sense of Cents and Ramit Sethi of I Will Teach You to Be Rich.
Online courses can be anything you're knowledgeable and passionate about, whether it's affiliate marketing, how to start an online business, how to market your business through Pinterest and so much more. You want to create a course that helps people solve a problem or fill the need for it to become attractive and profitable.
It is also essential to know your way around platforms like Teachable where you can feature your course to potential customers. If they're interested, they need to sign up, pay, and the system deploys access to your course, whether it's in the form of newsletters, ebooks, videos, audio files and so much more.
4. Flipping Blogs
We've all heard about flipping houses as a lucrative business, but did you know you could apply pretty much the same philosophy on buying and selling blogs?
A lot of people go into blogging only to abandon it some months or years after. With that, they've also left behind the potential to earn money from ads, affiliate marketing and so much more.
So, when a blog with a good amount of traffic and cash flow goes on sale, get ready, it could very well turn into your next passive income venture.
Typically, blog owners selling their blogs can charge between 12 to 24 months' worth of their monthly income. So, if a blog makes $100 in affiliate marketing and ads, the selling price could range between $1200 to $2400.
The key in making a lucrative profit in flipping blogs is this: invest some work into it, reinvigorate its contents, drive more traffic, and strive to increase its worth. In one or two years, the blog should cost more, and you can sell it at a far better price than you bought it.
If you don't want to start buying blogs right now, you could instead create your blog and enrich it with valuable content. Over time, your blog will drive more traffic and start getting more sales, and if you feel like it's the right moment, sell the site for so much more.
5. Rent Out Your Extra Space
If you want to get the hang in investing in real estate but don't have the experience or upfront cash for it yet, you could start with renting that extra space you have at home. A lot of people are looking into rental bedrooms, even basements, for affordable accommodation. Tourists, college students, and out-of-towners may be interested in renting your extra space, allowing you to generate passive income from them.
You may have to put in some effort from time to time to clean the space and keep it in good condition, but overall, renting out rooms can qualify as a good passive income stream.
You can list it up in sites Airbnb so that it's easily searchable in your location. You also want to provide the best customer service because reviews can have a profound impact on your rental service. The more positive and highly rated your property, the more people are inclined to rent the space from you, and the more income you make.
Enjoy the financial perks of hosting, and travel knowing your empty space is earning you income while you're away. If you are in the US, you can list your space here.
If you are in Canada, you may list your space here with Airbnb.
6. Invest Your Extra Cash
Investing can seem like an entirely a new world for some people, including myself, but I also learned that I don't need to invest huge sums of money right away to get started. Nowadays, there are a couple of micro-investing apps like Acorns and Robinhood to jumpstart the investing journey with the extra cash you have.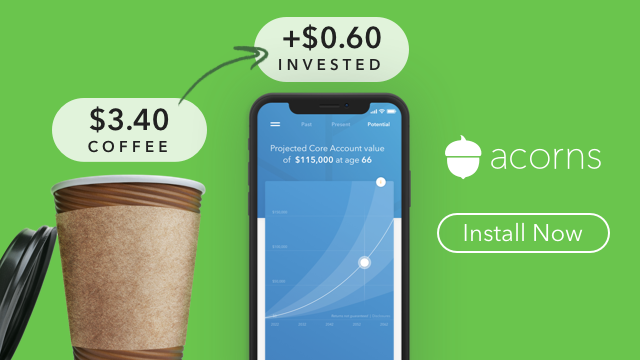 Acorns is an easy-to-use platform that rounds up your purchases to the nearest dollar and invests the spare change automatically. For instance, if you purchased lunch for $7.50, Acorns rounds it off to $8 and takes $0.50 to invest.
You have five investment types to choose from, ranging from conservative to aggressive, depending on your investment profile. You also have the options to create regularly occurring investments, whether weekly or monthly, so that you are investing on a consistent basis.
Acorns is appealing because you don't need huge investment capital to get started (imagine investing with as little as $5!) and you can already begin investing in ETFs under Vanguard. It is also one of the most established micro-investing platforms today and has managed more than $3 trillion in assets in 2014.
You can start investing with Acorns through this referral link and earn $5 instantly.
Related post: Acorns Review: Save and Invest Without Thinking
Robinhood
Robinhood is another notable app which allows you to start investing with little money. It's a great platform to trade stocks, options, cryptocurrencies, and ETFs for free which comes as a unique advantage.
While other trading platforms require somewhere between $4-$10 in commission fees for each trade, Robinhood allows investors to trade without the stock trading costs and save that money towards their returns.
Another notable thing about Robinhood is that you don't need to put up an initial deposit to your account to create an account. Of course, you'd want to fund the account later on to be able to trade, but it's another advantage that isn't available with other platforms. You can get started learning the ropes right away and trade when you're ready.
7. Use Cash Back Apps
Why not get cash back on everything you buy? This is perhaps that easiest way to earn passive income of sort because you don't need to do anything but scan your receipts or use an app when shopping. That simple and you can earn money time and time again.
The cash back apps that I love and frequently use are:
Ebates is a cash back app or site that pays you each time you shop online. They partnered with over 2500 online stores and offers up to 40% cash back. For a limited time, they offer a free $10 Welcome Bonus which you'll receive after making your first $25 worth of purchases.
It pays you real cash money whenever, wherever you shop. Just download the free app, scan your grocery receipts and start earning cash backs. Since joining, I've earned over $500 with Ibotta just by buying things I normally buy at the grocery stores.
For a limited time, Ibotta offers a $10 bonus which you'll receive after scanning your first receipts.
8.Start a Blog
Not a lot of people will buy into the idea that starting a blog can give you passive income. I didn't believe it too until I've proven it myself!
As I always mention here, blogging is a fantastic business idea because it is so cheap to start but has high ROI. Successful bloggers make from $10,000 to hundreds of thousands per month, and the best thing is, they work in their own schedule and from anywhere.
You also don't need a diploma or certificate to get started. We don't get taught how to start and earn from blogs in traditional schools, but if you're a little savvy with how the internet works, it can be a fantastic way to make some income on the side.
Some bloggers even ditched their day jobs to become full-time bloggers, earning six-digit a month while allowing them to the things they love. For instance, Michelle of Making Sense of Cents has been making over a 100K each month from her blogging income.
Blogging can bring you a lucrative passive income in several ways.
Your blog increases in value over time. Some people start a blog with a minimal investment of $2.75/month, and later on, sell it in sites like Flippa to earn thousands of dollars.
Affiliate Marketing – this is a referral method wherein blog owners advertise a product or service. When a reader clicks on the links and makes a purchase, I earn a commission without adding to the product or service's price tag. Please note that I only do affiliate marketing for products/services that I actually use or honestly believe in.
Ads – I also put ads on my blog. When a reader sees those ads, I earn some money. I keep earning as long people are coming to my blog and views these ads.
Blogging is not only therapeutic for most writers and bloggers, but it also keeps the passive income rolling in.
If you'd like to get started blogging right now, you can also purchase a plan on Hostgator that costs as little as $2.75 per month. You can also use this super easy tutorial on how to start a blog for beginners if you need help with setting up a blog with Hostgator.
I also have a comprehensive guide on how to monetize a blog. In this guide, I will show you how I grew my blog from earning $0 to $10,000+ per month as a beginner with no experience!
Read my old income reports
UPDATE 4/1/2020: I now make a full-time income blogging and it's a truly dream come true! I never even thought it All my efforts at the beginning have definitely paid off so now I am making a living from home, almost passively.
Related posts:
How to Make an Extra $100 a Week Effortlessly
How to Make $3000 Fast: 12 Ways To Generate Cash in 2022
Are you ready to try these beginner passive income ideas?
Most of us are wired to think that you need a good amount of money to invest, but the truth is, there are several ways to invest even with zero to little investments.
One or more of these beginner passive income ideas may work for you, but the key is to find where your passion lies and your determination to learn the ins and outs of these investment vehicles.
These beginner passive income ideas also do not promise to make you rich overnight. It also does not eliminate the legwork. At most, what you need to invest initially is your time and interest, and in some instances, some muscle work. But you will learn as you go and over time, you will start reaping the rewards of your passive income sources.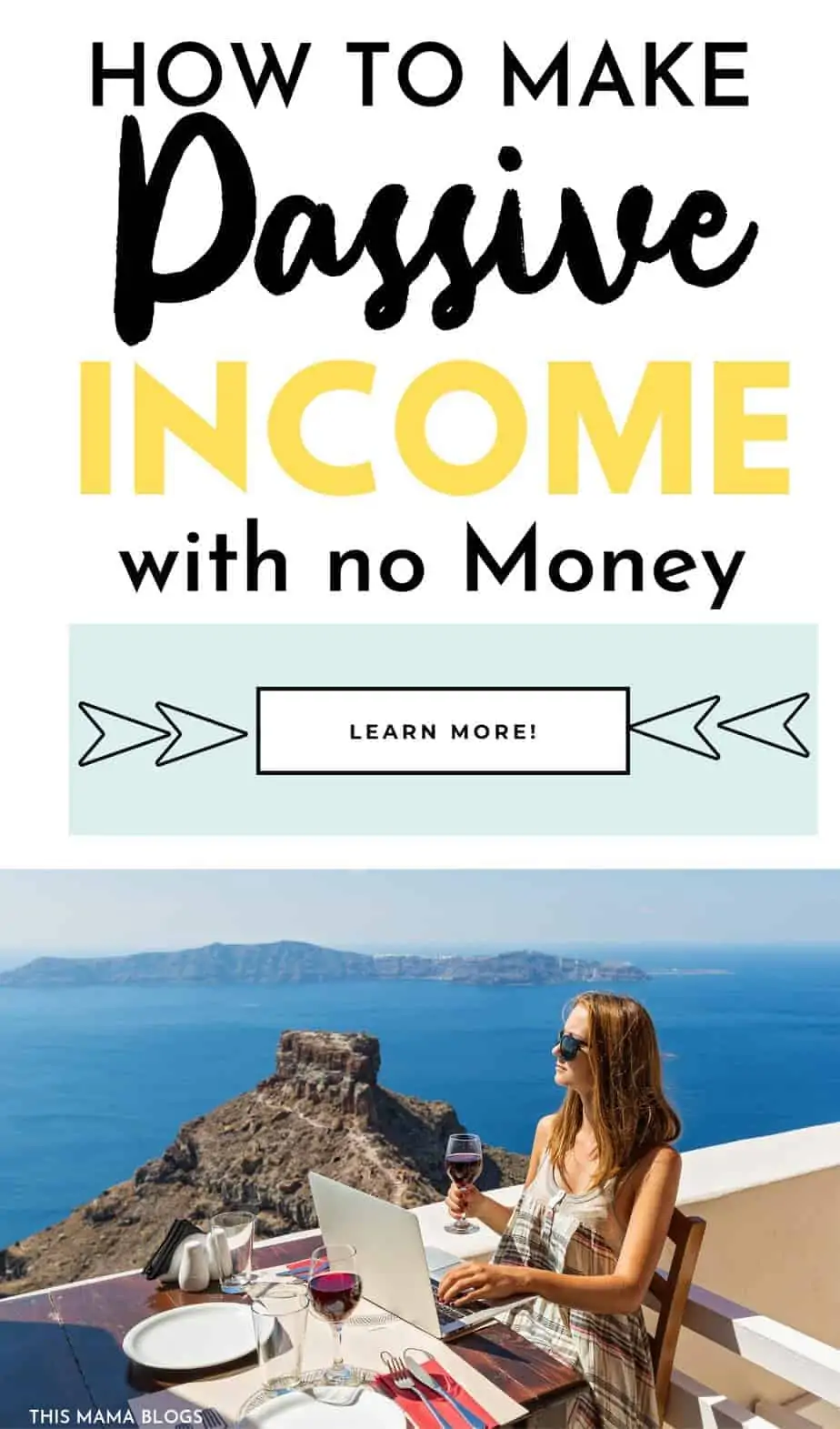 Did you enjoy this post? Pin this image! Or follow me on Pinterest!