Are you looking to save money by managing your subscriptions and lowering bills? Truebill is an app for that! This Truebill review will show you what Truebill is all about and whether it's a legit money-saving app.
---
You might be spending on subscriptions more than you realize. According to ZDNet, the average consumer spends $273 in subscriptions each month, which is 15% more than in 2018. The same study also revealed that most respondents were not really aware of how much they were spending on subscriptions and that it takes two tries to get a close enough number.
Some subscriptions are necessary expenses, such as telecom (internet and phone subscriptions). But there are subscriptions that you can probably live without. Just think of digital subscriptions and gym and club memberships you rarely ever use, and that's money down the drain!
Thankfully, now it's easier to look into your recurring bills and cancel subscriptions with Truebill, a financial app that helps you see where you're spending your money and cancels subscriptions on your behalf.
Truebill also claims to help lower your bills, follow a budget, and save money.
But does Truebill really deliver its promise? Let's find out in this Truebill app review.
---
This post contains affiliate links. This Mama Blogs may earn a small commission at NO extra cost to you for purchases made through these links. Check out how we make money here.
---
What is Truebill?
Truebill is a financial app that can help you save money through its suite of services, mainly consisting of bill negotiating, subscriptions management, budgeting, and automated money savings.
Its goal is to help users have a better understanding of their finances life, and ultimately, have control over their money.
According to Truebill's website, this app has helped cancel subscriptions of over 2 million members, saving these users over $100 million in cash.
If you are looking to make cuts on your budget without sacrificing your basic needs, then you should know where you're spending your money. But some people don't even realize that they're spending way too much on bills and subscriptions that don't bring their lives value.
So, if you want to cut down on unnecessary expenses and put more money back into your savings, then Truebill might be an app you'd want to consider.
Related posts:
How does Truebill work?
Truebill is a financial tool that's available on-site and as an app. However, all of Truebill's features are accessible through the app, so downloading the free app into your smartphone is the way to go.
Once you have the app, link your credit, debit, and bank accounts.
Truebill will parse through your financial activities to give you a bigger picture of where your money goes. Then, it will show you recurring bills and subscriptions and ask you to review them.
From there, you can manually unsubscribe from service providers you no longer want to use.
But by getting the premium version, Truebill will actually do the negotiations for you.
For instance, if you think you're paying too much for your internet service, Truebill's expert negotiators will connect with your service providers and try to get you a better deal. With this, you will save some money each month.
Truebill will charge you a success rate of 40% from the money you were able to save. If Truebill was not successful in negotiating a better rate for you, then the fee does not apply.
Truebill Features
Truebill has seven features designed to help you manage your financial life better:
Manage Subscriptions

Manage subscriptions is perhaps Truebill's most popular feature. Truebill allows you to see all your subscriptions in one place.
When you link your bank account with Truebill, the app will go through all your monthly subscriptions and give you an overview of all your subscriptions and their due dates.
If you think you aren't using a service as much as you want to or don't deem it worthy of your money, you can cancel such a service yourself and save money.
But if you opt for Truebill's paid version, you can have Truebill's expert negotiators cancel subscriptions for you. You won't get charged any fee if Truebill manages to cancel subscriptions you're not using.
Here's a list of subscriptions or services Truebill can cancel for you.
Autopilot Savings

I believe that one of the best ways to live frugally even on one income is to make savings a priority. But did you know that a lot of Americans are struggling to save?
According to a survey conducted by Bankrate, more than half of Americans say they don't have enough savings for a three-month emergency fund. I know saving takes great discipline and willpower, but Truebill has a nifty feature to help you with this: automated savings.
With Smart Savings, you don't have to worry about remembering to save — Truebill saves automatically for you. You get to decide how much you want to save and how often. The savings are automatically transferred from your linked bank account to an FDIC-insured bank. You can also make more deposits, pause the savings or withdraw your funds at any time.
Whether you're looking to save for a new fridge, an annual vacation, or holiday spending, you can make savings easier if it's done on autopilot. According to most of Truebill's smart savings reviews, this feature comes in really handy for many users.
Related posts:
Emergency Savings Fund: How to Build an Emergency Fund
How to Create a Realistic Budget that Works
Spending Insights

If you're always wondering where all your money went (and why you are falling short), the Spending Insights feature is a great tool to use.
This feature collects your spending data in one place and gives you a breakdown of your spending categories. With this data, you can adjust how you spend money to maximize savings.
Additionally, Spending Insights alerts you when your bank account is approaching low levels, allowing you to strategize and prevent late and overdraft fees.
If you're always wondering where all your money went (and why you are falling short), the Spending Insights feature is a great tool to use. This feature collects your spending data in one place and gives you a breakdown of your spending categories. With this data, you can adjust how you spend money to maximize savings.
Additionally, Spending Insights alerts you when your bank account is approaching low levels, allowing you to strategize and prevent late and overdraft fees.
Credit Scores

One of the most important things in our financial lives is the credit score. This is the three-digit figure that affects your ability to get new credit and negotiate better deals.
You can get your free credit report once every year from each of the credit reporting bureaus. But you can readily access this document every month when you get Truebill's premium plan.
Truebill also notifies you of any changes in your credit score and factors that impact your score. This is indeed a nifty feature if you want to keep a close eye on your credit score before making a huge financial decision, such as buying a new home or car.
Bill Negotiation

Another feature Truebill is most popular for is bill negotiation. You might not realize it, but you're probably paying more for cable, internet, or phone more than you should, and as you continue to let go, you're also wasting money.
By taking advantage of this feature, Truebill will work on negotiating your bills on your behalf. While you could very well do this yourself, some people are just not cut out to wait long hours on the phone only to fail. Others are just not convincing or confident enough to get their providers to lower their monthly bills.
This feature is available for Truebill premium service users. All you have to do is send a copy of your monthly bills to Truebill, add your negotiation preferences and set a success fee (30% to 60% of your savings).
It is important to remember that Truebill will deduct the success fee upfront. So if Truebill helped you save $100 a year on your cable bill, Truebill will charge you at least $30 right away.
The bill negotiation feature can also be applied if you want to get a refund from your bank's late and overdraft fees, as well as find you a better car insurance rate.
Pay Advance

Running out of cash and need a cash advance? But instead of asking it from your boss, you can request to get paid early through Truebill.
If you are using the paid version of Truebill, you can very well take advantage of this feature. All you have to do is log into the app and request to get paid early. You can take up to $100 in cash advance, and Truebill will send you the funds to your linked account in seconds. You don't even have to go through credit checking. And the best thing is, you pay no interest. Truebill will charge you the borrowed amount on your indicated payday.
Budgeting

Ask any personal finance expert, and he or she would likely tell you that you need a budget to get your spending under control. And if you think budgeting is hard or boring, Truebill makes it super easy for you.
Truebill allows you to manage your budget in one place. Just assign a budget for every spending category and Truebill will monitor and analyze your spending habits. Truebill also gives you alerts when you're about to go over your budget so you don't risk overspending.
How much does Truebill cost?
Truebill has a price to pay. Apart from the monthly premium payment to use the app, which is between $3-$12, you also have to pay Truebill a success rate of 30% to 60% (typically 40%) of the money you were able to save.
For instance, if you saved $20 on your internet service after having Truebill negotiate it for you, you would be able to save $240 each year. Truebill will take its 40% cut upfront, so you will be debited $96 right away, leaving you with $144 in savings.
Is Truebill Safe to Use?
You are giving this app personal information and financial data, so asking it's only right to ask yourself this: is Truebill safe?
And yes, Truebill is safe to use.
Truebill's cutting-edge security is provided by a company called Plaid, which lends Truebill state-of-the-art bank-level 256-bit encryption. Truebill does not store your personal and financial data, and neither will it sell your information to third parties. However, Truebill may share some of your in-app activities with its ad partners.
Who is Truebill Best For?
Apps like Truebill are quite useful for people who want to get a firm grip over their finances. Whether you want to live cheaply or just maximize your savings, Truebill can help you manage your finances and at the same time, save you some money.
Truebill lets you see the ins and outs of your cash flow in one place. The budgeting feature tells you if you're spending within limits, while the spending insights show you where you are spending the most. Its two most important features, subscription monitoring, and bill negotiation help you find some free money by allowing Truebill's experts to cancel unwanted services and getting you better rates.
Who Shouldn't Use Truebill?
Truebill is a useful app, but some people might not find it as handy. For instance, if you are not very tech-savvy and would rather have your financials recorded in pen and paper, paying for Truebill may not be worth it.
Also, if you think that you can manage your subscriptions and negotiate your own bills, then there's no point in getting Truebills paid version. Although it takes time and patience in going through hoops and loops, you might not see the point of having to pay an app to do these things for you. Apart from the monthly subscription fee, Truebill will also charge you its success fee for negotiating your bills, and that could still be a great deal of money.
Related post:
14 Apps that Pay You Real Cash
Truebill Pros and Cons
PROS
Save money with the bill negotiation feature – With the premium version, you can put some money back into your pocket by negotiating better deals on your bills for cable, phone, and internet, etc.
Free to download – You can use some of Truebill's features without paying anything.
Budget and spending insights features – you can take a more detailed at your finances by using Truebill's budget and spending insights features. You can adjust your spending accordingly to maximize your savings.
Mobile and desktop compatible – you can use Truebill on both your phone and computer.
CONS
According to Truebill BBB reviews, a lot of users were not able to get the refunds they were promised or were continuously charged even after canceling their membership from Truebill.
Success fee – Truebill charges you a success fee of at least 30% of the savings you're able to keep after negotiating bills for you. This is on top of Truebill's monthly subscription fee of $3-$12 per month.
Annoying ads – according to most Truebill app reviews, there are a lot of ads that disrupt the users' experience.
Alternatives to Truebill
There are several money-saving apps nowadays, and Truebill is just one of them. But if you're looking for similar apps so you can have more options, then you should check out how Truebill stacks against its strongest contender, Mint.
Mint, like Truebill, helps you save money through its different features, such as bill negotiation, subscription monitoring, and savings tracking. Mint is also a freemium app, which allows you to download and use its basic features for free. But, you need to pay to use the premium version.
---
---
Truebill vs. Trim and Mint Premium Cost
Truebill only costs $3-$12 per month, depending on which features you want to unlock. On the other hand, Mint costs $99 a year.
But, keep in mind that Truebill keeps 30-60 percent of the amount you were able to save through its bill negotiation feature, and this amount will be deducted from your account right away.
Meanwhile, Trim charges 33% of your annual savings for the same feature. Both won't charge you a cent if the bill negotiation fails.
Truebill vs. Trim Features
Truebill and Trim may look like they have similar features at a quick glance, but when you inspect both apps deeply, you'll find that Trim has more features. Some of Trim's features that Truebill doesn't have are automated credit card bills and student loan debts. You can check out Trim here.
Truebill FAQs
Is Truebill free?
Yes, Truebill is a free app, and you can readily use some of its services like subscription monitoring and budgeting without paying anything. But if you want to unlock its core services, like subscription concierge and bill negotiation, you need the premium version which costs $3-$12 a month.
You could think of Truebill as one of the apps that pay you real money because it helps you lower bills, cancel subscriptions and get refunds.
Is Truebill better than Mint?
Mint works like Truebill, but to say which one is better depends on a few things. Mint is a free app that offers a lot of the features that Truebill offers. But there are also things that Mint does not have, such as bill negotiation and subscription concierge services.
Is the Truebill app safe?
Truebill uses bank-level encryption to ensure that all your personal and financial data are protected. Truebill does not store users' information and won't sell your data to others.
How legit is Truebill?
Truebill is a legit app that helps you save money in different ways. It has an established reputation as a money-saving app, helping numerous users save money from bills and unwanted subscriptions.
Is Truebill Worth It?
We've come to the end of this Truebill app review, and right now, you might be wondering whether Truebill is worth it.
Yes, Truebill is worth giving a try if you're looking for an app that can help you get control of your finances. It is free to download and some of its features don't cost anything.
However, if you're seriously considering Truebill to negotiate bills for you, I suggest trying to do the math first. Truebill's success fee of 30% to 60% of your annual savings seems a little hefty. If you can do this task yourself, even better, because you get to keep all your savings. But if you don't mind the charge as long as you pay less in bills, then you should give Truebill a try.
Save this pin to Pinterest!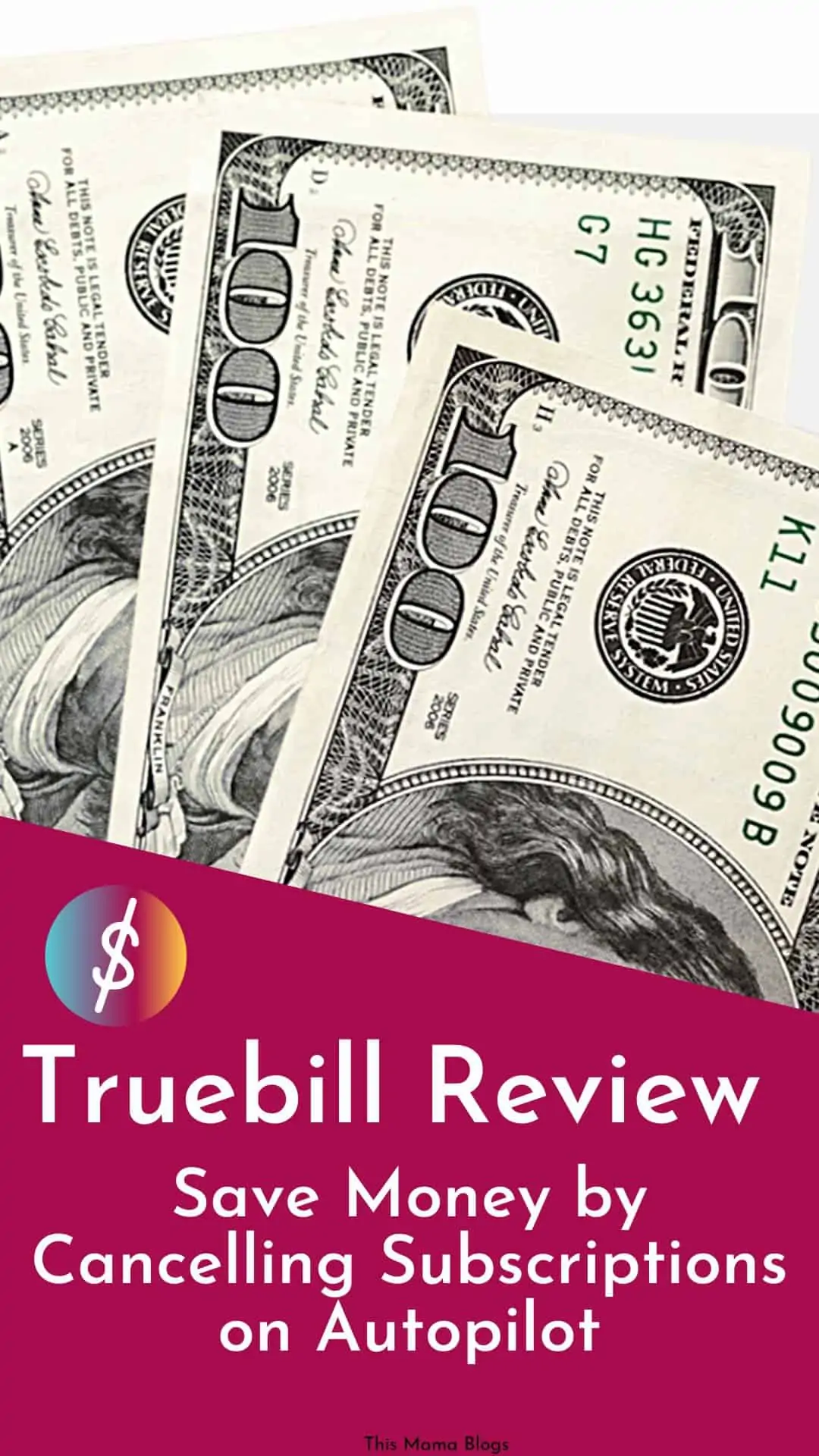 ---