Mystery Shopping Companies
If you have been here before, you know that I love exploring flexible extra income opportunities. Today, I want to share some of the most "intriguing" jobs out there: mystery shopping jobs.
Mystery shopper jobs refer to gigs that pay you to shop "secretly" for companies. Mystery shopping companies not only pay you to shop but also give you free stuff.
I researched what this mystery shopper job is all about and put together this post to answer the following questions:
What is mystery shopping?
How much you could make from mystery shopping?
How to become a mystery shopper?
How to get a mystery shopping assignment and get paid for it?
Is it worth it?
If you'd like to uncover the "mystery" of mystery shopping and see whether this side hustle is for you, then read on. 🙂
---
Mystery Shopping FAQs
What is mystery shopping?
Mystery shopping is used by companies to evaluate their products and services. Often, companies tap market research firms to carry out this process, and market research firms, in turn, deploy mystery shoppers to a retail store, for instance, to "assess" whether the store complies with a set standard.
For instance, a company wants to find out whether their store staff is friendly or accommodating to the customers. The mystery shopper will visit the store in the guise of being an average customer.
With the mystery shopper's feedback, the company can figure out whether its staff is providing standard customer service, among other things.
What do mystery shoppers do?
It's easier to think of mystery or secret shoppers as spies. They go to the scene and do what they are required to do. And then, they create a detailed report and submit it to the boss. At least, that's like the shortcut of it.
As a mystery shopper, it is your job to assess the quality of the product or service of the business assigned to you. In detail, you will have to:
Visit the shop in the guise of being an average customer
Purchase a product or avail a service to determine its quality
Assess the staff's quality of customer service
Inspect and document the business environment
Keep the receipts for reimbursement and documentation later on
Create a detailed report of the overall customer experience with the assigned business
You have to play your part as a regular shopper and accomplish the assigned task so you can create an objective report later on.
How much does mystery shopper make?
According to what I have found from numerous sources, mystery shopping typically does not have a flat rate or a rate per hour. You will be paid per task. And every task is different.
Since mystery shopping companies work with different companies across various industries, each mystery shopping company may have unique shopping requirements. The payment could be reimbursement only, cash only, or cash and reimbursement.
Glassdoor says secret shoppers earn an average of $11 per hour.
What do you need to become a mystery shopper?
Experience
Experience is actually not necessary. Mystery shopping doesn't require any previous experience or any specialized skill. It's easily one of the easiest no experience, entry-level jobs to get into.
Skills
It helps to have confidence as you will be dealing with the sales staff to make a purchase, file a complaint or ask a question, etc. It's also essential to have excellent verbal and written communication skills because you will have to write a detailed report of your experience later.
Certification
This is not necessary, but advantageous. The Mystery Shopping Providers Association offers two types of certifications (Gold and Silver) to aspiring secret shoppers for a small fee. This certification can help you land mystery shopper jobs legit gigs as some companies prefer to hire certified secret shoppers.
Others
You may also need a smartphone or camera to take photos of the business environment; an active PayPal account to process your payments, a computer, and an internet connection to find and book jobs as well as submit reports.
What should you expect about mystery shopping as a side job?
If you know how much a mystery shopper get paid, you'll realize that you can't live on your mystery shopping income alone. Mystery shopper jobs cannot pay your mortgage or pay for your vacations. It's a nice side hustle to have if you're only aiming to increase your income and you have a couple of days a week when you have nothing better to do. I don't think mystery shopping will cover all your living expenses, so don't rely on it too much.
You'll take money out-of-the-pocket. When you accept gigs when you have to buy something or pay for meals, expect that such money will come from your pocket. The company will reimburse you on your payday, along with your fee.
It is a time commitment. Typically, you'll have 24 hours to file your report on your assignment, and you have to do the report to a "T." With that said, you have to remember every detail of the assignment. If you take a couple of assignments in one day, that means you'll have a number of reports to write as well. Time management is key.
Are mystery shopper jobs real?
Are mystery shopper jobs legit? Here's what I would like to really warn you about: there are perfectly-crafted mystery shopper jobs, and these listings may sound too good to pass up. But, there are also lots of mystery shopper scams you should be aware of.
Often, these scammers will ask you a simple task, like wiring money to Western Union, and promise that you'll get paid a handsome rate.
If you find a gig that sounds too good to be true, then it probably is. This modus is quite popular on the internet, and those who aren't well-informed can fall into the scammers' trap.
It is essential to inspect every mystery shopper job that comes your way to avoid mystery shopping scams. Ideally, you should only take tasks from the most reputable market research firms.
I have listed a couple of legitimate mystery shopping companies below that offer such shopping assignments.
---
Best Mystery Shopping Companies: Where To Find Legit Secret Shopping Gigs
1. BestMark
BestMark is one of the more popular mystery shopping companies out there. The company is one of the country's first and largest providers of mystery shoppers and works with various 500/100/50 Fortune companies. BestMark mostly caters to businesses in the hospitality industry.
You can apply to work as a secret shopper at BestMark by filling out this form here. And as with many other mystery shopping companies, you have to use your own money to shop. The company will then reimburse you for your expenses made in-store, and you'll also receive a flat fee for your mystery shopping assignment.
You also must be of legal age, own reliable transportation, and have excellent communication skills to work at BestMark.
BestMark pays three to four weeks upon completion of the project and it pays via PayPal or in the form of a check or gift card.
According to reviews, BestMark pays between $10-$25 per assignment.
---
2. Secret Shopper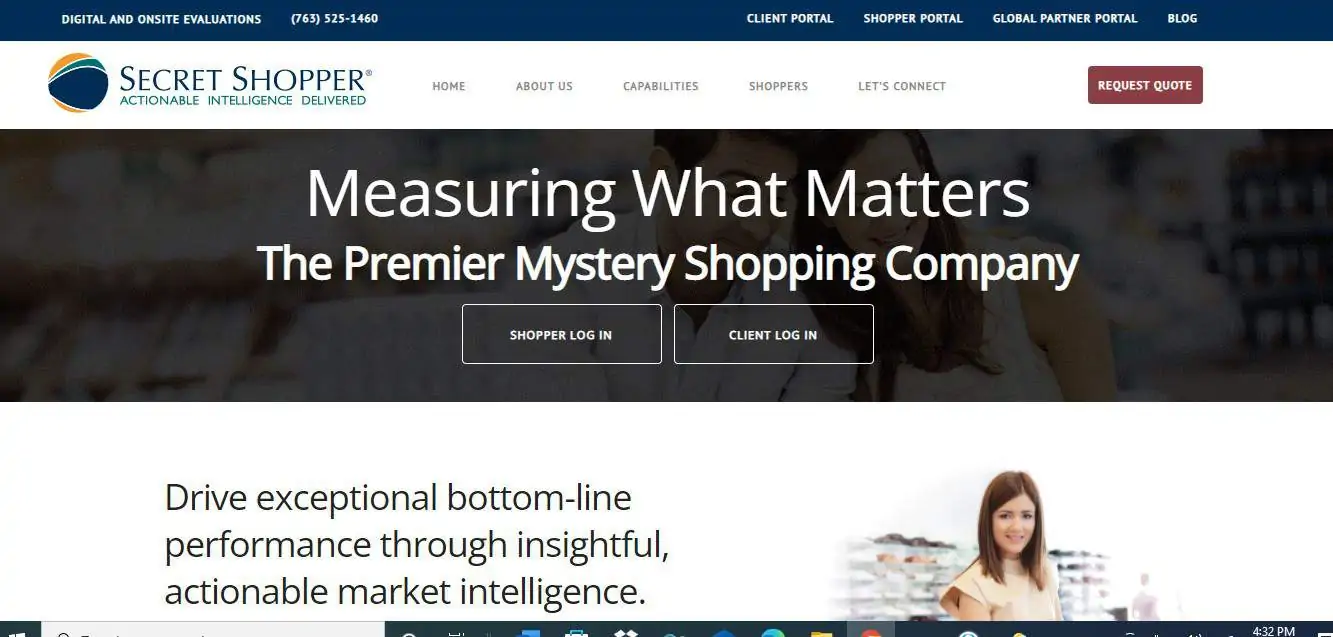 Secret Shopper is a market analysis firm that has been around for more than three decades and has won a couple of awards from the Mystery Shopping Providers Association.
Mystery shoppers at Secret Shopper work as independent contractors, and they get paid per assignment.
The company currently accepts applicants from the Caribbean, Europe, Canada, and the US.
Mystery shoppers at Secret Shopper are paid $15-$25 per assignment. And if your assignment requires dinner at a restaurant, the payment could be a meal for two.
The company pays via PayPal every 20th of the month for assignments completed the month before.
---
3. Sinclair Customer Metrics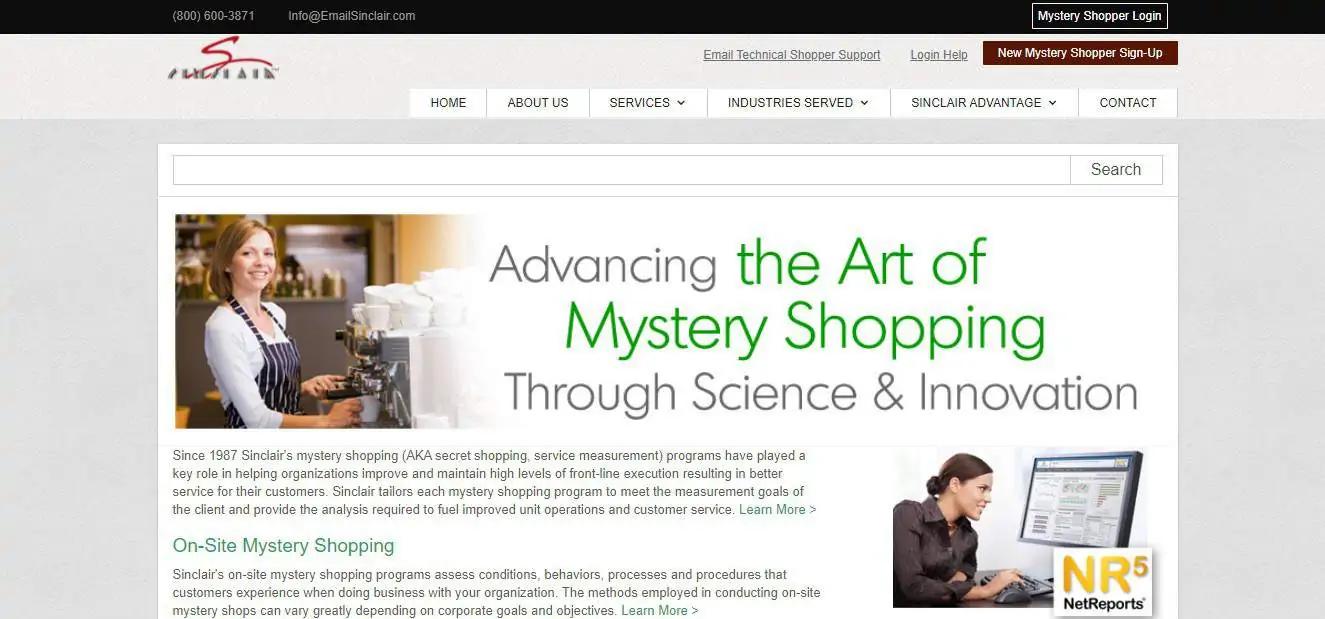 Sinclair is a reputable mystery shopping company that caters to companies across a wide range of industries, including food, retail, grocery, and banks.
It has an A+ rating at Better Business Bureau and it offers a wide range of mystery shopping job types, including on-site, telephone, video, and competitor mystery shopping.
The rates for secret shopper jobs at Sinclair are not disclosed on the company's website, but according to Indeed, Sinclair pays shoppers $10/hour. Also, a lot of people speak highly of this company, so it's definitely worth checking out.
---
4. Yardi Matrix

Yardi Matrix provides telephone mystery shopping services. This mystery shopper company mainly operates within the real estate industry, and mystery shoppers at Yardi Matrix often do rent-related surveys.
Your role is to pretend that you want to rent, and you'll ask around apartments for rent prices.
The best thing about Yardi Matrix is that you work as an employee and not as an independent contractor. This means you can turn mystery shopping into a part-time job instead of a side hustle. The company deducts taxes from your income, and you'll also be entitled to common employee benefits.
Note that mystery shopping work at Yardi is seasonal, and each contract lasts about six weeks. However, if you prove yourself to be a fantastic employee, they might renew your contract for another cycle.
Unlike other mystery shopping companies that pay per assignment, Yardi pays per hour. You can earn $6-$10 per hour, and you'll also earn $0.50 for each completed survey.
---
5. Market Force
Market Force is another leading name in the mystery shopping industry. This mystery shopper company has been around since 1972 and operates in the US, France, Spain, Canada, and the UK.
According to the company's website, Market Force has more than 300,000 mystery shoppers serving over 100,000 shops a month.
The company provides mystery shopping for companies across industries, including retail, restaurant, hospitality, banking, and grocery.
For secret shoppers, it's easy and free to join Market Force. You only need to be at least 18 years old and have a high school diploma.
Market Force's official pay rate for secret shoppers is not disclosed, but when you're you've joined, you'll see how much each assignment pays.
The good thing about its platform is that you can negotiate your rate. Market Force also has a mobile app that allows you to easily check available mystery shopper jobs near you.
---
6. Intellishop
Intellishop is a customer experience research and improvement firm based in the US. The company serves B2B industries, including grocery stores, appliances, hospitality, retail, restaurants, and even government offices.
Intellishop provides different types of mystery shopping: online, onsite, telephone, and video. If you don't have the time to leave your home to "mystery shop" at a retail store, you can opt for these types of mystery shopping instead.
To start mystery shopping at Intellishop, simply check out Intellishop's job board. They also send you email alerts for mystery shopping jobs available.
The company typically pays $5-$10 per assignment via PayPal.
---
7. Second to None
Founded in 1989, Second To None has established quite a good track record in the industry. This mystery shopping company operates in the US and Canada, serving clients across a wide range of industries, such as eCommerce, restaurants, financial services, and healthcare.
To become a mystery shopper at Second To None, create a mystery shopper account on their website. Once you qualify, you will start receiving emails about mystery shopping opportunities in your area. You could also look proactively by looking for gigs on their website.
There's a good variety of assignments that you can find at Second To None. The company also reimburses purchases you've made while you mystery shop and pays for each assignment. Each job pays differently, but according to most sources, Second To None pays $8-$25 per assignment.
Related Posts:
---
Reviews of Mystery Shopper Jobs From Real Secret Shoppers
I also looked around for a couple of reviews of mystery shopper jobs on the web. By getting a real mystery shopper's review, it would set our expectations to a realistic level.
An unnamed contributor wrote on Forbes, and detailed her experience working as a mystery shopper. She started earning some money from her very first stint. As she hustled more, the money just kept on coming. She came to a point when she filled all her days, weekends included, with mystery shopping jobs. She earned over $14,000 from mystery shopping alone in 2008 and was able to pay off her car, thanks to this side hustle.
"I began doing jobs during my lunch hour. I could even do them on my way home from work, since I'd be walking past retail locations anyway. Slowly but surely, the money began to roll in," the author wrote.
Francesca of The Money Fox also detailed her mystery shopping experience on her blog. Francesca said she came across mystery shopping when she was broke. But mystery shopping helped her earn a small income, as well as get some stuff and eat meals for free.
Each job is different and some require you to do more or remember more things to report after. When new jobs are posted on the sites, you can check what they require of you before you apply for the assignment. If it seems like too much, don't apply for it," she advised.
Mystery Shopper Jobs: Are They Worth It
I love the fact that mystery shopping doesn't require much to get into. Anyone of legal age can work as a secret shopper.
If you are looking for a reason to get out of the house and earn some cash while enjoying some "retail therapy," then perhaps mystery shopping is something you should look into.
One thing I don't like about mystery shopping is that it requires a lot of time and work. You need to make sure to handle the interaction based on the instructions of your assignment. You also need to create a report and file it right away.
So, personally, it's not my best option to earn good money in my spare time.
Related:
Amazon Data Entry Jobs that Pay Quick Cash
Under the Table Jobs: 22 Quick Ways to Make Extra Money
Looking for more extra income ideas?
My most favorite job in the world is blogging. It is flexible and allows me to work from home or anywhere while being a full-time mom to my son!
Plus, you don't really need to be a techie to be able to start a blog and make money from it! Learn more about blogging and how I make a full-time income from my blog by reading my detailed guide on how to start a blog and make money here!
Not interested in blogging? Check out the following posts for more side hustle ideas!