Looking for websites to sell your stuff locally? Well, you've come to the right place!
We are moving and retiring overseas in a few months soon so I've been seriously looking for ways to sell my stuff online. Thankfully, we've found lots of websites where you could sell your stuff and make money.
Recently, we sold a non-functioning outdoor jacuzzi that we had been wanting to get rid of for a few years now. My husband decided to list it up for sale and he got it sold in not even a day! We didn't even have to lift a finger for the logistics. The buyer picked it up at our house the next day with a crew of four people.
You see, one man's trash is another man's treasure. What you may consider worthless may be considered valuable by someone else.
If you're thinking of decluttering your home whether to earn extra cash or to simply refocus and gain back more space in your home, here's a list of the best places where you can sell things online locally.
How to Sell Stuff Online Safely
If you want to sell unwanted items online, you have to do it safely and properly. There are numerous apps and websites where you can sell your stuff locally, but you always have to be careful, regardless of where you decide to sell, so you don't end up getting scammed.
Check the potential buyer's ratings. Several online selling sites display the seller's and buyers' ratings. If you're transacting with a new potential buyer, check his ratings and read the comments or feedback of previous sellers he has bought items with. This should give you a solid idea if the potential buyer is a credible person to transact with.
Avoid using your personal email. Create a new and dedicated email for selling items or utilize the email service of the site you are using to sell items.
Limit personal information. When taking photos of the items you are selling, make sure that you don't show your car's plate number or home address in the background. Anything that gives away who you are or where you live can put your safety at risk.
Bring someone with you when meeting a potential buyer. Having a buddy during the meet-up increases your confidence and security during the transaction.
Meet in a public place. If you agreed to meet up with the potential buyer, do not do it in private. If you are selling items that are high in value, such as antiques or jewelry, do it in front of your bank so you can deposit the payment right away, or near a police station.
Only accept cash. Cashier's checks are often used by scammers to defraud unsuspecting sellers.
Do not invite the buyer inside your home. Place the item in your front yard or garage instead.
Trust your instinct. If something feels off about the potential buyer, cancel the transaction right away.
Apps and Websites To Sell Stuff Locally
Want to make money by selling items you no longer want or use? Here are the top apps and websites you can use to sell stuff locally online.
1. Craigslist
Despite the rise of numerous selling sites and apps, one that remains to be a popular option even today is Craigslist. This is an advertising site utilized by so many people to sell stuff online for free. Craigslist is particularly handy because it lets people buy and sell stuff locally, meaning, you can design your ad to target local buyers. craigslist.org
The disadvantage of selling on Craigslist is that it has become loaded with fraudsters and scammers over the years. To avoid getting scammed, make sure to agree on local pickup and receive cash during the sale. Payments made via PayPal and checks can be risky.
Also, make use of a disposable phone number and use the Craigslist email service so you don't receive spam messages.
2. eBay

If you're looking to sell your items and old stuff, ranging from clothing, toys, books, electronics and devices, and many others in between, then you should consider eBay. After all, eBay has over 109 million visitors every month, making it an excellent website to sell stuff online. Both buyers and sellers flock to eBay to buy and sell something.
What makes eBay is an excellent platform to sell is that you can find and print the shipping label straight from the Seller hub. You can even opt to not ship at all, by choosing "local pickup only." also, you can get paid via PayPal and you have the guarantee of the seller protection program which more than offsets the fees for using the platform to sell things online.
3. Neighbor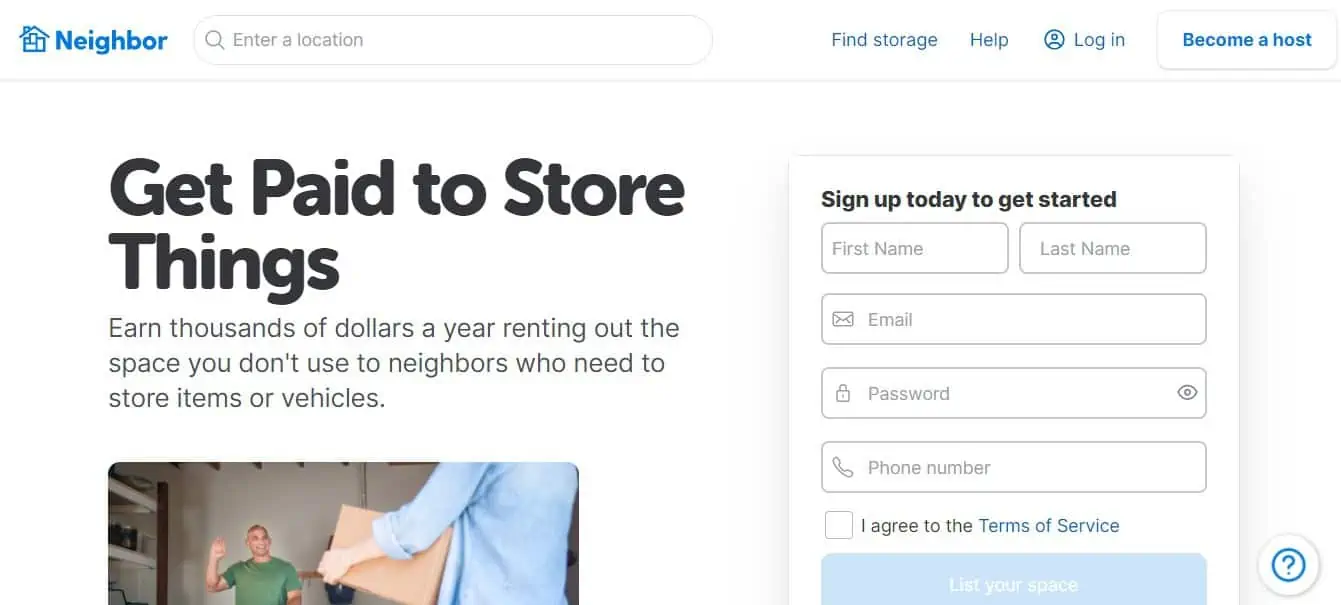 Selling stuff is not limited to the clutter and old stuff you have at home. It could be extra space too, such as your garage, basement, shed, or storage unit. And did you know that you can rent out these spaces too, and make passive income from them through the app called Neighbor?
Neighbor aims to connect people with extra storage spaces with renters who need space within their local neighborhood. You can host your space on Neighbor, list its size and availability, and start attracting potential renters.
The advantage of hosting your space through Neighbor is that you literally let it make extra cash for you without you having to do anything. You set the price for your space, then Neighbor will handle the rest. You can list your space 100% free of charge, plus you get up to $1 million in liability protection. Neighbor only charges 4.9% of the price as a processing fee and $0.30 each time you cash out.
Related: Neighbor Storage Review
4. Facebook Marketplace
Facebook is a hugely popular social networking site, but it also has a dedicated feature that comes in handy for buyers and sellers: Facebook Marketplace.
FB marketplace is a great place for selling locally. First, buyers and sellers need an account to be able to use Facebook Marketplace. This gives you an opportunity to check out the potential buyers' profiles before proceeding with the transaction.
Additionally, it is free to use. You can quickly create a listing, upload photos of the products, and connect with potential buyers without paying anything. Also, Facebook allows people to search for products within specific distance ranges, therefore making it a great place to sell stuff locally.
5. Nextdoor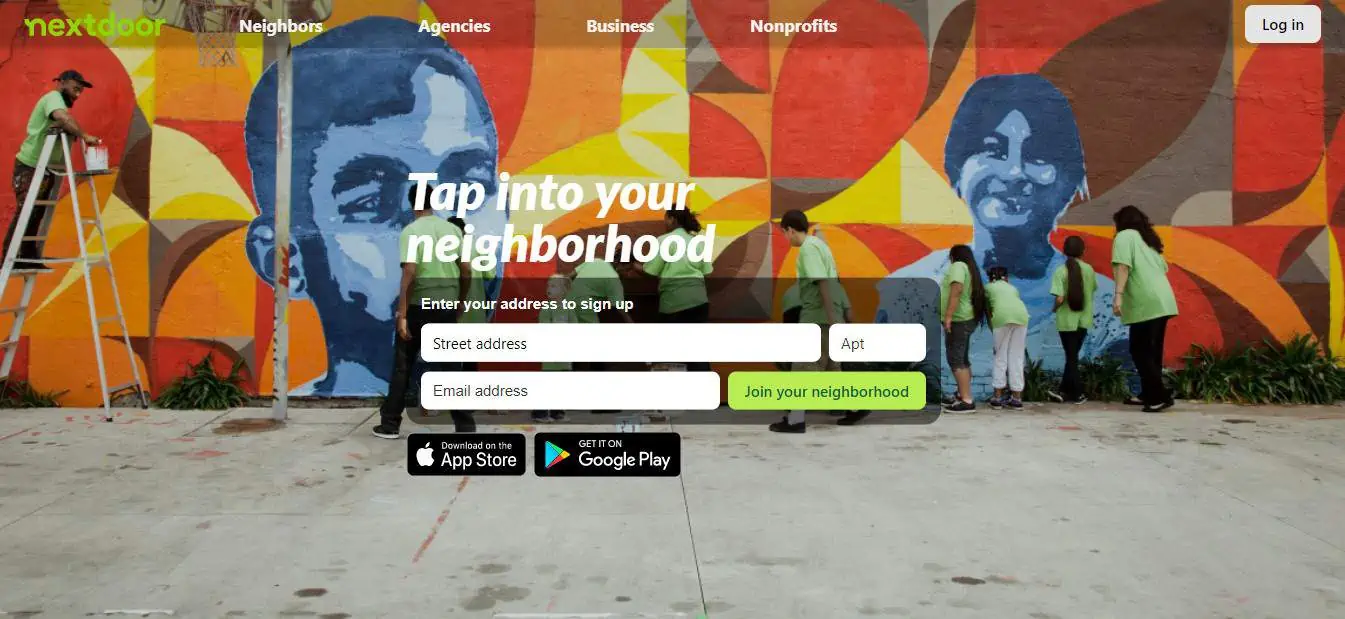 If you are looking to sell stuff locally by offering them to your neighbors and community members, then consider using NextDoor. Most people use this app to find items they need without having to deal with shipping costs.
You can easily and quickly create listings for the stuff you're looking to sell. You can also accompany these listings with photos to entice more buyers. Plus, you can give discounts if you want to sell them even more quickly.
All NextDoor members are verified, so it reduces the risk of you getting scammed. This app also comes with its own messaging feature so that it's easier to transact with potential buyers without having to give away your phone number or email address.
6. Amazon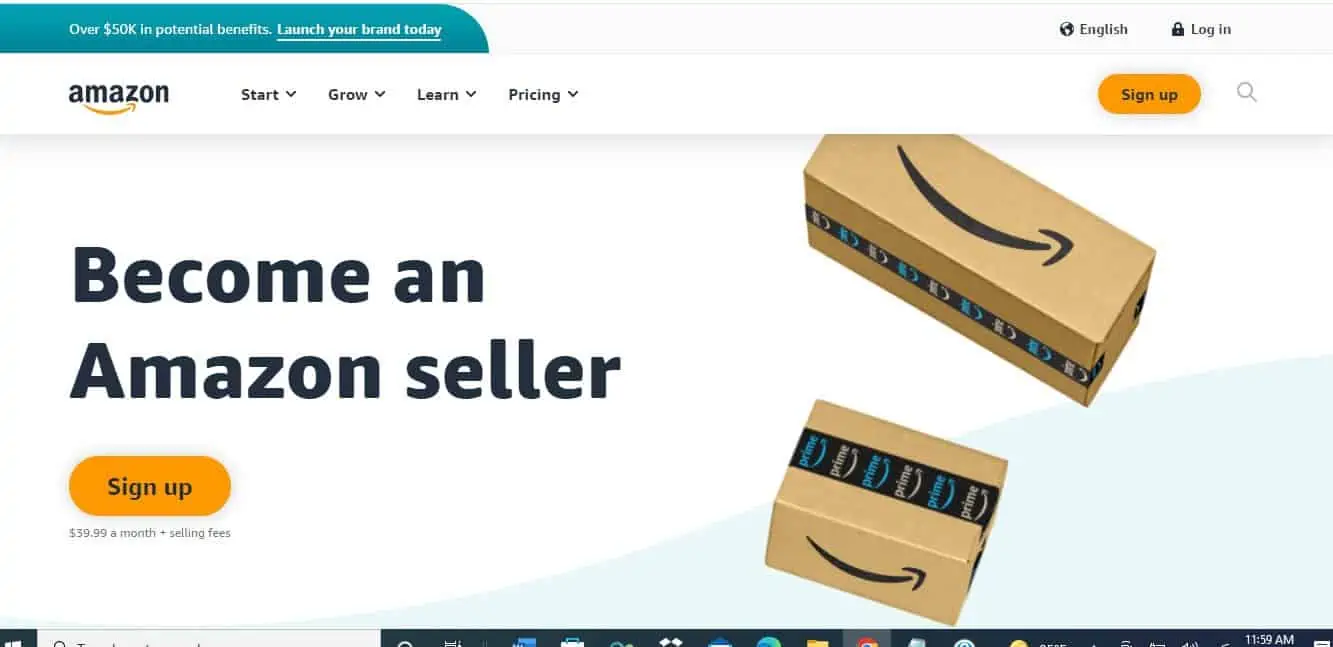 Most of us have bought stuff from Amazon, but did you know that you can dispose of unwanted items through this giant store too? I know most people would think of Amazon as more of a wholesaler, but you can also sell other things here too, such as electronics, books, crafts, and more.
The downside to using Amazon is that it comes with fees, so it might not appeal to you if you're looking to sell things for free (Facebook Marketplace can be a better alternative for that). Also, there are many restricted items on Amazon, and you may not be able to sell used stuff. Many items may need to be "ungated," which means you'll need to provide documentation and be approved by Amazon to be able to sell them.
But if you are looking to build an eCommerce business, then Amazon is a great option for you. After all, Amazon attracts billions of monthly visitors, so might as well piggyback on its popularity.
Sign up for an Amazon seller account here.
Interested in becoming an Amazon seller? Check out this free Amazon training and learn the steps to start, grow, and scale your own brand on Amazon. This guide will teach you how to find products that sell with almost zero competition.
7. Listia
Listia is a virtual auction site that allows you to trade stuff online for free. You can think of it as a way to sell things online, only that you earn Listia credits when you sell something, and then you can use those credits to bid on things that other members are selling.
Listia credits are not convertible to cash, and can only be used within Listia. This might seem like a downside, but for those who are already using Listia to sell stuff, it's not a problem at all. Listia has over 10 million members, and you can buy or sell almost anything, from antiques, arts, books, baby items, home decors, holiday and seasonal stuff, electronics, and other unwanted items.
8. OfferUp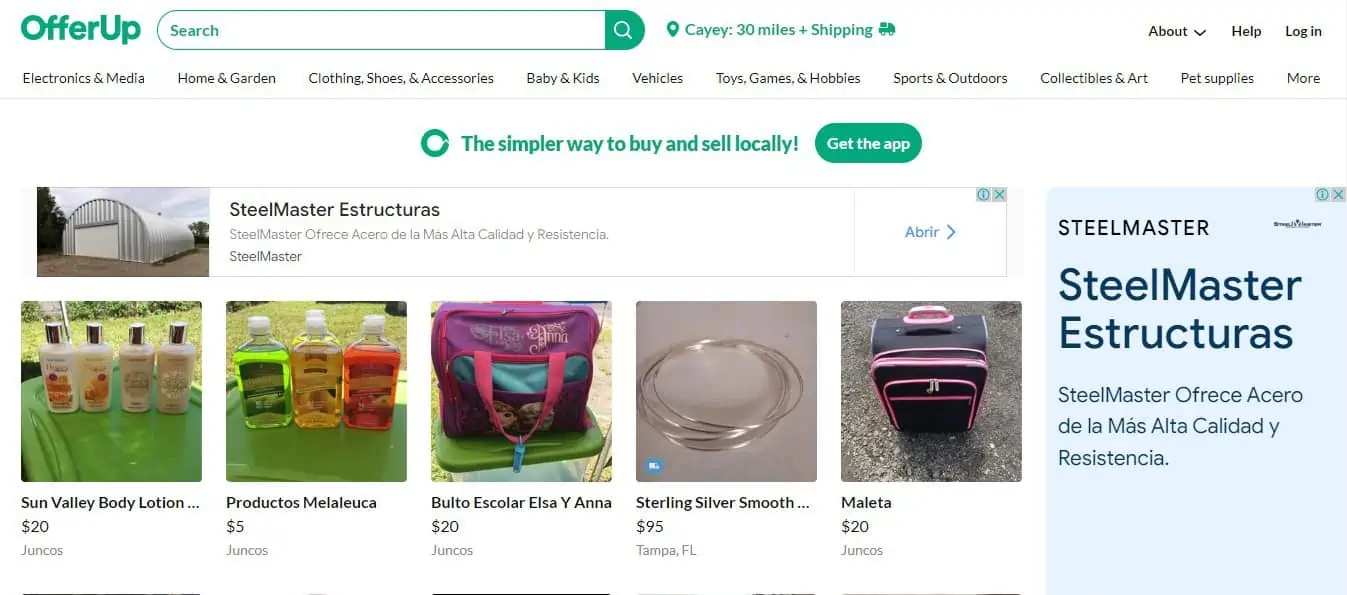 OfferUp is one of the best websites to sell stuff locally. It is a platform that connects local buyers and sellers, allowing you to make money from your old stuff and unwanted items for free.
OfferUp comes with both an app and a website. As a seller, all you need to do to sell your stuff is to upload photos of the product and create a listing. You can sell items from different categories, from furniture, clothes, electronics, baby gear, appliances, and more.
If you wish to sell quickly and make money, you can opt to promote your listing for a fee. Your listing will appear on the top search results and is likely to get attention from potential buyers.
Once you've found a buyer, you can agree to meet at a designated place. OfferUp places a heavy emphasis on getting paid by cash instead of via PayPal or checks, so find a public place that's both convenient for you and the buyer.
9. 5Miles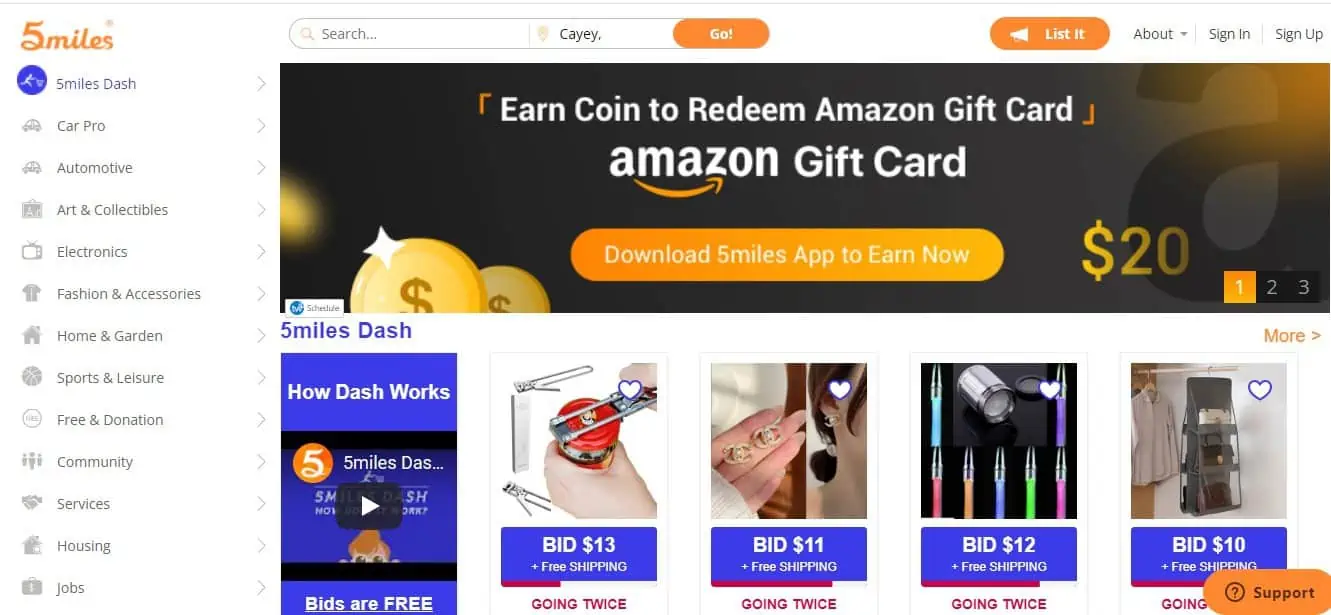 5Miles is a mobile app and it's also one of the best websites to sell stuff locally. It aims to create a fun and safe environment for buying and selling, so 5Miles verifies the identity of all members through their phone numbers and Facebook account.
5Miles' best feature when it comes to buying and selling locally is geolocation. With this, you can attract potential buyers from your local community and nearby areas around a 5-mile radius of your current location, therefore helping you both save on shipping costs./
10. ToyCycle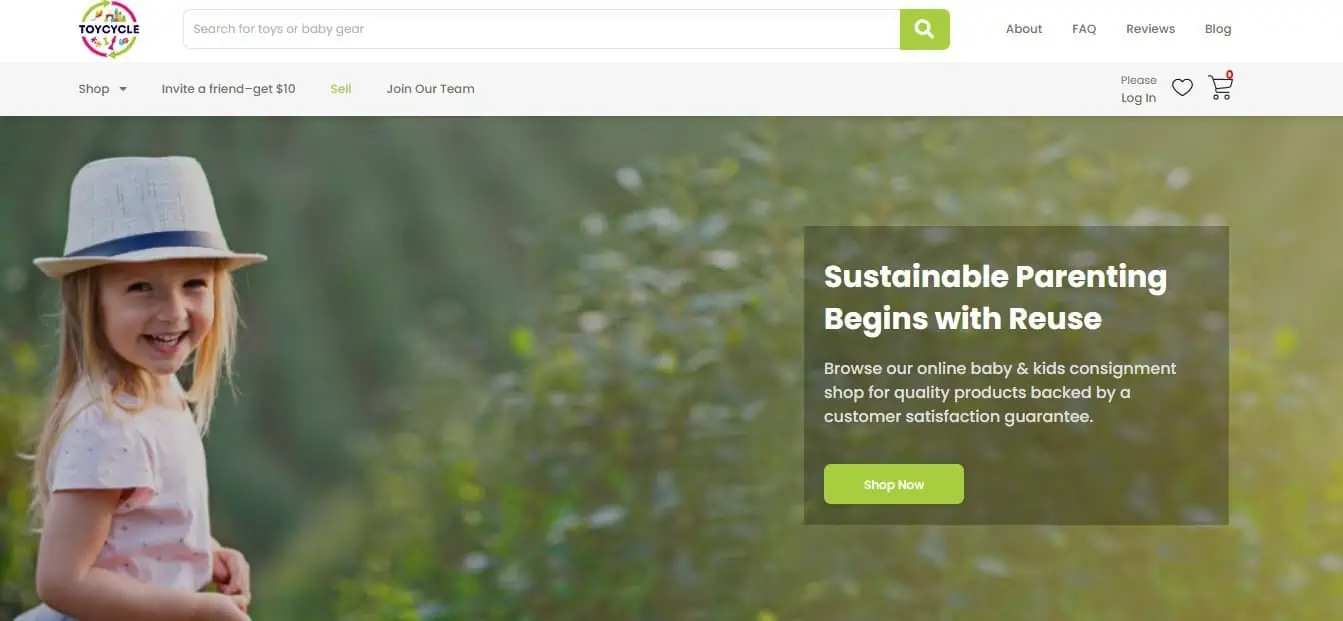 ToyCycle is a company that specializes in buying and selling second-hand baby and kids products. It aims to help the environment by encouraging parents to reuse high-quality baby gear, toys, and other items.
If you're interested in selling the things your kids have outgrown, all you have to do is send them to ToyCycle. You will receive a shipping label so you can ship the items directly to ToyCycle.
ToyCycle basically acts as a consignment shop where buyers can browse through thousands of second-hand like-new products. ToyCycle will determine the price of the products, take out $3-$12 for every sold item, and the rest is paid out to you.
11. BookScouter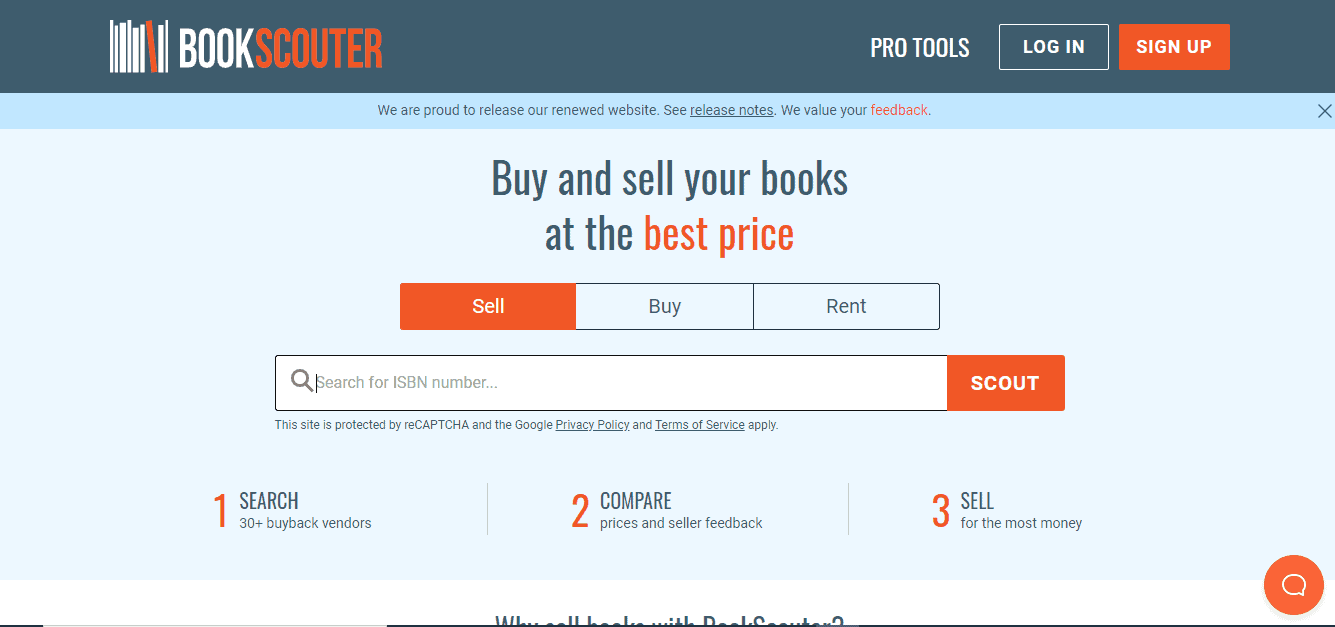 Books are some of the most profitable things to sell online. And when it comes to book selling sites, BookScouter always stands out.
BookScouter is both a site and an app that helps you sell old but in good condition books online. You just submit the ISBN of the books you wish to sell, and BookScouter will find vendors who are willing to buy those books so you can get the best price.
Once you've settled on the vendor, you will be provided with a shipping label so you can send the books for sale. You will then receive your payment via PayPal in one to three days.
12. VarageSale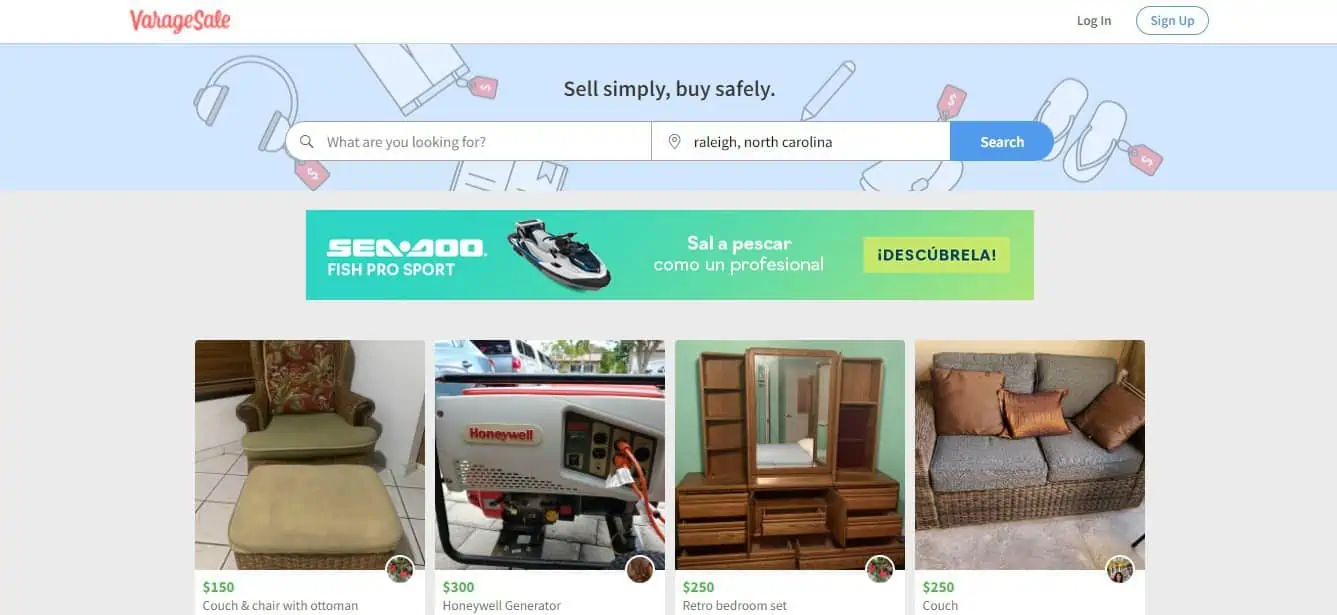 Garage sales are some of the most effective methods to sell your stuff for quick cash. But now that we have technology at our fingertips, garage sales now also have their online version. And one of the most popular sites to list your items for sale without any fees is VarageSale, the shortened word for "virtual garage sale."
VarageSale is an excellent platform for selling stuff locally. All members go through a verification process to weed out scammers and bogus buyers. When you're ready to sell, all you have to do is post photos of the products you are selling and provide a description.
You can post your listing within your own communities or nearby communities to attract buyers. Those who are willing to buy your items for sale may then contact you, and both parties can agree on the shipping, meet up or pick up details.
13. Ruby Lane
If you have vintage items and antiques for sale, then you should consider putting them up on Ruby Lane, a website and app that allows you to sell such stuff locally.
On Ruby Lane, you can sell collectibles, art, rugs and furniture, dolls, silver, fashion items, and jewelry. Selling on Ruby Lane can be likened to selling on Etsy. You'll basically have your own store, and you'll be responsible for listing your own products.
Note that to sell on Ruby Lane, you have to pay a maintenance fee of $54 per month if you list 50 products or below in your store. Additionally, you'll be charged 6.7% of the total purchase order.
14. Swop.it
Swop.it is an online marketplace where users can buy and sell items. It operates more like a barter system where you can get matches based on your interests and location. You can still think of it as local selling, but instead of getting cash, you get an item you like in return.
The Swop.it app is available for both Android and iOS users. To start using this app, you just need to list the items you want to dispose of. Assign the item's value in coins (that is, one coin is equivalent to one cent). Wait for an offer to swap from other users.
Swop.it comes with its own chat and video call feature so that you can show the product to the other person before confirming the trade. This makes it convenient for everyone and ensures that both parties would end up happy with the exchange.
15. Swappa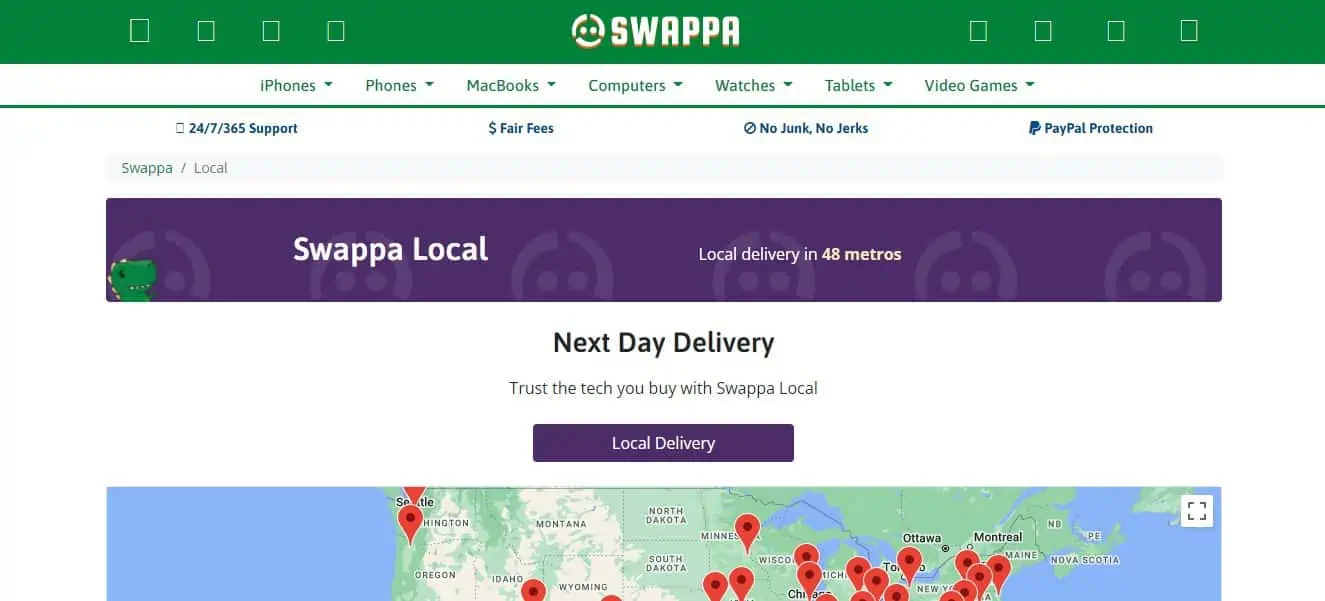 Wondering where to sell your cell phones for a profitable price? Then consider using Swappa.
Swappa is an online selling platform that specializes in devices and gadgets like iPhones, Android phones, MacBooks and computers, tablets, smartwatches, and video games. Find the products you want to sell under these categories, create listings, and get paid via PayPal as soon as the product is sold. You will then ship the product directly to the buyer.
There are no fees to sell on Swappa. But if you want to bump up your listing, you need to pay $5 for each. Listings also only last for a couple of days, so you need to extend it if the product is not sold until then.
If you wish to sell locally and forego the shipping fees, you can use Swappa local instead. This feature helps you attract local buyers so you can just deliver the product in person to the buyer.
16. ThredUp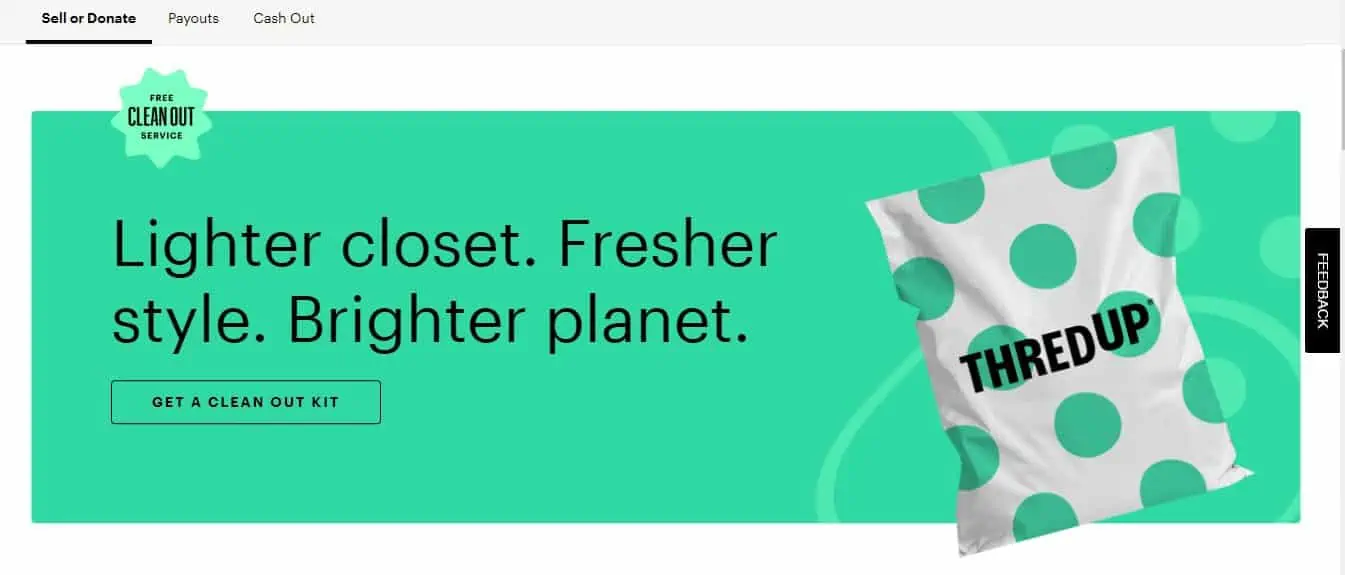 When it comes to apparel, thredUP is one of the best websites to sell stuff locally. It is an online consignment store that lets you sell your items, from clothing, shoes, accessories, etc.
People can find a treasure chest of finds here, from clothes that are new with tags, designer clothes, to clothes for kids, pregnant and plus-size people.
You can sell your old, high-quality, good condition clothes through thredUP and make quick cash. thredUP has listed all the brands and types of clothing that it accepts, so it's best to go over this list to make sure you get paid for the items.
thredUP estimates the resale value of your products based on the brand, condition, style, and size. thredUP keeps a percentage of the final selling price (3% to 80%), and you will keep the rest. You may opt to cash out your earnings or use them as credits when you shop on thredUP.
17. Poshmark

Poshmark is a community composed of millions of sellers, and it's also one of the best websites for selling stuff locally. The platform has an amazing curated collection of home decor, beauty products, and fashion items for everyone, and from various brands. It also has a built-in community of millions of buyers.
It's no wonder why Poshmark is such a popular platform for people who are looking to buy and sell. It is incredibly easy to use to sell: simply create an account, take photos of the stuff you want to sell, create and share the listing, and then get paid.
In addition, Poshmark provides you with a prepaid shipping label, and you'll receive your earnings once the products are delivered to your buyers.
While Poshmark proves to be an effective platform when selling your stuff, it's best to keep in mind that you pay fees to use it. It takes 15% off from sales that are more than $15 and $2.95 if below this amount.
18. Mercari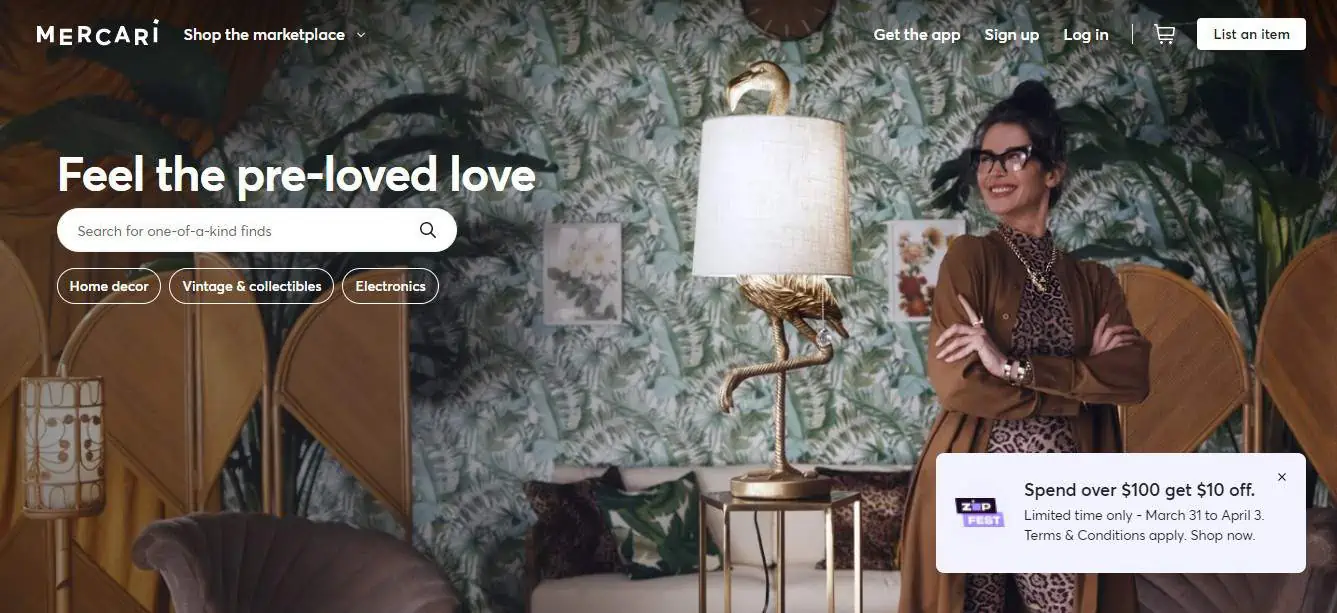 Mercari is another widely-known app in the buying and selling community. Since it launched in 2013, it has managed to maintain its reputation as one of the best websites to sell stuff locally.
You can sell a lot of things on Mercari, including but not limited to home decor, vintage and collectibles, and electronics.
Using Mercari is pretty easy and straightforward as well, and it's almost similar to other online marketplaces. First, find items you want to put up on sale. Take lots of good photos of them and upload them to Mercari. Next, create a listing to describe the product.
You'll receive a notification if a buyer is interested in your product. You ship the product using a prepaid shipping label or bring them to a UPS store to ship. Keep in mind that the shipping fee is already factored into the product's price. You'll receive your payment, minus the 10% Mercari fee, within 48 hours.
19. DePop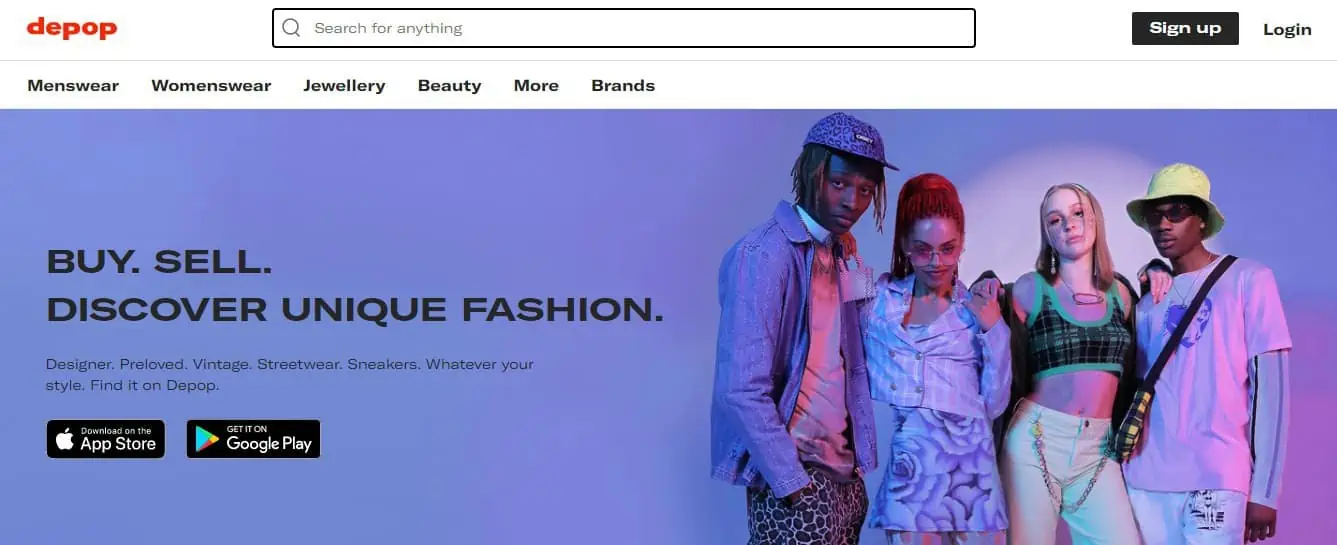 DePop originally started as a social platform, but when the selling feature was later integrated, it became one of the best websites to sell stuff locally. This platform gives an Instagram-like vibe in that users can see what their friends are buying and selling, so it appeals more to the younger generation.
Nowadays, it has become one of the best websites to sell stuff locally, especially in the fashion space. This website allows sellers to sell items in an easy way. Just sign up for a free account, list your items for sale, set a price, wait for buyers, and get paid.
Signing up is free but you'll only be charged 10% of the selling price only when you make a sale. Plus, you get community support from other sellers to help you maximize your income potential while selling on DePop.
20. Vinted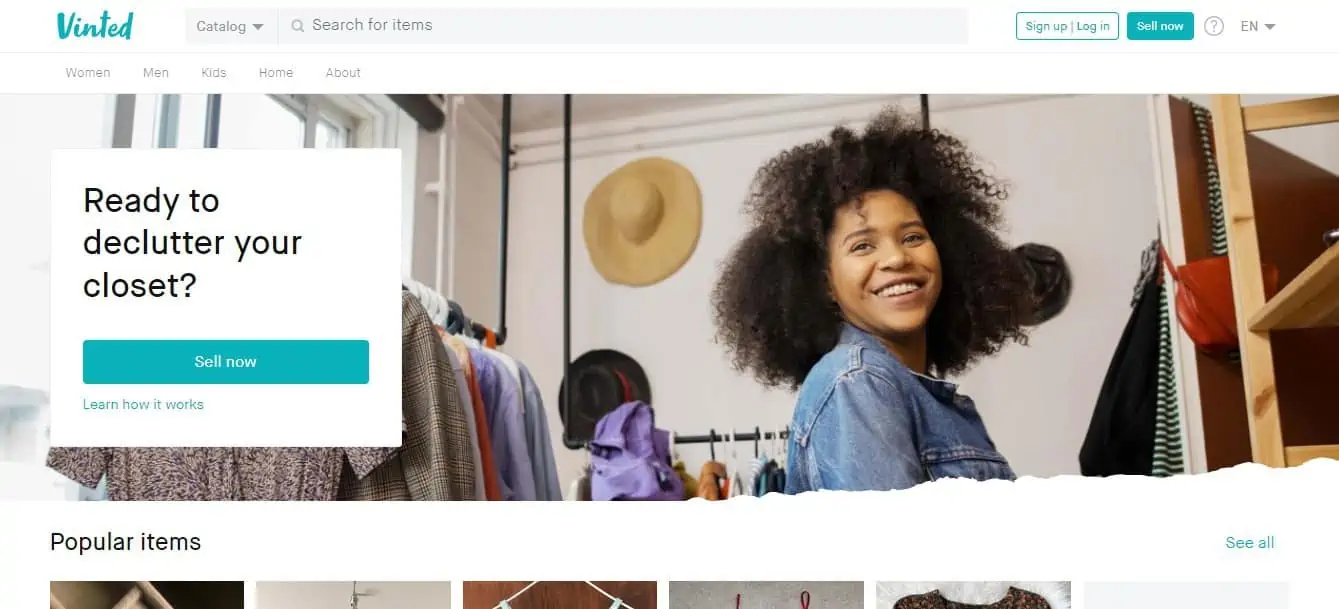 Vinted is one of the best websites to sell stuff locally. Vinted's mobile app allows you to sell stuff quickly and easily. All you have to do is download the app, take photos of the products you wish to sell, list them up with details and descriptions and wait for buyers to order.
When an order comes through, you pack the product and ship them out. The cost of the shipping is indicated when the buyer checks out, but sometimes the seller shoulders the shipping fee, depending on the shipping option available.
Vinted is one of the best websites to sell things online locally because you can list items for free, unlike other websites and apps that charge commissions and fees. However, if you wish to expose your products to a broader audience and increase your potential of making a sale, you can pay for a Closet Spotlight or Item Bump.
21. Gazelle
Gazelle is a fantastic marketplace to buy and sell used cell phones and electronics online for free. People looking to dispose of their consumer electronics can sell them to Gazelle. In turn, Gazelle will inspect and certify the products, and then sell them off to buyers.
Gazelle lists the brands and types of electronics that they buy and sell. Before selling, make sure to check this list on the homepage and see if your device is listed there. If it is, then you need to answer a few questions about the product's condition. Gazelle will then make an offer, and if you like it, you will ship the product to them for free.
You will get paid once Gazelle receives your product.
Get $5 free on your first trade-in with Gazelle here.
22. BuyBackBoss
If you're looking to sell your old cell phones, you should also check out BuyBackBoss. This is a trade-in platform where people can buy and sell used gadgets and devices.
Selling to BuyBackBoss is incredibly easy. First, answer a few questions about your device. BuyBack Boss will then give you a quote. If you want to proceed, just print out the shipping label upon checkout so you can send them the device. BuyBack Boss will inspect your device, and if everything checks out, you'll receive payment via PayPal or check.
BuyBack Boss currently buys Samsung, Google Pixels, and iPhones. Apple Watches, iPods, and iPads are accepted too. You could also sell multiple devices in one go (bulk sales), such as when the entire family decides to upgrade their phones because you'll get an even better deal.
23. Decluttr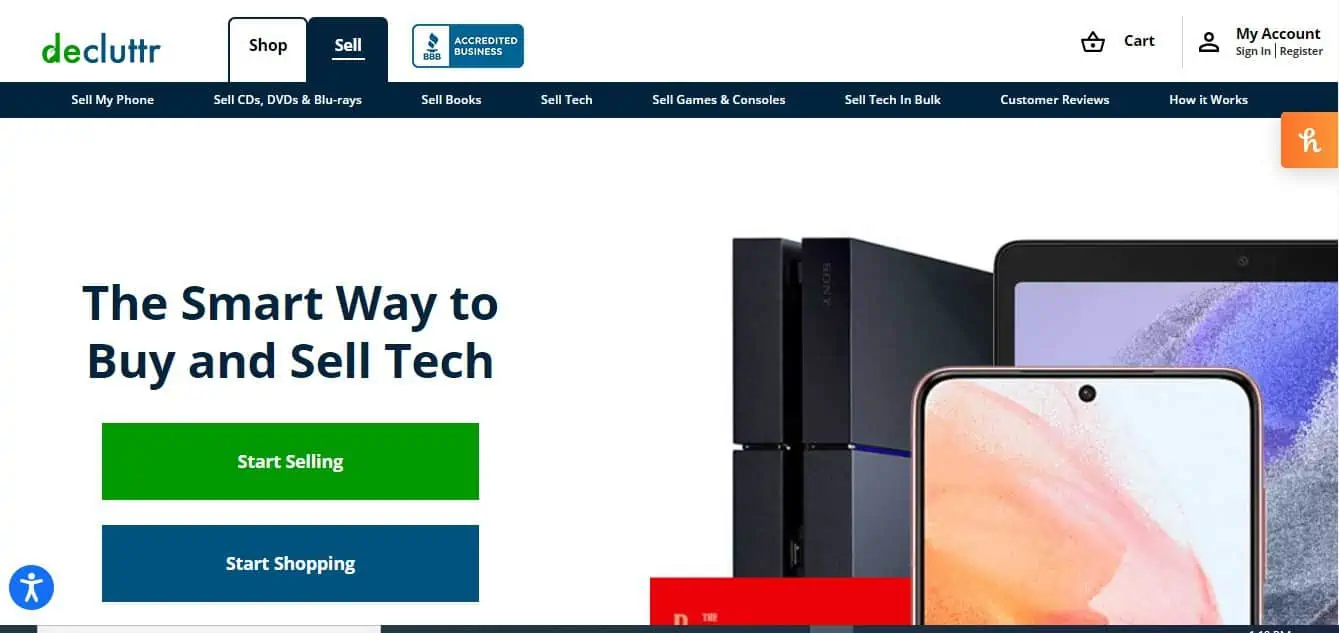 Have too much clutter at home? It's time to declutter and make money from them when you sell on Decluttr. Decluttr is one of the best websites to sell stuff locally because it is a really user-friendly and intuitive app. It is one of the most popular selling websites and apps, used by millions of buyers and sellers.
You can sell your old tech to Decluttr, may it be CDs, DVDs and Blu-rays; smartphones, game consoles, tablets, Kindle, wearables, and many others.
If you want to sell your items, you just need to key in their barcodes or use the Decluttr app. Put them in a box, print the free shipping label, and ship it. Decluttr's tech team will check the gadgets, and if everything is good, then you'll get paid through direct deposit or PayPal. You can even donate the money to charity.
24. GearTrade
There are not a lot of websites that sell stuff locally when it comes to outdoor gear, but fortunately, GearTrade is here. GearTrade is an online marketplace where people come to buy and sell items for outdoor activities and sports. You can find almost all sorts of gears here, from boots to gloves, to bikes and skis.
GearTrade makes it extremely easy to sell your stuff. You can list the items online and ship them to the buyers directly when you make a sale. Or, you could let GearTrade sell stuff locally for you. GearTrade takes 13% off the selling price as commission and the rest goes to you.
Websites to Sell Stuff Locally Frequently Asked Questions
What is the easiest website to sell items?
There are numerous websites to sell items online, and each of them has its own pros and cons. If you're looking to sell stuff in general, you can look into NextDoor, 5Miles, VarageSale, and OfferUp as they are really easy to use and navigate. It's also good to use websites with a solid verification process to ensure that all buyers and sellers are who they say they are.
How do I sell unwanted items locally?
Some people still do the traditional garage sale to sell stuff locally, but technology has made it easier for us to sell stuff online. You can check out websites that sell stuff locally, such as Facebook Marketplace, NextDoor, 5Miles, and OfferUp. If you are selling particular items like outdoor gear, books, cell phones, and electronics, there are special selling sites for them too.
Conclusion
Selling online has never been this easy, thanks to websites to sell stuff locally. Most of these websites allow you to sell online for free, so you can really make the most of your potential income from selling online.
So if you want to make some extra cash, consider listing them up on one or more of the websites to sell stuff locally that I have mentioned above. You can even turn this into a business where you can buy and sell items for a profit.