Are you looking for creative ways to make money from home? If you have the knack for arts and crafts, you could make money in your spare time selling crafts online. Learn more about the best crafts to make and sell for profit!
When I started doing my research on the best stay-at-home mom jobs, one of the side hustle ideas that caught my attention was selling crafts online. I've "known", albeit online, many women making hundreds in extra income to thousands per month selling crafts from home, and I think it's AMAZING.
I really believe in the saying that if you do what you love, you'll never work a day in your life. Many of these women are not only making money but are also loving what they do.
It's why I wrote about all sorts of side hustle ideas here on this blog to offer you options, and hopefully help you find your passion and make money from it.
*Affiliate links. Please see my Disclosure for more info.
If you are good with words, you could make money as a freelance writer, blogger, or proofreader. If you are good with numbers, did you know that you could also become a bookkeeper and make money from home even without a degree or experience? There are all sorts of extra income ideas here for everyone.
But, if you've always been creative, artistic and a natural DIYer, you might want to try your hand at making crafts and make money creating things you love doing anyway.  Whether you like to sew your own pillowcases, create your own candles, or come up with artistic souvenir ideas, there's always something that you can make and sell for profit. You'll never know, you could become the next Sarah Titus making a whopping $3,760,000 in a year!
I know, that may sound like a dream, but I think making $500 in extra income per month selling crafts from home is very realistic for beginners. More so today with the many amazing platforms such as Etsy, Shopify or Facebook Marketplace that allow you to reach more customers even without leaving home.
I want you to note, though, that not all crafts are profitable. So, if you are still brainstorming for things to make and sell from home, don't worry, I've done the research for you to give you more ideas on the most profitable crafts to make and sell for profit!
---
How to Make Money with Crafts
Before we dive into the best crafts that make money, here are a couple of things that I think is important to consider before you even get started:
Consider the cost
Although I've only included in this list of crafts that are not only easy to sell but are also cost-effective, it is still important to do your own research on the actual cost. You'll give your homemade products your personal touch and that may affect their cost and price. Find out where to get your supplies for cheap, how much similar products sell online, the logistics, and how to set your prices.
How to sell your products
Thankfully, there are so many online platforms that you could use to sell your products. You are no longer only limited to selling your products at trade fairs or bazaars.
Create a blog
Blogging is an awesome way to showcase your crafts and I really recommend creating a blog for your business because it can tremendously help you establish your presence online.
Most people who make and sell crafts for money also run a blog that serves as their online portfolio or catalog for their customers to browse through. Your blog is also a great place for you to tell stories behind your crafts to inspire people.
The good thing is, setting up a blog is super easy and cheap (the best price here!). If you need help, I have an easy-to-follow tutorial to guide you on how to set up a blog with Hostgator.
Hostgator is one of the most popular hosting companies out there and it's also one of the easiest ways to get your blog up and running today. They offer a FREE domain name for one year ($15 value), 24/7 customer service, 1-click WordPress install, and a 45-day moneyback guarantee.
---
The Best Crafts to Make and Sell From Home For a Profit
Ready to learn what are the best crafts to make and sell in 2020? Let's dive in!
1.Pillowcases
Seasonal pillowcases are always in demand. People love redecorating their homes season per season. So, if you have cool pillowcase design ideas for Thanksgiving, Christmas, Summer, or Valentine, this could be one of the best crafts to make and earn money from.
2. Knitted Scarves
Scarves are stylish and functional, making these crafts a lovely gift idea. There are plenty of patterns, designs, and looks you could create with knitting, allowing you to market to a wide variety of customers.
3. Pet Costumes
Love pets? If you do, I bet you'd love to see them in cute costumes, too. I love dressing up my little chihuahua most especially during Halloween, so I know that there's money in this little crafting niche. If you can make unique, cute, or funny designs, you'll make money no matter what the season is!
4. Bath Bombs
Bath bombs are one of the best crafts that make money. Fizzy, great-smelling, and soothing to the skin, bath bombs add luxury to baths. I've included this on the list because bath bombs make lovely gifts for women and they are surprisingly easy to make!
5. Scented Candles
This may be a classic crafting product idea, but many people still invest in candles to relax, make their homes smell great, give as gifts or use as home decors. The best thing is that making candles is easy!
6. Succulent Planters
Who loves these cute little things? I do! Many people love succulents because they are low-maintenance and beautiful home plants. You could make money from this trend by creating or designing planters and selling them online via sites like Etsy.
7. Pom Pom Rugs
Pompom rugs are easy to make and versatile. It can be used as a rug, wall décor, or placemat.
8. Pouches
These are handy storage solutions for almost everything: makeup, school supplies, hair ties, etc. This could easily be one of the best crafts to make and sell for profit!
9. Cake Toppers
From birthdays to weddings and anniversaries, there is a demand for cake toppers all year round as cake plays a huge part in any celebration. The sky is the limit when it comes to designs, too! You can make edible sugar flowers for weddings or cartoon characters for kids' birthdays.
10. Jewelry/ Accessories
From customized bracelets, DIY necklaces to earrings, it's easy to make jewelry and accessories from the comforts of your own home.
Give the old and humble mason jar a facelift and make money from it! They make elegant wedding centerpieces and versatile containers for almost anything. These chalk-painted mason jars, for example, are easy to make but sell for $15 each on Amazon!
12. Sugar scrub
Sugar scrub is so cheap to make! Make sure to give a little effort on the packaging and you'll have an easy craft to make money!
Also read: $1 or Less Homemade Vanilla Sugar Scrub Recipe
13. Farm House Wood Crate
Farmhouse decor lovers would love to have one of these! Whether to organize stuff in the kitchen or to use as a toy holder, wooden crates bring a bit of nostalgia to any room.
14. Handmade Soap
Handmade soap is another easy craft to make and sell and it never gets old! They make great DIY gifts and they're easy and quick to make, too!
Check out these great soap recipes:
Handmade Oatmeal Cinnamon Soap
DIY Pumpkin Spice Goat Milk Soap
15. Wreaths
Who doesn't love wreaths? They make elegant decorations for Thanksgiving, Christmas, and Easter! Many people love these cute decors so making all-year-round wreaths is also a fantastic idea.
Check out these ideas:
16. T-Shirts
Have funny or cute T-shirt designs but you don't have the money to turn your ideas into products? Maybe you are good at graphic design but you don't have the resources or knowledge of printing.
Well, today, you can start selling customized t-shirts and other products with the help of print-on-demand companies such as Teespring. They can create your products at NO cost to you!
Teespring will handle everything from printing to shipping to customer service. All you need is to create your designs and market your products.
17. Flower crowns
Flower crowns are popular accessories for Hawaiian parties, weddings, and festivals. Just attach some fabric flowers onto a headband, and voila, you have a product to sell to make an easy profit from!
17. Decorated mugs
There are plenty of ways to decorate plain mugs (painting is one of them), and they can sell quickly as event and corporate giveaways, or gifts.
Check out these ideas:
18. Cake Stand
You can also add cake stands to your inventory. You'd be surprised at how easy these things are to make!
Here are some ideas you'll love:
Interchangeable + Removable Cake Stand
19. Printables
Want to make money by creating digital crafts? Then make and sell printables online! You would never believe how lucrative printables are! As I said, Sara Titus made millions in one year selling all sorts of printables–from meal and fitness planners to budget binders, wall arts, and more!
If you have graphic design skills, you might want to try your luck in this niche. Help save other people's sanity by selling printable planners, templates, or binders and at the same time make money from it.
20. Children's headbands
Whether you're going for simple, stylish or quirky headbands, these accessories never fail to be hot among young girls.
21. Knitted wall hangings
Knitted products never get old and wall hangings are just among those knitted projects you can easily earn money from.
Check out these ideas:
Knitted Wall Hanging (Christmas Pattern)
22. Homemade dog biscuit
This does not exactly belong to the arts and crafts category, but homemade dog biscuits are treats you can whip up at home. Sell them to your friends and neighbors, and then tap your local pet store as well.
Check out these ideas:
Easy 2-ingredient Homemade Dog Biscuit Recipe
23. Pins and magnets
Enamel pins and ref magnets are such a hit that various people, from teenagers to corporate marketers buy them.
24. Sea Glass Crafts
A friend of mine picks up sea glass as a hobby and makes these beautiful crafts to sell!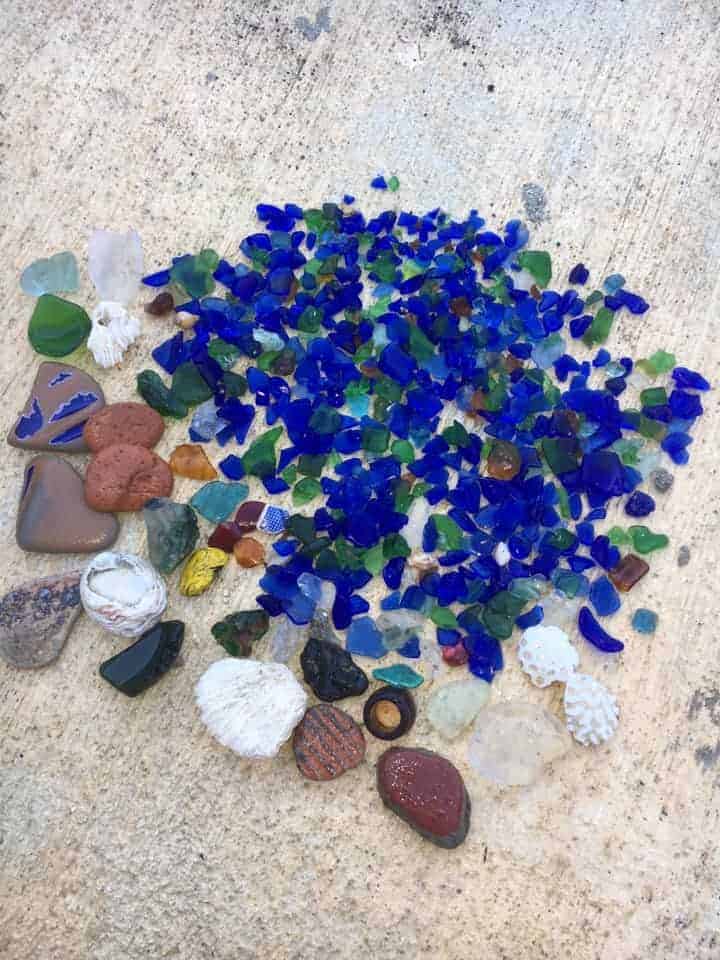 If you live near the ocean, you might find sea glass. These are broken bottles or jars rolled and tumbled in the ocean for years until their sharp edges are rounded off . You can make a lot of crafts with sea glass–from wall art and picture frames dotted with sea glass, to fashion accessories and home decors.
For inspiration, check out "Bahandi sa Dagat."
25. Explosion Gift Boxes
Another friend of mine at Greta's Craft House made explosion gift boxes for Valentine's Day and it became an instant hit! The price depends on how intricate the design is inside the box, its size and materials. However, Greta said a simple explosion box sells for at least $20.
For inspiration or inquiries, check out her stuff at Greta's Craft House.
26. Jar Candles
Jar candles are some of the easy things to make and sell for money. They make excellent as decorative pieces and gifts.
27. Ring cones
A lot of people forget where they place their rings when taking a bath or washing the dishes. Ring cones are the perfect places to keep them safe and accessible, making them a great holiday gift to other women.
Photo Credit: DIY in PDX
See the full tutorial here: Concrete Ring Cones
28. Picture frames
Handcrafted picture frames are unique and beautiful holders of life's most important memories. These crafts require the labor of love and creativity, and these crafts should stand out among commercially-produced ones.
29. Cakes
Cake is an easy food to sell to make money. If you have a delicious cake recipe and are good at cake decorating, this can be a great business idea for you! Custom cakes sell for at least $40, and they're in demand, too, for birthdays, weddings, and other celebrations.
30. Tote Bags
Tote bags are great products to sell during trade fairs and bazaars and they also make excellent giveaways to corporate and organizational events. Get a couple of blank canvass bags and start imprinting them with your art now.
31. Jewelry bowls
Jewelry bowls are small, creative bowls where you can place your jewelry during the night. These crafts are often made with polymer clay and some paint, which by the way, are easy to source.
32. Fruit baskets
Fruit baskets are healthy, pretty, and delicious gifts that many people would love to receive. You can start making a business from home with this gift idea as they're quite easy to make.
33. Rope Placemats
I don't know about you but I love these things! Rope placemats give your dinner table or kitchen a rustic feel, and they never run out of style. They are super simple and cheap to make and elegant, too.
Check out this simple tutorial on how to make rope placemats.
---
Are you ready to start making crafts for money?
Making crafts for money can be very rewarding and lucrative when you have the right ideas and a good marketing plan.
Did you find something here to make and sell for profit? Don't forget to save this post to Pinterest so you can come back to it time and time again.
Good luck and happy crafting!
---
Need more money-making ideas?
My most favorite side hustle is blogging because it is flexible and can be done anywhere. And it can make you a lot of money if you work hard for it. If you want to learn how to start a blog, check out my detailed guide on how to start a blog for money.
Not interested in blogging? I have a LOT of other money-making ideas on this blog. Click this button below to discover more legit jobs you can do from home!
---