Did you know that there are lots of creative hobbies that make money?
Over four years ago, it never came to my mind that I could turn one of my hobbies into a thriving business. I am so thankful that now I do what I love doing the most and I also get paid for it.
More importantly, I have full control of my time and I can work on my own time and have time for my family.
It sure does take a lot of hard work to monetize a passion, but it's the kind of work that you would look forward to doing every day!
But, before quitting your job and following what your heart desires, you might want to find out first what hobbies can make you money today.
Because the truth is, while there are so many creative hobbies that make money, some hobbies probably don't. However, there is a good chance that you have lucrative hobbies under your belt that you weren't even aware of.
So, I put together this list of lucrative hobbies. Find out what you love doing that you can actually earn an income from!
This is not your usual post because, in this post, I am also including details on how to monetize these hobbies. So, be sure to bookmark this page or save it to Pinterest so you can easily find your way back to this post when you need it!
10 Best Money-Making Hobbies
This post contains affiliate links. I may earn a small commission for purchases made through these links at NO extra cost to you.
1. Blogging
I put blogging at the top of this list of the best money-making hobbies because I believe it's something everyone can do.
It's also one of the very few businesses you can start with very little capital but has a huge ROI.
I started this blog two years four years ago with zero experience in growing a blog. But, I enjoy writing anyway and helping other people through writing. Little did I know that just a few months later I would start making extra money from this small blog!
Blogging is also so cheap to start at less than $3 per month. You also don't have to be a great writer to make money from blogging, and you don't have to be tech-savvy to be able to run a blog.
My most favorite thing about blogging is that it allows me to earn semi-passive income. For example, I have posts written years ago that are still making me some money up to this day.
I must admit, though, blogging is not a get-rich-quick scheme. You don't start a blog today, write a few posts, and expect money to start coming in right away. It's a long game but it can be very financially rewarding.
You can make money blogging from display advertising, selling your own products, affiliate marketing, brand sponsorship, and more. Your ad revenue will also depend on your blog traffic.
Earning Potential and How to Start Blogging
How much you can earn: How much professional bloggers make vary wildly. You can earn from $1000/ month with a small blog to a million per year with an established blog. Your earnings as a blogger could depend on our niche and monetization strategies.
How to get started: Check out my comprehensive guide on how to start a blog and make money. This post will walk you through selecting a niche, the technical side of blogging, how to write your posts, how to make money from your blog as a new blogger, and how to grow your traffic.
Easiest Ways to Make Money Online
---
2. Flipping
Do you love finding treasures in garage sales, thrift stores, and flea markets during your free time? You can turn this favorite hobby of yours into an extra income or even a full-time income source by flipping those items.
Flipping simply means buying and selling items or assets for a profit. But the asset is often "spruced up" so that it becomes more valuable, which would justify the mark-up from its original price.
You can flip a lot of things such as antiques, collectibles, furniture, and books. If you play your cards right, you can charge 3x, 4x, 5x, or even 10x the purchase price, and make a handsome profit from it.
How much you can earn: Melissa and Robert Stephenson from The Flipper University earned over $133,000 in one year from flipping alone.
According to them, you can earn a nice profit from this hobby, from a few hundred per month to thousands, even as a beginner. The trick is to learn what are the best things to flip for a profit, where to find them, and the best places to sell them.
How to get started: If you want to learn more about flipping items for a profit, check out Melissa and Robert's free webinar to start your flipping side hustle today.
Turn your passion for treasure hunting at thrift stores & flea markets into an income-generating business in as little as 14 days!
Want to learn how to flip money instead? Here are legit ways to flip money!
---
3. YouTube
Filming is a great way to document your life and interest. But, if you take filming to the next level, you can make extra money or even a full-time income from it through your own YouTube channel.
Just like blogging, you can make money from your own YouTube channel with display advertising, affiliate marketing, sponsorships and selling your own products.
To start monetizing your channel with ads, you need to have at least 1000 subscribers and 4,000 hours of Watch Time for the last 12 months. Watch Time refers to the number of time people spent watching your videos.
Once you meet the requirements, YouTube will insert advertisements and you get paid for ads seen on your channel. So, the more people watch you without skipping those commercials, the more money you make on YouTube.
Earning Potential and How to Start a YouTube Channel
How much you can earn: How much do YouTubers make? According to Influencer Marketing Hub, YouTubers earn an average of $3-$5 per 1,000 views after YouTube takes its cut. There are many things that affect your earnings such as your niche, length of the video, ad engagement, number of subscribers, how many ads there are on your videos, and more. The top 10 highest paid Youtubers make at least $10 million per year!
How to get started: You need to create a YouTube channel (it's free) and upload videos on your channel.
Check out the following resources to learn more about making money online by making videos on YouTube:
Earn Money with Ads on YouTube (FREE)
2020 YouTube Marketing and SEO to Get 1,000,000+ views
---
4. Social Media Management
If you are wondering how to turn your Facebook habits into a side hustle, then you might be interested in social media management.
Almost every business we know is now on social media, but that doesn't mean business owners have the time to manage their accounts. So, if you spend endless hours on Facebook, Twitter, and Instagram, why not earn from it?
Related: 13 Real Ways to Make Money on Facebook
As a social media manager, you help your clients post content on their social media accounts, create graphics for promotions, or create social media campaigns to reach more people and increase sales. You may also need to manage a Facebook group and make sure that all the concerns of the members of that group are answered or attended to.
According to Asset Digital, small businesses spend around $89 billion on social media marketing. Meanwhile, half of the small business owners surveyed said they post daily on their accounts. This means that tons of businesses are inclined to hire a social media manager to free up their time.
Earning Potential and How to Start Working as a Social Media Manager
How much you could earn: The average social media salary is $50,473/yr. However, take note that this salary is for a full-time position.
If you do it part-time for extra income, you could get paid $10 to $40 per hour, depending on your skills and the scope of your job. You could charge more if you help businesses with social media marketing.
How to get started:
Check out these courses:
---
Related:
---
5. Shopping
Do you love shopping? And did you know that there are many ways to make money from this particular hobby?
For example, if you enjoy grocery shopping, you can make money shopping for other people through Instacart. As an Instacart shopper, you go to the grocery store like normal, except you're getting paid to shop for others.
Full-service Instacart shoppers do both the shopping and delivery of grocery orders, which means this side hustle idea requires a car. You can apply to Instacart here.
You can also make money from mystery shopping.
Mystery shopping is a business tool used by companies to evaluate their products and services. Often, companies tap market research firms to carry out this process, and market research firms, in turn, deploy mystery shoppers to the store or establishment to check whether it complies with the company's standards.
Earning Potential and How to Start Reselling on Amazon
How much you can earn: Instacart pays shoppers $20+ per hour, including tips which are usually 5-20%+ of the order. You get to keep 100% of the tips.
Meanwhile, as a mystery shopper, you can make $10-$25 per assignment.
How to get started: Check out and apply to Instacart here to make money grocery shopping for other people.
To make money by mystery shopping, check out this list of companies that offer mystery shopping jobs.
---
6. Photography
If you love taking beautiful pictures and have a pretty good understanding of the camera and its features and mechanisms as well as composition, then you should consider monetizing this hobby.
You can turn your photography hobby into money by covering important events, such as birthdays, weddings, and reunions.
Alternatively, you can take photos of everyday objects, sceneries, and events, and then sell them online on stock photography sites. You'll earn a royalty for every high-quality image you sell.
How much you can make: According to PayScale, freelance photographers make an average of $25 per hour. However, you can earn passive income by selling your photos on stock photo sites or by creating your own stock photo membership site.
How to get started: Create your own photography website to sell your photos and services. That way, you can set your own prices.
You can start a photography website for only less than $3 per month with Hostgator here.
You can also check out stock photography sites and upload your photos to make passive income.
---
7. Podcasting
If you love to talk, but aren't that confident to be in front of the camera, then podcasting is for you.
Think of podcasting as having your own talk show. You can talk about anything you like and you can also invite guests to share their insights.
But what makes podcasting really tick is the fact that a lot of people consume information on-the-go and podcasts allow them to just tune in to your channel and listen while they drive, jog, or work out.
When it comes to making money, podcasting is a fantastic avenue to promote your affiliate business and earn sponsorships.
Earning Potential and How to Start Podcasting
How much can you make: According to Buzzsprout, with 1000 downloads per podcast episode, you can make $125 per month from Patreon and Amazon Associates. However, once you hit 5,000 downloads per episode, you can make much more with podcast sponsorship, ads, and affiliate marketing.
You can increase your earnings by promoting your own online course and offering consulting services.
How to get started: To help you get started, check out these top affordable courses on podcasting:
---
8. Crafting
Let your creative side make money! Crafting is one of the most popular hobbies that span across generations, especially among women.
There are lots of craft ideas to make money from, including jewelries and accessories, and home decors.
According to Research and Markets, the craft industry was worth over $500 billion in 2017, and it continues to grow.
Even better, there are plenty of places to sell your products online including Facebook Marketplace, eBay, Etsy, and Amazon Handmade.
How much you can earn: Obviously, your earnings depend on the products you sell and your marketing skills.
How to get started: Learn what are the best crafts to make and sell, and how to market your products. You can sell them on your own website, or list them up on marketplaces such as Etsy and Amazon Handmade.
---
9. Party Planning
If you are extremely organized with an eagle eye for detail and have great creativity and a sense of style, then consider party planning.
A lot of people hire party planners for their events, whether these are anniversaries, gender reveals, baby showers, and more.
If you've always loved to help out throw epic parties for friends and family, this industry might be meant for you. Apart from family occasions, you could also break into corporate party-planning, such as handling galas and charity events.
Other events you can organize:
Dinner party
Marriage/ wedding
Graduation party
Dances and balls
Cocktail party
Christmas caroling party
Surprise party
Fundraising party
How much you can earn: According to Indeed, an event planner can make an average of $33,000 per year. But planners could also make more money if they provide the event decorations.
How to get started: The best way to get started is to tap your existing network, and plan parties for them. Then, get reviews and referrals. It is also a great idea to start a website on your services so you'll have an online portfolio for your potential clients to see.
For cheap party decorations, I can highly recommend Alibaba.com. It's the cheapest source of products right now as you are directly contacting manufacturers on Alibaba.
Easiest Ways to Make Money Online
---
10. Writing
Before I started blogging, I worked as a freelance writer and from one source alone, I earned over $70,000 from writing blog posts, product reviews and marketing materials.
For me, freelance writing is one of the best ways for making money online. It's also one of my most favorite money-making hobbies because it's flexible and can be done from anywhere. Plus, with so many writing opportunities online, it's easy to turn your writing hobby into a full-time business.
How much you can earn: You can easily earn $1000 a month from this great hobby even as a beginner, but you can make a full-time income from it if you know how to market your writing services and how to get high-paying clients.
How to get started: Check out this simple 6-step process on how to get started freelance writing. If you want to learn how to increase your freelance writing income to $200,000/year, I recommend checking out Holly Johnson's FREE writing workshop to learn:
Keys to online freelance writing success
Tips to get your foot in the door and increase your income over time
Techniques Holly has used to build her writing income to $200,000 per year!
Related: 18 New Ways For Females to Make Money Online (I Love #7!)
---
11. Affiliate marketing
Some people just have the innate ability to convince others to try and use the products or services they're using. You can level up this skill and make it one of the hobbies that make money from home through affiliate marketing.
Having a blog or website is the first step towards making money through affiliate marketing. You can create content around a subject or topic, and then insert affiliate links within the post. When people click on that link, it leads to a page where they can buy the product you are promoting. Every purchase sends you some commission, at no cost to the customer.
I'll be honest: affiliate marketing is not a walk in the park. It needs some strategies and a platform where you can promote other people's products or services. However, this income opportunity allows you to earn semi-passive income later.
How much can you make: You can realistically earn over $1000/month with a small blog, but a well-established website can make you a lot more. Michelle from Making Sense of Cents make over $50,000 per month from affiliate marketing alone!
How to get started: To start making money from affiliate marketing, you need to have a platform—a website/blog or a YouTube channel. If you don't have a blog or website yet, I highly recommend checking out my step-by-step guide on how to start a blog or website!
When I started blogging, I had no idea how to make money with affiliate marketing. Later, I realized that affiliate marketing is not just sprinkling affiliate links into your post. That is not the best way to go!
It wasn't until I invested in this affiliate marketing online course for beginners that I started finally started seeing results in my affiliate income. My income has been consistently growing since!
---
12. Driving
You might be wondering, who would drive as a hobby? Well, there are actually many people that do that instead of staying at home. If driving is one of your hobbies, you could make money from it by becoming a delivery driver.
You can accept delivery driver jobs in your spare time, pick up the items, and deliver them to your clients. There are many delivery jobs available most especially if you live in a major city and many people do this frequently to earn an extra income.
Earning Potential and How to Get started
How much you can earn: Freelance delivery drivers can make $20 per hour.
How to get started: Check out Postmates, DoorDash and Instacart.
---
13. Stock Market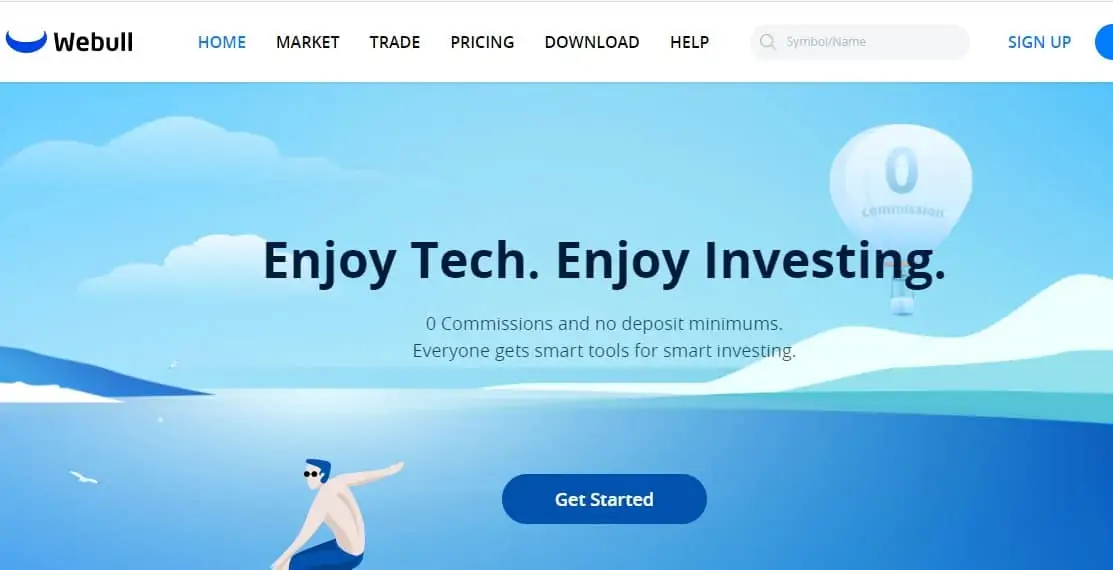 Do you track the stock market for fun? For some people, it's fascinating to see the market rise and fall, but others love to learn about it even more deeply so they know when to put in their investments.
Investing is quite a serious hobby, but it is also one of the best hobbies that make money because it doesn't require hard work. And it can make you money as you sleep!
Note, however, that this involves risking some financial resources. You don't need to be an expert to get started but it's important to have some understanding of the stock market before you start investing. Thankfully, there are many resources you can check out online to learn more about this income idea.
How to get started: I personally use Webull to buy stocks. It's perfect for beginners but it also has advanced tools for experienced investors. You can join Webull here and get a FREE stock worth up to $2300!
---
Other Great Hobbies that Make Money
14. Fishing
Fishing can also be a lucrative hobby! I don't just mean selling your catch to local markets and restaurants to make money from this hobby. If you know fishing tricks that work, you could make a YouTube channel and monetize it. When you already have established a good following, you can start creating your own fishing-related products and sell them on your own online store.
15. Pet Sitting
Do you love pets and love taking care of dogs? Then, make money in your spare time by pet sitting or dog walking for other pet parents. It's easier now, more than ever, to find pet sitting jobs in your area with sites like Rover.
---
Ready to Start Making Money by Doing Things You Love?
Having a fun hobby is great for a ton of different reasons. But hobbies can also be the perfect place to breed a good future with.
After all, you are pursuing your passion and you are doing the very thing that makes you happy. So, why not make money from it as well?