Would you like a source of passive income that's fun, helps people, and requires no experience to get started? Then you should learn how to create printables to sell! If you want to learn how this works, then keep reading! 🙂
One great way to make money online is by selling printables. I've been creating and selling printables in my spare time to make extra money.
It's a creative activity that helps me relax and keep my mind away from stressing. But what I love so much about selling printables is that it is a source of passive income. You only create your products once and can sell them repeatedly, even while you're sleeping!
You can create products right from your computer with super user-friendly software.You can do all this and make money, even without graphic design experience!
Ready to learn more? Read on and I'll teach you how you can start this side hustle!
Just What Exactly is a Printable?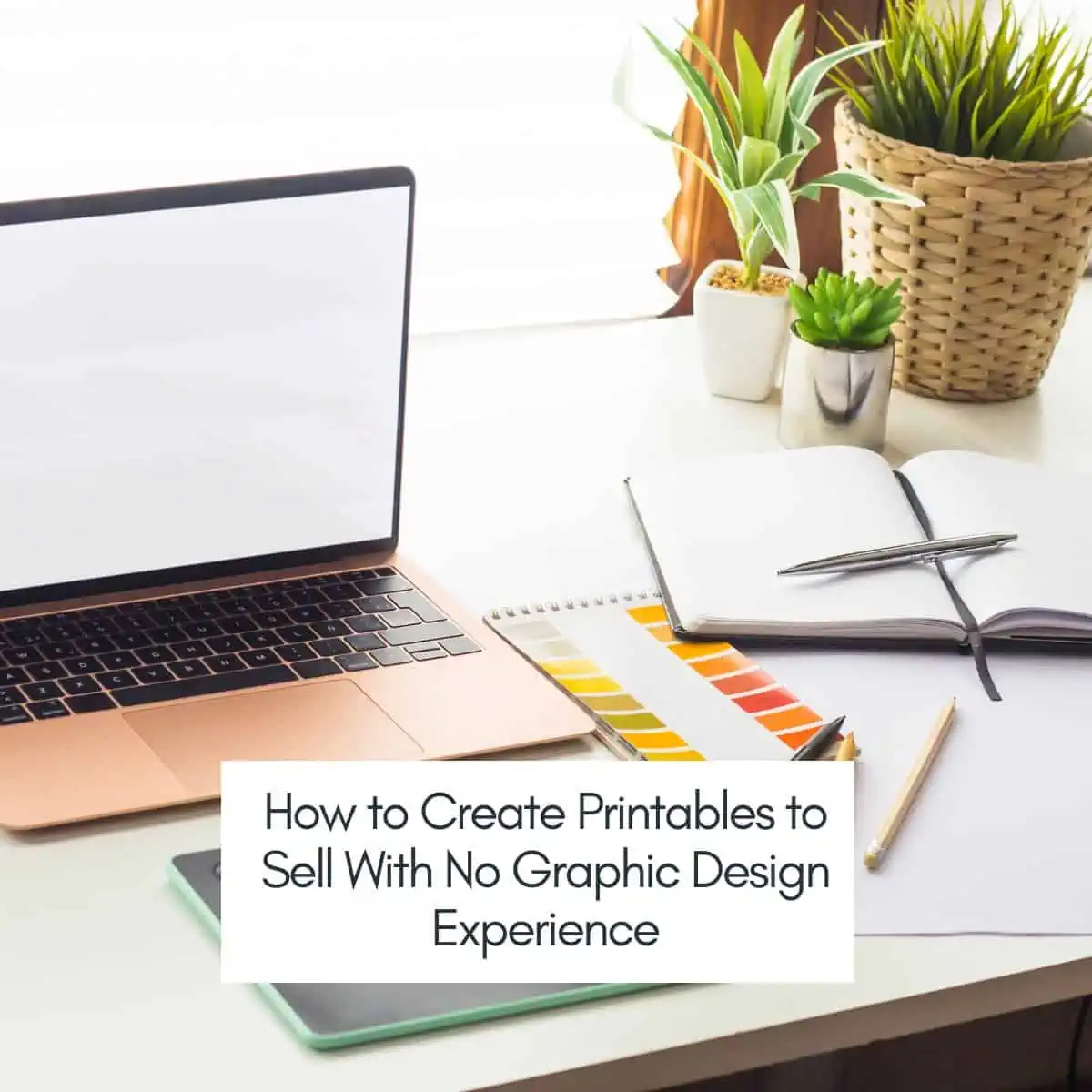 A printable is a digital product that customers can instantly download and print. Printables take many forms. They can be calendars, digital planners, checklists, coloring pages, wall art, art prints, and more.
Every printable has a purpose and must answer or help answer the customer's needs.
For instance, you can create a custom printable for meal planning so that your customers get an idea of what food to prepare for the entire week.
You could come up with coloring sheets for adults to help them relax or relieve stress. There are also printables for kids such as flashcards and coloring pages geared toward a specific academic age.
When you look around Google, you'll find a lot of free printables. There are fun printables for almost everything, from wedding checklists, and budget templates to printable wall art.
As you can see, there are so many possibilities as far as printables are concerned. Even better, anybody can make and sell printables online, and you don't even have to be a professional graphic designer to do this.
In fact, if you were thinking of how to make money blogging, making and selling digital products like printables should be part of your overall strategy.
Why Sell Printables Online?
You're probably wondering why it is one of the most recommended ways to make money online. And you've probably noticed that a lot of bloggers also sell printables to boost their income.
Well, there are a couple of reasons why making and selling these products is such a lucrative money-making activity.
Source of Passive Income
Most of the real work is in creating printables and then marketing them. Once you've put them up on your website or online store, you can sit back, relax, and wait for the money to come in. You can generate recurring income from the same printable as long as people are buying it.
Low Overhead Costs
You don't need to have ridiculous capital to start selling these digital products. At the very least, you'll only need a reliable computer, design software (which can be free), and an internet connection to get started.
You'll also spend a little on selling fees or plugins, depending on where you want to sell your printables. And as these are digital products, you also don't have to stress about keeping a physical inventory or adding the shipping costs to the price tag.
No Graphic Design Background Required
You don't need to be a graphic designer to create printables. A lot of ordinary people (like you and me) are creating printables without any graphic design background. You can use the applications on your computer to create your own printables, or you could pay for professional software, whichever works for you.
Remote
It can be a business you can run from home or anywhere. Creating printables can be done anywhere you have a computer, so you can basically take this business anywhere with you. You can also process orders from anywhere as long as you have an internet connection.
How Much Can You Make Selling Printables?
We cannot answer this with a standard number. Some people make a couple of hundred dollars a month, while others have turned selling printables into a full-fledged business.
It depends on your niche, the demand for printables, and how well you market your printables. For instance, holiday printables and checklists are more popular during the Christmas season.
But if you want printables to sell that really make money the whole year round, you can try selling evergreen printables. Planners, planner pages, meal plans and menus, budget trackers, and productivity printables are good examples of these.
One of the most successful people who has made quite a good fortune from selling printables is Sarah Titus. To make a long story short, Sarah was a homeless single mother who had a lot of debt. She first discovered her love for blogging due to the experiences she had in her life.
Thanks to blogging, Sarah discovered that she could also make money selling printables. Right now, her printables business on Shopify earns her 2 million dollars in revenue each year, right from her home!
Sarah's story is testimony that you can make more money, passive income even, when you sell online. So if you've always wondered whether you should learn how to make printables to sell, it's high time you take a page from Sarah's story and design your very first printable.
Want to dabble in creating and selling printables to sell, but don't know where to start? Gold City Ventures has a free workshop for that!
This workshop will teach you how to start your own printables business from the ground up and then successfully make money when you sell on Etsy. This free workshop will walk you through how to create your first printable design, how to set up your Etsy shop, and how to boost your income 10x. So if you want to get started on the right track, this workshop is great for you!
Creating Printables: Step-by-Step Process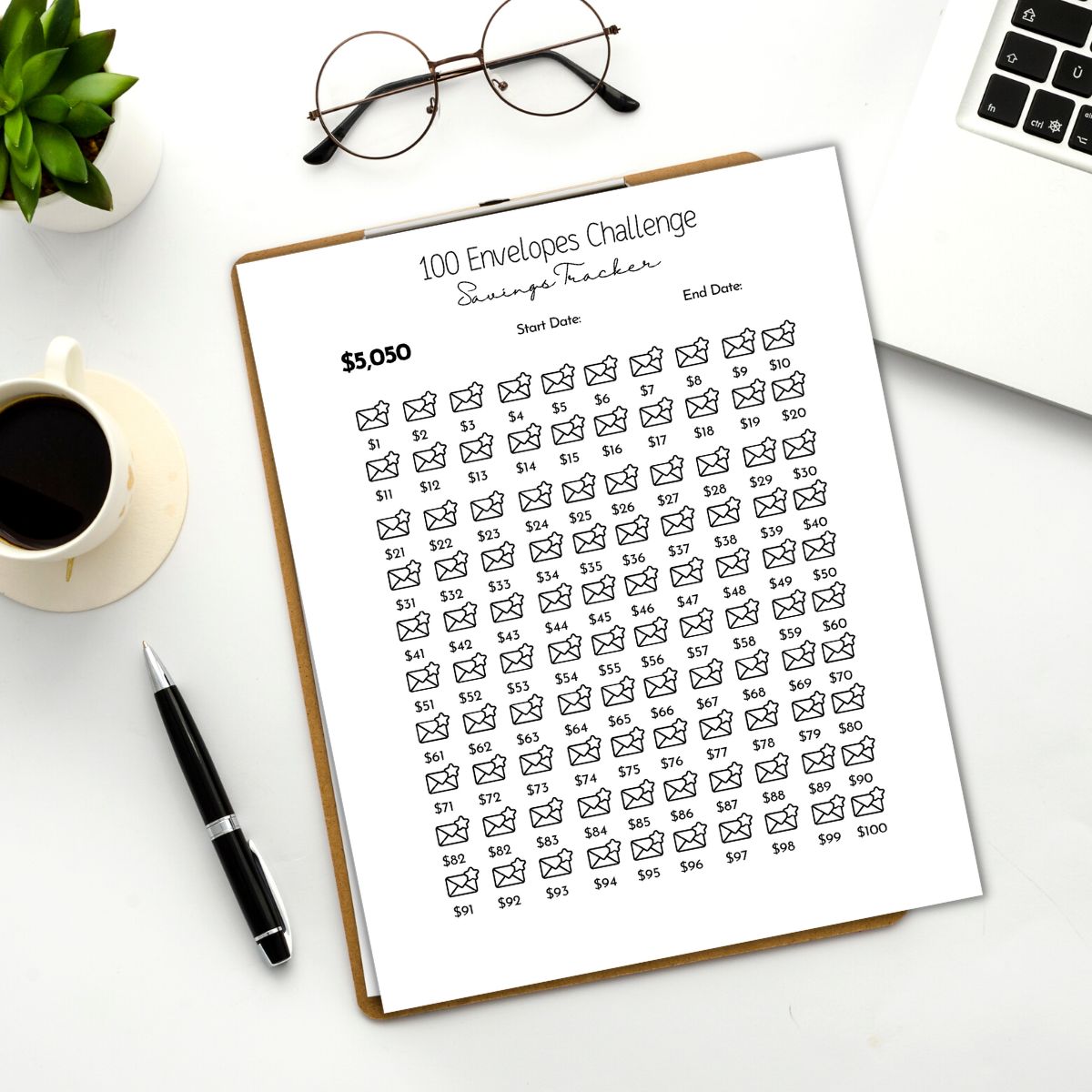 Are you ready to start selling printables? First, you have to learn how to make printables.
Don't worry, it isn't too hard and you have access to plenty of resources so you can finally start to make money from this business.
1. Come Up With a Unique Idea
Every new printable starts with an idea. You can start by looking up printable ideas on the internet to find some inspiration.
To help you narrow down your printable ideas, try to narrow them down to a specific niche.
For instance, if you are passionate about weddings, then you could create printables for brides, such as wedding checklists, bachelorette party games, and art prints and decors.
If you are savvy about personal finance, then you can create printables for budgeting and tracking expenses. For more ideas, check out my finance printables at my shop here!
Regardless of the printable ideas that you may have, what's super important is that they are valuable to your audience. Your printable should be able to address an issue or problem and help make your audience's life easier.
2. Transform Your Printable Idea Into Tangible Design
Now that you have a printable idea, it's time to execute the actual printable into a digital design!
Here are some of the tools you can use to create digital products.
Design Software or Applications to Use
Microsoft Word and Excel, and their online versions, Google Docs, and Google Sheets are free tools that you can use to design printables. Here you can create calendars and Excel templates. The good thing about using these tools is that you can export your printable as a PDF file.
Adobe Illustrator and Photoshop
A lot of graphic designers use Adobe Illustrator and Photoshop because these software programs allow them to create graphics and custom designs. Adobe Illustrator is an excellent tool because it allows you to create designs and resize them without them coming out pixelated. Plus, you can move and use Photoshop elements in Illustrator.
Both Illustrator and Photoshop have some learning curves, so if you don't know how to use them yet, you can take a quick course or learn under someone who does. The payoff is that you can create customized designs of really good quality.
If you're making a printable that needs to be cut, such as stickers, then you need cutting machine software. A cutting machine lets you add your registration marks so that your customers can cut your designs after purchasing and downloading them.
Perhaps the best and most popular design software or application right now is Canva. It is also what I use to create printables!
Canva is an online tool that allows you to create printables quickly and easily. If you haven't used Canva before, you can download the free version to see what amazing things it can do.
Once you get the hang of it, you'll really enjoy creating printables on Canva if you go for the premium or paid version. With Canva Pro, you get access to tons of stock photos and graphics, free templates, and fonts. Plus, you can remove backgrounds, resize designs, and save your work on the cloud.
With Canva, you can create printables like a pro, even without any graphic design experience. You can also create a lot of digital products using ready-made templates, like posters and flyers, business cards, wall art, invitations, and many more.
Check out this Canva Pro Free Tutorial
Get Free Fonts and Stock Images
With Canva Pro, you already have access to a lot of free fonts and stock images. I personally use Canva Pro and I've been saving money on stock images. Honestly, for beginners, Canva Pro is enough to start making your printables.
However, if you are still looking for fonts or ready-made designs you can use in creating printables, then you can look into sites like Creative Market, Google Fonts, and Da Font.
As for free stock photos, you can check out Unsplash, Pexels, and Pixabay.
How to Create Printables (PDF) on Canva
I recommend Canva for beginners because it's so easy to use. It's also an all-in-one place where you can get designs, pictures, templates, and graphics to use for your printables.
This means you don't have to create everything from scratch! You just need to put the elements together!
If you're interested in using Canva, here's how to use it.
Let's assume you're going to sell a planner. First, go to templates and search keywords like "planner" in the search bar.
Easiest Ways to Make Money Online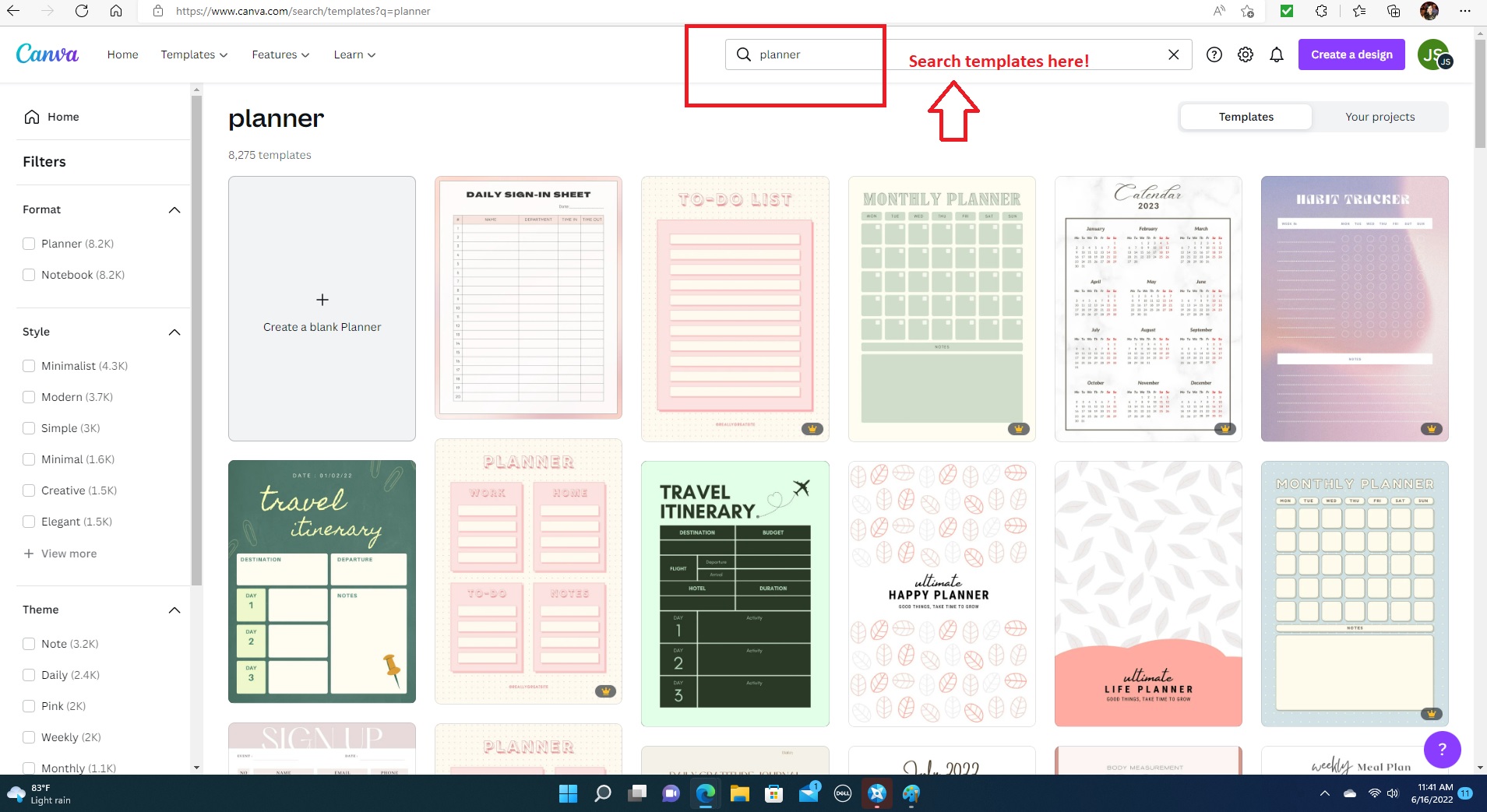 Then, select a template or design you want to use and click "create design."
Start modifying the design according to your liking.
IMPORTANT: Do not just download and sell Canva templates without modifying them! That's copyright infringement and you could get sued for that! Fortunately, you can easily modify these templates by adding graphics and elements, or changing fonts, texts, and colors.
Alternatively, you may also create your products from scratch by selecting "Create a blank planner."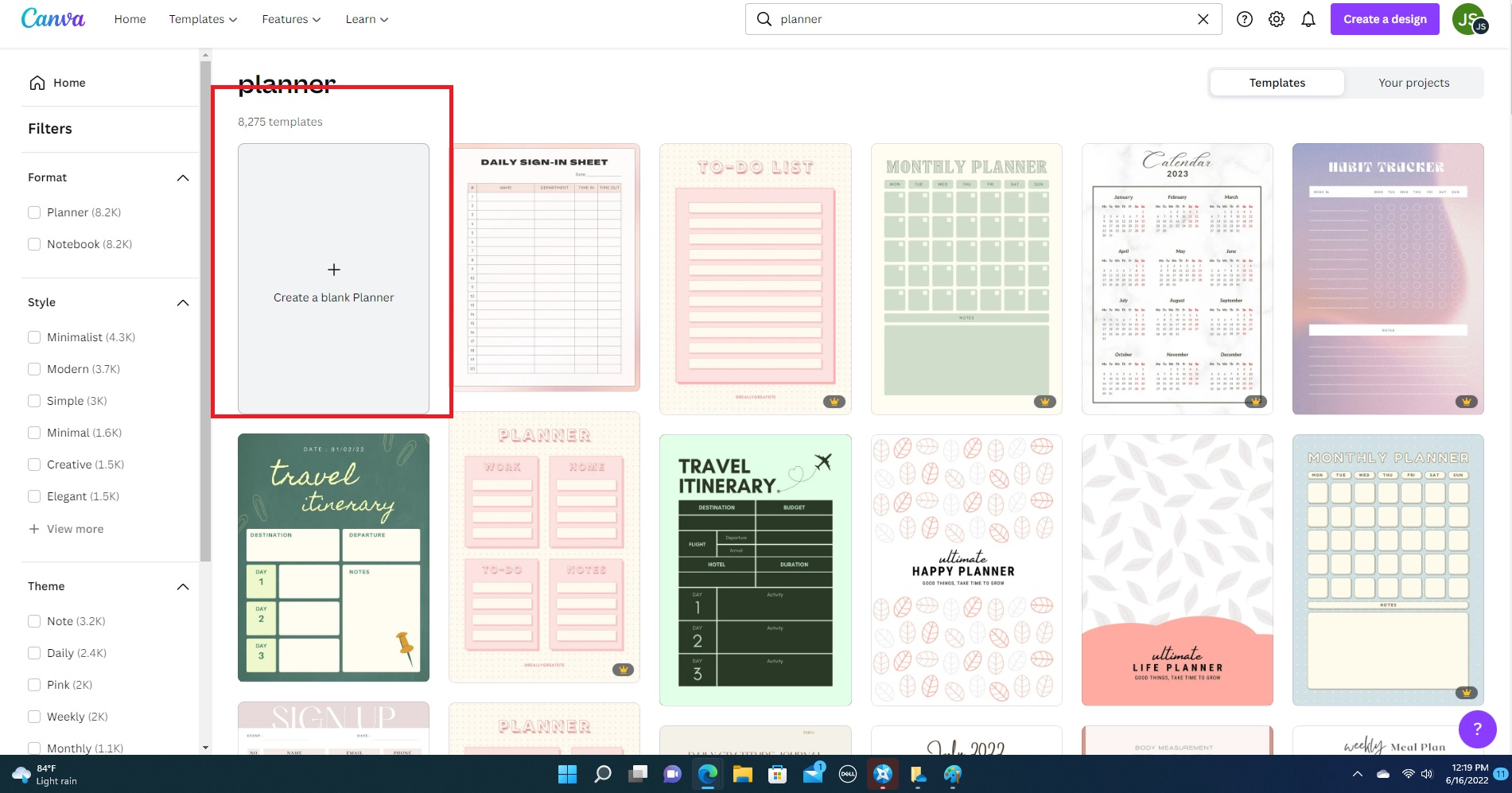 Add elements and graphics you like, and once you're happy with the design, click the share button on the top right of your screen, select PDF Print, and then click "download."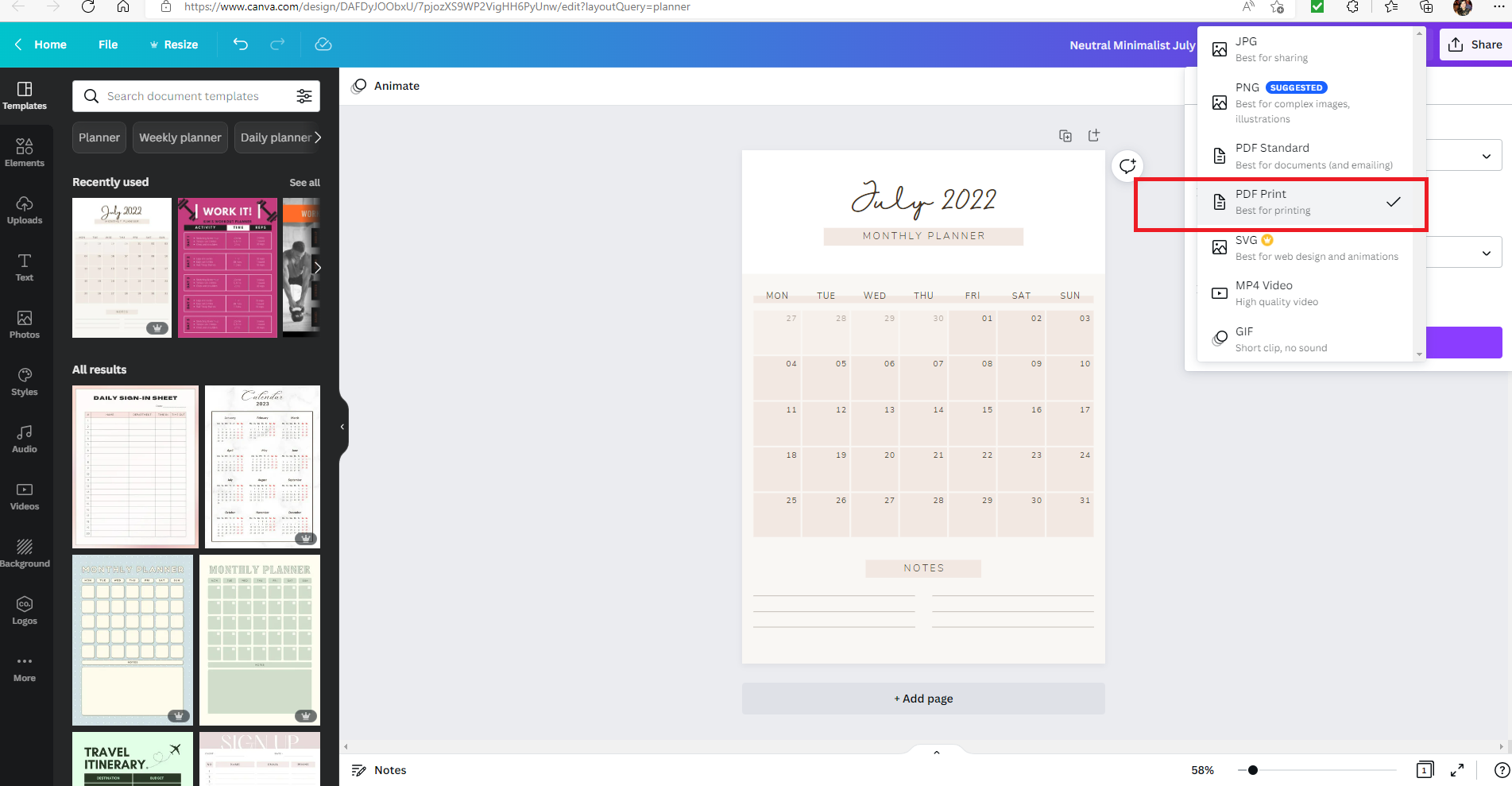 Download the file in PDF Print format, and there you have it–a printable to sell online!
Where to Sell Printables Online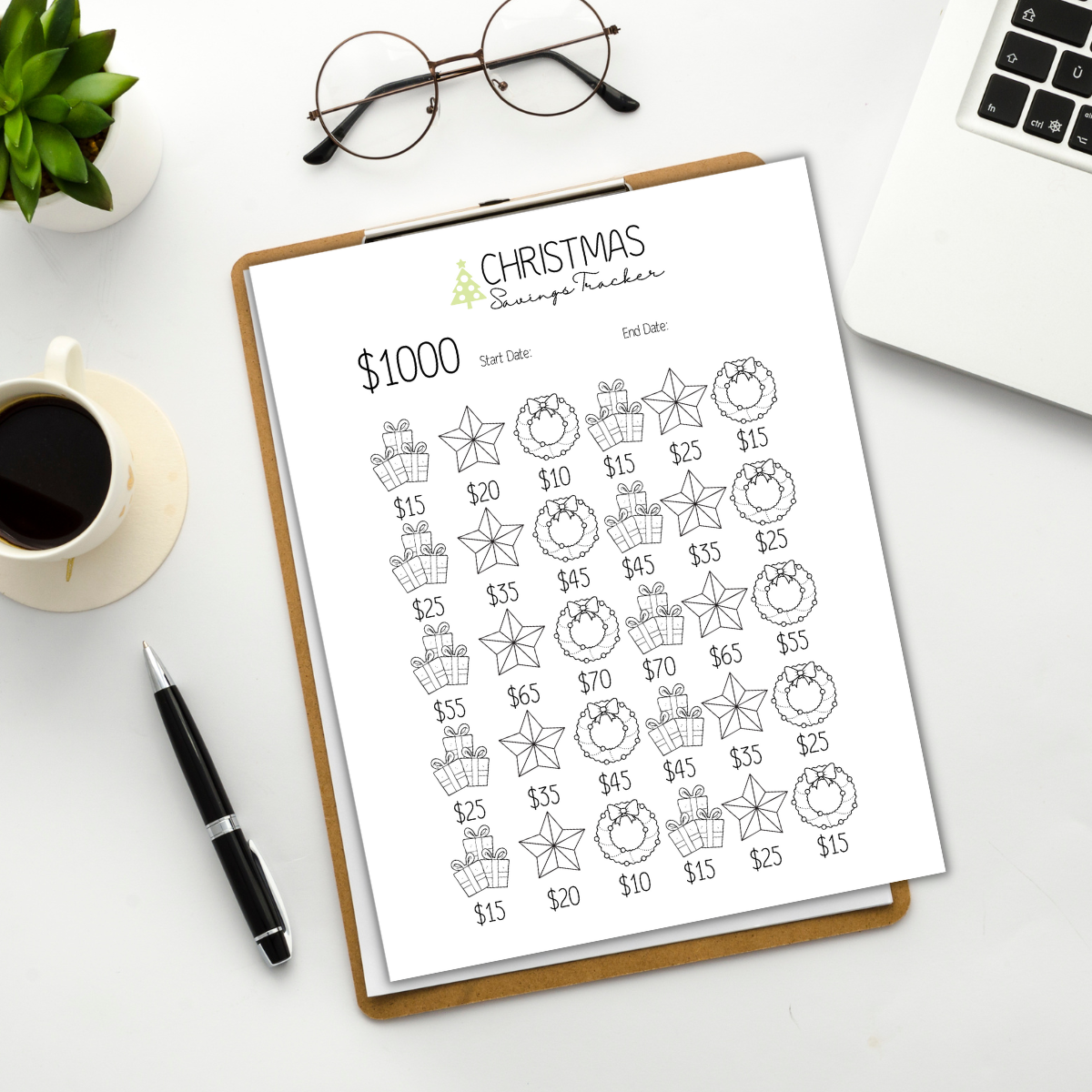 Get this Christmas Savings Challenge Tracker from our shop!
Now that you know how to create digital printables, the next thing you have to consider is where to set up your printables shop. Where should you sell printables online?
There are three venues where you can sell printables, and each of them has its own pros and cons. Let's discuss each option in detail.
Your Own Website
The first option is to sell your printables on your own website. You can set up a printables shop on your blog and sell printables from there.
This works by adding a plugin to be able to host your printables online. Selling printables on your own website is a cheaper option and gives you a lot more control. Plus, you can boost your site's traffic each time people come to your site to browse and buy digital printables. And if you want to make money blogging, you know that traffic is an essential part of monetization.
The downside is that plugins can slow down your website, so make sure to choose the right plugins for this purpose. Also, it can entail some extra work and costs for things like payment processing and troubleshooting.
If you want to learn how to create your own website or blog, simply follow my easy step-by-step tutorial here.
Shopify
You can also sell digital printables on Shopify. Shopify is an easy-to-use platform, so you can easily sell your own printables here in no time.
Even better, you can customize your online store on Shopify according to your own branding and link it to your site or blog post. When customers click on it to browse your printables, they won't notice that they've left your site because the look and feel are practically the same!
There are costs associated with selling printables on Shopify. First, you have to pay $29 a month to get a basic Shopify account. If you want to make more money from selling digital products, you can invest in a few Shopify apps.
For instance, you could put the Buy Button on your website to allow customers to see your printables without them having to go to your actual Shopify store. This button shows the printables that you are selling, their descriptions, and prices. A customer can purchase your printable while they're on your site or blog.
You could also use an Upsell app in your online store. An upsell app on Shopify is designed to entice customers to buy more related printables or purchase a more expensive version of the product. Some of the best upsell apps you can invest in are Bold Upsell, Frequently Bought Together, and Upsell Recommendations.
If you're ready to invest a few dollars each month in boosting your sales potential on Shopify, you could start with a free version or plan of these apps. You have to spend money to make money, right? But the good thing is, that these features often help boost your passive income.
Etsy Shop
A lot of people also list their printables to sell on an Etsy shop, and I am one of them! Etsy is an independent, third-party platform, so your Etsy shop won't be connected to your blog or site.
You can use the product links of your printables from your Etsythey just have to click on the link and finalize the buying process within your Etsy shop.
What's great about selling printables on an Etsy shop is that it's pretty easy to do. All you have to do is sign up for an Etsy account for FREE and start setting up your shop. Upload your printables, indicate their prices, and you're all done!
It's important to remember that there are fees associated when you sell on Etsy, which is just $0.20 per listing. So you can get started selling on Etsy at a fairly low price.
The thing to remember when you sell on Etsy is that it has millions of customers, so there's also a lot of competition. So it's essential to learn how Etsy works because Etsy is a search engine itself. You have to optimize your listings so that they are shown among the popular printables.
Pro tip: Sell your printables on multiple platforms! I also recommend downloading this FREE eBook about selling printables on Etsy by Gold City Ventures to learn more about this side hustle idea!
Pricing Your Printables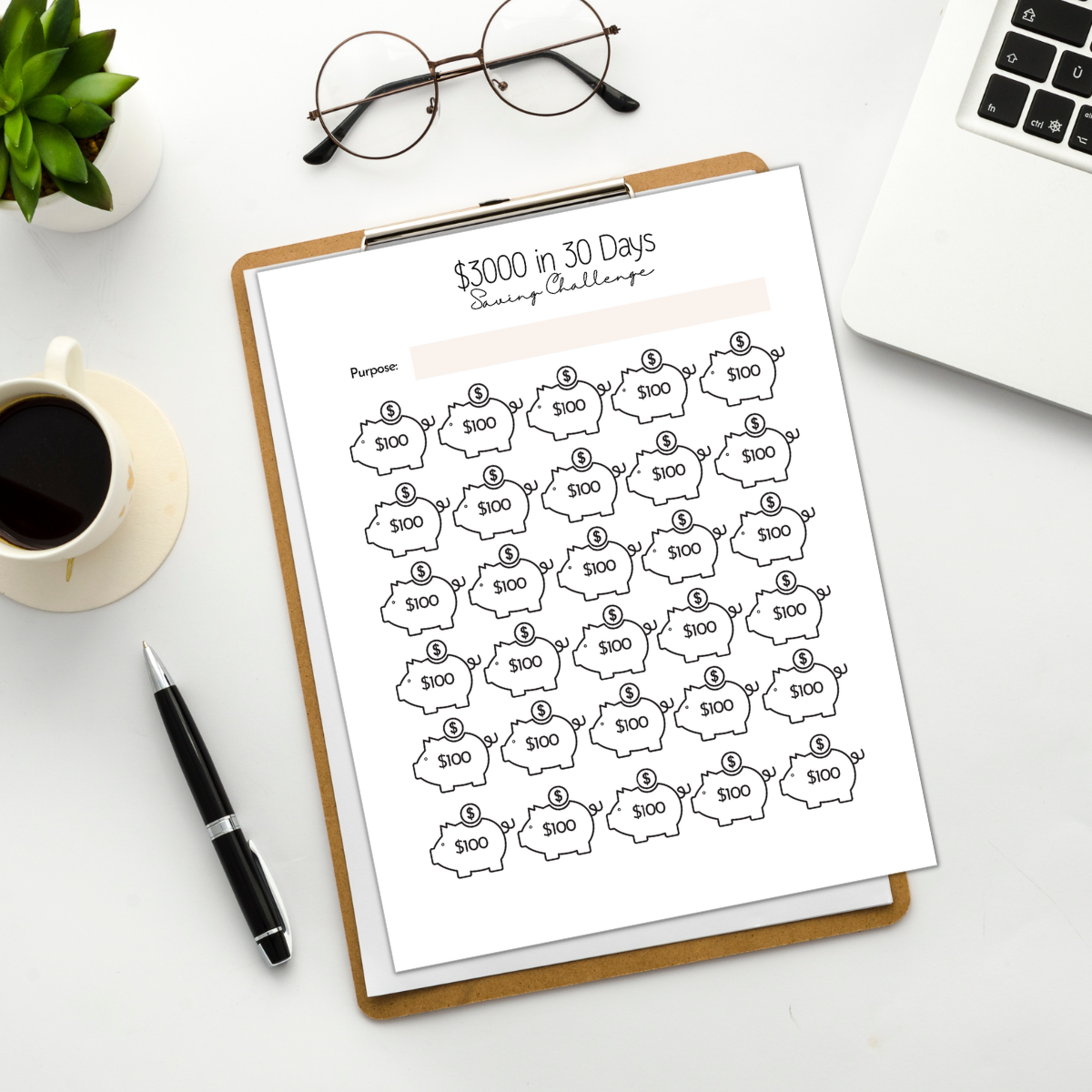 Check out our printables shop here!
Check out our printables shop here!
So you've figured out how to design printables and sell them, now what about the selling price? How much should you sell your printable products so that you gain fair enough profit for your work?
There is no standard price point for digital printables, so this part can be rather tricky. But to get an idea of competitive pricing, take a look at your competitors.
Do some market research to see how much printables sell for, and especially compare printables with the same theme as yours.
For instance, if you are selling printable gift tags, check out how much others are selling them for. You don't want to sell it too high and drive away potential customers or sell too low and miss out on profit.
Related Posts:
How to Promote Your Printables Online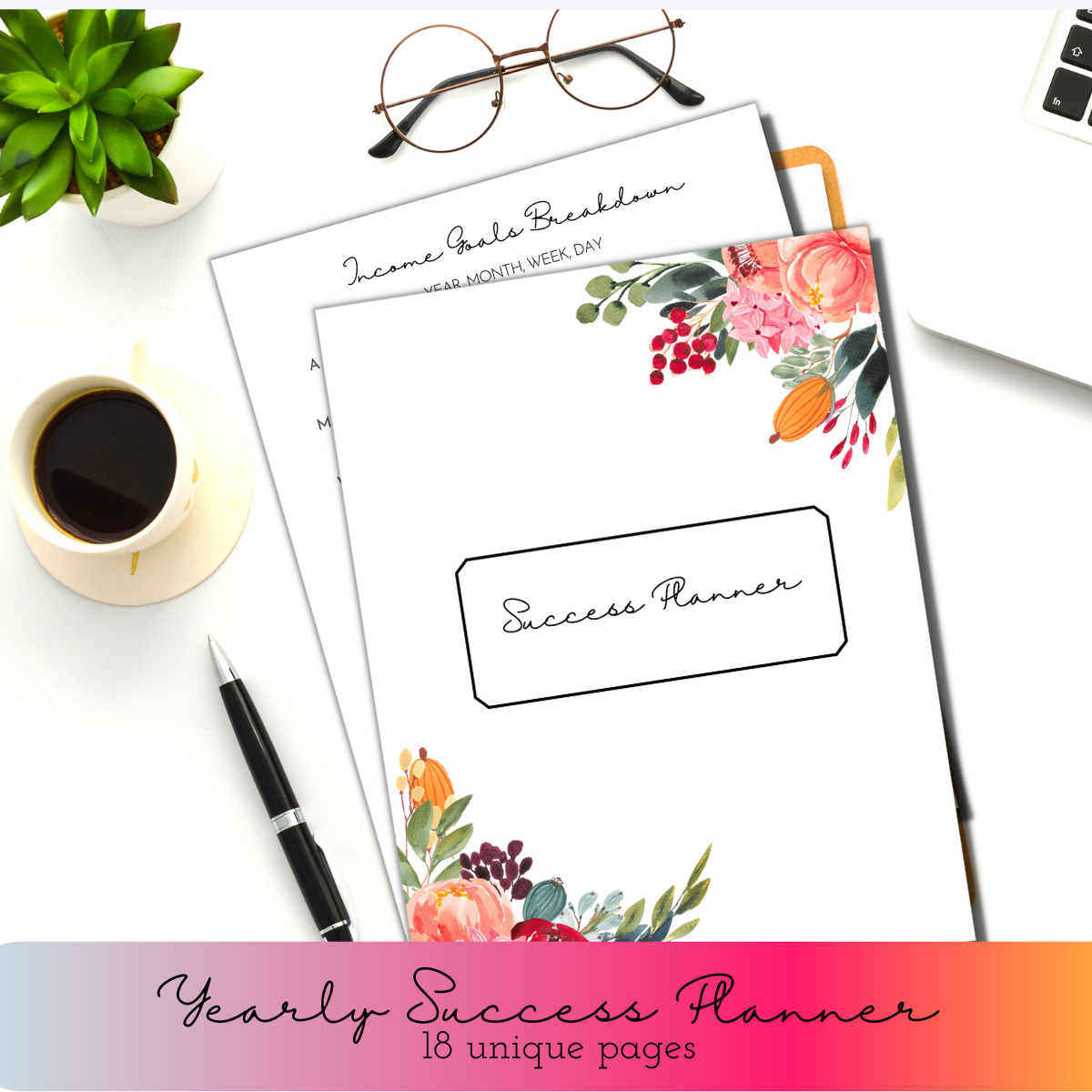 Check out our printables shop here!
You can create digital printables quickly with the right tools and sell them online as soon as you have the finished products.
But how do you make sure that people see your printable online? Here are the ways:
Use Pinterest. Pinterest is a visual search engine platform, making it a perfect place to promote your printables. A lot of people come to Pinterest to find visual inspiration, so putting your printables on the platform can significantly boost their visibility and drive traffic toward your own website or online store.
Give free printables. A lot of people love freebies, so you have to offer them something that they like to entice them to subscribe and buy from you. Create a printable that you can give away for free, in exchange for things like subscribing to your email list, downloading your ebook, or signing up for your online class or training.
Promote your printable on your blog. Your blog is one of the best places to promote your printable because you have full control over it. So if you have a printable for budgeting, for example, then create a blog post on personal finance and promote your printable there. Make sure that your blog post contains a lot of value to convince your readers to check out your printable.
Don't miss Gold City Ventures' free workshop! This workshop will teach you how to start your own printables business from the ground up and then successfully make money when you sell on Etsy.
How to Create Printables to Sell FAQs
How do I make my own Printables to sell?
You can printables to sell by using the apps and software you already have on your computer. For example, you can start with Microsoft Word and Excel, or use their online versions, Google Sheets and Docs. You could also create printable products with more specialized software and applications like Canva and Adobe Illustrator that give you more levels of customization and high-quality printable designs.
How much money can you make selling Printables?
You can make money by selling paid printables, but how much depends on the demand for the printables and how well you're able to market them. Some people earn a couple of hundred dollars selling printables on their Etsy shop, while Sarah Titus, has turned her printables business into an empire.
Is the printable business profitable?
Yes, the printable business is indeed profitable. It requires little upfront cost so you don't have to spend a lot to make money from printables. Additionally, selling printables is a source of passive income, so the bulk of the work is on creating and marketing printables. Once you have the printables to sell all listed, you can make money from them without exerting very much effort.
Where can I sell Printables other than Etsy?
Apart from Etsy, you can also sell online on your own website or blog. You just need to install the right plugins so you can create a printables shop on your website. You can also sell printables on Shopify, Amazon, and social media.
What Printables Can I sell?
If you love creating printables, the options are endless. You can sell wall art, printable planners, and planner pages, or create printable designs for occasions like weddings and birthdays. The important thing to remember when you sell your printables is that the printable is connected to your niche and serves a purpose for your audience.
Conclusion
If you want to make passive income from home with minimal startup costs, selling printables is always a good option. You can create a printable with the applications you already have on your computer or find applications with free options that allow you to create a digital product.
Once you realize that you love doing this, you can further explore more applications, and strategies and maybe take an online course so you can learn how to make printables to sell and make money from this business for real.
Do you sell printables online? Or are you considering starting your own printables business? If so, what do you think about this hustle?