Follow this step-by-step guide to set up your WordPress blog in minutes!
So, you've finally decided to learn how start a blog? Excellent idea!
Having your own blog offers a lot of incredible benefits. Blogging is a great way to express yourself, showcase your expertise, build your professional network, market a business, or make money!
I started this blog to have my own space to express myself, my creativity and my ideas, but in less than a year, I was also able to turn this small blog here into a money-making blog!
Whatever your reason/ purpose is for starting a blog or website, I am here to help you set up your own self-hosted WordPress blog in minutes with Hostgator!
But first, what's a self-hosted blog?
What does it mean to be self-hosted? In a nutshell, a self-hosted blog has its own space on the web.
If your blog is not self-hosted, it's likely to read like www.domainname.wordpress.com or www.domainname.blogspot.com. That also means you don't actually own your blog. Whoever is hosting your site can delete or shut your site down at any point.
Another advantage of getting your blog/website self-hosted is that hosting companies have customer support you can contact in case of technical issues. You can readily get in touch with them if you see any glitches on your site, and it'll be fixed in no time.
With a self-hosted blog, you can also customize or design your blog to your liking.
More importantly, you need to have a self-hosted blog to fully monetize your site. Your blog needs to be self-hosted if you want to make money through advertising and affiliate marketing.
This post contains affiliate links which means if you make a purchase through these links, I will earn a small commission at NO extra cost to you. Please see my Disclosure for more information.
Why Host Your Blog on Hostgator
I recommend Hostgator if you are just starting out and have limited resources to invest in your blog. It is one of the least expensive and easiest ways to get your blog up and running today. It was also what I used to start this blog and I can highly recommend them to my readers.
Hostgator is one of the most popular web hosts with over 8 million domains. They have 24/7 support you can access by phone, email or chat; 1 click WordPress installation and 99.9% up time. They also offer a 45-day money-back guarantee for new accounts, a FREE SSL certificate, and a free domain name for a year ($15 value).
---
Start a Blog with These Easy Steps
Host your site on Hostgator
I am excited to announce that I was able to negotiate a special hosting price for my readers. For a limited time, you can start a blog on Hostgator for only $2.75 per month and enjoy over 60% off regular pricing . Don't forget to enter the Promo Code to enjoy savings: TMB2019.
How to start hosting with Hostgator? Follow these 5 simple, easy steps!

1.Sign up with Hostgator.
Visit Hostgator's main page through this link to get the $2.75/ month price and click "Get Started Now."

2. Select your hosting plan.
Hostgator offers various hosting plan to suit different needs. However, if you're just getting your feet wet into the blogging industry, I suggest you pick out the 'Hatchling' plan.
You can always upgrade to another plan if you want to run more than one blog in the near future, but 'Hatchling' is the perfect and cheapest way to get started.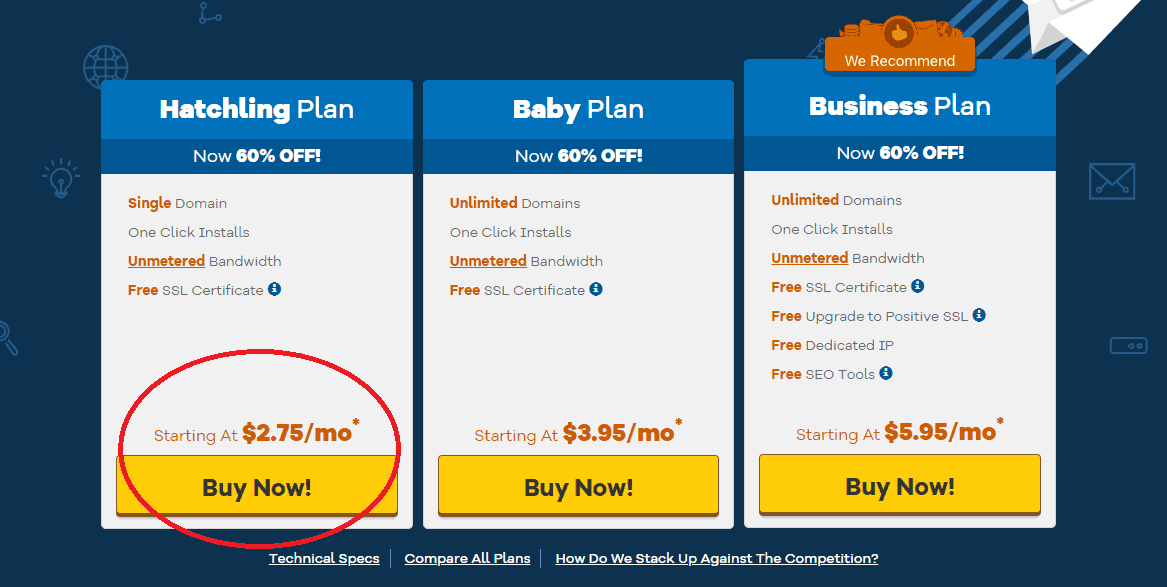 Click "Buy Now" to be directed to the next page.
If you already own the domain name you want to host on Hostgator, you can now just click "I already own this domain."
However, if you're looking to host a completely new domain, you can get one from Hostgator directly by entering your domain name into the Enter Your Domain bar.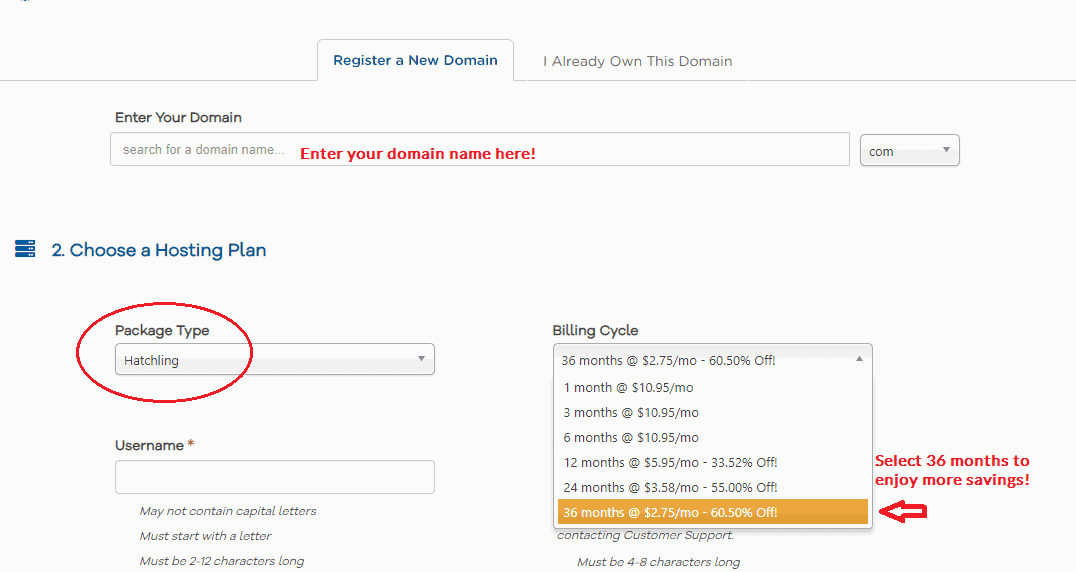 Select the 36 Months billing cycle if you want to enjoy the lowest hosting rate at $2.75/ month. At this price, you are saving over $250!
If you are not really sure if blogging is for you but you just want to try it, you can choose a monthly plan, too, and you can start your blog today for only $2.75.
Hostgator offers a money-back guarantee so, if you decide later that blogging isn't for you after all, make sure to cancel your plan within 30 days and you'll get your money back.
3.Provide your billing information.
You will be prompted to select your payment method, such credit card and/or PayPal, and other personal information.
4.Connect your domain and pick additional services.
You'll also be asked to pick additional services. These services are optional and you can uncheck them for now and your blog should still set up smoothly.
I personally did not select any of these.
If you're happy with what you have, you now have to tick off the terms of service box and proceed to check out.
Once you get started with Hostgator, you should get an email with your log-in information to your cPanel.

5. Install WordPress.
Now, you just have to install your WordPress blog on Hostgator. You may do it either through Quick Install or Manual. For most beginners, the Quick Install option is the best choice as it takes less than 5 minutes to complete.
1.Log into your Hostgator cPanel. You'll find the Quick Install option under Software/Services.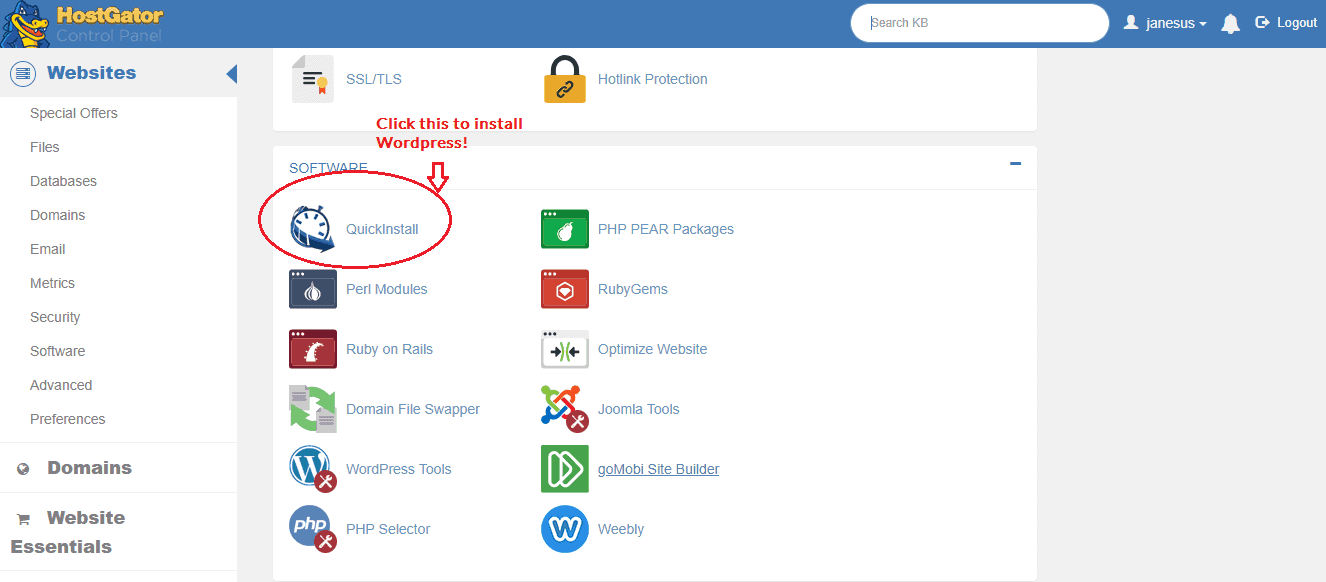 Click on the Quick Install button and then select "Wordpress." Select "continue" on the drop down menu and it will walk you through the entire installation process. Don't worry, it's quick, easy and painless. Hostgator should also email you the details you used for the installation.
Prettify your blog.
Once WordPress is successfully installed, you can now make it pretty. You'll find various theme selections and you just need to pick one that looks right for your niche and personality. Click "install theme" and it should be set up for you in a few seconds.
Connect your social media accounts.
At this point, you may want to set-up your social media accounts so that they are cross-linked with your blog. It would be best to have your social media pages carrying the same names as your blog's domain name for better brand recognition.
Start blogging!
Congratulations, you're ready to create your first blog post. Go to your WordPress dashboard and select "Add Post." You can add content, photos and videos to your blog to make it interesting and start generating traffic.
You might think that setting up a self-hosted WordPress blog is for the tech-savvy only, but nothing can be further from the truth. You can set up your blog on Hostgator even without much technical knowledge, and the entire process is pretty quick and easy. In just a few minutes, you should complete the set-up and you can start blogging your heart out.
How to make money blogging?
Want to make money blogging? I wrote this elaborate guide on blogging for beginners where I shared the strategies I used to grow my blog from earning $0 to $10,000+ per month blogging part-time! There are so many things I shared in the said post that I believe can help beginners like you!
Many readers and friends have asked me to teach them how to start a blog and make money, so I decided to create a free e-course to teach them exactly how to get started and the strategies I used to monetize a new blog. If you want to know more about blogging and you need a guide on how to get started, sign up for my free e-course below.  It's designed for beginners and it's a completely free training with bonuses inside the e-course : a Free Success Planner (Digital) , and a list of profitable blog niches to select from.
SHARE THIS WITH YOUR FRIENDS!