Free Courses for Online Jobs
Working from home is a wonderful opportunity if you're looking for flexibility. Most stay-at-home jobs allow you to set your own schedule, work from anywhere, and even earn a lucrative income.
The problem that many people face though with working from home is how to actually get started. If you are still on the edge of jumping into the wagon because you feel like you don't have the skills to succeed in a home-based career, taking free online courses is an excellent way to set your home-based career on the right path.
The good news is, whether you're interested in online bookkeeping, freelance writing, or proofreading, there are lots of courses for online jobs out there that meet your needs. Remarkably, these online courses were made by people who have "been there, done that." These courses allow you to pick on their brains and discover their best practices so you too can start earning an income from home!
Although the full courses come at a cost, you can access the free courses, classes, or workshops to get a feel of what these courses have to offer. I suggest looking at these free courses first. After all, you stand to gain, with nothing to lose!
This post contains affiliate links. This Mama Blogs may earn a commission at NO extra cost to you for purchases made through these links. Disclosure.
---
Free Courses for Online Jobs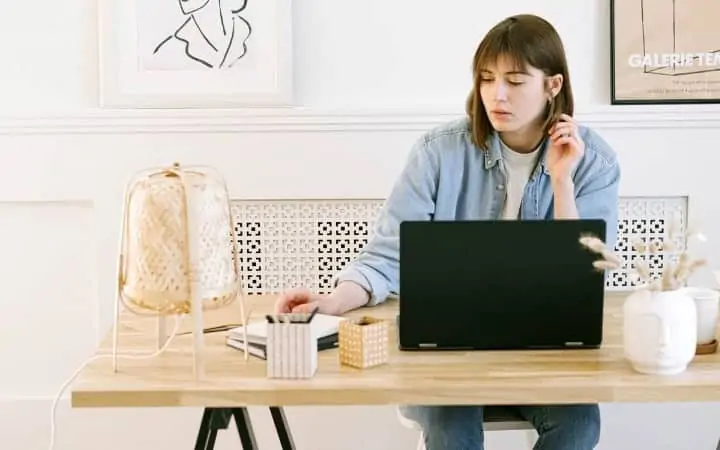 1. Best Online Course for Proofreading
General Proofreading: Theory and Practice
If you're someone who can spot errors in a text, whether it's misplaced punctuation, spelling, or inappropriate word choice, proofreading from home is the career that would work best for you. The world has a constant demand for proofreaders, from authors, bloggers, business owners to huge companies. It's also an excellent work-from-home opportunity for people who are averse to phone-based jobs.
General Proofreading: Theory and Practice is an online proofreading course by Caitlyn Pyle. Caitlyn is a proofreader herself, and she's managed to establish a proofreading business that's trusted by a lot of clients. One of her courses, General Proofreading: Theory and Practice, walks you through the best practices of proofreading. It also teaches you how to put up your own proofreading venture.
If you'd like to give proofreading a try, you can take advantage of Caitlyn's free 76-minute workshop. This is a free work-from-home training that allows you to explore whether proofreading is suitable for you.
---
2. Free Work-from-Home Training for Freelance Writing
Earn More Writing
Earn More Writing is an excellent freelance writing course for those who'd like to turn their writing capabilities into a well-paying career. Holly Johnson, the creator of the course herself earns a six-digit figure from various writing opportunities using the strategies she discussed within the course.
Earn More Writing is a comprehensive online course that tackles all the imaginable aspects of writing as a career. Holly walks you through:
Establishing your own brand
Establishing a portfolio
Finding and keeping clients
Mechanics of getting paid and more!
The course also comes with access to a Facebook community where you can find motivation and leads from fellow writers.
If you're interested in learning more about freelance writing, you can check out Holly's free workshop. After then, you can decide whether to purchase the standard course or upgrade to a bundled one.
---
3. Free Online Training for Bookkeeping
Bookkeeper Launch
Homebased bookkeepers are always in demand. Every business, regardless of size, needs a skilled and professional bookkeeper to make sure their financials are in order and organized. Instead of hiring an in-house or office-based bookkeeper, a lot of business owners nowadays outsource this task to remote bookkeepers.
Contrary to popular belief, you don't need an accounting degree to work as a bookkeeper. But because bookkeeping has its own set of tools and practices, it's good to invest in solid online training to work from home that'll teach you how to do the job.
Thankfully, CPA Ben Robinson has come up with a comprehensive bookkeeping course that shows you every step of putting up your own virtual bookkeeping business. It doesn't even matter if you took up a bookkeeping or accounting course or had previous bookkeeping experience. This course is so comprehensive that you can become the best bookkeeper if you put your heart and mind into it.
Now, you can start looking into the Free Discovery Series, a free three-part video class that gives you a solid introduction to the business of bookkeeping.
---
4. Free course online for selling on Amazon
Amazon FBA (Retail Arbitrage)
Selling online can prove to be a fantastic venture if you're doing it right. With so many products being sold on the online superstore, Amazon, you'll quickly find why so many sellers are cashing on selling on Amazon:
They can piggyback on Amazon's popularity and influence.
Amazon has an amazing program that takes away the logistical side of selling – FBA.
Fulfillment By Amazon (FBA) is the process of finding products for a low price and listing them on Amazon with a markup. You can run your store online, from home, or anywhere in the world. And the best thing is, Amazon takes care of the packing, shipping, and customer service for you. You don't even have to worry about holding inventory at home.
While these may all sound somewhat complicated, The Selling Family has various work from home training courses on FBA. They've made sure to cover all areas, so you can pick which courses to start with.
Want to be an Amazon seller but aren't ready to make any financial commitment just yet? The Selling Family has a FREE FBA starter course that teaches you the foundation of being a successful FBA seller on Amazon. Also, if you decide to purchase one or more of the courses, The Selling Family also generously included freebies to add more value to your learning.
---
5. Paid and Free Online Courses on YouTube
Working from home as a YouTuber is not just a fun way to earn money, but it can also be pretty lucrative. The top YouTube channels nowadays are raking in more money than most people's day job wages. It's no wonder why creating and maintaining a YouTube channel has exploded in popularity over the last few years.
However, running a YouTube channel can be a lot of work. You also need to equip yourself with up-to-date knowledge on how YouTube marketing works. A course on Udemy called 2021 YouTube Marketing & YouTube SEO To Get 1,000,000+ Views is quite a comprehensive learning package as far as YouTube marketing goes.
With this course, you can learn how to gain more views, nurture engagement with your community, infuse SEO within your YouTube strategy and so much more!
But, if you're just looking to get your wet feet on YouTube for the moment and see whether it's the right job for you, you can check out: YouTube: How To Become a Success With an Audience from Zero. It's free!
---
6. Online Courses for Free on Transcription
Transcription is another work-from-home opportunity that doesn't require very specific skills. At the very least, you just need to be a keen listener and quick typist to turn audio files into text documents.
Transcription is a legit home-based job, one that pays around $15 per hour. But as you become more efficient and quicker, you stand to earn more. This is especially true if you're putting up your own transcription business so you can choose your own projects, set your own hours, and command your own rates.
Although transcription sounds like an easy job, there are best practices that can help you stand out among clients and land high-paying gigs. Transcribe Anywhere is a self-paced transcription course created by transcription veteran, Janet Shaughnessy. The course is packed with comprehensive learning materials to help you become the best transcriber you can ever be.
Janet also offers a free seven-day mini-course that introduces you to the world of online transcription. You might also want to download this free eBook on transcription, created by Janet herself.
---
7. Paid and Free Online Courses on Instagram Marketing
Instagram Marketing
With over a billion active users, there's no doubt that Instagram is one of the biggest social media platforms today. And that's also why marketing professionals know that Instagram can be a powerful tool in reaching its worldwide community.
Whether you're promoting your own brand or are working as a home-based Instagram marketer, knowing the best practices and employing sound and effective strategies can boost your career. If you need more help in this department, consider looking at Instagram Marketing 2021: Complete Guide To Instagram Growth, a budget-friendly online course on Udemy. The course discusses how to promote your brand on the platform as well as the proven ways of converting followers into paying customers.
But if you want to try your hand at Instagram marketing and learn the basics, you can look into the free course called Instagram Marketing for Startups and Entrepreneurs on Udemy as well.
---
8. Best Amazon FBA Courses Online
Amazon FBA (Private Label)
If you are interested in e-commerce and in creating your own brand, then I highly recommend joining Amazon FBA through Private Label. Compared to other options above though, becoming an Amazon seller requires some capital. But the great thing about Amazon's FBA program is that you can focus on growing your brand/business from home while Amazon does the rest on the logistics side.
There are many free resources available online to learn Amazon FBA (Private Label) but I do believe that you should invest in a paid course to learn how to sell your own products on Amazon. I am a private label Amazon seller myself, so I have some experience with how this type of business works.
Not sure whether FBA private label is for you? If you are looking for a cheap or free alternative, check out Helium 10's Freedom Ticket. Despite being free, it is still a solid and comprehensive learning material on selling on Amazon through Private Label. This eight-week course walks you through from the very beginning of your journey on Amazon, and then delving into the nitty-gritty details like branding, cashflow, how to use the Helium 10 tools, keyword researching, searching for suppliers, and more.
Helium 10 plans cost at least $97 a month, but it also gives you access to the Freedom Ticket (almost $1000 value), for free!
---
9. Online Resourses on Search Engine Optimization
SEO (Search Engine Optimization) is one of the most profitable skills to learn. The sheer number of people looking up information on Google per day will never decrease, which means that SEOs are in high demand for constant work with a guaranteed market.
Stupid Simple SEO
If you want to learn SEO, the good news is that the Internet is full of free resources to learn SEO. But, if you need a step-by-step guide on SEO and learn how to improve a site's traffic, my most favorite course is Stupid Simple SEO. It's not only perfect for bloggers or website owners, but also for those who want to learn SEO skills and offer SEO services to their clients. Mike has free SEO training here you might want to check out!
You might also want to check out:
Moz.com
Moz.com is a go-to for any SEO expert who wants to stay up on the latest changes in Google's algorithm and find out what's best for their clients' websites. Moz offers tools like keyword research, link-building recommendations, and more. It also has an extensive library of articles with advice from industry experts.
SEMrush
SEMrush is an all-in-one marketing suite with analytics for keyword research to social media management. But they also have a variety of helpful articles on topics like link building, analytics, list-making, and more.
---
Ready to Take These FREE Courses for Online Jobs?
With so many free courses for online jobs nowadays, there's no reason why your lack of skills or experience should stop you from enjoying a thriving work-from-home career. I suggest taking inventory of your existing skills and interests, and from there, narrow down your options for home-based jobs you think you can do. If others have done it, so can you!
Have you taken one or more of these online job courses? Do you have other recommendations of free courses for online jobs to add to this list? Let's connect in the comments.
---
Have you checked our shop yet?