Discover the best free money hacks that will save you so much money! These are tried and true ways to get free money!
---
You've probably heard the phrase "There's no such thing as free lunch," but there is such a thing as free money. I know it sounds unbelievable. We work hard to earn money, so getting free money may seem like a dream come true.
But, we're not talking about a thousand dollars in free money. Let's be honest, nobody's going to give you that much for free except your family.
These free money hacks won't make you rich in a day or make you a million dollars in your lifetime, but the earnings pile up over time, and you could get yourself a "free lunch" with this money, quite literally.
Interested? Read on 🙂
I've been using most of these ways to get free money, and I can guarantee you that these free money hacks are legit and could give you a lot more than a free lunch.
---
How Much You Could Get from These FREE Money Hacks?
If you're here because you want to learn how to get free cash, I bet you are also wondering how much free money you can get from these free money hacks.
Any one of these ways to get free money won't give you a $1000 in a month. However, if you use two or more of these free money resources, you could get $100, $1000, $2000, or more free cash in a year.
I myself have also been able to earn free gift cards (a.k.a. free shopping!) using these free money hacks! I've earned over $5000 from my favorite free money hacks, and I'm sure you can do the same.
How to Get Free Cash Fast: Easy Ways to Get Free Money Today
If you're constantly saying, "I want free money now fast!" or "I need money today for free!" to help you pay the bills.
Well, don't worry, I've got you covered! Try all these real free money hacks today and learn how to get PayPal money fast and easy!
Let's dive in!
---
Real Free Money Hacks That Work
Get Free Money With Short Surveys
A lot of companies will pay you for your thoughts, so if you don't mind squeezing in 5-10 minutes of your time a day answering surveys, then you canstart earning points thatyou can redeem as PayPal money or gift cards in the future.
There are a lot of online surveys out there that not only pay you for answering no-brainer questions such as "Do you smoke?" or "Which among these coffee products do you buy at the store?" but also give a Welcome Bonus just for signing up.
It's completely free to sign up with these survey sites, and you get points when you answer surveys and refer other people to join. Answering surveys does not take much effort and is a great way to earn some dollars while you wait for your stew to cook or while watching the kids play in the backyard.
How much free money is it possible to get through answering surveys? Many surveys pay $1.75 to $3 per 10-minute survey, but there are also surveys that pay up to $50.
Earn Free Cash with These Legit Best Survey Sites
Join Swagbucks–MOST RECOMMENDED! (Get $5 free for signing up!)It is free to join, pays you cash for answering surveys, and offers a $5 Sign-Up Bonus. Swagbucks will also pay you for doing mindless tasks such as watching videos or shopping through the site.
Important: Be sure to confirm your email and complete one mindless task to get this free money!
Get Free Money with Pinecone Research
Probably the best among all survey companies, Pinecone Research is an exclusive online survey site run by Nielsen, one of the world's top research companies based in New York. You can apply here to see if you qualify to participate in their research. They pay $3 for every 10 to 15-minute survey you complete for them.
You can apply to Pinecone Research here.
Get Free $5 and More with Inbox Dollars
Inbox Dollars is another survey site that offers a fun way of making cash with almost no effort. It's free to join and pays you for answering surveys or playing games. This company has paid $57 million in rewards and is currently offering a $5 sign-up bonus!
Grab my $5 Sign-Up Bonus!
Sign Up With Vindale Research
Another research company that pays up to $75 per completed survey. Vindale Research also offers a lot of small daily studies that pay around $1.25.
Sign up with Vindale Research here!
Receive $5 Free with MyPoints
MyPoints is another survey site owned by Swagbucks and worksthe same way! Just like Swagbucks, MyPoints rewards you with gift cards or Paypal Cash for using it to watch videos, take surveys, playg games, shoponline, and more!
MyPoints has paid over $236 million to its members!
Join MyPoints here for FREE and get a $5 Welcome Bonus after completing your first 5 surveys. Make sure to verify the email from MyPoints to get this bonus!
Receive Free Money from One Opinion
Help companies make better products and earn cash with One Opinion. It's that easy! You can redeem your points as Paypal Cash or gift cards!
One Opinion is also an exclusive site like Pinecone Research and is only available for the US. Not everyone may qualify to join but once you qualify and get accepted, you'll receive surveys that you can complete for extra cash.
Related:
---
Free Money Hack Tip: Earn Sign-Up Bonuses from Banks
Want to learn how to get free money fast without surveys? Take advantage of sign-up bonuses!
If you've been contemplating switching to or opening a new bank account or credit card, now might be a good time to do so.
Most banks are more than happy to give you a sign-up bonus when you open an account with them. Consider it as a way to "sweeten the deal." They want your business, so they're eager to entice you with a bonus.
Most of the time, banks require you to deposit a minimum amount into your account for a few months, and they'll give you a financial reward for doing so.. All you have to do is open an account with the bank of your choice and make a deposit.
Here are a few examples of bonuses or free money you could enjoy by opening the following accounts:
Discover Online Savings – $150 or $200
HSBC Advance Checking Account – $350
HSBC Premier Checking – $750
Chase Bank Total Checking – $200
Chase Savings – $150
Bank of America – $100
Citibank – $200 – $600 depending on the type of account 
Want to open a new credit card instead and get free money? Check out American Express! American Express currently offers a free $200 after you spend $2,000 in purchases on your new Card within your first 6 months of Card Membership. 
---
Save Money Without Thinking and Get a $5 FREE Sign-Up Bonus
I've been using Acorns for a while now and I must say it's a very effective way to trick yourself into saving money.
Acorns is an investing app that invests your spare change in the background. You just need to link your credit or debit account with Acorns, and then the app will round up your purchases, take the spare change, and invest them.
For example, if you spent $3.80 for a coffee using your linked credit/debit card, Acorns will see the transaction and transfer the spare change of $0.20 to your Acorns account. When your account hits $5, Acorns will withdraw the money and invest it.
I've accumulated over $280 of spare change from my purchases for a few months and gained $6.32 from that money.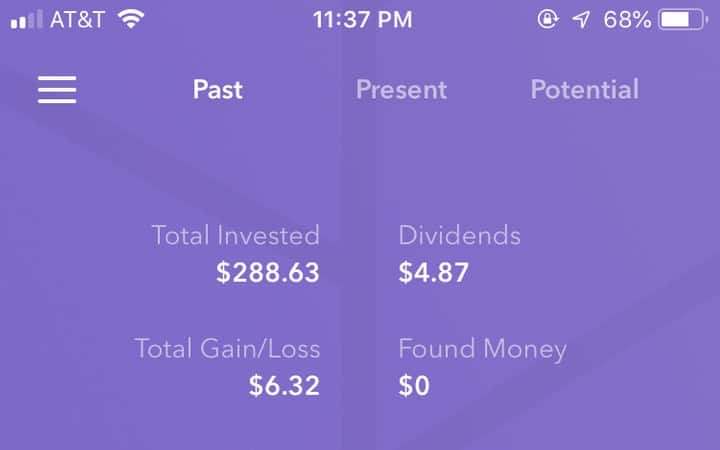 You can check out Acorns here and receive $5 FREE from Acorns after making your first investment of $5.
---
Resell Free Items
Did you get identical sets of kitchen cookware last Christmas? Are you moving to a new home but can't take everything with you? Or, are you just looking to reduce the clutter? Whatever your situation, you can make free money from items that you already own and no longer use.
Selling some of your stuff is a great way to reduce the clutter at home, free up storage, or move into another home without overfilling your new space. You can post the items you want to sell on Craigslist or Facebook Marketple, or even have a garage sale.
If you want to sell old electronics such as tablets, iPhones, or CDs and DVDs, try using this free Decluttr app here to sell your stuff online for cash.
If you have used name-brand fashion items, such as Louis Vuitton or Michael Kors bags, or nice clothes that you want to sell, Poshmark is another great place to go! You can download this free Poshmark app here to start selling.
---
Free Money Hack: Download Cashback Apps
One of the best and quickest ways to get free money is by using cashback apps!
You're spending money when you shop, right? But if you use cashback apps, you reclaim some of that money, thus, getting you free money in return.
There are tons of legit cashback apps out there to reward you with free cash or gift cards.
Typically, you need to use these apps when you go online shopping or scan your receipt when you make a purchase. Some apps also require you to link your credit or debit card and automatically collect cashback from your purchases.
My favorite cashback apps are:
Ibotta (Receive $10 Bonus!)
I've been using Ibotta to save money on groceries and have received over $1000 in cashback and bonuses!
Ibotta is a FREE app that works just like couponing without the need to clip coupons. You just need to scan your grocery receipts using the app and earn cashback on many grocery items such as milk, meats, vegetables, bread, cleaning products, and more!
Get up to $20 FREE here for signing up with Ibotta.
Rakuten
When you shop online and do it through cashback online portals like Rakuten (formerly known as Ebates), you can earn up to 40% cashback on your purchases.
Plus, receive $10 FREE after making your first $25 worth of purchases through Rakuten. They partnered with over 2000 stores, including Amazon, Macy's, Office Depot, and more!
I've earned more than $2000 in cashback and bonuses from my online purchases using Rakuten!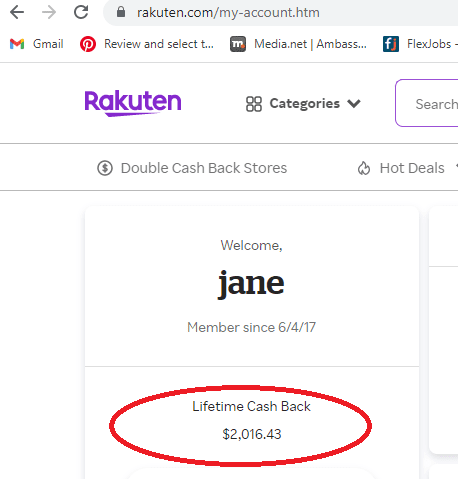 Get $10 FREE for Signing Up with Rakuten!
Drop App
Drop gives you cashback for purchases you make at the stores or for making travel-related reservations.
Drop
Link your card with the app and earn cashback from Drop each time you swipe your card at any approved store.
Related Posts
---
Get Free PayPal Money by Testing Websites
Would you like to get free PayPal money with minimal effort? If so, you should sign up for website testing companies like UserFeel, UserTesting, Respondent, and TryMyIU. These companies are looking for people who can provide objective feedback on a website's functionality.
Testing out a website can mean checking out how well the navigation works, commenting on the layout and color scheme, and trying out all the buttons. You are expected to own a computer or laptop, a high-speed internet connection, and a webcam and microphone. Some companies require that you vocalize your observations as you test, so it's essential that you speak good English.
The test is typically finished in half an hour or less and earns you $10 per test. Indeed, testing websites is one of the real free money hacks that almost everyone can do!
---
Look for Unclaimed Free Money
The government, your insurance company, your bank, or a previous owner of your property may owe you money, but you just don't know it. There are many reasons why billions of funds go unclaimed year after year but it's more often because of a change of name and address.
Many people can attest that they had money somewhere they didn't know about until they decided to look. Fortunately, it isn't that hard to look for unclaimed funds. Here's how to hack free money you might have somewhere:
You can typically find unclaimed money yourself by checking out these legit databases. However, if someone offers help for a fee, take it as a red flag. You'll have to prove your identity to claim your "missing money" so make sure to read the rules for claiming the funds and prepare the necessary documentation.
---
Buy Gift Cards
Gift cards are thoughtful presents. They allow the recipient to choose items and then walk away without spending cash. But if you happen to have gift cards from stores you don't buy from, does that mean the gift card is a total waste? The short answer is no. You can sell the gift card or trade it for another one that you can use.
Now, consider yourself at the buying end. Purchasing re-sold gift cards means you get some nifty discounts. For instance, if you buy a $50 gift card at $40 from some resellers, you earn $10. The next time you consider getting gift cards at face value, consider looking at money-saving opportunities first like GiftCardGranny.com, MonsterGiftCard.com, and Cardpool.com.
---
Let Trim Help You Save Money Automatically
Trim is an AI-driven assistant that helps you save money automatically. It tracks your spending and automates the day-to-day process of saving money for you.
It can even also help you get refunds when there are omissions or outages in a service!
Trim can also help you cut out recurring charges for services you no longer need or negotiate your bill down for you. It works with Comcast, Time Warner, Charter, and any other provider and has saved consumers over $1 million dollars in the last month.
You can try it for FREE and put money back into your pocket without cutting your cable.
You can also check out Truebill, an alternative to Trim that helps you save money on your utility bills. Read: Truebill Review.
---
Free Money Hack: Get Free Money Reading Emails
Still wondering how to get PayPal money fast and easy? Your email might have the answer.
Emails have become part of our daily communication channel. According to Campaign Monitor, the average person receives 121 business emails each day.
But going through hundreds of emails can be dull and boring. Perhaps if you get free money from reading email, this seemingly uneventful task can become more exciting. Well, lucky you, because you can actually get free PayPal money reading emails!
Sign up on these apps, read your emails and get free PayPal money instantly:
Cash Crate – open emails from advertisers and click on their links. You can convert your points into cash when you've accumulated at least $20.
Fusion Cash – apart from the $5 bonus you get upon signing up, this site will also pay you to read emails. You must accumulate at least $25 in your account to transfer your earnings to your PayPal account or bank account.
Unique Rewards – you will earn a $5 sign-up bonus and an extra $5 for every person you refer. Like the other sites, you will have to click on the advertiser's link and visit their website. You can get free money transferred to your PayPal account with Unique Rewards once you've accumulated at least $20 earnings.
Inbox Pays – you will receive $5 upon sign-up and earn 10% ofthe earnings of the people you've referred. You can transfer your income to your PayPal account when you've reached at least $25.
---
Online Mock Juror
Lawyers need to prepare for their trials extensively, so they often need online mock jurors forpractice sessions. The jurors in the mock trialwill answer questions, and finally, release a verdict on the case. With this process, legal professionals are able to see their cases from the jury's perspective and potentially strengthen their cases.
You don't need much to qualify as a mock juror. You just need to be at least 18 years old, a US resident, and have a clean criminal record. It's also good to have an active PayPal account because a lot of these sites will send your free money to PayPal after you fulfill your juror duties.
You can sign up for a couple of these mock jury sites where you can get the opportunity to get free money by being a mock juror:
E-Jury
JuryTest
Verdict Services
JuryTalk
Online Verdict
The payment for online jurors varies. Some sites pay at least $10 per case, while others are $100 per trial.
---
How to Get Free Money with Your Car
As they say, cars depreciate in value every mile they cover. So over time, our cars become more of a liability rather than an asset. Fortunately, you can make your vehicle a money-making machine with these real money hacks:
Rent your car
If you aren't using your car regularly, it's better to make money from it by renting it out than just letting it sit in the garage. Renting out a vehicle is one of the more popular free money hacks online that require minimal effort on your part.
You can list your car with Turo, a car rental service that's popular in the US. All you need is to sign up for the service for free, write a description of your car, and upload some photos. You can set a calendar showing when your car is available for rental.
Turo gives you $1 million in liability coverage and you earn up to 85% of the trip price.
Another car rental service you can consider is GetAround. The processof renting a car with GetAround is almost the same as with Turo: list the car, determine the availability for rental, and choose a drop-off and pick-up point with the customer. You are also covered with up to $1 million in insurance and you get to keep 60% of the rental price.
Finally, there's HyreCar, a vehicle rental service that's geared toward ridesharing drivers. If you have a perfectly functional car that is not in use, other drivers can rent it out through HyreCar. According to their website, people who rent their vehicles through this company make up to $12,000 per year.
Advertise on your car
Another nifty, almost effortless way to get free money from your car is to carry ads on it. If you want free money hacksthat work, this is definitely one.
Companies like Wrapify and Carvertise are looking for drivers who are willing to put sticker ads on their cars. Your income depends on the miles and location where you drive as well as the size of the advertisement. As a rough estimate, you can make up to $400 a month just by wrapping and driving your car.
---
How to Get Free Legit Money by Walking
We all know that walking is a free form of exercise almost everyone can do. But what some people do not know is that you can get free money from it. A lot of apps pay you to walk, they're free to sign up for, and fun to use. But the best part is that you can incentivize this exercise while looking after your health. Who knew walking would one day become a source of real free money?
Here are some of the top apps that allow you to get free money for walking:
SweatCoin – this is an app that pays you to walk outdoors. Each time you record 1,000 steps on the app, you are rewarded with 0.95 sweatcoins. You will accumulate more coins as you walk more. The fun part is that you can exchange those coins for various things, including gadgets, clothing, and gift cards.
Achievement – this is another popular app that pays you to walk, as well as perform other exercises. The app connects to the fitness tracking device of your choice (Fitbit or MyFitnessPal, for example), and tracks the steps you take each day. Achievement rewards you with $10 for every 10,000 steps you accumulate. You can redeem your earnings through PayPal, direct bank deposit, or donate them to charity.
StepBet – if you like a good challenge and beating your own records, then StepBet is a great app for you. With StepBet, you set a goal each week and aim to achieve it. If you are able to meet or exceed your goal, the pot money will be divided among you and the other winners. Otherwise, you lose money. The bet runs for six weeks and you'll have to reach your weekly goal to stay in the game.
---
How to Make Free Money with Focus Groups
Another way to get free money to PayPal is by sharing your honest thoughts and opinions in paid focus groups.
Focus groups are research conducted by companies to gain a better understanding of what consumers think about their brand, products, and services. As a focus group respondent, you are expected to provide honest feedback on the brand, product, or service that's being researched.
There are plenty of focus groups out there that you can join, in-person, online, or both. And by joining these legit focus group companies, you stand the chance of making around $100 or more per session. Getting paid for your thoughts can be this lucrative!
Some of the best focus groups to sign up for that send your free money to PayPal are Respondent, American Consumer Opinion, and Mindswarms.
---
Start a Side Hustle You Love
Wouldn't it be nice to do something you love while making money? One of the best ways to do this is by monetizing your hobbies or starting a side hustle you love.
I have hobbies I make money from, and they are my favorite free money hacks. It's because I enjoy doing them and they are my creative outlet. They make me money and they are good for my soul.
You may also have lucrative hobbies you are not aware of, so check out these ideas:
Blog
You can make money while you blog about anything you love. If you love researching and writing, it's time to monetize your hobby! Read my detailed guide on how to start, grow, and make money from a new blog!
Proofread
Love reading and correcting errors in grammar, punctuation, or syntax while making money? If you ever helped correct a classmate's paper in college, then proofreading could become a fun and rewarding side hustle for you.
Graphic Design
Make money by creating logos, infographics, social media graphics, and more! You can start making money today by selling your services at sites like Fiverr.
Website Design
If you have the tech skills and a flair for creating even beginner websites, know that there are many people who are willing to pay you for your skills so they canlaunch their own sites.
Virtual Assistant
Make money as a virtual assistant and offer business support to clients by handling tasks such as posting on social media, publishing blog posts, responding to emails, or doing research.
Make Money on Facebook
Do you spend a lot of time on Facebook? Then, learn how to make money on Facebook! Here are some ways!
Sell Crafts
If you love creating crafts, you can sell them on sites like Etsy. Here are some simple crafts to make and sell for a profit.
Related: 20 Best Things to Sell On Etsy to Make Money in 2022
Deliver Food
Some people drive around as a hobby. You can drive and make money by working as a delivery driver for Doordash. They pay $23 per hour and you can work on your own schedule.
---
Invest Money and Earn Money Passively
This is probably one of the easiest free money hacks for earning passive income. If you want to save money or invest money for your future or retirement, or you want to build your wealth by doing nothing, then this is probably one of the best free money hacks out there for you.
Aside from the capital gains and/or dividends you'll earn from your investments, you can get more money in the form of free stocks by signing up with any of these companies below:
Webull
I buy individual stocks or ETFs with Webull. It is beginner-friendly but Webull also has advanced trading tools for advanced investors. You can get a free stock worth up to $2300 from Webull by signing up here.
Robinhood
Robinhood is my "coffee budget" investing platform. If I have coffee money or clothing allowance I didn't spend, I would invest it through Robinhood. Robinhood allows you to buy fractional shares and you can get started with as little as $5. You can get a free stock worth up to $300 from Robinhood if you sign up here.
M1 Finance
If you are interested in automated investing, M1 Finance is an ideal option for you. With M1 Finance, you can do both self-directed trading and automated investing. M1 Finance is designed for investors with beginner or intermediate skills who do not need a lot of hand-holding but still want a platform to manage their portfolio for them. Check it out here.
Just a word of caution: No investment is risk-free, so only invest the money you can afford to lose.
---
Flip Things for Money
If you love shopping and finding deals online or at a local store, then consider flipping for a profit and earn free money! You can buy low and sell the items for a profit at the following platforms:
Etsy is known for handmade, customized products, or vintage items, but you can also sell many other product types on Etsy.
If you want to have your own online store, you can do so without special tech skills using Shopify.
Two popular ways to sell on Amazon are through retail arbitrage and private label. With retail arbitrage, you buy items and sell them on Amazon for a profit. Meanwhile, with private label, you sell your own products on Amazon, and you can do it on autopilot through Amazon FBA.
I sell my own label on Amazon and buy my products through Alibaba. The beauty of using Alibaba is that you have some guarantee in case your supplier does not deliver products according to your specifications.
---
More Free Money Hacks That Work
For me, learning how to not waste money is one great free money hack we should all master. It will help you get ahead in the long run.
Here are some more ways you save money and reduce your spending.
Save money on food and groceries
I have over 50 grocery shopping hacks here but my favorite hack is shopping with a list and creating a weekly meal plan. Bulk buying of staples may also work well for large families.
Do it yourself
If you can do it yourself, then do it and save money on services such as gardening, cleaning, haircuts, or painting. We do almost everything ourselves here at home, and we are saving thousands every year.
Reduce electricity use
Turn off and unplug appliances when not in use, batch cook food, or reduce air conditioning use by opening windows and using the fan instead–all strategies that can help you significantly reduce your energy costs.
Create a budget and stick to it
A budget is essentially a plan on how you spend your money. If you stick to it, you can avoid spending unnecessarily and save more money.
Use one car
Using a car can be very costly. If it is possible, have only one car for the entire family or carpool to work to save money on gas, car maintenance, insurance, and depreciation costs.
Do a no-spend challenge
Make money from your own budget by doing a no-spend challenge. A no-spend challenge is like a detox. If you feel like you are spending too much, do a no-spend challenge to rebalance and reset your finances.
---
Get Free Stuff
If you can get stuff for free, then you get free money as well through the savings. Here are some hacks to get free stuff:
Amazon Direct Ship
Many Amazon sellers want to give away their products for free for several reasons. You can receive these products through the so-called Amazon direct ship freebies.
Get Free Internet
If you are not a heavy internet user, then getting free internet through these hacks is for you. You can save $50 per month by getting free internet.
---
Get Free Makeup Samples
Love makeup but don't want to pay for it? Here are ways to get free makeup samples!
Get Free Clothes
Many companies offer their products for free to get consumer feedback and reviews or increase their visibility. Here are ways to get clothes absolutely free!
---
Free Money Hacks: Are They Worth It?
There's no reason to believe free money hacks online aren't worth your time. After all, you'd be doing what you usually do like online shopping, opening bank accounts, or buying gift cards, but with an added benefit: making some money on the side.
Sure, these free money hacks won't buy your dream car, but they're a nice way to supplement your income and buy you treats without breaking the budget.
Have you tried any of these free money hacks? What's your favorite free money hack? Do you have free money hacks not mentioned in this post? Please share your tips in the comments below!