Have you ever wished to get free Amazon products? If you say yes, you would be delighted to know that there are ways to get Amazon products for free without having to complete consumer surveys on apps like Swagbucks. The secret is through the so-called Amazon direct ship.
I learned about Amazon direct shipping only until I became an Amazon seller myself. And admittedly, I also shipped free items to random people. So, yes, it is safe to say that many sellers are willing to give away their products for free, and for good reasons!
In this post, you'll learn:
What is Amazon direct shipping?
Why would sellers give away their products?
How to sign up for Amazon direct ship?
Is Amazon direct ship legit?
How does Amazon direct ship work?
What types of free products can you receive through direct ship?
What are the requirements to get legit free Amazon direct ship products?
How to avoid direct shipping scams?
Is Amazon direct shipping worth it?
What Is Amazon Direct Ship?
What exactly is Amazon direct shipping, you ask? Amazon direct shipping simply refers to when Amazon sellers send free products to customers.
Now, before you start heading over to Amazon.com to search "how to sign up for Amazon Direct Ship," hear me out first. You cannot find this information on Amazon. There is NO such thing as Amazon direct ship program on Amazon.
The only Amazon program that allows people to get free products (in exchange for their honest feedback on a new product) is called Vine.
Unfortunately, Vine is an invitation-only program based on your reviewer rank on Amazon and is only available for select people.
Now, if you're not a participant of Vine, another option to get free Amazon products would be to sign up for the so-called Amazon direct ship mailing list, but know that this is done outside of Amazon.
Amazon Direct Shipping vs Dropshipping
Direct shipping and dropshipping may sound similar and people often confuse one over the other. However, these are two different things. Direct shipping, as the term implies, simply means sending or shipping a free product directly to you.
Dropshipping, on the other hand, is an order fulfillment business. With dropshipping, the seller does not have to keep products in stock.
If the seller makes sales, he passes on the sales order to his supplier who then ships the order to the customer. This type of business has become common in the e-commerce space. A lot of online sellers using Shopify and on Etsy dropship as well.
Who Gives Amazon Direct Shipping Freebies?
As mentioned, only third-party Amazon sellers offer Amazon direct shipping freebies. So, don't expect to receive products manufactured and sold by the Amazon company such as those of brands like Amazon Basics, Amazon Essentials, Alexa, etc.
Amazon has over 80 private-label brands on the platform and if you want to know what they are, check out this Business Insider post.
But, don't worry if you can't get any of these products for free because there are literally 2 million third-party Amazon sellers out there who may be willing to give you free products. These sellers make 50 percent of sales on all Amazon marketplaces.
In most cases, you can get these freebies from Fulfilled by Amazon (FBA) sellers.
Products enrolled in the FBA program simply mean that these products are shipped directly to customers from an Amazon fulfillment center. The listings of these products would look like this: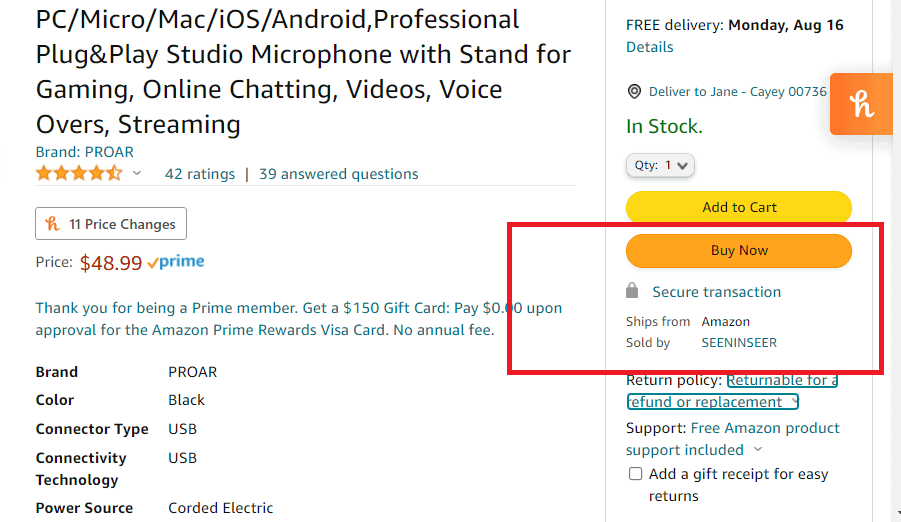 Many sellers, most especially those based abroad, sell on Amazon through the FBA program because it takes care of the logistics side of their business (packing of the orders and shipping to customers). This program allows sellers to focus on the more important aspects of their business, such as marketing and improving their sales.
On the other hand, products that are NOT enrolled in the FBA program are fulfilled and shipped by the sellers themselves. The products may come from the seller's home address or from a third-party warehouse. So, their listings would usually say: sold by (store name) and ships from (store name).
Now, I know you're asking: why would FBA sellers want to give away their products for free?
Why would sellers give away their products through Amazon direct ship?
1. Cut losses
The most common reason why sellers would give away free products is to cut losses for products that are not selling or not selling fast enough. Storage fees in Amazon can get really expensive, and sometimes, the best way to deal with products that aren't making enough sales is just to remove them from Amazon. If you want to see how the storage fees are calculated, you can check it out here.
Why can't these sellers take back these products? Well, most of these sellers can't because they are based abroad. Over 40 percent of sellers are based in China. It is even reported that 75 percent of new sellers on Amazon in 2021 are from China.
Instead of sending back these products overseas which can be very expensive, these overseas sellers decide to give away these products for free.
As a seller myself, I can also agree that it costs a lot of money to send stocks overseas. Not only do you have to pay for shipping but also for custom fees. Then, there's also a minimum weight of 100kg to ship by sea. Check out the shipping costs here and you'll understand why it makes no sense for overseas sellers to send their underperforming products back home.
And I definitely would agree that one of the best ways to deal with products that are not selling is to remove them from Amazon.
Remove Inventory from Amazon
There are ways for overseas sellers to remove these excess products from their inventory:
Order Amazon to get rid of the products. This means that you are allowing Amazon to get rid of your products or destroy your products.
Order Amazon to ship the excess products to any US address.
Those who just really want to stop selling their products, they can choose the second option and give the products away.
FBA Removal and Disposal Order Fees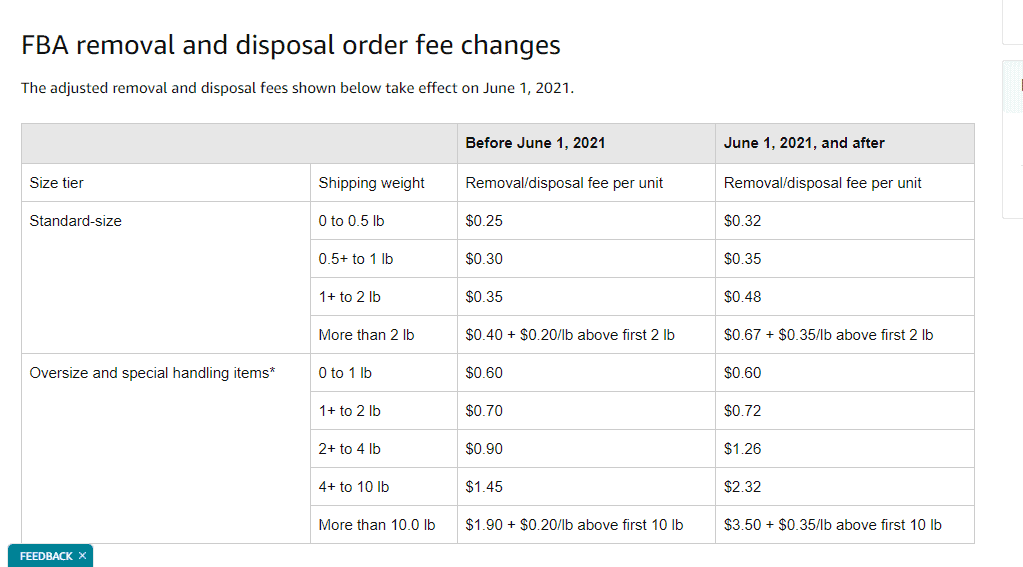 Both of these options, as you can see in the picture, cost the SAME. A standard-size product weighing 0 to 0.5 lb. would cost the seller $0.32 per unit to dispose of or remove from Amazon.
The seller would pay the same amount if he decided to send his extra stocks to another warehouse in the US for storage or to send as a gift to consumers like you.
That said, it makes sense for these sellers to offer Amazon direct ship freebies. Some would even be willing to donate their excess stocks to charities as you can read in the Amazon sellers' forum here.
2. New products need reviews
First, I want to say that incentivizing reviews on Amazon is a huge violation of Amazon's Terms of Service.
So, don't ask Amazon sellers through the platform for free products in exchange for a 5-star rating/ review. I am 101% sure you would NOT get a response from them as this may lead to suspension of their accounts.
But as you may know, reviews are the lifeblood of any business, and most especially on Amazon. So, sellers are racing to get reviews or star ratings to make their products or listing more appealing on the platform.
Unfortunately, all new products start at 0 reviews. Amazon provides sellers a means to get reviews for new products faster through the Vine program. However, the problem is that Vine is only available for products with a trademark or are enrolled in Brand Registry on Amazon. Many new products are not brand registered because it costs more money and time.
The solution? Many desperate sellers are willing to give away free products in exchange for a review, risking their accounts. Again, this is against Amazon's Terms of Service and the seller could get suspended for this.
---
I DO NOT EVER recommend doing this just for a free product because we want Amazon to be a fair marketplace for both sellers and shoppers. As a shopper, we want that every review we read on Amazon is honest, real, and not manipulated in any way.
---
3. Marketing
Some sellers also offer free products for marketing purposes. If you're an influencer on Instagram or you own a blog or YouTube channel, chances are, many sellers would be willing to offer you Amazon direct ship products in return for a review on your site or channel. I get offers like these all the time, but I normally decline them unless I am already using the product, or I see it fits my blog.
However, that's not the only way for sellers to market a product. Some sellers may be willing to give you free products for:
Subscription to their newsletter
2. Shares – They may ask you to share a post on Facebook or Instagram, or tag friends to get the free product.
3. An entry to a raffle – You may be asked to provide your name or email (please be very cautious when providing personal information) in exchange for an entry to winning a free product or cash prize.
4. Subscription to their YouTube channel or social media handles.
4. To know your opinion about their products
A less common reason why some sellers would give free products is to get your honest opinion about their product before they make a huge order from their suppliers. They may order a few samples from their suppliers at first to test them.
Remember, the majority of the world's manufacturers are based in China, and importing from China by sea may take a lot of time. Manufacturing can take weeks to months and shipping by sea can take up to 45 days! That's why it is wiser for sellers to do bulk orders to also avoid getting out of stock which can be detrimental to their rankings.
Making a huge order also allows them to negotiate on the price of the product, increasing their profit margins. So, before doing so, some sellers want to somehow test their products or get your opinion on the quality of the product. Some sellers even A/B test products to help them decide which product should they go for.
---
Is Amazon direct ship legit and legal?
Amazon direct shipping does exist, but I cannot guarantee that all the Amazon direct ship forms out there are legit. The internet is filled with scammers so do your own due diligence before signing up for anything, and be sure to read the section below on how to avoid direct ship scams.
How does Amazon direct ship work?
This all depends on the purpose of the seller. In most cases, the seller would only need your shipping address to be able to send the products to you. A valid address is required to be able to request a removal from Amazon.
However, if the seller intends to get a review from you, then you would need to order the unit from the seller's store using your Amazon account. In this case, the seller would refund you the cost of the product.
You may need to talk to the seller privately about how to get the refund, BUT the safest way to do this is through PayPal. In this case, DO NOT give your full name or address, and DO NOT EVER give bank account information in any scenario.
Again, I do not recommend you doing this because this could lead to account suspension!
For influencers, the seller usually would just send you the free products directly from Amazon or the seller's address. You may not only get the products for free but also may be compensated for writing a review or mentioning the product on your website or channel. A lot of Amazon sellers are actively looking for influencers to help them increase their sales.
---
What are the requirements to get legit free Amazon direct ship products?
A valid shipping address is all you really need to provide to get Amazon direct ship freebies. However, some sellers looking to get a review may require you to have:
An Amazon account
A purchase history at Amazon.com or that you've been shopping at Amazon for awhile now.
PayPal account
What if you don't want to provide your address?
You can use a P.O. box instead to protect your privacy.
What types of free products can you receive through direct ship?
It can really be anything, but in most cases, you'll receive small-sized and low-value items. So, expect to receive from the following categories:
Clothes
Accessories
House items
Pet products
Office supplies
Self-care
Kitchen items
Baby
There's no guarantee what you can get but normally these are products that
Do not sell fast enough on Amazon, and most likely don't have great reviews
Have issues, such as lacking certifications, or are simply not allowed on Amazon
Newly launched products
---
Amazon Direct Ship Sign Up: Amazon Direct Ship Application
1. Facebook Groups
An excellent way to sign up for amazon direct ship freebies is by joining Facebook groups dedicated to such. In these groups, sellers share direct ship forms or instructions on how you can join their direct ship list.
Simply search terms like "Amazon direct ship freebies" or "Amazon giveaway freebies" on Facebook and you'll find a lot of private groups to join.
Warning: Please do your own due diligence before signing up for anything. There may be scam posts in these groups.
Members Direct Ship Freebies And More – 37.7K members
Freebies, Direct Shipping, Giveaways, Deals, Reviews&More By Mails -6.1K members
Direct Ship, Freebies and Fun – 13K members
Amazon coupons deals codes &freebies – 13K members
Codes only n Direct Ships and discounts no paypal allowed – 7.4K members
Freebies, Samples, Direct Shipping & more! – 1.1k members
100 Percent Freebies – 8k members
FREEBIES on Amazon & FREE SAMPLES
Unicorn Gifts – 8.5k members
Dealsgo Cash Back Rebates & Direct Ship Freebies & Giveaways – 10k members
Personal Shopper 4 Deals, Freebies, Coupons, Codes, and Giveaways – 17k members
Amazon coupons deals codes & freebies – 14k members
Pros and Cons
Pros
Lots of direct ship freebies! In large groups, there will always be direct ship forms to fill out every day!
No need to contact sellers which can be time-consuming.
It lets you easily check out with other members whether or not someone has signed up. This can help you weed out the scammers!
Cons
It might still be difficult to tell if an offer is legitimate. Always be careful and do not give important information. Be sure to check out with other members or read my guideline on how to avoid Amazon direct shipping scam.
---
2. Blogs or Websites
You can also check out freebie websites/ blogs like:
Internet Steals and Deals
---
3. Contact the Sellers' Website
If you're an influencer, this is a great option for you. Know that sellers would love to directly ship free products to you in exchange for a review post on your site/ channel or even just a mention of their product in your gift guides. The best way to do this is by contacting the seller through their website and NOT on Amazon.
To do this, simply Google search the Amazon brand you're interested in.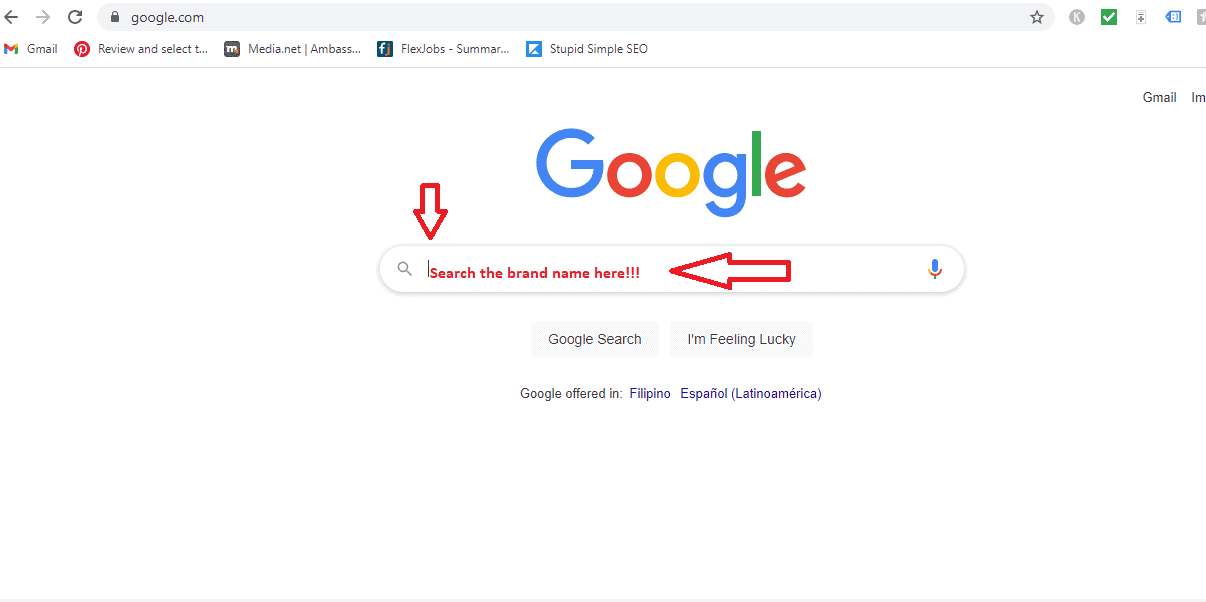 If there's a website in the search results that match the brand, send them a message through their contact form or page!
If they're an established seller on Amazon, chances are, they have a website and are selling their products outside of Amazon, too.
Pros
There are literally millions of Amazon sellers out there who may be willing to collaborate with you.
You can select brands or products that fit your platform.
You may even receive monetary compensation for this collaboration in addition to getting free products.
Cons
Not for everyone.
You need a website/blog, social media following, or YouTube channel.
Time-consuming.
DO NOT Contact Amazon sellers directly on Amazon.
---
How to Avoid Direct Ship Scams
Here are some ways on how to avoid direct ship scams:
NEVER give information such as bank accounts , credit card number, and social security number. Direct ship offers requiring any of these information is a huge red flag!
Do NOT give your real name. You do NOT really need to give your real name to get Amazon direct shipping freebies and I'll tell you why.
As a seller, if I order Amazon to remove excess stocks from my inventory and give away these extra units, I would only need to put a name and complete address in the order form. However, it would NOT matter if I entered a different name as long as the address is valid. Amazon would still deliver the stocks to your address. If you are uncomfortable sharing your real name, do NOT share it.
Do not give your primary phone number. If this information is required, this may be a red flag. You can choose to sign up but create a secondary phone number dedicated for direct ship only. You can use

Google Voice

or other apps to create a free virtual phone number.
Create a separate "burner" email address for all your direct ship forms. Your email address is not really needed to order removal from Amazon to you, but I can understand why some sellers would require it. They may want to reach out to you later in case they launch or introduce a new product or sell something else.
Red Flags to Watch Out Before Signing Up for Direct Ship Forms
If information such as bank account, credit card number, or social security number is required
If the "seller" insists to get your real name.
How long does it take to get freebies?
There is really no timeline for this. It all depends on "when" exactly the seller needs to dispose of the excess stocks. It can take weeks or months. Please note that removal of products from Amazon also takes days to weeks from the date the seller ordered removal.
Are Amazon direct shipping available in other countries?
It may be available in other countries where Amazon has an FBA program. Amazon operates 16 marketplaces (websites) worldwide, including:
Germany
United Kingdom
France
Italy
Spain
Netherlands
Japan
Australia
Singapore
India
United Arab Emirades
Turkey
Canada
Mexico
Are there other ways to get free products aside from direct ship?
Absolutely! Check out our posts on how to get free Starbucks coffee, free clothes, or free makeup samples! You may also want to know how to get free money!
Also, check out these companies that send you products for free to review!
Pros and Cons of Direct Ship?
Pros
You can get products FREE and save money.
No need to answer consumer surveys like you would with Swagbucks to get free products.
Discover new products or brands.
There is no limit on how many freebies you can apply for. Apply for as many as you like!
Cons
You can't choose the product to receive.
You might receive the same products.
It may take time to receive the freebies or not receive anything at all.
You must be wary of scams. Be extra careful and NOT give out unnecessary information.
Other Ways to Get FREE Amazon Products
Another fantastic way to get free Amazon products is by getting free Amazon gift cards and use these gift cards to shop at Amazon. The best thing about this method is, with a gift card, you can buy any product you like and really need.
Here are some hacks to get free Amazon gift cards!
1. Swagbucks
Swagbucks is one of our favorite money-making apps because it's so easy to use and there are a ton of gift card options from which you can choose, including Amazon. There are ways to earn gift cards with Swagbucks. You can do your online shopping via the Swagbucks app and it'll reward you with points that you can redeem for gift cards.
Another great way to earn points with Swagbucks is by answering consumer surveys. If you don't mind answering questions such as "Which type of coffee you often buy?" or "Which type of car you'll likely buy in the next 5 years," then try Swagbucks and start accumulating points.
Get $5 FREE for signing up with Swagbucks
2. Inbox Dollars
Inbox Dollars is a leader in rewards and digital coupon programs for consumers, media companies, and retail brands. There are no annoying application forms like with other sites; you just sign up for free at their website, then complete tasks and surveys to earn points.
There are three ways to redeem your earnings: Amazon gift cards, PayPal cash (via MyPaycheck), or an American Express prepaid card.
When you sign up for Inbox Dollars, you'll earn $5 just for signing up. And once you've reached $30, you can request a withdrawal and redeem your earnings for an Amazon gift card.
It's important to note that if you don't reach the $30 threshold within two months, they'll close down your account permanently.
3. MyPoints
MyPoints rewards its users with cash back on their purchases, which can be redeemed for things like magazine subscriptions, online shopping at places like Target and Walmart, or used toward an Amazon gift card in sums from $5 to $500.
Additionally, by participating in surveys and polls every day as a member of MyPoints members earn even more cashback – up to 7 percent! The surveys are quick and easy and pay out right away into your account. It's completely free to join and you only provide basic information when signing up.
4. Opinion Outpost
In exchange for giving your opinion on things like new products, packaging, advertisements, and political issues, you can earn Amazon gift cards by joining Opinion Outpost.
You will be asked to give your opinion by taking surveys in exchange for cash or points that can be redeemed as an Amazon gift card. You can also read the daily news and play fun games to earn more points!
5. Sell Items At Amazon Trade-In For An Instant Gift Card
Selling items is one of the easiest ways to earn Amazon gift cards. As long as you have a smartphone and can snap photos of your items, you can get started with Amazon trade-in in minutes!
Many people don't even realize that they have valuables sitting around their house until it's time to move out or clean up the garage. Using Amazon's step-by-step process, take pictures of things like video games, DVDs, and electronics which are some of the most popular items. Items must be in working condition but there are no other restrictions on what you can list for trade-in so if you have books, CDs or craft supplies lying around you could receive cash back instantly toward an Amazon Gift card or PIN number for immediate use.
Related posts:
Amazon Data Entry Jobs for Quick Cash
How to Sell on Amazon for Beginners with Retail Arbitrage
Interested in selling on Amazon? Check out this 5-step guide for free (normally $47) and learn the steps to start, grow, and scale your own brand on Amazon. This guide will teach you how to find products that sell with almost zero competition.
---
Is Amazon Direct Ship Worth It?
Sure, there are cons to Amazon direct shipping but it is still definitely worth a try. Getting direct ship freebies is an awesome way to save money. You can use the free products, sell them or use them as gifts! However, as I repeatedly mentioned, be very cautious when signing up for anything.
If you're looking for more viable ways to save money, check out readers' favorites below!