If you've found this post, it's because you want to learn how to free money, right? Maybe you've asked yourself, "How do I get free money fast without getting scammed?"
You're not alone.
I was also intrigued by the idea of getting "free money," so I researched to find out if there was really such a thing. Over the years, I've discovered really cool ways to " get free money now" with minimal effort!
But let me make things clear first: learning how to get free money won't get you rich. If you want to be wealthy, these ideas on how to get money now for free aren't the answer. You won't get an extra thousand dollars each month, so don't bank on them to pay your mortgage.
However, by exploring these ways to get free money right now, you could earn a few dollars here and there that could help you save for when a need comes up. It could help you buy groceries, pay a phone bill, or maybe pay for a nice dinner.
What do I need to do to get free money?
There are plenty of ways to get free money. Some things are almost effortless, such as signing up for an offer, using free money apps, or opening an account. Others you need to study in detail, particularly if you want to get free money from the government. The amount of effort you need to expend in getting free money depends on the method you choose.
Can I get money fast and free passively?
Yes, you certainly can! Certain apps and programs run in the background, and once you've activated them, they will collect free money on your behalf. These methods allow you to grow some nice savings even without lifting a finger.
How do I know it's legit and absolutely free money?
You certainly don't want to fall prey to scammers and frauds who promise you a ludicrous amount of money. Some of them might even email you that you have a massive inheritance left by an unknown relative in a distant country, and all you have to do is send them some money to process the transfer.
If you see an offer that's too good to be true, asks you for money before you can earn it, or the company or offer sounds overall sketchy, then you should stay away from them. At the very least, you should research the company or offer, look them up at the BBB, or Google what others' feedback says about them.
How To Avoid Free Money Scams
The idea of free money is just too enticing to pass up. After all, most of us need money to pay off debts, settle bills, buy basic necessities, and enjoy luxuries. But when someone tells you that you can get free money instantly, then you ought to be suspicious, especially when the offer sounds too good to be true.
That's not to say that getting free money is always a hoax or a scam. There are certainly several ways to get money fast and free, but you also need to be wary of the scams that abound, especially on the internet..
According to the Federal Trade Commission, here are the red flags you should look out for:
Scammers make unexpected requests. Scammers can pose as someone from the government, your company, or even from your friends or family. They ask you for personal information or ask for money out of the blue via a call, email, or text.
Be naturally doubtful. Do you really have a wealthy relative in Nigeria, and do you believe you're entitled to an inheritance? Did you sign up for anything that promises free money? Does the company sound legit? With research, you can already tell whether or not someone is scamming you.
Never deposit a check. A scammer tells you that he sent you some money for a deal you have. You can keep a portion of it, while you need to wire another portion to someone. Before you know it, you realize that the check is fake, and you've just given someone free money.
Never give out personal and financial information. You might receive an email telling you that you qualify for some cash, and all you have to do is click on a link and enter your personal information. This method is called phishing, and fraudsters are looking to get your essential information and then steal your identity later on.
This post contains affiliate links. I may earn a commission for any purchases made through these links at NO extra cost to you. Please read my Disclosure for more information.
---
Ways to Get FREE Money Now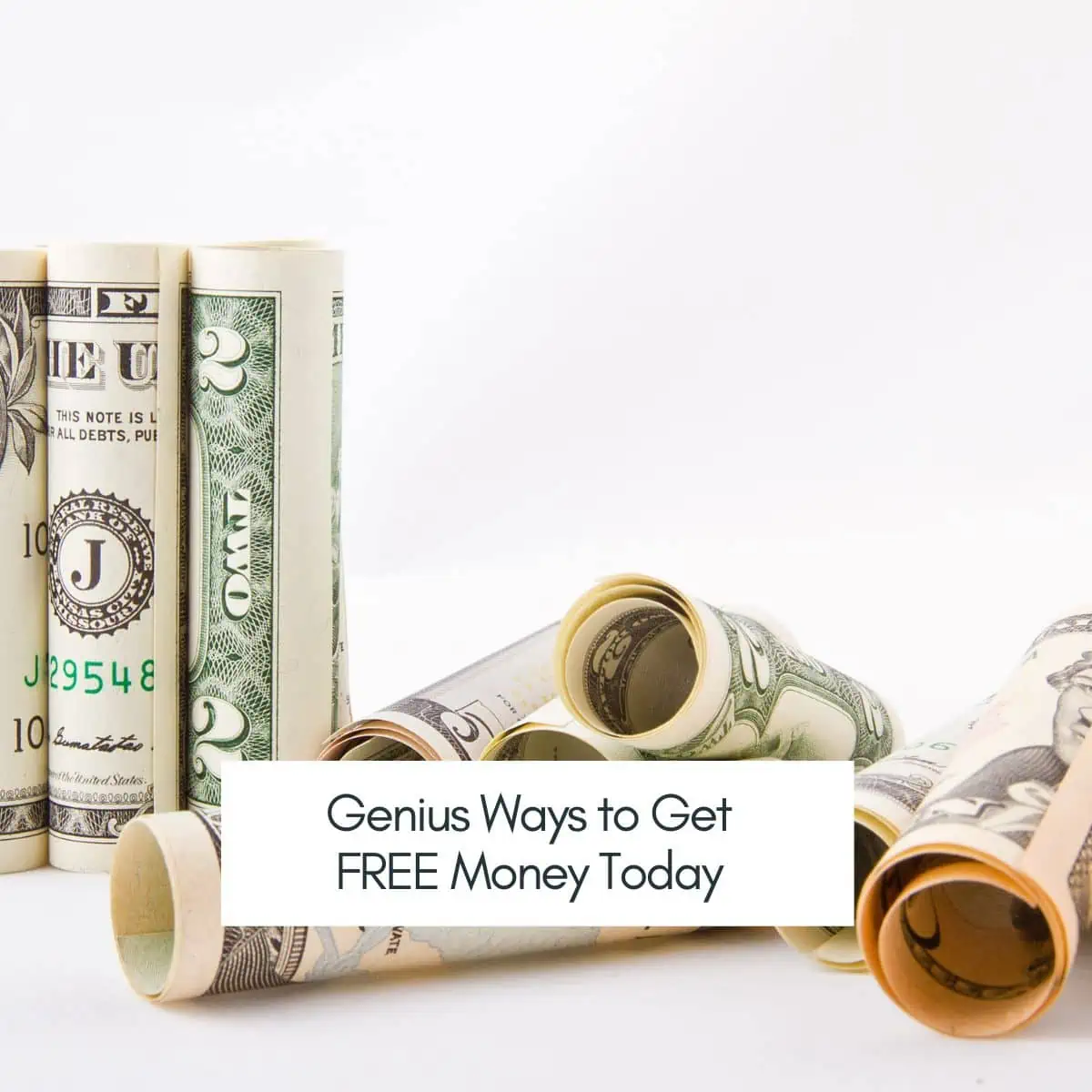 Get Money for Free by Shopping
You can get free money for buying things you would buy anyway using cashback and shopping apps. So before you go shopping, whether online or in-store, make sure to sign up with and install some of these shopping apps.
How do cashback apps work and how do you get free money using these apps? Cashback apps are paid by their partner stores for bringing customers like you to these stores. So, each time you purchase something, say from Walmart or Amazon, through a cashback app, the company (app) gets paid by their partner store for your purchase. The app then splits this commission with you in the form of cashback!
I've earned over $2000 in free money from these apps so I know they are real! 🙂
1. Ibotta
Ibotta is a grocery cashback app that pays you free money when you buy groceries from its retailer and online store partners. This is one of the most popular apps in the world, with over thirty-five million app downloads. It has also reportedly paid its members over $500 million in cash back.
You can start earning cashback by linking your store loyalty account, buying in-store, and shopping online.
I've received over $1000 in cashback and bonuses by simply using this awesome app!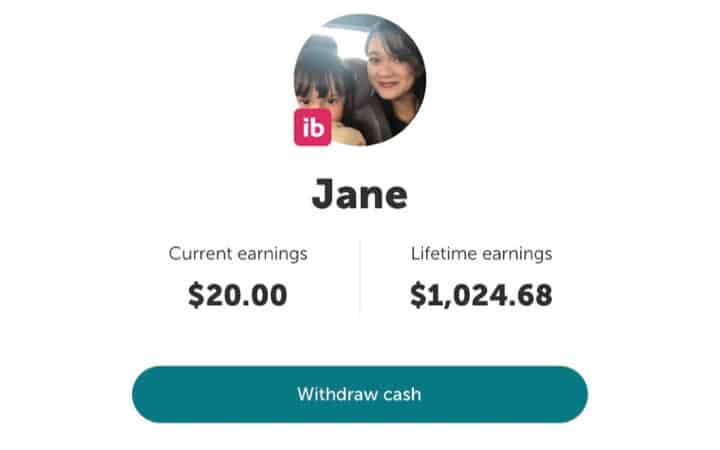 A bonus? Ibotta is currently giving away up to $20 bonus for signing up with Ibotta for free!
Related: Ibotta Review: Is Ibotta Legit? Is It Worth It?
---
2. How to Get Free Money Now with Rakuten
Formerly Ebates, Rakuten is another top-rated app people use to make free money online by saving money when they shop. Rakuten is a free-to-use website or app that allows you to shop from their partner online and on-ground stores, and then earn cashback from your purchases.
Rakuten has over twelve million members and has paid out over a billion dollars in cashback.
I've made over $1000 $2000 in free money by using this app!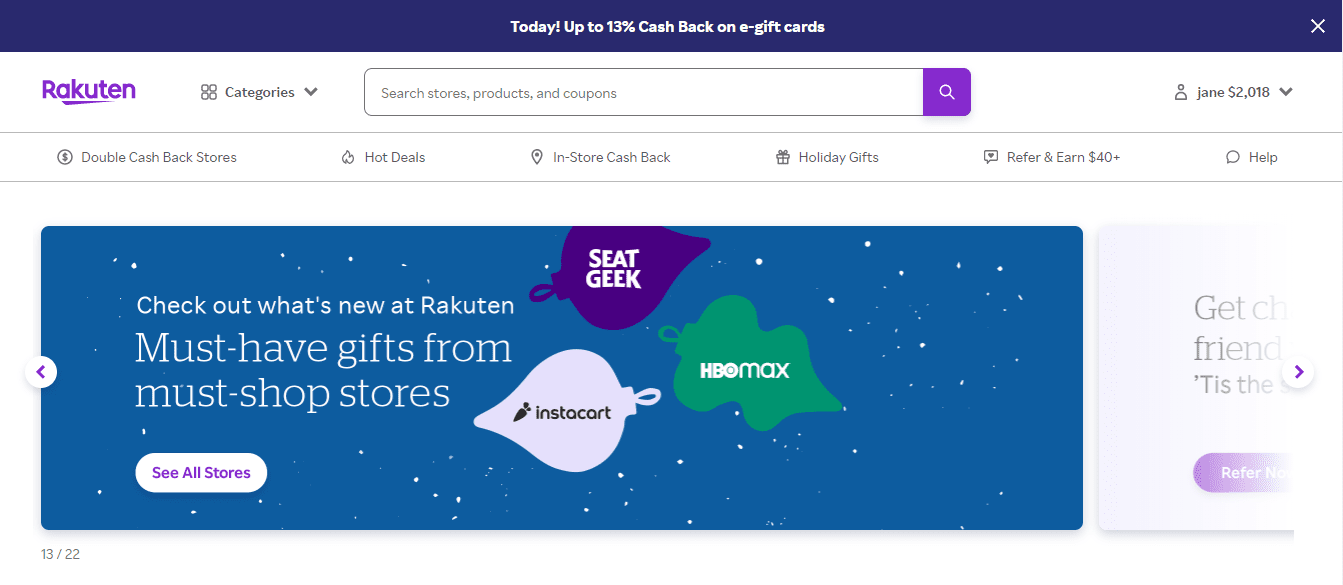 Rakuten is currently offering a $10 welcome bonus to all its new members. However, you can only redeem the sign-up bonus if you made a purchase of at least $25 in the next 90 days.
---
3. Drop
Drop is another one of the fantastic free money-making apps that give you cash back from shopping, and it's also popular, with over three million users. 
But unlike other rewards and cashback programs, Drop asks you to link the debit or credit card that you use when you shop. Each time you use the card, Drop accumulates points for you in the background – no receipt scanning or anything like that required. You get $1 when you accumulate 1,000 points. You automatically get 5,000 points or $5 as a sign-up bonus. 
---
4. Pei
Pei shares a system similar to Drop's. It is also a cashback app that lets you accumulate points by using a Pei-linked card. Once you've got it all set up, the app will run in the background and collect cashback without you having to do anything. You can cash out your Pei earnings in the form of a gift card, PayPal money, or Bitcoin.
Pei also gives you $15 when you sign up, and lets you transfer that money to your PayPal account instantly.
5. Paribus
Paribus is a free tool that scans your email for receipts of online purchases, and then tracks the items' price. When Paribus finds out that the price of the item has dipped down, Paribus gives you an alert or helps you apply for a refund. Paribus is actually a nifty tool for all the frugal people out there, especially if you want to save in every possible opportunity but don't have the time to monitor prices.
Learn more about Paribus here!
---
How to Get Free Money with Surveys
Answering surveys is another easy way to get free money online. If you don't mind answering questions like "Which coffee brand do you buy at the store?" or "What type of car do you drive or when are you likely to get a new car?", you'd probably enjoy answering surveys and getting paid for it.
How do survey sites work, and how do they make money? Getting free money through surveys is as effortless as answering multiple-choice questions. Survey sites are paid by companies to distribute their surveys to consumers like you for market research.
6. Earn PayPal Money with Swagbucks
Swagbucks provides surveys and in return, survey takers earn points which they can redeem as cash after accumulating a certain number. It's reported that the company has paid over $300,000,000 to its users!
Apart from answering surveys, you also earn money free by using Swagbucks as a search engine, watching videos, and shopping to get cashback. You also get a $5 sign-up bonus when you join Swagbucks below.
7. MyPoints
MyPoints is a rewards company that pays its users for doing certain tasks, such as watching videos, shopping, reading emails, playing games, answering surveys, and more. You'll accumulate points as you do these tasks. When you reach 700 points, you can cash it in as $5 gift cards for popular stores and brands, or as PayPal money. Signing up with MyPoints is quick and easy, plus you get a $10 welcome bonus.
---
Get Free Money with MICRO-INVESTING APPS
Let me first make things clear about using micro-investing apps: while investing apps offer a great way to get money in your bank account and give you sign-up bonuses (a.k.a. free money), please do your own due diligence before signing up and weigh the pros and cons. After all, any investment comes with risks.
If you are interested in micro-investing apps, here are some of the most popular options that allow you to invest as little as $5. These micro-investment apps will also give you $5 FREE money for signing up.
8. Stash
Stash is a modern-day investing app that allows you to start investing with as little as $5. Stash isn't entirely free, but it's one of the cheapest investing sites/apps there is ($1per month). Apart from that, you can also buy fractional shares of stock with your Stash account, as well as set up a portfolio of ETFs and stocks free of charge. Stash offers $5 as a sign-up bonus.
9. Acorns
Acorns is a micro-investing app/site that strives to make investing simple, straightforward, and automatic. What the app does is collect your spare change from your purchases, and then invest them into Acorns. Acorns is quite popular, with over 4,000,000 users, so people are really digging what it has to offer. The best thing perhaps with Acorns is that you can create your own investment portfolio on the platform, build your retirement account, and save some money at the same time. Acorn has both free and paid versions (the most expensive one is $3 per month), and you get $5 when you sign up.
Related:
---
Negotiation service apps
Negotiation service apps scour your account for any recurring bills many that you no longer benefit from, whether it's a gym membership that you very rarely use, or an expired introductory rate on your cable package. These apps are designed to help you cancel unused subscriptions. They also negotiate with companies on your behalf to bring down your cable, phone, and internet service costs, among others, therefore letting you save money effortlessly.
10. Trim
Trim is a popular negotiation service app that helps users save money by trimming down bills and expenses. The company is five years old, yet it's reported to have helped users save over $20 million from their expenses. With Trim, you need to link your credit or debit card account, and the app will investigate items where you tend to overspend. It also identifies recurring subscriptions that you no longer use and then cancels them for you. Trim also helps its users develop a debt pay-off plan so they can be on top of their finances.
Lower Bills with Trim
11. Truebill
Truebill is a finance management service that looks into your expenses and sees where you can possibly cut back. It lowers your bills by identifying unwanted recurring subscriptions and then canceling them for you.Regardless of howmuch yo spend on your phone plan, cable, or internet, Truebill even identifies outages and interruptions and manages refunds on your behalf.
Truebill is a free app. However, it's paid version costs $4.99 per month.
Check out my Truebill review to learn more!
---
Apps to sell your old stuff online
Selling old stuff is one of the classic ways to get money fast and free. The clutter you have lying around at home could easily translate into cold hard cash, whether these are your kids' old toys, extra cookware in your kitchen, old books and electronics, clothes, or furniture. Here are the top apps you can use to effectively sell your old things.
12. Decluttr
Decluttr is an app that accepts old DVDs, Blu-rays, CDs, and games. Instead of disposing of these old things, you can make money quickly by using Decluttr. All you need to do is download the app and scan the barcode on the DVDs. The app will giveyou a price for each item. You collect the old DVDs, put them into a box, and send them to Decluttr. The app then send your payto your bank, to your PayPal account, or your chosen charity.
13. Bookscouter
If you have lots of books lying around, you can get free cash now through the process of flipping. Bookscouter is an app that allows you to sell used books online. It is easy to use as wellJust head over to the website and enter the book's title or ISBN. The site then gives you a list of buyback vendors, as well as how much they pay foryour book. When you've chosen a vendor, you then ship the books to them. You'll receive the payment via PayPal or direct deposit in one to three days. How much you earn with Bookscouter depends on a lot of things, but it always pays to compare prices among vendors and check the vendors' ratings too.
14. Gazelle
Gazelle is a site that purchases your old phones and Apple products. To start making money from your old electronics, you need to find the model number on Gazelle's website. You will have to state the condition of the item and Gazelle will give you its quote. If you're happy with the price, Gazelle will send you packing materials and instructions on how to pack the unit. You'll have to ship the item to their address. If they agree with your description of the item's condition,, Gazelle will pay the agreed amount via check, PayPal, or an Amazon gift card.
---
Get Free money from the government
We pay the government through our taxes, but there are several instances when yout can turn the tables and get free money from the government.
15. WIC Grant
WIC is a government program with a mission to help needy mothers feed their children. The program is designed to help pregnant women, breastfeeding mothers, and postpartum women with children five–years-old and younger attain supplemental nutrition for free. Recipients may receive food benefits (food staples)such as cereals, cheese, milk, and eggs, while infants get special formula.
16. Pell Grant
The Pell Grant is a federal student assistance program that gives undergraduate students the opportunity to study without getting into debt. Unlike other student loans, students do not have to pay back the Pell Grant.
To qualify for a Pell Grant, an interested student must demonstrate financial need and enroll in a degree or program as a part-time or full-time student. Pell Grant gives qualifying students a maximum of $6,195 in financial aid.
17. ChildCare Assistance
The government also gives free money to low-income families who struggle with childcare costs through the Child Care and Development Fund.
According to childcare.gov, childcare is one of the highest expenses many families struggle to pay. To help ease this burden andqualify for this benefit, you must be the parent or primary caregiver of children thirteen-years-old or younger. Qualified applicants are also earning low to very low income but are enrolled or employed in a training or education program.
18. Unemployment Assistance
If you find yourself without a job, you may get free money from the government through unemployment compensation.
This benefit is designed to provide people without employment a source of income until they're able to get a new job. You will receive a check or direct deposit to cover the costs of your basic needs for a predetermined time of employment or until after you find work. The amount will vary per state.
19. Get unclaimed money
There are many reasons why you might have some unclaimed funds sitting in a account somewhere. Perhaps you never got around to cashing in a check and totally forgot about it, you are entitled to insurance reimbursements, apartment deposits, or over-charged utility bills.
If the government isn't able to locate the rightful owners of such money, the funds are turned over to the state. If you believe you have some unclaimed funds, head over to unclaimed.org to find out how to report, find, and claim your money.
---
Get Free Money with Your Car
Although a car is considered a necessity nowadays, it's also undeniable that it's a running liability. Each mile you drive depreciates your car's value at the same time as you spend money on gas, repairs and maintenance, insurance, tickets, and parking fees.
The good thing is thatyour car could also generate free money fast through car wrap advertising and car-sharing.
20. Car wrap advertising
Car wrap advertising is an awesome way to make money fast and free with your car. As long as you don't mind putting advertising in your car and driving it, then you could earn $200-$500 a month without effort.
To qualify for this easy free money gig, you need to have a newer car model and commit to driving within specific times of day, cover a particular number of miles, or be visible in specific locations within your area. Once chosen, the car wrapping agency will wrap your vehicle with the client's brand, either fully or partially. You will then need to drive your car as agreed to within the promotional period and earn money painlessly.
Related: How to Make Money Advertising on Your Car
21. Turo
Turo is an app that lists cars for rent. If you aren't really actively using your car or have a spare vehicle, you can make money from it by renting it out to others. You can think of Turo as AirBnB's counterpart for car rental.
To earn instant cash with Turo, you need to sign up on the app and list your car.
Turo does take out 25% of your earnings from each rental, but that covers Turo's insurance. Should something happen to your car while it is being rented, Turo provides up to $1 million in liability insurance.
If you take this gig seriously, you may be able to generate enough money to cover your car's monthly premiums. If you can make $500 a month, you will still have some money left for savings, retirement, and other expenses.
---
Other Awesome Ways to Get Free Money
22. Play Games with Luckstatic
If you've always enjoyed playing scratch games, then you can make free easy money with Luckstatic. It is free, fun, and easy to do. You can win gift cards, cash, and even entries to contests.
Luckstastic is an app played on a mobile device, and it is only available in the US. You do not have to pay anything to use the app, but you have to spend time (30 seconds per scratch card) to play it. You may scratch cards any time you like, but they have bonus cards when you play at 1 pm, 5 pm, and after 9 pm EST.
If you win, you may redeem your prize as Amazon, retail, and restaurant gift cards, which basically translates to free money.
Luckstastic is a legit app which has had over fifteen million downloads, used by over two hundred thousand  people, and has paid out over $3 million in prizes. 
Related: Luckstatic Review
23. "FREE" Money from Idle Space
Hosting an idle space, whether it's a spare bedroom, apartment, or second home, on Airbnb is one of the best ways to make free money. A lot of people have jumped into the sharing economy and realized lucrative income potential from their idle spaces.
Platforms like Airbnb allow you to accept guests and book your space for a specific period. Think of it as running a small hotel. The great thing about this is that it can be a full-time job, or side hustle to help supplement the family's income.
Becoming an Airbnb host is quite simple. Youa need to create a profile on the site, get verified, and then set up your listing. You need extra space to list on the site, and then the company takes out three percent in fees when a guest checks in.Make sure to post attractive photos, provide top-notch customer service, and be the best Airbnb host you can ever be. That idle space could very well help you make money fast and even cover your mortgage costs.
Seated is a restaurant app that allows you to book a seat in your chosen restaurant. But apart from securing your seat, the app also promises some generous cashback—as high as 30 percent—for dining out. You just need to keep the receipt for your meal, take a photo of it, and then upload it on the app. The app will process the transaction and give you cashback. You can then use the cash to pay for things like a Lyft ride or a Starbucks coffee, among others. Seated currently offers $15 as a sign-up bonus.
25. Coupon Code Finder
Using coupons is a savvy way to save money. You basically get free money fast by not paying or a product's full price. You can find coupons the traditional way(coupon books,in the mail, and in the Sunday newspaper,but there are now quick and easy ways to coupon without the need for clipping and organizing.
If you like to shop online, you can use coupon code-finding apps and browser extensions such as Honey, CouponSumo, and Cently. You just do your usual online shopping routine, activate the extension, and it will find an valid applicable coupon for you. These extensions also have other nice extra features, such as price drop alerts and availability monitoring. The best thing is that most of these extensions are free and work with major retailers.
---
26. Bank Sign-up Bonuses
Bank sign-up bonuses are easy and effortless ways to get free money in your bank account. Offering a sign-up bonus is the banks' way to earn more clients and remain competitive. And if you open a credit card, you may get more savings through travel miles, rewards, and other bonuses.
If you want to make more money with the money you already have, you can open a bank account and enjoy its sign-up bonus. Rules are different across banks. Some banks disqualify new account holders with the sign-up bonus if they still have active accounts with other banks, while some banks don't care if you're switching or not.
Additionally, you need to have a good credit score and keep your account open for the next ninety days. Some banks also require new account holders to accomplish a specific amount of debit transactions within a specific time frame to qualify for the sign-up bonus.
---
Final Thoughts
There are plenty of ways to make money now fast and free. Some of them can bring quite a lucrative income while others give you some extra cash here and there. Having extra money gives you the ability to choose how you want to live your lifei nsteadt of iving paycheck to paycheck.
Do you want to get free money right now? Consider the tips above and start taking control of your financial life.