With the costs of commodities rising day after day, you might be wondering how to live cheaply. Is cheap living still possible?
We pay for everything–to eat, have a roof over our heads, have something to wear, be healthy, entertain ourselves–everything!
And it's so easy to take the money out of our pockets, but it takes time and effort to earn it back.
While it's true that we need to spend money to live, it doesn't mean you have to pay top dollar for everything.
These cheap living tips will help you cut costs and save more money for your long-term financial goals.
But first…
What is Cheap Living?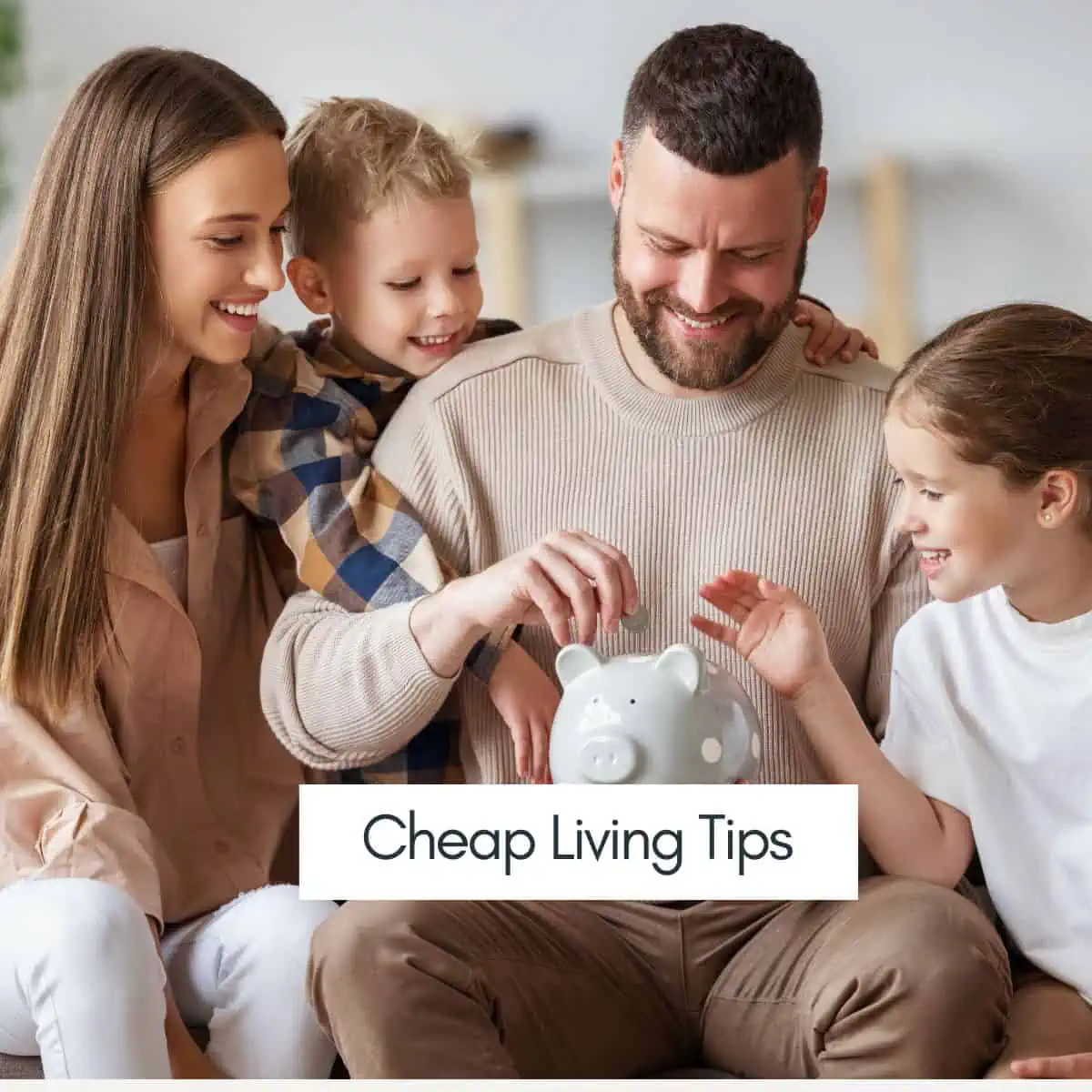 Cheap living is all about choosing what's practical and cost-effective without compromising quality and comfort.
Living cheap means you want to pocket your savings by being strategic with your spending. You want to spend less on certain things so that you have extra money to spend on things that matter most to you.
These cheap living ideas are easy to follow and can help you save hundreds to thousands of dollars per year!
This post contains affiliate links. This means I may earn a commission when you make a purchase through these links. Please read my full Disclosure for more information.
---
How to Live Cheaply: Best Cheap Living Tips
Tip: Want some motivation or to have fun while saving money? Download this free frugal living savings tracker and track the savings you make from these cheap living tips below!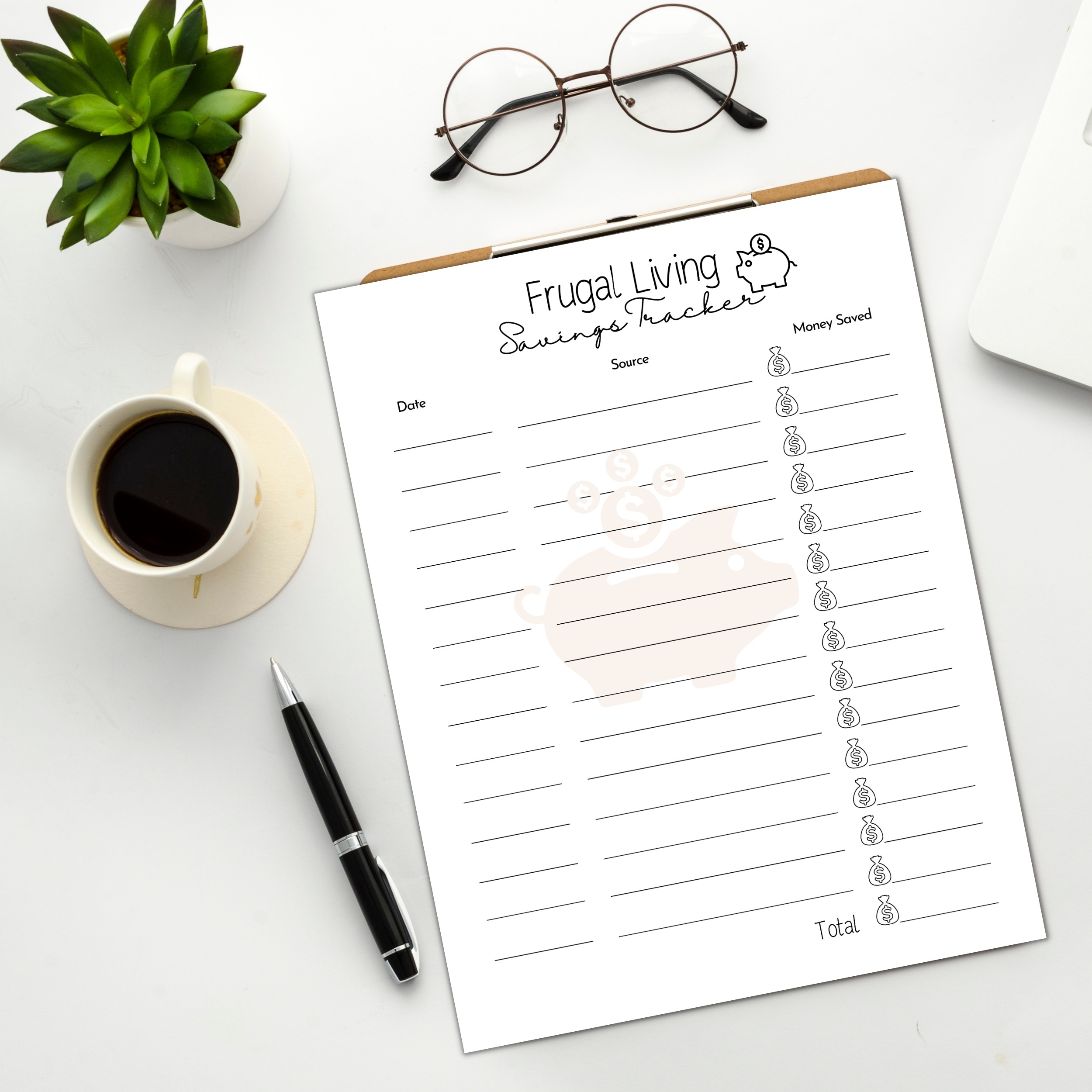 Make a list, create a budget and commit to it
This is perhaps the very foundation of a healthy financial life, and it may sound cliché, but it's also imperative: you need to have a budget.
A budget is vital in helping you keep track of your spending, so you know where your money goes even before you spend it.
How does that tie in with cheap living?
I always think of a budget as a tool that helps you identify areas where you can cut back so you can maximize your savings.
If you think you're over-budgeting for entertainment this month, then it's time to get more creative and find free sources of entertainment.
If you feel your clothing allocation is going to ruin your overall budget, then you probably need to postpone shopping or look for cheaper clothes elsewhere.
A budget helps you decide what expenses to keep and what expenses to minimize or eliminate so you can live within your means.
Another important activity that's closely related to creating a budget is making a list.
You go shopping a few times each week, and during those trips, how many times have you felt vulnerable to overspending? If you can't curb your impulsive buying behavior, then you're not living cheaply. A list tells you what to get so you don't end up getting anything else. It's also an essential weapon to help you stick with your budget.
Choose cheap but healthy food
Food used to be one of the top spending categories in our household.
Here are some of the strategies that we use to spend less on food without compromising quality:
Makemost meals at home. Restaurant and fast food meals are expensive and aren't very healthy.,When you consider the cost of ordering drinks, paying tips, and buying your your vehicle gas to go out to eat, it really adds up! Making most of your meals at home gives you better control over ingredients, portions, and cost.
Eat healthy snacks. Always bring filling, healthy snacks with you, so you don't cave into the temptation of a fatty cheeseburger and greasy fries. A pack of nuts, an apple, and homemade sandwich are cheaper and healthier snack options.
Shop wisely. Time your shopping when your favorite foods go on sale or are in season when prices tend to be cheaper. Use coupons to get deeper discounts. Don't go shopping hungry.
Reinvent leftovers. Don't toss those leftovers as they'll make excellent lunches or dinners the next day,saving you more money on food.
Know when and where to shop! This can keep you from spending unnecessarily. We've compiled a list of grocery shopping tips here as well as a list of cheap grocery stores. Be sure to check out the posts for more money-saving tips!
More Posts About Frugal Living
Use Ibotta and earn cash back on grocery purchases ($10 FREE!)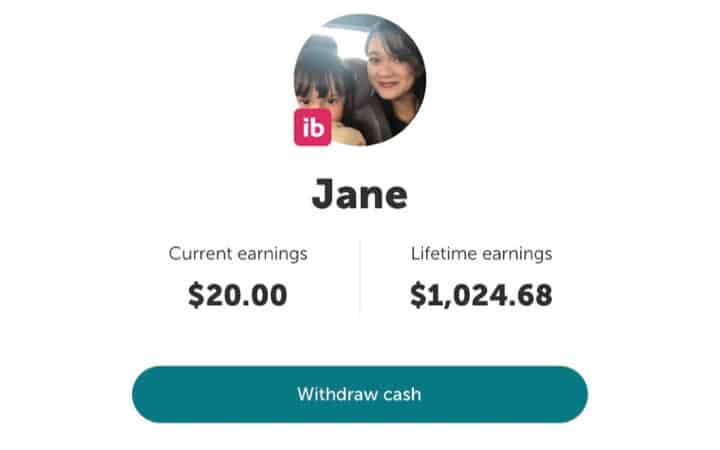 Did you know that there's a free app that pays you money for grocery shopping? If not, then you've been passing up a lot of free money!
This cash back app has paid me over $800 $1000 for buying grocery items I would buy anyway.
Ibotta is a FREE app that works just like couponing without the need to clip coupons.
Scan your grocery receipts using the app and earn cash back on grocery items such as milk, meats, vegetables, bread, and cleaning products.
Ibotta partnered with hundreds of grocery stores, such as Walmart, Sam's Club, and Costco, in over 500,000 locations. There are lots of places where you can use this app to save money!
Ibotta has also recently expanded and can now be used for certain online purchases.
You can check it out here and receive up to $20 FREE after uploading your first receipts!
---
Downsize your home
If your kids are off to college and it's just you and your spouse, a five-bedroom home might not make that much sense. Or, if your household experiences a dramatic drop in income, housing is one of the first huge expenses you should look into. After all, a smaller home is cheaper to run and maintain.
If downsizing or moving to another place is not an option, here are a few frugal living tips to help you lower your housing expenses:
If you are planning to buy a new home, be sure to check out this home buying guide to learn more about the interest rates and other costs of buying a new home.
---
Cut the cord
We cut cable TV over five years ago because we could really not justify this expense; we have been saving $800 per year since!
There are lots of cheaper alternatives to cable. There's Hulu which only costs $8 monthly with the option to pay $4 more to watch commercial-free.
And then there's Amazon Prime video which not only gives you access to thousands of movies and TV series for only $99 a year; you also get free cloud storage with your account.
Try the Amazon 30-Day FREE Trial Here
We switch between Hulu and Prime Video depending on the type of shows we want to watch for the month. Sometimes we freeze the accounts when we are not around or we know we won't be using the service, saving us more money!
---
Turn spare time into spare cash
For every frugal person, time is gold. You can turn your spare time into spare cash even when you're just staying home, and it's a far more productive way to spend time than lazing on the couch, watching TV mindlessly.
Survey sites like Swagbucks, MyPoints, One Opinion, Inbox Dollars, Vindale Research (up to $50 per survey!), and Pinecone Research are constantly looking for survey takers who are willing to share their opinions as consumers.New sites are popping up every day!
If you can wrestle several 5-minutes blocks of your time each day answering surveys, you can rack up points that turn into free money. Some sites also offer sign-up bonuses!
Other ways to make money
If you are looking for side hustle ideas that pay well, check out the following articles:
---
Save up to 40% on your online purchases + FREE $10 upon sign up!
When you shop online and do it through cash back online portals like Rakuten (formerly known as Ebates), you could earn up to 40% cash back on your purchases.
Since you are purchasing anyway, why not go through this simple and quick process and earn some rebates? It's also great to keep Rakuten running in the background as a browser extension so you can get alerts about great deals each time you go online shopping.
Rakuten has also paid me over $2000 in cash back and bonuses!
Rakuten is currently offering a $30 bonus which you'll receive after making your first $30 worth of purchases at their partner stores. 
For more information, read my Rakuten Review here.
---
Declutter, donate, and sell 
Do you hoard stuff? Have you run out of storage in your home? If you answer yes to both, you have some serious decluttering to do.
Decluttering allows you to clear away the visual noise from your home, whether it's toys your kids no longer play with, clothes you don't like or that don't fit you anymore, or home gym equipment you haven't touched in ages. There's no point in having things if you're not using them anymore, right?
But, instead of throwing them away, consider donating or selling your clutter.
Itemsyou can sell can earn you a couple of dollars. Items that you donate may give you some tax incentives.
Decluttering will free up more space in your home as well as reduce your physical and mental cleaning workload.
Where to sell stuff for cash?
You can post the items you want to sell on eBay, Facebook Marketplace, or even have a garage sale.
If you want to sell old electronics such as tablets, iPhones, or CDs and DVDs, try using this free Decluttr app here to sell your stuff online for cash.
Another great place to sell stuff like books, DVDs, and cell phones is through the Amazon Trade-In Program.
Amazon pays only in Amazon gift card credit, which is fine if you like shopping at Amazon.
One good thing about selling through the Amazon Trade-In Program is that the site will also provide you with a free pre-paid USPS or UPS shipping label so all you need to do is send off the items you want to sell.
If you have used name-brand fashion items such as Louis Vuitton or Michael Kors bags, or upscale clothes that you want to sell, we recommend Poshmark. Download this free Poshmark app here and start selling.
Related: 24 Best Websites To Sell Stuff Locally and Make Quick Cash From
---
DIY gifts
Apart from the holidays, there are several occasions throughout the year that call for gifts. But do you really need to spend top dollar for them? Making your own gifts helps you save more money and give your gift a more personalized touch.
Consider baking a cake or cookies instead of buying them from a shop. You might also want to make soaps, candles, or body scrubs; sew blankets, create headbands or turbans, or
make customized jewelry and accessories. The options are endless!
If you want to cut the expense of gift-giving, you could even offer your time and talent instead.
More Posts About Frugal Living
---
Learn a few simple DIY skills
This is perhaps one of my favorite cheap living tips because it's where we save a lot of money!
We save a lot of money each year by becoming our own carpenter, plumber, gardener, computer technician, car mechanic, and more!
There are many things you can DIY such as the following:
Pet grooming$20-50
Haircut – $10-$30 per salon visit
Grass trimming- Save $50 per month
House cleaning–$20 an hour and up
Childcare – Thousands a year!
Filing your taxes – $150 per year!
Car washing – $100 per year
Before you hire someone for help, check out some tutorials on YouTube or Google the task first. You might find easy-to-follow tutorials that will walk you through fixing things yourself, saving you more money!
---
Buy used
Buying used often makes more sense than buying new, especially when you're looking to stretch every dollar.
Lots of places sell used items, from consignment shops and second-hand stores to, yard sales and estate sales. You'll even see used items online at places like Craigslist and Facebook Marketplace. You'll also find a variety of second-hand products sold at discounted prices, including clothes, books, gym equipment, and just about anything else you can think of! If you look at these places first, you'll potentially save more money.
You can find great quality used items at:
eBay
Poshmark–Cheap living doesn't mean buying cheap low-quality items. Try this free app here to buy used name-brand products at great deals! You'll also receive $10 FREE after your first purchase.
Garage Sales
Amazon Warehouse – Buy millions of quality pre-owned products at discounted prices!
---
Stop drinking water from a bottle
It costs at least $50 per person per month to drink water from a bottle and even more for large families. You can save a lot of money by investing in a good water filtering system at home and reusable water bottles.
This cheap living tip will help you save money and the environment, too!
---
Save up to 15% on regular purchases through Amazon Subscribe and Save
This is a program that allows you to purchase everyday products from Amazon, like coffee, cleaning products, kitchen towels, and some over the counter medicines, at a pre-determined recurring intervalsuch as weekly, monthly, or every three months.
Amazon lets you save up to 15% on these purchases and even makes it convenient delivering the products to your home. And since you won't be making multiple purchases at the store anymore, you also save money on gas!
Load up your cart with Subscribe and Save here.
---
Lower bills using Rocket Money
Rocket Money is an Al-driven financial assistant that can negotiate lower rates on your phone, cable, and insurance bills for you. It works with Comcast, Time Warner, Charter, and any other provider and has saved over $1 million dollars for consumers in the last month.
You can try it for FREE and put money back into your pocket without cutting cable.
You may also want to check out Truebill, an alternative to Trim.
---
Cook cheap meals
If you constantly overspend on food because you don't know what to cook for cheap, I highly recommend this cheap service called the $5 Meal Plan!
For only $5 a month, Erin from the $5 Meal Plan will email your weekly BUDGET meal plan with each delicious meal costing only $2 per person or $5 per family, thus helping you save money and time.
Erin is currently offering a FREE 14-day trial through this link. If youlike the service, continue using the service for only $5 per month. Otherwise, cancel it before the trial expires and you'll still get free meal plans for two weeks!
---
Use generic brands
There might be some store-brand items that you just don't want to purchase and that's okay. But there are also lots of items that are just as good as their name-brand equivalents, only cheaper! Check out store-brand detergent, mouthwash, pasta, seasoning, or canned goods. It might surprise you that you won't be able to tell the difference! Be smart when shopping and snag the value!
Try generic medicines, too. According to the FDA, which tightly regulates generic drugs to ensure they meet the same quality standards as name-brand medications, the price of generic drugs is 80-85% less than name-brand medicines.
---
Save up to 50% off your restaurant meal!
Cheap living doesn't mean cooking meals at home all the time. You can still eat at your favorite restaurants and pay up to 50% less by using a coupon or deal from Groupon.
Check Groupon deals here for your next restaurant trip!
---
Switch to a prepaid phone plan
There are many free alternatives to connecting with people these days, from built-in phone apps like Facetime to other third-party apps like Facebook Messenger.
Dedicate some time to researching cheaper prepaid packages where you can best control how much you pay for call minutes and SMS while getting the best out of your data. If you have wifi working in your house, you might also want to consider pay-as-you-go data on your phone to further save on your plan.
---
Use your local library 
Books are wonderful treasures but let's be honest, they wouldn't be the first on your priority list if money is short and you're trying to live on the cheap.
This doesn't mean you have to cut them out totally. Instead, head over to your nearest local library, sign up for a library card, and use this to borrow books and get access to magazines and other reading materials that you like. No extra cost out of your pocket and you don't have to worry about more storage in your home.
---
Skip a gym membership 
There are several other ways to keep fit without necessitating a visit to the gym. Local parks have jogging trails and basic exercise machines that are free for use anytime. YouTube has a rich compilation of equipment-free exercise routines that you can watch and do in the comfort of your own homes.
Apps like Asana Rebel and MyTraining also have exercise routines that you can access, even with the free versions, for a more structured regimen.
---
Bring the party to your home
Eating out can be expensive, and parties hosted in restaurants are doubly so. Instead of special occasions and regular get-togethers on the town, have everyone come over to your house for a potluck party.
It will save you from shelling out hundreds of dollars on food and drinks, not to mention tips and service charges, while giving you all the best bonuses of a private party: lingering as long as you want while talking and laughing as loud and as much as you want without disturbing other diners.
---
Find free places for vacations, short breaks and day outings 
Day trip breaks and long weekend outings don't have to mean extra expense on an otherwise already-strained budget.
With a little creativity and research, enjoy short breaks by compiling a list of all the free places to hit in your area or neighboring towns that are a short drive away.
Hit up free museums or be on the lookout for special days when some galleries and museums offer half-price tickets or a free entry. Take advantage of other free relaxing spots like the beach and nature parks.
---
Plan ahead for longer vacations and be strategic with your travel
In the event you do have to travel substantially or want to take that once-a-year long vacation, then plan for this in advance to get the best deals and avoid last-minute jacked-up prices.
Travel experts advise booking plane and train tickets some 3-5 months before your date of travel – not too late but also not too early.
Sites like Kayak and Skycanner are good places to start for searching for and comparing cheap flights across networks.
Accommodation can be booked earlier. tThe longer you can stay in a place, the better your opportunity to  to get a lower per day rate. You can often negotiate for a discounted rate for long stays with some properties on platforms like Airbnb. 
---
Streamline your personal care routine 
Another tip on how to live cheaply while saving space in your home and cutting down on your plastic consumption is to streamline your toiletries and make-up. Start by using products that do doubleduty and avoid buying multiple products that do the same thing.
Some oils work effectively as a make-up remover as well as a skin moisturizer. Most moisturizers also come packed with more than adequate SPF coverage for the face. With good research, you can find a good eyeshadow that can also double as eyebrow tint or as a lip color.
---
Rent instead of shop
This is a new twist to the traditional clothes rental shops. With many people jumping on the bandwagon of minimalist lifestyles and increased consciousness of sustainable fashion, clothing rental apps are the newest alternatives to keeping up with the latest trends without always hitting the shops.
Check out apps like Rent My Wardrobe and Flyrobe to rent clothes for all occasions from local and designer shops at reasonable prices. You can also rent accessories including jewelry, bags, clothes, and other accessories with apps like Rent It BAE.
---
Skip paying the full price
A car, a major house appliance, or perhaps even an important piece of technology like a laptop, are items we are willing to pay full price for, but there are many other items wherein discounted prices wouldn't diminish their value to us.
If you do absolutely have to shop for clothes and other apparel, then check out influencer accounts on Instagram and lifestyle blogs and websites to get discount codes from certain endorsed/affiliated brands.
Want to treat yourself to that rare twice-in-a-year only mani-pedi combo or hair treatment? Visit sites like Groupon for packages at discounted rates.
---
Look for interest-free installment payment plans if you have to shop 
I know this can be contentious advice. Many would argue that paying in full if you have the money can you save more financial headaches in the long term. This is true because installment payment plans typically carry interest charges and some hidden charges.
A smart way to go around this issue is to save up for a big purchase as much as you can or find alternatives that eliminate thee need for thee purchase altogether.
But if you really do have to make that purchase and money is tight, consider looking for fully transparent, interest-free installments payments, such as through apps like Klarna and Afterpay.
---
Avoid fees from simple transactions 
You may not know it but you can also save substantially by being aware of low-cost fees charged for your simple transactions. Studies show that the average ATM fee for simple transactions is $4.54.
These fees may only amount to a couple of dollars every single time, but they can accumulate over time. Suddenly you realize it's a substantial amount of money you could have added to your rainy day savings.
Save this amount by using your bank's ATM as much as possible to avoid inter-bank charges. 
Also try apps like Square Cash, Venmo, and Google Pay that allow you to make money transfers and inter-bank payments without any fees or hidden charges. If you're a frequent Amazon user, you may want to weigh the long-term savings you can achieve with an annual Prime subscription that gives you free shipping for most purchases.
---
Take advantage of bank sign-up bonuses 
Sign-up bonuses are one of the newest strategies offered by banks to attract clients and get them to open a savings or checking account. In essence, you get handed money for free – from a couple hundred dollars to more – for opening an account with the bank, especially if you're a new account holder in their bank.
These bonuses are not equal across banks.i In some instances, the bonus isn't as big as it seems or you may end up having to maintain more money in the account than the actual bonus you're going to get or you have to pay a monthly fee. Good research can give you some idea of the best bank bonuses available out there.
Need recommendations? My favorite is American Express. They offer 0% APR for the first year and $100 FREE after you spend $2000 using your new Blue Cash Everyday® Card.
You could also earn 20% back on purchases on Amazon.com made with the Blue Cash Everyday® Card in the first 6 months, up to $150 back.
---
Use Arcadia Power 
Utilities are one of the money suckers in your budget but because most utilities like electricity and water are basic needs. They are practically nonnegotiable. But it's still possible to cut down on the consumption of these basic utilities and tuck away some extra money every month.
Arcadia Power is one of the newest initiatives out there that allows you to support clean energy while lowering your electric bills. It powers your home with renewable energy sent through whatever existing power lines are available, an innovative alternative to the more costly solar panel option. Under this plan, you pay your electric bill to Arcadia Power, and they, in turn, make the payment to your electric company. You can choose between wind or solar power, and adjust your usage from half to a full one hundred percent alterative power.
---
Learn simple hacks to save on utilities 
In addition to shifting to a cheaper and cleaner energy alternative, you can also continue to save on your utilityconsumption by practicing very simple lifestyle changes.
Unplug appliances when they're not in use. A study found that on average, a household consumes an additional $165 a year in electricity costs for appliances left on idle or standby mode. Left plugged into power, these appliances consume what is called phantom or vampire electricity.
Laundry is also a major culprit behind excessive utility consumption. Save on electricity and water by washing your clothes in cold water and minimizing the use of a dryer, opting for line drying as much as you can.
Related Post: Truebill Review: Is Truebill the Best Way to Save Money on Bills?
---
Consider investing in things that can save you more money in the long term 
Another cheap living tip is to proof your house and opt for maintenance work that is more sustainable and can save you more money in the long term.
Investing in a reprogrammable thermostat, for instance, would mean paying a couple more extra dollars than a rcheaper regular model, but the savings you can make from the heating in your house will outweigh its cost.
Shifting to LED lights would also mean more savings in the long run because they last longer than incandescent bulbs and are more energy-efficient.
---
Think about your transportation options 
Using public transport is by far the simplest and easiest way to cut down on your transportation budget. I also strongly believe that streamlining your private vehicle is important.Maintaining one car is always cheaper than having two.
Save on your car insurance premiums by limiting your mileage if you can; the fewer miles you drive,  the less risk you are to car insurance companies. Pay your  premium in full rather than in monthly terms to save on added service charges. Study your car usage and consider paying only for insurance you need.You may realize you don't need those insurance add-ons that you initially considered.
---
Try no-spend weeks/days 
While this isn't a radical suggestion and is, in fact, one of the most straightforward ways on how to live cheaply, it requires consultation, planning, and commitment between you and your partner.
This also means discipline, self-control, and agreement of how much and what purchases would be negotiable. The success of this challenge – even for a couple of weeks, a month, or an entire quarter – also depends on how solid your regular budget is and how good you are at sticking to it.
Related: How to Rock Your Next No-Spend Challenge When You're a Spender
If you want a year-long challenge, check out this 52-week money-saving challenge!
---
Practice delayed gratification
Feeding your impulse to buy can be very damaging financially and emotionally. Apart from incurring debt, you'll probably suffer from buyer's remorse sooner or later.
The next time you want to purchase something, think about it long and hard. Restrain yourself, keep your credit cards put away, and don't open your online shopping apps. Don't think of that item for a week or two. Chances are, you probably won't want to buy it anymore, saving yourself and your wallet from a potential financial catastrophe.
---
Related posts:
How to Live Frugally: 50 Frugal Living Tips for 2022
51 Extreme Frugality Tips for the Super Frugal
Cheap Living: Is It Really Worth It?
Sure, cheap living may mean letting go of some conveniences in life but embracing the frugal lifestyle has always been worth it for me and my husband. It has helped us in so many ways, with some of our big financial goals.
You have options. You can splurge your money on fancy dinners or choose to eat cheaper. You can bust your savings for lavish vacations or just keep your money for the rainy days. But remember that whatever financial choice you make will affect your future.
Over to you–what's your favorite frugal living tip? Share with us in the comments section below!
---