Do you find saving money boring? It's time to spruce it up and make it fun! Learn how the 52-week challenge works and start saving money today.
Do you want to save more money? A savings goal is an excellent motivation to set aside some cash for long-term and short-term intentions. 
But the problem is, many people think that saving is like restricting themselves from enjoying their hard-earned money, so saving does not come naturally to them.
If you think saving money is tough, how about turning it into a game? A 52-week challenge is an excellent challenge to start with, and if you see through it, you could save up to $1,378 this year, even more! 
I've been doing money-saving challenges for a few years now and amazingly, I save more money each year! I do money-saving challenges for all sorts of goals such as retirement, Christmas, emergency fund, and more.
For me, saving money is like anything in life. It can be difficult to start but it gets easier (and you get better at it) the more you do it.
So, how about joining me on this easy money-saving challenge?
Easy 52-Week Savings Challenge to Save $1378
Download this free 52-week money-saving challenge!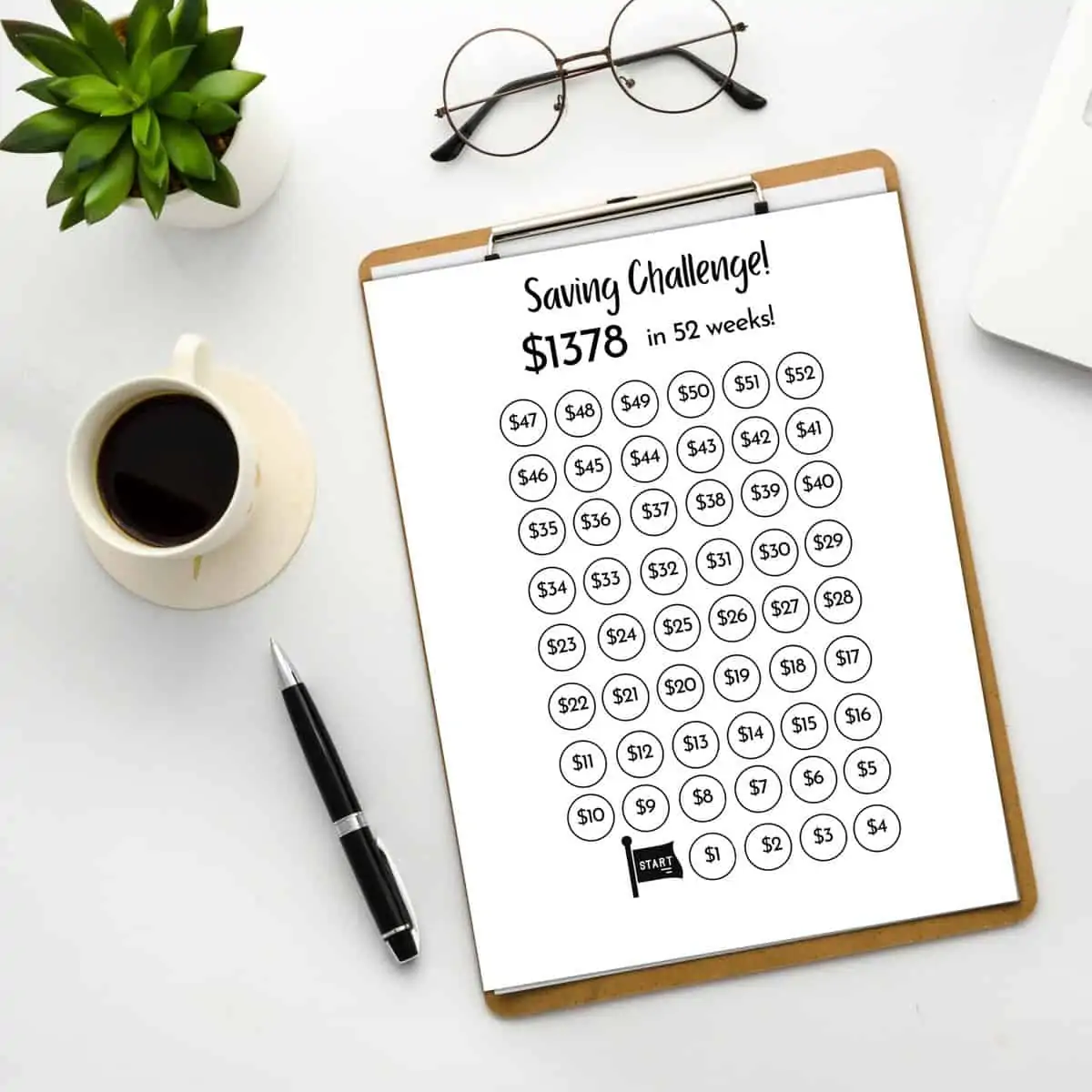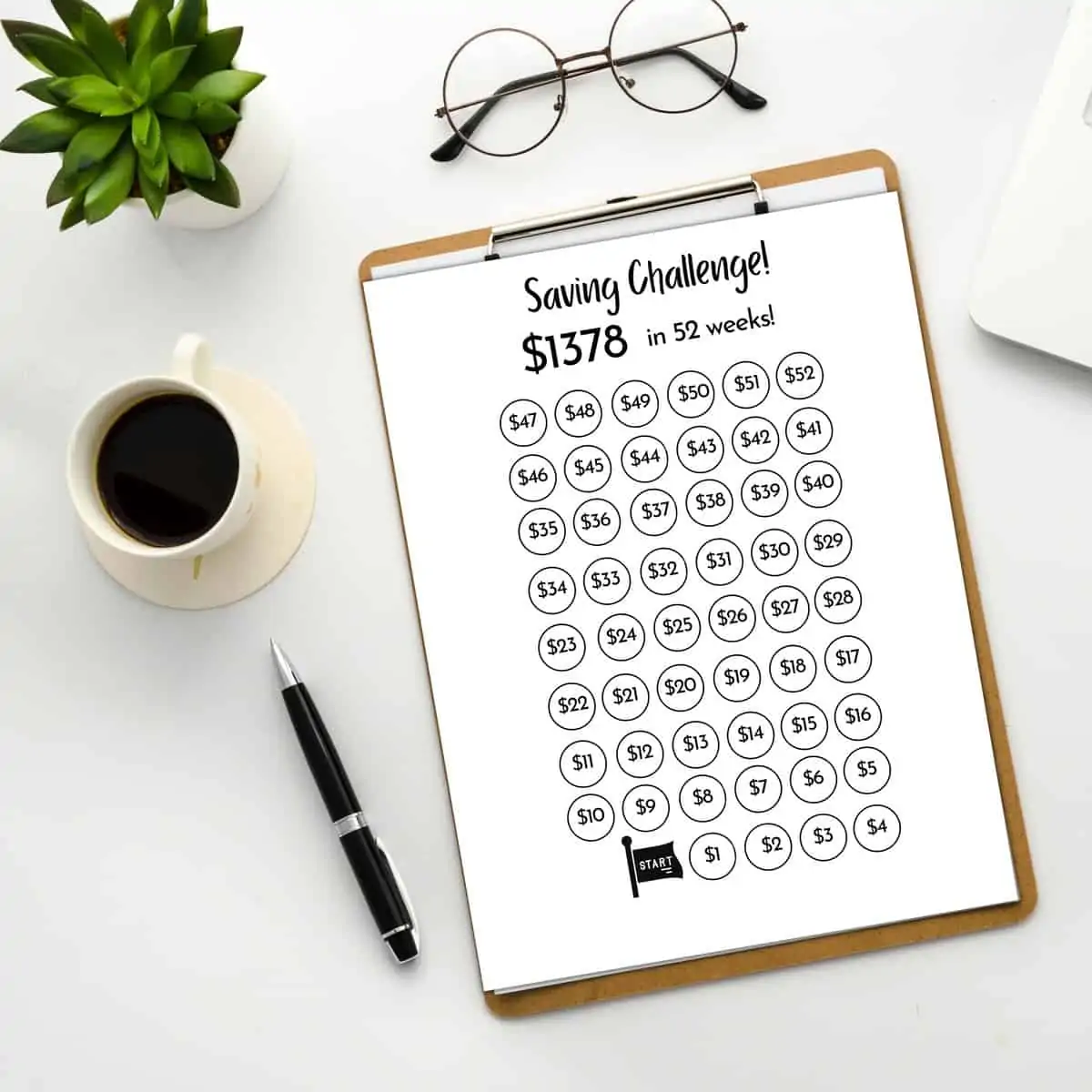 This easy 52-week money challenge is a savings challenge that helps you stash away money in increments every week of the year.
So on the first week, you simply save one dollar, on the second week, you save two dollars, and on the third week, you save three dollars, and so on.
Therefore, you save the amount that corresponds to the current week number. With the one-dollar increment, you should be able to save $1,378 by the end of the year.
You can adjust the amount to fit your financial goals. What matters is that you stick to the game and see it through until the end.
It takes discipline and consistency but winging this challenge feels utterly rewarding!
Save $10,0000 in 52 Weeks!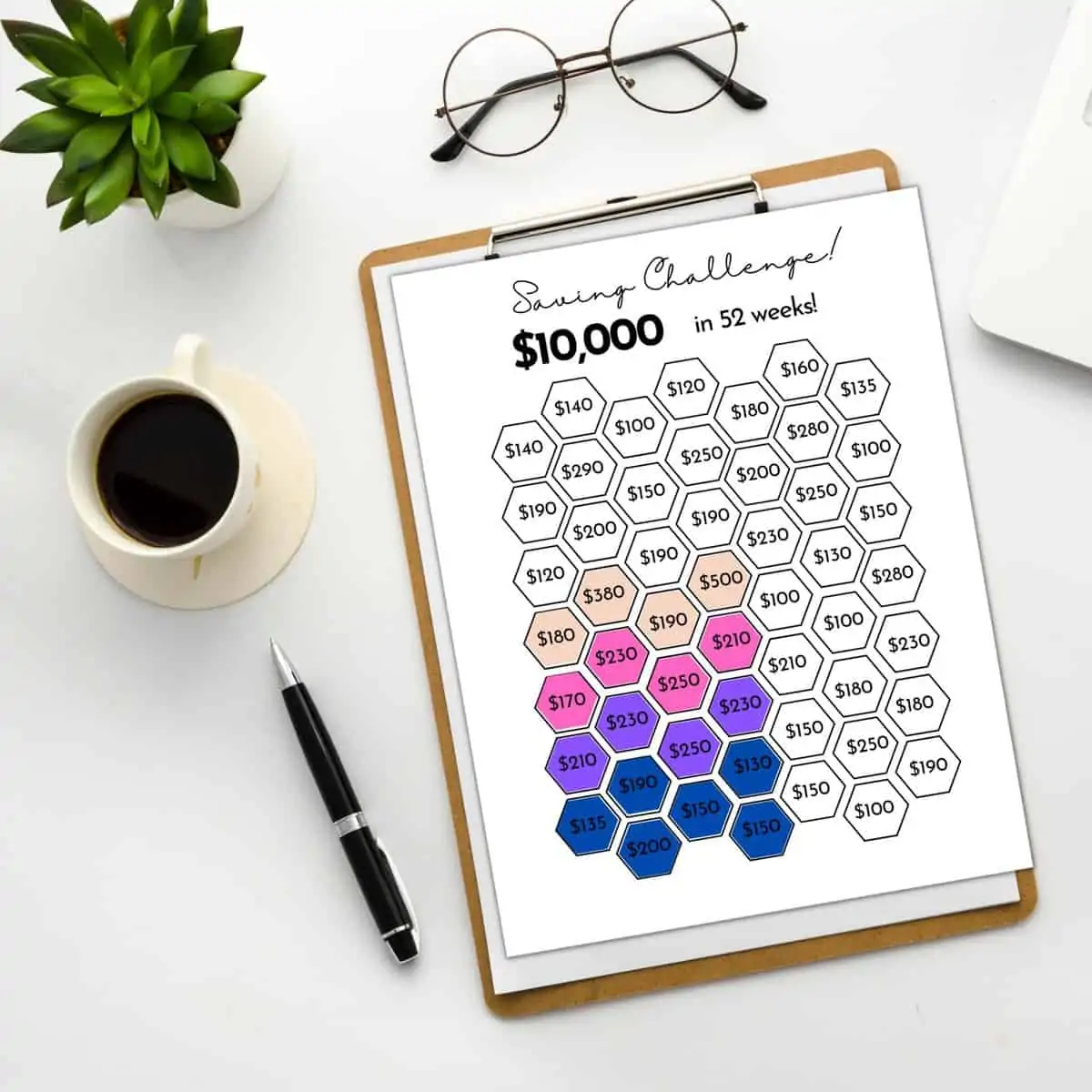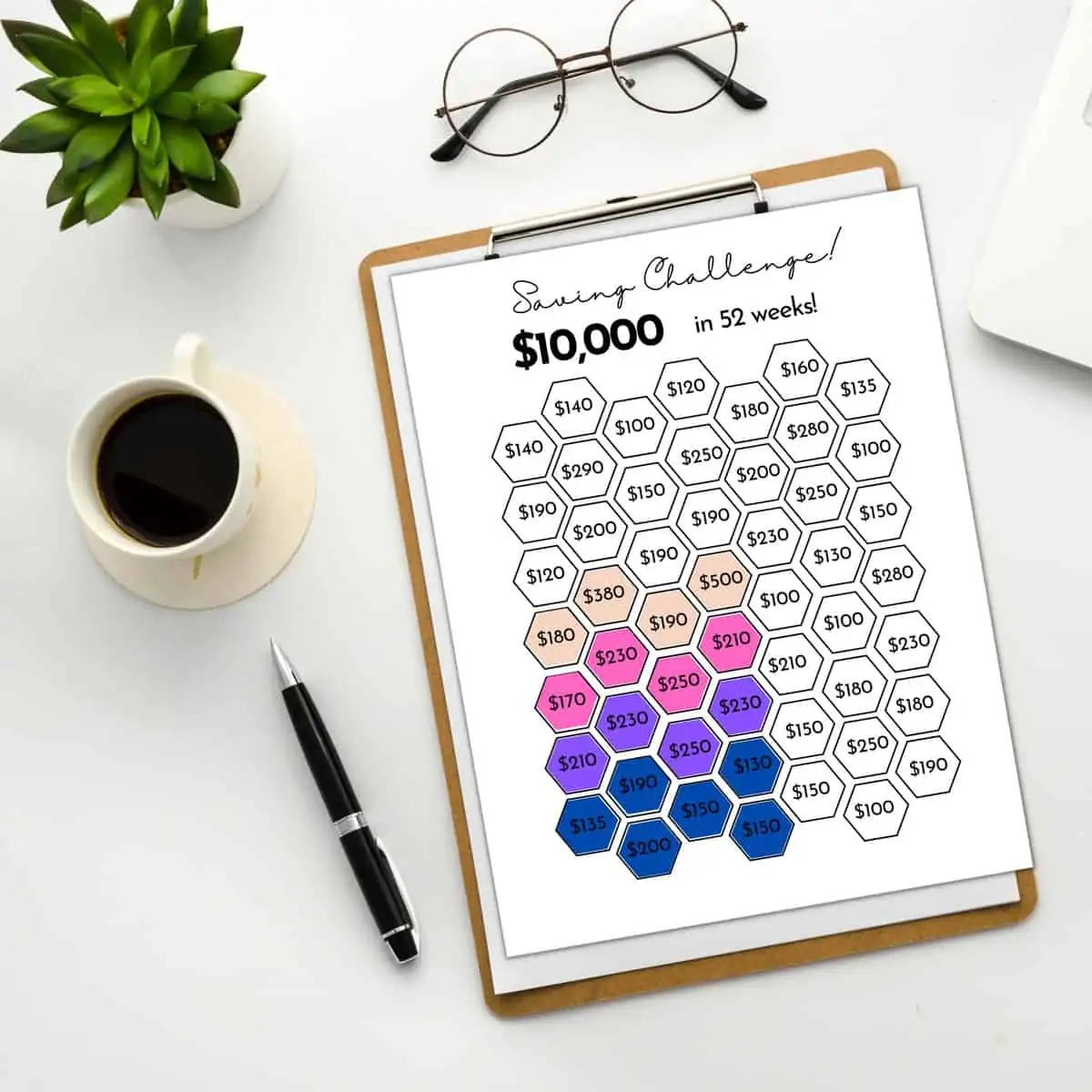 Want a more challenging money-saving challenge? How about saving $10,000 in 52 weeks?
Trust me, it's totally doable. With some creativity, you can save that much in 52 weeks by budgeting, getting rid of unnecessary expenses, and getting a side hustle!
Grab this 52-weeks savings challenge printable from our shop!
Why Do the 52-Week Savings Challenge?
According to the Motley Fool, 29% of Americans have dipped into their savings to tide over the pandemic. People are back to spending more again, as inflation is driving up the cost of necessities like fuel and groceries.
If you think saving money is hard, then imagine how harder it is to have no savings at all. So, doing the 52-week money savings challenge will help you to:
Learn how to save little by little. Your savings amount grows each week as you progress in the challenge. You can start saving money without hurting your wallet.
Learn how to budget. It is always tough to save without any financial plan of some sort, so doing the 52-week savings challenge will force you to learn how to budget. You will become more mindful of your spending because you know you are saving for something.
Have fun saving money. Achieving your savings goals doesn't have to be frustrating. Invite your family and friends to do this money challenge to make it more fun. On top of that, you can save money together for the entire year.
Reach financial goals. Whether you're aiming to pad up your emergency fund, save for a vacation, or do a home remodeling project, this saving challenge will fuel your desire to save money.
How to Do the 52-Week Money Challenge
If you want to save at least $1,378 for this calendar year, I suggest you give the 52-week money challenge a shot.
Here are the things you need to do to get you started:
Start right now
You don't have to wait until later to save money. Start this week and label it as the first week or Week 1. So starting this week, make sure to set aside some money from each pay cycle.
Determine your savings goal
You are most likely to stay motivated to save when you have a savings goal. Are you looking to start building your emergency fund next year? Go on a vacation without getting into any debt or contribute the saved amount into your retirement fund or your kid's college?
All goals are valid. The most important thing here is you know why you want to save money, so you don't go astray and give up on the challenge midway.
Determine an amount to save
The typical amount to save for this money challenge is one-dollar increments every week. So if you start with one dollar on the first week, you should save $1,378 by week 52.
But it also depends on your goals. For example, you may want to save more money for bigger things like your dream wedding or house down payment. You could do higher increments, like $5 or $10 every week. If you have a target amount in mind, you could save a certain amount every week that sums up that savings goal in 52 weeks.
Find a good place to save
Some people like to save money physically, like putting cash into a piggy bank or jar. While it's not a bad idea, I don't recommend it either.
First, physically seeing the money you have saved might tempt you to dip into it, especially during impulse spending. Second, your savings could be at risk in case of theft or fire.
For me, the best place to safely keep your money is in a high yield savings account. This way, your savings are FDIC insured and grow with interest over time.
Remember to save every week
You must not forget to make weekly deposits into your account every week. One of the best ways to do this is to automate your savings. For instance, you can have the bank transfer your weekly savings from your payroll account into your savings account every week. That way, you can just "set it and forget it," making the saving process easier.
52-Week Money Saving Challenge Hacks
Are you excited to take on the 52-week money challenge and truly save some money this year? But before that, take a look at these fantastic tips to help you wing this money challenge.
Do the reverse challenge
You can start small, just like in the traditional 52-week money challenge, or you can go big right away. You can flip the challenge and start at the highest amount on week 1. This way, you can get the biggest out of the way on the first half of the year, and by week 52, you'd only need to throw in the smallest amount.
Choose a bank that makes it hard for you to touch your savings
When you save, you have a goal in mind, and you wouldn't want to touch your savings just because you fancy the newest smartphone.
So to keep you from accessing your savings account, perhaps choose the least convenient bank to save with. Maybe one that's only open during office hours and doesn't come with a cash card or debit card.
While you want it to have specific financial services, like automated savings, you just want one that makes it a little difficult for you to touch your savings on impulse. You could opt for one that imposes fees for early withdrawals. Get your hands off your bank account, and just let your savings grow over time.
Get an accountability buddy
Building your savings habit doesn't happen overnight. If you've always struggled to save money in the past, it's probably because you don't have the proper support in place.
Consider recruiting an accountability buddy, who could be your spouse or another family member.
Both of you will start and go through this money challenge, and you will check on each other's progress.
Throw any windfall or extra money into your savings
You can fast track your savings by putting extra cash you earn outside your paycheck: cash birthday gifts, commissions, tax refunds, side hustle income, and more. Not only will you be bulking up your savings quickly, but you can also catch up if there have been some weeks that you were unable to deposit into your savings.
---
Where to Find Money to Save
Looking for more ways to save money? Here are some ideas:
Use Ibotta
Get paid for buying grocery items you would buy anyway. I've earned over $1000 using this app for our weekly grocery purchases! Start using Ibotta and get $5 free after your first purchase.
Use Trim
Trim is an AI-driven financial assistant that can negotiate your cable bills down for you, set spending alerts, and automatically fight fees. Learn more about TRIM here.
Do It Yourself
Before you hire help, YouTube it first or do a quick research online. You'll be surprised to find lots of free how-to videos and articles online to help you fix things at home. Be your own gardener, cleaner, hairdresser and you'll easily save hundreds or more per year!
Free Entertainment
How about slashing a few dollars off your entertainment budget? Check out these free things to do with friends or family instead!
Meal Plan!
Creating a meal plan will not only help you save on meals but also helps you avoid wasting food. Here's how I do it.
If you need help planning out budget-friendly meals, I highly recommend the $5 Meal Plan.
For only $5 per month, Erin from the $5 Meal Plan will help you create your delicious weekly meal plan where each meal only costs $2-$5 per family. Try it for free for 14 days and receive two weeks' worth of meal plan!
Need more tips? Read:
Of course, getting a side hustle is one of the best ways to boost your income and get more money to save. Here are a few side hustle ideas you might want to consider:
FAQs
How much does the 52-week rule save?
In this money savings challenge, you should be able to save at least $1,378 a year if you follow the traditional one-dollar increment format.
Does the 52-Week Money Challenge work?
Yes, this challenge works, especially if you have an end goal in mind, plus strong will and discipline to save. It forces you to save each week, allowing you to generate extra cash at the end of the challenge.
How much money is the 100 envelope challenge?
Apart from the 52-week money challenge, you can try other saving challenges as well, such as the 100 envelope challenge. You number envelopes 1 to 100, and each day, you pick an envelope and save the amount indicated on it. If you complete this challenge, you will save $5,050.
What is the $5 money Challenge?
This is another good savings challenge and is easy to do. All you have to do is save every five-dollar bill you come across with and save them throughout the entire year.
Conclusion
Having good savings habits is an essential foundation in building a secure financial life today and in the future. Turning into saving challenges like the 52 week savings challenge is a great way to save up money consistently every week throughout the year.
But remember: the key to succeeding in this challenge is to put your heart and mind to it.
You know exactly how much you need to save next week, so you can always prepare a budget that caters to your savings needs. You can adjust the amount by modifying the increments or saving the same amount as long as you know you're going to hit your goals.
Are you doing the 52-week money challenge? How are you progressing so far?