Is shopping with Rakuten worth it? Is Rakuten legit or a scam? How does Rakuten make money? Find out in this Rakuten (Ebates) review!
If you landed here, it means you're curious about Rakuten (formerly known as Ebates) and you want to get paid for shopping. You've come to the right place! In this Rakuten review, I'll cover what you need to know about this cashback app or savings platform, why the system works and why you should be using it.
This post contains affiliate links. I may earn a small commission, at NO extra cost to you, if you use or make a purchase through these links. Please read my Disclosure for more information.
But first, what is the Rakuten app?
You might have heard of Ebates before. Ebates is a cash back app or website that pays you for shopping at their partner stores through their portal. Ebates has partnered with over 2500 stores that you probably regularly shop at, such as Amazon, Macy's, Best Buy, and eBay.
In 2014, Rakuten acquired Ebates, hence the name change.
So, is Rakuten Ebates? YES, the former Ebates is now called Rakuten. It's the same platform, just a different name.
Is Rakuten a Scam? Is Rakuten Legit?
If you are asking these same questions I was asking myself before I started using Rakuten, I can't blame you. With all the apps available today, sometimes it's hard to weed out what's real and what's not.
But I have been using Rakuten for quite some time now, and I can guarantee you that Rakuten does really pay you for shopping at their partner stores.
In fact, I've received over $2000 from Rakuten! Here's a screenshot of my earnings from Rakuten: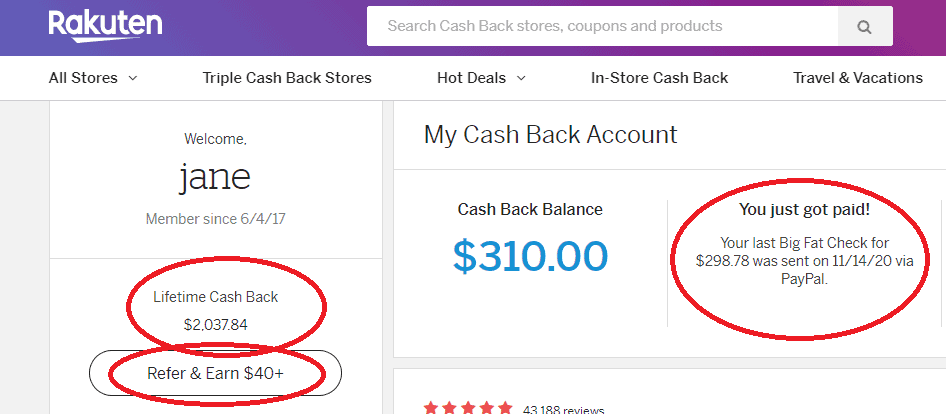 Rakuten also claims they had, since 1998, paid over $1 billion in cash back to its users.
For a limited time, Rakuten is offering a $40 Welcome Bonus to new members! Sign up here to snag this bonus plus enter a giveaway for a chance to win $100 to $500 gift cards!
How Does Rakuten Make Money?
Now you might be asking: what's the catch with Ebates / Rakuten? How does Rakuten make money?
If you don't understand business partnerships, it might sound too good to be true.
The company makes money through a form of affiliate marketing. They get paid by their partner stores for purchases made through the platform/app.
So, instead of shopping at Macy's, you can shop at Macy's through the Rakuten platform.
Rakuten is your middleman, he will take you to Macy's, and Macy's will pay Rakuten for taking you to their store. But instead of keeping the commission all to himself, Rakuten splits this payment with you.  It's that simple.
As an individual consumer, you'll hardly get these "special deals" or cash back savings when you head directly to the store. Even if you can find similar deals or coupons online, finding these deals may be too cumbersome to do each time you go shopping.
With Rakuten, the eligible deals are automatically applied to your purchases. You don't have to enter coupons or go through a lot of processes to grab the deals or discounts.
That said, Rakuten provides a very convenient way for users to save money when shopping online.
---
How Does Rakuten Work?
Using Rakuten is so easy it wouldn't even disrupt your regular online shopping routine.
1. Become a Rakuten member
You can sign up for free with Rakuten using your email or Facebook account. You'll receive a $10 welcome bonus reward after you make a $25 worth of purchases through Rakuten.
Update 11/15/2020- Rakuten is giving away a $40 Welcome Bonus to new members!
2. Shop through the Rakuten website/ app.
Instead of going to the store's direct website, you just need to type in Rakuten into the browser, tap on the store where you want to shop and click "shop now".
A more convenient way to shop through Rakuten is by installing the app. Inside the app, just tap on the name of the store you want.
3. Rakuten will then direct you to the store (i.e. Amazon).
Then, start shopping. Rakuten will automatically track your shopping. Your cash back will accumulate as you use Rakuten each time you shop.
4. Install the App / Rakuten Browser extension
Additionally, I highly recommend installing the Rakuten app or Rakuten app on your smartphone (which works well with both Android and iOS).
Or you could install the Rakuten browser extension (which works well with both Chrome and Safari). That way, you'll never forget to use Rakuten in all your shopping events. You can install the Rakuten browser extension through this link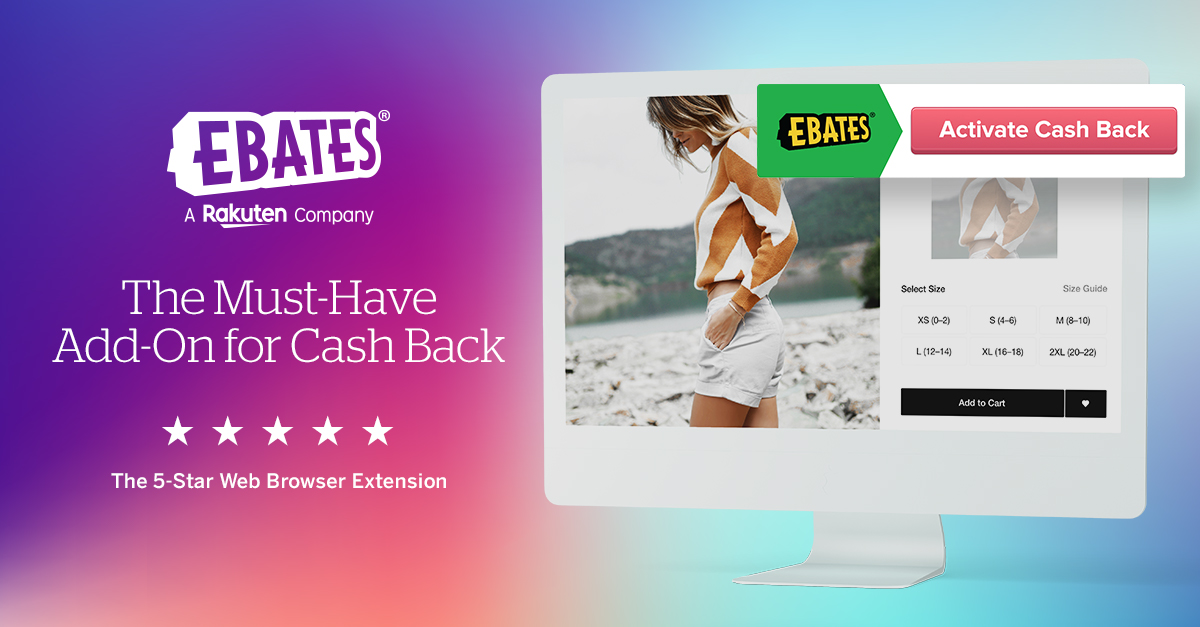 ---
How to Get Paid through Rakuten
Every quarter, Rakuten will give you cash back through either Paypal or check.
The Rakuten payment schedule is as follows:
January to March purchases – Payment is on May 15
April 1- June 30 purchases- Payment is on August 15
June 1- September 30 purchases – Payment is on November 15
October 1 – December 31 purchases – Payment is on February 15
Don't forget to use Rakuten each time you shop to accumulate your cash back pretty fast.
Also, make sure that cash back is activated before you buy. Rakuten will then send you a confirmation tracking number to let you know that you've qualified for cash back for your purchases. It often takes 48 hours for your cash back to be credited into your account.
Rakuten Review: How to Maximize Your Rakuten Earnings
Apart from the cashback percentage you get to enjoy while using Rakuten, there are a few more ways to get deeper discounts while using the site or app.
Refer your family and friends
Think of how many people you know aren't using Rakuten right now. If you get them to use Rakuten through your referral link, you'll get at least $25 bonus for each person.
To find your referral, simply sign into your Ebates account and click on the "refer and earn" tab in your dashboard. Note that this referral bonus sometimes changes and can go as high as $40 per referral, depending on the promotion Rakuten is running.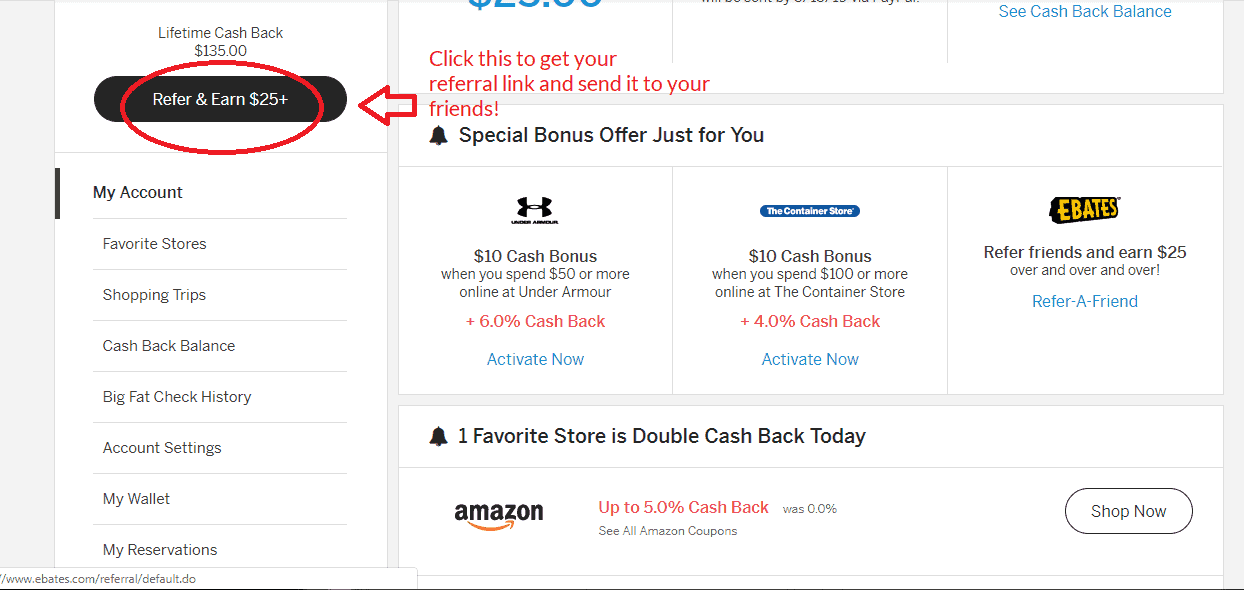 Earn cash back from in-store shopping
Apart from online shopping, you can also now earn cash back when you shop at Rakuten-affiliated stores physically.
You just need to link a debit or credit card to your Rakuten account and use that same card when you shop in-store. The cash back is slightly lower in-stores, but it still helps pile up more rewards.
Use coupons when you shop
Using coupons when shopping with Rakuten allows you to double up your savings from 1). Cash back 2). Discount. It's a great way to save even more money when you shop.
Pro Tip: Earn up to $30 Today!
This is just an example of the many special bonuses you could enjoy using Rakuten today.
If you want to earn $30 today, here's how:
Use Lyft and earn cash back for each ride! Lyft has just joined the Rakuten Cash Back fam. So, each time you use Lyft through Rakuten, Rakuten will reward you with $0.25 per ride.
Now if you are new to Lyft, get your first Lyft ride through Rakuten and you will receive $20 cash back on your first ride!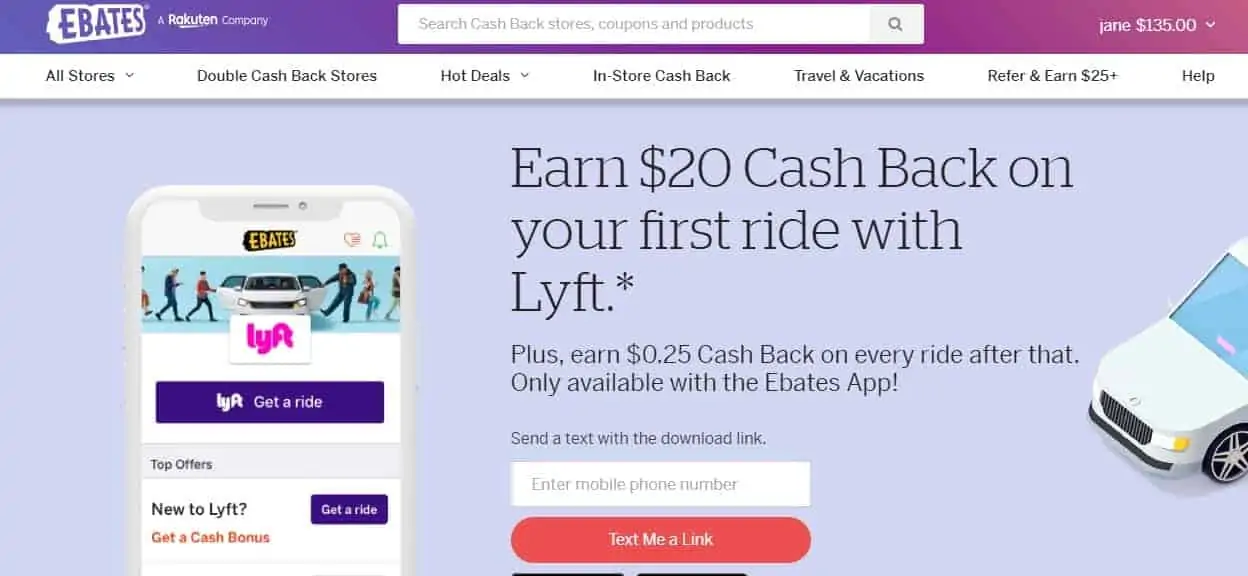 New to Rakuten (Ebates) and new to Lyft? Great! Because when you join Rakuten today and get your first Lyft ride, Rakuten will give you a $10 Welcome Bonus* + $20 on your first Lyft ride! That's a total of $30 FREE!
*You'll earn the Welcome Bonus if your ride costs over $25 or if you made $25 worth of purchases through Rakuten. Don't worry, you have 90 days to redeem your Welcome Bonus so you don't have to shop or take a Lyft ride right now if it is not yet necessary.
Rakuten Review: Pros and Cons
Rakuten Review: Pros
1. Easy and free to sign up.
You only need an email address or Facebook account to create an account in Rakuten. It also helps that you're not required to submit any personal information.
2. Cash back applies automatically.
No need to scan receipts or do anything to earn your cash back. The Rakuten system tracks everything for you.
3. Generous bonuses.
You get an automatic $10 bonus when you sign up plus $25 for every person you refer to join Rakuten.
Rakuten Review: Cons
You only get paid once every three months.
Rakuten makes sure that you don't return a product after a cash back has been recorded on your account so they pay out once every three months.
It takes a little time before cash back applies into your account.
Sometimes you may left wondering whether or not the cash back applied because it takes a couple of days before you see it on your account.
Rakuten.com Review: Is It Worth It?
Yes, Rakuten is definitely worth it. You don't need to spend a single dime to sign up, and it's even you who gets rewarded for becoming a member.
If you're looking to save money for a task you would do anyway, like shopping, then Rakuten is a good way to do it. Not only does Rakuten offer some of the most generous cash backs in the market, but it also provides plenty of ways to maximize your earnings.
Plus, it has built solid relationships with thousands of retailers so it's very likely you'll find a store that matches your shopping needs where cash back applies.
Hopefully this Rakuten website review has shed some light on how cashback apps like Rakuten work.
If you are looking to save more money with other money saving apps, you might want to checkout Ibotta. I use this app to save money on my regular grocery purchases!
Related Posts
Ibotta Review: Is It Really Worth It? This App Paid Me $457.53!
Swagbucks Review: Is It Worth It? Can You Really Make Money Answering Surveys?
Not yet a Rakuten member? You can join Rakuten here to start earning cash backs!
Did you enjoy this Ebates Review? Share it with your friends!