Ways to Save Money on Groceries : Save Before, While and After Shopping
Have you ever spent more money on groceries than you'd like? Ever got frustrated or shocked at the supermarket checkout each time your bill blows way past your weekly budget?
I am sure most of us have.
Maybe it's why you're here! You want to learn how to save money on groceries and stop spending more than you can afford. You want to crack the code to cutting your grocery bill in half, but you don't know where to start…
You're in the right place!
Saving money on groceries isn't a lost cause. Here's a compilation of the best grocery shopping tips to extend your budget and stock up your fridge and pantry without busting your food budget.
This post contains affiliate links. Please read my Disclosure for more information. This Mama Blogs is also a participant in the Amazon Services LLC Associates Program, an affiliate advertising program designed to provide a means for us to earn fees by linking to Amazon.com and affiliated sites.
Tips Before You Hit The Grocery Store
1. Learn the best day/time to shop
You've probably hit the stores when you've run out of food or products, or when it's most convenient for your schedule. But you can save more on groceries by knowing the best day, time to shop, and where to buy groceries! Check out our list of cheap grocery stores here.
You can shop from Monday to Thursday, but do it between early in the morning to midday. Most people shop after their working hours, so if you want to avoid the throng of shoppers, do it early in the day or very late at night. Even better, shop early on a Wednesday because that's when most stores bring out their new deals.
2. Check out the Ibotta app
Ibotta is an app that pays you for taking pictures of your grocery receipts.
Before heading to the store or when planning out your weekly meals, check out the Ibotta app first and within the app, tap on the products you want to buy at the store. When you get home, take a photo of your receipts to earn cash back!
I am an Ibotta user myself and I've earned over $800 in cash back and bonuses for using this app weekly!
Ibotta is currently offering up to a $20 bonus after redeeming your first 10 offers in 14 days. Check it out here!
Need to learn more? Check out my Ibotta Review!
3. Do a pantry challenge
Did you know that the U.S. alone wastes more than $160 billion in food every year?
If you haven't thought about it, you might be wasting food, too! Think of letting your groceries expire, cooking food you don't eat, or letting vegetables go bad. It's that easy to waste your hard-earned money on food!
One of the best ways to reduce food waste is by doing a pantry challenge. Before you go crazy over what to prepare for lunch the next day, you might want to take a look at your pantry and fridge first to see what you already have that might make you a decent meal or two to save money!
4. Make a list and check it twice
Make a list to avoid buying things you already have. Even better, keep a list handy by your refrigerator door. And never go to the store without it!
As soon as you run out of milk, cereal, or kitchen towels, write them down. By the time you time you're about to go grocery shopping, you would already have a budget shopping list of things you know you'll surely need.
5. Create a meal plan
How many times a week did you have to wonder what to make for dinner? With a weekly meal plan, you know which dish to prepare for which day.
Meal planning can seem boring, but it will save you time, money, and even your sanity. It's hands-down one of my most favorite ways to save money on groceries!
But what's a meal plan anyway? It's simply a plan of what you will serve your family for the week. With a meal plan, you get to nail down the ingredients you will need and will surely use, thus reducing food waste.
If you are too busy to create a meal plan or have no idea what to cook to save money, there's a cheap service called the $5 Meal Plan that does just that.
For only $5 per month, Erin from the $5 Meal Plan will help you create your delicious weekly meal plan where each meal only costs $2-$5 per family. It's a fantastic way to save money on groceries!
Try their free trial here for 14 days and receive two weeks' worth of meal plan for FREE.
Related:
6. Sign up for Rakuten to get $10 Walmart gift card
Want a free $10 for your next Walmart trip?
Sign up for Rakuten, a cash back site that pays you cash back for shopping online. Rakuten will give you a $10 Walmart gift card or $10 cash via Paypal (your choice!) for giving it a try!
Here's how:
Use this portal for free for making online purchases from popular retailers like Walmart, Target or Amazon. They partnered with over 2500 popular stores!
Receive the $10 bonus after your first $25 worth of purchase via Rakuten.
I also personally use Rakuten and have earned over $2000 in bonuses and cashback through it!
Related: 11 Genius Walmart Hacks to Save Money at Walmart
Related
Ibotta vs Rakuten: Who's the Winner?
Rakuten Review: Is Rakuten a Scam? Is It Worth It?
7. Prepare your coupons
Coupons are some of the best things a grocery shopper can have, especially if you know how and when to use them. Check out sites like Coupons.com for great deals and double up your savings by buying items that are already on sale.
But remember: you don't want to clip every coupon you see. If you don't need the item, you shouldn't purchase it just because you have a coupon at hand. Only use your coupons for things that you truly need.
8. Take stock of the staples
Keep your pantry stocked with basic ingredients, such as rice, flour, eggs, and pasta. You can always come up with a basic and cheap meal even when you're at the end of your money, you're too lazy to cook, or working late.
Fancy meals are often more costly and time-consuming to come up with, so having these cheap basics ready will fill you up without costing you more.
Did you know that you can save up to 15% on regular purchases such as coffee, sugar, detergent, or cleaning products through Amazon Subscribe and Save?
I use Amazon Subscribe and Save for things I don't buy at the grocery store because they are either more expensive or are rarely available. If you have Amazon Prime, take advantage of Amazon Subscribe and Save and enjoy the convenience of having the items delivered to your home!
You can load up your Amazon Subscribe and Save here.
10. Bring a snack
You might get hungry while you're on the way to the store, or after you're done shopping, and might get tempted to buy something from the drive-thru that could totally bust your budget.
Bringing a snack along is a smart grocery shopping trick that will keep you from picking up extra products while you shop and prevent yourself from making unnecessary purchases.
11. Eat before you shop
You're bound to spend more when you shop on an empty stomach.
According to studies, hunger leads consumers to want to acquire more and consume more, thus, ending up with more unnecessary things in the cart. Since most people shop after getting off from work and before dinner, there's the temptation to buy more because they are hungry. Hunger can lead you to think irrationally.
So, if you don't want to end up with buyer's remorse as soon as you haul out your purchases, take care of your tummy first and save money on groceries later on.
Ways to Save Money on Groceries While You Shop
12. Add the numbers while you shop
If you don't want to get nastily surprised with the amount you have to pay at checkout, run the numbers as you drop the items into your cart. This way, you'll know how much you'll spend and if you're still within the budget. And while you're at it, you get to decide whether you really want to purchase that extra jar of salsa and another tub of ice cream. A basic grocery calculator or a computing app on your phone should do trick.
13. Buy generic
If you've sworn loyalty to your favorite brands and find your grocery budget is busted every single time, it's high time you consider purchasing generic products for some of the stuff on your list.
Things like pasta, sugar, and cereal are typically less expensive if they're generic, as compared to branded ones. Also, did you know that even chefs purchase generic salt and baking soda? It's time to stop paying for brand names and save at groceries by ditching your loyalty on some of your purchases.
14. Purchase in-season and make meals around them
Whether it's the season for potatoes, carrots, or tomatoes, buying in-season produce will earn you more savings. A corn cob during the summer may cost you 10 cents, but if you buy it several months later, the price would have exponentially multiplied itself. It also helps to create a menu revolving around in-season products because they're way cheaper.
15. Buy bulk wisely
Bulking up may seem to help you save money on food, but that still depends on a lot of things. For instance, there's no point buying perishables in bulk especially if there are just four of you in the family. Some of the stocks may already go bad before you have the opportunity to use them.
However, it is great to buy bulk especially if your favorite non-perishables go on sale. Think of tissue, kitchen towels, and wet wipes, among others. But before you do, make sure to compare prices per unit to make sure you're getting the most savings.
16. Consider the frozen and canned varieties
Fresh products may seem more enticing, but if you want to stretch your grocery budget, consider purchasing their frozen and canned counterparts. They'd be just as delicious and nutritious, but they'll cost you way less. Also, they'll keep longer than fresh products.
17. Avoid eye-level products
Grocery stores have cunning tricks in luring consumers to spend more money. They know that eye-level items catch attention instantly, so they tend to put the most expensive ones right in front of you. Dart your gaze at the top and bottom shelves because that's where you'll find the cheaper products.
18. Bring reusable bags
Bringing your own shopping bags isn't just eco-friendly; it's also a great way to save money on groceries. Many grocery stores offer discounts to consumers who bring their own bags, often at $0.50 cents per bag. But if you use five of these bags in a single shopping trip, that means putting back $2.50 into your wallet. Sure, it may not seem a huge savings, but it does add up, and every single penny counts!
19. Steer clear of prepared food
Pre-packed food may look enticing, but companies need to pay for labor and material, so they tend to mark up their prices. Since you're already at the grocery aiming to buy food, then buy those that aren't pre-packed to begin with. You can make your own salad and slice your own fruit at home in just a few minutes, and then you get to pocket the savings.
20. Skip bottled water
If you're already paying for the water supply you have at home, then there's no sense buying bottled water outside. Bottled water companies make billions in revenue every year from consumers who can't shake the habit of buying water in a bottle. A 16 oz bottled water will cost you a dollar, while a decent water filtration system is less than $50. If you opt for filtered tap water instead, you'll save tons of money.
21. Leave the kids
It may not be always possible to leave the kids at home while you are grocery shopping, but it helps a lot to focus on your shopping by doing it alone. Kids can get tempted with chocolates and candies, among other things, and when you're out in public, it can be hard to say no. You'll only end up spending more than you planned. Try to plan your shopping trips when the kids are in school or when you can leave them with an adult. You would save your budget and sanity that way.
22. Take a raincheck
Products that are on sale can get sold out quickly. You can still get them at the same price, perhaps at a later time, by asking for a raincheck. Once the store has stocked such a product, you can go back to the store and purchase it at a discounted price. If you're redeeming a raincheck, be sure to bring the voucher along to present to the cashier.
23. Wait until after the holidays
Candies will be cheaper after Halloween and stores will cut down chocolate prices after Valentine. If you want to purchase these items for your own consumption, and not really to go along with the occasion, then you might want until after the holidays to purchase them. You won't believe how cheaper they get after a heavily commercialized occasion. This is one incredible frugal grocery shopping tip everyone should consider.
24. Play your own music
Did you notice how most stores play relaxingly slow music when you shop? It's not because they're fond of chill music; it's because such tunes tell your brain to take your sweet time perusing the aisles and getting one item after next.
If you want to outsmart your grocery, bring your own music. Load up your phone with upbeat, happy music, and then shop. You'll find your brain and body going along with the fast rhythm, and before you know it, you're done shopping without picking up any product that isn't on your shopping list.
25. Bring cash
Most people find swiping the card convenient, but it won't really sting as it would if you pay with cash. That's why many finance experts preach that "cash is king." Paying your grocery bill with cold hard cash allows you to stick within your budget and prevents you from picking up items as an afterthought. And you know it, once you've run out of cash, you won't have to mentally negotiate with yourself about taking that extra bar of chocolate or tub of yogurt. You can only buy what your cash can afford.
26. Buy at the farmer's market before closing
The farmer's market is a fantastic place to buy your fruits and vegetables, although there's no guarantee that everything would be as cheap as you expect.
However, if you want to make the most of your trip and get the best deals, come over at the end of the day. Those produce that didn't get sold during the day are often marked down considerably. Vendors won't want to drag their products back home, so they'll be more apt to sell them at a discount.
27. Check out the clearance section
Most grocery stores have clearance sections too, and they're worth checking out. At a glance, clearance sales may seem like a jumble of random things, but if you find something you need, you'd be happy to purchase it at almost half the price. Of course, check the expiration date.
28. Purchase meat during sales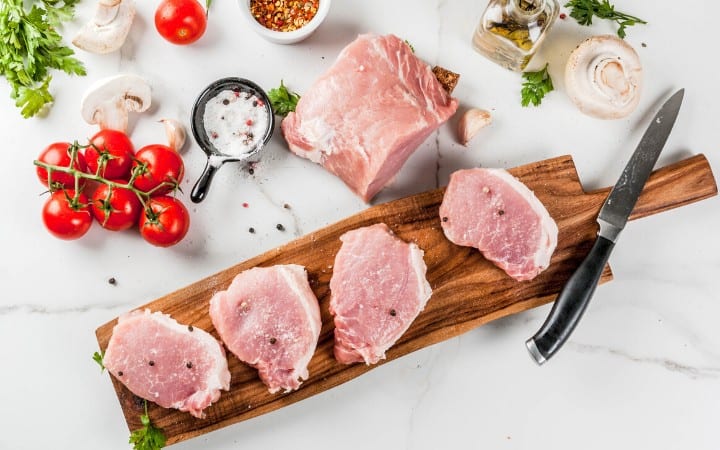 Meat is costly, and the price tag hikes up if you want to get some lean cuts or the organic type. If becoming a vegetarian is not an option for you, you can find the cheapest meat to buy. And then portion them accordingly per meal before keeping them in the freezer.
Also, consider going for the cheaper cuts. Instead of chicken thighs, get the breast parts. Skip pork chops and get the pork loin instead. You'll enjoy having meat without guilt-tripping yourself of the cost of your meal.
29. Ignore the products upon checkout
Those candies and gums are at the checkout for one reason: to get you to buy them. While you're waiting for your turn to pay, those colorful products can seem like calling out to you, and you can't help yourself but check them out and put them into your basket. Before you make that disastrous move, divert your focus into something else instead, like checking your mail while falling in line. Don't pick another item that isn't on your list.
Ways to Save Money on Groceries: Tips After shopping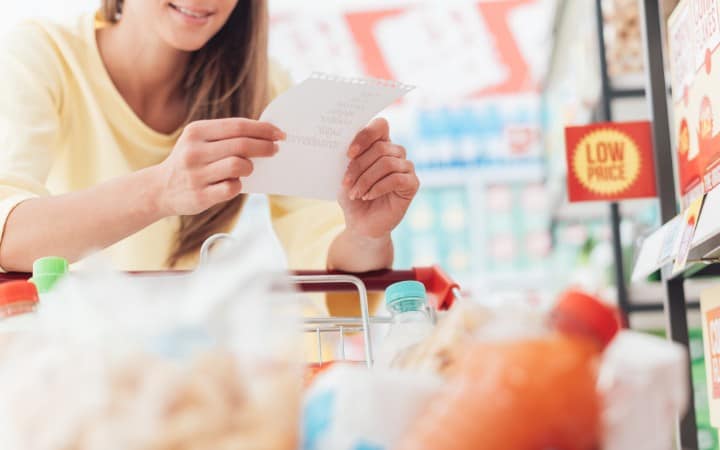 30. Be attentive at checkout
Keep a close eye as the cashier scans your products. She might wrongly enter a code or forget to scan your coupons and these trivial mistakes can cost you later on. Be sure to watch carefully and alert the cashier for any issues. Also, double check your receipt before you leave the store.
31. Take advantage of rebates/cash back programs
Again, don't forget to use rebates apps like Ibotta to make money from the money you spent on groceries.
Before you go shopping, look for the products you intend to purchase within the app. You go to the store, shop like you usually do, and then go home. Take out your receipt, snap a picture of it, and then submit it to the app. The app will go over your receipt and deposit cash back into your account.
32. Stretch your meat
Another great way to save on the cost of meat is to not eat meat on certain days. You can try having one or two meatless days during the week. You don't have to turn yourself into a vegan, but you can stay away from meat-heavy meals and save money in the process. For instance, you can make more meatballs or burgers with a little ground pork, some breadcrumbs, minced vegetables, and eggs.
33. Plant your herbs and vegetables
If you have quite a green thumb in you, it's worth trying growing your own greens rather than buying them from the store. Imagine having to pick tomatoes, bell peppers, leeks, and basil from your pot. It's sustainable, it's healthy, it's cheap – and it doesn't get any better than that.
34. Bulk up and preserve
Do you find yourself making more than one pasta meal during the week? Those canned tomato sauce will cost you. But you can make your own for cheap when tomatoes are in season and they're sold at ridiculously cheap prices at the farmer's market.
You can make your own tomato sauce in jars, and then store them for next season. The same goes with pickles and fruit jams. This is a great way to start eating healthy on a budget.
35. Reinvent your leftovers
Last night's dinner leftovers could very well turn into today's lunch or snacks. Consider reinventing leftover toast chicken last night into a pulled sandwich, salad or quesadilla. There are so many ways to reinvent leftovers into a brand-new meal, you just have to be a little creative and resourceful.
How To Save Money on Groceries: Costco Bonus Hacks
Shopping at huge retail stores like Costco and Walmart is a quintessential part of the American lifestyle. If you're looking to get even more savings from shipping in these huge retailers, here are some of the top hacks you should keep in mind:
36. Bypass the membership
Costco membership costs $60 each year for a basic membership. But if you think $60 is too much, you can always bypass this fee and still shop at Costco through other means.
First, you can shop with a member. If you have family or friends who are Costco members, you can tag along when they go shopping (each member can bring two people). However, since only members can make a purchase, you'll have to pay that friend or family back when you're done shopping.
You may also use a Costco cash card. Costco members can purchase a cash card, amounting to $10, $25 or $100.
37. Start at the center
The front aisles of the store have the flashest and shiniest products, but they also tend to be the most expensive ones because they also get the most foot traffic. Skip this area and walk right down to the center where you'll find the best and cheapest deals.
38. Learn the price codes
Costco has some not-so-secret price codes, and if you can learn these codes, you'll know whether an item is worth the buy at that moment or not. If you haven't paid much attention to Costco's pricing system in the past, it's high time you do so.
Items ending in .99 or .98 are not special deals. They're regularly-priced products and aren't marked down.
Items ending in .97 are marked down products.
Items ending with odd prices, such as 0.79, 0.49 and 0.89 are marked down products because Costco got fantastic deals with their manufacturers.
Items ending in 0.00 and 0.88 are even better deals because these are marked down by managers. They use this pricing to get the products to move faster.
Price tags with asterisks (*) indicates that they won't be re-ordering these products so they're selling them for cheap.
39. Buy meat in bulk
Costco has some of the best deals on meat so buying in bulk should help you save more money. You can portion the meat and store them in vacuum-sealed containers before putting them in the freezer.
40. Buy rotisserie chicken
Costco also has super cheap rotisserie chicken, sold at only $4.99. If you think you can't throw a decent dinner for the family, let Costco's delicious rotisserie chicken save the night.
41. Buy in bulk then split the cost with another person
Costco is known for its amazing bulk deals, but sometimes, you feel you just don't have enough space for 50 more rolls of kitchen towels. You can still enjoy major savings by purchasing in bulk and splitting the cost with a friend or family.
42. Purchase the Kirkland brand
Kirkland, Costco's famous house brand, has a variety of great products, from trash bags, peanut butter, toilet paper, medicines to apparel and they're just as great as their branded counterparts, but are incredibly dirt cheap. Try some of their products to save even more money!
43. Take advantage of end-of-season sales
Costco is notoriously known for its end-of-season sales, particularly at the end of summer. If you're looking for outdoor furniture, inflatable pools, and barbecues at the best price, this is the best time you go and give Costco a visit. The store needs to clear some space for the next season, so they'll willingly sell summer items with huge discounts.
44. Shop online
If you don't have the luxury of time to go to a Costco physical store, you can go online and shop from their website. There are products that are only sold online plus they deliver right to your doorstep.
How to Save Money Shopping At Walmart : Bonus Hacks
45. Use coupons
You can use coupons when you shop at Walmart and then get even more savings. Before you go shopping, check out Walmart.com and couponing sites to find potential vouchers that you can use. If you have a coupon for a product that's worth more than what's the actual price tag, you can use the difference to pay for other items.
46. Buy your meat early in the day
Walmart's grocery section typically discounts meat around 8 in the morning, so it's worth making the early trip to the store if you're looking to score huge savings. You might also find fruits and vegetables being sold at a discount early in the morning.
47. Check out the clearance racks
If you have plenty of time to shop, it's always worth checking out the clearance racks. You'll find plenty of items being sold at the clearance racks at almost half the price. It's not certain what day Walmart changes its mark down prices and discounts, but by going to the clearance section, you know you'd always find products that are already heavily discounted.
48. Take advantage of Walmart's seasonal sales
Walmart is one of the known huge players during the Black Friday sale. You'll find plenty of amazing deals on clothes, electronics and gadgets during this sale, and the discounts continue for the entire week, until Cyber Monday.
It's also good to buy electronics in July as Walmart tends to drop prices to compete with the yearly Prime Day sale by Amazon, and then in August and September in preparation for the back-to-school season.
49. Get to know Walmart's pricing code
Just like Costco, Walmart also has its own unique pricing system. If you know the code, you'll likely get the best deals. Items that end with 7 are sold at full price and are not discounted or marked down. However, do look for items that end with 5 (they've been marked down once), and 1 or 0 as they're being sold at their final marked-down price.
50. Take advantage of the free grocery pick-up
If you want to curb your impulse spending or simply want to save time grocery shopping, you can always use Walmart's grocery pick-up service. You just shop online and their staff does the picking (even fresh produce) and packing for you. Schedule the time of pick-up and preferred Walmart store, and they'll even help load up your groceries into your car. This service is utterly convenient and a huge time-saver for busy people. If you're using this service for the first time, Walmart gives you $10 on your purchase.
51. Look into refurbished products
If you're looking to buy laptops and other electronics for cheap, look into Walmart's refurbished section. The store has a huge selection of refurbished televisions, cellphones, and tablets, all with a 90-day minimum warranty.
52. Get free shipping
When you shop at Walmart's online store and your total bill is over $35, you are eligible for free shipping. That's a fantastic way to shop especially when you don't have the time to go to a physical Walmart store. There are thousands of products that qualify for free shipping, including food, personal products, and clothing.

How to Save Money on Groceries: The Ways Are Too Many And So Easy
If you want to be smart and frugal about your household finances, food and groceries are two of the categories that you can easily adjust to meet your financial goals. But given the rising cost of commodities, sometimes we can't help but pay more for less than a basket full of groceries.
But you can make it work. Hopefully, these budget grocery shopping hacks will give more value to your hard-earned income and stock up your pantry and fridge with products that you need, even want. Being a smart grocery shopper means putting in some work and discipline, but it will pay off.