Too broke to eat? Try these dirt cheap meals! They are easy to make, healthy and delicious even kids will love!
Does it feel like there are more days than your dollars? Trust me, many of us have been there. And it's a frustrating and uncomfortable situation to be in.
Thankfully, you don't have to eat ramen noodles all the time when you can come up with these delicious, dirt cheap meals your family will love!
Broke or not, we LOVE these dirt cheap meals. Not only are these meals easy to make, they are also super filling! Plus, these cheap family meals will only cost you $5 or even less to feed your entire family!
So, if you've been wondering what food to buy when you're broke, look no further. Check out these super cheap meals that you can add to your weekly meal plans on a budget!
---
Related Posts
---
This post contains affiliate links. I may earn a commission for any purchases made through these links. This Mama Blogs is a participant of the Amazon Associates Program, an affiliate advertising program designed to provide a means for us to earn fees by linking to Amazon.com and affiliated sites.
Dirt Cheap Meals for When You are Broke
1. Pasta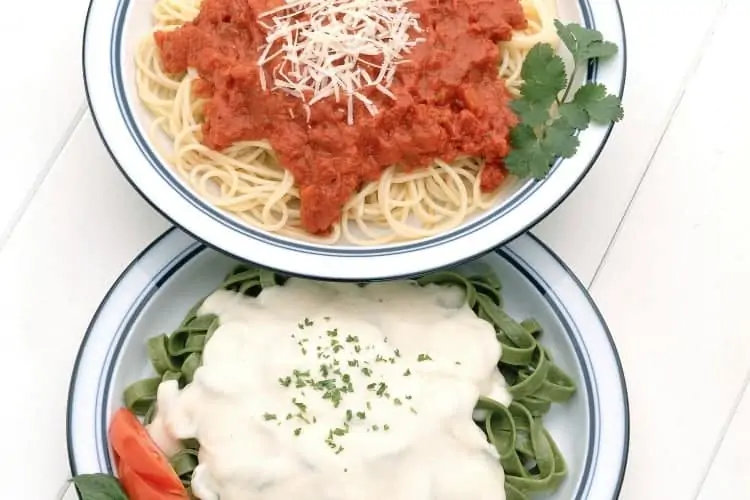 Pasta is a universal kitchen staple. It is filling, cheap and very versatile. And the best thing about pasta is that it's so easy to prepare and cook. You just need some cheap spaghetti or any other noodles you prefer and then sauce. For added nutrition, consider grating some carrots and zucchini and mix.
2. Egg drop soup
Egg drop soup is a perfect comfort food. You can add any vegetable you like, pour in some stock, and add the egg. It's also one of the most frugal meals that are quick, easy to make and healthy!
Gimme Some Oven and She Wears Many Hats have some delicious egg drop soup recipes you might want to try.
3. Baked potatoes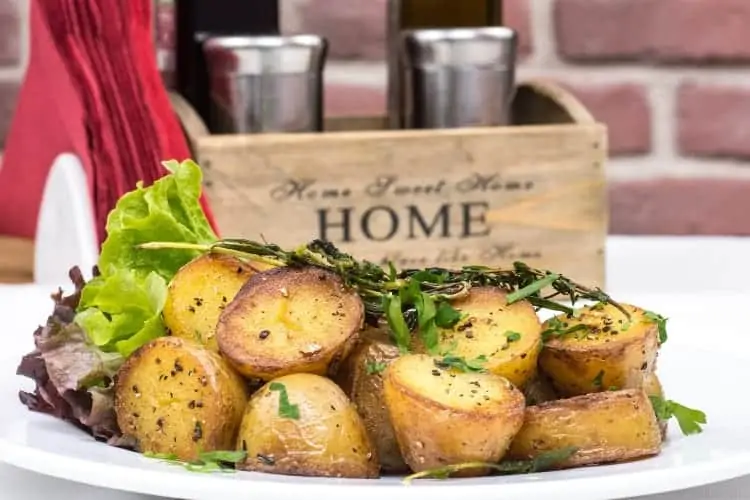 Potatoes are easily one of the cheapest vegetables in the supermarket, and they're fantastically versatile too! For dinner, you can bake the potatoes with herbs and spices, and top it with cheese, bacon, tomatoes, cooked meat or leftover meats, to name a few.
4. Fried rice
You can turn last night's dinner into a next day meal. Gather whatever vegetables and cooked meat you have, chop them up and fry in some oil. Add in some rice and flavoring. It's a hearty meal that already carbs and proteins.
5. Burritos
Burritos make use of food leftovers and a few staple ingredients you have in the pantry. You can load up hard shell tortillas with some leftover meat, vegetable, rice and canned beans and anything else you can use from your fridge.
Check out these simple burritos recipes by The Seasoned Mom and Budget Bytes for recipe ideas!
Related Posts:
6. Egg meals
Eggs are economical staples that you can use from day to night. Apart from scrambled eggs, you can make egg muffins, omelets and eggs salads. You can add more ingredients like kale and spinach, bacon or shredded chicken for a more filling meal.
7. Grilled Cheese
The classic, old-fashioned grilled cheese can be quite a lifesaver for days when you are broke. It only calls for two basic ingredients – bread and cheese, or you could add more deli meat if you have some. Pair with tomato soup and this tandem should serve as a substantial meal.
Chickpea salad is an easy frugal meal to make that doesn't need cooking. Simply season a can of cooked chickpeas, add in onion, tomatoes and vinegar and you'll have a delicious meal in 5 minutes or less!
8. Quesadillas
Just like grilled cheese, quesadillas are cheap and versatile too. You can make use of any leftover food you have like meat and veggies, add some cheese, and voila! you have a meal!
9. Peanut Butter and Jelly Sandwich
The PB&J sandwich is a classic meal for both broke and non-broke people. It's quick to make, delicious and high in fiber which makes it altogether hearty and filling.
10. Chicken and Broccoli
If you're craving for something lean and green, chicken and broccoli is the go-to-meal. You can chop a chicken breast into small pieces and then sauté with broccoli and some seasonings. This meal works well with rice as source of carbs.
11. Beans and rice
Both beans and rice are pretty cheap, and putting them together often results to a hearty and flavorful meal. The trick is to add in whatever you have handy, like some shredded chicken and sliced vegetable to pack it with more nutrition.
12. Meatless sloppy joes
Sloppy joes are substantial meals that you can easily make from home even with a budget. The traditional recipe calls for some ground meat, but if you don't have it or want to go meatless, you can always opt for lentils, potatoes and other cheap vegetable substitute
13. Vegetable soup
The vegetable soup is an excellent dish to give the family nutrition even when you're broke. Veggies are cheaper than meat, and they're also quite flexible. Also, homemade vegetable soup is way better than canned ones. A big pot of the soup can fill up the family over dinner. You can freeze and reheat the rest for next day's meal.
Check out my Pumpkin Soup with Ginger recipe here! This delicious recipe only costs $0.69 or less per serving and it's healthy and tastes so good!
14. Mac n' Cheese
Mac n' cheese is incredibly easy and cheap. You just need to cook some pasta in one pot and then prep the sauce in another. The ingredients are also as basic as it can get – cheese, milk, salt, flour and pepper. If you like, you can add scallions, tuna or cubed ham to enjoy more flavors. If you still have the top time, you can pop it in the oven and bake for 25 minutes.
15. Lentil stew
Take the mighty Instant Pot out to make this meal because you just need to dump the ingredients inside, stir occasionally and let cook for minutes. It's an excellent comfort food that smells as good as it tastes.
16. Rotisserie Chicken
Buying rotisserie chicken is a great way to extend your last few dollars because it can serve your family for more than two meals . If you still have some bits and pieces left, you can shred the meat and use for something else, like fried rice, burritos or sandwich.
17. Smoothies
I freeze overripe bananas and use it for smoothies. It's a great ingredient that can be combined with many different fruits. If you don't have frozen bananas, you can use whatever fruit you have and combine it with yogurt, coconut cream, milk , heavy cream or just ice cubes in a blender like this one, and you'll have a cheap and nutritious smoothie!
18. Chickpea Salad
Chickpea is cheap, filling and healthy! Mix cooked chickpeas, vinegar, herbs, tomatoes, bell pepper and feta cheese and you'll have a delicious and refreshing chickpea salad! Check out my Chickpea Salad recipe here.
19. Wrap
One of my most favorite dirt cheap meals is wrap filled with leftovers. Stuff your tortillas with your leftovers, vegetables, pieces of chicken, or sliced ham and cheese and you'll have a filling meal that you can literally make in less than a minute!
This is one of the best cheap quick meals you can make when you are pressed for time and money.
20. Chili
Making chili is a great way to stretch your ground beef. If you are looking for cheap lunch ideas or cheap family dinners with ground beef, this should be on top of your list!
Ditch the expensive chili recipes. You can make a delicious Chili with just tomato sauce, beans, paprika or chili powder, and your favorite spices. That's it.
Have leftovers? Make a wrap using your leftover chili, bake for a few minutes and you have another dirt cheap meal!
21. Oatmeal and Fruits
If you are looking for cheap meals to cook for breakfast, consider oatmeal. Cook up a bowl of your favorite oats, add cinnamon or your favorite fruits, and enjoy a filling breakfast that will only cost you less than a dollar per serving!
22. Pancakes with fruits
Well, this may not be the healthiest meals but I am sure it's one of the cheapest meals to make for breakfast and even for dinner. It's easy to make and costs less than a dollar per serving—perfect for busy days and when you are pressed for cash!
23. Dirt Cheap Pizza
Who doesn't love pizza? But when you are looking for food to eat when you are broke, you might think pizza is out of the equation.
Well, you can also make dirt cheap pizza with sliced bread or bagel topped with pasta sauce and mozzarella cheese. Heat it in the oven and voila, you'll have one of the cheapest meals ever!
24. Classic Tuna Salad
One of my favorite cheap meals for two is this Classic Tuna Salad. It only requires two cans of tuna, mayonnaise, celery and seasonings.
25. Buttered Noodles
Want more super cheap meals with pasta? Cook noodles (spaghetti or fettuccine), add in butter and season with salt, parmesan cheese and pepper. There's probably no cheaper pasta meal than this one! You can also add sliced ham or pieces of bacon on top! Check out this easy, 5-ingredient buttered noodles recipe here.
26. Cornbread
This easy cornbread recipe by Budget Bytes only costs $1.51 per recipe or $0.19 per serving. A great side dish for breakfast, lunch, or dinner!
27. Hummus with Bread
Hummus is one of the cheapest healthy meals you can make when you're running out of cash but still want to eat healthy. Just grab a can of cooked chickpeas, a clove of garlic and olive oil, and blend them in a food processor. Season it with salt, cumin or paprika; and serve it with pita bread, sliced bread or crackers.
28. Hashbrown Casserole
I love how creamy and cheesy this is, and being cheap is a plus point. You may add leftover veggies to it for added nutrition, making it one of the cheap healthy dinners you could make on the regular.
29. Meatballs with Veggies
Using turkey as a cheaper alternative to ground pork or beef, this recipe a great cheap family dinner. Toss in chopped leftover veggies into the mix to increase both quantity and nutrition without spending more.
30. Tuna Pasta Bake
If you want to add seafood into your weekly meal plan, but want to save money, turn to this tuna pasta bake recipe. Tuna is ridiculously cheap, yet it's versatile and healthy. With tinned tuna and a couple of pantry ingredients, this is indeed in my list of cheap healthy dinner to make.
31. Skillet Sausage with Onions and Peppers
I love how the flavors come together in this one-pan recipe for skillet sausage. Italian sausages are preferable, but you can make use of whatever kind of sausage you have available. This meal is also keto-friendly, so it's perfect for people looking for dirt cheap dinner ideas.
32. Ground Turkey Teriyaki Rice Bowl
Ground turkey is incredibly cheap and healthy, so I'm good with almost any recipe with ground turkey in. But I love this turkey teriyaki rice bowl even more because it has everything I need in a complete meal: some carbs, protein, and veggies. With a few basic ingredients, you can whip up this delicious dinner in just a couple of minutes.
33. Homemade Ramen Soup
Ramen is a popular cheap comfort food, but you like yours to be a healthier version, I turn to this homemade ramen soup recipe. It's one of the best dirt cheap meals you could make for nights when we want to enjoy some soup and noodles. You can use fresh ramen noodles available in many Asian stores, and then have fun experimenting with the toppings.
34. Sweet Potato Chickpea Salad
This is a delicious vegan recipe that makes use of pan-fried sweet potatoes mixed with chickpeas and tossed in tangy lemon dressing. I love how incredibly light yet filling this salad is, perfect for people looking for dirt cheap vegetarian meals.
35. Sheet Pan Parmesan Chicken
Chicken, parmesan cheese and garlic always make the perfect combo, so I'm happy I found this delicious sheet pan parmesan garlic chicken. The chicken is crunchy outside but tender inside, and the flavors are hard to beat. As you can cook it on a sheet pan (or a skillet or air fryer, if you prefer), helping you save time especially during busy weeknights.
36. Crockpot Mexican Chicken
This dirt-cheap dinner recipe only has five ingredients: boneless chicken, black beans, corn, cheese and salsa, combined together in the crockpot. It's so hearty and cheap, it gives the best bang for your buck!
37. Instant Pot Pulled Pork
Pulled pork is so flexible you can use it in a variety of meals and consume at any time of the day. So, having some pulled pork ready is a good way to save time and money. I suggest using your instant pot to come up with super tender melt-in-your-mouth almost effortless pulled pork. You can portion and freeze some of them for later.
38. Meatballs Soup
I don't think I'd ever get tired of meatballs, so I regularly make meatballs at home, and this meatballs soup recipes is one of my newest discoveries. This is an incredibly tasty, cheesy and creamy soup that I am sure your family will love. When it comes to dirt cheap dinners, this recipe is always a winner!
39 Chicken Fajitas
When it comes to feeding a large family on a budget, the chicken fajitas always come to mind. You can cook a large batch of this dish to feed your family one dinner, and have enough left to store and freeze. I also love that it has enough protein and veggies in it, cooked in the crockpot for hours to release all those amazing flavors!
40 Cauliflower Chowder
This recipe is laden with vegetables, which means two things: first, it is cheap, and second, it is nutritious. This homemade cauliflower chowder makes use of a vegetables, flavored by a couple of herbs and spices and then thickened with milk, broth and flour. It's quick and easy and sure is one of the best dirt cheap meals for large families.
41. Pizza Quesadillas
If you're looking for easy cheap dinner for 3, you've probably thought of pizza delivery more than you care to admit. But you can whip up this homemade pizza quesadilla recipe from scratch in just a couple of minutes and at a fraction of the cost of take-out pizza.
42. Mexican Tortilla Casserole
One of the top cheap dinners to make that's also healthy is this Mexican tortilla casserole. It's perfect for feeding a large crowd. You can make it purely vegetarian, but you can incorporate a layer of meat if you prefer. This one is truly a fail-proof recipe that's perfect for my tastes and budget.
43. Weeknight Lazy Lasagna W
I could never say no to lasagna no matter what time of day, so I'm happy to discover a recipe for weeknight lazy lasagna. This one features a short-cut that takes stacking out of the equation, but still retains its cheesy and creamy signature.
44. Dirt Cheap Chicken and Rice Meal
Chicken and rice are always a good tandem, but this recipe of Southwest chicken and rice elevates them to a new level. It can be cooked in a huge batch, so it's easily one of the best dirt cheap dinner for large families. You can swap, add or remove some of the ingredients to your preference. You can also make it entirely vegetarian or use a different kind of meat and even come up with your own toppings.
45. Pan-fried Salmon Patties
If you want to enjoy salmon in a different way, you can try making patties out of them! This pan-fried salmon patties recipe is one of the top dirt cheap meals for 2 as it uses canned salmon instead of the ones in the deli. It is an economical dinner that's easy to cook, so it's ideal for busy nights.
46. Broccoli and Lentil Stir Fry
This broccoli and lentil stir fry dish is one of the dirt cheap dinners in my book. Lentils and broccoli are pretty cheap, so this is a cheap dinner healthy recipe that I always cook from time to time. It's a good idea to serve it with a turmeric rice for added nutrition and a pop of color, making it even more appetizing.
47. Homemade Beefaroni
While I was on the lookout for cheap easy dinners, I came across this homemade beefaroni recipe and I knew it would be perfect. Macaroni and beef tossed in tomato sauce and topped with cheese sound just about the perfect comfort food. Try it to see for yourself.
48. Ground Beef Stew
This is another ground beef dish that's also one of the best cheap dinners for a crowd. It is hearty and filling, and can be stretched further with the vegetables you have at hand.
49. EGG TACOS
Have tacos gone boring for you? Here's a fun and cheap way to spruce them up: use eggs! Eggs give you protein, but they're only a fraction of the cost of beef. Plus, egg tacos make use of very basic ingredients, so they'll save you both time and money.
---
More Money Saving Tips
You can save even more money on food by using the following:
Ibotta
Ibotta is a free app that pays you cash on items you regularly buy at the grocery store such as milk, bread, vegetables, fruits, meats, toilet paper, toothpaste, yogurt and even over-the-counter medicines.
I use this app every week and it has so far paid me over $600 in cash back and bonuses!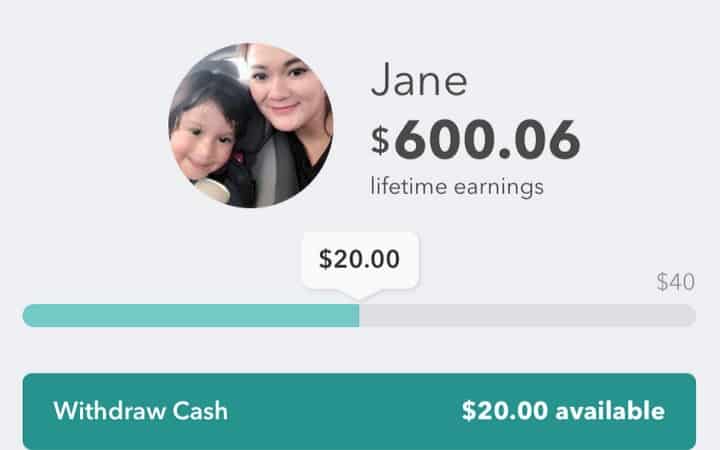 You can join Ibotta below and receive a $10 welcome bonus, in addition to the cash backs you will earn on your purchases.
The $5 Meal Plan
For more cheap but delicious, family-friendly meal ideas, I highly recommend the $5 Meal Plan.
Even though I love making a meal plan myself, I still sometimes use this service for the busy weeks.
For only $5 a month, Erin from the $5 Meal Plan will email your weekly BUDGET meal plan where each delicious meal will only cost $2 per person or $5 per family. I think it's a great way to save money and time.
For a limited time, Erin is offering a FREE 14-day trial through this link. If you'll like the service, you can continue using the service for only $5 per month. Otherwise, cancel it before the trial expires and you'll still get free meal plans for two weeks.
Ready to make any of these dirt cheap meals?
It's possible to eat a healthy, delicious and satisfying meal even when you're broke. The key is to stock up on staple ingredients and opt for food that are most flexible. That way, you'll be able to cook a variety of meals. These dirt cheap meals will help you get through the last few days until your next paycheck and you won't even notice you were short on cash.
Do you have dirt cheap meals ideas to share? Share it in the comments below!