This homemade sugar scrub recipe is cheap, easy to make and so good you will not want to pay for store-bought face or body scrubs again!
I've been enjoying making homemade sugar scrubs lately and honestly, it's not just because I refuse to pay $10 for a bottle of body/face scrub.
It just kind of makes me happy to use my own creations on my skin and knowing that they are not infused with chemicals or that I am not using products that come in plastic tubes that harm the environment.
It's also fun to test out different natural ingredients to see which combinations work best for my skin…So, I've played around with few sugar scrub ingredients such as lemon/lime, mint, and oatmeal, but my most favorite of all is this homemade vanilla sugar scrub recipe.
Homamade Vanilla Sugar Scrub Recipe
This sugar scrub recipe is super cheap (it only costs maybe a dollar or less to make), it smells DIVINE, it's natural; it exfoliates and moisturizes the skin at the same time.
It's also so easy to make and only requires three ingredients that you may already have in your kitchen: vanilla, brown sugar and oil.
Personally, I prefer using coconut oil for its "sweet" smell. Coconut oil is also known for its moisturizing, anti-inflammatory and anti-microbial properties that makes it a perfect ingredient to include in your skin care regimen.
I am using this one I got from Costco, but any organic, virgin coconut oil should be good.
Just a word of caution though: there's mixed opinions about using coconut oil for acne-prone or oily skin. Due to its high-fat content, it's considered non-comedogenic, which means it easily clogs the pores. But I guess, the effects differ from person to person and how often you put it on your face. I do have acne-prone skin too but using this scrub 2-3 times a week doesn't cause breakouts for me.
If you have oily face and you're making a scrub for your face, you can also use olive, hemp seed, avocado, almond, or grapeseed oil if you're not a fan of coconut oil.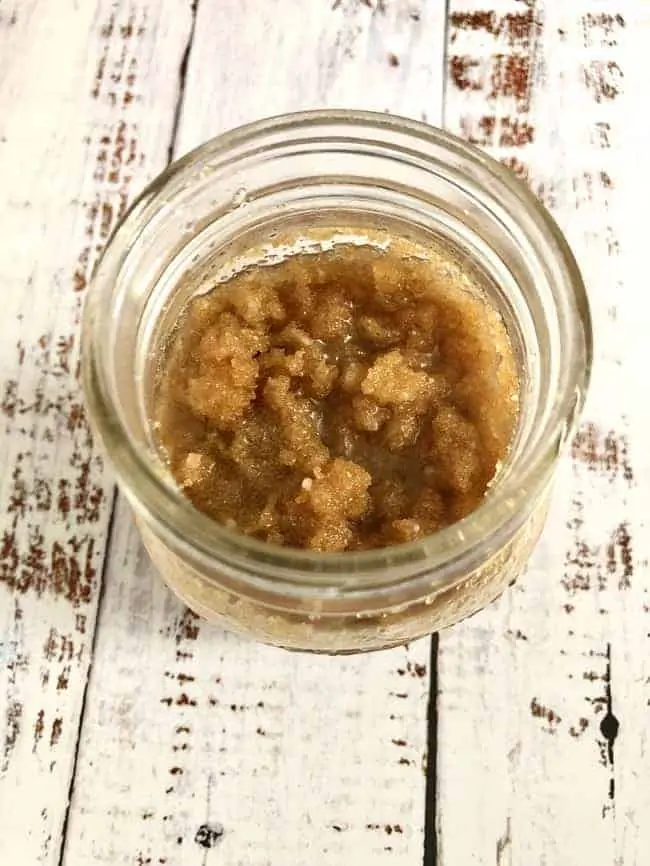 Why Use and How to Use a Sugar Scrub
There are many benefits to using a face or body scrub in general. It helps remove dead skin cells to improve skin texture. Removing the dead old layers of the skin also allows your body to absorb quickly the products you apply on your skin after cleansing. In addition, the motion of exfoliation can help improve blood circulation.
While you can conveniently exfoliate dead skin cells using store-bought products, there's also a lot of benefits to using a sugar scrub. If you have very sensitive skin or even dry skin, you may need to steer away from using chemical-infused products that strip your skin of its natural oils and use 100% natural scrubs, such as this one, instead.
How I Use the Homemade Vanilla Sugar Scrub
This homemade sugar scrub is easy to use and incorporate into your skin care regimen. It only takes around 1-3 minutes to do and it works just as great as your expensive scrub in removing dead skin cells.
And since it has coconut oil, this scrub will also moisturize your skin, so it feels soft every after using this scrub.
Method for Scrubbing
Scoop about a tablespoon of the scrub in your hands. Try not to leave moisture in the scrub container to avoid mold growth.
For your face, massage the scrub in circular motions on your wet face using your fingertips. Massage for 1-2 minutes.
For your body, massage the scrub onto your wet skin in circular motions using your palms.
Rinse the scrub off and cleanse your body like usual.
Homemade Vanilla Recipe
Instructions
Mix together all ingredients
Store in an airtight container or away from heat.