Want to learn how to make $5000 fast when you desperately need it? Here's a long list of side hustles and money-making opportunities to help you get extra cash fast!
So, you want to make an extra $5000 fast?
You don't want it for spending, you need the money to pay bills or maybe your car broke down and you urgently need some cash.
Fortunately, there are ways you can make this much money quickly. It is possible!
I've compiled this list to help you raise $5000 when you need it, and when don't have enough time to save it.
Because, let's be honest – how many of us actually have spare $5000 laying around in case an emergency comes up?
The Importance of Side Hustles
Before we talk about the ways to earn cold hard cash, I would like to emphasize how important it is to find your hustle.
Having side hustles will not only help generate extra money when you need it but will also help save your life if you lost your primary source of income.
Forbes even cites that side hustles have helped people bridge the gap in their incomes, especially during the pandemic which proved to be a financially challenging time for many.
If you're going to take a look at the list below, you'll find that you can easily squeeze these income ideas into your own schedule.
And unlike day jobs where you have to wait until the next pay cycle before you get your income, most of the side hustles I've listed in this article are paid after the task is done.
So if you urgently need to find extra cash to pay an expected bill or tide over a financial emergency, knowing which side gigs work for you can come in very handy.
This post contains affiliate links. I may earn a commission at NO extra cost to you for your purchases made through these links. Disclosure.
Easiest Ways to Make Money Online
How to Make $5000 Fast in 2022
1. Sell Stuff
Perhaps one of the easiest and quickest ways is to sell stuff. Take a good look around you and around that you no longer use.
You can start sorting out things you no longer need, dust them off, and sell them. You could sell items like old furniture, baby gear, power tools, textbooks, and clothes.
There are numerous apps and sites to buy and sell stuff, and people use these apps when they're looking for something in particular.
Decluttr, for example, is a fantastic place to sell old games and electronics, while Poshmark and ThredUp are excellent platforms for trading used clothes.
2. Get a Quick Loan
When you've run out of options and you still can't find extra money through other means, then getting a quick loan might just be the solution for you.
Depending on your eligibility, you could pretty much whip up $5000 dollars by applying for a loan.
However, remember that loans come with a responsibility, so I suggest you create a game plan on how to pay it back. You should try to save money by reducing some of your expenses to make way for loan payments. You could also throw all or most of your side hustle towards the debt to relieve yourself of the financial stress as soon as possible.
3. Flip Things
You can sell other people's stuff instead if you don't want to sell yours. All you have to do is visit flea markets and garage sales, and look for items that you can buy low and then sell high.
The best things to flip include books, furniture, tools, sports memorabilia, musical instruments, and more.
Flea market flipping can be lucrative, especially if you've developed an eye for things that people are looking for.
Sometimes you have to do minor repairs or cosmetic modifications to command a higher price for these items.
For instance, Shayna Alnwick, a waitress from the UK, has been making real cash by giving old furniture a facelift. Now, it has become her full-time business.
You can flip items on Craigslist, eBay, and Facebook Marketplace.
Interested in flipping but don't know where to start? Download this free eBook with 47 household items to sell to help you make money fast!
Related:
4. Become a Consultant
You can also cash in on your skills and expertise, and share what you know with others through an online consulting business.
Whether you're good at health and fitness, an expert in business and marketing, or have extensive knowledge in IT, you can offer your services to individuals and companies and earn money as a consultant.
Start within your network, and market your knowledge to friends. You might need to offer your service for free and get more clients through referrals.
Depending on what you offer, you could easily earn thousands of dollars from a consulting service. This could even be turned into a full-time business.
5. Donate Plasma
If you're looking to make some quick cash, then consider donating plasma. Plasma makes up the biggest portion of our blood, and it contains antibodies that combat infection. Donated plasma is used by experts to create medications for various diseases.
Donating plasma can help you come up with extra money during dire need. First-time donors can make more than $1,000 on their first month, while most donation centers pay between $50 to $75 per appointment.
As long as you are qualified to donate plasma, you can donate as often as once or twice every two weeks.
Related: 18 Highest Paying Plasma Donation Centers Near Me ($1000/mo)
6. Get Free Money from Cash Rewards and Online Surveys
You can turn your spare time into extra cash with the use of your smartphone and a free app.
You can earn cash rewards from day-to-day online activities, such as when you shop online, answer surveys, watch videos, read emails, play games, find deals, and more just by using these free apps.
I've personally earned over $3000 by using some of these apps!
Check out the following ways to get free money!
Swagbucks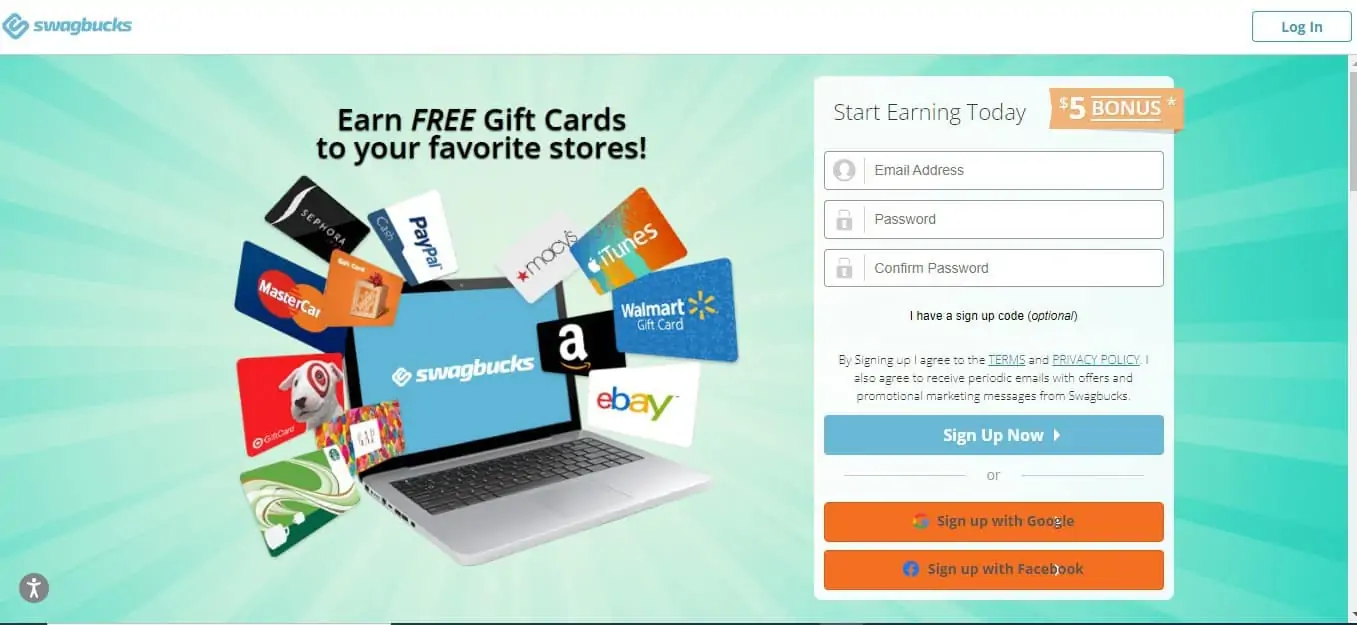 Swagbucks is one of the best apps that generate extra income just for doing simple tasks like taking surveys.
With this survey site, you earn SB points for every survey you complete, and these points are convertible into real money. You can redeem your Swagbucks income to your PayPal account or gift cards to your favorite stores.
Join Swagbucks here for free and receive a $5 welcome bonus!
MyPoints
This is also a survey site that allows you to make money fast online. It rewards you with points for shopping online, answering surveys, watching videos, and playing games.
You can sign up here and receive a $10 Amazon gift card with your first purchase using MyPoints.
Ibotta

This is an amazing app that allows you to earn rewards from everyday purchases. All you have to do is use Ibotta when you shop online from hundreds of grocery stores, submit a photo of your receipt, and wait for the cashback to hit your account. You are essentially making free cash just for buying grocery items you would buy anyway or for shopping online.
Start turning your grocery receipts into cash by using Ibotta. Check it out here.
Rakuten
This free app also gives cashback from your purchases. By using its browser extension, Rakuten tracks that you're shopping in one of its retailer sites and alerts you if you are eligible for cashback.
You can earn as much as 40% in cash back, so that's a great way to make money from your everyday purchases online. Rakuten pays you through direct deposit or PayPal.
I have earned over $2000 from Rakuten myself so I can highly recommend it!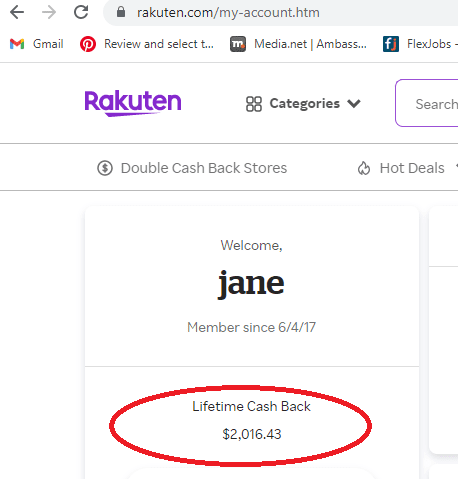 Need to shop online anyway? Don't leave money on the table. Sign up here for free and get $10 free with your first purchase using Rakuten.
Dosh
This is a mobile app that you connect with your credit or debit card. When you shop using the said card, Dosh automatically collects cash back for you. With Dosh, you earn rewards without having to go through hoops and loops.
7. Delivery Driver
There's been so much demand for delivery driver jobs over the last few years, which was catalyzed mainly by the pandemic. And these jobs happen to be some of the best ways to make quick money.
You don't even have to be skilled at anything to become a delivery driver. As long as you can drive (and have a driver's license and insurance), and have the patience to wait, then these jobs are great options for you.
Check out the following companies that offer delivery driver jobs right now:
Instacart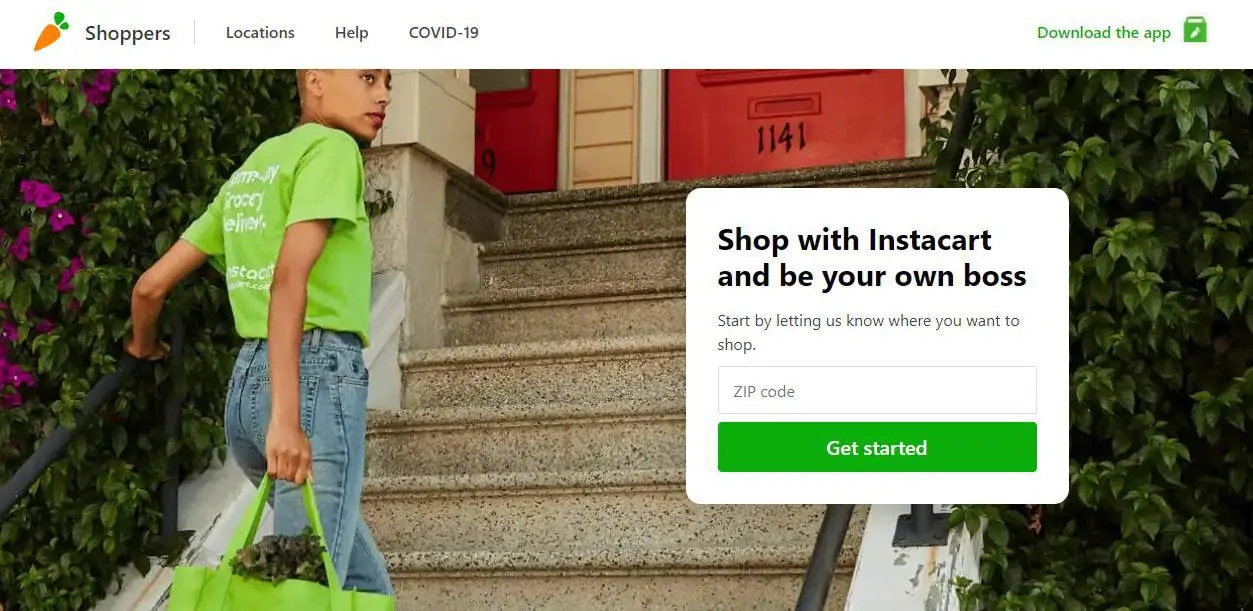 This company hires people to shop and/or deliver groceries to customers. There are two ways you can make money at Instacart. First, you work as a full-service shopper, which means you do the shopping for customers and deliver the items to the customer's address.
Second, you can work as an in-store shopper where all you need to do is shop the items and someone else will deliver the items to the customer.
How much money you make depends on the size of the order and the distance you have to travel to complete the order.
According to Glassdoor, Instacart full-service shoppers make an average of $30 per hour, plus 100% of the tips.
Learn more about or apply to Instacart here.
Doordash
Doordash is also a popular food delivery service that allows you to earn extra money.
As Doordash delivery driver, you pick up the orders from restaurants and then deliver them to customers. You can decide on your working schedule and so you earn money as much or as little as you like.
According to Doordash, dashers earn an average of $25 per hour and all of their tips.
You can apply to Doordash here.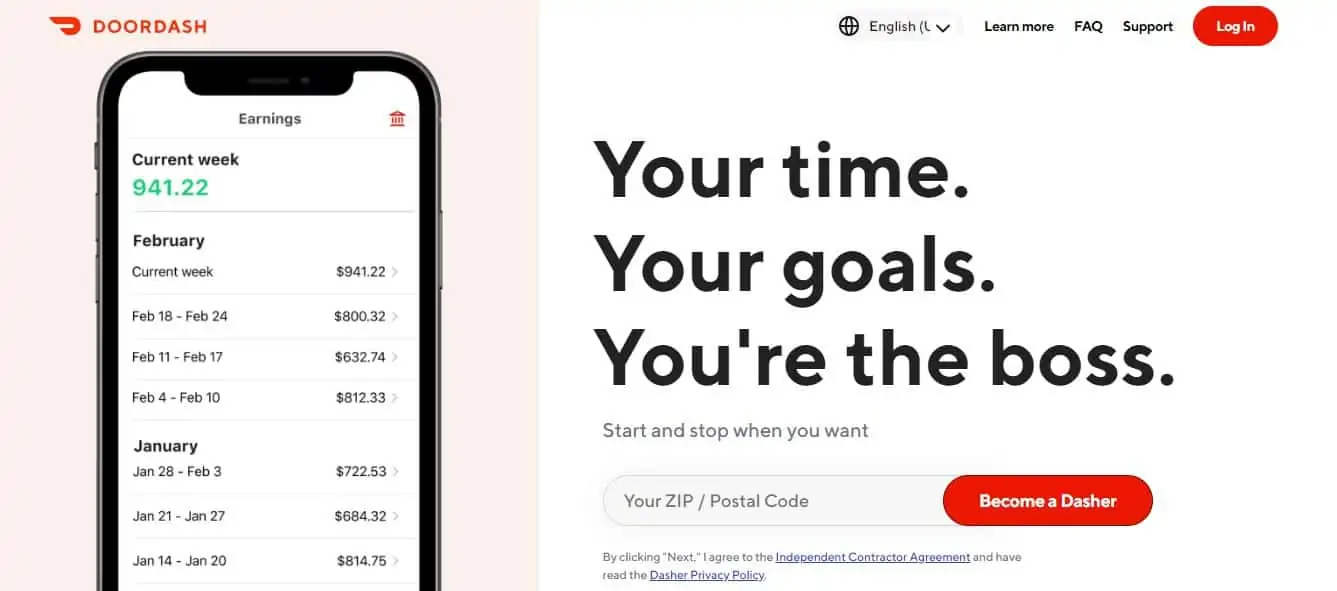 Postmates
With Postmates, you can make money by delivering groceries and food as well as packages to customers. You don't always need a car to do the delivery. In some cities, you are allowed to deliver by foot or scooter.
Working for Postmates can give you an income boost, especially if you deliver during peak hours when there is more demand.
According to Glassdoor, Postmates delivery drivers make around $13 per hour plus tips.
Amazon Flex
Another way to get paid delivering stuff is to sign up with Amazon Flex. Amazon Flex drivers pick up parcels and packages from Amazon delivery hubs and deliver them to customers.
You can pick your own shifts and make money in your free time. According to Indeed, Amazon Flex pays its delivery drivers around $20 per hour.
Related: 13 Best Driving Jobs For Retirees to Make Extra Income
8. Make Passive Income with Your Car
Want to make money with your car without working? Then, turn your car into a mobile billboard!
You don't need to do anything. Car wrapping agencies like Carvertise will place advertisements on your car, pay you monthly, and remove the advertisement when the contract is over.
All you need to do is drive your car like you normally would, and get paid for driving your car with ads on it.
You can get paid $400+ per month for a full wrap. So, you won't earn $5000 from this gig alone in one month but you sure can earn that much in about a year.
9. Pick Up Work-from-Home Jobs
I've always believed that one of the best ways to make money is to take stock of your own talents and skills.
There's an abundance of jobs that allow you to make money online, and many of which even let you work on your own schedule.
So if you want to make some money fast, then pick up a side hustle that you can do from home.
Online Tutor
Offering tutoring services online is an excellent way to make some cash in your own hours. There are numerous platforms that hire tutors, depending on the subject or your field of expertise.
You can make money today by teaching English to Asian kids, or you can tutor Math or Science (or any subject you're good at) to primary, high school, or college students for some quick cash.
Virtual Assistant
You can also make money online as a virtual assistant, also called VA. Local businesses and even entire industries do need virtual assistants in one or another.
So, if you have the knack for helping people out and you are extremely organized, efficient, and a fast learner, then this role is perfect for you.
The best thing about virtual assistance is that it is a scalable business. Working as a virtual assistant can make you six figures a year from home.
If you want to learn how to become a well-paid VA, I highly recommend taking this free virtual assistant video training that will teach you how to get 3 clients in 3 days.
Social Media Manager
There's some real cash to earn from social media if you work as a social media manager. This role requires you to manage social media accounts for brands and local businesses often involving tasks like creating and posting content, responding to messages and inquiries, starting conversation threads, strategizing marketing campaigns, and more.
So, if you spend a great deal of time on Facebook, Instagram, or YouTube, might as well generate money from those few hours as a social media manager.
Related: 13 Real Ways to Make Money on Facebook in 2022
Transcriptionist
Transcription jobs are also some of the best ways to make money from home, and it's also one that requires minimal investment.
If you are a fast and accurate typist and have excellent listening skills, then you can try to earn extra money from this job.
Transcribing audio and video files may be done for informational and educational purposes, but they are also often required for accurate record-keeping (such as in the case of legal transcription). There's an abundance of transcription gigs on online job boards, so it's a great start if you want to earn cash from your spare time.
If you want to learn whether transcription is for you, check out this free general transcription mini-course.
Freelance Writer
If you are good with words and writing, then you might as well earn money fast through freelance writing. With freelance writing, you can choose the projects you want to work on and set your own prices.
Freelance writing can be lucrative if you know how to market your skills, choose lucrative niches, and know where to find clients.
Take a look at Holly Johnson who makes six figures per year as a freelance writer!
Check out the strategies Holly has used to build her 6-figure writing career from home here.
10. Make Money with Affiliate marketing
Affiliate marketers get paid to promote products and convince people to buy. It is another excellent way to make some passive income and make you money as you sleep.
If you're already blogging, then I believe that you have already made the first best step to earning cash through affiliate marketing. But apart from your blog, you can also promote products on social media platforms.
No blog or social media platforms? You can still make money with affiliate marketing by promoting products or services to friends without a blog or social media presence!
To get started, think of products or services you can't stop talking about, and find out whether they have an affiliate program. If they do, sign up and invite people to join to earn money.
One perfect example of products or services you could make money from is credit card services. Banks usually pay $100 or more per person you refer to them to open a credit card or bank account.
11. Rent Out Your Home, Spare Room, or Vehicle
Your spare room, home, or vehicle can be a source of extra income as well. By renting these out, you can save money to pay for your mortgage or auto insurance, and perhaps earn extra cash to pay for repairs, maintenance, and other things.
The best place to list your home or extra room for rent is, of course, Airbnb. As for renting out your vehicle, consider looking into Turo, GetAround, and Zipcar.
Have extra space to rent out as storage space? Check out Neighbor.
12. Participate in Market Research
Participating in market research is an excellent way to make money in your spare time.
Market research companies need respondents who can provide honest feedback on certain brands, products, and services. Such feedback allows companies to improve their offering to consumers. And the best thing is, this simple task pays good cash.
All you have to do is sign up for platforms like Respondent.io, a company that conducts focus groups and pays $140 per hour.
Other options include FocusGroups.com that pays up to $150 per survey and Ipsos i-say that pays up to $100 per study.
Joining focus groups may not earn you a lump sum of $5k, but that's still a good amount of money to contribute to your goal.
13. Make Extra Cash Pet-Sitting
Here's a fun way to make some cash: cuddle with dogs and cats and bring them for a walk!
Yes, people will spend money on someone who will take care of their pets even for a few hours, so if you enjoy the company of animals, this is a great gig for you.
You can get paid to pet sit on platforms like Rover. Create a profile, set your rates and availability, and market your pet sitting services.
According to Rover, you could earn $12 to $15 per 30-minute walk, and more if you walk more than one dog at the same time. You'll also earn more cash for other services like drop-in visits and boarding people's pets.
Related: Under the Table Jobs: 22 Quick Ways to Make Extra Money
14. Start Investing In Stocks
This is probably the last thing you have in mind today if you're in dire need of cash because this option won't generate money if you don't invest money.
But, still, investing in the stock market is unarguably one of the easiest ways to make money!
Most personal finance experts emphasize the importance of investing, and how it can help you achieve financial freedom sooner.
Investing allows you to not just make money today but potentially build a secure financial future as well. So if you haven't thought about investing in stocks yet, I suggest you explore the idea of earning passive income soon.
You can start low and slow if you're a total beginner, and look into investment platforms like Webull.
I personally use Webull and I can highly recommend it for beginners! Get 2 free stocks here when you open and fund a new account with Webull.
As you learn more about investing, you should re-assess your risk investment tolerance and perhaps explore other ways to invest in real estate, cryptocurrency, and mutual funds. I'd advise consulting with a personal finance expert first to discuss your financial goals and appropriate investment vehicles.
How to Make $5000 Fast Consistently: More Sustainable Ways to Make Money
Looking for more sustainable ways to make money? Check out these ideas below! They may require some effort and time but they offer incredible income potential.
15. Flip Homes
Flipping homes essentially involves purchasing a home or property and then selling them at a higher price.
But to make the profits larger, you have to find a house that needs some work, perhaps a few repairs and updates here and there. After completing the renovations, the house's value increases, hence allowing you to make put a higher price tag on it.
But some people don't "fix and flip homes." Some investors would purchase a perfectly good property that they think would increase in value over time. They hold on to this property and sell when the house's value has gone up.
Flipping homes is a profitable business, and it can potentially help you make more money along the way. However, flipping homes involve some financial investment, so I suggest studying the market carefully before diving into it.
16. Sell on Amazon
Amazon, the most famous online superstore, allows you to earn cash through its platform.
With the Amazon FBA program, you won't have to worry about the packing and shipping logistics, so all you have to do is source the products and market them.
Additionally, you could sell digital products on Amazon, such as ebooks and low-content books. By piggybacking on Amazon's popularity and influence, your products get exposure to millions of customers. So if you have quite the entrepreneurial spirit, you could earn real cash selling on Amazon.
Interested in selling on Amazon? Don't miss this free 5-step guide (normally $47) and learn the steps to start, grow, and scale your own brand on Amazon. This guide will teach you how to find products that sell with almost zero competition.
17. Blogging
Blogging is one of my personal recommendations for the best ways to make money.
Through blogging, you don't just get to share your thoughts and experiences, but also build a community. And as you establish your reputation and authority in your chosen space, you also access more ways to make money, such as affiliate content, sponsored and branded posts.
You may also sell your own products and services as well as become open to other opportunities that make money like coaching and public speaking.
If you want to learn how I turned this blog into a source of full-time income to the tune of $70,000 per year, then I highly recommend checking out my detailed blogging guide for beginners!
18. Become a Content Creator on YouTube
A lot of people make extra income doing what they love the most by becoming content creators on YouTube. You can become one too, as long as you are not shy to face and speak before the camera.
One of the best things about this income opportunity is you can make money from it in many ways.
Ads, for one, are placed on your videos and they make money for you based on the number of views or impressions.
Additionally, you could make money through affiliate and sponsored content. Other YouTubers have established their own businesses through their channels, and are selling their own merch and products.
Learn more about how to start and make money from YouTube here.
19. Create and Sell Online Courses
You can also get paid to teach others what you know through an online course. As long as you teach something valuable, you can always find people who would be willing to pay for your course.
You can create an online course on any niche and you just have to make sure that there's enough demand for it.
The best thing about this side gig is that it can create a stream of passive income for you. You just need to put in some upfront work and you can repeatedly make money from it each time someone purchases it.
If you want to learn how to turn your knowledge into income leveraging the trending knowledge economy, I highly recommend checking out this free online course secrets free webinar by Kevin David. Kevin is a successful entrepreneur who's built million-dollar businesses online. He's also taught thousands of people to build profitable businesses on Amazon.
Related Posts:
How to Make $3000 Fast: 12 Ways To Generate Cash in 2022
How to Make $10K a Month ONLINE Without a Degree (I love #2!)
12 Flexible Jobs That Pay $80 an Hour (I Love #2!)
How to Make $5000 Fast Without Getting a New Job
Apart from the hustles I have mentioned above, here are extra ways that can help you find quick cash:
20. Reduce Your Spending
Take a long hard look at your budget and see which expenses you can let go of to find some free cash.
For instance, if you're already subscribed to streaming services like Netflix or Hulu, then it makes sense to cut the cord.
Also, check your lifestyle. If you aren't going out as much as before, then you can reduce your clothing expenses and save more money eating homecooked meals.
Need help? Let Trim do the work for you! Trim is an AI that can help you lower your internet, cable, and phone bills. It can also analyze your subscriptions and cancel unwanted subscriptions to help you save money.
Also, be sure to check out this post to learn 50 ways to save money and live frugally.
21. Ask For a Raise
If you feel like you deserve it, then go ahead and talk to your employer about getting a raise.
But before you do that, practice what you want to say and come up with a list of things that you've contributed that helped the company's growth. Maybe you will get that raise, or your boss might say it's not yet the time. Whatever the outcome is, it's worth giving it a shot.
22. Work More Hours
As a plan B, if asking for a raise does not work, you could ask for more work hours instead.
Clocking in more hours means earning more money. If you have other skills, you could try pitching that to your boss and convince him or her to take on extra tasks. Showing such eagerness and proactivity that you're serious at your job, and who knows, you might be up for promotion the next time around.
---
Frequently Asked Questions
How fast can you make $5K?
It depends on exactly what you do and how often you do it.
For instance, you can quickly take a loan of 5000 dollars. But if you're thinking of a job, business, or side gig, then there's no direct answer to this. House flippers may be able to make $5000 in one sale, while others, like delivery drivers, may take a while for them to reach this amount.
But in general, the more you hustle, the more money you'll make.
How can I make $1000 fast?
There are plenty of ways to make $1000 fast. You might consider renting out your spare room through Airbnb and make a thousand bucks in three or four nights. Some freelance jobs, such as virtual assistance, graphic design, and social media management pay well, so you could earn $1000 in no time.
How can I make $5000 in a month?
Some of the best ways to make $5000 dollars in a month are to find freelance jobs like virtual assistance, freelance writing, and web development.
If you have an established following, your YouTube channel could make more than $5000.
Other ways you can explore are selling on Amazon, affiliate marketing, and blogging.
How can I get free money ASAP?
You can get free money by exploring get-paid-to sites and free apps like Swagbucks and Survey Junkie. These apps allow you earn some free cash for playing games, watching videos, and answering surveys.
Apart from survey sites, you can also get free money from shopping online earning cashback through platforms like Ibotta, Drop, and Rakuten.
Final Thoughts
You might not make $5000 right away with just one of the methods mentioned above, so it's a great idea to figure out which of these could work for you.
You might deliver groceries in your free time, but also earn some money from your investments or sales from your flipping business. Just be open to new ideas and you'll be on your way to achieving your financial goals.
Have you tried any of these money-making ideas? Share your experience in the comments section below!